Covid-19
Nil Gavani Kaadhali is a 1969 Indian Tamil film directed by C. V. Rajendran. The script was written by Chitralaya Gopu. The film stars Jaishankar, Bharathi, Nagesh, Jayanthi and Vijaya Lalitha in the lead roles. The film was distributed by Reena Films and had musical score by M. S. Viswanathan.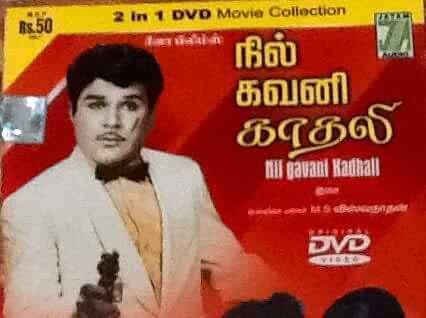 A gang of diamond smugglers led by a wily chief (M. N. Nambiar) is assets by Babu (Major Sundararajan), his niece Malathy (Bharathi) meets the CID officer Shankar(Jaishankar) and hands over a packet at an Airport lounge to be handed over to her uncle. and her elder sister Radha (Jayanthi meets the pal Seetha raman (Nagesh) and falls in love with him. The two Pairs go through severed adventure and expose the villains.
Jaishankar as CID Shankar
Bharathi as Malathy
Nagesh as Seetharaman
Jayanthi as Radha
Vijaya Lalitha as Sheela
M. N. Nambiar as Gang Leader
Major Sundarrajan as Babu
Senthamari
Dhanaraj
Henry Daniel
Varadachari
V. R. Thilakam as Myna
Malathi
Art = Ganga
Stills = Tiruchi K. Arunachalam
Design = Barani
Processing = S. Ranganathan by Vijaya Laboratory
Audiography = T. S. Rangasami
Re - Recording = Ramanathan
Choreography = Chopra
Stunts = M. K. Azhagiri and Dharmalingam
Outdoor = Madras Sound Service, Movie Service and Prasad Productions
Music composed by M. S. Viswanathan and lyrics written by Vaali. The Picture had melodious song and dance number Kangalukenna Kaval illaiyo(sung by L. R. Eswari and performed by Nagesh and Jayanthi) was brilliantly picturised. This song become hit while the other songs become popular. Another Popular song Engeyo Paartha Mugam(sung by P. B. Srinivas) 2. Jilendra Kaatru Vanthatho (sung by T. M. Soundararajan and P. Suseela) those two songs are duet performing the film by (Jaishankar and Bharathi). Another plus point was the music created by melody maker M. S. Viswanathan assisted by R. Govarthanam.
Nil Gavani Kadhali Wikipedia
Nil Gavani Kadhali IMDb