Country

India




State

Uttar Pradesh




Language spoken

Hindi & Urdu




District

Muzaffarnagar










Founded

Sayed Munawar Lashkar Ali



Map of Muzaffarnagar
Muzaffarnagar ( pronunciation ) is a city and a municipal board in the Indian state of Uttar Pradesh and is a part of Delhi National Capital Region. Recently, the Muzaffarnagar district has been included in National Capital Region by Indian Government. It is the headquarters of the Muzaffarnagar district. Many popular farmer leaders come from MuzaffarNagar. It is situated midway on Delhi - Haridwar/Dehradun National Highway (NH 58), the city is also well connected with the national railway network. The city is located in the middle of highly fertile upper Ganga-Yamuna Doab region and is quite near to the National capital, making it one of the most developed and prosperous cities of Uttar Pradesh. Muzaffarnagar district was included in National Capital Region (NCR) on 9 June 2015 opening new avenues of development for the city. This city is also part of Delhi Mumbai Industrial Corridor (DMIC) and Amritsar Delhi Kolkata Industrial Corridor (ADKIC) opening door of opportunities in the region. It is the principal commercial, industrial and educational hub of Western Uttar Pradesh. Currently, G.S Priyadarshi is the District Magistrate of Muzaffarnagar
Contents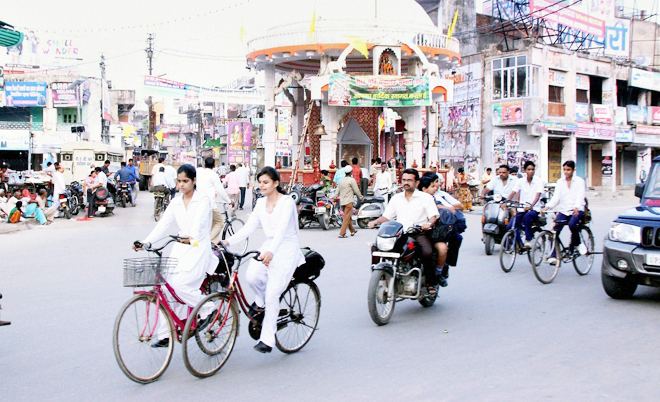 Muzaffarnagar clashes situation under control says adg
On the way to muzaffarnagar from roorkee
History
The town was founded in 1633 near the site of an ancient town, Sarwat, by the son of a Mughal Commander Sayyid Muzaffar Khan during the reign of Shah Jahan. In 1901, during the British Raj, it was district in the Meerut Division in United Provinces of Agra and Oudh.
2013 Muzaffarnagar riots
The 2013 Muzaffarnagar riots between Hindus and Muslims resulted in 62 deaths. According to a May 2015 report in India Today:
Shamli and adjoining Muzaffarnagar districts are considered sensitive ever since large-scale communal violence erupted in August and September 2013. More than 50 people had died and over 50,000 were rendered homeless...The riot that ensued had engulfed many districts of western UP.
Geography
MuzaffarNagar is located on an elevation of 272 meters above sea level in the Doab region of Indo-Gangetic Plain. It is located 125 kilometres NE of the national capital, Delhi, and roughly 200 kilometres SE of Chandigarh. The historical cities of Bijnor, Meerut and Hastinapur are close by. Also in proximity are New Delhi, Ghaziabad, Roorkee, Haridwar, Rishikesh, Dehra Dun, Saharanpur, Panipat, Karnal, Yamunagar and the hill station of Mussoorie.
Climate
Muzaffarnagar has a monsoon influenced humid subtropical climate characterised by much hot summers and cooler winters. Summers last from early April to late June and are extremely hot. The monsoon arrives in late June and continues till the middle of September. Temperatures drop slightly, with plenty of cloud cover but with higher humidity. Temperatures rise again in October and the city then has a mild, dry winter season from late October to the middle of March. June is the warmest month of the year. The temperature in June averages 32.8 °C. In January, the average temperature is 13.9 °C. It is the lowest average temperature of the whole year. The average annual temperature in Muzaffarnagar is 24.2 °C. The highest and lowest temperatures ever recorded in Muzaffarnagar are 47 °C (117 °F) and −0.9 °C (30.4 °F) respectively. The rainfall here averages 955 mm. The driest month is April, with 3 mm of rain. Highest precipitation falls in July, with an average of 294 mm.
Demographics
As of the 2011 census, Muzaffar Nagar municipality had a population of 392,451 and the urban agglomeration had a population of 494,792. The municipality had a sex ratio of 897 females per 1,000 males and 12.2% of the population were under six years old. Effective literacy was 80.99%; male literacy was 85.82% and female literacy was 75.65%. The city has 55.79% Hindus, 41.39% Muslims, 1.5% Sikhs, 0.5% Christians and 2% Jains.
Muzaffarnagar city is governed by Municipal Corporation which comes under Muzaffarnagar Urban Agglomeration. Although Muzaffarnagar city has population of 392,451; its urban / metropolitan population is 494,792 of which 261,338 are males and 233,454 are females. The majority of the population speaks Hindi.
Language
Khari Boli, a prestigious dialect of Hindi, is the native tongue of the city which resembles a lot with the Haryanvi dialect of Hindi.
Media and communications
Radio SD(90.8) has a local station in Muzaffarnagar which transmits various programs of mass interest.
Economy
The region is one of the important sugarcane producing regions in the world. Sugar and jaggery (Hindi: गुड़) production are important industries in the Muzaffarnagar district. As a result of the farming activities around, the city is an important hub of jaggery trading business. Naveen Mandi Sthal situated in the eastern outskirts of the city is the trading hub for Jaggery and other agriculture produce.
Muzaffarnagar is an important industrial city with sugar, steel and paper being the major industries. District Muzaffarnagar has 8 sugar mills. Many steel companies market their steel products, including angles and bars, through media in the country. Hence adding another aspect to Muzaffarnagar's popularity in the country.
More than 40% of the region's population is engaged in agriculture. According to Economic Research firm Indicus Analytics, Muzaffarnagar has the highest agricultural GDP in Uttar Pradesh. It has the largest granary in UP. Despite of this much of economic power, the city has been absent from the map of the foreign and modern business establishments. The city presents challenges, not to say law and order, decaying infrastructure and communalism. However, due to the efforts of the governmemts, the area remains poised on the verge of growth.
CWC Godowns, Bamanheri
Central Warehousing Corporation (CWC) has its base depot in Bamanheri village on the outskirts of Muzaffarnagar city. With capacity of 1.5 lakh metric tonnes (150000 MT) this is counted among largest of CWC depots. This depot is currently operated by Food Corporation of India (FCI) and stores around 80000 MT of food grains (Wheat & Rice) to ensure food security in the region. FCI is the nodal agency which procures food grains from farmers and stock them in this depot.
Transportation
Muzaffarnagar is well connected by road and railway networks. The Ghaziabad - Saharanpur line passes through the city thus forming the backbone of the long-distance and best possible travel from the city. Indian Railways provides connections to New Delhi, Western, Jammu & Kashmir, Punjab, South India and other parts of the country. Dehradun Shatabdi Express and Dehradun Jan Shatabdi Express trains pass through and halt at the Muzaffarnagar station. The Meerut - Shaharanpur section of this railway route is now being developed as a part of the Eastern Dedicated Freight Corridor. The corridor extends from Ludhiana in Punjab to Dankuni in West Bengal.
The National Highway - 58 (NH-58) passes through Muzaffarnagar city. This highway provides connections towards Delhi on the southern direction and upper reaches of the Himalayas in the Uttarakhand state on the northern direction. The highway is the backbone of the road transportation for the Muzaffarnagar city as well as Garhwal region of Uttarakhand. Cities and areas of Hardwar, Rishikesh, Dehradun as well as Badrinath and Kedarnath are served by this highway.
Environmental concerns
Muzaffarnagar lies approximately at the middle of the road journey from Delhi to Rishikesh (also on NH-58). As a resultant, many roadside resorts and eateries have sprung up on the highway near the city. Especially, the town of Khatauli is famous for its canal side forest park named Cheetal.
Unfortunately, this has also turned into a concern for the wildlife and environment. Once visited for the sight of deer and rabbits and other wild animals, the Cheetal is now encroached by privately owned dhabas and resorts thus sidelining the animals.
City transportation mostly consists of tricycles and 3-wheeled vehicles, rickshaws. Thus leading to a lot of traffic jams in the city. An international airport, Muzaffarnagar International Airport, was proposed in the city in order to reduce the traffic in at the Indira Gandhi International Airport, however, the same was transferred to the Jewar Airport.
Education
Starting from the preschools city has various preschools such as Bachpan, Kidzee and Ideal Kids. There are a number of good schools and colleges in the city. Schools are mostly associated with CBSE and UP Board. A few well-known schools of the city are MG Public School at circular road, Children Academy High School, L.J.P. SVM Inter college, Bhagwanti Saraswati Vidya Mandir Inter College, Islamia inter & degree college, Nawab azmat ali khan Muslim girls degree college, Deep Chandra Grain Chamber Inter College(DCGC Inter College), Kendriya Vidyalaya, S.D. Public School, G.C. Public School, Holy Angels Convent School, M.G. Public School(CSIR Adopted School), St. Pauls School, ISA awarded School by British Council of India), S.B.M. Public School, Flora Public Junior High School, DAV Public School, J.V. Public School, Shardein school, Raj Public Inter College, Stepping Stones School, Shri Guru Ram Rai Public School, S.D. Inter College, Gyan Deep Public School, DAV Inter College, Jain Inter College(Meenakshi Chowk), M.M.M Inter College, ascent public school and Bhaskar Public School, Janakpuri, Muzaffarnagar and several others.
The city has several institutions of higher education. The state-sponsored colleges like S.D Degree College, S.D College Of Management Studies, D.A.V Degree College, Choudhary Chotu Ram post Graduate College, Jain Degree College also add to this list. Self Finance colleges are SD Group of colleges, Shri Ram Group of Colleges, Deen Dayal Group of Colleges and Prahlad Singh Memorial Group of Institutions, Chitora Pamnawali Khatauli (Chairman Dr Vikas Kumaar Pundeer, Ex Scientist Govt of Canada).
The Muzaffarnagar District has one Pharmacy college, S. D. College of Pharmacy & Vocational Studies, Affiliated by Dr. A.P.J. Abdul Kalam Technical University, Lucknow and approved by Pharmacy Council of India (PCI) offering B. Pharm and M. Pharm degree courses.
The city also has a Medical College Muzaffarnagar Medical College situated on Meerut - Muzaffarnagar Highway nearly 10 km on the outskirts of the city which is affiliated to CCS university & approved by Medical Council of India. Along with M.B.B.S, this college is offering various other courses.
Gandhi Polytechnic Muzaffarnagar is a well-known polytechnic College in this region. Affiliated by Uttar Pradesh Board of Technical Education (BTEUP), Lucknow, College Awarded Engineering Diploma in- Electrical, Mechanical, Civil etc.
Jawahar Primary Pathshala, The Muslim Public school and Razi Public school Ladhawala main road.
Notable personalities of Muzaffarnagar
Swami Kalyandev (1876–2004), was an ascetic who worked in the field of education and social reforms throughout his life. He was awarded the Padma Bhushan by Government of India.
Liaquat Ali Khan, the first Prime Minister of Pakistan once lived in Muzaffarnagar. His "Kehkashan" bungalow is still present in the city in the form of shardein school near Company Garden.
Virendra Verma, a political figure and former Governor of Punjab and Himacahal Pradesh also hailed from Muzaffarnagar
Nawazuddin Siddiqui, a Bollywood actor who has worked in movies such as Black Friday, New York, Peepli Live, Kahani, and Gangs of Wasseypur, Kick, Lunch Box, Teen, Bajrangi Bhaijaan, Raman Raghav 2.0 etc.
Javed Ali, a playback singer of Bollywood and album songs, belongs to Shahpur town of Muzaffarnagar.
Ali Quli Mirza, a Bollywood actor & pop singer.
Religious establishments in Muzaffarnagar
Brahma Ji Temple is situated in the town of Budhana on the banks of the Hindon River.
Shukratal is a religious town under the district of Muzaffarnagar.
Kali-Nadi Devi Mandir, one of the city's oldest temples, is situated at the west end of the city, and holds a great mythological importance. On the day following the festival of Holi, a large fair is held in and around the temple.
Vahelna, 4 km from the city, is a holy site for Jains.
Bhairo-ka-Mandir is a temple dedicated to the Hindu deity Bhairo, situated in the heart of the city on Ansari Road.
Shri Shri Golokdham is a religious place for devotees of Krishna, situated at heart of Muzaffarnagar city.
Sankirtan Bhawan, popularly known as Kirtan Bhawan, is situated in the neighbourhood of New Mandi. The temple provides food for poor people.
Dallu Devta is a religious place near Kali Nadi.
Balaji Dham temple, also known as Balaji Temple, it is situated in the New Mandi neighbourhood of Muzaffarnagar.
Jai Maa Shakti Mandir temple is situated in Patel Nagar.
References
Muzaffarnagar Wikipedia
(Text) CC BY-SA