Preceded by

George LeMieux




Succeeded by

Ray Sansom




Succeeded by

Erik Fresen




Name

Marco Rubio




Height

1.78 m




Preceded by

Allan Bense




Preceded by

Carlos Valdes




Political party

Republican




Role

United States Senator






Full Name

Marco Antonio Rubio




Born

May 28, 1971 (age 44) Miami, Florida, United States (

1971-05-28

)


Spouse

Jeanette Dousdebes (m. 1998)




Education

University of Miami School of Law (1996)




Parents

Oriales Rubio, Mario Rubio




Children

Daniella Rubio, Dominic Rubio, Amanda Rubio, Anthony Rubio




Similar People

Ted Cruz, Jeb Bush, Ben Carson, Donald Trump, Rand Paul




Profiles




Twitter

Facebook

YouTube

Instagram

Tumblr
Sen. Marco Rubio (R-FL) on debate in U.S. Senate (C-SPAN)
Marco Antonio Rubio (born May 28, 1971) is the junior United States Senator from the state of Florida, serving since January 2011, and is a candidate for President of the United States in the 2016 election. He previously served as Speaker of the Florida House of Representatives.
Contents
Rubio is a Cuban American native of Miami. He graduated from the University of Florida and the University of Miami School of Law. In the late 1990s, he served as a City Commissioner for West Miami and was elected to the Florida House of Representatives in 2000, representing the 111th House district.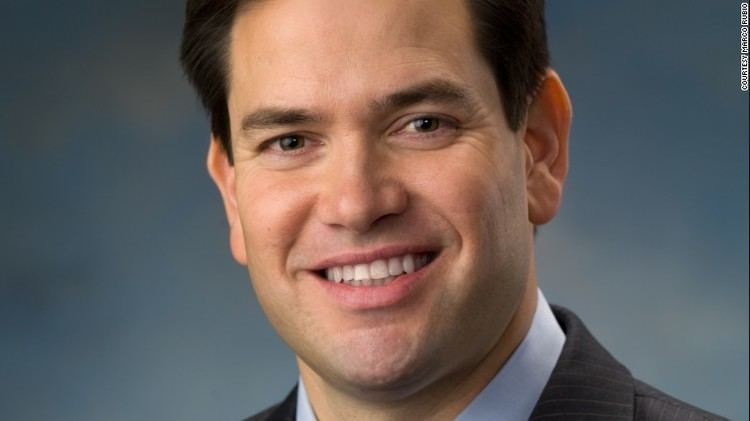 Later in 2000, Rubio was promoted to be one of two majority whips, and in 2002 was appointed House Majority Leader by Speaker Johnnie Byrd. He was elected Speaker of the Florida House in September 2005, and served as Speaker for two years. Upon leaving the Florida legislature in 2008, Rubio started a new law firm, and also began teaching at Florida International University, where he continues as an adjunct professor.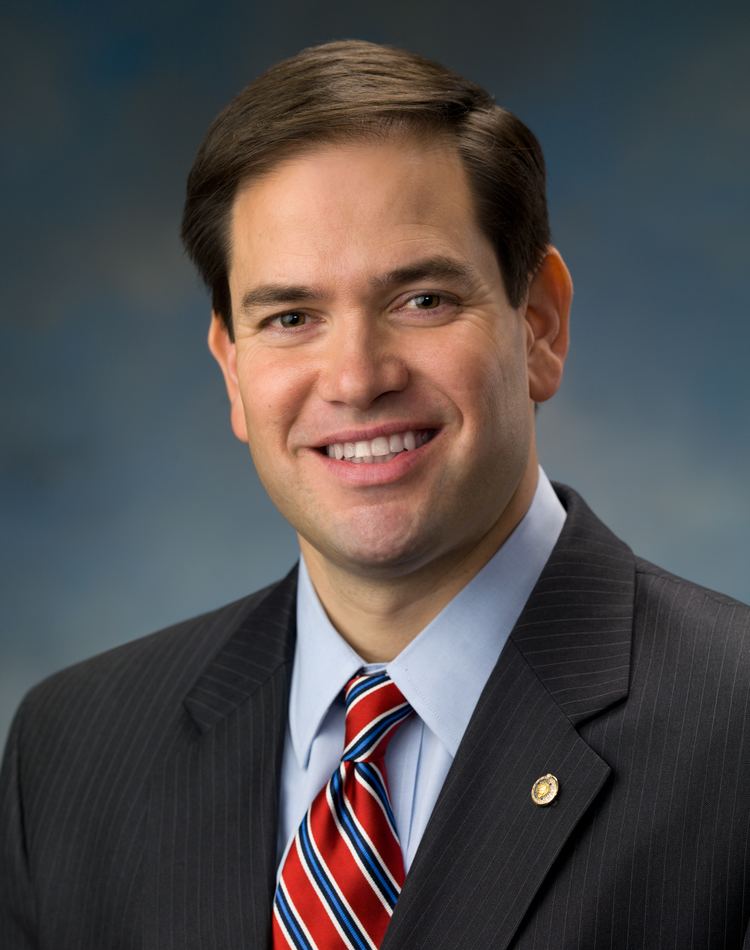 Rubio ran for United States Senate in 2010, and won that election. In the U.S. Senate, he chairs the Commerce Subcommittee on Oceans, Atmosphere, Fisheries, and Coast Guard, as well as the Foreign Relations Subcommittee on Western Hemisphere, Transnational Crime, Civilian Security, Democracy, Human Rights and Global Women's Issues. He is one of three Latino Americans serving in the Senate. On April 13, 2015, Rubio announced that he would forgo seeking reelection to the Senate to run for President, and he is currently seeking the Republican nomination in the 2016 primaries.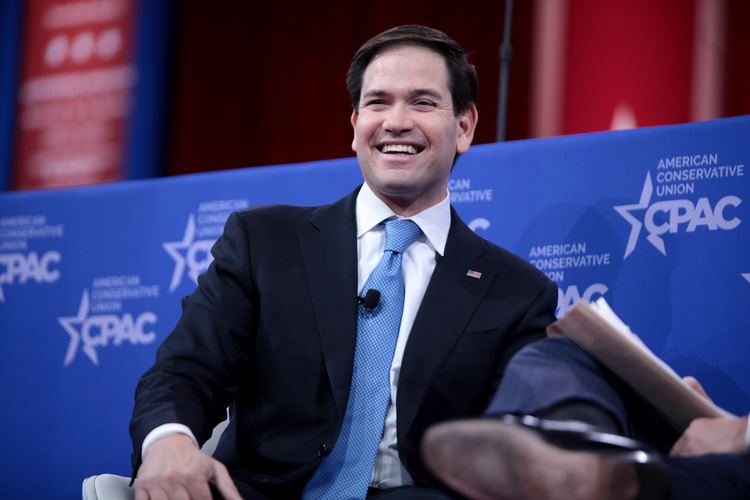 Marco rubio for president tv ad bartender marco rubio for president
Early life, education, and entry into politics
Rubio was born in Miami, Florida, the second son and third child of Mario Rubio Reina and Oriales (nee Garcia) Rubio. His parents were Cubans who immigrated to the United States in 1956, prior to the rise of Fidel Castro in January 1959. His mother made at least four trips back after Castro's victory, including for a month in 1961. Neither of his parents was a U.S. citizen at the time of Rubio's birth, but ultimately his parents applied for U.S. citizenship and were naturalized in 1975.
Rubio grew up in a family that was Roman Catholic, though from age 8 to age 11, he and his family attended The Church of Jesus Christ of Latter-day Saints while living in Las Vegas, where his father worked as a bartender at Sam's Town Hotel and his mother a housekeeper at the Imperial Palace Hotel and Casino. He received his first communion as a Catholic in 1984, before moving back to Miami with his family a year later. He was confirmed and married in the Catholic Church.
Rubio attended South Miami Senior High School, graduating in 1989. He then attended Tarkio College in Missouri for one year on a football scholarship from 1989 to 1990, before enrolling at Santa Fe Community College (now Santa Fe College) in Gainesville, Florida. He earned his Bachelor of Arts degree in political science from the University of Florida in 1993, and his J.D. degree cum laude from the University of Miami School of Law in 1996. Rubio has said that his education resulted in $100,000 of student loans, which he paid off in 2012.
While studying law, Rubio interned for U.S. Representative Ileana Ros-Lehtinen. He also worked on Republican Senator Bob Dole's 1996 presidential campaign. In April 1998, two years out of law school and 26 years old, Rubio was elected to a seat as City Commissioner for West Miami before moving on to the Florida House of Representatives in early 2000.
In October 2011, newspapers reported that Rubio's previous statements that his parents were forced to leave Cuba in 1959, after Fidel Castro came to power, were incorrect. His parents left Cuba in 1956, during the dictatorship of Fulgencio Batista. According to The Washington Post, Rubio's "embellishments" resonated with many voters in Florida, and the newspaper claimed they would be less impressed by his family being economic migrants instead of political refugees from a communist regime. Rubio responded: "The real essence of my family's story is not about the date my parents first entered the United States. Or whether they traveled back and forth between the two nations. Or even the date they left Fidel Castro's Cuba forever and permanently settled here. The essence of my family story is why they came to America in the first place, and why they had to stay."
Elections and concurrent employment
In late 1999, a special election was called to fill the seat for the 111th House District in the Florida House of Representatives, representing Miami. The seat had been held by Representative Carlos Valdes, who had run for and won an open Florida State Senate seat. It was considered a safe Republican seat, so Rubio's main challenge was to win the GOP nomination. He campaigned as a moderate, advocating tax cuts and early childhood education.
Rubio placed second in the Republican primary on December 14, 1999, but won the run-off election for the Republican nomination, defeating Angel Zayon (a television and radio reporter who was popular with Cuban exiles) by just 64 votes. He then defeated Democrat Anastasia Garcia with 72% of the vote in a January 25, 2000 special election.
In November 2000, Rubio won re-election unopposed. In 2002, he won re-election to a second full term unopposed. In 2004, he won re-election to a third full term with 66% of the vote. In 2006, he won re-election to a fourth full term unopposed.
Rubio served almost nine years in the Florida House of Representatives. Since the Florida legislative session officially lasted only 60 days, he was able to spend about half of each year in Miami, where he worked first at a law firm that specialized in land use and zoning, and later starting in 2004, took a position with Broad and Cassel, a Miami law and lobbying firm, though state law precluded him from engaging in lobbying or introducing legislation on behalf of the firm's clients.
Tenure in legislature
At the time Rubio took his seat in the legislature in Tallahassee in January 2000, voters in Florida had recently approved a constitutional amendment on term limits. This created openings for new legislative leaders due to many senior incumbents having to retire. According to an article in National Journal, Rubio also gained an extra advantage in that regard, because he was sworn in early due to the special election, and he would take advantage of these opportunities to join the GOP leadership.
Majority whip and majority leader
Later in 2000, the majority leader of the House, Mike Fasano, promoted Rubio to be one of two majority whips. National Journal described that position as typically requiring a lot of arm-twisting, but said Rubio took a different approach that relied more on persuading legislators and less on coercing them.
Fasano resigned in September 2001 as majority leader of the House due to disagreements with the House speaker, and the speaker passed over Rubio to appoint a more experienced replacement for Fasano. Rubio volunteered to work on redistricting, which he accomplished by dividing the state into five regions, then working individually with the lawmakers involved, and this work helped to cement his relationships with the republicans.
In December 2002, Rubio was appointed House Majority Leader by Speaker Johnnie Byrd. He persuaded Speaker Byrd to restructure the job of Majority Leader, so that legislative wrangling would be left to the whip's office, and Rubio would become the main spokesperson for the House GOP.
According to National Journal, during this period Rubio did not entirely adhere to doctrinaire conservative principles, and some colleagues described him as a centrist "who sought out Democrats and groups that don't typically align with the GOP". He co-sponsored legislation that would have let farm workers sue growers in state court if they were shortchanged on pay, and co-sponsored a bill for giving in-state tuition rates to the children of undocumented immigrants. In the wake of the September 11 attacks, he voiced suspicion about expanding police detention powers, and helped defeat a GOP bill that would have required colleges to increase reporting to the state about foreign students.
As a state representative, Rubio requested legislative earmarks (called "Community Budget Issue Requests" in Florida), totaling about $145 million for 2001 and 2002, but none thereafter. Additionally, an office in the executive branch compiled a longer list of spending requests by legislators, including Rubio, as did the non-profit group Florida TaxWatch. Many of those listed items were for health and social programs that Rubio has described as "the kind of thing that legislators would get attacked on if we didn't fund them." A 2010 report by the Tampa Bay Times and Miami Herald said that some of Rubio's spending requests dovetailed with his personal interests. For example, Rubio requested a $20 million appropriation for Jackson Memorial Hospital to subsidize care for the poor and uninsured, and Rubio later did work for that hospital as a consultant. A spokesman for Rubio has said that the items in question helped the whole county, that Rubio did not lobby to get them approved, that the hospital money was necessary and non-controversial, and that Rubio is "a limited-government conservative ... not a no-government conservative".
House speaker
On September 13, 2005, at the age of 34, Rubio clinched the speakership after State Representatives Dennis Baxley, Jeff Kottkamp, and Dennis A. Ross dropped out. He was actually sworn in over a year later, in November 2006. He became the first Cuban American to be speaker of the Florida House of Representatives, and would remain speaker until November 2008.
When he was chosen as future speaker in 2005, Rubio delivered a speech to the House in which he asked members to look in their desks, where they each found a hardcover book titled 100 Innovative Ideas For Florida's Future; but the book was intentionally blank, because it had not yet been written, and Rubio told his colleagues that they would fill in the pages together with the help of ordinary Floridians. In 2006, after traveling around the state and talking with citizens, and compiling their ideas, Rubio published the book. The National Journal called this book "the centerpiece of Rubio's early speakership". About 24 of the "ideas" became law, while another 10 were partially enacted. Among the items from his 2006 book that became law were multiple-year car registrations, a requirement that high schools provide more vocational courses, and an expanded voucher-like school-choice program. Rubio's defenders, and even some critics, point out that nationwide economic difficulties overlapped with much of Rubio's speakership, and so funding new legislative proposals became difficult.
At the time Rubio took office as speaker, Jeb Bush was completing his term as governor, and Bush left office in January 2007. Rubio hired 18 Bush aides, leading capitol insiders to say the speaker's suite was "the governor's office in exile." An article in National Journal described Rubio's style as being very different from Bush's; where Bush was a very assertive manager of affairs in Tallahassee, the article says, Rubio's style was to delegate certain powers, relinquish others, and invite former political rivals into his inner circle. As incoming speaker, he decided to open a private dining room for legislators, which he said would give members more privacy, free from being pursued by lobbyists, though the expense of doing so led to a public relations problem.
In 2006, Florida enacted into law limitations upon the authority of the state government to take private property, in response to the 2005 Supreme Court decision in Kelo v. City of New London which took a broad view of governmental power to take private property under eminent domain. This state legislation had been proposed by a special committee chaired by Rubio prior to his speakership.
Jeb Bush's successor as governor was Charlie Crist, a moderate Republican who took office in January 2007. Rubio and Crist clashed frequently. Their sharpest clash involved the governor's initiative to expand casino gambling in Florida. Rubio sued Crist for bypassing the Florida Legislature in order to make a deal with the Seminole Tribe. The Florida Supreme Court sided with Rubio and blocked the deal.
Rubio also was a critic of Crist's strategy to fight climate change through an executive order creating new automobile and utility emissions standards. Rubio accused Crist of imposing "European-style big government mandates," and the legislature under Rubio's leadership weakened the impact of Crist's climate change initiative. Rubio said that Crist's approach would harm consumers by driving up utility bills without having much effect upon the environment, and that a better approach would be to promote biofuel (e.g. ethanol), solar panels, and energy efficiency.
Rubio introduced a plan to reduce state property taxes to 2001 levels (and potentially eliminate them altogether), while increasing sales taxes by 1% to 2.5% to fund schools. The proposal would have reduced property taxes in the state by $40–50 billion. His proposal passed the House, but was opposed by Governor Crist and Florida Senate Republicans, who said that the increase in sales tax would disproportionately affect the poor. So, Rubio agreed to smaller changes, and Crist's proposal to double the state's property tax exemption from $25,000 to $50,000 (for a tax reduction estimated by Crist to be $33 billion) ultimately passed. Legislators called it the largest tax cut in Florida's history up until then. At the time, Republican anti-tax activist Grover Norquist described Rubio as "the most pro-taxpayer legislative leader in the country."
As speaker, Rubio "aggressively tried to push Florida to the political right," according to NBC News, and frequently clashed with the Florida Senate, which was run by more moderate Republicans, and with then-Governor Charlie Crist, a centrist Republican at the time. Although a conservative, "behind the scenes many Democrats considered Rubio someone with whom they could work," according to biographer Manuel Roig-Franzia. Dan Gelber of Miami, the House Democratic leader at the time of Rubio's speakership, considered him "a true conservative" but not "a reflexive partisan," saying: "He didn't have an objection to working with the other side simply because they were the other side. To put it bluntly, he wasn't a jerk." Gelber considered Rubio "a severe conservative, really far to the right, but probably the most talented spokesman the severe right could ever hope for."
While Speaker of the Florida House, Rubio shared a residence in Tallahassee with another Florida State Representative, David Rivera, which the two co-owned. The house later went into foreclosure in 2010 after several missed mortgage payments. At that point, Rubio assumed responsibility for the payments, and the house was eventually sold.
In 2007, Florida State Senator Tony Hill (D-Jacksonville), chairman of the state legislature's Black Caucus, requested that the legislature apologize for slavery, and Rubio said the idea merited discussion. The following year, a supportive Rubio said such apologies can be important albeit symbolic; he pointed out that even in 2008 young African-American males "believe that the American dream is not available to them". He helped set up a council on issues facing black men and boys, persuaded colleagues to replicate the Harlem Children's Zone in the Miami neighborhood of Liberty City, and supported efforts to promote literacy and mentoring for black children and others.
In 2010 during Rubio's senate campaign, and again in 2015 during his presidential campaign, issues were raised by the media and his political opponents about some items charged by Rubio to his Republican Party of Florida American Express card during his time as House speaker. Rubio charged about $110,000 during those two years, of which $16,000 was personal expenses unrelated to party business, such as groceries and plane tickets. Rubio said that he personally paid American Express more than $16,000 for these personal expenses. In 2012, the Florida Commission on Ethics cleared Rubio of wrongdoing in his use of the party-issued credit card, although the commission inspector said that Rubio exhibited a "level of negligence" in not using his personal MasterCard. In November 2015, Rubio released his party credit card statements for January 2005 through October 2006, which showed eight personal charges totaling $7,243.74, all of which he had personally reimbursed, in most instances by the next billing period. When releasing the charge records, Rubio spokesman Todd Harris said, "These statements are more than 10 years old. And the only people who ask about them today are the liberal media and our political opponents. We are releasing them now because Marco has nothing to hide."
Adjunct professor at Florida International University
After leaving the Florida Legislature in 2008, Rubio started his own law firm, and also began teaching under a fellowship appointment at Florida International University (FIU) as an adjunct professor. In 2011, he rejoined the FIU faculty after entering the U.S. Senate, and he has taught on most Mondays and Fridays, when the Senate is usually not in session. Rubio teaches in the Department of Politics and International Relations, which is part of FIU's Steven J. Green School of International and Public Affairs. He has taught up to four undergraduate courses per year, on Florida politics, political parties, and legislative politics.
Rubio's reviews from students have been positive, even from students who disagree with him politically. He generally gives the impression of being unbiased and nonpartisan, and when offering his own opinion identifies it as such. Rubio says that he wants students, when they watch the news, to have an appreciation for what is really going on behind the scenes, and says that teaching "forces me to stop sometimes and analyze things."
As of 2015, Rubio's appointment as an FIU professor is no longer a matter of partisan criticism, though it was initially. The university obtained considerable state funding when Rubio was speaker of the Florida House, but many other university jobs were being eliminated due to funding issues at the time FIU appointed him to the faculty. According to news reporting about Rubio's speakership, he "might have helped FIU get money early, but all the projects already had been scheduled for funding by the state's Board of Governors." The president of the faculty senate at the time criticized the appointment, and Charlie Crist raised the issue against Rubio during the 2010 U.S. Senate election. Both the university and Rubio's office deny that the teaching position was based on a 'sweetheart deal'. The director of FIU's School of International and Public Affairs says that Rubio "brings a great deal of insight and hands-on knowledge of the political process to the classroom...our students will learn from a sitting U.S. senator, which is an incredible opportunity." When Rubio accepted the fellowship appointment as an adjunct professor at FIU, he agreed to raise most of the funding for his position from private sources. A major contributor has been billionaire Norman Braman, also a major campaign donor to Rubio. Rubio's office says that his current arrangement with FIU was approved by the Senate Ethics Committee, and that other senators, such as then-Senator Joe Biden, have held teaching positions during their terms of office.
2010 election
On May 5, 2009, Rubio announced on his website that he planned to run for the United States Senate seat being vacated by Mel Martinez, who had announced that he would not seek reelection. Martinez subsequently announced (in August 2009) that he would resign before completing his term, and upon his resignation was replaced by George LeMieux. Prior to making his May 5, 2009 announcement, Rubio had been meeting with fundraisers and supporters throughout the state. Initially trailing by double-digits in the primary against the incumbent Governor of his own party, Charlie Crist, Rubio eventually surpassed Crist in polling for the Republican nomination. In his campaign, Rubio received the support of members of the Tea Party, many of whom were dissatisfied with Crist's policies as governor.
On April 28, 2010, Crist announced he would be running without a party affiliation, effectively ceding the Republican nomination to Rubio. Several of Crist's top fundraisers, as well as Republican leadership, refused to support Crist after Rubio won the Republican nomination for the Senate.
On November 2, 2010, Rubio won the general election with 49 percent of the vote to Crist's 30% and Democrat Kendrick Meek's 20%. Following his victory in the elections, Rubio soon became the subject of speculation as a potential Republican candidate for the 2012 presidential election. At the time of his election, Rubio joined Bob Menendez of New Jersey as the only two Latino Americans in the Senate. (Ted Cruz would be elected Senator of Texas two years later).
Tenure in Congress
Shortly after taking office in 2011, Rubio said he had no interest in running for president or vice president in the 2012 presidential election. In March 2012, when he endorsed Mitt Romney for president, Rubio said that he did not expect to be or want to be selected as a vice presidential running mate, but was vetted for vice president by the Romney campaign. Former Romney aide Beth Myers has said that the vetting process turned up nothing disqualifying about Rubio.
Upon taking office, Rubio hired Cesar Conda as his chief of staff. Conda, a former adviser to Vice President Dick Cheney, and former top aide to Sens. Spencer Abraham (R-Mich.) and Robert Kasten (R-Wis.), was succeeded in 2014 as Rubio's chief of staff by his deputy, Alberto Martinez, but Conda remained as a part-time adviser.
Rubio voted against the Budget Control Act of 2011, which included mandatory automatic budget cuts from sequestration. Rubio said in August 2012 that defense spending should never have been linked to taxes and the deficit, calling the policy a "terrible idea" based on a "false choice."
In October 2011, Rubio co-sponsored the Reducing the Size of Federal Government Through Attrition Act. The bill, which was not voted on in the Senate, would have reduced federal employment by 10% by 2015.
In November 2011, Rubio and Senator Chris Coons, Democrat of Delaware, co-sponsored the American Growth, Recovery, Empowerment and Entrepreneurship Act (AGREE Act), which would have extended many tax credits and exemptions for businesses investing in research and development, equipment, and other capital; provided a tax credit for veterans who start a business franchise; allowed an increase in immigration for certain types of work visas; and strengthened copyright protections.
In 2012, Rubio introduced a bill, co-sponsored by Joe Manchin, Democrat of West Virginia, to allow employers to be exempted from newly mandated coverage for contraception based on religious or moral grounds, but it was not adopted in the Senate.
Rubio voted against the 2012 "fiscal cliff" resolutions. Although he received some criticism for this position, he responded: "Thousands of small businesses, not just the wealthy, will now be forced to decide how they'll pay this new tax, and, chances are, they'll do it by firing employees, cutting back their hours and benefits, or postponing the new hires they were looking to make. And to make matters worse, it does nothing to bring our dangerous debt under control."
In 2013, Rubio was part of the bipartisan "Gang of Eight" Senators that crafted comprehensive immigration reform legislation. Rubio proposed a plan providing a path to citizenship for undocumented immigrants currently living in the United States involving payment of fines and back taxes, background checks, and a probationary period.
Rubio was chosen to deliver the Republican response to President Obama's 2013 State of the Union Address. It marked the first time the response was delivered in English and Spanish. Rubio's attempt to draw a strong line against the looming defense sequestration was undercut by fellow Republican senator Rand Paul's additional response to Obama's speech that called for the sequester to be carried out.
In April 2013, Rubio voted against an expansion of background checks for gun purchases, contending that such increased regulatory measures would do little to help capture criminals.
In May 2013, Rubio proposed the Regulation Costs to Small Businesses Act which would have required the Small Business Administration to conduct an annual study to estimate the total cost of regulations on small businesses.
In July 2013, Rubio and Senator Ben Cardin, Democrat of Maryland, introduced the Foreign Aid Transparency and Accountability Act of 2013. The bill would require federal agencies to monitor and regularly report on the performance of foreign assistance programs based on specified goals and metrics. The reports would be published publicly. According to Rubio: "America's foreign assistance programs need greater transparency to ensure that they are advancing our values and interests overseas."
In 2014, Rubio co-sponsored legislation with Senator Mark Warner, Democrat of Virginia, to revise the process for calculating and collecting student loans. The legislation would base student loan payments on the student's subsequent income and automatically collect payments from paychecks in order to simplify the process and eliminate loan servicer fees.
In 2014, Rubio asked Pope Francis "to take up the cause of freedom and democracy" in Cuba after helping negotiate the release of Alan Gross.
In 2015, at a summit organized by Concerned Veterans for America, Rubio said that the United States Department of Veterans Affairs was "simply buckling under the weight of its own bureaucracy" as he endorsed their proposal to open veterans' care to private providers.
In March 2015, Rubio and Senator Mike Lee, Republican of Utah, proposed a tax plan which, according to The Wall Street Journal, combined thinking from "old-fashioned, Reagan-era supply siders" and a "breed of largely younger conservative reform thinkers" who are concerned with the tax burden on the middle-class. The plan would lower the top corporate income tax rate from 38% to 25%, eliminate taxes on capital gains, dividends and inherited estates, and create a new child tax credit worth up to $2,500 per child. The plan would set the top individual income tax rate at 35%. It also included a proposal to replace the means-tested welfare system, including food stamps and the Earned Income Tax Credit, with a new "consolidated system of benefits".
According to analysis by Vocativ as reported by Fox News, Rubio has missed 8.3 percent of total votes since taking office, from January 2011 to February 2015. From October 27, 2014, to October 26, 2015, Rubio voted in 74 percent of Senate votes, according to an analysis by GovTrack.us, which tracks Congressional voting records. In historical context Rubio's attendance record for Senate votes is not exceptional among senators seeking a presidential nomination, such as Senator John McCain whose percentage of missed votes in 2007 was much higher. However it is the worst of the three senators currently running for the presidency.
Committee assignments
In the U.S. Senate, he chairs the Commerce Subcommittee on Oceans, Atmosphere, Fisheries, and Coast Guard, as well as the Foreign Relations Subcommittee on Western Hemisphere, Transnational Crime, Civilian Security, Democracy, Human Rights and Global Women's Issues. His committee memberships are as follows.
Committee on Commerce, Science and Transportation
Subcommittee on Aviation Operations, Safety, and Security
Subcommittee on Communications, Technology, and the Internet
Subcommittee on Oceans, Atmosphere, Fisheries, and Coast Guard (chair)
Subcommittee on Science and Space
Committee on Foreign Relations
Subcommittee on East Asia, The Pacific, and International Cybersecurity Policy
Subcommittee on Africa and Global Health Policy
Subcommittee on Near East, South and Central Asia, and Counterterrorism
Subcommittee on Western Hemisphere, Transnational Crime, Civilian Security, Democracy, Human Rights, and Global Women's Issues (chair)
Select Committee on Intelligence
Committee on Small Business and Entrepreneurship
2016 presidential campaign
Rubio stated in April 2014 that he would not run for both the Senate and President in 2016, as Florida law prohibits a candidate from appearing twice on a ballot, but at that time he did not rule out running for either office. He has since indicated that, even if he does not win the Republican nomination for president, he does not plan to run for reelection to the Senate. Also in April 2014, the departure of Cesar Conda, Rubio's chief of staff since 2011, was seen as a sign of Rubio's plans to run for President in 2016. Conda departed to lead Rubio's Reclaim America PAC as a senior adviser. Groups supporting Rubio raised over $530,000 in the first three months of 2014, most of which was spent on consultants and data analytics, in what was seen as preparations for a presidential campaign.
A poll from the WMUR/University, tracking New Hampshire Republican primary voters' sentiment, showed Rubio at the top alongside Kentucky senator Rand Paul later in 2013, but as of April 18, 2014, he had dropped to 10th place behind other Republican contenders. The poll, however, also suggests that Rubio is not disliked by the primary voters, which could be positive for him if other candidates choose not to run. Rubio placed second among potential 2016 Republican presidential candidates in an online poll of likely voters conducted by Zogby Analytics in January 2015.
In January 2015, it was reported that Rubio had begun contacting top donors and appointing advisors for a potential 2016 run, including George Seay, who previously worked on such campaigns as Rick Perry's in 2012 and Mitt Romney's in 2008, and Jim Rubright, who had previously worked for Jeb Bush, Mitt Romney, and John McCain. Rubio also instructed his aides to "prepare for a presidential campaign" prior to a Team Marco 2016 fundraising meeting in South Beach.
On April 13, 2015, Rubio announced that he would run for President in 2016. Rubio is acceptable to many parts of the GOP base in the 2016 presidential race; while not usually regarded by the base as a first choice as of July 2015, there was a growing audience for his youthfulness and oratorical skill.
During his campaign, Rubio has often pitched his candidacy as an effort to restore the American Dream for middle and working-class families, who may find his working-class and immigrant background appealing.
Political positions
As of early 2015, Rubio had a rating of 98.67 by the American Conservative Union, based on his lifetime voting record in the Senate. Two other senators were tied with Rubio, and only two were rated as having more conservative ratings. According to the National Journal, in 2013 Rubio had been the 17th most conservative senator. The Club for Growth gave Rubio ratings of 93 percent and 91 percent based on his voting record in 2014 and 2013 respectively, and he has a lifetime rating from the organization above 90 percent.
Rubio initially won his U.S. Senate seat with strong Tea Party support, but his 2013 support for comprehensive immigration reform legislation led to a decline in that support. Rubio's stance on military, foreign policy and national security issues—such as his support for arming the Syrian rebels and for the NSA—alienated some libertarian-oriented Tea Party activists.
Energy and environment
Rubio disputes the scientific understanding of climate change, arguing that human activity does not play a major role in global warming and that proposals to address climate change would be ineffective and economically harmful. The website PolitiFact has said that Rubio "consistently either avoids the link between human activity and climate change, or outright denies it."
In response to the encyclical Laudato si' by Pope Francis in 2015 in which he warns of the dangers of climate change, Rubio replied: "I have no problem with what the pope did" and "He is a moral authority and as a moral authority is reminding us of our obligation to be good caretakers to the planet. I'm a political leader. And my job as a policymaker is to act in the common good. And I do believe it's in the common good to protect our environment, but I also believe it's in the common good to protect our economy."
Rubio has proposed a federal energy plan intended to address what he calls "one of the most politicized and regulated aspects of our economy" with "restrictions that result in higher prices and fewer jobs for our people in exchange for minimal environmental benefits". His plan would remove the crude oil export ban, block the Environmental Protection Agency's Clean Power Plan for reducing carbon emissions which he says would result in the closure of coal-fired power plants, and transfer energy regulation to the states.
The League of Conservation Voters gave Rubio a lifetime score of 9% for votes on environmental issues.
Government regulation
Rubio has stated that he would cap government regulation on businesses. He has praised 'on-demand' businesses, such as Uber and AirBnB, as drivers of innovation that should be protected from government interference, and has criticized efforts by New York City to limit those businesses.
In an op-ed for Politico, Rubio criticized net neutrality laws for expanding government control over the Internet and applying "a 1930s law to a 21st century issue". As alternatives, Rubio has pointed to a resolution he proposed with Senator Claire McCaskill, Democrat of Missouri, which called for the federal government to oppose international efforts to grant greater control over the Internet to the International Telecommunication Union, as well as proposed legislation to increase mobile broadband by "expanding unlicensed spectrum".
Healthcare
Rubio has stated that he would repeal and replace the Patient Protection and Affordable Care Act. In an opinion piece on the website Politico, Rubio proposed an up-front tax credit to be used for health insurance, along with federally-supported, state-based high-risk pools for those with pre-existing conditions to purchase health insurance and the expansion of health savings accounts (HSAs). The plan also calls for Medicaid to be funded through per-capita block grants to states, which would eliminate federal mandates, while Medicare would be transitioned into a premium support system, like Medicare Advantage and Medicare Part D.
Higher education
Rubio has proposed a plan to reform the country's higher education system which includes enlarged vocational and apprenticeship programs, a proposed "Student Right to Know Before You Go Act" which would require colleges to inform students prior to taking out loans of the future income they could expect after obtaining a degree, a proposal to automatically base student loan payments on subsequent income, and enabling students to partner with investors who would receive a percentage of the students' income in return for funding their education. The plan also includes a commitment to create a new college accreditation program in the first 100 days of Rubio's administration.
Immigration
As part of the bipartisan "Gang of Eight" in the Senate, Rubio co-authored the Border Security, Economic Opportunity, and Immigration Modernization Act of 2013 to give illegal immigrants a pathway to legal status. His proposal contrasted with the Republican party's long-held view that offering citizenship to undocumented immigrants is virtually the same as amnesty. On October 2013, four months after the Senate passed the bill he co-authored, Rubio publicly opposed its passage in the House of Representatives, proposing instead a series of individual bills.
Rubio now advocates stopping illegal immigration before addressing those illegal immigrants who are already in the country. In an interview in September 2015 he stated: "I don't think it's a decision you have to make on the front end. The first two things you have to do is stop illegal immigration, then second you have to modernize our legal immigration system, and then third you can have a debate about how to even legalize people to begin with. And then ultimately in 10 or 12 years you could have a broader debate about how has this worked out and should we allow some of them to apply for green cards and eventually citizenship."
In addressing his change of posture, at the annual Conservative Political Action Conference in 2015, Rubio stated that his biggest lesson from the failure of enacting comprehensive immigration reform, was that Americans would not support it until the border is secure.
International relations and security
Rubio advocates for a more active presence of United States in the global affairs and "a robust American role in confronting" Iran, Russia and North Korea. He has opposed efforts by the Obama administration to normalize political relations with Cuba. Rubio also opposes the Joint Comprehensive Plan of Action deal with Iran's nuclear program which was partly brokered by the Obama administration, and has stated that he would continue to increase sanctions against Iran until it agreed to end its uranium enrichment program, and has pointed to the possibility of military action to prevent Iran from acquiring nuclear weapons.
In 2010, he stated that radical Islamist terrorists pose the greatest threat to the United States, and that these radicals intend to impose their beliefs on the world. He voted "yes" on extending the roving wiretaps provision of the Patriot Act, which governs surveillance of suspected terrorists.
In September 2013, Rubio voted against a resolution authorizing President Obama to use military force against Syria in response to the Assad regime's use of chemical weapons stating that he was skeptical that the planned military strike would have the intended effect. In July 2014, Rubio supported Obama's initial response to the Islamic State of Iraq and the Levant's invasion of Iraq. He also called for arms to support moderate elements in the Syrian opposition and a bombing campaign to stop ISIL's advance.
Rubio favors the detention of terrorists at Guantanamo Bay so that they can be interrogated for intelligence purposes, and has stated that if necessary he would re-open the military prison there.
Social issues
Rubio joined twenty-two other Republican senators in voting against reauthorizing the Violence Against Women Act, stating that he largely supported it, but objected to certain new provisions added to the law by the reauthorization bill. His political opponents were pleased that Rubio cast a vote that could hurt him in 2016, though Rubio voiced support for the overall law.
Rubio identifies as pro-life, and opposes abortion, including in cases of rape and incest. Rubio has said: "I believe all human life, irrespective of the circumstance in which it came into being, is worthy of protection." Rubio strongly opposes the U.S. Supreme Court's landmark abortion rights decision in Roe v. Wade (1973), calling it a "historically, egregiously flawed decision" and "one of America's most blatant instances of judicial activism."
On March 14, 2013, Rubio reiterated his opposition to same-sex marriage at the Conservative Political Action Conference, saying "that states should have the right to define marriage in the traditional way".
As of 2015, Rubio was given an A rating by the National Rifle Association (NRA) for his stance on gun control issues.
Rubio opposed the nomination of Sonia Sotomayor to the Supreme Court based on "her case history and testimony regarding the Second Amendment at the state level, eminent domain takings and the so-called constitutional right to privacy that resulted in the Roe v. Wade decision."
Drug policy
Rubio supports continued criminal penalties for recreational cannabis use. In January 2014, Rubio said: "I don't think legalizing marijuana or even decriminalizing it is the right decision for our country." In a May 2014 interview, Rubio said that he believed that there is "no responsible way to recreationally use" marijuana and that legalization of the substance would be "bad for the country." Rubio has said that he only supports the use of medical cannabis if it is the noneuphoric type (such as "Charlotte's web") approved by the Florida Legislature.
Regarding the legalization of drugs in general, Rubio has stated, "I personally believe that legalizing drugs would be a great mistake and that any reductions in sentences for drug crimes should be made with great care."
Taxes and spending
Rubio opposed Obama's stimulus package of 2009. He supports initiatives to balance the federal budget, including a balanced budget amendment and statutory caps on federal spending. Rubio supports Social Security changes to prevent projected future deficits in the program. He believes the program should have a higher age for the start of benefits for workers who are more than ten years away from retirement to account for Americans living longer. He has stated his support of federal R&D funding and space exploration funding to promote technological innovation, which he sees as critical to the development to the economy.
As U.S. Senator from Florida, Rubio received grades of 'A' in 2011, and 'B+' in 2012 and 2013 from the National Taxpayers Union, a conservative taxpayers advocacy organization.
In 2014, Rubio proposed legislation to replace the earned income tax credit with a federal wage enhancement for qualifying low-wage jobs. The proposal would apply to singles as well as married couples and families with children. It would also arrive in sync with a monthly paycheck rather than a year-end lump-sum credit. Rubio asserted that this was a "better way to support low-income workers than simply raising the minimum wage." Rubio has also proposed a 25% tax credit for businesses that offer their employees at least four weeks of paid family leave. The tax break would be capped at 12 weeks, and at $4,000 per employee.
Rubio's tax reform proposal calls for a simplified tax code which would include just two tax rates: 15% for those earning less than $75,000 annually and 35% for those earning more than that. It would eliminate capital gains taxes and add a new $2,500 per child tax credit for families. The corporate tax rate would be reduced to 25%, and businesses would be able to fully deduct the cost of investments in the year made An analysis by the Tax Foundation found that Rubio's plan would result in a loss of government revenue of $2.4 trillion (using dynamic models which take into account the projected economic growth from tax cuts) to $6 trillion (using more traditional static models). The Tax Foundation says that under Rubio's plan, these revenue shortfalls would substantially increase the national debt, which would not return to its current level until 2040. Rubio's campaign has said that he will offset the lost revenue through spending reductions, such as by increasing the eligibility age for Social Security and by reducing Medicare spending. Using static assumptions and dynamic scoring, the proposed tax cuts would increase the after-tax income of the top 10% of earners by from 5.5 to 20 percent, while boosting the after-tax income of the bottom 10 percent of earners by from 44 to 56 percent respectively.
Jared Bernstein, senior fellow at the Center on Budget and Policy Priorities, criticized Rubio's proposals, writing that Rubio's plan "takes the cake" in making the tax code more regressive and would "hemorrhage revenues while bequeathing a massive gift of wealth to the top 0.0003 percent." In contrast, David M. McIntosh of the Club for Growth praised Rubio's tax plan, calling it a "pro-growth tax cut and reform plan that would fundamentally reform the tax code and the entitlement state," as well as lauding Rubio's support for free trade, tort reform, and reduced regulations.
K-12 Education
In his role as a legislator, Rubio was active in pursuing K–12 policy including introducing the Educational Opportunities Act in 2013. As a presidential candidate, Rubio has argued on behalf of closing the federal Department of Education, expanding public charter schools, and for teaching both creationism and evolution.
Additionally, Rubio has taken a strong stance against the Common Core State Standards, arguing that, while they "started out as well-intentioned effort to develop more rigorous curriculum standards", that they'll eventually be "used to force on states policies the federal government wants".
Personal life
Rubio married his high school sweetheart, Jeanette Dousdebes, a former bank teller and Miami Dolphins cheerleader, in 1998 in a Catholic ceremony at the Church of the Little Flower, and together they have four children. Rubio and his family live in West Miami, Florida.
When he was 8 years old and living in Las Vegas, Rubio joined the Church of Jesus Christ of Latter-day Saints (Mormon), but he returned to Catholicism after receiving his first communion at 13 years old. Rubio attends Christ Fellowship, a Southern Baptist Church in West Kendall, Florida, as well as Catholic services at Church of the Little Flower in Coral Gables, Florida.
In an interview in 2012, Rubio said: "I'm a Roman Catholic. I'm theologically in line with the Roman Catholic Church. I believe in the authority of the church, but I also have tremendous respect for my brothers and sisters in other Christian faiths. I recognize, as the Catholic Church does, that there are excellent teachings of the Word throughout other denominations. The elements of salvation are found in these churches as well."
Books written by Rubio
100 Innovative Ideas for Florida's Future. Regnery Publishing. 2006. ISBN 978-1596985117.
An American Son: A Memoir. Sentinel HC. 2012. ISBN 978-1595230942.
American Dreams: Restoring Economic Opportunity for Everyone. Sentinel HC. 2015. ISBN 978-1595231130.
References
Marco Rubio Wikipedia
(Text) CC BY-SA