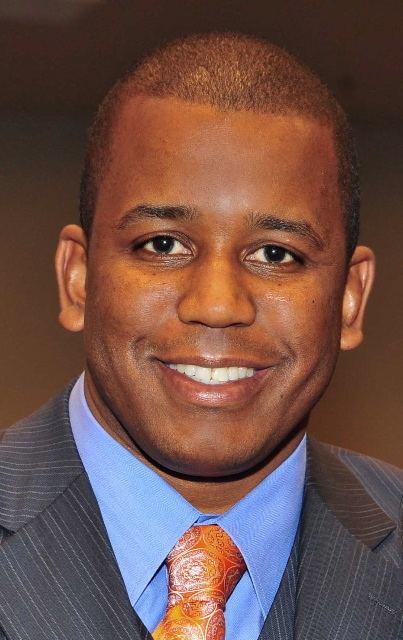 The son of retired Congresswoman Carrie P. Meek (née Pittman) and Harold H. Meek, Kendrick was born on September 6, 1966 in Miami, Florida, He is the great grandson of The Reverend Horatius "H.H." Coleman, pastor of Greater Macedonia Baptist Church in Detroit, Michigan.
He graduated from Miami Springs High School in Miami, where he played football as a defensive lineman. He received a Bachelor of Science degree in Criminal Justice in 1989 from Florida A&M University. Meek was a star football player in college. He also founded the Young Democrats club at Florida A&M and was president of the Florida Young Democrats organization. He was initiated into Omega Psi Phi fraternity through the Upsilon Psi chapter.
After graduating, he was sworn in as a trooper with the Florida Highway Patrol, and was assigned to Miami. He was later assigned to the security detail traveling with Democratic Lieutenant Governor Buddy MacKay. During his time on security detail, he was appointed the honorary rank of Captain.
Meek served in the Florida House of Representatives from 1995 to 1998. While in the Florida House, Meek worked the Pitts and Lee case with Republicans in order to provide compensation for two African-Americans who had been falsely convicted for murder 35 years earlier.
From 1998 to 2002, Kendrick Meek was a member of the Florida Senate.
Meek, along with fellow member Rep. Tony Hill, staged a sit-in protest in Governor Jeb Bush's office in January, 2000. The sit-in lasted for 25 hours, with the central issue being a newly implemented "One Florida" plan to end official race/gender preferences in state government. Meek said he and Hill staged the sit-in after they tried, but were unable to get "a meeting with the governor — two members of the Florida legislature. Then the governor came in and was barking at us as though we were children, saying that if we expect for him to rescind his executive order, then we might as well order some blankets and get comfortable, which we did." According to Tom Bearden, when Hill and Meek tried to meet with the Governor, "tempers flared."
In February 2000, Meek said lawsuits might be filed to challenge university regents' authority to use the One Florida Initiative. "I thank God for using you to bring us to this point."
The two lawmakers and Bush signed a statement outlining an agreement they reached after meeting with Bush about his One Florida plan to replace affirmative action, according to an AP report on the sit-in in 2000. Meek and Hill issued a press release on June 23, 2003, applauding the Supreme Court for upholding the legality of affirmative action and criticizing Bush for his One Florida Initiative, calling for an end to the initiative in light of the Supreme Court's ruling, because the initiative has "only served to divide Florida along racial lines." Governor Bush pointed to the .3% increase in minority enrollment in Florida public-universities between 2002 and 2003 as evidence that the One Florida Initiative was working. Meek responded by accusing Bush of throwing out numbers to 'fake out' Floridians, telling Bush he had "better check those numbers two or three times. It's been a struggle for students of African-American descent. That's where the historical discrimination has been." Florida Atlantic University is the only school that had an increase in African-American freshmen, from 17.2% freshman in 2002 to 18.9% in 2003.
In 2002, Meek launched an initiative to reduce class sizes in Florida's public schools. The amendment would set the maximum class sizes of pre-kindergarten through 3rd grade classes to 18, 4th through 8th grade classes to 22, and high school classes to 25. It would also require schools to reduce class sizes by two students in 2003 and to reach full compliance by the beginning of the 2010 school year.
Supporters of the amendment, including People for the American Way, Florida Education Association, and Florida NAACP, focused on large classes in many urban areas of Florida which had as many as 40 students: Meek said, "[for] the first time parents will have a chance to vote on something they've always wanted and that is smaller class sizes." Then-Florida governor Jeb Bush and state legislature Republicans opposed the bill because it was unclear how much the amendment would cost: "While this may be a worthy goal, we still have to ask the question, where will the money come from?" said Liz Hirst, press secretary to Governor Bush.
Meek spearheaded a petition drive that collected more than 500,000 signatures, allowing the issue to be listed — as Amendment 9 — on the 2002 ballot. He also guided the amendment through two opposition efforts in the Florida Supreme Court as well as the public campaign to oppose the amendment.
On November 5, 2002, Florida voters approved the amendment 52.4% to 47.6%. The amendment failed to get a majority of the vote in any county except for Meek's home county of Miami-Dade along with neighboring Broward and Palm Beach counties. Due to this amendment and other "close calls" involving high-speed rail and pregnant pigs, voters were motivated to require proposed amendments to gain 60% of the statewide vote starting in 2006.
Committee on Ways and Means
Subcommittee on Income Security and Family Support
Subcommittee on Select Revenue Measures
NATO Parliamentary Assembly
Democratic Steering and Policy Committee
Congressional Black Caucus
Chairman of the Board of Directors of the Congressional Black Caucus Foundation
Meek is a member of the New Democrat Coalition.
Meek supports an increase in the minimum wage. He voted for the Emergency Economic Stabilization Act of 2008.
Meek opposed the Hyde Amendment, which restricts federal funding of elective abortion. He also opposes some bans on late-term abortions and notification laws for minors who seek an abortion.
Meek voted against H.J. Res. 88, a proposed amendment to the Constitution to ban same-sex marriages, which failed to pass by a vote of 236 to 187. In a statement in the Congressional Record, he said, "Mr. Speaker, I rise to voice my strong opposition to H.J. Res. 88, a proposed Constitutional amendment that would prohibit same sex marriages. This proposed amendment is not directed at any real problem, other than the apparent need of the Republican leadership to gin up political support for their candidates. It is sad that the Republican leadership is not as interested as they say they are in 'protecting' the institution of marriage as they are in waging a campaign to divide and distract the American people from the real issues that need to be addressed. The nation is at war in Iraq; we face crises in Iran, North Korea and Lebanon; the federal deficit is soaring out of control as more and more U.S. debt is controlled by countries like China; energy costs continue to rise and Americans wait for Congress to act to increase the minimum wage. The Republican response: wasting hours of debate on an unnecessary Constitutional amendment that had already been defeated in the Senate." During the 2010 Senate campaign, Meek expressed support for gay adoption which had previously been banned in Florida, and referred to Governor Charlie Christ The "George Wallace" Of Gay Adoptions.
Meek was elected to the U.S. House of Representatives on November 5, 2002, succeeding his mother, Congresswoman Carrie Meek, who retired from the seat.
In Meek's four elections to the U.S. House of Representatives, no Republican or third-party candidate had been listed on the general election ballot running against him. He had write-in opponents in three of the four elections and also had a Democratic primary opponent in 2006.
On January 13, 2009, Meek announced he would run for the seat in the United States Senate that will be vacated upon the retirement of Republican Mel Martinez in 2010, saying, "I want to be a fighter for Florida with a strong voice that won't let the special interests stand in the way of what's right."
On April 2, 2009, Meek announced his intention to qualify for the ballot by petition by collecting 112,476 completed petitions. On April 8, 2010, Meek made history by becoming the first statewide candidate in the history of Florida to qualify for the ballot by petition.
Questions about Kendrick Meek's relationship with Boston developer Dennis Stackhouse have come up throughout the 2010 Senate campaign as it was revealed that Meek lobbied for millions of dollars in taxpayer money to fund an ill-fated Stackhouse project while Stackhouse provided Meek's mother, former Congresswoman Carrie Meek, with a free Cadillac Escalade, a rent-free office for her foundation, and tens of thousands of dollars in consulting fees. Stackhouse also helped Meek's chief of staff secure a home loan. Stackhouse was ultimately arrested, charged with stealing almost $1 million in project funds. The scandal led the St. Petersburg Times to comment, "Meek owes voters an explanation". Meek has responded by saying he was simply trying to secure investment for economic development in his congressional district.
Meek worked for nine years selling security contracts for Wackenhut Corp., a company which in later years also employed his wife and mother as lobbyists. Wackenhut Corp. was accused of overbilling Miami-Dade County for security at transit stations, ultimately paying a $7.5 million settlement. Meek worked at Wackenhut the entire time he served in the Florida state legislature and senate, drawing criticism when he did not recuse himself from votes that would affect his employer's bottom line.