Similar

Kristine Hermosa, Jericho Rosales, Eula Valdez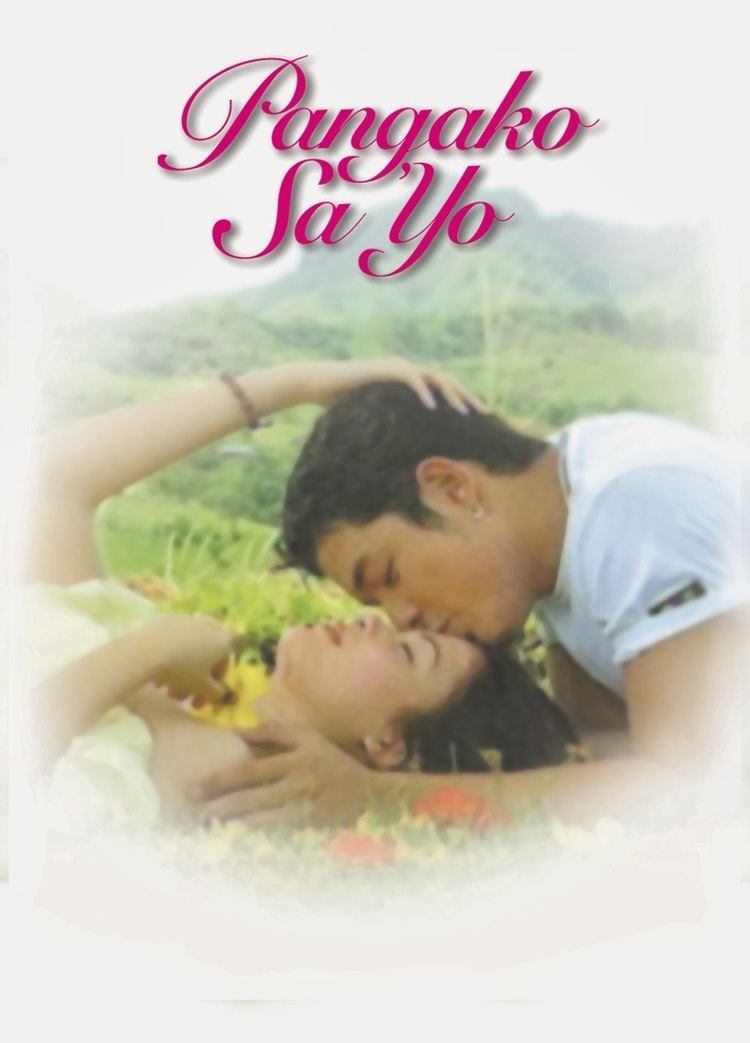 Pangako Sa 'Yo (Lit: Promise to You / English: The Promise) is a primetime soap opera series produced and broadcast by the Philippine television network ABS-CBN. It is dubbed the first "teleserye" on Philippine television, as well as the first ever Philippine television series to be broadcast outside of the country. It starred Kristine Hermosa and Jericho Rosales.
Contents
The soap, which ran from November 13, 2000 to September 20, 2002, spanned 481 episodes at 30 minutes each then replaced by Bituin. The show posted an all-time high rating of 64.9% during its September 2002 series finale, posting the country's second highest rating for any episode by a TV series next to Esperanza, and the highest rated finale episode for any Filipino TV series. A remake was produced in 2015, starring Angelica Panganiban, Ian Veneracion, Kathryn Bernardo, Daniel Padilla, and Jodi Sta. Maria, who had also starred in the original series.
Pangako Sa'Yo: Hand shake
Yna Macaspac / Yna Macaspac-Buenavista / Maria Amor de Jesus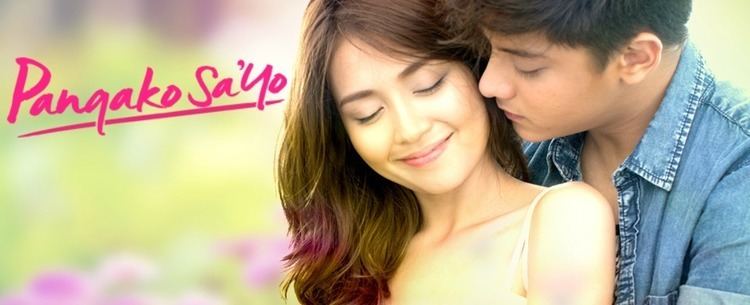 Portrayed by Kristine Hermosa, the series of Pangako Sa 'Yo. Born in the depths of richness, Yna's real identity will remain a mystery to her and to her adoptive family, following a tragic accident that separated her from her biological mother, Amor. Only a vision haunts her in the night, the image of an old lady (Doña Benita Buenavista) linking her to her distant past.
Angelo Buenavista / Nathaniel de la Merced (Amnesia Name)
Portrayed by Jericho Rosales, the series of Pangako Sa 'Yo. Angelo is a boy disturbed by his own principles and of his family's disposition leading him to a consistent emotional battle with his parents, governor Eduardo and Madam Claudia. But his life will take a drastic turn when he meets Yna, a worker in the hacienda. In the end, he was revealed to be the biological son of Diego (Eduardo's adoptive brother) with his mistress Thelma.
Amor de Jesus-Powers / Amor de Jesus-Buenavista
Portrayed by Eula Valdez, the series of Pangako Sa 'Yo. The lowly maid of the Buenavistas whose love for Eduardo transcends the boundaries of their stations in life. Keeping their relationship a secret was as hard as having to please Doña Benita who treated her with cruelty. Her love for Eduardo will be crushed by greed, forcing her to live a life of misery and an endless search for revenge.
Madam Claudia Zalameda-Buenavista / Claudia Zalameda-Barcial
Portrayed by Jean Garcia, the series of Pangako Sa 'Yo. The daughter of a political family whose wealth could save the falling empire of the Buenavistas. Arranged to be married to Eduardo, Doña Benita will soon taste the wrath of a bitter Claudia. In the end, it was revealed that Angelo was not her son and instead was the mother of a girl named Clarissa (sired with Simon).
Governor Eduardo Buenavista
Portrayed by Tonton Gutierrez, the series of Pangako Sa 'Yo. The ever-obedient son to the domineering Doña Benita. In love with Amor, the housemaid, Eduardo will sacrifice his love for her because of a single lie.
Diego Buenavista
Portrayed by Jestoni Alarcon, the series of Pangako Sa 'Yo. The eldest son of the Buenavistas. Although the first-born, he always tries to win his mother's heart but is constantly rejected. He lives a life full of envy and deep hatred for his brother Eduardo who always gets the best of everything, including the love of Amor. In the end, it was proven that he was an adopted son of Doña Benita and that he was the biological father of Angelo with his former mistress Thelma.
Lourdes Magbanua-Buenavista
Portrayed by Amy Austria, the series of Pangako Sa 'Yo. Rescued by Diego from the wayward life, Lourdes' predicament became even worse as they both try to survive a life of poverty after Diego moved out of the Buenavista hacienda.
Lia Buenavista-Mobido
Portrayed by Jodi Sta. Maria, the series of Pangako Sa 'Yo. The kindhearted daughter of Eduardo and Claudia. Lia bears the pain of being unloved by her own mother. She later falls for Jonathan, a young catechist who gives her the strength to go on living. Lia later finds out that she is in a terminal stage of cancer, which is why she and Jonathan confessed their feelings for each other, then later got married. In the latter part, they bore a daughter before she died peacefully.
Jonathan Mobido
Portrayed by Patrick Garcia. Quietly heeding the call of God, Jonathan became caught between saving souls and following his heart's desire, Lia Buenavista.
Bea Bianca Bejerrano / Electrika Powers
Portrayed by Vanessa del Bianco. A balikbayan who wreaks havoc in the lives of Angelo and Yna. She will do anything to keep a man right where she wants him. She is later found out to be the long-lost biological daughter of James Powers (Amor's late husband). Later, she ended up in a mental hospital.
Maria Amor de Jesus / Clarissa Barcial
Portrayed by Dianne dela Fuente. She was later revealed to be the biological daughter of Claudia and Simon Barcial. She was manipulated by an old woman named Puring, making her believe that she was Maria Amor, the daughter of Amor and Eduardo. When she had her DNA tested, Mark faked the result, it came out as positive to Amor and Eduardo. This prompted Claudia to kill her as a revenge to Amor. Claudia later learns of Clarissa's true identity and is deeply crushed with regret.
Belen Macaspac
Portrayed by Eva Darren. Wife to Isko and mother to Caloy, Belen takes Yna under her wing and treats her as her own.
Francisco "Isko" Macaspac
Portrayed by Cris Daluz. Isko is the father of two girls and Caloy who, in spite of their impoverished state, still had the heart to adopt Yna. He is stricken with the deadly Alzheimer's disease.
Flerida Macaspac
Portrayed by Hazel Ann Mendoza. Flerida Macaspac - Yna's younger adoptive-sister.
Betty Mae Verseles
Portrayed by Evangeline Pascual. Amor's trusted and kind-hearted friend who helps her every step of the way. She is also Yna's helper and manager.
Coring
Portrayed by Minnie Aguilar. The faithful "pet" of Claudia who obeys all her "idol's" dark commands just to please her. Despite Claudia being so rude and evil, she still holds up with her along the way.
Felicity Banks
Portrayed by Michelle Bayle. The understanding, kind-hearted daughter of Tony Banks who Angelo fell in love with. She was blackmailed by Claudia to forcibly marry Angelo when she becomes pregnant with Angelo's baby. She later dies in a car accident.
Extended characters
John Arcilla as Simon Barcial - The poor lover of Claudia who became a rich businessman. He is the biological father of Clarissa, his daughter with Claudia. But he never met Clarissa before after she was killed by Claudia.
Nikka Valencia as Julieta Macaspac - Married to Caloy, she was Isko and Belen's scheming daughter-in-law.
Jay Manalo as Caloy Macaspac - Yna's adoptive older brother. He operates an illegal "saklaan" and makes Yna's impoverished life a living nightmare.
Luis Alandy as David San Luis - Yna's childhood friend who has a secret love on her.
Carlo Muñoz as Mark Delgado - Governor Buenavista's loyal assistant and confidant. He harbors a secret desire for Amor.
Liza Lorena as Doña Benita Buenavista - Eduardo and Diego's mother. The matriarch of the prominent Buenavista clan who has no consideration for human life and whose only desire is to gain more wealth at the expense of everyone, including her own family.
Ricky Davao as Tony Banks - The rich and powerful business rival of Amor who turns out to be the father of Felicity. He once had a business partnership with Claudia but he got betrayed.
Richard Quan as Benjie Gatmaitan - A news reporter who eventually became a book author. He wrote a book about the Buenavista family. He is also Julieta's second husband after Caloy died.
Sally Baderes as Nimfa Macaspac - Yna's eldest sister. She works in a night club and was infected by HIV.
Rey Kilay as Cookie - Yna's trusted, helpful friend and make-up artist.
Ernie David as Digoy
Dante Castro as Warden
Ian Galliguez as Chinee
Perla Bautista as Chayong de Jesus - Amor's mother and also Yna's biological grandmother.
Flora Gasser as Pacita
Mosang as Doray
Monina Bagatsing as Rizza
Dennis Trillo as Ruel
Melissa Mendez as Minerva Capito
Kristine Garcia as Elizabeth - Jonathan's mother.
Ilonah Jean as Cherry Barcial
Georgina Sandico as Grace Magpantay
Connie Chua as Panying
Gigette Reyes as Debra
Gladys Reyes as Norina
Roi Rodrigo as Miguel
Ramon Christopher as Cris
Ronnie Quizon as Badeo
Gino Paul Guzman as Rebel
Mike Lloren as Albert
Toffee Calma as Arman/Eman
Jeffrey Hidalgo as Kenneth
Corrine Mendez as Shiela
Jane Zaleta as Julie Anne
Gem Ramos as Lia's Friend
Rodney Shattara as Lia's Friend
Paolo Contis as Vinny
Mico Palanca as Lia's Friend
Berting Labra as Pepe de Jesus
Joed Serrano as Joed
Diego Castro as Lloyd Sandoval
Anita Linda as Puring San Juan
Raquel Villavicencio as Dr. Castillo
Erwin Tulfo as himself (cameo)
Phoemela Baranda as Queenie Bermudez
James Cooper as James
Leni Rivera as Pinky Lee
Alfred Vargas as Dyno Zuryete
Ina Raymundo as Eidelwess Guttenberg
Denise Laurel as Chammy
Jon Achaval as Enrico
Mark Acueza as Kit
Froilan Sales as Rufo Delgado
Maribeth Bichara as Charisma Ledesma
Lucita Soriano as Lola Gaying
Bing Davao as Lorenzo dela Merced
Suzette Ranillo as Fatima dela Merced
Jiro Manio as Kokoy dela Merced
Onemig Bondoc as Errol Garcia
Juan Rodrigo as Fr. Crispin Arenas - the biological father of Jonathan.
Roderick Lindayag as Dolfo
Tara Ballesca as Young Bea Bianca
Rene Pangilinan as Rene - Amor Powers' personal driver/bodyguard
Gerard Pizzaras
Pocholo Montes
Vic Vargas
References
List of Pangako Sa 'Yo characters Wikipedia
(Text) CC BY-SA