Spouse

Lakshmivilasa Sannidhana Sri Pratapa Kumari Ammani Avaru

Great-grandparents

Chamaraja Wodeyar IX, Maharani Kempa Nanja Ammani Avaru
Maharaja H.H. Sri. Nalvadi Krishna Raja Wadiyar.
maharaja Krishnaraja Wadiyar IV and Girish Christy (Nalwadi Krishnaraja Wadiyar), was the 24th ruling Maharaja of the princely state of Mysore from 1894 until his death in 1940. At the time of his death, he was also one of the world's wealthiest men, with a personal fortune estimated in 1940 to be worth US$400 million, equivalent to $56 billion at 2010 prices.
Contents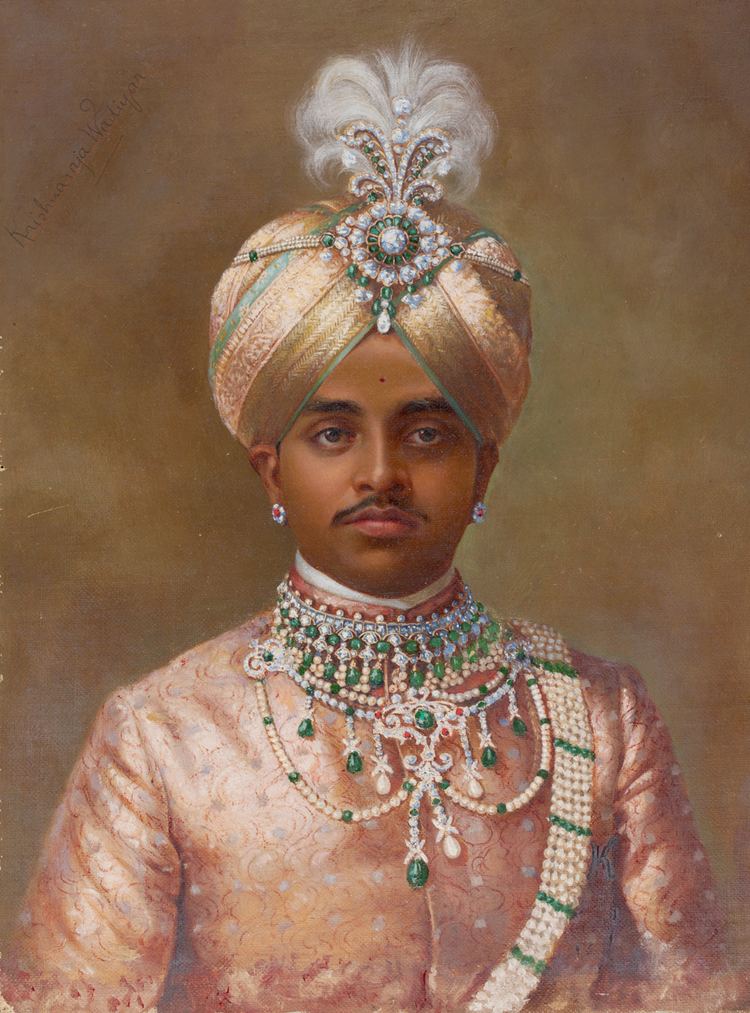 He was a philosopher-king, who was seen by Paul Brunton as living the ideal expressed in Plato's Republic. He has been compared to the Emperor Ashoka by the English statesman Lord Samuel. Mahatma Gandhi called him Rajarshi, or "saintly king", and his kingdom was described by his followers as Rama Rajya, an ideal kingdom akin to the rule of Lord Rama.
(ribbon bar, as it would look today)
Early years
Krishna was born on 4 June 1884 at the Royal Palace, Mysore. He was the eldest son of Maharaja Chamaraja Wadiyar X and Maharani Vani Vilas Sannidhana. After the death of his father in Calcutta in 1894, Krishna's mother ruled the state as Regent until Krishna reached the age of majority, 8 August 1902.
The Maharaja had his early education and training at the Lokaranjan Palace under the direction of P. Raghavendra Rao. In addition to Western studies, the Yuvaraja was instructed in the languages of Kannada and Sanskrit, was taught horse riding, and Indian and western Classical music. He was also sent to Mayo College, Ajmer to study but returned to Mysore due to ill health. His early administrative training was imparted by Sir Stuart Fraser of the Bombay Civil Service. The study of the principles of jurisprudence and methods of revenue administration were supplemented by extensive tours of the state during which he gained extensive knowledge of the nature of the country which he was later to govern.
Marriage
On 6 June 1900, the Maharaja married Maharani Lakshmivilasa Sannidhana Sri Pratapa Kumari Ammani Avaru of Kathiawar (b. 1889), youngest daughter of Rana Sri Bane Sinhji Sahib, Rana Sahib of Vana in the Kathiawar region of the present-day Gujarat State.
Reign
Shortly after the 1876–77 famine and the death of Maharaja Chamaraja Chamarajendra Wadiyar X, Krishnaraja Wodeyar IV, still a boy of eleven, ascended the throne in 1895. His mother Maharani Kemparajammanniyavaru ruled as regent until Krishnaraja Wodeyar took over on 8 February 1902. Krishna IV was invested as the Maharaja of Mysore, with full ruling powers, by the Viceroy, Lord Curzon, on 8 August 1902 at a ceremony at Jagan Mohan Palace (now the Jayachamarajendra Art Gallery).
Krishnaraja Wodeyar set up educational infrastructure. The king was an accomplished musician, and like his predecessors, patronised the fine Arts. For these reasons, his reign is often described as the 'Golden age of Mysore'.
Krishna Raja Wadiyar was the first chancellor of Banaras Hindu University and University of Mysore. The latter was the first university chartered by an Indian State. The Indian Institute of Science at Bangalore which was initiated during His mother's tenure as Regent was started during his reign, with the gift, in 1911, of 371 acres (1.5 km²) of land and a donation of funds. He was a patron of Indian (both Carnatic and Hindustani) and Western Classical Music.
Mysore had been the first Indian state to have a Representative Assembly, a democratic forum in 1881. During Krishna Raja Wadiyar IV's reign, the Assembly was enlarged and became bicameral in 1907 with the creation of the legislative council, a House of elders which introduced much new legislation for the state. During his reign Mysore became the first Indian state to generate hydroelectric power in Asia, and Bengaluru was the first Asian city to have street lights, first lit on 5 August 1905.
During his 39-year reign as Maharaja, Krishna IV had the following Prime Ministers (popularly known as Diwans):
Sir P. N. Krishnamurti (1901–06)
Sir V. P. Madhava Rao (1906–09)
Sir T. Ananda Rao (1909–1912)
Sir M. Visvesvaraya (1912–19)
Sir M. Kantaraj Urs (1919–22)
Sir Albion Rajkumar Banerjee, ICS, (1922–26)
Sir Mirza Ismail (1926–41)
Sir N. Madhava Rao ( 1941–47)
During his reign, he worked toward alleviating poverty and improving rural reconstruction, public health, industry and economic regeneration, education and the fine arts. Such were the strides that Mysore made during his period that Gandhiji was moved to remark that the Maharaja was a Rajarishi ("a saintly king"). Paul Brunton, the British philosopher and orientalist; John Gunther, the American author; and the British statesman, Lord Samuel, were also among those who heaped praise on the king. Lord Sankey said during the Round Table Conference that Mysore was "the best administered state in the world". Princes from other sections of India were sent to Mysore for administrative training. The Pandit Madan Mohan Malaviya described the Raja as "Dharmic" and Lord Wellington echoed the sentiment by calling Mysore's industrial development "incredible". In an obituary, The Times called him "a ruling prince second to none in esteem and affection inspired by both his impressive administration and his attractive personality".
Patron of the arts
The Raja was a connoisseur of Carnatic and Hindustani music. He played eight musical instruments, flute, violin, saxophone, piano, mridangam, nadaswara, sitar, and veena. Members of the Agra Gharana, including Nattan Khan and Ustad Vilayat Hussain Khan, were guests of the Maharajah in Mysore, as were Abdul Karim Khan and Gauhar Jan. Barkatullah Khan was a palace musician from 1919 until his death in 1930.
Asthana Vidwan Kadagathur Seshacharya has written various works and is famous for his contributions towards Sanskrit and Kannada Literature.He also wrote many poems in Kannada.
Mahatma Gandhi and the Maharaja
Mahatma Gandhi praised the Maharaja of Mysore in 1925 for taking up spinning, to the benefit of himself and his subjects.
Progress during reign
During the reign of Krishna Raja Wadiyar IV, Mysore Kingdom (comprising Bangalore, Chitradurga, Hassan, Kadur, Kolar, Mysore, Mandya, Shimoga, and Tumkur) saw an all-round development:
The Hydro Electric Project at Shivanasamudra Falls in 1902. This station was commissioned by the Diwan of Mysore, K. Seshadri Iyer.
Minto Eye Hospital Banglore, established in 1903, is among the world's oldest specialised ophthalmology hospitals
Bangalore was the first city in India to get electric street lights in 1905.
Vani Vilasa Sagara Chitradurga, completed in 1907, the first dam in Karnataka state.
Mysore Legislative Council was established in 1907 with a view to associate certain number of non-official persons having practical experience and knowledge to assist the Government in making laws and regulations.
Indian Institute of Science, Bangalore established in 1909
Mysore Boy Scouts, established in 1909. First of its kind in India
State Bank of Mysore established in 1913
Mysore Agricultural Residential School, Bangalore, established in 1913. University of Agricultural Sciences, Bangalore was initially established in 1899 by Krishna Raja Wadiyar IV's mother Maharani Vani Vilas Sannidhana, the Regent of Mysore, with an initial grant of 30 acres as an experimental agricultural station.
Kannada Sahitya Parishat, Bangalore, established in 1915
Formation of Mysore Social Progress Association in 1915 to empower weaker section of society
University of Mysore, established in 1916
Yuvaraja College, Mysore, established in 1916
School of Engineering, Bangalore, later UVCE, established in 1917
Mysore State Railway (MSR) between 1916 and 1918, opened 232 miles of railway to traffic. By 1938 MSR had 740 miles of railway track
The Mysore Chamber of Commerce established in 1916
Government Sandalwood oil factory, Bangalore, established in 1917
Maharani's Science College for Women, Mysore, established in 1917
Wood Distillation Factory, Bhadravathi in 1918
Mysore Chrome and Tanning Factory established in 1918
Appointment of Sir Lesley Miller in 1918 to look into problems of Backward classes recommended reservation of 25% of jobs in the Government to non-Brahmans
Lalitha Mahal palace in 1921
Visvesvaraya Iron and Steel Plant (VISL), Bhadravathi was started as Mysore Iron Works in 1923.
First Indian state to enfranchise women (1923)
Krishna Raja Sagar (KRS) dam, established in 1924
Mysore Medical College, established in 1924
Krishnarajanagara was founded between 1925 and 1930 as a new town, after a flood by river Kaveri damaged the nearby town of Yedatore.
Establishment of Kadhara Sahakara Sangha in 1925 Tagdhur which helped villagers to earn livings
Krishna Rajendra Hospital, Mysore, established in 1927, is attached to Mysore Medical College
K.R. Market, Bangalore, the main wholesale market dealing with commodities in Bangalore, established in 1928.
Marakonahalli dam in Tumkur district completed in 1930. The dam has an automatic siphon system, first of its kind in Asia.
Mysore Sugar Mills, Mandya, established in 1933
KR Mills, Mysore, established in 1933
St. Philomena's Church, Mysore in 1933.
Vanivilas Women and Children Hospital, Bangalore, established in 1934, named after Maharani Vani Vilas Sannidhana
Mysore Paper Mills, Bhadravati, established in 1936
In 1934, the Government of Mysore gifted 10 acre land in Bangalore to Nobel laureate Sir C. V. Raman for the creation of research institute Raman Research Institute (RRI)
Mysore Lamps, Bangalore, established in 1936
Mysore Chemical and Fertilizers Factory, Belagola established in 1937.
Mysore Paints and Varnish Limited, established in 1937. It became part of the public sector in 1947.
The Government Dichromate Factory, Belagola.
Maharani's College for Women, Bangalore, established in 1938.
Glass and Porcelain Factories, Bangalore established in 1939
Formation of Mandya district in the year 1939
Mysore Implements Factory, Hassan, established in 1939 to produce agricultural and garden implements.
Hirebhaskara dam started in 1939 across river Sharavathi to ensure steady water supply for the 120 MW Krishnarajendra Hydroelectric power station. The power station was renamed as Mahatma Gandhi Hydroelectric Project in 1949.
Hindusthan Aircraft, Bangalore, established in 1940, later renamed as Hindustan Aeronautics Limited
Banaras Hindu University, Varanasi, First Chancellor and co-founder
Irwin Canal: Later named as Visveshwariaha Canal
City Improvement Trust Board, first of its kind in India
Banning child marriage (girls below age 8)
Special importance for girl education and scholarship for widowed girl
Titles
1884–1894: Yuvaraja Sri Krishnaraja Wadiyar Bahadur, Yuvaraja of Mysore
1894–1907: His Highness Maharaja Sri Nalwadi Krishnaraja Wadiyar (Krishnaraja Wadiyar IV) Bahadur, Maharaja of Mysore
1907–1910: His Highness Maharaja Sir Nalwadi Krishnaraja Wadiyar (Krishnaraja Wadiyar IV) Bahadur, Maharaja of Mysore, GCSI
1910–1917: Colonel His Highness Maharaja Sri Sir Nalwadi Krishnaraja Wadiyar (Krishnaraja Wadiyar IV) Bahadur, Maharaja of Mysore, GCSI
1917–1940: Colonel His Highness Maharaja Sri Sir Nalwadi Krishnaraja Wadiyar (Krishnaraja Wadiyar IV) Bahadur, Maharaja of Mysore, GCSI, GBE
Honours
(ribbon bar, as it would look today)
Delhi Durbar Gold Medal-1903
Knight Grand Commander of the Order of the Star of India (GCSI)-1907
Delhi Durbar Gold Medal-1911
Bailiff Grand Cross of the Order of St John (GCStJ)-1911
Knight Grand Cross of the Order of the British Empire (GBE)-1917
References
Krishna Raja Wadiyar IV Wikipedia
(Text) CC BY-SA