Other names

The Eagle




Reach

70.0 in (178 cm)




Weight

70 kg




Nationality

Russia




Name

Khabib Nurmagomedov




Parents

Abdulmanap Nurmagomedov




Ethnicity

Avar




Role

Mixed martial artist




Wins by knockout

8




Division

Lightweight




Height

1.78 m







Born

September 20, 1988 (age 30)Makhachkala, Dagestan ASSR, Russian SFSR, Soviet Union (

1988-09-20

)


Native name

HIabib GӀabdulmanapil NurmuhӀamadov




Martial arts

Kickboxing, Sambo, Mixed martial arts




Similar People

Rafael dos Anjos, Donald Cerrone, Anthony Pettis, Rustam Khabilov, Rashid Magomedov




Profiles




Twitter

Facebook
Khabib Nurmagomedov - Championship VLOG UFC 223
Khabib Abdulmanapovich Nurmagomedov (Russian: Хабиб Абдулманапович Нурмагомедов; Avar: ХIабиб ГӀабдулманапил НурмухӀамадов; born September 20, 1988) is an undefeated Russian mixed martial artist of Avar heritage. He is a two time Combat Sambo World Champion, a wrestler and a judo black belt who currently fights in the Lightweight division of the Ultimate Fighting Championship. He currently holds one of the longest undefeated streaks in MMA with 24 wins. As of 17 November 2016, he is ranked the #1 contender in the UFC Lightweight division and #12 in official UFC pound-for-pound rankings and numerous other publications.
Contents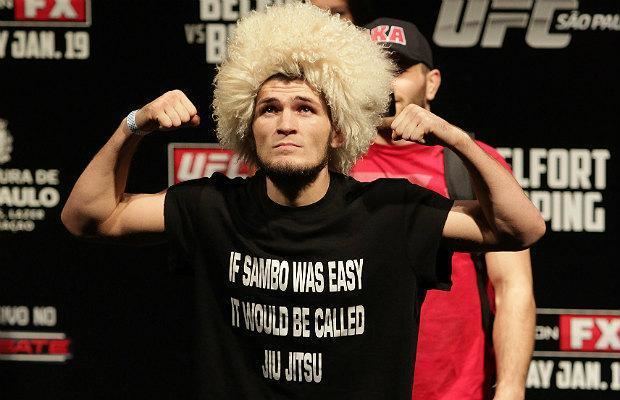 Facts
Khabib started practicing freestyle wrestling at the age of 6. He was coached by his father, Abdulmanap Nurmagomedov .
As a teenager, Khabib was successful in all types of wrestling and martial arts.
Khabib is very religious. He is a devout Muslim, and he never fights during the holy month of Ramadan.
He is a big fan of Fedor Emelianenko. Fedor is the most popular and respected MMA fighter among the Russians.
Khabib nurmagomedov mma highlight
Background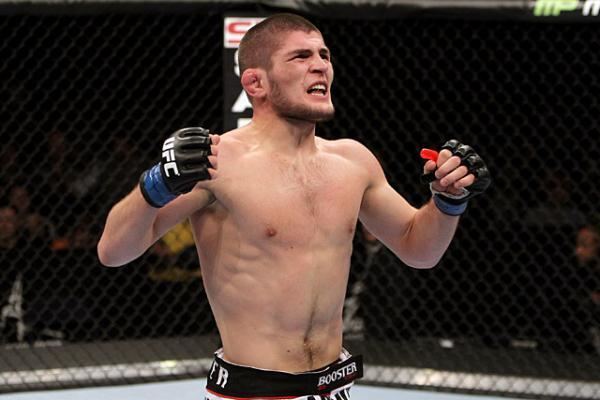 Khabib Nurmagomedov was born on September 20, 1988, in the village of Kirovaul in Kizilyurtovsky District in modern-day Dagestan, Russia, before moving to the state capital Makhachkala in his childhood, and then briefly in his older years to Kiev, Ukraine where he trained at Combat Dobro. He is the second of three children, including an older brother Magomed and younger sister Amina. His father's family had moved from Silde, Tsumadinsky District to Kirovaul, where his father converted the ground floor of their two-story building into a gym. Khabib grew up in the household with his siblings and cousins. His interest in martial arts began from watching the students training at the gym.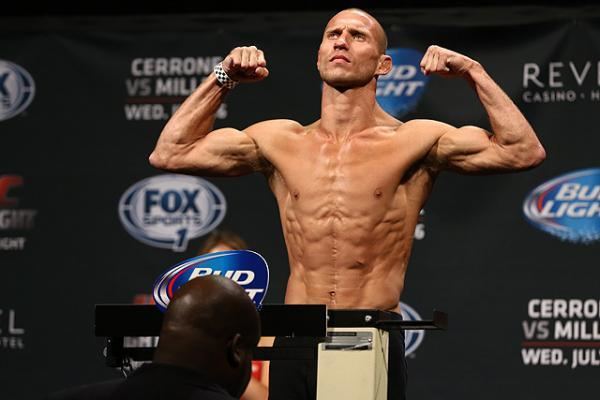 Like many children in Dagestan he began wrestling from an early age; at the age of six under the tutelage of his father Abdulmanap Nurmagomedov. A decorated athlete and a veteran of the Army, his father Abdulmanap had also wrestled from an early age before training in judo and sambo in the military. In 2001, his family moved to Machachkala. There, at the age of 12, he trained in wrestling, and from age 15 he began training in judo. After turning 17, he began training in combat sambo under his father. According to Khabib, the transition from wrestling to judo was difficult, but his father wanted him to get used to competing in a gi jacket. Abdulmanap is currently a senior coach for the combat sambo national team in the Republic of Dagestan, training several athletes in sambo and wrestling in Russia. Khabib would frequently get into street fights in his youth, before focusing his attention to mixed martial arts.
Early career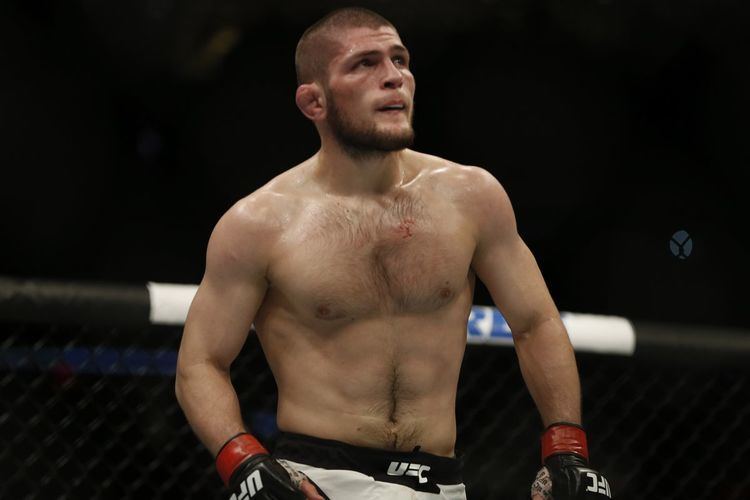 Khabib Nurmagomedov made his professional MMA debut in September 2008 and quickly compiled 4 wins in under a month, including 3 wins in the same night. On October 11, Nurmagomedov became the inaugural Atrium Cup tournament champion, having defeated his 3 opponents at the Moscow event. Over the next 3 years he would go undefeated, finishing 11 out of 12 opponents along the way. This included winning a first round armbar finish of future Bellator title challenger Shahbulat Shamhalaev, marking his M-1 Global debut. In 2011, he would go on to compete for the ProFC promotion. That year alone he had competed in a whopping seven fights, finishing all by TKO or submission. A perfect 16-0 record in the regional circuits of Russia and Ukraine was enough to get a call from the UFC.
Ultimate Fighting Championship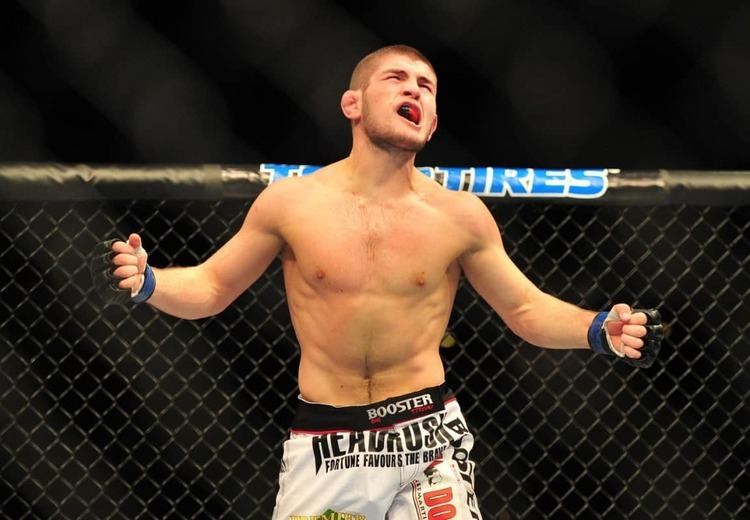 In late 2011, Nurmagomedov signed a six-fight deal to compete in the UFC's lightweight division.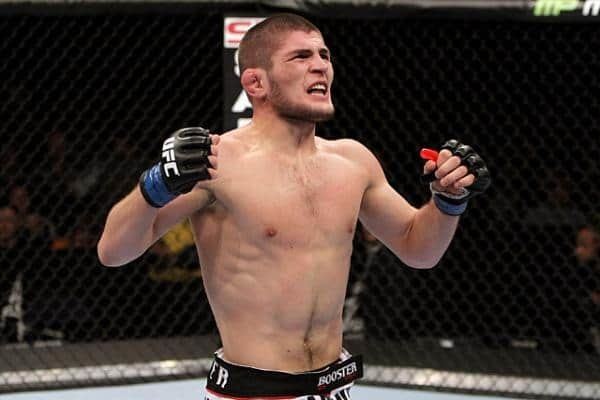 In his UFC debut, Nurmagomedov defeated Kamal Shalorus on January 20, 2012, at UFC on FX 1 via submission in the third round.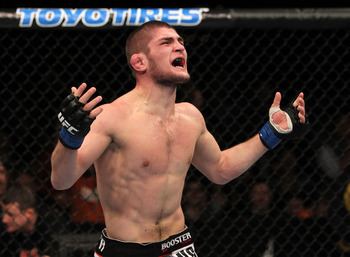 Nurmagomedov next defeated Gleison Tibau on July 7, 2012, at UFC 148 via unanimous decision. The decision of the bout between the two was closely contested, with Nurmagomedov unsuccessful in attempting to takedown Tibau, finishing 0 of 13 attempts, and Tibau finishing 1 of 6 attempts. 5 of 6 media pundits scored the fight for Tibau. The three judges scored the fight 30-27 in favor of Nurmagomedov.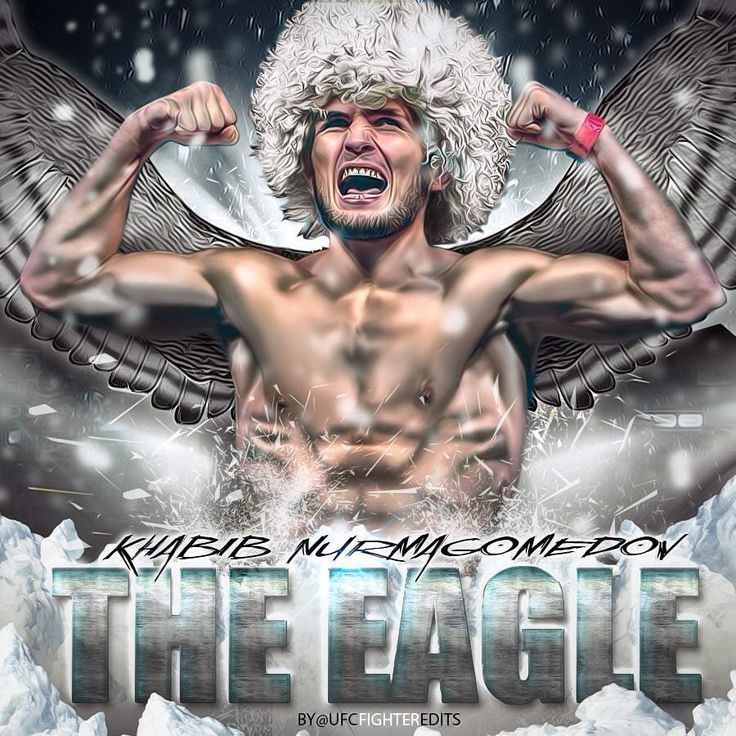 Nurmagomedov defeated Thiago Tavares on January 19, 2013, at UFC on FX 7. He won via KO in the first round.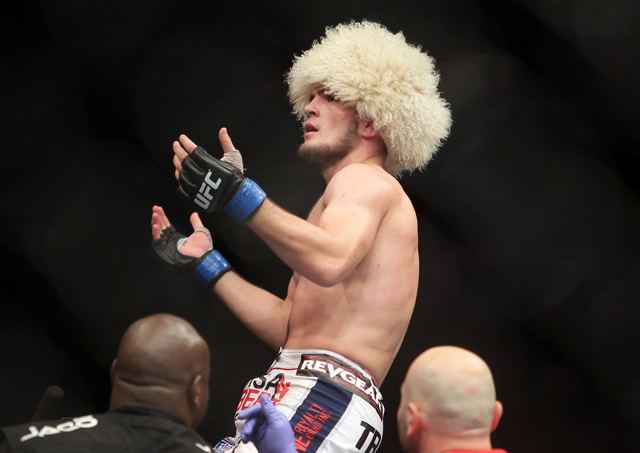 Nurmagomedov defeated Abel Trujillo on May 25, 2013, at UFC 160 via unanimous decision. At the weigh-ins, Nurmagomedov came in heavy weighing in at 158.5 lb. He was given two hours to cut to the lightweight maximum of 156 pounds, but elected instead to surrender a percentage of his fight purse to Trujillo and the bout was contested at a catchweight. In the course of the fight, he set a new UFC record for the most takedowns in a single fight with 21 successful takedowns on 27 attempts.
In his fifth UFC fight, Nurmagomedov faced Pat Healy on September 21, 2013, at UFC 165. He won the fight via unanimous decision. Attending his first post-event press conference, UFC president Dana White praised the relative-newcomer stating, "That slam, when he just scoops him up and slams him, Matt Hughes style. That reminded me of the old Matt Hughes where he would run a guy across the Octagon and slam him. The kid is exciting. We're probably going to do big things with this kid."
In December, Nurmagomedov challenged Gilbert Melendez on social media, with the two then expected to face off at UFC 170 on February 22, 2014. However, the bout was cancelled due to undisclosed reasons, with Melendez then replaced by Nate Diaz. However, the match-up was again cancelled with Nate turning the bout down. Khabib expressed his disappointment, appearing on The MMA Hour, "If they say that they're willing to fight the best, they should fight the best. If they want, I'll take them both at once in the cage."
Nurmagomedov next faced Rafael Dos Anjos on April 19, 2014, at UFC on Fox 11. He dominated the fight and won via unanimous decision.
Nurmagomedov was briefly linked to a bout with Donald Cerrone on September 27, 2014, at UFC 178. However, the pairing was quickly scrapped after it was revealed that Nurmagomedov had suffered a knee injury He was later expected to face Donald Cerrone on May 23, 2015, at UFC 187. However, Nurmagomedov pulled out of the bout on April 30 due to a recurring knee injury. He was replaced by John Makdessi.
Nurmagomedov was expected to face Tony Ferguson on December 11, 2015, at The Ultimate Fighter 22 Finale. However, Nurmagomedov pulled out of the fight in late October citing another injury and was replaced by Edson Barboza.
The bout with Ferguson was rescheduled to take place on April 16, 2016, at UFC on Fox 19. However, on April 5, Ferguson pulled out of the bout due to a lung issue. Ferguson was replaced by promotional newcomer Darrell Horcher at a catchweight of 160 lb. Nurmagomedov won the fight by TKO in the second round.
In September, Khabib Nurmagomedov signed two contracts for a title shot against the reigning UFC Lightweight Champion, Eddie Alvarez, on either the UFC 205 or the UFC 206 fight card, with Dana White confirming the bout between the two for UFC 205. However, on September 26, UFC announced Alvarez would be defending the title against Conor McGregor. Khabib voiced his displeasure on social media, calling Alvarez a "bullshit champ" for refusing the fight opting for a bout with McGregor instead, and accused the UFC of being a "freak show".
In lieu of a title shot, Nurmagomedov next faced Michael Johnson on November 12, 2016, at UFC 205. He won the one-sided fight via submission in the third round. Nurmagomedov since his victory at UFC 205 has said that he only wishes to face off against Conor McGregor, as he believes his chance at the title shot was robbed from him and he threatened that if his requests are not met he will no longer compete in the organization.
The bout with Ferguson was scheduled for a third time at UFC 209 on March 4, 2017, for the interim Lightweight Championship. Khabib, however, fell ill because of a botched weight cut, and as a result, the bout was cancelled.
Personal life
Khabib was married in June 2013, and has a daughter. He is a fan of Anzhi Makhachkala football club.
Nurmagomedov trains at Gadzhi Makhachev Freestyle Wrestling Club in Makhachkala, Dagestan, and at American Kickboxing Academy in San Jose, California since 2013. In his first year in the US, in 2012, he trained at K-Dojo and AMA Fight Club in New Jersey. Between 2010 and 2011, he trained at Team Combat Dobro in Kiev, Ukraine.
He has also trained with SC Bazarganova in Kizilyurt, Dagestan (2012), Mamishev Fight Team in Saint Petersburg (2012), Fight Spirit Team in Kolpino, St. Petersburg (2013), and KHK MMA Team in Bahrain (2015). In 2016, he co-founded his own team "Eagles MMA Team" with Ziyavudin Magomedov.Also in Eagles MMA Team will be represent by Ali Bagautinov, Vitaly Minakov, Islam Makhachev, Vladimir Mineev, Sergey Pavlovich, Akhmed Aliev and Mikhail Mokhnatkin. A devout Sunni Muslim, Khabib's appearance in EA Sports UFC 2 generated some controversy, as his character crosses himself with the Orthodox sign of the cross (right to left) upon victory. EA apologised and said they would rectify the error.
His walk around weight is 194 lbs.
Mixed martial arts
Atrium Cup
Pankration Atrium Cup 2008 tournament winner
M-1 Global
M-1 Challenge: 2009 Selections
Awards, records and honours
Ultimate Fighting Championship
Most takedowns in a single UFC fight (21 takedowns on 27 attempts; 3 rounds) vs. Abel Trujillo.
Sherdog.com
2013 Breakthrough Fighter of the Year.
2016 Beatdown of the Year (vs. Michael Johnson).
2016 Comeback Fighter of the Year
Fightbooth.com
2013 Staredown of the Year (vs. Abel Trujillo).
World MMA Awards
2016 International Fighter of the Year.
Sambo
World Combat Sambo Federation
2009 World Combat Sambo Championships (-74 kg) Gold Medalist
2010 World Cup in Combat Sambo (-82 kg) Silver Medalist
2010 World Combat Sambo Championships (-82 kg) Gold Medalist
Combat Sambo Federation of Russia
2009 Russian Combat Sambo Championships (-74 kg) Gold Medalist
All-Russian Sambo Federation
Russian Combat Sambo National Championships 21st (2010) (World Team Trials-FIAS)
Grappling
NAGA World Championship
2012 Men's No-Gi Expert Welterweight Champion
2012 ADCC Rules No-Gi Expert Welterweight Champion
ARB (Army Hand-to-Hand Combat)
Russian Union of Martial Arts
European Champion of Army Hand-to-Hand Combat
Pankration
International Pankration federation
European Pankration Champion
References
Khabib Nurmagomedov Wikipedia
(Text) CC BY-SA