Full UFC 229 press conference: Conor McGregor v Khabib Nurmagomedov
Conor Anthony McGregor (Irish: Conchúr Antóin Mac Gréagóir; born 14 July 1988) is an Irish professional mixed martial artist and professional boxer who is currently signed to the Ultimate Fighting Championship (UFC). He is the reigning UFC Lightweight Champion, and former UFC Featherweight Champion. During his mixed martial arts (MMA) career, McGregor has competed as a featherweight, lightweight, and welterweight. As of 2017, McGregor is ranked 2nd on UFC's pound for pound rankings.
Contents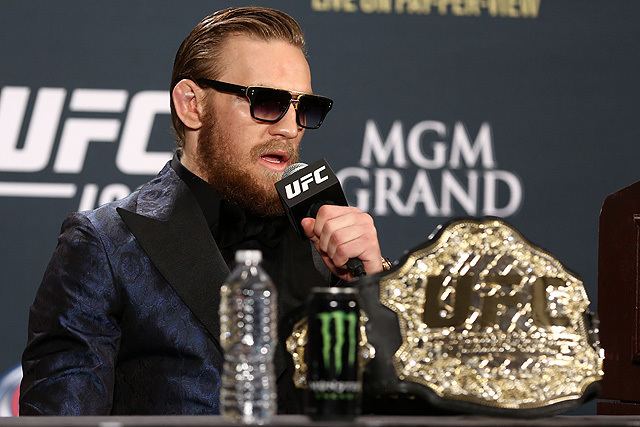 In 2008, McGregor started his MMA career and, in 2012, he won both the Cage Warriors Featherweight and Lightweight Championships, holding both titles simultaneously before vacating them to sign with the UFC. In 2015, at UFC 194, he defeated José Aldo for the UFC Featherweight Championship via knockout thirteen seconds into the first round. This was the fastest victory in UFC title fight history. Upon defeating Eddie Alvarez for the UFC Lightweight Championship at UFC 205, McGregor became the first fighter in UFC history to hold titles in two weight divisions simultaneously.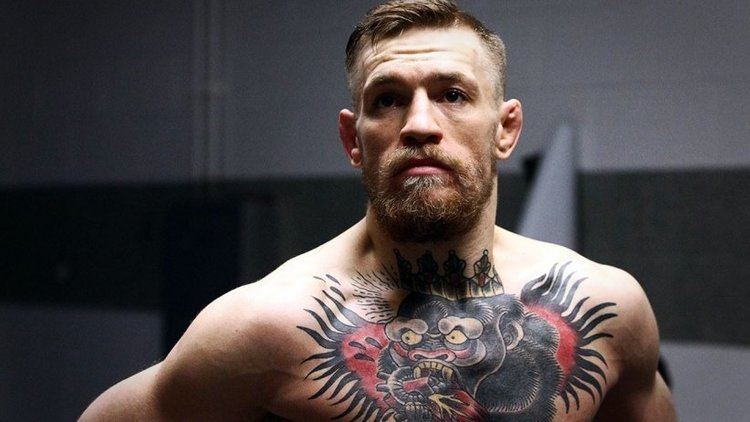 McGregor has established himself as the biggest pay-per-view (PPV) draw in MMA history as he has main-evented four out of the six highest selling pay-per-view events in UFC history. His headline bout with Nate Diaz at UFC 202 garnered the most buys ever for an MMA PPV event.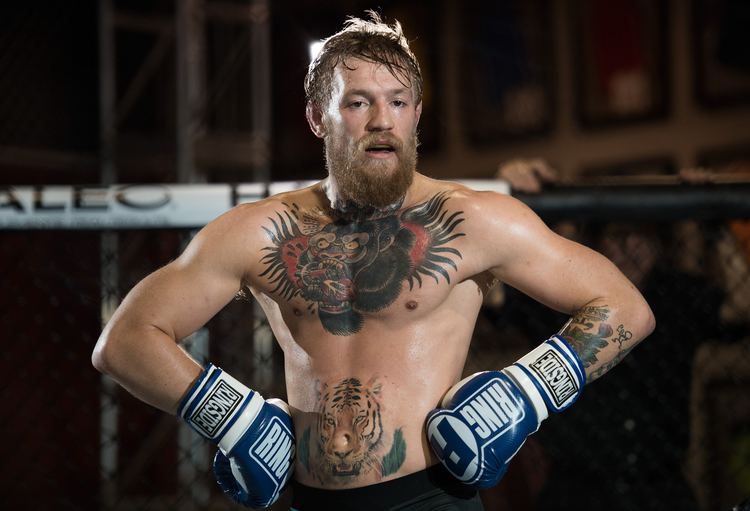 McGregor began his professional boxing career in 2017. In his debut boxing match, he was defeated by Floyd Mayweather Jr. via technical knockout.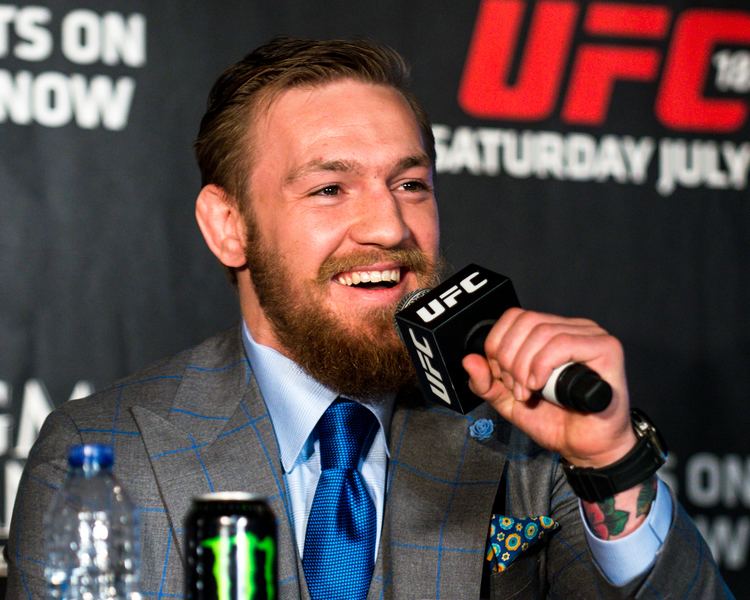 Conor McGregor VS. Chad Mendes - Fight Highlight
Early life
Conor Anthony McGregor was born on 14 July 1988 in Crumlin, Dublin, the son of Tony and Margaret McGregor. He was raised in Crumlin and attended a Gaelscoil and Gaelcholáiste at both primary and at secondary level in Coláiste de hÍde in Tallaght, where he also developed his passion for sport playing association football. In his youth, he played football for Lourdes Celtic Football Club. At the age of 12, McGregor also began boxing at Crumlin Boxing Club.
In 2006, McGregor moved with his family to Lucan, Dublin, attending Gaelcholáiste Coláiste Cois Life. Following that, he commenced a plumbing apprenticeship. While in Lucan, he met future UFC fighter Tom Egan and they soon started training mixed martial arts (MMA) together.
Amateur mixed martial arts career
On 17 February 2007, at the age of 18, McGregor made his mixed martial arts debut, in an Amateur fight against Kieran Campbell for the Irish Ring of Truth promotion in Dublin. He was victorious via technical knockout (TKO) in the first round. Following the fight, he turned professional and was signed by the Irish Cage of Truth promotion. In 2008, McGregor began training at the Straight Blast Gym (SBG) in Dublin under John Kavanagh.
Early career (2008–2013)
On 9 March 2008, McGregor had his first professional MMA bout, as a lightweight, defeating Gary Morris with a second-round TKO. After McGregor won his second fight against Mo Taylor, he made his featherweight debut in a loss via submission against Artemij Sitenkov. After a victory at featherweight in his next bout against Stephen Bailey, McGregor contemplated a different career path before his mother contacted his coach John Kavanagh and reinvigorated him to continue pursuing mixed martial arts.
McGregor then won his next fight, also at featherweight, against Connor Dillon, before moving back to lightweight for a fight against Joseph Duffy, where he received his second professional loss after submitting to an arm-triangle choke. Following this, during 2011 and 2012, McGregor went on an eight fight win streak, during which he won both the CWFC Featherweight and Lightweight championships, making him the first European professional mixed martial artist to hold titles in two divisions simultaneously. In February 2013, UFC president Dana White made a trip to Dublin, Ireland to receive a Gold Medal of Honorary Patronage from Trinity College and was inundated with requests to sign McGregor to the UFC. After a meeting with McGregor, and talking with UFC CEO Lorenzo Fertitta, White offered him a contract days later.
2013
UFC debut
In February 2013, the Ultimate Fighting Championship (UFC) announced that they had signed McGregor to a multi-fight contract. In joining, McGregor became only the second fighter from Ireland to compete for the company, following fellow SBG team member Tom Egan.
On 6 April 2013, McGregor made his UFC debut against Marcus Brimage on the preliminary card of UFC on Fuel TV: Mousasi vs. Latifi. Brimage began the fight aggressively, meeting McGregor in the middle of the octagon before launching a flurry of strikes to push him back. McGregor, repeatedly throwing a counter left hand, found little success with his initial striking. After ascertaining that Brimage was susceptible to a snap kick directed at his chest and chin, McGregor began to employ a looping left hand uppercut, throwing every time Brimage would move forward into striking range. These uppercuts grounded Brimage shortly after McGregor started to utilise them. The bout was stopped 1:07 into the first round. The win also earned McGregor his first "Knockout of the Night" award.
McGregor was expected to face Andy Ogle on 17 August 2013 at UFC Fight Night 26, but Ogle pulled out of the bout citing an injury and was replaced by Max Holloway. McGregor bewildered Holloway with his unusual boxing technique, and his incorporation of a wide variety of taekwondo kicks, many of which are not used in MMA to a significant degree. McGregor was able to control the striking range by utilising long, non-committal low side kicks to Holloway's knee and shin, and initiate combinations by leaping in with switch and bicycle kicks. When the fight was brought to the ground, McGregor maintained top control, performing various positional advances, and mitigating against his opponent's offence on the ground. McGregor won the fight by unanimous decision (30–27, 30–27, 30–26). Following the bout with Holloway, an MRI scan revealed that McGregor had torn his anterior cruciate ligament (ACL) during the bout and would require surgery, keeping him out of action for up to ten months. The events surrounding McGregor's fight with Holloway were the main focus of a documentary by Motive Television and SevereMMA.com for Raidió Teilifís Éireann in 2014, entitled "The Notorious".
2014
Return after injury
McGregor was expected to face Cole Miller on 19 July 2014 at UFC Fight Night 46 in his comeback bout after recovering from his ACL injury. However, Miller pulled out of the bout citing a thumb injury and was replaced by Diego Brandão. McGregor fought Brandão in front of a loud, rowdy crowd of 9,500 at The O2 in his hometown of Dublin, Ireland. McGregor began the fight with a signature spinning side kick, before finding his range and successfully landing various taekwondo kicks, and left hand counters. Brandão, a Brazilian Jiu-Jitsu black belt, attempted to instigate two takedowns, so that he could make use of his grappling pedigree, but both attempts were avoided by McGregor. Nonetheless, much of the fight was spent on the ground, as McGregor attained a takedown 1:20 into the bout. When the fight returned to the feet in the third minute, McGregor began to employ his left hand cross, and started to cut off the cage. Brandão, trapped between the octagon and McGregor, fell to his side after being hit with another left hand cross as the fight went into its fourth minute. The fight was officially halted by referee Leon Roberts at 4:05 of the first round. The win earned McGregor his first "Performance of the Night" award.
Prior to his next bout, McGregor met with Lorenzo Fertitta and signed a new multi-fight contract with the UFC. McGregor next faced Dustin Poirier on 27 September 2014 at UFC 178. The bout was one of the most anticipated fights on the UFC 178 card, with McGregor and Poirier two of only four men involved in the pre-fight press conference, alongside the originally scheduled headliners Jon Jones and Daniel Cormier. Part of the anticipation stemmed from the challenge the match-up posed: Poirier was McGregor's first opponent ranked in the UFC's top ten featherweights. Despite McGregor landing 9 significant strikes to Poirier's 10, he managed to secure a victory early on in the first round, by pressuring Poirier onto his back foot, before exploding with a left hook behind Poirier's ear, forcing referee Herb Dean to step in. The finish officially came at 1:46 into the first round. This marked Poirier's first UFC loss via KO/TKO, and earned McGregor his second straight "Performance of the Night" award. In the post-fight interview with commentator Joe Rogan, McGregor cited the UFC Featherweight Championship as his next goal in the organisation, stating that "If [the UFC] want, I'll eliminate Chad Mendes and step in and give the fans what they want; Aldo vs. McGregor."
2015
Championship pursuits
McGregor's dominant victory over Poirier, paired with his brash trash-talking directed at the rest of the featherweight division, particularly UFC Featherweight Champion José Aldo, allowed him to establish a claim to a potential title shot in the near future. McGregor was then scheduled to face perennial featherweight contender Dennis Siver on 18 January 2015 at UFC Fight Night 59, in what was later deemed by UFC President Dana White a #1 contender bout. If McGregor were to win the fight, he would face Aldo for the Featherweight Championship later in 2015. The bout served as McGregor's return to Boston, after his 2013 fight with Max Holloway, and was the fourth-most attended UFC Fight Night event of all time, with an official attendance of 13,828. With a four-inch reach advantage, McGregor was able to land his signature left hand cross consistently, with Siver struggling to counter all throughout the bout. McGregor kept distance by utilising side kicks to the legs of Siver, as well as wild spinning wheel kicks and leaping roundhouse kicks. Much of Siver's most successful offence came by way of oblique side kicks to McGregor's lead leg, and to his chest. McGregor was mostly successful in avoiding his opposition's attack after the first two minutes of the fight, as he would slip underneath any counter left hooks that Siver offered as McGregor stepped in to deliver his left cross. Siver, a capable Brazilian Jiu-Jitsu and Judo practitioner, attempted three takedowns in the first round of the bout, but McGregor was able to avoid all three attempts handily. Despite landing 43 significant strikes to Siver's 27 in the first round, the fight extended into the second round, where McGregor landed over four times as many strikes as his opponent. At 1:26 into the second, McGregor landed a left hand cross that knocked Siver down onto his back. After passing Siver's guard, McGregor mounted his opponent and began throwing punches and elbows. Referee Herb Dean officially stopped the fight at 1:54 of the second round. The win came via TKO. The victory also earned McGregor his third straight "Performance of the Night" award. After the fight, McGregor jumped over the cage and confronted José Aldo, who was seated cage side at the event.
The highly anticipated bout with Aldo was announced on 30 January 2015, at the UFC 183 Q&A. McGregor himself declared that he was expected to face Aldo on 11 July 2015 at UFC 189 for the undisputed UFC Featherweight Championship, during the UFC's annual International Fight Week. The fight would take place at the MGM Grand Garden Arena in Las Vegas, Nevada. The UFC, confident that the fight would exceed expectations, increased the promotional budget for the event, with company president Dana White stating that "[the UFC] spent more money promoting Aldo–McGregor than any fight in UFC history." In an effort to publicise the bout, both McGregor and Aldo embarked on a 12-day world tour, where they stopped over at eight cities in five countries, including Aldo's home country of Brazil (Rio de Janeiro), the United States of America (Las Vegas, Los Angeles, Boston, New York City), Canada (Toronto), England (London), and McGregor's hometown of Dublin, Ireland. The tour began in Rio de Janeiro on 20 March, and completed in Dublin on 31 March. However, on 23 June, it was reported that Aldo had suffered a rib fracture and had pulled out of the bout in light of the injury. McGregor remained on the card and was rescheduled to face Chad Mendes for the Interim Featherweight Championship. This change of opponent was considered highly significant stylistically, not only because Mendes was the #1 ranked featherweight contender and a former title challenger, but also as both McGregor's previous opponents in the UFC, as well as Aldo, were considered striking technicians. According to many pundits, McGregor had never faced a wrestler before, which Mendes, a former NCAA Division I wrestler, was.
At the weigh-ins, McGregor and Mendes both made the 145-pound limit, in front of a record crowd of 11,500 spectators. Once again, McGregor's compatriots flocked to the United States to support him, with Dana White stating that approximately 25% of the tickets sold for the event were from Ireland and the United Kingdom. The official attendance for the event, 16,019, broke the record in Nevada, whilst the gate of $7,200,000 broke the record for a mixed martial arts event in the United States. Just prior to the fight, McGregor's typical entrance song, "The Foggy Dew", was sung live by Irish singer-songwriter Sinéad O'Connor, who performed the rendition of the song which she had recorded alongside the band The Chieftains in 1995.
McGregor opened the fight offensively, utilising a spinning back kick as soon as the bout began, before being taken down by Mendes. On the feet, Mendes and McGregor exchanged strikes for much of the first two minutes, McGregor landing his signature left cross as well as snap kicks to his opponent's body, and Mendes utilising hard left hooks and overhand rights. McGregor made use of his eight-inch reach advantage by throwing various taekwondo techniques at range, including a multitude of spinning back kicks, and a roundhouse kick. At 2:13 into the first round, Mendes attempted a successful takedown, before ending up in McGregor's guard. After being hit with an elbow from Mendes, McGregor attempted to escape back to his feet, suffering a striking combination as a result. McGregor's offence remained targeted towards his opponent's body, in an attempt to drain the energy of Mendes. The third and final successful takedown for round 1 for Mendes occurred at 3:44, and led to Mendes briefly passing McGregor's guard and attaining side control, before being pulled back into half guard. Mendes briefly attempted a topside guillotine in the final half a minute of the round, but McGregor was able to roll out of the submission. In the final seconds of the round, Mendes was warned repeatedly by referee Herb Dean for sticking his fingers inside a cut that he had opened above McGregor's eyebrow earlier in the round. In the first round, McGregor successfully landed 19 of 51 significant strikes, compared to Mendes's 15 of 28. 53% of McGregor's strikes were dealt to the body, while 50% of Mendes's were directed at the head. Mendes also successfully landed 3 strikes to McGregor on the ground, including the elbow which cut McGregor's eyebrow. Many mixed martial arts media groups, including Sherdog, Caged Insider, MMA Junkie, and Bloody Elbow, scored the round 10–9 for Chad Mendes.
In the opening of the second round, McGregor continued to issue damage to Mendes's body, before sprawling to avoid a takedown 0:22 seconds in. After a successful variety of boxing combinations, Mendes landed a takedown at 0:48. Mendes maintained top position for much of the round subsequent to the takedown, landing 13 strikes to McGregor's head. McGregor, remaining offensive on the ground, landed a flurry of 7 elbow strikes to the head of Mendes from 2:37 onwards. Mendes complained to Herb Dean that the elbows were illegal, but Dean disagreed, allowing McGregor to continue his attack. At 4:12 of the round, Mendes attempted another topside guillotine from half guard, allowing McGregor to scramble back to his feet and continue his assault at distance. McGregor began to land uppercuts, hooks, and the left cross, before sprawling to avoid Mendes's third takedown attempt of the second round, at 4:32. With 10 seconds left in the round, McGregor landed a jab-cross combination that sent Mendes to the canvas. A series of strikes delivered to the grounded Mendes forced Herb Dean to step in and halt the bout at 4:57, with 3 seconds remaining in the round.
McGregor won the fight via second-round TKO, winning the UFC Interim Featherweight Championship. Mendes came over to McGregor shortly after the bout was stopped, and McGregor thanked him for accepting the fight, saying "You're a legend for taking this fight... [Aldo's] a juice-head pussy." A visually emotional McGregor said in his post-fight interview with Joe Rogan that he was "blown away by the support. I can't put into words how grateful I am for everyone supporting me and following me... To come in here and just to hear all the support [at the weigh-ins] and today... I'm shaken with it." When asked about José Aldo by Rogan, McGregor stated that "in my opinion, José went running. I had bigger injuries leading up to this fight than [Aldo's] bruised rib, and I still showed up here and performed... If he wants to come back, he can come back, but I swear to god his day will come." The injury McGregor was referring to was later revealed to be an ACL tear that the fighter had procured during his training camp. During Mendes's post-fight interview, McGregor approached his opponent, and the two men expressed respect and thankfulness towards one another. This victory extended McGregor's "Performance of the Night" award streak to four.
McGregor then took part in UFC's reality television series The Ultimate Fighter where he would coach against Urijah Faber. This "U.S. vs. Europe" instalment of the show was the first time that the coaches would not fight against each other at the show's conclusion. Faber's team member Ryan Hall ended up winning the competition.
Featherweight Championship unification bout
On 10 August, Dana White confirmed that the UFC 194 event, which was initially scheduled to be held at the AT&T Stadium in Texas on 5 December, would take place at the MGM Grand Garden Arena, in Las Vegas, Nevada. A day later, on 11 August, it was announced that the event would take place on 12 December, and Conor McGregor would face José Aldo in their long-awaited UFC Featherweight Championship unification bout. This would be the second consecutive time McGregor would be scheduled to fight in Las Vegas in the headlining match. McGregor emerged from the fight announcement as an almost 2-to-1 betting favourite over Aldo.
At the UFC's "Go Big" press conference, on 4 September 2015, McGregor referenced both Aldo and his other opponents' tendency to pull-out of bouts with him, suggesting that Aldo would not fight at UFC 194. He implored everyone on the dais, from members of the 145-pound featherweight division to the 170-pound Welterweight division, to "prepare for this fight, because I don't think [Aldo's] showing up... Don't use [Mendes'] excuse of camps and all this bullshit. Stay ready, because [Aldo's] gone running." McGregor also made comments shortly prior to the press conference, detailing his intention to move up to the 155-pound lightweight division, and capture the UFC Lightweight Championship. He stated, "I'm going to unify the belts, I'm going to destroy the [featherweight] division, and then I'm going to take the lightweight division as well."
On the week of UFC 194, Dana White stated his belief that the event would attract more attention than any other mixed martial arts event in history. "[UFC 194] is trending in every way, shape and form to be the biggest thing we've ever done... this fight is [set to gross in gate] $10,000,000." At the weigh-ins, both McGregor and Aldo achieved the stipulated weight limit of 145 pounds, making the bout official in front of a raucous 9,000 spectators. During the customary staredown, both men needed to be separated from one another. The event lived up to its monetary potential, producing a live gate of $10,100,000, breaking the previous record for a mixed martial arts event in the United States, established at UFC 189. The final attendance for the event also broke the Nevada attendance record, with a live attendance figure of 16,516. The buyrate for the pay-per-view was 1,200,000, placing it as the second highest buyrate in UFC history, behind only UFC 100.
When both men met in the centre of the octagon for referee John McCarthy's instructions, Aldo refused to make eye-contact with McGregor, as per his usual pre-fight tradition. Neither man performed the customary touch of gloves. As the bout began, both men rushed to the centre of the cage. McGregor threw the first strike of the fight, a left cross which failed to connect. Aldo's follow-up counter left hook similarly failed to make contact with McGregor. McGregor, attempting to establish distance, utilised a front-leg side kick, directed at Aldo's lead leg. At 0:09 into the opening round, Aldo stepped into the pocket, feinting a right cross in an attempt to connect with a left hook. But as Aldo attempted this combination, McGregor stepped back and countered with his own left hook. McGregor's power, combined with Aldo's forward momentum, caused the shot to drop Aldo to the canvas. After delivering two additional hammerfists to the grounded Aldo, John McCarthy halted the bout. The fight lasted 13 seconds, the fastest finish in any UFC title bout, cementing Conor McGregor as only the second undisputed UFC Featherweight Champion in history. On a record-breaking fifth consecutive occasion, McGregor was made the winner of the "Performance of the Night" bonus. The win over Aldo extended his UFC win streak to 7 and overall win streak to 15. In the post-fight interview with Joe Rogan, McGregor talked about how "nobody can take that left hand shot... [Aldo's] powerful and he's fast. But precision beats power, and timing beats speed." McGregor expressed sympathy for his opponent, stating "I feel for José. He was a phenomenal champion. We deserved to go a little longer." At the conclusion of the interview, McGregor grabbed Rogan's microphone, before exclaiming "Ireland baby, we did it; yeah!"
2016
First UFC loss
After emphatically dispatching Aldo, McGregor continued to express a desire to move up to the lightweight division, in an attempt to become the first ever UFC dual-weight champion. On the Fox Sports post-fight show for UFC 194, McGregor said that he would "like to go up and fight for that 155-pound belt and replicate what I've done in Cage Warriors." A week after UFC 194, the UFC Lightweight Championship was contested at UFC on Fox: dos Anjos vs. Cerrone 2, between reigning champion Rafael dos Anjos, and the #2 lightweight contender, Donald Cerrone. dos Anjos defeated Cerrone 1:06 into the first round, via TKO. After the bout, during the post-fight interview, dos Anjos took aim at McGregor, telling the Featherweight Champion that "it's better to stay in the featherweight division... I will fight you in Brazil. I will go to Ireland to fight you there. Whatever one, man. I'm here to stay." On 12 January 2016, the UFC officially announced that Conor McGregor would face Rafael dos Anjos for the UFC Lightweight Championship on 5 March at UFC 196 (then known as UFC 197). The event would be held at the MGM Grand Garden Arena, in McGregor's third consecutive headlining appearance at the venue. On 20 January, the UFC hosted a press conference featuring all the combatants involved in the two championship fights headlining the UFC 197 event, including McGregor and dos Anjos. McGregor criticised his opponent on numerous occasions throughout the press conference, stating "Rafael dos Anjos is a free TV fighter. He doesn't have much to offer me besides that gold belt... His last gate was $1.7 million. He fights on free TV. He hasn't made the company a dime." McGregor also entertained the idea of challenging for the UFC Welterweight Championship, telling the media that "I will fight in many weight divisions. I like the sound of that 170-pound title as well. I feel like I can take three gold belts." His prediction for the fight with dos Anjos was that he would "dust Rafael inside one minute."
On 23 February, it was announced that dos Anjos was withdrawing from the fight after breaking his foot. A variety of competitors at all different weight classes were asked to step-in on short notice to face McGregor, including former UFC Featherweight Champion José Aldo, who refused the bout due to "lack of time" to prepare for the bout, and former UFC Lightweight Champion and #2 ranked featheweight, Frankie Edgar, who cited a groin injury as reasoning for turning the opportunity down. Instead, #10 ranked lightweight contender, The Ultimate Fighter Season 5 winner, and former UFC Lightweight Championship challenger Nate Diaz would be stepping in to fight McGregor on 13 days' notice instead of dos Anjos. Initially assumed to be a lightweight contest, McGregor allowed the bout to be contested at 170-pounds, in the welterweight division, to avoid forcing Diaz to cut down to the 155-pound lightweight limit in such little time, telling Diaz to "get comfortable". McGregor opened as a -400 favourite, his third-highest opening behind his fights with Dennis Siver and Diego Brandão, and was widely expected to best Diaz during the contest. On 24 February 2016, a press conference was held to help promote the new main event, with both men trading insults back-and-forth. At the Thursday pre-fight press conference on 3 March, McGregor and Diaz engaged in a brief scuffle during a face-off, after McGregor landed a strike on Diaz's lead hand. At the weigh-ins, in front of another pro-McGregor crowd, both men made the welterweight limit, Diaz weighing in at 169 pounds, and McGregor weighing in at 168. The UFC 196 event, whilst failing to exceed the gate and attendance records of McGregor's previous bout against Aldo, provided respectable numbers, with a revised attendance of 14,898, and a total gate of $8.1 million. More significantly, the event procured a PPV buyrate of 1,317,000 buys, surpassing McGregor's own personal record of 1,200,000 for UFC 194.
For his walkout, McGregor decided to abandon The Notorious B.I.G's "Hypnotize" for the first time since his homecoming bout against Brandão, and instead opted to utilise a combination of Sinéad O'Connor and The Chieftain's "The Foggy Dew", followed by The Game and Skrillex's "El Chapo". The fight began with McGregor shifting stances frequently, before looking to establish his patented left cross. The first minute consisted of McGregor showcasing a variety of kicks, before Diaz initiated a clinch, and forced McGregor to the cage. McGregor, aware that Diaz would bring his head low after delivering a jab-cross combination, attempted to make use of a left uppercut, with varied success. Diaz's jab kept McGregor at bay for much of the first two minutes, and McGregor found difficulty utilising the pullback left-hand counter that had knocked out Jose Aldo. At 2:32, McGregor connected with a left uppercut counter of Diaz's jab, stunning his opponent for a brief interval. McGregor's left overhand also proved successful, employed as Diaz would lunge in to strike. Diaz's right hook was successful in the first round, catching McGregor as he would step into range. At 3:12, during a McGregor combination, Diaz returned fire with two consecutive hooks, one a slap, a signature of Nate and his brother, Nick Diaz, termed the "Stockton Slap". McGregor avoided Diaz's jabs by slipping to his right, often before throwing his left overhand. At 3:28, commentator Mike Goldberg noted that there was "a lot of blood on the right side of the face of Nate Diaz", indicating that McGregor had opened a cut on Diaz. The final minute consisted of both men exchanging blows, before a slow body kick from McGregor led to Diaz taking him down at 4:18. McGregor swept Diaz's legs, and ended up in his opponent's guard, hammering down with two significant strikes. McGregor landed 28 to Diaz' 23 strikes during round 1, both men attaining a connection percentage of 37%. Many mixed martial arts media sites awarded a 10–9 to McGregor for the round, including Bloody Elbow, MMA Mania, and Sherdog.
The second round commenced with Diaz utilising his check right hook, attempting to keep the aggressive McGregor at distance. Despite this, McGregor had success with his bodywork, landing a thudding left hook to Diaz's right side at 0:37. McGregor began to connect with significant combinations, until Diaz clinched and pushed McGregor to the fence, at 1:15. After a combination of uppercuts from McGregor at 1:48, Diaz delivered his first significant taunt of the fight, shrugging towards his opponent. As the taunts began to increase in frequency from both sides, Diaz's volume and pace increased, his landing of the jab escalating. After a 7-strike combination from McGregor, Diaz separated from the exchange and proceeded to land a jab-cross combination at 2:37, which wobbled McGregor. A swarm of strikes, including a slap, followed this combination, Diaz landing with great effectiveness until the initiation of another clinch, where Diaz landed 10 strikes. After the two disengaged, McGregor returned fire with a barrage of 4 strikes, before being hit with two consecutive jab-cross combinations. At 3:47, McGregor attempted a double leg takedown, Diaz successfully sprawling to avoid the shot. Diaz, hands clasped around McGregor's neck, threatening the guillotine choke, forced McGregor onto his back after stopping McGregor from scrambling out of the position, as he did during the bout with Chad Mendes at UFC 189. At 4:00, Diaz secured the mount, before firing off a volley of strikes from the top. In an effort to avoid the assault, McGregor gave up his back, allowing Diaz to punch his head into the crook of his arm, and secure a rear naked choke. McGregor tapped to the submission at 4:12 into the second round, forcing referee Herb Dean to intervene and stop the bout.
The loss was Conor McGregor's first in the UFC, and his third overall. It broke his winning streak of 15 consecutive wins, and was his first loss since November 2010. Both competitors were awarded "Fight of the Night" bonuses, and McGregor received the highest disclosed purse of any fighter in the history of the company, a total of $1,000,000. In the post-fight interview, McGregor evaluated the contest, stating that "I felt I took the first round, but I was inefficient with my energy. But I'm humble in victory or defeat. I respect Nate; he came in, he took the fight on short notice, came in at 170, and done the job. He was efficient, I was not efficient. That was it, I feel." Regarding the future, McGregor said he would "face it like a man, like a champion, and come back and do it again." At the post-fight press conference, McGregor was content with the loss, stating that "this is the game. We win some, we lose some. I will never shy away from a challenge. I will never shy away from defeat. This is the fight business. It's another day. I'll come back."
Diaz rematch
A rematch with Diaz was scheduled for 9 July at UFC 200. However, on 19 April, the UFC announced that McGregor had been pulled from the event after failing to fulfill media obligations related to the fight. In turn, the fight with McGregor was rescheduled and took place the following month, contested again at welterweight, at UFC 202. McGregor won the rematch via majority decision (48–47, 47–47, 48–47). The bout was once again awarded "Fight of the Night" honors. The event broke the record previously held by UFC 100 for highest selling pay-per-view in UFC history with 1,650,000 buys.
Two-division champion
On 27 September, it was officially announced that McGregor's next bout would be against Eddie Alvarez for the UFC Lightweight Championship on 12 November at UFC 205. McGregor defeated Alvarez by second-round technical knockout to win the UFC Lightweight Championship.
On 26 November, due to his inactivity in the division, it was initially announced that McGregor vacated the Featherweight Championship, therefore promoting José Aldo to undisputed champion but further reports say that McGregor was actually stripped of the title as confirmed by his coach.
2017
MMA hiatus and boxing endeavours
After winning the lightweight championship at UFC 205, McGregor announced he would take time off from the UFC to wait for the birth of his first child due in 2017. McGregor would spend the majority of his public appearances in early-2017 campaigning for a boxing match with Floyd Mayweather. After months of negotiations, the two finally came to terms on 14 June 2017 and announced the match to take place on 26 August. The match ultimately ended in the 10th round with a victory by TKO for Mayweather.
Mixed martial arts fighting style
McGregor is known mostly as a striker and prefers to fight standing up as opposed to on the ground. McGregor is left handed and primarily fights out of the southpaw stance, but often switches to an orthodox stance as well. He will frequently try to be the aggressor in his bouts. McGregor's boxing is typically considered his best skill, with the majority of his victories coming by way of knockout or technical-knockout via punches. Many pundits cite McGregor's pull-back left-handed counter as his most dangerous strike.
McGregor will almost always engage in trash talk and "psychological warfare" against his opponents, which has led to comparisons to Muhammad Ali, whom McGregor cites as one of his early inspirations. After Ali died in June 2016, McGregor opined that "nobody will ever come close to [Ali's] greatness".
Background
When McGregor was twelve years old, he began boxing at Crumlin Boxing Club under two-time Olympian Phil Sutcliffe. It was here where he laid the foundations to his striking ability, training with fighters such as Dean Byrne and Jamie Kavanagh, both of whom went on to train at Wild Card Gym under Freddie Roach. Kavanagh recalls McGregor as "a game kind of boxer. He was very game. He loved to fight. But he was also very strong – he could seriously bang." McGregor would eventually become an All-Ireland champion at youth level, but his attention began to turn towards other martial arts when he was about sixteen. Despite this, and his family moving to West Dublin, McGregor continued boxing. He has regularly sparred at Celtic Warrior Gym, Blanchardstown, which has been home to boxers such as Gary O'Sullivan and Frank Buglioni. Head coach Packie Collins, brother of Steve, commented "he comes down here and he can hold his own with world champions." He continued "I won't name names but, the last time he was up here a very good boxer of ours couldn't make head nor tail of what Conor was doing. He has what appears like a kind of chopping Movement when he strikes and he doesn't use a traditional stance, so this guy just couldn't time him at all."
McGregor vs. Mayweather
During McGregor's rise in the UFC, he often made public insults towards Floyd Mayweather Jr. and pushed for a boxing match with him. Floyd Mayweather Jr. also eventually entertained this idea despite having retired in 2015, with McGregor never having boxed professionally. After rumours of a McGregor-Mayweather bout started gaining traction, Dana White initially dismissed the proposed match vehemently since McGregor was contracted under the UFC. On 30 November 2016, McGregor obtained a Professional boxing license from the California State Athletic Commission.
On 7 March 2017, Mayweather publicly announced he would come out of retirement for a boxing match with McGregor and urged McGregor and the UFC to come to an agreement for the proposed fight. On 16 March 2017, Dana White backpedalled on his stance against a Mayweather–McGregor bout and said that he would not deprive McGregor from making a massive payday. On 18 May 2017, McGregor reportedly agreed to terms with the UFC and Mayweather Jr. for a bout agreement.
On 14 June 2017, it was officially announced that McGregor would compete in his first professional boxing match against the undefeated Mayweather Jr., on 26 August 2017 at T-Mobile Arena in Paradise, Nevada. The bout was contested at super welterweight (154 pounds) with 8 oz. gloves. The fight was expected to be the richest in boxing history.
On 24 August 2017, it was announced that Mayweather and McGregor would be facing off for the WBC Money Belt. According to the Nevada State Athletic Commission, Mayweather would earn a guaranteed purse of $100 million and McGregor was guaranteed $30 million.
In front of 14,623, far short of a sell-out, Mayweather won via TKO in the 10th round, setting the record for the longest active professional career unbeaten run, at 50. In the opening round, Mayweather, as in previous fights, started slowly to work out McGregor's tactics. In the post-fight, he revealed it was part of the game plan to let McGregor punch himself out in the early rounds. McGregor won the first round on all three judges' scorecards; the same case could have been made for the opening three rounds. McGregor was warned a few times through the fight for hitting behind the head, but no points were deducted by referee Robert Byrd. By the fourth round, McGregor began to tire and breathe heavily with his mouth open. Mayweather started to take control and landed with his right hands. For the next few rounds, McGregor came out throwing shots in the opening 30 seconds, but immediately tired, giving Mayweather enough time to carry on landing clean and winning the rounds. In round 9, McGregor had almost nothing left. His face started showing redness; although he didn't look hurt, he was very fatigued. Two of the judges scored the round 10-8 to Mayweather. In round 10, Mayweather landed some hard shots which staggered McGregor across the ring and had him heavily slopped against the ropes. After a few unanswered punches with McGregor barely on his feet, the referee waved the fight off. The time of stoppage was 1 minute and 5 seconds of round 10.
At the time of stoppage, the scorecards read 89–81, 89–82, and 87–83, all in favour of Mayweather. McGregor was praised by Dana White in the post-fight press conference for landing 111 punches of 430 thrown (26%) on Mayweather, which was more than what Pacquiao landed in the fight against Mayweather (billed as The Fight of the Century), and more than any of Mayweather's previous nine opponents. Mayweather was much more accurate however, landing 170 of 320 punches thrown (53%).
Mayweather said of the fight, "This was my last fight. Tonight, ladies and gentlemen, for sure I chose the right dance partner to dance with. Conor McGregor, you are a hell of a champion." He added, "He's a tough competitor and I think we gave the fans what they wanted to see. I owed them for the Pacquiao fight. I must come straight ahead and give the fans a show, and that's what I gave them." McGregor felt the fight was stopped prematurely, but respected the decision and admitted he was tired.
Nevada State Athletic Commission announced the live gate for the event was $55,414,865.79 from 13,094 tickets sold and 137 complimentary tickets given out. This was far less than the Mayweather vs. Pacquiao fight, which grossed $72 million from a paid attendance of 16,219 in 2015, despite claims from Ellerbe and Mayweather that it did more than $80 million. Sky Sports announced the fight garnered over a million PPV buys in the UK and grossed in excess of £20 million, surpassing the record set in April 2017 when Anthony Joshua defeated Wladimir Klitschko in front of 90,000 at Wembley Stadium. This also meant the fight generated more buys in the UK than Mayweather-Pacquiao which took place in 2015.
Personal life
McGregor has two sisters, named Erin and Aoife. He has been in a relationship with his girlfriend, Dee Devlin, since 2008. Their first child, Conor Jack McGregor Jr., was born on 5 May 2017. McGregor understands Irish and speaks it to a certain extent.
McGregor often trains at the Mjölnir gym in Reykjavik, alongside fellow UFC fighter Gunnar Nelson. He has stated that he does not adhere to any pre-fight rituals or superstitions because he believes them to be "a form of fear".
Just ahead of his fight with Mayweather, McGregor announced a fashion brand partnership with custom clothier David August; the brand is named "August McGregor" and is aimed at providing modern men's suits to millennials. August met McGregor about three years earlier, via UFC president Dana White.
Championships
Cage Warriors Fighting Championship
CWFC Featherweight Championship (One time)
CWFC Lightweight Championship (One time)
Ultimate Fighting Championship
UFC Featherweight Championship (One time)
UFC Interim Featherweight Championship (One time)
UFC Lightweight Championship (One time, current)
References
Conor McGregor Wikipedia
(Text) CC BY-SA