India




Oriya




Odisha




Kendrapara



Kendrapara (???????????) is a town and a municipality in Kendrapara district in the Indian state of Odisha. It is the headquarters of Kendrapara district.
Kendrapara is located at 20.50°N 86.42°E? / 20.50; 86.42. It has an average elevation of 13 m (43 ft). It is surrounded by Bhadrak, Jajpur, Cuttack and Jagatsinghpur districts and Bay of Bengal in the east.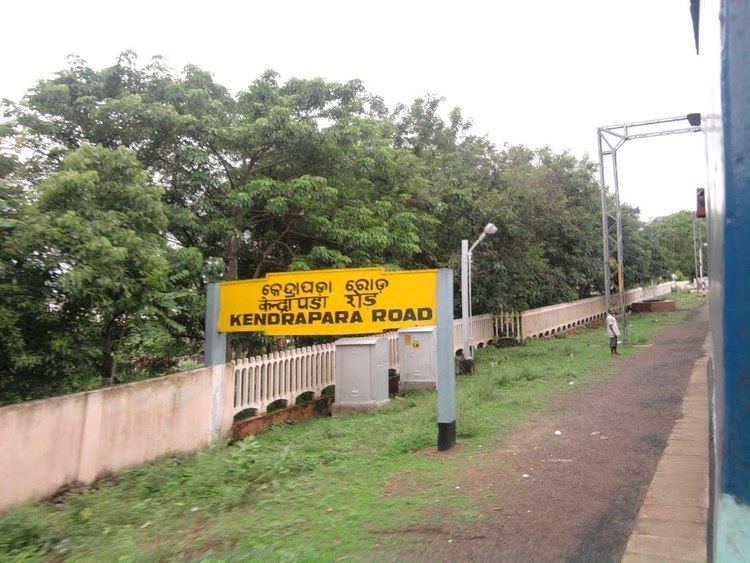 The river Luna (a branch of Mahanadi) is flowing out side of Kendrapara district. The other rivers of Kendrapara are Karandia, Gobari, Brahamani, Birupa, Kani, Baitarani, Kharasrota, Paika, Chitrotpala & Hansua . This district has 9 blocks named as Aul, Derabish, Garadpur, Mahakalapada, Marshaghai, Kendrapara, Rajanagar, Rajkanika, Pattamundai.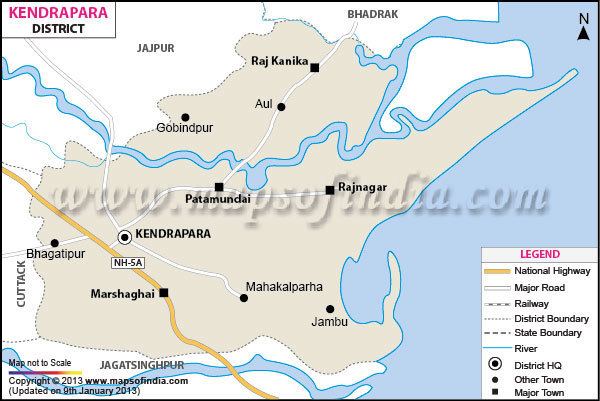 The Baladevjew Temple is located in Kendrapara. A Car Festival or Rath Yatra is held in the month of Ashadha(June/July) every year, the car of Lord Baladevjew is known as Brahma Taladhwaja and considered as the biggest car of its type in whole world.. The Gajalaxmi puja on Kojaagari Purnima or Kumar Purnima Durga Pujaat Amruta manohi village is celebrated in the month of October and Kartikeya Puja in November and Maa Kali Puja at Olaver are held each year. Gajalaxmi puja is a big festival here and is celebrated for 7 days. Maa Kali Puja in Olaver is one of the famous festivals in the region. The Oriya sweet dish, Rasabali, originated from Kendrapara. Kendrapara is also known as Tulasi Ksherta (as Tulasi, different from basil tulsi is the wife of Lord Balabhadra) and Gupta Kshetra (Lord Balabhadra wish to stay here secretly). Different types of prasad prepared and used in Baladevjew Temple are Rasabali, Potali Pitha, Magaja Ladoo, Kakaraa, Khaja, Karanji, Chhena Kheeri, Ghanabrata, Dahipakhala, Khiri, Puri etc.
Village Kusupur is one of the well known and very important village in the District Kendrapara - Cuttack (earst while) District. Village Poet Nanda Kishore Bal, Village Educationist and socialist leader Surya Mani Jena, Silpiguru Bimbadhara Verma, Pradyumna Bal, Member of Parliament are the most distinguished personalities who hails from village Kusupur. Village Kusupur is also famous for its Dussera Sabha which organizes the traditional Sword Fighting on the eleventh day (next day of Dussera) for last more than hundred years. On this occasion Kusupur Dussera sabha organises various local cultural functions including the sword fighting wherein the Kshetriyas of village Kusupur and from the nearest gadjat areas participate and were being awarded. Apart from the sword fighting the fire fighting (burnati) are also worth watching. Every year about a lakh of people gathered in Kusupur to witness the Dussera Sabha. Village Kusupur is situated in the bank of river Birupa and next to Balichandrapur on the National Highway No.5A. Bhalukuni Melana is celebrated each and every year in Derabis hata ground. It is one of the biggest melana in the district. Ramjan, Eid, bakhrid, muharram are the festivals of Muslims are observed each year with great pump. Derabish is located 11 km away from district headquarters. Karilopatna located near to Kendrapara is a beautiful place to visit. Potali Matha, located at Balia which is around 5 km towards north of Kendrapara town, organizes a 5-day Biswa Santhi yajna each year in March. People from across India gather there. On the final day of the Yajna, organized by the local trust headed by Kartik chandra Mishra and there is always a big crowd, more than 20,000 to get the prasad (Yajna Ahuti). Lohit baba Mandir, located at Chhata Chhaka (NH-5A), Derabish is around 6 km away from Kendrapara town and 20 km away from chandikhol. Dadhibamana Temple is situated in Derabish. One of the famous "Boita Bandana Utashv" held on November (Kartika masa) in the village kalapada, which is 7 km from Kendrapara town situated in the bank of Luna river (A part of Mahanadi). Near about 20-30 thousand people gather in this festival that will celebrate for 7 days. And the ultimate part is, it is inaugurated by Power Minister Mr. Atanu Saibyasachi. That festival is mainly celebrated for the remembrance of Sadhabs who were gone to Java and Sumitra etc. for business.
Most of the people here are farmers and some do business and some do fishing in the river and the bay of Bengal. growing prawn near sea shore is a profitable business. Many small-scale industries are coming up so people are now getting more opportunity there.
Kendrapara Wikipedia
(,)http://jaypanda.in/wp-content/uploads/2013/11/jay3.jpg(,)http://static.panoramio.com/photos/large/36771388.jpg(,)https://www.mangrovesforthefuture.org/assets/Repository/Images/_resampled/bywidthspan8-DSC02378.JPG(,)https://www.mangrovesforthefuture.org/assets/Repository/Images/_resampled/bywidthspan8-DSC08168.JPG(,)https://www.mangrovesforthefuture.org/assets/Repository/Images/_resampled/bywidthspan8-DSC02394.JPG(,)http://i.ytimg.com/vi/Qsd_kpdAdYc/0.jpg(,)http://i.ytimg.com/vi/CVUSo_XTgBw/0.jpg(,)https://s-media-cache-ak0.pinimg.com/736x/53/80/87/538087ecd60ddb20a3fcbfbfc77734e0.jpg(,)http://i.ytimg.com/vi/9w5H5Xf2Bcg/0.jpg(,)http://i.ytimg.com/vi/rjCuY_AInWM/0.jpg
(,)http://media-cdn.tripadvisor.com/media/photo-s/02/3c/46/97/restaurant-sand-pebbles.jpg(,)http://www.indian-travel-places.com/wp-content/uploads/2015/02/gahirmatha-marine-sanctuary-kendrapara-orissa-india-1.jpg(,)http://www.indian-travel-places.com/wp-content/uploads/2015/02/gahirmatha-marine-sanctuary-kendrapara-orissa-india-4.jpg(,)http://www.indian-travel-places.com/wp-content/uploads/2015/02/gahirmatha-marine-sanctuary-kendrapara-orissa-india-2.jpg(,)https://fbcdn-sphotos-g-a.akamaihd.net/hphotos-ak-xap1/v/t1.0-9/s480x480/1459219_615269055199952_808082234_n.jpg%3Foh%3Dce02333dddc349b83463af51dea79870%26oe%3D55B0DEEA%26__gda__%3D1433409303_0e83cd4509c41da42f670738d9e823a6
(,)http://www.mapsofindia.com/maps/orissa/districts/kendrapara.jpg(,)http://oriyaonline.com//content_images/orissa_map_wid%2520_dist/Kendrapara.gif(,)http://www.mapsofindia.com/maps/orissa/tehsil/kendrapara-tehsil-map.jpg(,)http://www.orissalinks.com/orissagrowth/wp-content/uploads/2007/08/ecor-status-april1-2007-greater-knagar.JPG(,)http://www.mapsofindia.com/parliamentaryconstituencies/orissa/images/kendrapara-constituency-map-orissa.jpg(,)http://www.orissa-tourism.com/portal/Portals/0/banner_dest.jpg(,)http://www.odisha360.com/wp-content/uploads/2011/12/kendrapara.png