India




Odisha





Oriya




Jagatsinghpur





Jagatsinghpur is a town and a municipality in Jagatsinghpur district in the Indian state of Odisha. It is also the headquarters of Jagatsinghpur district. It got the recognition as a new district on 1 April 1993. Paradip Port, Oil refinery and fertilizer factory are located in Jagatsinghpur district. Devi, Alaka, Biluakhai, Kusumi, Hansua, Kuanria and Lunijhara rivers belong to this district.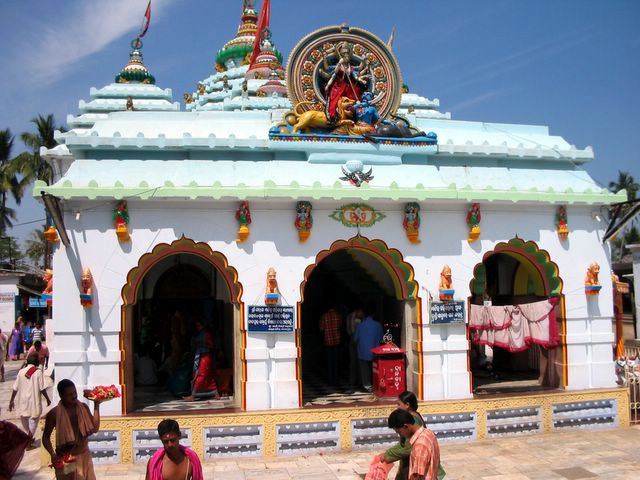 Jagatsinghapur is at 20.27°N 86.17°E / 20.27; 86.17. It has an average elevation of 15 metres (49 feet).
Jagatsinghpur District came into being on 01.04.1993. Before that, it was a part of the old Cuttack District which was divided into four new districts. It is surrounded by the districts of Kendrapara, Cuttack, Khorda, Puri and Bay of Bengal.
Sarala Pitha (Jhankad): Jhankad is the sanctum sanctorum of Goddess Sarala, regarded as one of the most spiritually elevated expressions of Shaktism. Believed as a synthesis of divine figure of Durga and Saraswati, the culture of Sarala is an amalgamation of three principal Hindu cults namely Vedic, Tantrik and Vaishnavite. It is one of the eight most famous Shakta shrines of Odisha. The main idol, carved out of stone is of eight-armed keeping her right feet on the lion in Mahinsha Mardini posture. Constructed by the legendary Bhauma Kings in the 8th Century. The place has a legendary association with sage Parshuram, the son of sage Yamadagni. Thus, this place is of high historical importance as a centre of Parshuram cult Puran describes that parshuram,the sixth incarnation of Lord Vishnu, engraved the deity by his arrow and worshipped her for wisdom and power. It is also associated with the first epic poet of Odisha, Adikavi Sarala Dasa of 15th Century AD.
Gorakhnath Temple: Gorakhnath Temple is of among the famous Lord Shiva Shrines in Odisha. Thousands of devotees throng these temple every year specially on the occasion of Maha Shivaratri.
Paradip: It is a major sea port of India for trade activities. The enchanting beauty of the sea, a wonderful sea beach and marine drive, beautiful creeks, estuaries and evergreen forests of estuarine islands of the river Mahanadi, make the place a major tourist attraction. Observing the movement of small marine crafts and the giant ore carries add to the pleasure of the tourist.
Gada Kujanga: Famous for its presiding deity Kunja Behari, Garh Kujanga is also known as Subhadra Kshetra, The Raghunath Jew Matha located near the temple of Kunja Behari is an added attraction of this place.
Chandapur: At the end of the Village Mahilo in a typical rural atmosphere, the famous temple complex of Lord Raghunath Jew and Lord Chandrasekhar stands around 30 years back. One can find a rare combination of Sri Ram known as Raghunath Jew and Lord Siva known as Chandrasekhar in a single compound. An old temple of Lord Chandrasekhar was destroyed by the effect of time and new temple complex as taken its place by adding various new temple be the effort of the villagers. Now it become an important spot of Jagatsinghpur District.
Jagatsinghpur: Socio economic importance of Jagatsinghpur touched its zenith during freedom struggle. Alaka Ashram, better known as the Shabarmati of Odisha, remained the citadel of freedom moment in the State. And again during Bhoodan Moment, activities at Alaka Ashram caught the attention of the whole nation. Temples, beaches and sculptures of historic importance are the major drivers behind tourist influx to Jagatsinghpur. The Somanath temple is famous for the Shiva Shrine. The Shiva Linga was placed by Sri Muchukunda Swami and hence the image is popularly called as Muchukunda Somanath.
Another visiting place is Salajanga Ashram, which is nearly 7 km from Naugaon hat. Sarabanta Jagannath Temple And Siali beach is about 20 km from Balikuda block is the most attracting beach of Jagatsinghpur district. It is a very good spot for picnic and can be visited during any seasons of a year. Tulasi gadi temple which is at Dihasahi, approx 6 km from Jagatsinghpur towards Balikuda is another place of attraction for public or family parties. A historical village name DADAPUR present near to dihasahi (SKP).Jagannath temple in Ambasal (approximately 2 km from Balikuda Block) is considered as one of the oldest temples. Kunja Bihari Temple in Sadeipur which is about 9 km from Jagatsinghpur. Sidha Baranga Pitha is located at Punanga, just 2 km from Jagatsinghpur town. It is famous for temples of Lord Janannath and Lord Hanuman. It is a good picnic spot.
Swami Vivekananda Memorial autonomous college (SVMAC) is at Jagatsinghpur. Gopinath jew temple and maa dakhineswari temple is located at kuliagaon 1 km from Balikuda Block and 20 km district headquarters.
The nearest railway station from Jagatsinghpur town is Gorakhnath Station which is about 10 km from Jagatsinghpur. Train service is not frequent; it is better to go by road. Nearest airport is Biju Patnaik International Airport at Bhubaneswar. Charter air service from Biju Patnaik International Airport to Paradip is provided by Pawan Hans. Jagatsinghpur is well connected with other cities via road. Ministry of Road Transport and Highways, Government of India has decided to link Jagatsinghpur with a new national highway. OSRTC operated bus services to all the major Cities and Towns in Odisha.
Jagatsinghpur is a Municipality city in district of Jagatsinghpur, Orissa. The Jagatsinghpur city is divided into 21 wards for which elections are held every 5 years. The Jagatsinghpur Municipality has population of 33,631 of which 17,239 are males while 16,392 are females as per report released by Census India 2011. Population of Children with age of 0-6 is 2859 which is 8.50% of total population of Jagatsinghpur (M). In Jagatsinghpur Municipality, Female Sex Ratio is of 951 against state average of 979. Moreover, Child Sex Ratio in Jagatsinghpur is around 961 compared to Odisha state average of 941. Literacy rate of Jagatsinghpur city is 89.32% higher than state average of 72.87%. In Jagatsinghpur, Male literacy is around 93.45% while female literacy rate is 84.98%.
Current chairperson of Jagatsinghpur municipality is Biplab Chaudhary (Indian National Congress), successor of Madhusudhan Sahoo (BJD) in 2013 and MLA from Jagatsinghpur Assembly Constituency is Chiranjibi Biswal of Indian National Congress. Previous MLAs from this Constituency were Bishnu Das (BJD) between 2004-2013, Kailash Chandra Mallik of (Indian National Congress) in 1985, Krushna Chandra Mallik of (Indian National Congress) in 1980, and Kanduri Charan Mallik of JNP in 1977.
Jagatsinghpur is a part of the Jagatsinghpur (Lok Sabha constituency).
Jagatsinghpur Wikipedia