Occupation

Actor




Resting place

California




Role

Film actor





Name

John Doucette




Years active

1943-1987




Children

Jeff Doucette







Born

January 21, 1921 (

1921-01-21

) Brockton, Plymouth CountyMassachusetts, U.S.


Died

August 16, 1994, Banning, California, United States


Spouse

Katherine Cecilia Sambles (m. 1948–1991)




Movies and TV shows

Big Jake, True Grit, Patton, Lock‑Up, The Sons of Katie E


Similar People

Lesley Selander, Jeff Doucette, Chubby Johnson, Jeremy Slate, Joseph Kane
John doucette disneyland home movie
John Doucette (January 21, 1921 – August 16, 1994) was an American film character actor. He was a burly man, with a rich, deep voice, equally adept at Westerns and Shakespeare. He is best remembered for playing mob muscle and western bad guys in movies.
Contents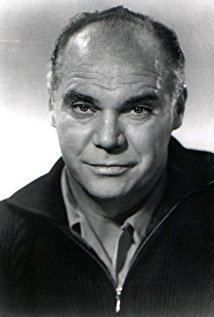 John doucette s home movie part 1 of 4
Early years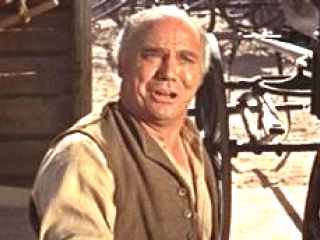 Doucette was born in Brockton, Massachusetts. During his childhood, his family moved frequently as his father sought work during the Great Depression. He completed grammar school in Haverhill, Massachusetts, and graduated from Lincoln High School in Los Angeles, California.
He gained acting experience with the Pasadena Playhouse.
Military service
During World War II, Doucette served as an infantry rifleman in the United States Army.
Career
Doucette's film debut came in Two Tickets to London (1943). He progressed to dramatic roles including a small part as an architect in The Fountainhead in (1949) and the 1970 epic Patton when he played 3rd Infantry Division Commander Maj. Gen. Lucian K. Truscott. His other notable performances included bit parts in High Noon, The Robe, Sierra, and the mega-budget Cleopatra. More familiarly, Doucette appeared in the John Wayne films The Sea Chase, The Sons of Katie Elder, True Grit, and Big Jake.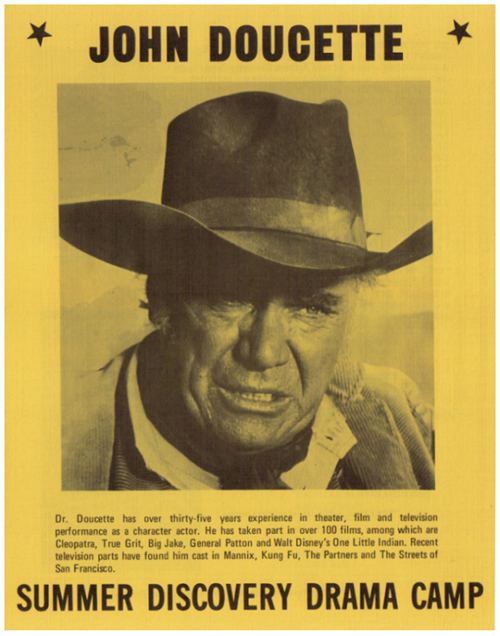 Many baby boomers first saw John Doucette as the bad guy in several episodes of The Lone Ranger, a natural role considering his rough looks, commanding presence, and skill with a gun. He was considered by many to be one of the fastest draws in Hollywood. His roles, however, went well beyond that stereotype. He appeared on a variety of television shows, including The Range Rider, The Roy Rogers Show, The Fugitive, The Adventures of Kit Carson, The Cisco Kid, City Detective, Annie Oakley, The Joseph Cotten Show: On Trial, My Friend Flicka, Sky King, The Californians, Broken Arrow, The People's Choice, Sheriff of Cochise, Behind Closed Doors, The Texan, Lawman, The Everglades, Mackenzie's Raiders, Bonanza, The Wild Wild West, The Virginian, Have Gun - Will Travel, Kung Fu, The Rat Patrol, Hogan's Heroes, Adventures of Superman, Sea Hunt, Science Fiction Theatre, Walt Disney Presents, and "Tales of Wells Fargo" (as Boone Helm in "Alder Gulch" and as Lemuel "Shorty" Bostwick in "Renegade").
Doucette portrayed police Lieutenant Tom Gregory on the television version of Big Town. Between 1959-1961, Doucette played police Lt. Weston on the TV series Lock-Up.:617 He also played Aaron William Andrews in the comedy television program The Partners.:813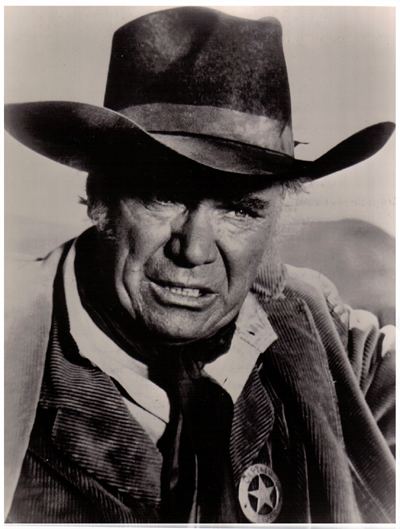 In 1959, Doucette played the bounty hunter Lou Gore in the episode "Dead Aim" of the ABC/WB series, Colt .45, starring Wayde Preston. Ken Osmond, Eddie Haskell on Leave It to Beaver, played the part of "Tommy", and Bing Russell, another character actor, was cast as Jed Coy in the episode.
Twice Doucette played the Apache Chief Geronimo: (1) the 1958 episode "Geronimo" of the Pat Conway western series Tombstone Territory, and (2) in the 1961 episode "Gamble with Death" of the western anthology, Death Valley Days. Oddly, in both programs, his co-star was the character actor Tom Greenway.
In 1961, Doucette was cast as Captain Cardiff in The Americans, a 17-episode NBC series, starring Darryl Hickman, about how the American Civil War divided families.
Personal life
Doucette was married to opera singer Katherine Sambles. They had eight children.
Death
Doucette died at his home in Banning, California on Tuesday, August 16, 1994. He was 73 years old. His mausoleum is at Holy Cross Cemetery in Culver City, California.
Television
The Lone Ranger - episode - The Masked Rider - Dirk Nelson (1949)
The Lone Ranger - episode - Gold Fever - Ox Martin (1950)
The Lone Ranger - episode - Thieves' Money - Pierre Dumont (1950)
The Lone Ranger - episode - Sheriff at Gunstock - Rocky Hanford (1950)
The Lone Ranger - episode - The Hooded Men - Flack, Gang Leader (1951)
Dick Tracy - episode - The Case of the Dangerous Dollars (1951)
The Roy Rogers Show - episode - Perils From the Past (1952)
Adventures of Superman - episode - The Birthday Letter - Slugger (1952)
The Lone Ranger - episode - Bandits in Uniform - Andrew Gage (1953)
The Lone Ranger - episode - Rendezvous at Whipsaw - Henchman Kelso (1954)
The Lone Ranger - episode - The Fugitive - Blaze (1954)
Adventures of Superman - episode - Lady in Black - Joe (1954)
The Lone Ranger - episode - Counterfeit Redskins - Beau Slate (1955)
Adventures of Superman - episode - Clark Kent, Outlaw - Foster (1955)
The Lone Ranger - episode - Trapped - Deputy Sawyer (1955)
The Lone Ranger - episode - The School Story - Lew Cates (1955)
Cheyenne - episode - Mountain Fortress - Sgt. Cap Daniels (1955)
Science Fiction Theatre - episode - Barrier of Silence - Nielsen (1955)
Science Fiction Theatre - episode - Target Hurricane - Col. Stewart (1955)
Treasury Men in Action - episode - The Case of the Black Sheep - Marty Hinton (1955)
The Life and Legend of Wyatt Earp - episode - Wichita Is Civilized - Orry Taylor (1956)
Cheyenne - episode - Town of Fear - Bill Jenkins (1957)
Walt Disney's Wonderful World of Color - episode - The Saga of Andy Burnett: Andy's Initiation - Mountain man (uncredited) (1957)
The True Story of Jesse James - Sheriff Hillstrom (1957)
Broken Arrow - episode - The Broken Wire - Bobo Conway (1957)
Gunsmoke - episode - Liar from Blackhawk - Al Janes (1957)
Richard Diamond, Private Detective - episode - The Torch Carriers - Corky(1957)
Zorro - episode - Slaves of the Eagle - Antonio Azuela (uncredited) (1958)
The Rough Riders - episode - The Murderous Sutton Gang - Wes Sutton (1958)
Have Gun - Will Travel - episode - The O'Hare Story - Joe Marsh (1958)
The Life and Legend of Wyatt Earp - episode - Little Brother - Smiley Dunlap (1958)
Broken Arrow - episode - War Trail - Cagle (1958)
The Thin Man - episode - Unlucky Lucky Number - Hank (1958)
Official Detective "The Policeman's Bullet" - Longo Sardinia (1958)
U.S. Marshal - episode - Inside Job (1959)
Bat Masterson - episode - Buffalo Kill - Luke Simes (1959)
Have Gun - Will Travel - episode - Lady on the Stagecoach - Ed Rance (1959)
Lock Up - Lt. John Weston - 78 episodes (1959-1961)
Bat Masterson - episode - A Grave Situation - Lemuel Carstairs (1960)
Wagon Train - episode - The Jim Bridger Story - Gen. Jameson (1961)
Wagon Train - episode - The Orly French Story - Marshal Jason Hartman (1962)
Bonanza - episode - Knight Errant - Walter Prescott (1962)
Laramie - episode - Naked Steel - Sheriff Tate (1963)
Wagon Train - episode - The Fort Pierce Story - Col. Wayne Lathrop (1963)
Wagon Train - episode - The Michael McGoo Story - Michael McGoo (1963)
The Lieutenant - episode - A Million Miles From Clary - GySgt Clintock (1963)
Wagon Train - episode - Little Girl Lost - Boone Gilla (1964)
Wagon Train - episode - The Ben Engel Story - Ben Engel (1964)
Wagon Train - episode - The Isaiah Quickfox Story - Burt Enders (1965)
Wagon Train - episode - The Chottsie Gubenheimer Story - Chandler Ames (1965)
The Virginian - episode - The Awakening - Calder (1965)
The Virginian - episode - Six Graves at Cripple Creek - Sheriff Goodbody (1965)
Bonanza - episode - Devil on Her Shoulder - Reverend Evan Morgan (1965)
Hogan's Heroes - episode - Some of Their Planes Are Missing - Colonel Richard Leman (1967)
The Virginian - episode - Requiem for a Country Doctor - Lumberfield (1967)
Bonanza - episode - The Price of Salt - Sid Talbott (1968)
The Big Valley - episode - Devil's Masquerade (1968)
Get Smart - episodes -The King Lives?, & To Sire, with Love: Parts 1 & 2 - Colonel Von Klaus (1968-1969)
Here's Lucy - episode - Lucy and Mannix Are Held Hostage - Vernon (1971)
The Partners - 20 episodes - Capt. Aaron William Andrews (1971-1972)
Mannix - episode - Desert Run - Ward Gillis (1973)
Kung Fu - episode - The Soul Is the Warrior - Ed Rankin (1973)
Tenafly - episode - Man Running - Wilson (1974)
Harry O - episode - Mortal Sin - Bishop Monaghan (1974)
Kolchak: The Night Stalker - episode - Vampire - Officer Sample (1974)
Ironside - episode - Mind for Murder - Ralph Hanson (1973)
Greatest Heroes of the Bible - episode - Joshua and the Battle of Jericho - Reuben (1978)
How the West Was Won - episode - The Slavers - Sheriff Boland (1979)
References
John Doucette Wikipedia
(Text) CC BY-SA