Largest city




Languages spoken




Area

1,183,000 km2




Capital




Governor

Bagatur




Population

24.82 million (2011)




Colleges and Universities

Inner Mongolia Normal University

Destinations




Points of interest



Inner Mongolia (Mongolian: ????
?????? Öbür Monggol and ???? ??????, Övör Mongol; Chinese: ; pinyin: ), officially Inner Mongolia Autonomous Region or Nei Mongol Autonomous Region, is an autonomous region of the Peoples Republic of China, located in the north of the country, containing most of Chinas border with Mongolia (the rest of the China-Mongolia border is taken up by the Xinjang and Gansu provinces) and a small section of the border with Russia. Its capital is Hohhot, and other major cities include Baotou, Chifeng, and Ordos.
Contents
Map of Inner Mongolia
The Autonomous Region was established in 1947, incorporating the areas of the former Republic of China provinces of Suiyuan, Chahar, Rehe, Liaobei and Xingan, along with the northern parts of Gansu and Ningxia. It is the third largest subdivision of China, spanning approximately 1,200,000 km2 (463,000 sq mi) or 12% of Chinas total land area. It had a population of 24,706,321 at the 2010 census, accounting for 1.84% of Mainland Chinas total population. Inner Mongolia is the countrys 23rd most populous province-level division. The majority of the population in the region are Han Chinese, with a substantial Mongol minority. The official languages are Chinese and Mongolian, the latter written in the Mongolian script, as opposed to the Mongolian Cyrillic alphabet used in the state of Mongolia.
History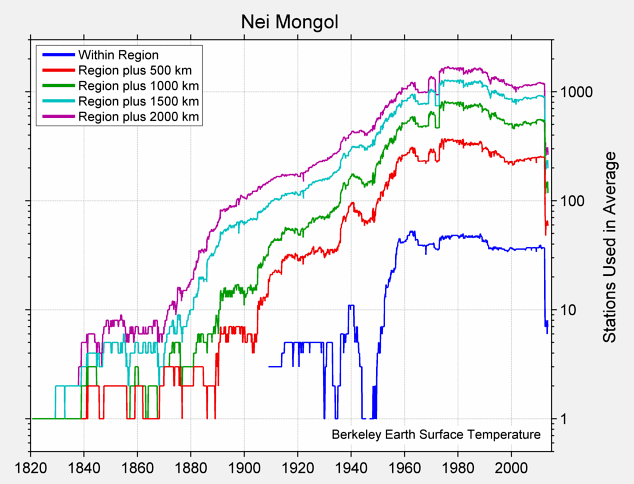 Much of what is known about the history of Greater Mongolia, including Inner Mongolia, is known through Chinese chronicles and historians. Before the rise of the Mongols in the 13th century, what is now central and western Inner Mongolia, especially the Hetao region, alternated in control between Chinese agriculturalists in the south and Xiongnu, Xianbei, Khitan, Jurchen, Tujue, and nomadic Mongol of the north. The historical narrative of what is now Eastern Inner Mongolia mostly consists of alternations between different Tungusic and Mongol tribes, rather than the struggle between nomads and Chinese agriculturalists.
Geography Officially Inner Mongolia is classified as one of the provincial-level divisions of North China, but its great stretch means that parts of it belong to Northeast China and Northwest China as well. It borders eight provincial-level divisions in all three of the aforementioned regions (Heilongjiang, Jilin, Liaoning, Hebei, Shanxi, Shaanxi, Ningxia, and Gansu), tying with Shaanxi for the greatest number of bordering provincial-level divisions. Most of its international border is with Mongolia, which, in Chinese, is sometimes called "Outer Mongolia" (???), while a small portion is with Russia.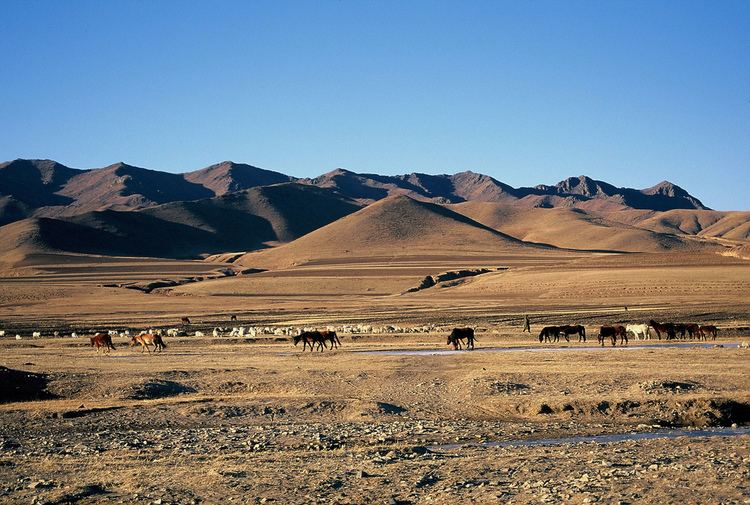 Inner Mongolia largely consists of the northern side of the North China Craton, a tilted and sedimented Precambrian block. In the extreme southwest is the edge of the Tibetan Plateau where the autonomous region's highest peak, Main Peak in the Helan Mountains reaches 3,556 metres (11,670 ft), and is still being pushed up today in short bursts. Most of Inner Mongolia is a plateau averaging around 1,200 metres (3,940 ft) in altitude and covered by extensive loess and sand deposits. The northern part consists of the Mesozoic era Khingan Mountains, and is owing to the cooler climate more forested, chiefly with Manchurian elm, ash, birch, Mongolian oak and a number of pine and spruce species. Where discontinuous permafrost is present north of Hailar District, forests are almost exclusively coniferous. In the south the natural vegetation is grassland in the east and very sparse in the arid west, and grazing is the dominant economic activity.
Owing to the ancient, weathered rocks lying under its deep sedimentary cover, Inner Mongolia is a major mining district, possessing large reserves of coal, iron ore and rare earth minerals, which have made it a major industrial region today.
Economy
Farming of crops such as wheat takes precedence along the river valleys. In the more arid grasslands, herding of goats, sheep and so on is a traditional method of subsistence. Forestry and hunting are somewhat important in the Greater Khingan ranges in the east. Reindeer herding is carried out by Evenks in the Evenk Autonomous Banner. More recently, growing grapes and winemaking have become an economic factor in the Wuhai area.
Language and culture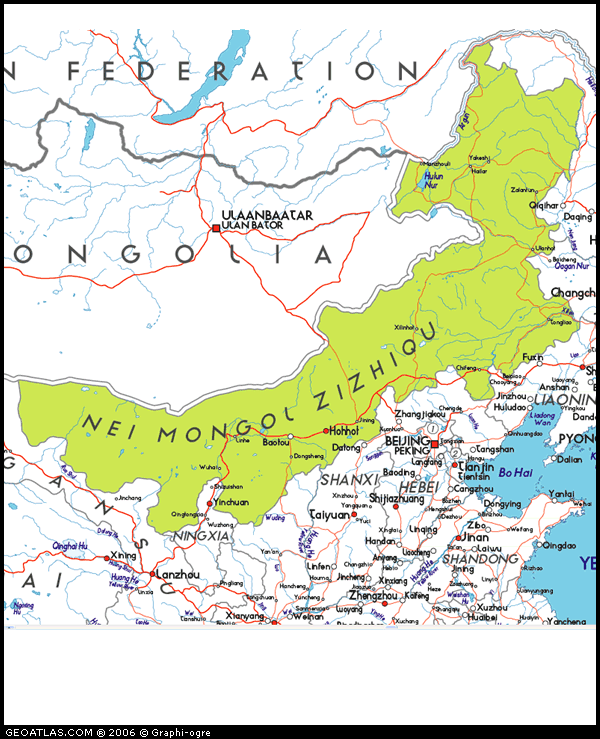 The Han Chinese of Inner Mongolia speak a variety of dialects, depending on the region. The eastern parts tend to speak Northeastern Mandarin, which belongs to the Mandarin group of dialects; those in the central parts, such as the Huang He valley, speak varieties of Jin, another subdivision of Chinese, due to its proximity to other Jin-speaking areas in China such as the Shanxi province. Cities such as Hohhot and Baotou both have their unique brand of Jin Chinese such as the Zhangjiakou–Hohhot dialect which are sometimes incomprehensible with dialects spoken in northeastern regions such as Hailar.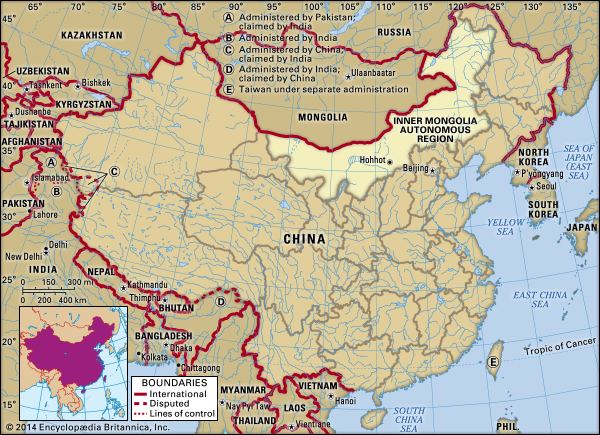 Mongols in Inner Mongolia speak Mongolian dialects such as Chakhar, Xilingol, Baarin, Khorchin and Kharchin Mongolian and, depending on definition and analysis, further dialects or closely related independent Central Mongolic languages such as Ordos, Khamnigan, Barghu Buryat and the arguably Oirat dialect Alasha. The standard pronunciation of Mongolian in China is based on the Chakhar dialect of the Plain Blue Banner, located in central Inner Mongolia, while the grammar is based on all Southern Mongolian dialects. This is different from the Mongolian state, where the standard pronunciation is based on the closely related Khalkha dialect. There are a number of independent languages spoken in Hulunbuir such as the somewhat more distant Mongolic language Dagur and the Tungusic language Evenki. Officially, even the Evenki dialect Oroqin is considered a language.
By law, all street signs, commercial outlets, and government documents must be bilingual, written in Mongolian and Chinese. There are three Mongolian TV channels in the Inner Mongolia Satellite TV network. In public transportation, all announcements are to be bilingual. Many ethnic Mongols, especially the young, speak fluent Chinese; Mongolian use is receding in urban areas. But rural ethnic Mongols have kept more of their traditions. In terms of written language, Inner Mongolia has retained the classic Mongol written script as opposed to Mongolias adoption of Cyrillic.
The vast grasslands have long symbolised Inner Mongolia. Mongolian art often depicts the grassland in an uplifting fashion and emphasizes Mongolian nomadic traditions. The Mongols of Inner Mongolia still practice their traditional arts. Inner Mongolian cuisine has Mongol roots and consists of dairy-related products and hand-held lamb (???). In recent years, franchises based on Hot pot have appeared Inner Mongolia, the best known of which is Xiaofeiyang (???). Notable Inner Mongolian commercial brand names include Mengniu and Yili, both of which began as dairy product and ice cream producers.
Among the Han Chinese of Inner Mongolia, Jinju (??) or Shanxi Opera is a popular traditional form of entertainment. See also: Shanxi.
A popular career in Inner Mongolia is circus acrobatics. The internationally known Inner Mongolia Acrobatic Troupe travels and performs with the renowned Ringling Bros. and Barnum and Bailey Circus.
Tourism
In the capital city Hohhot:
Dazhao Temple is a Lamaist temple built in 1580. Dazhao Temple is known for three sites: a statue of Buddha made from silver, elaborate carvings of dragons, and murals.
Xiaozhao Temple, also known as Chongfu temple, is a Lamaist temple built in 1697 and favoured by the Kangxi Emperor of the Qing Dynasty.
Xilituzhao Temple is the largest Lamaist temple in the Höhhot area, and once the center of power of Lamaism in the region.
Zhaojun Tomb is the tomb of Wang Zhaojun, a Han Dynasty palace lady-in-waiting who became the consort of the Xiongnu ruler Huhanye Shanyu in 33BC.
Five-pagoda Temple is located in the capital of Inner Mongolia Hohhot. It is also called Jingangzuo Dagoba, used to be one building of the Cideng Temple (Temple of Merciful Light) built in 1727.
Wanbu-Huayanjing Pagoda (??????) in Hohhot. It was built during the reign of Emperor Shengzong (983-1031) of the Khitan Liao Dynasty (907-1125) and is still well preserved.
Elsewhere in Inner Mongolia:
The Mausoleum of Genghis Khan, the cenotaph of Genghis Khan, is located in Ordos City.
Bashang Grasslands, on the border close to Beijing, is a popular retreat for urban residents wanting to get a taste of grasslands life.
The Arshihaty Stone Forest in Hexigten Global Geopark has magnificent granite rock formations formed from natural erosion.
Xiangshawan, or "singing sands gorge," is located in the Gobi Desert and contains numerous tourist attractions including sand sledding and camel rides.
Remains of Zhongjing (Central Capital) built in 1003 by Emperor Shengzong of the Khitan Liao Dynasty (907-1125) in Ningcheng County.
Remains of Shangjing (Upper Capital) built in 918 by Yelu Abaoji the 1st emperor of the Khitan Liao Dynasty (907-1125). Also called Huangdu it was one of the five capitals of the Liao Dynasty.
Zuling Mausoleum of Abaoji Khan. It was built in 926 for Abaoji the 1st Emperor of the Liao Dynasty. Located north-west of Shifangzi village.
Tablets of Juyan. Han Dynasty (206BC - 220 AD) inscriptions on wood and bamboo. In 1930 Folke Bergman of the Sino-Swedish expedition first discovered 10,000 tablets at Ejin Khoshuu in the Gobi Desert.
Ruins of Shangdu (Xanadu) the Summer Capital of the Mongol Yuan Dynasty built in 1256 by Kublai Khan.
White pagoda of the Mongol Yuan Dynasty (1279-1368) in Kailu (??), Tongliao. It is still well preserved.
Ruins of Chagan Khoto (????) capital of the last Mongol Great Khan Ligden (1588-1634). Located in Ar Horqin Banner.
References
Inner Mongolia Wikipedia
(Text) CC BY-SA
(,)http://berkeleyearth.lbl.gov/auto/Regional/TAVG/Figures/nei-mongol-TAVG-Counts.png(,)http://static-content.springer.com/lookinside/art%253A10.1007%252Fs00114-010-0744-1/000.png(,)https://fbexternal-a.akamaihd.net/safe_image.php%3Fd%3DAQD4icVoCwSyDY8e%26w%3D720%26h%3D1080%26url%3Dhttp%253A%252F%252Fupload.wikimedia.org%252Fwikipedia%252Fcommons%252Fthumb%252F7%252F7e%252FHohhot_Montage.png%252F720px-Hohhot_Montage.png(,)http://media-1.web.britannica.com/eb-media/73/130873-004-ED016544.jpg(,)http://media-1.web.britannica.com/eb-media/56/122456-004-58B04AC4.jpg(,)http://berkeleyearth.lbl.gov/auto/Regional/TAVG/Figures/nei-mongol-TAVG-Trend.png(,)http://berkeleyearth.lbl.gov/auto/Regional/TMAX/Figures/nei-mongol-TMAX-Trend.png(,)http://berkeleyearth.lbl.gov/auto/Regional/TMIN/Figures/nei-mongol-TMIN-Trend.png(,)http://www.nature.com/srep/2015/150323/srep09394/images_article/srep09394-f6.jpg(,)http://i.ytimg.com/vi/zFzuZFQiwyo/0.jpg
(,)https://c2.staticflickr.com/6/5582/14633836165_7ef7ef009d_b.jpg(,)https://c1.staticflickr.com/9/8322/8026633408_a9684d97ab_b.jpg(,)https://farm4.staticflickr.com/3815/11799650674_989e93a6cf.jpg(,)http://farm3.static.flickr.com/2928/14402172063_761c6fd960_m.jpg(,)http://farm7.static.flickr.com/6224/6280183897_6c2752a503_s.jpg(,)http://www.shanghaisling.com/wp-content/uploads/2013/07/Desert-Landscape-672x372.jpg(,)http://farm8.static.flickr.com/7033/6795207669_18b14da006_t.jpg(,)http://media-2.web.britannica.com/eb-media/05/139005-004-41019CA9.jpg(,)http://cache1.asset-cache.net/gc/151142798-impression-nei-mongol-provinces-gettyimages.jpg%3Fv%3D1%26c%3DIWSAsset%26k%3D2%26d%3DiqLuwIGRAfEfCZuse0rlJ5h6wh5SUe76tRBcMP%252FQNlaGIb1dxARTJiDECGS9p4e%252F(,)https://farm1.static.flickr.com/80/226142931_d34edd56ee.jpg(,)http://cache4.asset-cache.net/gc/126014920-clouds-and-flower-bed-plain-of-xilingele-nei-gettyimages.jpg%3Fv%3D1%26c%3DIWSAsset%26k%3D2%26d%3D%252Brh14WQW6f4b5jHMlEpiWd4c3mpV35TZi4WM9x1KGwM%253D
(,)http://www.propertyworld.com/assets/Nei_Mongol_Map.gif(,)http://image.slidesharecdn.com/china-symposium-01-hesketh-100818053438-phpapp01/95/therese-hesketh-one-child-policy-impacts-on-reproductive-health-and-attitudes-19-728.jpg%3Fcb%3D1282137201(,)https://s-media-cache-ak0.pinimg.com/736x/a3/e4/e3/a3e4e338fd714a10640bdf4ca891c4cb.jpg(,)http://www.propertyworld.com/assets/Nei_Mongol_Cuisine.jpg(,)http://image.slidesharecdn.com/china-symposium-01-hesketh-100818053438-phpapp01/95/therese-hesketh-one-child-policy-impacts-on-reproductive-health-and-attitudes-20-728.jpg%3Fcb%3D1282137201(,)http://media-3.web.britannica.com/eb-media/73/130873-004-ED016544.jpg(,)http://image.slidesharecdn.com/webtourenglish-120430092726-phpapp01/95/web-tour-english-14-728.jpg%3Fcb%3D1335796085(,)http://farm4.static.flickr.com/3198/3124851738_99e8f8862b.jpg%3Fv%3D0(,)http://www.nmglyj.com/en/images/intro2.jpg
(,)http://www.map-of-china.co.uk/maps/nei-mongol-zizhiqu.gif(,)https://media-gadventures.global.ssl.fastly.net/media-server/cache/7a/af/7aaf9749ae53bba2bb2e306f218566e6.jpg(,)http://www.thlib.org/static/reprints/jiats/06/images/jiats06charleux-img05.jpg(,)http://www.travelchinaguide.com/images/map/inner_mongolia/neimenggu.gif(,)https://media-gadventures.global.ssl.fastly.net/media-server/dynamic/admin/maps/2015/AMNF.png
(,)http://www.p-lepetit.com/CHINA%25202012/PROVINCES/Inner%2520mongolia/00-Province/nei-mongol-zizhiqu.gif(,)http://media-2.web.britannica.com/eb-media/73/130873-004-ED016544.jpg(,)http://languagesoftheworld.info/wp-content/uploads/2014/10/Mongolic_languages.jpg(,)http://www.chinasage.info/maps/NeiMongol.jpg
(,)http://www.210countries.com/wp-content/gallery/strange-forest-ejin/strange-forest-camel.jpg(,)http://www.doncroner.com/Mongolia/Khentii/Onon/onon-Images/3.jpg(,)http://www.210countries.com/wp-content/gallery/ruo-shui-ejin-river-ejin/ejin-1.jpg(,)http://www.q-files.com/images/pages/images/1458/p1944jbos58nei571og41ku47t9b.jpg