In the Heat of the Night is an American drama television series based on the 1967 film and the 1965 novel of the same title. It starred Carroll O'Connor as white police chief William Gillespie, and Howard Rollins as black police detective Virgil Tibbs. It was broadcast on NBC from 1988 until 1992, then on CBS until May 1995. Its executive producers were Fred Silverman, Juanita Bartlett and Carroll O'Connor.
Contents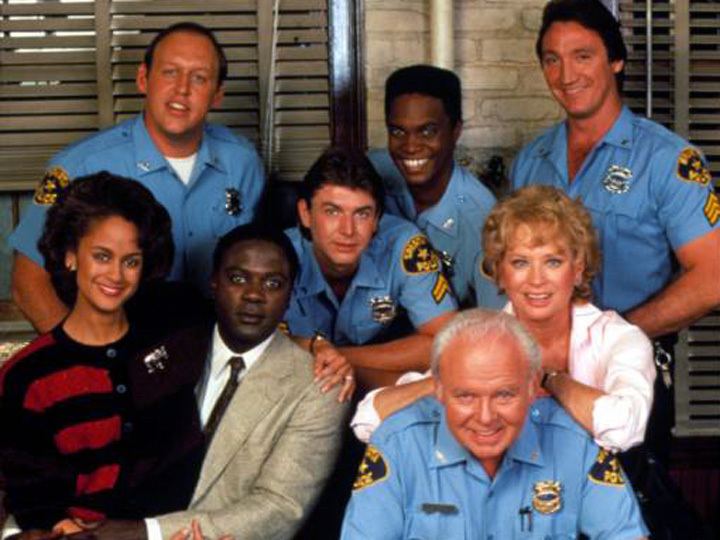 in the heat of the night tv intro
Premise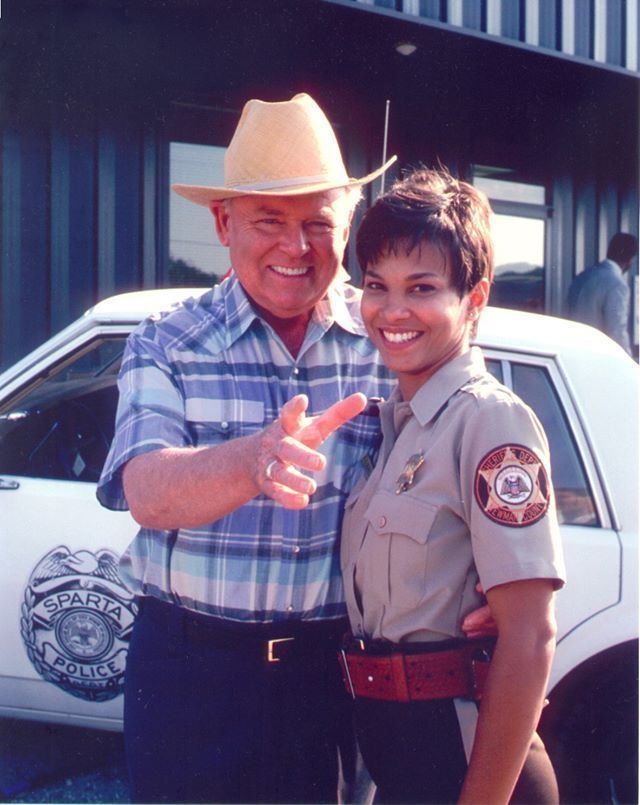 In the premiere episode Philadelphia detective Virgil Tibbs has returned to the fictional Sparta, Mississippi, for his mother's funeral. By virtue of his relationship with Gillespie from a previous murder investigation in which he assisted, Tibbs is persuaded to remain in Sparta as Chief of Detectives as part of an effort to help overcome the local squad's reputation of being racist and underskilled. Although the team experiences friction over Tibbs' dissatisfaction with the department's limited resources and racial attitudes while Gillespie is annoyed at Tibbs' condescending suspicion of his hometown, they prove highly effective in enforcing the law.

Eventually becoming a lawyer, Tibbs took a leave of absence moving to Jackson, Mississippi, to complete his law degree on a compressed schedule. Upon his return to Sparta, Althea and Virgil had separated, and later divorced. She moved back to Philadelphia with the twins to be near her parents. Through the hard work and pure intimidation of Harriet Delong, Virgil was able to keep his city pension even though he was two months shy of the qualifying period. Virgil began practicing law when he accepted a position in Ben Taylor's law office. Rollins' final appearance on the series was February 2, 1994. Meanwhile, Gillespie was dismissed as Police Chief by the Sparta city council and replaced by Hampton Forbes (Carl Weathers), the town's first African-American in that position. Gillespie finds a new post of equivalent authority as County Sheriff, and the two senior police officers find they get along in excellent fashion both in the professional and personal spheres.
Themes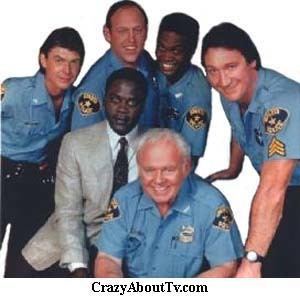 The show dealt with a variety of issues, including racism, police brutality, hate crimes, drug abuse, alcoholism, rape, AIDS, misogyny, incest, child abuse, anti-Semitism, prostitution, government corruption, domestic violence, gambling, mental disorders, dysfunctional families, suicide, poverty, homophobia, and drunk driving.
First season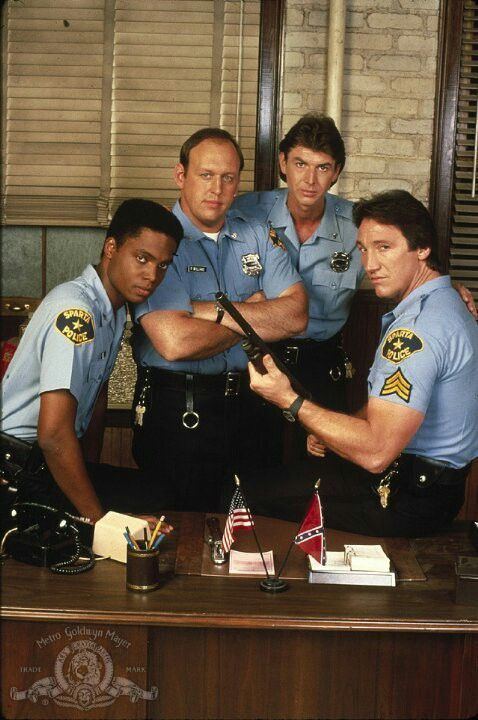 The first season of the show was filmed in Hammond, Louisiana. This locale was selected by executive producer Juanita Bartlett and was supposed to represent the small southern town of Sparta, Mississippi. However, one of the problems with filming the show in Hammond involved finding filming locations that were usable. Oftentimes producers had to go very long distances to find houses and locations that were usable due to other structures being built in modern times. A total of eight episodes were filmed, the two-hour pilot movie and six regular one-hour episodes. The series premiered on March 6, 1988, with the season finale airing May 3, 1988.
Many conflicts arose between Juanita Bartlett and series star Carroll O'Connor. At first, she allowed him to consult on the series per his contract. After the pilot, however, she ordered scripts from her writers that were in O'Connor's words "recycled material from other crime shows". O'Connor also said the writing was disappointing. They were taking big city stories and imposing them on a small town. The key to this show's success is keeping its small-town locale in mind. Scripts would come back marked FINAL: NO REWRITES. Carroll O'Connor often rewrote scripts anyway, which angered the production staff members. They were making use of and burning up fax machines. This angered O'Connor and he said that Juanita Bartlett was a very arrogant person. Episodes often focused on grisly murders or crimes and not the lives of New South-era characters which the series would become known for. Storylines included the pride of Sparta County getting her head bashed in, a man and his wife's distant cousin having an affair, the affair of a black man who was attempting to buy Sparta's newspaper and a rich white woman ending up dead in the local newspaper plant, after an argument with the woman and her husband. In a two-part episode "Blind Spot", a rich businessman and ex-friend of Virgil's who stole a scholarship from Virgil in high school has promised to bring prosperity back to Sparta but ends up being caught in a game of murder and drug dealing using one of Sparta's richest mansions as his home base. There was also the case of a bigamist and the case of Lester Sproles, who goes on a killing spree but not before kidnapping Althea and a young child who she was watching as a result of Lester killing his grandmother Miss Elnora. The season closed with Scooter going with his uncle and Althea and Virgil discussing the possibility of having children.
Anne Marie Johnson, who played Althea, summed up what it was like to film the show in the little town of Hammond, saying "My high school was bigger than this town".
Second season
Season two began airing in December 1988 due to a writers strike. The series had a new look and a new set of executive producers. On-location shooting was moved from Louisiana to Covington, Georgia. The season premiere was aired as a two-hour TV-movie, "Don't Look Back"; the plot revolved around a copycat murder of one that Gillespie had investigated 20 years earlier. It introduced two new regular characters -- Joanne St. John (played by Lois Nettleton), the chief's sometime-girlfriend and owner of the local diner, "The Magnolia Cafe"; and Officer Wilson Sweet (played by Geoffrey Thorne), fresh out of the Police Academy. This episode also introduced the first of several new recurring characters, including Doctor (or, "Doc") Robb, the county coroner (played by veteran actor Dan Biggers). The episode "The Creek" saw the introduction of the first new police character, and the second prominent Georgia performer to claim a regular role on the series, "Officer Randy Goode" (1988–1993) played by Randall Franks, who was cast following the show's move to Covington, Georgia.
Other episode plots in this season included a prominent citizen being murdered due to sexual abuse and incest in his family; Virgil's ex-partner and Althea's ex-lover (Michael Warren) coming to visit for a reunion that no one would ever forget; Chief Gillespie's having to face his own bigoted past when he arrests a close friend (played by Daniel Boone's Ed Ames)—who is also the sheriff of the neighboring county—for committing a racially motivated murder (In truth, Ames was born Jewish.); Bubba's getting caught up in a murderous love triangle; Althea's niece "Nicole" visiting, and with new friend "Bobby Skinner" (Bubba's nephew) stumbling upon criminal malfeasance in the episode "City Mouse Country Mouse." Mary Crosby and Judith Chapman stir up trouble when the sisters are implicated in their father's murder. It is truly a sibling rivalry with a murderous twist. A bitter strike leads to murder, but not all is as it seems when a new manager takes over Thail River Mill and drives the union to strike after only three months — it is snowing in Sparta and "Mississippi is Burning."
During the filming of the episode "Walkout," Carroll O'Connor began to experience fatigue. After being checked by the set doctor, it was discovered that he needed sextuple heart bypass surgery, due to years of heavy smoking. During the last four episodes of the season, Joe Don Baker was brought in as a replacement for Chief Gillespie, who was said to be away at a police training conference at Quantico. Tom Dugan was appointed acting chief by Councilwoman White, but he was actually working undercover for the FBI in an attempt to stop the assassination of a civil rights preacher. The season finale titled "Missing" has the Chief being kidnapped by two men in pig masks. Carroll O'Connor wanted the chief to be undergoing heart surgery in the story line, but the husband and wife producing team came up with this story line instead. It was the final straw in a long line of complaints, and they were fired at the end of the season. Carroll O'Connor took over as executive producer for season three.
Note: When Jeri Taylor and her husband decided to do the show, she was quoted as saying, "I was one of those in the '60s that was out marching for civil rights," and "I was one of those who thought the major work had all been done. When we (Taylor and her husband, Moessinger) decided to do the show, we took research trips to the South, and we saw that there had been an enormous amount of change. But we also came back with a renewed vigor and the realization that there is still a lot more to be done. There is still this deeply entrenched racism. And addressing that became a much larger element in our thinking about the show."
"What makes race relations a constant in our show is the two lead characters -- one is white and one is black," Moessinger said. "Whether they are angry at each other, whether they're happy or sad, we're showing the interaction of two men who are trying to do the best in life. If we never put one race issue into it, if we never said one word about it, the message is there because it's showing how people ought to interrelate, how they ought to work together, how they ought to get along."
Third season
In the third season, Carroll O'Connor took complete control of the show, after firing husband and wife executive producing team David Moessinger and Jeri Taylor.
The third season saw a number of changes to the show. The character of Joanne St. John was eliminated to make room for councilwoman Harriet Delong. Althea grappled with the effects and aftermath of rape, after she was raped and attacked by the music teacher at Sparta High School. We learn that Parker was a Vietnam veteran, and someone abandons a baby on Bubba's doorstep. Dee Shaw also joined the cast as officer Dee Sheppard. Parker almost crosses the line between police ethics and love when he falls for Kate Morell and her daughter J.C. A former boxer that used to run for the mob tries to blackmail them. The chief tries unsuccessfully to save him telling Althea "The FBI wants to buy what King Baylor knows before the mob kills him and the mob wants him dead before the FBI can buy him. It's that simple". Althea's reply was "Chief, I believe that is the coldest thing I have ever heard you say". There is a murder at a nursing home, and a race riot almost erupts in Sparta when a white cab driver who got a black girl pregnant in the bottoms is found dead and $1,500 is missing. Gillespie and Tibbs take opposite sides in the case creating some very tense drama. When Althea's girlfriend from high school visits from Philadelphia and quickly takes an interest in Sweet things end tragically after she commits suicide in his apartment. The chief must also save a young girl from being tried as an adult after she is charged with killing her parents and hiding their bodies.
In "First Girl", Gillespie hires Christine Rankin, the Sparta PD's first female black officer. Her life is tragically cut short, making room for her replacement, Luanne Corbin, played by Crystal R. Fox. Luanne would remain a prominent character throughout the rest of the series, although Crystal Fox was listed in the ending credits as a guest star until season seven where she finally appeared in the opening credits.
In the two-part episode, "Citizen Trundel", written by O'Connor, Cynthia Deming and William J. Royce, Harriet DeLong's sister, Natalie, is murdered by her secret lover, multi-millionaire V.J Trundel. The murder case caused Harriet a tremendous amount of grief—not only because of Natalie's murder, but by Gillespie and Tibbs not being able to implicate Trundel in the crime, much less charge him for it. In Part Two, it was shown out that Norman Luft and Jessica Franks, two of Trundel's most trusted employees facilitated not only Natalie's murder, but the murder of the man they hired to kill her. Jessica was arrested and Luft was apprehended attempting to leave Sparta by private plane with Trundel. Gillespie confronted Trundel with the knowledge that even though he has escaped a murder charge, he would still have to live with the burden of having his lover and the mother of his son, Eric Delong murdered and the risk that Eric would one day confront him over it. Unable to bear the weight of his guilt, Trundel committed suicide by crashing the plane only minutes after taking off. This episode was of special significance to series co-star Denise Nicholas. Ten years before, her real life sister had been murdered and the culprit never caught. When Carroll O'Connor approached Denise about the story line, she had to write him a note explaining the situation. He offered to have her not appear in the episode but she chose to do so to bring closure for her and her family. Only Carroll O'Connor and director Leo Penn knew the truth during filming. This is the first episode in which we see Bill and Harriet's relationship begin to gel.
Howard Rollins' drug and alcohol problems
During the second half of season 3, Howard Rollins, took six weeks off when he entered a drug and alcohol rehab program to battle his addiction issues. The episodes he missed included King's Ransom, Triangle, Hello in There, December Days, and An Angry Woman. MGM worked around his rehab schedule. Episodes were not necessarily aired in the order they were filmed which explains why Tibbs was present one week and not the next. To explain his absence he was said to be in New Orleans working for the FBI. He also considered committing suicide shortly before Christmas, 1989, prompting his stay in rehab. Carroll O'Connor even threatened to sue a tabloid which published a story saying that MGM and Carroll had fired Rollins for being absent from the set due to his problems. Denise Nicholas who played Harriet Delong said "Carroll set the standard for loyalty. If he liked you, he really liked you and would be there for you" [TV Guide, July 2001].
Fourth season
Cynthia Deming and William J. Royce were made story editor(s).
The season begins with a two-hour movie titled "Brotherly Love" and the birth of Virgil and Althea's twins. William and Sarah Tibbs were welcomed into the world on September 18, 1990. While Althea was waiting to go into labor, Tibbs's friend from the Philadelphia police force is murdered, and Tibbs heads up to the "big city" to clear his friend's name, only to be framed for murder himself. It is now up to Chief Gillespie to find out the truth, clear Virgil's name, and make it home in time. Other stories include a mild-mannered teacher's being accused of child molestation, only to commit suicide due to inflammation from the press. In "Family Matters," Virgil's cousin is a suspect in a string of robberies. Virgil promises his Aunt Ruda that he wants to be a family again and that Ty will not get hurt. When the boy ends up fighting Virgil for the gun used in the robberies and shoots himself, Ruda cuts herself off from the rest of the family. There is a Christmas clip show, a bounty hunter, and a storyline in which the Sparta P.D. has to save a wrongly-convicted man from death row, among many other story lines.
Harriet DeLong's ex-husband Vic returns to Sparta plotting to rob his former employer in a revenge scheme. Three men, on a misty Sunday morning, shoot a security guard at the Lambry plant and steal a bundle of money waiting to be paid out on Monday morning. Harriet's son Eugene also gets involved when he tries to assist his father and almost loses his life. The case brings Bill and Harriet closer together, while it drives a wedge between Harriet and Eugene. Eugene reminds his mother that "Aunt Natalie was killed by a white man," while Bill brushes off Eugene's fool notions about him and his mama for now. Virgil, on the other hand, is not buying it and can see the relationship between Bill and Harriet developing quite nicely.
The season closes with Althea close to a breakdown over the stress of Virgil's job on the police force after he is almost killed by a stray bullet and does not tell her about it. On top of that, she is also worried that her children will grow up without their father, and she begs him to try something different. Chief Gillespie burns up the wires and gets Virgil on his way to law school, and Althea apologizes for not being more understanding as she, Virgil, and Chief Gillespie share a glass of wine together.
Fifth season
The fifth season begins with the revelation that Chief Gillespie has a daughter by the name of Lana Farren, played by Christine Elise (formerly of Beverly Hills, 90210). The Chief is now good friends with her mother, Georgia Farren, played by legendary actress Stella Stevens. Georgia Farren is asking Bill to help her put some of her affairs in order, and to keep all of her "boyfriends" as well as her ex-husband away from her assets which she intends to leave to Lana. Bill immediately puts Ted Marcus on the case to assist Lana in obtaining the property meant for her by her mother, Georgia Farren. In the meantime, Georgia returns to Gulfport and is murdered. The chief takes this very personally and sets out to find her killer, Ken Farren, who evidently learns that Bill Gillespie is Lana's true father. At the end of the episode, Lana finds out that Bill is her real father but does not want to have anything to do with him because of his non-existence in her life for 20 years. This cuts deeply into Bill, and he has a hard time dealing with it. Note: The character of Lana will not be seen again until the season six episode "Random's Child."
Other storylines include a taxidermist who is obsessed with a school teacher, a game of high stakes poker that ends in murder, Bubba's finding out that Sheriff McComb's deputy is growing pot on the side, Sweet's finding out the truth about the murder of his grandfather in 1948, a story based on Medgar Evers, and a humorous episode in which a family reunion goes awry after the father returns to collect the money he stole in a bank robbery 15 years ago only to find out that the mother has remarried and invested/spent a good portion of his millions. Once the money is located, the insurance company wants it back, but Bill and Virgil keep the money as evidence — requiring the insurance company to sue the police department to recover the funds. In "Moseley's Lot," one brother wants the other dead after he drags gambling debts and two thugs from New Orleans home to Sparta. A once-promising family business is destroyed over drugs, money, and jealousy.
Season 5 also sees the return of Virgil's Aunt Ruda in "Ruda's Awakening", when she is the only witness to a struggle between Bubba and a young robbery suspect that ends in the young man's death. But her prejudice against the police -- and Virgil clouds her memory of the incident. But after visiting her son, Tyrell in prison, whereupon he tells her that the shooting that left him hospitalized was not Virgil's fault, her memory of the incident returns and Bubba is exonerated. The episode ends with Virgil and Ruda happily reconciling.
In "Sanctuary" and "The Law on Trial," Sheriff McComb has Gillespie and Tibbs brought up on charges after an escaped prisoner is given sanctuary in a monastery. Judge Simms presides over the case (a recurring role as this judge plays many scenes throughout the run of In the Heat of the Night). After hearing both sides, the jury is not able to reach a verdict and Gillespie and Tibbs are freed. Ted Marcus represents Gillespie and Tibbs in the trial, and at times Althea fears if Virgil is charged, this is the end of his career as a cop and will hinder his chances of being an attorney later. Father DiMarco represents himself at trial and speaks to the courtroom and the judge, which has a great impact of the case being dismissed. The conflict between Sheriff McComb and Chief Gillespie lingers on through several more episodes, and that conflict affects every crossover dealing with subsequent interactions between McComb's deputies and Gillespie's officers. It isn't until the arrival of Chief Hampton Forbes (Carl Weathers) when we see Sheriff McComb and Gillespie as friends again.
The episode and season end with Althea and Virgil celebrating Virgil's being able to both attend law school as an attorney and remain on the payroll of Sparta Police Department; and with Bill and Harriet spending the night together.
Sixth season
At the beginning of Season 6, In the Heat of the Night moved from NBC to CBS. Originally, CBS opted only to pick up the series for a set of six two-hour movies. However, it was eventually picked up for a full 22 episode order. The first two episodes of the season saw the affair between Gillespie and DeLong intensify, only to be interrupted by a crack war waged on Sparta involving Eugene Glendon. Eugene is Harriet DeLong's son from her first marriage to Vic Glendon, a convict who came back to Sparta to rob the mill and former workplace of his employer where a cop was murdered during the attempt to apprehend the robbers. Vic Glendon is later convicted and sent to Parchment Prison on death row. Althea Tibbs saw new trauma this season as she witnessed the suicide of one of her students, Garth Watkins (played by Walton Goggins), causing her to suffer a near mental breakdown. Garth is so obsessed with his girlfriend, who has long broken up with him and taken to older, married men, that Garth steals the boots and gun of his girlfriend's stepfather and travels to Pervis Lake and sits in wait for Megan Fowler (the girlfriend) and Lyle Ridley (the older married man) and fatally shoots Lyle while he and Megan are chasing each other outside the cabin that belongs to Lyle Ridley and his wife. Parker and Dee suffer the dreaded task of traveling to the Ridley residence to tell Mrs. Ridley that her husband was shot at their lake home and was with a young 17-year-old girl, Megan Fowler.
Other highlights this season included the return of Luanne's brother (played by Designing Women's Meshach Taylor), a faded country music singer (played by Robert Goulet) who ends up committing murder, Bubba's being stalked by an obsessed admirer, Sweet's being falsely accused of accepting a bribe, and a two-part episode directed by Larry Hagman involving the "white supremacy" that still exists in the new South. Additionally, there was another two-part episode written by O'Connor and Cynthia Deming, titled "Even Nice People" (1) and "Lake Winahatchie" (2) in which the mob, led by their real estate connection Lewis Alvin Epp, tries to force Lana off her farmland first by trying to buy it and then by torching it in an arson fire so that they can build the "Sparta South Development."
Howard Rollins' Firing from In the Heat of the Night
Rollins was fired due to health reasons and three outstanding warrants in Rockdale County and the city of Covington, GA. He was replaced for season seven by Carl Weathers when filming began on April 28, 1993. Rollins had not been seen on the set since late January 1993 when season six wrapped. Despite numerous attempts by the media to contact Rollins, who was believed to be in New York City, only series star Carroll O'Connor was in contact with Rollins during this time. It was hoped that Rollins would get his legal issues resolved and return to the series full-time, serving in his capacity as attorney at law and assisting the Sparta P.D. with cases. But sadly, this was not the case.
After the season Anne-Marie Johnson and Geoffrey Thorne left the series. Rollins would return occasionally as a guest star, while Johnson took a starring role on Fox's In Living Color. Thorne left to pursue a career as a novelist and screenwriter. Unlike the characters played by Rollins and Johnson, Thorne's character simply vanished with no explanation for why he was absent from the show.
Seventh season
Season 7 began with Bill Gillespie being forced out of office and former Memphis, Tennessee Police Department Inspector Hampton Forbes hired as the new police chief. After nearly three decades on the Sparta police force, Gillespie does not receive a new contract from the city council because of his open relationship with Harriet DeLong. However, Gillespie is soon appointed as the acting Sheriff of Newton County when Nathan McComb suffers a heart attack and is too ill to continue his duties. Bill's first case as Sheriff is to solve the murder of one of the richest families in Sparta — the Barons. Wade Hatton, played by Stacy Keach, is a lawyer from New Orleans who has returned to his native Sparta to revisit his childhood memories and romance Sarah Hallisey. The prime suspect in the case is a 16-year-old black youth, played by Wayne Brady with an intellectual disability. Gillespie eventually solves the case with the help of Hatton, Hallisey, and Judge Cully — much to the dissatisfaction of District Attorney Darnell, who feels the prisoner is being treated in a privileged status due to his disability. Meanwhile, Chief Forbes is escorted on a driving tour of Sparta by Bubba Skinner and Officer Covey. Forbes gets to see both the finest street in town, along which Bubba indicates that he has solved many major crimes, as well as "The Bottoms." Chief Forbes soon realizes that Sparta is no different from Memphis, and he and Gillespie will need to work together to keep the town safe from the criminal elements. Howard Rollins returns in his new capacity as attorney Virgil Tibbs and assists on three of the Sparta PD's cases after having moved into Ben Taylor's law office.
Other cases involve a friend of Bubba Skinner's being given the AIDS virus from a lover who knew he had it, a nine-year-old little girl being killed because of a drunk driver, a young inter-racial couple being stalked by a white supremacist (Brent Lunay), first seen in the episode "Odessa," written by Denise Nicholas. Other cases include Parker's being accused of police brutality, and the return of Daddy Roy and Miz Rhoda. Both Anne Meara and Jerry Stiller make special guest appearances in two separate episodes. Gillespie must once again confront his racist past when a new synagogue moves into Sparta and the Rabbi detests Gillespie for being an anti-Semite back in the 1960s. This both angers and shocks Harriet. Lana Gillespie also makes one final appearance as Bill's daughter in the Hagman-directed episode "A Love Lost," in which he must protect her from a former boyfriend who is involved in a gun running scheme with someone in Sparta.
In the episode "Ches and the Grand Lady," Bobby Short reprises his role as the blues musician from "Sweet, Sweet Blues." The episode also guest stars Jean Simmons as the dying grand dame of Sparta who also happens to be Ches's old flame and the overbearing great-aunt of Lonnie Jamison. Another episode involves the return of Maybelle Chesboro (played by Elizabeth Ashley), the ex-madam. She has returned to operate a legal phone sex business. One of her employees tries to blackmail one of Holly Colmer's friends and ends up getting shot. Chesboro decides to give up working in the business for good, but not before visiting Gillespie and attempting to get romantic with him.
Finally, in "Dangerous Engagement," Gillespie and DeLong tie the knot at the same sanctuary involved in the sanctuary case from season five. Father DiMarco has since died, but the new Monk agrees to marry them. Chief Forbes serves as best man. In the meantime, a newspaper misprint makes Gillespie the target of an escaped killer from Texas whose father Sheriff McComb sent to death row. His son is now seeking revenge.
The season and the TV series wraps up with the two-hour movie of the week, "Give Me Your Life," starring Peter Fonda as Appfel. The story (by O'Connor and written by Cynthia Deming & William J Royce) is loosely based on the real-life drama unfolding in Waco, Texas with David Koresh and his followers.
TV movies
Four made-for-television movies were made during the 1994–95 season. Once released on DVD, these movies combined were considered to be the eighth season of the show. The movies were:
A Matter of Justice
Who was Geli Bendl? (directed by Larry Hagman)
By Duty Bound
Grow Old Along with Me
Series co-star Hugh O'Connor committed suicide two months before the fourth film actually aired. When aired in its original, two-hour format, there was a black screen in between the intro tag and the opening title, which read "In memory of Hugh O'Connor: 1962–1995".
Writing staff
Carroll O'Connor (1989–95) as Matt Harris
Mark Rodgers (1989–90)
David Moessinger (1988–89)
Jeri Taylor (1988–89)
Edward Deblasio (1989–90)
Nancy Bond (1988–90)
William J Royce (1989–94)
Cynthia Deming (1990–94)
Robert Bielak (1990–91)
Mitch Schneider (1990–94)
Joe Gannon (1991–94)
Denise Nicholas (1992–95)
Terri Erwin (1989–91)
Bill Taub (1991)
Guest stars
During the series' 7½-season run, many familiar, unfamiliar, and longtime character actors and actresses have made guest appearances, and others were newcomers who went on to become well-known. Some of those appearing in The Heat of the Night episodes were: Ed Ames, Frances Fisher, Rod Masterson, Mel Stewart, Denzel Washington, Nana Visitor, Gail O'Grady, Peter Fonda, Don Galloway, Corbin Bernsen, Dana Barron, Marco St. John, Larry Black, Ted Lange, Mickey Jones, Mitchell Laurance, Laura Johnson, Jordan Vaughn, Martha Byrne, Walton Goggins, Maury Covington, Earl Holliman, Michael Beck, Randy Brooks, Wayne Brady, Art Evans, Nicolas Cowan, Lou Walker, Alan Arbus, Robert Goulet, Bobby Short, Iman, William Sadler, Michael Spound, Bill McKinney, Lisa Pelikan, Mark Rolston, Jennifer Bassey, Marc Macaulay, Jean Simmons, Thomas Jefferson Bird, Vanessa Bell Calloway, Matthew McConaughey, J.D. Hall, John Davis Chandler, George C. Scott, Joe Senaca, Stephen Root, Bruce Kirby, Lisa Rieffel, Marla Gibbs, Ernest Lee Thomas, Ken Marshall, Laurence Fishburne, Josh Lucas (as Joshua Lucas), Ted Manson, Mariska Hargitay, Jason Beghe, Meshach Taylor, Francesco Quinn, Jeffrey Buckner Ford, Gary Anthony Williams, Richard McKenzie, Fred Thompson, Craig Shoemaker, Stephen Nichols, Stacy Keach, Mitchell Anderson, James Best, Sonny Shroyer, Michael Warren, Byron Cherry, Whitman Mayo, Ken Curtis, Louise Fletcher, Victor French, among many others. Future Dr. Quinn Medicine Woman stars, Helene Udy, William Shockley and Chad Allen made guest appearances. Future Desperate Housewives star Doug Savant and veteran actor Kevin McCarthy also made their guest appearances on the two-part pilot episode, as well as former Pro Football Hall of Fame star now convicted criminal O. J. Simpson in a cameo appearance.
Broadcast history and ratings
The series debuted as a midseason replacement for the short-lived NBC series J.J. Starbuck, premiering on March 6, 1988. The series ran on the network until May 19, 1992, then was shown on CBS until its finale after an eighth season, on May 16, 1995.
DVD releases
On August 30, 2012, TGG Direct released the first season on DVD in Region 1 for the very first time. The eighth and final season was released on June 11, 2013.
On October 23, 2012, TGG Direct released an 8-disc best-of set entitled In the Heat of the Night - 24hr Television Marathon.
TGG Direct released seasons 4 and 5 onto DVD on December 10, 2013. However, due to licensing issues, the following episodes are missing from the box set: Brotherly Love, Shine On Sparta Moon, Sweet, Sweet Blues, Sanctuary, Law On Trial.
TGG Direct released seasons 2 & 3 in a single boxed set onto DVD on March 11, 2014. However, due to clearance issues, the following episodes are excluded from Season 2 and Season 3 Season 2 Excluded Episodes: The Family Secret, The Hammer and the Glove, A Trip Upstate, Intruders, Sister Sister, Walkout Season 3 Excluded Episodes: Fairest of Them All, Crackdown, Anniversary, My Name is Hank, King's Ransom, A Loss of Innocence, Home is Where the Heart Is, Indiscretions, Citizen Trundel Part 1 and Part 2
TGG Direct also released seasons 6 and 7 in individual boxed sets onto DVD on March 11, 2014. However, due to clearance issues, the following episode is excluded from Season 6: Random's Child and the following episodes are excluded from Season 7: Singin' The Blues, Every Man's Family, Maybelle Returns, Ches and the Grand Lady, Dangerous Engagement.
Locations
The television series also took place in a fictionalized version of Sparta, Mississippi. While there is a real Sparta, the version of Sparta shown on television is very different from the real town. For example, the TV Sparta is situated along Interstate 20, while the real town is nowhere near any interstate. During the first season, Hammond, Louisiana was the site of the show's production. In the second season, the show was moved to Georgia, to an area east of Atlanta and it remained there for the rest of its run. The principal area of Sparta was in fact downtown Covington, Georgia. Rural scenes were filmed in a wide surrounding area, in the Georgia counties of Newton (where Covington is located), Rockdale, Walton, Morgan, and Jasper. Decatur in Dekalb County was used as a stand-in for an episode as the Mississippi Capital city of Jackson, and Atlanta itself was used in one episode, in which Bubba worked on a case there. In fact, during the series' run, many of the cast members had homes in the area and were often spotted in local restaurants and retail stores. The cast members would also go around to local schools to speak to students.
Soundtrack
The theme song, "In the Heat of the Night," was recorded by Quincy Jones, and is usually paired with "They Call Me Mr. Tibbs" on albums. Bill Champlin of the band Chicago sang the opening theme song for the television series.
Randall Franks and Alan Autry co-produced the cast CD "Christmas Time's A Comin'" for Sonlite and MGM/UA featuring the entire cast and a host of music stars and it was released Christmas 1991 and 1992 and was among the top holiday recordings of those years around the South and Midwest.
References
In the Heat of the Night (TV series) Wikipedia
(Text) CC BY-SA