Residence

Camberwell, Victoria




Other names

Geoff Rush




Name

Geoffrey Rush




Spouse

Jane Menelaus (m. 1988)


Nationality

Australian




Occupation

Actor, film producer




Role

Actor




Children

James Rush, Angelica Rush






Full Name

Geoffrey Roy Rush




Born

6 July 1951 (age 72) (

1951-07-06

) Toowoomba, Queensland, Australia


Education

Everton Park State High School


Alma mater

University of Queensland


Awards

Academy Award for Best Actor


Upcoming movies

Pirates of the Caribbean: Dead Men Tell No Tales, Gods of Egypt


Movies

The King's Speech, Pirates of the Caribbea, The Best Offer, Pirates of the Caribbea, The Book Thief




Similar People

Jane Menelaus, Sophie Nelisse, Colin Firth, Emily Watson, Ian McShane
Geoffrey rush winning best actor
Geoffrey Roy Rush AC (born 6 July 1951) is an internationally renowned Australian actor and film producer. He is the youngest of the few people who have won the "Triple Crown of Acting": the Academy Award, the Primetime Emmy Award, and the Tony Award. He has won one Academy Award for acting (from four nominations), three British Academy Film Awards (from five nominations), two Golden Globe Awards and four Screen Actors Guild Awards. He is the founding President of the Australian Academy of Cinema and Television Arts and was named the 2012 Australian of the Year. He is also the first actor to win the Academy Award, BAFTA Award, Critics' Choice Movie Award, Golden Globe Award, Screen Actors Guild Award for a single performance in film for his performance in Shine (1996).
Contents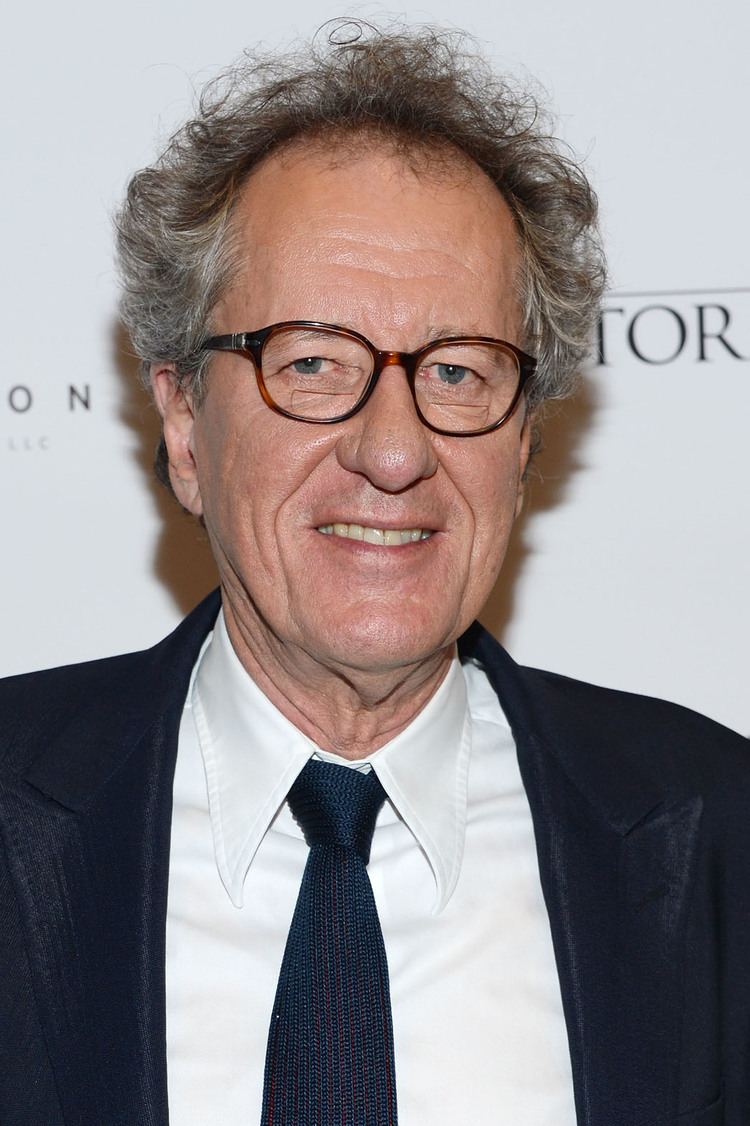 Actor Geoffrey Rush "Pirates of the Caribbean: Dead Men Tell No Tales" Joins The RE Show - 5/18/17
Early life
Rush was born in Toowoomba, Queensland, to Merle, a department store sales assistant, and Roy Baden Rush, an accountant for the Royal Australian Air Force. His father was of English, Irish, and Scottish ancestry, and his mother was of German descent. His parents divorced when he was five, and his mother subsequently took him to live with her parents in suburban Brisbane. Before he began his acting career, Rush attended Everton Park State High School and graduated from the University of Queensland with Bachelor's Degree in Arts. While at university, he was talent-spotted by Queensland Theatre Company (QTC) in Brisbane. Rush began his career with QTC in 1971, appearing in 17 productions.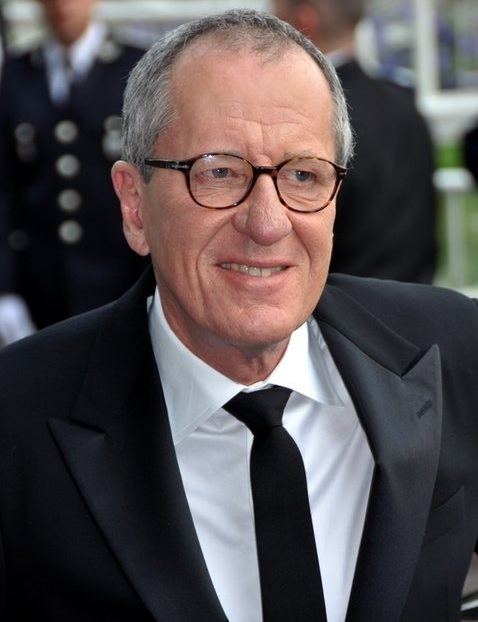 In 1975, Rush went to Paris for two years and studied mime, movement and theatre at L'Ecole Internationale de Theatre Jacques Lecoq, before returning to resume his stage career with QTC. In 1979, he shared an apartment with actor Mel Gibson for four months while they co-starred in a stage production of Waiting for Godot.
Stage career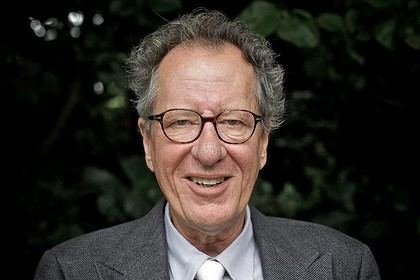 Rush made his theatre debut in the QTC's production of Wrong Side of the Moon. He worked with the QTC for four years, appearing in roles ranging across classical plays and pantomime, from Juno and the Paycock to Hamlet on Ice. Following these, Rush left for Paris where he studied further.
Rush's acting credits include Shakespeare's plays, The Winter's Tale (with the State Theatre Company of South Australia in 1987 at The Playhouse in Adelaide) and Troilus and Cressida (at the Old Museum Building in 1989). He also appeared in an ongoing production of Oscar Wilde's The Importance of Being Earnest as John Worthing (Ernest) (in which his wife, Jane Menelaus, appeared as Gwendolen).
In September 1998, Rush played the title role in the Beaumarchais play The Marriage of Figaro for the QTC. This was the opening production of the Optus Playhouse at the Queensland Performing Arts Centre at South Bank in Brisbane. A pun on Rush's name (and the circumstances) was used in the opening prologue of the play with the comment that the "Optus Playhouse was opening with a Rush".
Rush has appeared on stage for the Brisbane Arts Theatre and in many other theatre venues. He has also worked as a theatre director. In 2007, he starred as King Berenger in a production of Eugene Ionesco's Exit the King at the Malthouse Theatre in Melbourne and Company B in Sydney, directed by Neil Armfield. For this performance, he received a Helpmann Award nomination for best male actor in a play.
Rush made his Broadway debut in a restaging of Exit the King under Malthouse Theatre's touring moniker Malthouse Melbourne and Company B Belvoir. This restaging featured a new American cast including Susan Sarandon. The show opened on 26 March 2009 at the Ethel Barrymore Theatre. Rush won the Outer Critics Circle Award, Theatre World Award, Drama Desk Award, the Distinguished Performance Award from the Drama League Award and the 2009 Tony Award for Best Performance by a Leading Actor in a Play.
In 2010, Rush played Man in Chair in The Drowsy Chaperone on its Australian tour.
In 2011, Rush played the lead in a theatrical adaptation of Nikolai Gogol's short story The Diary of a Madman at the Brooklyn Academy of Music. Rush won for this role Helpmann Award and was nominated for the Drama Desk Award.
From November 2011, Rush played the role of Lady Bracknell in the Melbourne Theatre Company production of The Importance of Being Earnest. Other actors from the 1988 production include Jane Menelaus, this time as Miss Prism, and Bob Hornery, who had played Canon Chasuble, as the two butlers.
Film career
Rush made his film debut in the Australian film Hoodwink in 1981. His next film was Gillian Armstrong's Starstruck, the following year. In the coming years he appeared in small roles on television dramas, including a role as a dentist in a 1993 episode of the British television series Lovejoy. He made his breakthrough performance in 1996 with Shine, for which he won the Academy Award for Best Actor.
In 1998, he appeared in three major films: Les Miserables, Elizabeth, and Shakespeare in Love for which he received his second Academy Award nomination as Academy Award for Best Supporting Actor.
In 1999, Rush took the lead role as Steven Price in the horror film House on Haunted Hill. In 2000, he received his third Academy Award nomination, for Quills, in which he played the Marquis de Sade.
Rush's career continued at a fast pace, with nine films released from 2001 to 2003. He starred in the film Pirates of the Caribbean: The Curse of the Black Pearl, as Captain Hector Barbossa, also appearing in its sequels, Dead Man's Chest, At World's End and On Stranger Tides.
Rush reprised his character's voice for the enhancements at the Pirates of the Caribbean attractions at Disneyland and the Magic Kingdom theme parks, which involved an Audio-Animatronic with Rush's likeness being installed (including one at Tokyo Disneyland). He also voiced Nigel the pelican in Finding Nemo.
Rush played actor Peter Sellers in the television film The Life and Death of Peter Sellers. For this performance, he won an Emmy Award for Outstanding Lead Actor in a Miniseries or a Movie, a SAG Award for Best Performance by an Actor in a Television Movie or Miniseries, and a Golden Globe Award for Best Actor in a Miniseries or Motion Picture made for Television. In 2005, he starred in Steven Spielberg's Munich as Ephraim, a Mossad agent.
In 2006, Rush hosted the Australian Film Institute Awards for the Nine Network. He was the Master of Ceremonies again at the 2007 AFI Awards.
In the beginning of 2009, Rush appeared in a series of special edition postage stamps featuring some of Australia's internationally recognised actors. He, Cate Blanchett, Russell Crowe, and Nicole Kidman each appear twice in the series. Rush's image is taken from Shine.
In 2010, Rush played speech therapist Lionel Logue in The King's Speech, a part that earned him a BAFTA and nominations for the Academy Awards and Golden Globe Awards for Best Supporting Actor.
Rush returned as Captain Hector Barbossa in Pirates of the Caribbean: On Stranger Tides, starring Johnny Depp, in 2011. Rush is also preparing for a film version of The Drowsy Chaperone, an award-winning stage musical. In addition, he voiced the alien Tomar-Re in the film adaptation of the Green Lantern comic book series.
In 2011, Rush made a cameo in a commercial, The Potato Peeler, for the Melbourne International Film Festival (MIFF), playing a Polish peasant. He spoke his lines in Polish for the part.
In August 2011 he was appointed the foundation President of the newly formed Australian Academy of Cinema and Television Arts.
In 2013, Rush starred alongside Jim Sturgess in The Best Offer and the film version of the best-selling novel The Book Thief. On August 4, 2015, Rush appeared on the documentary TV series Who Do You Think You Are? on Series 7, Episode 1 on the SBS.
Personal life
Since 1988, Rush has been married to actress Jane Menelaus, with whom he has a daughter, Angelica (born 1992), and a son, James (born 1995). Geoffrey Rush lives in Camberwell, Victoria.
Other awards
Awarded an Honorary Doctorate of Letters by the University of Queensland, in Australia.
Awarded the Australian Centenary Medal in the 2001 Queen's New Year's Honours List for his services to the arts especially through a distinguished acting career.
Appointed a Companion of the Order of Australia (AC) in 2014, one of Australia's highest civilian honours, for eminent service to the arts as a theatre performer, motion picture actor and film producer, as a role model and mentor for aspiring artists, and through support for, and promotion of, the Australian arts industry.
2012: Australian of the Year
2011: Santa Barbara International Film Festival – Montecito Award
2009: Australian Film Institute Longford Life Achievement Award
2003: Australian Film Institute Awards – Global Achievement Award
2004: Brisbane International Film Festival – Chauvel Award
2003: Hollywood Film Festival for Supporting Actor of the Year
Filmography
Actor
-
Raised Eyebrows (pre-production)
as
Groucho Marx
-
The Rule of Jenny Pen (pre-production)
-
Verona Spies (pre-production)
2019
Storm Boy
as
Michael Kingley
2017
Genius (TV Series)
as
Albert Einstein
- Einstein: Chapter Ten (2017) - Albert Einstein
- Einstein: Chapter Nine (2017) - Albert Einstein
- Einstein: Chapter Eight (2017) - Albert Einstein
- Einstein: Chapter Seven (2017) - Albert Einstein
- Einstein: Chapter One (2017) - Albert Einstein
2017
Pirates of the Caribbean: Dead Men Tell No Tales
as
Hector Barbossa
2017
Final Portrait
as
Alberto Giacometti
2015
Minions
as
Narrator (voice)
2015
The Nightingale and the Rose (Short)
as
Oak Tree (voice)
2013
The Book Thief
as
Hans Hubermann
2013
Being Brendo (TV Series)
as
Dr. Lance Pickering
- Made in Heaven (2013) - Dr. Lance Pickering
2013
The Best Offer
as
Virgil Oldman
2010
Lowdown (TV Series)
as
Narrator / God
- Ben Behaving Badly (2012) - Narrator (voice)
- The Naked Chef (2012) - Narrator (voice)
- Bubble Trouble (2012) - Narrator (voice)
- A Bollywood Ending (2012) - Narrator (voice)
- Rex, Lies & Videotape (2012) - Narrator (voice)
- One Fine Gay (2012) - Narrator (voice)
- Hack in Business (2012) - Narrator (voice)
- Pretty Pollie (2012) - Narrator (voice)
- Project Runaway (2010) - Narrator (voice)
- Who's Your Baddy? (2010) - Narrator / God
- A Lavish Swinger (2010) - Narrator (voice)
- Cooper Scooper (2010) - Narrator (voice)
- Hart of Darkness (2010) - Narrator (voice)
- Zirco Goes Berko (2010) - Narrator (voice)
- Bonk Bonk, Who's There? (2010) - Narrator (voice)
- Wasp in Translation (2010) - Narrator (voice)
2012
The Man Who Could Not Dream (Short)
as
Bird (voice)
2011
The Eye of the Storm
as
Basil Hunter
2011
Green Lantern
as
Tomar-Re (voice)
2011
Pirates of the Caribbean: On Stranger Tides
as
Barbossa
2010
Brand New Day (Short)
as
Father Benedictus
2010
The Warrior's Way
as
Ronald
2010
Legend of the Guardians: The Owls of Ga'Hoole
as
Ezylryb (voice)
2010
The King's Speech
as
Lionel Logue
2009
Bran Nue Dae
as
Father Benedictus
2007
Bloopers of the Caribbean (Video short)
as
Captain Hector Barbossa (uncredited)
2007
Elizabeth: The Golden Age
as
Sir Francis Walsingham
2007
Pirates of the Caribbean: At World's End
as
Captain Hector Barbossa
2006
Candy: Deleted Scenes (Video short)
2006
Pirates of the Caribbean: Dead Man's Chest
as
Captain Hector Barbossa (uncredited)
2004
The Life and Death of Peter Sellers: Deleted Scenes (Video short)
as
Peter Sellers / Various Characters
2004
Kath & Kim (TV Series)
as
Geoff
- Sitting on a Pile (2004) - Geoff
2004
The Life and Death of Peter Sellers
as
Peter Sellers
2003
Intolerable Cruelty
as
Donovan Donaly
2003
Pirates of the Caribbean: The Curse of the Black Pearl
as
Barbossa
2003
Harvie Krumpet (Short)
as
Narrator (voice)
2003
Finding Nemo
as
Nigel (voice)
2003
Ned Kelly
as
Superintendent Francis Hare
2003
Swimming Upstream
as
Harold Fingleton
2002
The Banger Sisters
as
Harry
2001
The Tailor of Panama
as
Harry
2000
The Magic Pudding
as
Bunyip Bluegum (voice)
2000
Quills
as
The Marquis de Sade
1999
House on Haunted Hill
as
Stephen Price
1999
Mystery Men
as
Casanova Frankenstein
1998
Shakespeare in Love
as
Philip Henslowe
1998
Elizabeth
as
Sir Francis Walsingham
1998
A Little Bit of Soul
as
Godfrey Usher
1997
Oscar and Lucinda
as
Narrator (voice)
1996
Call Me Sal (Short)
as
Wal
1996
Twisted Tales (TV Series)
as
Harry Chisholm
- Bonus Mileage (1996) - Harry Chisholm
1996
Mercury (TV Mini Series)
as
Bill Wyatt
- Bad News Is Good News (1996) - Bill Wyatt
- Private Tears (1996) - Bill Wyatt
- All the News That's Fit to Print (1996) - Bill Wyatt
- The Best Seat in the House (1996) - Bill Wyatt
- A Very Dangerous Game (1996) - Bill Wyatt
- Mother's Day (1996) - Bill Wyatt
- Paper Tigers (1996) - Bill Wyatt
- Indecent Obsession (1996) - Bill Wyatt
- Devil's Work (1996) - Bill Wyatt
- Every Picture Tells a Story (1996) - Bill Wyatt
- Dark Horses (1996) - Bill Wyatt
- Biggest Thieves in Town (1996) - Bill Wyatt
- Without Fear or Favour (1996) - Bill Wyatt
1996
Children of the Revolution
as
Welch
1996
Shine
as
David Helfgott - Adult
1995
Dad and Dave: On Our Selection
as
Dave Rudd
1994
Midday Crisis (Short)
as
Alan
1990
A State of Mind (Short)
as
TV Repair Man
1987
Frontier (TV Mini Series)
as
Soldier Administrator David Collins
- Part Three: 1860-1938 (1987) - Soldier Administrator David Collins
- Part Two: 1830-1860 (1987) - Soldier Administrator David Collins
- Part One: 1770-1835 (1987) - Soldier Administrator David Collins
1986
Twelfth Night
as
Sir Andrew Aguecheek
1982
Starstruck
as
Floor Manager
1981
The Added Dimension (Video short)
as
Man (as Geoff Rush)
1980
Menotti (TV Series)
as
Father Peter Fuller
- The Things of This Earth (1981) - Father Peter Fuller
- A Hasty Retreat (1981) - Father Peter Fuller
- Mother Church (1981) - Father Peter Fuller
- Southern Exposure (1981) - Father Peter Fuller
- One Way Conversation (1981) - Father Peter Fuller
- Friend or Foe (1981) - Father Peter Fuller
- An Iron in the Fire (1981) - Father Peter Fuller
- Far from Home (1981) - Father Peter Fuller
- The Old Faith (1981) - Father Peter Fuller
- The Company They Keep (1981) - Father Peter Fuller
- The Church Mice (1981) - Father Peter Fuller
- Horses for Courses (1981) - Father Peter Fuller
- Xmas Cavaliers (1980) - Father Peter Fuller
Producer
2019
Storm Boy (executive producer)
2010
The King's Speech (executive producer)
1997
Macbeth (associate producer)
Writer
2011
At the Movies (TV Series) (written by - 1 episode)
- 25 Years of Margaret & David (2011) - (written by)
Soundtrack
2010
The King's Speech (performer: "Swanee River", "Camptown Races" - uncredited)
2009
Bran Nue Dae (performer: "Nothing I Would Rather Be')
2004
The Life and Death of Peter Sellers (performer: "I Haven't Told Her & She Hasn't Told Me")
2000
The Magic Pudding (performer: "It's A Wonderful Day", "Albert, the Magic Pudding", "The Puddin Owner's Song", "It's Worse Than Weevils", "Save The Town")
Thanks
2017
Dubsmash Bros (TV Series) (grateful acknowledgment - 1 episode)
- Hector (2017) - (grateful acknowledgment)
2015
Holding the Man (thanks)
2010
The Illustrator (special thanks)
2007
West (special thanks)
2006
Whaledreamers (Documentary) (special thanks)
2003
Harvie Krumpet (Short) (thanks)
1999
Shakespeare in Love and on Film (TV Movie documentary) (thanks)
Self
-
Depp vs Heard: All on the Line (Documentary)
as
Self
2022
Na plovárne (TV Series)
as
Self
- Na plovárne s Geoffrey Rushem (2022) - Self
2021
Film Önü / Arkasi (TV Series)
as
Self - Subject
- The King's Speech (2021) - Self - Subject
2021
Johnny Depp: King of Cult (Documentary)
as
Self
2020
The Hollywood Moment at Home Edition (TV Series)
as
Self
- S1 E11 BJ Korros/Ed Asner Celebrating 91 Years (2020) - Self
2019
A Pelican's Tale: The Making of 'Storm Boy' (Video documentary short)
as
Self / Michael Kingley
2017
The 69th Primetime Emmy Awards (TV Special)
as
Self - Nominee
2017
Ok! TV (TV Series)
as
Self
- Episode #3.7 (2017) - Self
- Emmys Takeover Show (2017) - Self
- Episode #2.185 (2017) - Self
2017
Have You Been Paying Attention? (TV Series)
as
Self
- Episode #5.14 (2017) - Self
2017
Emmy Quickie (TV Series)
as
Self
- Emmy Quickie: 'Genius' - Geoffery Rush and Johnny Flynn (2017) - Self
2017
David Stratton: A Cinematic Life (TV Series documentary)
as
Self
- Family (2017) - Self
- Outsiders (2017) - Self
2013
The Talk (TV Series)
as
Self
- Geoffrey Rush/Susan Feniger (2017) - Self
- Geoffrey Rush/Tim Conway/Chef Fabio Viviani (2013) - Self
2011
Made in Hollywood (TV Series)
as
Self
- Pirates of the Caribbean: Dead Men Tell No Tales/Wonder Woman/Captain Underpants: The First Epic Movie (2017) - Self
- Episode #9.9 (2013) - Self
- Episode #6.27 (2011) - Self
2017
WGN Morning News (TV Series)
as
Self
- Episode dated 25 May 2017 (2017) - Self
2017
Chelsea (TV Series)
as
Self
- Scientologists and Pirates and Aliens, Oh My (2017) - Self
2017
The Insider (TV Series)
as
Self
- Episode #13.215 (2017) - Self
2007
Entertainment Tonight (TV Series)
as
Self
- Episode #36.208 (2017) - Self
- Episode dated 28 May 2007 (2007) - Self
- Episode dated 21 May 2007 (2007) - Self
2017
The Weekly with Charlie Pickering (TV Series)
as
Self
- Episode #3.14 (2017) - Self
2013
Sidewalks Entertainment (TV Series)
as
Self - Guest
- Rush and Flynn (2017) - Self - Guest
- The Book Thief (2013) - Self - Guest
2017
The Late Late Show with James Corden (TV Series)
as
Self
- Jason Schwartzman/Nicole Richie/Geoffrey Rush/Depeche Mode (2017) - Self
2016
Shine: 20th Anniversary (Video documentary short)
as
Self - Actor & Star of 'Shine'
2016
The Capitol (Short)
as
Self
2016
'Shine' 20th Anniversary Exhibition Launch at the South Australian Film Corporation's Adelaide Studios (Video documentary short)
as
Self - Actor & Star of 'Shine'
2016
Indy TV with Adam Bosworth (TV Series)
as
Self
2015
Celebrity Conversations (TV Series)
as
Self
- Celebrity Conversations: Geoffrey Rush (2015) - Self
2015
Unity (Documentary)
as
Narrator (voice)
2015
Who Do You Think You Are? (TV Series documentary)
as
Self
- Geoffrey Rush (2015) - Self
2015
The Imp, the Spirit, the Hero: Playing David Helfgott in 'Shine' with Geoffrey Rush (Video documentary short)
as
Self - Actor who played the adult David Helgott in 'Shine'
2014
One Plus One (TV Series)
as
Self - Guest
- Geoffrey Rush (2014) - Self - Guest
2013
SAG Foundation Conversations (TV Series)
as
Self
- Geoffrey Rush (2013) - Self
2013
Rachael Ray (TV Series)
as
Self - Guest
- We've Got Two Oscar Winners in the House: Whoopi Goldberg and Geoffrey Rush! And We're Showing Off Thanksgiving Recipes (2013) - Self - Guest
2013
The Daily Show (TV Series)
as
Self - Guest
- Geoffrey Rush (2013) - Self - Guest
2011
The Late Late Show with Craig Ferguson (TV Series)
as
Self - Guest
- Actor Geoffrey Rush; Dale Earnhardt Jr. Jr. performs (2013) - Self - Guest
- Episode #7.153 (2011) - Self - Guest
2012
Giuseppe Tornatore: Every Film My First Film (Documentary)
as
Self
2012
Raising the Curtain (TV Series documentary)
as
Self - Interviewee
2012
Just for Laughs (TV Series)
as
Self - Audience Member
- The Muppets in Montreal (2012) - Self - Audience Member (uncredited)
2012
The Eye of the Storm: Q+A with Geoffrey Rush and Fred Schepisi (Video short)
as
Self
2012
1st AACTA Awards (TV Special)
as
Self - Host / Presenter
2011
Pirates of the Caribbean: On Stranger Tides 35mm 3D Special (TV Special)
as
Self
2011
The Hour (TV Series)
as
Self - Guest
- Episode #8.50 (2011) - Self - Guest
2008
Spicks and Specks (TV Series)
as
Self
- The Finale (2011) - Self
- Episode #4.41 (2008) - Self
- Episode #4.19 (2008) - Self
2011
At the Movies (TV Series)
as
Self - Special Guest Host
- 25 Years of Margaret & David (2011) - Self - Special Guest Host
2011
Johnny Vs. Geoffrey (Video short)
as
Self
2011
History (TV Series documentary)
as
Self
- The King's Speech - die wahre Geschichte (2011) - Self
2011
Attack of the Show! (TV Series)
as
Self - Guest
- Episode dated 19 May 2011 (2011) - Self - Guest
2011
Cinema 3 (TV Series)
as
Self - Interviewee
- Episode dated 19 May 2011 (2011) - Self - Interviewee
2004
Breakfast (TV Series)
as
Self - Guest
- Episode dated 18 May 2011 (2011) - Self - Guest
- Episode dated 12 May 2011 (2011) - Self - Guest
- Episode dated 27 September 2004 (2004) - Self - Guest
2010
The Project (TV Series)
as
Self
- Episode #1.457 (2011) - Self
- Episode #1.456 (2011) - Self
- Episode #1.357 (2010) - Self
- Episode #1.120 (2010) - Self
2011
Up Close with Carrie Keagan (TV Series)
as
Self - Guest
- Episode dated 18 May 2011 (2011) - Self - Guest
2011
The Graham Norton Show (TV Series)
as
Self - Guest
- Geoffrey Rush/Gwyneth Paltrow/Lady Gaga/Jason Byrne (2011) - Self - Guest
2011
Cannes Film Festival (TV Series)
as
Self - Interviewee
- TV Festival Du Cannes 2011 (2011) - Self - Interviewee
2011
National Movie Awards (TV Special)
as
Self
2011
The Colbert Report (TV Series)
as
Self - Guest
- Geoffrey Rush (2011) - Self - Guest
2011
Interview with Mark Logue (Video documentary short)
as
Lionel Logue
2011
The King's Speech: An Inspirational Story of an Unlikely Friendship (Video documentary short)
as
Self - Lionel Logue
2011
The King's Speech: A Courageous Journey (TV Movie)
as
Self
2011
The Oprah Winfrey Show (TV Series)
as
Self - Guest
- Oprah's After-Oscar Party 2011 (2011) - Self - Guest
- All New! Oscar Winners, Plus the Nominees (2011) - Self - Guest
2011
The 83rd Annual Academy Awards (TV Special)
as
Self - Nominee
2011
60 Minutes (TV Series documentary)
as
Self - Actor (segment "The King's Speech")
- Scott Brown: Against All Odds/The Spark/The King's Speech (2011) - Self - Actor (segment "The King's Speech")
2011
Piers Morgan Live (TV Series)
as
Self - Guest
- Colin Firth (2011) - Self - Guest
2011
In the House with Peter Bart & Peter Guber (TV Series)
as
Self
- Geoffrey Rush/Vidal Sassoon/Don Mischer/Bruce Cohen (2011) - Self
2011
17th Annual Screen Actors Guild Awards (TV Special)
as
Self - Winner
2011
The 68th Annual Golden Globe Awards (TV Special)
as
Self - Nominee & Presenter
2010
BFI London Film Festival Awards (TV Special)
as
Self
2010
Moving Pictures Live! (TV Series)
as
Self
- Aussies (2010) - Self
2009
Eeny Meeny Miny Moe (Short)
as
Self
2009
The 63rd Annual Tony Awards (TV Special)
as
Self - Winner
2009
Working in the Theatre (TV Series documentary)
as
Self
- At Work and Play: Lead Actors 2009 (2009) - Self
2008
L'Oreal Paris 2008 AFI Awards (TV Special)
as
Self
2008
VTV Interviews (TV Series)
as
Self
- Vtv Elizabeth (2008) - Self
2008
The Chant of Jimmie Blacksmith: Q&A Session with Fred Schepisi and Geoffrey Rush (Video documentary short)
as
Self
2008
Directing 'Shine' (Video documentary short)
as
Self
2008
The Man Inside Dame Edna (TV Movie documentary)
as
Narrator - Australian Version
2007
The 2007 Australian Film Institute Awards (TV Special)
as
Self - Host
2007
Cartelera (TV Series documentary)
as
Self
- Episode dated 27 October 2007 (2007) - Self
2007
Movie Connections (TV Series documentary)
as
Self
- Shakespeare in Love (2007) - Self
2007
Shootout (TV Series)
as
Self
- Geoffrey Rush (2007) - Self
2007
A Journey Behind the Scenes of 'Pirates of the Caribbean: At World's End' (TV Short)
as
Self
2007
Jimmy Kimmel Live! (TV Series)
as
Self - Guest
- Episode #4.457 (2007) - Self - Guest
2007
Tavis Smiley (TV Series)
as
Self - Guest
- Episode dated 14 May 2007 (2007) - Self - Guest
2007
The View (TV Series)
as
Self - Guest
- Episode dated 10 May 2007 (2007) - Self - Guest
2006
Candy: Behind the Scenes (Video short)
as
Self - Actor
2006
Candy: The Path to Wild Abandon (Video short)
as
Self - Actor
2006
How the Hell Did We Get Here? (TV Series)
as
Self
- The Baby Boomer's Guide to the Movies (2006) - Self
- Baby Boomer Songs That Divide a Nation (2006) - Self
2006
Dead Man Tell New Tales: Re-Imagineering the Attraction (Video documentary short)
as
Self
2006
Candy: Interview Featurette with Director and Writer (Video short)
as
Self - Actor
2006
Candy: Interview Featurette with Director and Writer (Video short)
as
Self - Actor
2006
Whaledreamers (Documentary)
as
Self
2006
Munich: Memories of the Event (Video short)
as
Self
2006
Munich: The Experience (Video documentary short)
as
Self
2006
Munich: The International Cast (Video short)
as
Self
2006
Munich: The Mission - The Team (Video documentary short)
as
Self
2005
2005 Primetime Creative Arts Emmy Awards (TV Special)
as
Self - Presenter
2005
The 57th Annual Primetime Emmy Awards (TV Special)
as
Self - Winner
2005
Good Morning Australia (TV Series)
as
Self - Guest
- Episode dated 16 June 2005 (2005) - Self - Guest
2005
Swimming Upstream: The Making of a Champion (Video short)
as
Self
2005
11th Annual Screen Actors Guild Awards (TV Special)
as
Self - Winner
2005
The 62nd Annual Golden Globe Awards 2005 (TV Special)
as
Self - Winner
2004
The Making of the Life and Death of Peter Sellers (Video short)
as
Self / Peter Sellers / Various Characters
2004
The Tony Danza Show (TV Series)
as
Self - Guest
- Episode #1.60 (2004) - Self - Guest
2004
Live with Kelly and Mark (TV Series)
as
Self - Guest
- Episode dated 30 November 2004 (2004) - Self - Guest
2004
The Lost Disc: Becoming Barbossa (Video documentary short)
as
Self
2004
The Lost Disc: Becoming Captain Jack (Video documentary short)
as
Self
2004
The Lost Disc: The Monkey's Name Is Jack (Video documentary short)
as
Self
2004
The 2004 Australian Film Institute Awards (TV Special)
as
Self
2004
Richard & Judy (TV Series)
as
Self - Guest
- Episode dated 5 October 2004 (2004) - Self - Guest
2004
Friday Night with Jonathan Ross (TV Series)
as
Self - Guest
- Episode #7.5 (2004) - Self - Guest
2004
Film '72 (TV Series)
as
Self
- Episode dated 27 September 2004 (2004) - Self
2004
Profondo Rosa - La vera storia della Pantera Rosa (TV Movie documentary)
as
Self
2004
Enough Rope with Andrew Denton (TV Series)
as
Self - Guest
- Episode #2.26 (2004) - Self - Guest
2001
The Panel (TV Series)
as
Self
- Episode #7.1 (2004) - Self
- Episode #4.18 (2001) - Self
2004
A Look Inside 'Intolerable Cruelty' (Video documentary short)
as
Self / Donovan Donaly
2003
An Epic at Sea: The Making of 'Pirates of the Caribbean: The Curse of the Black Pearl' (Video documentary short)
as
Self
2003
Fly on the Set of 'Pirates of the Caribbean: The Curse of the Black Pearl' (Video documentary short)
as
Self
2003
Blooper Reel (Video short)
as
Self (uncredited)
2003
The 2003 Australian Film Institute Awards (TV Special)
as
Self - Presenter
2003
Tinseltown TV (TV Series)
as
Self
- Episode dated 4 October 2003 (2003) - Self
2002
HBO First Look (TV Series documentary short)
as
Self
- The Banger Sisters (2002) - Self
2002
Bravo Profiles (TV Series documentary)
as
Self
- Cate Blanchett (2002) - Self
2002
The Nature of 'Lantana' (Video documentary short)
as
Self - Actor
2001
The Perfect Fit (Video documentary short)
as
Self
2001
Quills: The Marquis on the Marquee (Video documentary short)
as
Self
2001
The 73rd Annual Academy Awards (TV Special)
as
Self - Nominee
2001
The 2001 IFP/West Independent Spirit Awards (TV Special)
as
Self - Presenter
2001
7th Annual Screen Actors Guild Awards (TV Special)
as
Self - Nominee
2001
The 12th Annual Golden Laurel Awards (TV Special)
as
Self - Presenter
2001
The Orange British Academy Film Awards (TV Special)
as
Self - Nominee
2000
Spotlight on Location: Mystery Men (Video documentary short)
as
Self
1999
Shakespeare in Love and on Film (TV Movie documentary)
as
Self
1999
Heroes of Comedy (TV Series documentary)
as
Self
- Barry Humphries (1999) - Self
1999
The 71st Annual Academy Awards (TV Special)
as
Self - Nominee
1999
The 14th Annual IFP/West Independent Spirit Awards (TV Special)
as
Self - Presenter
1999
5th Annual Screen Actors Guild Awards (TV Special)
as
Self - Nominee
1999
The 56th Annual Golden Globe Awards (TV Special)
as
Self - Nominee
1998
The Making of 'Elizabeth' (Video documentary short)
as
Self
1998
Australian Story (TV Series documentary)
as
Self
- Marriage of Two Minds (1998) - Self
1998
The 70th Annual Academy Awards (TV Special)
as
Self - Presenter & Past Winner
1998
4th Annual Screen Actors Guild Awards (TV Special)
as
Self
1997
Shine: The Phenomenon (Video documentary short)
as
Self - Actor
1997
Light Lunch (TV Series)
as
Self
- Married to the Job, Darling (1997) - Self
1997
Breaking News (TV Series)
as
Self
- The Code (1997) - Self
1997
The 69th Annual Academy Awards (TV Special)
as
Self - Winner
1997
3rd Annual Screen Actors Guild Awards (TV Special)
as
Self - Winner & Nominee
1997
Late Night with Conan O'Brien (TV Series)
as
Self - Guest
- Geoffrey Rush/Wilt Chamberlain/Mary Chapin Carpenter (1997) - Self - Guest
1997
Late Show with David Letterman (TV Series)
as
Self - Guest
- Episode dated 11 February 1997 (1997) - Self - Guest
1997
The Tonight Show with Jay Leno (TV Series)
as
Self - Guest
- Episode #5.10 (1997) - Self - Guest
1997
54th Golden Globe Awards (TV Special)
as
Self - Winner
1995
Dad and Dave: On Our Selection - On Set Footage (Video short)
as
Self - Actor
1995
Dad and Dave: On Our Selection - On Set Interviews (Video)
as
Self - Actor
1993
The Burning Piano: A Portrait of Patrick White (TV Movie documentary)
Archive Footage
2022
Prince Andrew: Banished (Documentary)
as
Lionel Lode
2022
Penélope Cruz, les reflets de la passion (TV Movie documentary)
as
Self
2022
FRO Thizzle Reviews (TV Series)
as
Self
- House on Haunted Hill (1999) (2022) - Self
2022
Minty Comedic Arts (TV Series)
as
Self
- 10 Things You Didn't Know About Pirates Curse of Black Pearl (2022) - Self
- 10 Things You Didn't Know About Mystery Men (2022) - Self
2022
ClaraRunaway (TV Series)
as
Self
- Et tu savais pour Pirates des Caraïbes? (2022) - Self
2020
VICE Investigates (TV Series documentary)
as
Self
- Disgrace (2020) - Self
2019
Untouchable (Documentary)
as
Self (uncredited)
2017
Dubsmash Bros (TV Series)
as
Captain Hector Barbossa
- Hector (2017) - Captain Hector Barbossa (uncredited)
2017
Spielberg (TV Movie documentary)
as
Self - Segment "Munich" (uncredited)
2017
Entertainment Tonight (TV Series)
as
Self
- Episode #36.216 (2017) - Self
2016
Scott Hicks Reflects on 'Shine' Twenty Years On (Video documentary short)
as
Self - Actor & Star of 'Shine'
2016
Royal Stories (TV Series documentary)
as
Self - played Lionel Logue
- For King & Country (2016) - Self - played Lionel Logue
2015
Drawing the Audience in: Making the Music for 'Shine' with David Hirschfelder (Video documentary short)
as
David Helfgott - Adult
2015
Sculpting the Movie: The Experience of Directing 'Shine' with Scott Hicks (Video documentary short)
as
David Helfgott - Adult
2015
Sculpting the Movie: The Experience of Directing 'Shine' with Scott Hicks (Video documentary short)
as
David Helfgott - Adult
2014
The Oscars (TV Special)
as
Self - Presenter
2012
South Australian Film Corporation 40th Anniversary Showreel (Video documentary short)
as
Self - Actor
2012
Funny Show Part Two: The Video - Movie (Video)
as
Captain Barbossa (segment "Captain Jokes Parrot")
2011
The Graham Norton Show (TV Series)
as
Self
- Compilation (2011) - Self
2011
60 Minutes (TV Series documentary)
as
Self - Actor (segment "The King's Speech")
- Designing Life/The N-Word/The King's Speech (2011) - Self - Actor (segment "The King's Speech")
2008
Shine: Geoffrey Rush (Video documentary short)
as
Self - Star of 'Shine'
2008
Shine: Geoffrey Rush - Golden Globe Acceptance Speech (Video documentary short)
as
Self - Winner of the 1997 Golden Globe Award for Best Performance by an Actor in a Motion Picture - Drama for 'Shine'
2008
Shine: Geoffrey Rush - Screen Test (Video documentary short)
as
Self - Star of 'Shine'
2007
Planet Voice (TV Series)
as
Barbossa
- Pirates of the Caribbean Premiere (2007) - Barbossa
2007
Selected Shorts #5: Comedy Shorts (Video)
as
Narrator (segment "Harvie Krumpet")
2006
Looking Back at 'Hoodwink' (Video short)
as
Self
2006
20 to 1 (TV Series documentary)
as
Self
- Great Aussie Movies (2006) - Self
2006
Jerry Lewis - König der Komödianten (TV Movie documentary)
as
Self
2005
El oficio de actor (TV Movie documentary)
as
Self
2003
South Australia: Ocean to Outback (Video documentary short)
as
Self - Actor
2003
Ned Kelly in Popular Culture (Video documentary short)
as
Self - Actor
1997
The Movie Show (TV Series)
as
Self
- Episode dated 25 May 1997 (1997) - Self
- Episode dated 29 March 1997 (1997) - Self
1996
Twisted Tales (TV Movie)
as
Harry Chisholm
References
Geoffrey Rush Wikipedia
(Text) CC BY-SA