7.2

/

10

Alchetron

7.2

Rate This





Genre

Biography, Comedy, Drama




Music director

Richard Hartley




Country

United KingdomUnited States






Director

Stephen Hopkins


Initial DVD release

April 27, 2005 (Finland)




Duration




Language

English







Release date

May 21, 2004 (2004-05-21) (Cannes)October 1, 2004 (2004-10-01) (United Kingdom)December 5, 2004 (2004-12-05) (United States)




Based on

The Life and Death of Peter Sellers by Roger Lewis


Writer

Roger Lewis (book), Christopher Markus (teleplay), Stephen McFeely (teleplay)


Initial release

August 26, 2004 (Australia)




Cast

Geoffrey Rush (Peter Sellers), Charlize Theron (Britt Ekland), Emily Watson (Anne Sellers), John Lithgow (Blake Edwards), Stanley Tucci (Stanley Kubrick), Miriam Margolyes (Peg Sellers)


Similar movies

Sex Tape

,

Youth

,

Ratatouille

,

No Escape

,

We're the Millers

,

Just Go With It




Tagline

Never Judge a Man by his Cover
The life and death of peter sellers 2004 check trailer
The Life and Death of Peter Sellers is a 2004 British-American television film about the life of English comedian Peter Sellers, based on Roger Lewis's book of the same name. It was directed by Stephen Hopkins and stars Geoffrey Rush as Sellers, Miriam Margolyes as his mother Peg Sellers, Emily Watson as his first wife Anne Howe, Charlize Theron as his second wife Britt Ekland, John Lithgow as Blake Edwards, Stephen Fry as Maurice Woodruff and Stanley Tucci as Stanley Kubrick.
Contents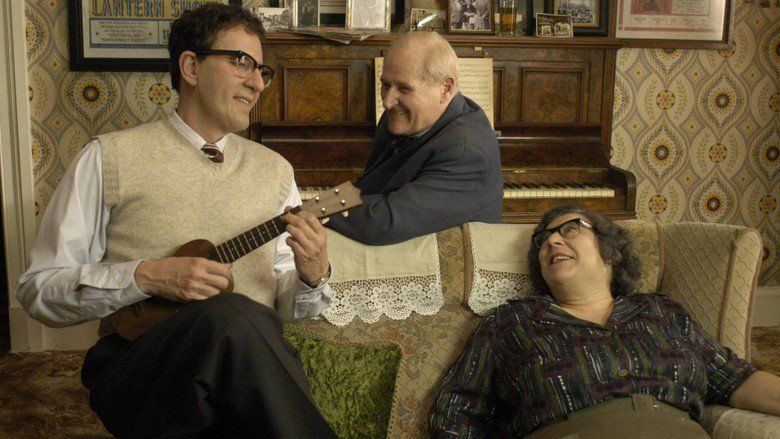 The film won the Golden Globe Award for Best Miniseries or Television Film and Rush won Best Actor – Miniseries or Television Film. It also won nine Primetime Emmy Awards, including Outstanding Lead Actor in a Miniseries or Movie for Rush.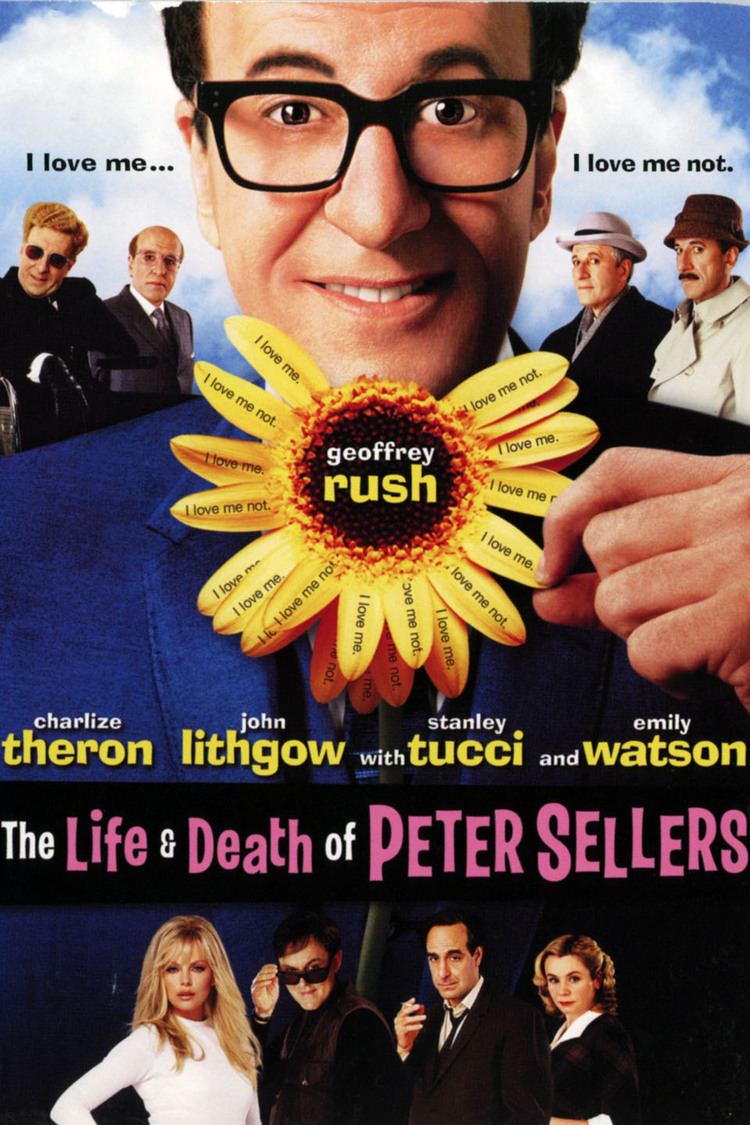 Stanley kubrick in the life and death of peter sellers 2004
Synopsis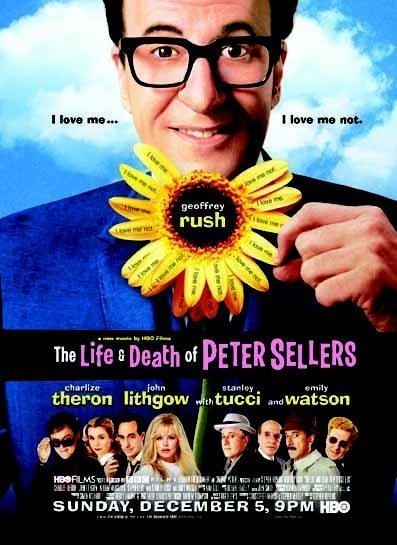 The film shows Peter Sellers as a complex and tormented genius, whose success as a film star concealed his difficult and relatively unhappy private life. This "troubled life" is the primary focus of this biopic, which personalizes "one of the greatest comic actors in the history of the British cinema," and shows the many masks he wore and characters he played as an actor.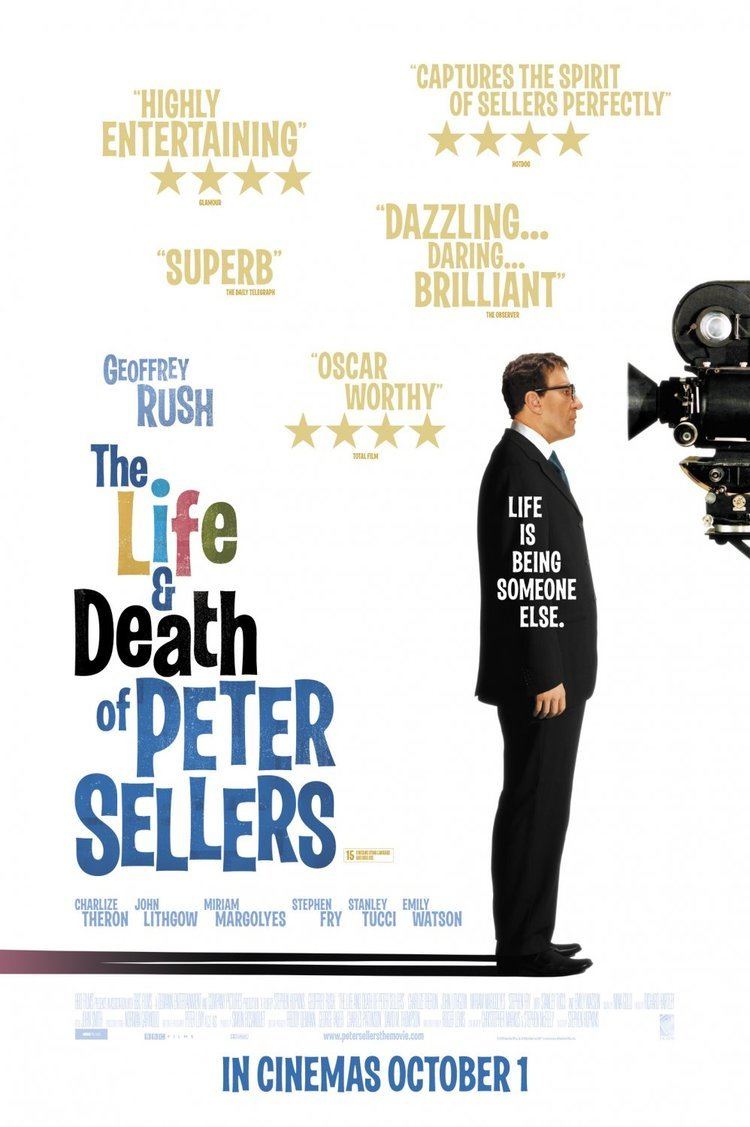 The film makes clear that much of his success and identity were dependent initially on his domineering and doting mother. Eventually this success, first in radio and eventually in film, led to his succumbing to destructive mood swings and insecurity, and contributed to the deterioration of his marriages. Discovering his gift for comedy, his ego began to undermine his personal relationships with friends and co-workers. His personality became more turbulent. His own personality often merged with that of his film characters, and his self-learned skill as a method actor was used to mask his real self.
Cast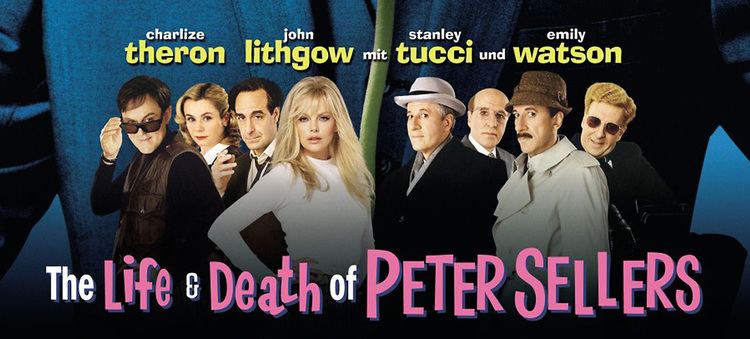 Many familiar faces have small roles in the film: Edward Tudor-Pole (former Tenpole Tudor lead singer and second presenter of The Crystal Maze) plays Spike Milligan and The League of Gentlemen's Steve Pemberton plays Harry Secombe. Mackenzie Crook of The Office also has a small role as a luxury automobile salesman and Richard Ayoade from The IT Crowd in a bit-part as a photographer. Ray Ellington was played by his son, Lance Ellington.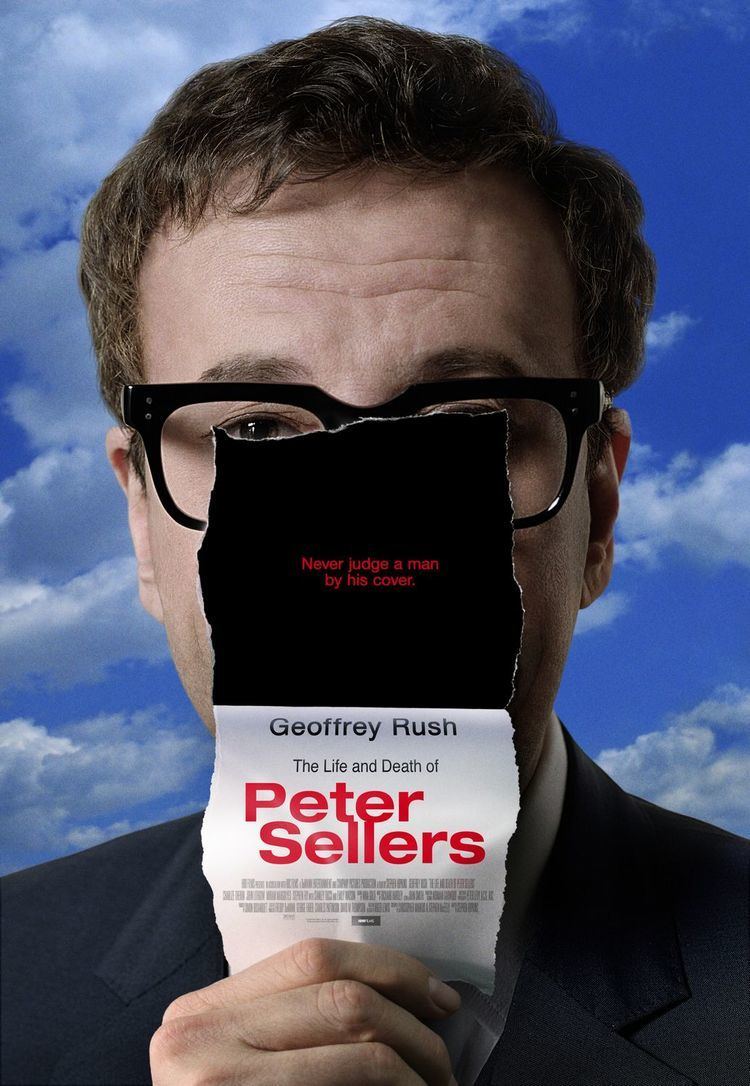 Geoffrey Rush as Peter Sellers
Charlize Theron as Britt Ekland
Emily Watson as Anne Sellers
John Lithgow as Blake Edwards
Miriam Margolyes as Peg Sellers
Peter Vaughan as Bill Sellers
Stanley Tucci as Stanley Kubrick
Henry Goodman as Dennis Selinger
Alison Steadman as the Casting Agent
Lucy Punch as a Stewardess
Edward Tudor Pole as Spike Milligan
Tom Wu as Cato
Mona Hammond as Louise the Maid
Tope Oluwole as Beautiful Black Woman
Production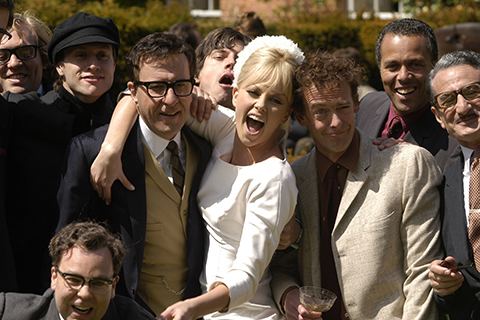 The role of Sellers was acted by Geoffrey Rush, "who approached the role with the enthusiasm of a hungry child in a candy store", notes a reviewer. Rush impersonates most of the important characters that Sellers played in his film career. Director Blake Edwards is played by John Lithgow, and the film exposes some of the behind-the-scenes personality conflicts between Sellers and Edwards, which contributed to their unhappy and tumultuous working relationship, despite the success of their films. In the interview for the film, included on the DVD, Edwards credited Rush with portraying Sellers' characters with uncanny similarity to the real Peter Sellers, and in 2004 claimed that it was the best acting he had ever seen Rush perform.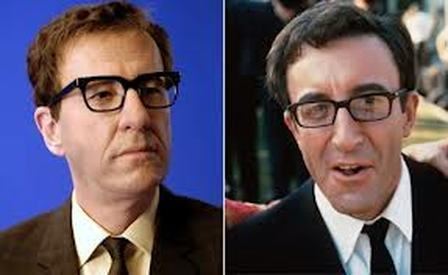 Actor Geoffrey Rush stated in interviews that the film was itself structured to be reminiscent of a Peter Sellers film. However, it was darker than Sellers' actual films since it depicted Sellers' troubled experiences in his life (including his tantrums and mental instability). This included at various times Rush (as Sellers) dressing up to play other characters in his life (several were ultimately edited out, but are included within the special features on the DVD). In these instances he broke the fourth wall to give a monologue to the audience.
Roger Lewis: "It was the melancholia of Sellers I was drawn to; all those shuffling little ghostly figures he used to play in Boulting brothers films, or Clouseau, with those soulful, mournful brown eyes. For all the success and the women, he is rather a lonely and melancholic figure. And that is what redeems him." Hollywood was immediately interested in adapting Lewis's biography. In the mid-1990s Madonna's company Maverick bought the rights, but the Sellers project did not get off the ground. Many different writers worked on the screenplay, among them Lee Hall; eventually the writers Christopher Markus and Stephen McFeely came up with a script to tell the story. Director Stephen Hopkins ultimately distanced himself from Lewis's book, and said he was inspired by Sellers's 16mm home movies, which were featured in a 1995 BBC Arena documentary, "The Peter Sellers Story", directed by Peter Lydon.
Some reviewers have stressed that in order to appreciate and understand much of the Sellers story and his iconic status, they should have seen some of his leading works, including his Pink Panther roles directed by Blake Edwards, and his roles in both Stanley Kubrick's Dr. Strangelove and Hal Ashby's Being There. The latter film is considered by critics to be the "crowning triumph of Peter Sellers's remarkable career", and in a BBC interview in 1971, Sellers said that more than anything else, he wanted to play the role of Chance. Being There (which earned him an Oscar nomination) is shown to be the one film about which Sellers was truly passionate since it gave him an opportunity to display his skills as an actor, not just as a comedian (it is also suggested that he identified strongly with the main character).
Release
Although intended as a television production, the film was given a limited theatrical release in the United Kingdom and was also theatrically released in a number of other countries including Spain, Italy, New Zealand and Australia. The film achieved its highest theatrical success in Australia, earning close to US$1 million at the box office.
Reception
The Belfast Telegraph notes how the film captured Sellers's "life of drugs, drink, fast cars and lots and lots of beautiful women". Although the film was widely praised by critics, both Lord Snowdon and Britt Ekland were highly critical of the film and the enactment of Sellers; Ekland believed that the film left the audiences with the wrong impression, saying "the film leaves you with the impression that Peter Sellers was essentially a likeable man when in reality he was a monster. He may have been a brilliant actor, but as a human being he had no saving graces at all". Snowdon disagreed with Ekland's verdict, and with the film, and stated that Sellers "had a light touch, a sense of humour, I can't bear to see him portrayed as somebody who was apparently without either ... The man on the screen is charmless, humourless and boring - the one thing you could never say about Peter."
Accolades
The Life and Death of Peter Sellers was nominated for the Palme d'Or at the 2004 Cannes Film Festival. The film won the Golden Globe Award for Best Miniseries or Television Film and Geoffrey Rush won for Best Actor – Miniseries or Television Film. Rush also won the Screen Actors Guild Award for Outstanding Performance by a Male Actor in a Miniseries or Television Movie and the Primetime Emmy Award for Outstanding Lead Actor in a Miniseries or Movie.
Outstanding Lead Actor in a Miniseries or Movie – Geoffrey Rush (won)
Outstanding Cinematography for a Miniseries or Movie – Peter Levy (won)
Outstanding Single-Camera Picture Editing for a Miniseries or Movie – John Smith (won)
Outstanding Directing for a Miniseries, Movie, or Dramatic Special – Stephen Hopkins (won)
Outstanding Writing for a Miniseries, Movie, or Dramatic Special – Christopher Markus and Stephen McFeely (won)
Outstanding Prosthetic Makeup for a Series, Miniseries, Movie, or Special – Wesley Wofford and Davy Jones (won)
Outstanding Hairstyling for a Miniseries, Movie, or Special – Veronica McAleer, Enzo Angileri, and Ashley Johnson (won)
Outstanding Sound Editing for a Miniseries, Movie, or Special – Tim Hands, Geoffrey G. Rubay, James Mather, Victoria Brazier, Zack Davis, Laura Lovejoy, Anna MacKenzie, Richard Ford, Felicity Cottrell, and Ruth Sullivan (won)
Outstanding Special Visual Effects for a Miniseries, Movie, or Special – Joe Pavlo, Barrie Hemsley, Paul Tuersley, Andrew MacLeod, Andy Fowler, Camille Cellucci, Mark Intravartolo, Robin Huffer, and Neil Culley (won)
References
The Life and Death of Peter Sellers Wikipedia
(Text) CC BY-SA
The Life and Death of Peter Sellers IMDb
The Life and Death of Peter Sellers Rotten Tomatoes
The Life and Death of Peter Sellers themoviedb.org