Country

United States




First awarded

1955




Ceremony date

June 4, 2017, 5:00 PM PDT




Presented by

Drama Desk




Official website

DramaDesk.org







Awarded for

Excellence in New York theatre




Winners

Shuffle Along - or - the Making of the Musical Sensation of 1921 and All That FollowedEubie Blake - George C Wolfe - Noble Sissle, Shuffle Along - or - the Making of the Musical Sensation of 1921 and All That Followed, Outstanding Musical, Outstanding Musical, Cynthia ErivoThe Color Purple, Cynthia Erivo, Outstanding Actress in a Musical, Outstanding Actress in a Musical, Danny BursteinFiddler on the Roof, Danny Burstein, Outstanding Actor in a Musical, Outstanding Actor in a Musical, Jane KrakowskiShe Loves Me, Jane Krakowski, Outstanding Featured Actress in a Musical, Outstanding Featured Actress in a Musical, Bright StarSteve Martin - Edie Brickell, Bright Star, Outstanding Music, Outstanding Music, The HumansStephen Karam, The Humans, Outstanding Play, Outstanding Play, Christopher FitzgeraldWaitress, Christopher Fitzgerald, Outstanding Featured Actor in a Musical, Outstanding Featured Actor in a Musical, Bartlett SherFiddler on the Roof, Bartlett Sher, Outstanding Director of a Musical, Outstanding Director of a Musical, John DoyleThe Color Purple, John Doyle, Outstanding Director of a Musical, Outstanding Director of a Musical, Dear Evan HansenBenj Pasek - Justin Paul, Dear Evan Hansen, Outstanding Lyrics, Outstanding Lyrics, Jessica LangeLong Day's Journey Into Night, Jessica Lange, Outstanding Actress in a Play, Outstanding Actress in a Play, Savion GloverShuffle Along - or - the Making of the Musical Sensation of 1921 and All That Followed, Savion Glover, Outstanding Choreography, Outstanding Choreography, Frank LangellaThe Father, Frank Langella, Outstanding Actor in a Play, Outstanding Actor in a Play, She Loves Me, She Loves Me, Outstanding Revival of a Musical, Outstanding Revival of a Musical, That Physics Show, That Physics Show, Unique Theatrical Experience Award, Unique Theatrical Experience Award, Michael ShannonLong Day's Journey Into Night, Michael Shannon, Outstanding Featured Actor in a Play, Outstanding Featured Actor in a Play, Saycon SengblohEclipsed, Saycon Sengbloh, Outstanding Featured Actress in a Play, Outstanding Featured Actress in a Play, John CairdDaddy Long Legs, John Caird, Outstanding Book of a Musical, Outstanding Book of a Musical, Jesse Tyler FergusonFully Committed, Jesse Tyler Ferguson, Outstanding Solo Performance, Outstanding Solo Performance, A View From the Bridge, A View From the Bridge, Outstanding Revival of a Play, Outstanding Revival of a Play, HamiltonLin-Manuel Miranda, Hamilton, Outstanding Musical, Outstanding Musical, Kristin ChenowethOn the Twentieth Century, Kristin Chenoweth, Outstanding Actress in a Musical, Outstanding Actress in a Musical, Robert FairchildAn American in Paris, Robert Fairchild, Outstanding Actor in a Musical, Outstanding Actor in a Musical, Renée Elise GoldsberryHamilton, Renée Elise Goldsberry, Outstanding Featured Actress in a Musical, Outstanding Featured Actress in a Musical, HamiltonLin-Manuel Miranda, Hamilton, Outstanding Music, Outstanding Music, The Curious Incident of the Dog in the Night-TimeSimon Stephens, The Curious Incident of the Dog in the Night-Time, Outstanding Play, Outstanding Play, Christian BorleSomething Rotten!, Christian Borle, Outstanding Featured Actor in a Musical, Outstanding Featured Actor in a Musical, Thomas KailHamilton, Thomas Kail, Outstanding Director of a Musical, Outstanding Director of a Musical, HamiltonLin-Manuel Miranda, Hamilton, Outstanding Lyrics, Outstanding Lyrics, Helen MirrenThe Audience, Helen Mirren, Outstanding Actress in a Play, Outstanding Actress in a Play, Christopher WheeldonAn American in Paris, Christopher Wheeldon, Outstanding Choreography, Outstanding Choreography, Alexander SharpThe Curious Incident of the Dog in the Night-Time, Alexander Sharp, Outstanding Actor in a Play, Outstanding Actor in a Play, Catherine ZuberGigi, Catherine Zuber, Outstanding Costume Design, Outstanding Costume Design, The King and I, The King and I, Outstanding Revival of a Musical, Outstanding Revival of a Musical, Paule ConstableThe Curious Incident of the Dog in the Night-Time, Paule Constable, Outstanding Lighting Design, Outstanding Lighting Design, Queen of the Night, Queen of the Night, Unique Theatrical Experience Award, Unique Theatrical Experience Award, K Todd FreemanAirline Highway, K Todd Freeman, Outstanding Featured Actor in a Play, Outstanding Featured Actor in a Play, Annaleigh AshfordYou Can't Take It with You, Annaleigh Ashford, Outstanding Featured Actress in a Play, Outstanding Featured Actress in a Play, Bob CrowleyAn American in Paris, Bob Crowley, Outstanding Set Design, Outstanding Set Design, Lin-Manuel MirandaHamilton, Lin-Manuel Miranda, Outstanding Book of a Musical, Outstanding Book of a Musical, A Gentleman's Guide to Love & MurderRobert L Freedman - Steven Lutvak, A Gentleman's Guide to Love & Murder, Outstanding Musical, Outstanding Musical, Jessie MuellerBeautiful: The Carole King Musical, Jessie Mueller, Outstanding Actress in a Musical, Outstanding Actress in a Musical, Jefferson MaysA Gentleman's Guide to Love & Murder, Jefferson Mays, Outstanding Actor in a Musical, Outstanding Actor in a Musical, Neil Patrick HarrisHedwig and the Angry Inch, Neil Patrick Harris, Outstanding Actor in a Musical, Outstanding Actor in a Musical, Lauren WorshamA Gentleman's Guide to Love & Murder, Lauren Worsham, Outstanding Featured Actress in a Musical, Outstanding Featured Actress in a Musical, Anika LarsenBeautiful: The Carole King Musical, Anika Larsen, Outstanding Featured Actress in a Musical, Outstanding Featured Actress in a Musical, The Bridges of Madison CountyJason Robert Brown, The Bridges of Madison County, Outstanding Music, Outstanding Music, All The WayRobert Schenkkan, All The Way, Outstanding Play, Outstanding Play, James Monroe IglehartAladdin, James Monroe Iglehart, Outstanding Featured Actor in a Musical, Outstanding Featured Actor in a Musical, Darko TresnjakA Gentleman's Guide to Love & Murder, Darko Tresnjak, Outstanding Director of a Musical, Outstanding Director of a Musical, A Gentleman's Guide to Love & MurderRobert L Freedman - Steven Lutvak, A Gentleman's Guide to Love & Murder, Outstanding Lyrics, Outstanding Lyrics, Audra McDonaldLady Day at Emerson's Bar & Grill, Audra McDonald, Outstanding Actress in a Play, Outstanding Actress in a Play, Warren CarlyleAfter Midnight, Warren Carlyle, Outstanding Choreography, Outstanding Choreography, Bryan CranstonAll The Way, Bryan Cranston, Outstanding Actor in a Play, Outstanding Actor in a Play, William Ivey LongBullets Over Broadway, William Ivey Long, Outstanding Costume Design, Outstanding Costume Design, Hedwig and the Angry Inch, Hedwig and the Angry Inch, Outstanding Revival of a Musical, Outstanding Revival of a Musical, Christopher AkerlindRocky, Christopher Akerlind, Outstanding Lighting Design, Outstanding Lighting Design, Cirque Eloize: Cirkopolis, Cirque Eloize: Cirkopolis, Unique Theatrical Experience Award, Unique Theatrical Experience Award, Reed BirneyCasa Valentina, Reed Birney, Outstanding Featured Actor in a Play, Outstanding Featured Actor in a Play, Celia Keenan-BolgerThe Glass Menagerie, Celia Keenan-Bolger, Outstanding Featured Actress in a Play, Outstanding Featured Actress in a Play, Matilda the MusicalTim Minchin - Dennis Kelly, Matilda the Musical, Outstanding Musical, Outstanding Musical, Laura OsnesRodgers + Hammerstein's Cinderella, Laura Osnes, Outstanding Actress in a Musical, Outstanding Actress in a Musical, Billy PorterKinky Boots, Billy Porter, Outstanding Actor in a Musical, Outstanding Actor in a Musical, Andrea MartinPippin, Andrea Martin, Outstanding Featured Actress in a Musical, Outstanding Featured Actress in a Musical, Here Lies LoveFatboy Slim - David Byrne, Here Lies Love, Outstanding Music, Outstanding Music, Vanya and Sonia and Masha and SpikeChristopher Durang, Vanya and Sonia and Masha and Spike, Outstanding Play, Outstanding Play, Bertie CarvelMatilda the Musical, Bertie Carvel, Outstanding Featured Actor in a Musical, Outstanding Featured Actor in a Musical, Diane PaulusPippin, Diane Paulus, Outstanding Director of a Musical, Outstanding Director of a Musical, Matilda the MusicalTim Minchin, Matilda the Musical, Outstanding Lyrics, Outstanding Lyrics, Cicely TysonThe Trip to Bountiful, Cicely Tyson, Outstanding Actress in a Play, Outstanding Actress in a Play, Chet WalkerPippin, Chet Walker, Outstanding Choreography, Outstanding Choreography, Gypsy SniderPippin, Gypsy Snider, Outstanding Choreography, Outstanding Choreography, Tracy LettsWho's Afraid of Virginia Woolf?, Tracy Letts, Outstanding Actor in a Play, Outstanding Actor in a Play, William Ivey LongRodgers + Hammerstein's Cinderella, William Ivey Long, Outstanding Costume Design, Outstanding Costume Design, PippinDiane Paulus - Gypsy Snider - Chet Walker, Pippin, Outstanding Revival of a Musical, Outstanding Revival of a Musical, Justin TownsendHere Lies Love, Justin Townsend, Outstanding Lighting Design, Outstanding Lighting Design, TotemCirque du Soleil, Totem, Unique Theatrical Experience Award, Unique Theatrical Experience Award, Richard KindBig Knife, Richard Kind, Outstanding Featured Actor in a Play, Outstanding Featured Actor in a Play, Judith LightThe Assembled Parties, Judith Light, Outstanding Featured Actress in a Play, Outstanding Featured Actress in a Play, Rob HowellMatilda the Musical, Rob Howell, Outstanding Set Design, Outstanding Set Design, OnceGlen Hansard - Markéta Irglová - Enda Walsh, Once, Outstanding Musical, Outstanding Musical, Audra McDonaldPorgy and Bess, Audra McDonald, Outstanding Actress in a Musical, Outstanding Actress in a Musical, Danny BursteinFollies, Danny Burstein, Outstanding Actor in a Musical, Outstanding Actor in a Musical, Judy KayeNice Work If You Can Get It, Judy Kaye, Outstanding Featured Actress in a Musical, Outstanding Featured Actress in a Musical, NewsiesAlan Menken, Newsies, Outstanding Music, Outstanding Music, TribesNina Raine, Tribes, Outstanding Play, Outstanding Play, Michael McGrathNice Work If You Can Get It, Michael McGrath, Outstanding Featured Actor in a Musical, Outstanding Featured Actor in a Musical, John TiffanyOnce, John Tiffany, Outstanding Director of a Musical, Outstanding Director of a Musical, OnceGlen Hansard - Markéta Irglová, Once, Outstanding Lyrics, Outstanding Lyrics, Tracie BennettEnd of the Rainbow, Tracie Bennett, Outstanding Actress in a Play, Outstanding Actress in a Play, Christopher GattelliNewsies, Christopher Gattelli, Outstanding Choreography, Outstanding Choreography, James CordenOne Man - Two Guvnors, James Corden, Outstanding Actor in a Play, Outstanding Actor in a Play, Gregg BarnesFollies, Gregg Barnes, Outstanding Costume Design, Outstanding Costume Design, Follies, Follies, Outstanding Revival of a Musical, Outstanding Revival of a Musical, Brian MacDevittDeath of a Salesman, Brian MacDevitt, Outstanding Lighting Design, Outstanding Lighting Design, Gob Squad's Kitchen, Gob Squad's Kitchen, Unique Theatrical Experience Award, Unique Theatrical Experience Award, Tom EddenOne Man - Two Guvnors, Tom Edden, Outstanding Featured Actor in a Play, Outstanding Featured Actor in a Play, Judith LightOther Desert Cities, Judith Light, Outstanding Featured Actress in a Play, Outstanding Featured Actress in a Play, Paul KieveGhost The Musical, Paul Kieve, Outstanding Set Design, Outstanding Set Design, Jon DriscollGhost The Musical, Jon Driscoll, Outstanding Set Design, Outstanding Set Design
Backstage exclusive kristin chenoweth helen mirren and more react to drama desk award wins
The Drama Desk Awards are presented annually by The Drama Desk Organisation, and were first awarded in 1955 to recognize excellence in New York theatre productions on Broadway, Off-Broadway and Off-Off-Broadway. Broadway productions were excluded until the 1968–69 award season. The awards are considered a significant American theatre distinction.
Contents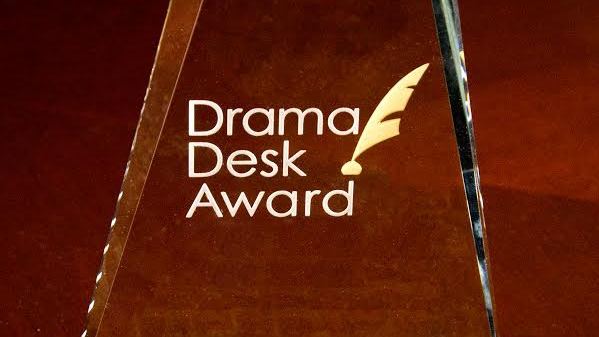 History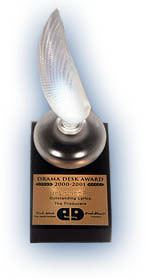 The Drama Desk organization was formed in 1949 by a group of New York theater critics, editors, reporters and publishers, in order to make the public aware of the vital issues concerning the theatrical industry. They debuted the presentations of the Vernon Rice Awards. The name honors the New York Post critic Vernon Rice, who had pioneered Off-Broadway coverage in the New York press. The name was changed for the 1963–1964 awards season to the Drama Desk Awards.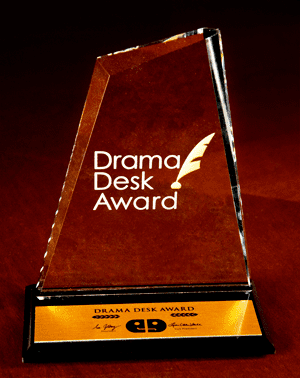 In 1974, the Drama Desk became incorporated as a not-for-profit organization. In 1975, the Drama announcement of winners included the nominees as well.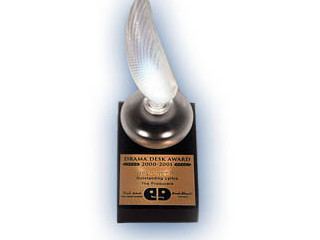 The Drama Desk has more than 100 members, including theatre critics, reporters and editors who cover New York theater and vote on the awards. Membership consists of two categories: Active (voting) membership and Participating Membership.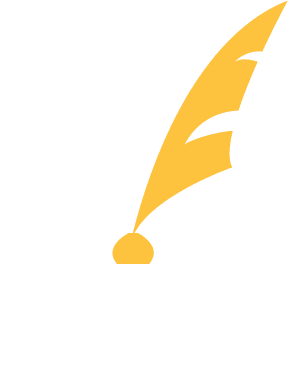 All of the Drama Desk officers and Nominating Committee members perform their various services for the organization on a voluntary basis. The Nominating Committee generally meets twice a month to discuss the many eligible shows members are responsible for seeing. They then nominate the productions on which the entire membership will vote. What sets the organization apart is that the awards are voted on "by media people only without any vested interests in the results", according to the organization.
Previous winners include Bernadette Peters, Dustin Hoffman, Al Pacino, and Catherine Zeta-Jones, among many others.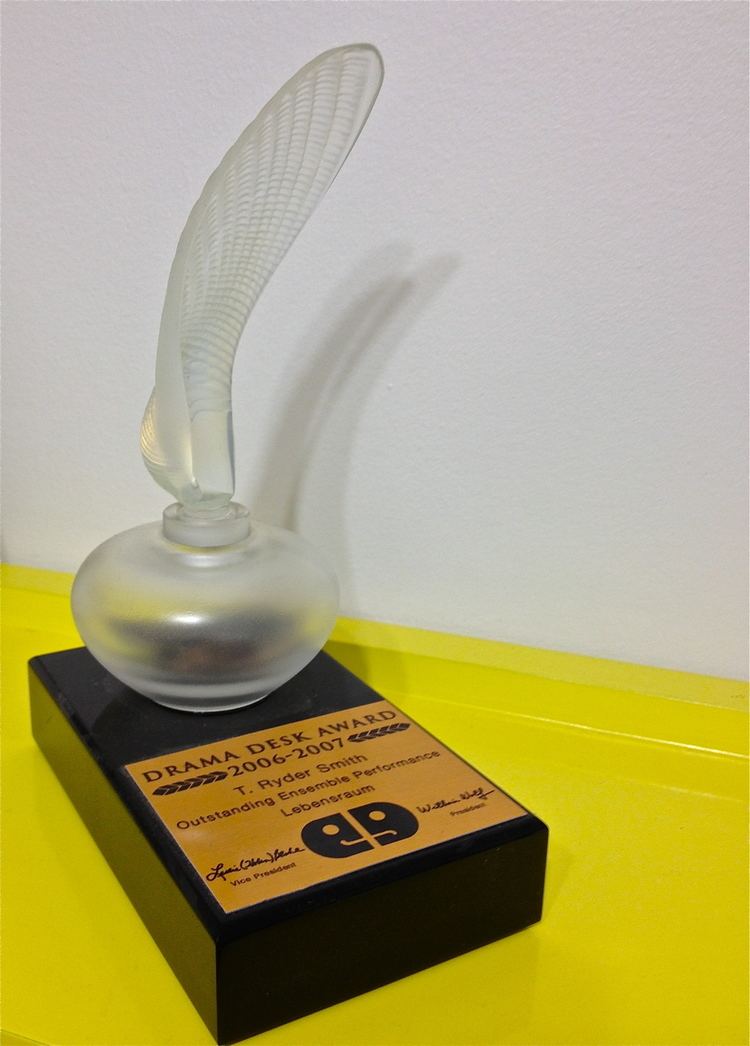 Over the last 36 years, the Drama Desk Awards have contributed to the ongoing success of major stars, playwrights and designers, while also identifying newcomers. The Drama Desk was the first New York theater organization to give awards to talents such as Edward Albee, Wendy Wasserstein, and George C. Scott. Plays like Driving Miss Daisy, Other People's Money, Steel Magnolias, and The Boys in the Band built momentum with the help of Drama Desk wins.
In 2010 William Wolf was announced as the President of Drama Desk, before being succeeded by Isa Goldberg in 2011. The current (2015) managing executive producer of the Drama Desk Awards is Gretchen Shugart, and the president of the Drama Desk is Charles Wright. David Barbour is chairperson of the nominating committee.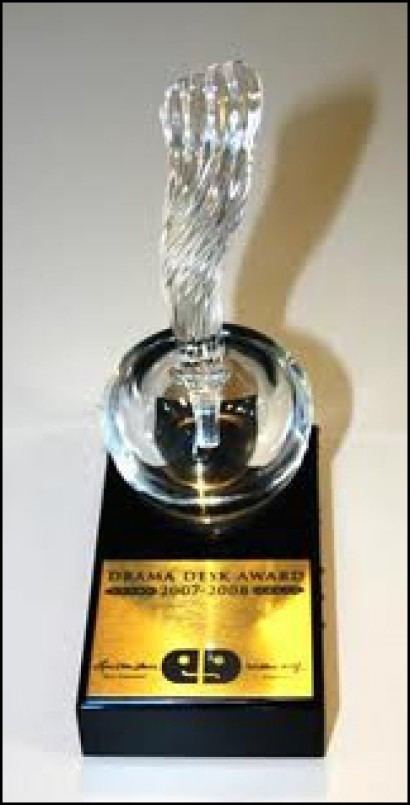 In keeping with its original mission, the organization sponsors guest panel luncheons with theater professionals. Panels address topics of current interest: covering the season on Broadway, Off-Broadway, and Off-Off-Broadway, with the aim of prompting informative and stimulating discussion.
Award categories
Performance categories
Show and technical categories
Special awards
Retired awards
References
Drama Desk Award Wikipedia
(Text) CC BY-SA