Nationality

USA




Name

Conrad Anker




Role

rock climber








Born

November 27, 1962 (age 60) (

1962-11-27

) California, United States


Occupation

Rock climber, mountaineer, author


Spouse

Jennifer Lowe-Anker (m. 2001)




Movies

The Wildest Dream, The North Face Expeditions: Shishpangma and Himalaya


Books

The Lost Explorer: Finding Mallory on Mount Everest


Children

Max Anker, Sam Anker, Isaac Anker




Siblings

Steve Anker, Denise Anker




Similar People

Jimmy Chin,

Francys Arsentiev,

Alex Lowe


Profiles




Facebook
Climb a mountain with conrad anker off day
Conrad Anker (born November 27, 1962) is an American rock climber, mountaineer, and author. He is famous for his challenging ascents in the high Himalaya and Antarctica. He is the team leader of The North Face climbing team. In 1999 he located George Mallory's body on Everest as a member of a search team looking for the remains of the legendary British climber. He lives in Bozeman, Montana.
Contents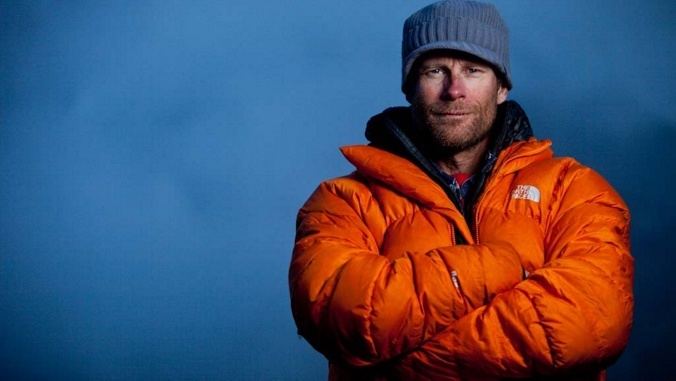 Conrad anker on george mallory part 2
Ascents and expeditions of note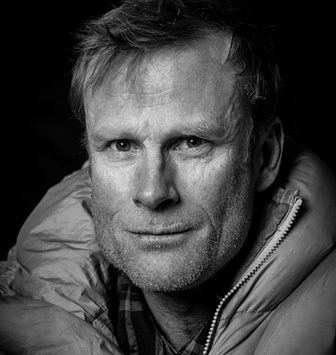 1987 Southeast Face Gurney Peak, Kichatna Mountains, Alaska Range, Alaska, United States. First Ascent (FA) with Seth 'S.T.' Shaw, Robert Ingle and James Garrett; summit attained May 8, 1987.
1989 Northwest Face Mount Hunter, Alaska Range, Alaska, USA. FA with Seth 'S.T.' Shaw, summit attained July 3, 1989.
1990 Rodeo Queen, Streaked Wall, Zion National Park, Utah, USA. FA with Mugs Stump
1992 East Buttress, Middle Triple Peak, Kichatna Spires, Alaska, USA, 2nd ascent with Seth Shaw
1992 Shunes Buttress, Red Arch Mountain, Zion National Park. FFA with Dave Jones
1994 Badlands (YDS VI 5.10 A3 WI4+, 1000m), Southeast Face, Torre Egger, Patagonia. Conrad Anker, Jay Smith and Steve Gerberding (USA), FA 12 December 1994.
1997 The Northwest Face (V 5.8, 2100m), Peak Loretan, Ellsworth Mountains, Antarctica (solo) Jan 15-16, 1997
1997 Rakekniven Peak, Queen Maud Land, Antarctica, FA with Alex Lowe and Jon Krakauer. Featured in the cover article of the February 1998 National Geographic Magazine.
1997 Tsering Mosong, Latok II, Karakorum, FA with Alexander Huber, Thomas Huber and Toni Gutsch
1997 Continental Drift, El Capitan, Yosemite, CA, USA. FA with Steve Gerberding and Kevin Thaw
1999 Mallory and Irvine Research Expedition, Mount Everest, Nepal / Tibet
1999 Shishapangma American Ski Expedition, Tibet. Survived a massive avalanche which killed climbing partner Alex Lowe and cameraman David Bridges.
2001 East Face of Vinson Massif, Ellsworth Mountains, Antarctica. FA with Jon Krakauer. Featured on PBS series NOVA in February 2003.
2005 Southwest Ridge, Cholatse, Khumbu region, Nepal - summit attained with Kevin Thaw, John Griber, Kris Erickson and Abby Watkins on May 12, 2005.
2007 Leads Altitude Everest Expedition 2007, joined by Leo Houlding, Jimmy Chin and Kevin Thaw, retracing Mallory's last steps on Everest. 2nd summit. First documented free climb of the Second Step.
2011 Shark's Fin, Meru Peak, FA with Jimmy Chin and Renan Ozturk
2012 Leads "Everest Education Expedition" with National Geographic, The North Face, Montana State University and Mayo Clinic - 3rd summit, this time without oxygen. With Cory Richards, Sam Elias, Kris Erickson, Emily Harrington, Philip Henderson, Mark Jenkins, David Lageson Ph.D, Hilaree O'Neill. Mayo Team - Dr. Bruce Johnson, Landon Bassett, Derek Campbell, Amine Issa. Base Camp Support Andy Bardon, Travis Courthouts, Anjin Herndon, Max Lowe.
Anker has also climbed notable routes in Yosemite Valley (California), Zion National Park (Utah), Baffin Island (Canada), and the Ellsworth Mountains in Antarctica.
Writings
Anker, Conrad (1988). "Gumbies on Gurney". American Alpine Journal. NYC, NY, USA: American Alpine Club. 30 (62): 69–75. ISBN 0-930410-33-5.
Anker, Conrad (1990). "Hunter's Northwest Face". American Alpine Journal. American Alpine Club. 42 (64): 36–38. ISBN 0-930410-43-2.
Anker, Conrad (1998). "With You in Spirit". American Alpine Journal. American Alpine Club. 40 (72): 140–145. ISBN 0-930410-78-5.
Anker, Conrad; David Roberts (2001) [1999]. The Lost Explorer: Finding Mallory on Mt. Everest. New York, NY, USA: Simon and Schuster / Touchstone. ISBN 0-684-87151-3.
Films
Shackleton's Antarctic Adventure (2001)
Light of the Himalaya (2006). A 9 time Award-winning documentary film by Michael Brown, produced by David D'Angelo in collaboration with Rush HD and The North Face. At the heart of the planet's most formidable mountain range live gracious people who suffer from the highest rates of cataract blindness on the planet. The North Face athletes join eye surgeons from Nepal and America in hopes of making a difference. The film follows the doctors' work on the Himalayan Cataract Project all the way to the summit of a 21,000-foot Himalayan giant.
The Endless Knot (2007). Directed by Michael Brown and produced by David D'Angelo, an HDTV documentary film with Rush HD and The North Face. In October 1999, Alex Lowe and Conrad Anker were buried by an avalanche in the Tibetan Himalaya. Anker barely survived the avalanche, but was overcome with survivor's guilt. In the months following the tragedy, he worked to comfort Lowe's widow, and eventually they unexpectedly found love. Now their bond is tested as Lowe's three boys try to accept Anker as a father figure. Lowe's death was but one of many tragedies that unfold when families lose loved ones in the mountains. The celebrated high altitude Sherpa families often suffer this same fate. In honor of Alex's legacy, Jennifer and Conrad seek meaning beyond tragedy with a mountaineering school for Sherpas and high altitude workers.
The Wildest Dream (2010), IMAX, directed by Anthony Geffen, Altitude Films, US distribution, National Geographic Entertainment releasing.
Meru, a 2015 documentary film about climbing the Shark's fin route
National Parks Adventure (2016), a short IMAX film/documentary by MacGillivray Freeman about the National Park Service.
References
Conrad Anker Wikipedia
(Text) CC BY-SA