National geographic live photographer jimmy chin climbing yosemite
Jimmy Chin (born October 12, 1973) is an American professional climber, mountaineer, skier, director and photographer.
Contents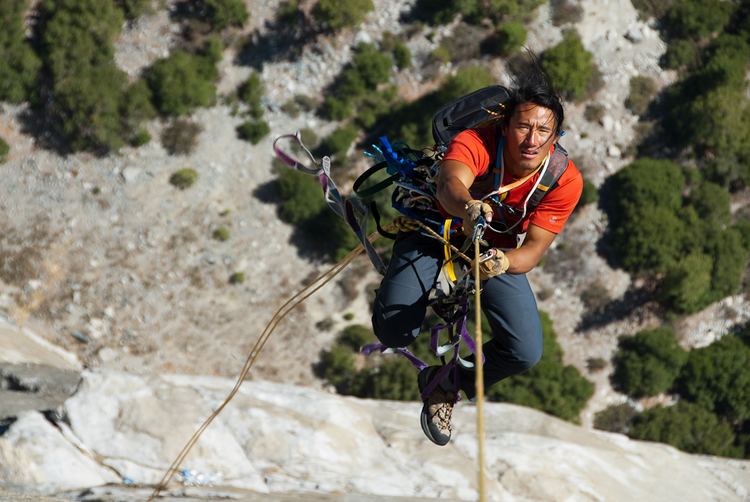 He has organized and led numerous climbing, ski-mountaineering and exploratory expeditions to China, Pakistan, Nepal, Tanzania, Chad, Mali, South Africa, Borneo, India and Argentina. His achievements include climbing and skiing Mount Everest from the summit, making first ascents of big walls and alpine towers in the Karakoram Mountains of Pakistan and the Garwhal Himalayas of Northern India, crossing the Chang Tang Plateau in north-western Tibet on foot.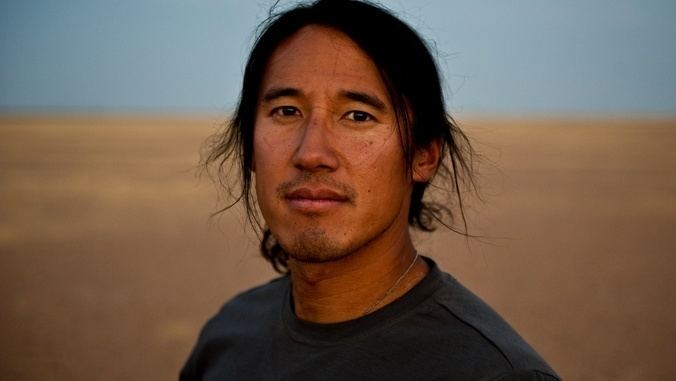 Both in front of and behind the camera, he has been featured in numerous publications, including National Geographic, Outside and Men's Journal.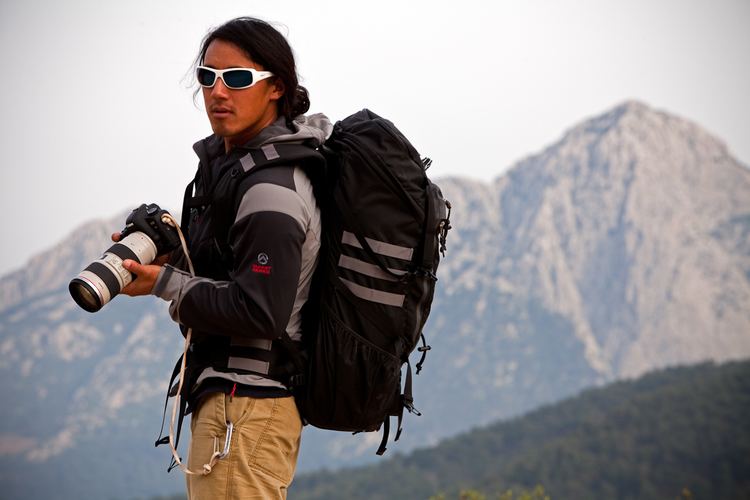 Making the world s most difficult expeditions with a camera in hand jimmy chin
Expedition career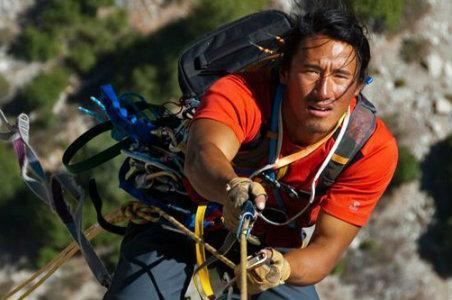 He organized several climbing expeditions to Pakistan's Karakoram Mountains early in his career and signed a sponsorship agreement with the The North Face in 2001.
In 2002, he was asked to join a National Geographic expedition to make an unsupported crossing of the remote Chang Tang Plateau in Tibet with Galen Rowell, Rick Ridgeway and Conrad Anker. The expedition is featured in National Geographic's April 2003 issue and documented in Rick Ridgeway's book The Big Open.
In 2003, Chin headed to Everest with Stephen Koch. They attempted the direct North Face via the Japanese Coulior to the Hornbein Couloir in alpine style, eschewing supplemental oxygen, fixed ropes and camps. They were unsuccessful and both were nearly killed in an avalanche.
In May 2004, Chin climbed Everest with David Breashears and Ed Viesturs while filming for Working Title on a feature film project with Stephen Daldry (Director of The Hours.) Jimmy later accompanied Ed Viesturs to Annapurna in 2005. Ed successfully climbed Annapurna and finished his quest to climb all of the world's 8000 meter peaks without oxygen. Jimmy photographed the expedition and the story was featured in the September 2005 issue of Men's Journal.
In October 2006, He achieved the first successful American ski descent of Mount Everest with Kit and Rob DesLauriers. They skied from the summit and are the only people to have skied the South Pillar route.
In May 2007, he joined the Altitude Everest Expedition as a climber and expedition photographer in an attempt to retrace George Mallory and Sandy Irvine's fateful last journey up the North face of Everest.
Outside of major Himalayan expeditions, he has participated in numerous exploratory climbing and skiing expeditions to Baffin Island, Borneo, Mali, Chad, Pitcairn Island and other remote regions of the planet.
In 2011 Conrad Anker, Renan Ozturk and Jimmy Chin made the first ascent of Shark's Fin in the Garwhal Himalayas in India. His film of the climb, Meru, was awarded the Golden Piton by Climbing Magazine for Best Big Wall Climb of the Year and voted the #1 ascent of the year by Rock and Ice Magazine - and won the U.S. Audience Documentary Award at the 2015 Sundance Film Festival.
Filmmaking career
Jimmy began filming in 2003 under the mentorship of Rick Ridgeway. His first attempt as a cinematographer resulted in an hour long television special for National Geographic called Deadly Fashion. He later worked with David Breashears, shooting Ed Viesturs climbing to the summit of Mount Everest. Jimmy worked as a cinematographer with Chris Malloy of Woodshed films on the feature documentary 180 South.
In 2010, Jimmy started the production company, Camp 4 Collective with Tim Kemple and Renan Ozturk. Jimmy shot and directed branded content videos and commercials for such companies as The North Face, Pirelli and Apple. Jimmy sold Camp 4 Collective to his partners in 2014. His feature-length documentary Meru, co-directed with wife Elizabeth Chai Vasarhelyi, premiered at the 2015 Sundance Film Festival.
Career highlights
Publications (most recent)
May 2012 Men's Journal: Feature article "Climbing Mount Impossible" about the most attempted and coveted first ascent in the Himalayas
May 2012 Alpinist Magazine: Feature article "The City and The Blade" about the first ascent of the Shark's Fin
March 2012 Climbing Magazine: Cover photo of Ivo Ninov leading on the Pacific Ocean Wall, El Capitan, Yosemite National Park
May 2011 National Geographic: Shot cover photo and feature article on Yosemite climbers
June 2011 Outside Magazine: Cover photo and feature article The Rainmaker is about Jimmy's career as climber and photographer
September 2011 Climbing Magazine: Cover photo and feature article on climbing the Towers of Ennedi in Chad, Africa
Climbing
Mt. Kinabalu, FA V 5.12 A2, Borneo
Meru-Sharks Fin, first ascent of East Face VI 5.10 A4 M7, India
Mt. Everest, South Col Route, Nepal
Mt. Kilimanjaro, Rongai Route, Tanzania
Kaga Pomori, FA IV; 5.11R South Face, Mali, Africa
Chiru Mustagh, first ascent Southeast Ridge, 21,000 ft., Xinjiang, China
Free solo of the Grand Traverse, Grand Teton National Park, 12 hours car to car
Tahir Tower, FA VII 5.11 A3, Kondus Valley, Karakoram, Pakistan
15 one day ascents of El Capitan
Native Son, VI 5.9 A4, Pacific Ocean Wall, VI 5.10, A3+
Beatrice Tower, FA VII 5.10+ A3+, Charakusa Valley, Karakoram, Pakistan
Fathi Brakk, FA VI 510+ A3 WI4, Charakusa Valley, Karakoram, Pakistan
Ski Mountaineering
Mt. Everest, South Pillar Route, first American ski descent
Tai Yang Peak, first ascent and ski descent, Xinjiang, China
Chang Zheng Peak (22,800 ft.), first ski descent, Central Rongbuk, Tibet
12 ski descents of the Grand Teton
Ski traverse and descent of the Grand Teton, Middle Teton and South Teton 10 hours car to car
Denali, West Buttress, Rescue Gully
Film Highlights
Meru (Produced by Jimmy Chin and Renan Ozturk documenting their attempt on Meru - Sharks Fin. Winner of numerous awards including the Charlie Fowler Award at Telluride Mountainfilm)
180 South (Feature Documentary/Woodshed Films)
Lost on Everest (Feature documentary project with David Breashears for Frontline about the '96 Everest tragedy)
Traverse of the Chang Tang (National Geographic Explorer)
On the Edge: Mountaineering with Conrad Anker (Outdoor Life Network)
Higher Elevation: Kilimanjaro (ESPN)
Journey to the Hand of Fatima (RUSH Channel)
Summit on the Summit (MTV Documentary)
On Assignment (Featured in National Geographic Short Film)
Awards
Nominee Piolet D'Or International Climbing award
Outside Magazine's Adventurers of the Year 2012
American Society of Magazine Editors (ASME) Sports and Adventure Winner
Society of American Travel Writers (SATW) Foundation's Award
National Geographic and Microsoft Emerging Explorers Grant
Galen Rowell Memorial Photography Award
Lyman Spitzer Adventure Award: K7 Climbing Expedition
Polartec Grant Recipient: K7 Climbing Expedition
Honorary Doctorate, Sustainability Science, Unity College, Unity, Maine [www.unity.edu]
Personal life
Chin was born and raised in Mankato, Minnesota. Both his parents were born in China. His father was from Wenzhou and his mother from Harbin.
A 1996 alumnus of Carleton College, he received a BA in Asian Studies.
He married Elizabeth Chai Vasarhelyi, a director and producer, on May 26, 2013.
References
Jimmy Chin Wikipedia
(Text) CC BY-SA