Full Name

Gitte Nielsen




Years active

1984–present





Name

Brigitte Nielsen




Height

1.85 m







Born

15 July 1963 (age 60) (

1963-07-15

) Rodovre, Copenhagen, Denmark


Partner(s)

Mark Gastineau (1988–1990)Flavor Flav (2005)


Role

Actress · brigittenielsen.com




Spouse

Mattia Dessi (m. 2006), Raoul Meyer (m. 1993–2005)




Children

Killian Marcus Nielsen, Julian Winding, Raoul Ayrton Meyer Jr, Douglas Aaron Meyer




Albums

I'm the One... Nobody Else, Every Body Tells a Story


Movies

Rocky IV, Red Sonja, Cobra, Beverly Hills Cop II, Mercenaries


Similar People

Sylvester Stallone, Jennifer Flavin, Sasha Czack, Mattia Dessi, Sage Stallone
Tribute to brigitte nielsen the sexiest brightest and most dominant actress ever
Brigitte Nielsen (born Gitte Nielsen; 15 July 1963) is a Danish-Italian actress, model, singer and reality television personality who began her career modelling for Greg Gorman and Helmut Newton and several years later acted in the 1985 films Red Sonja and Rocky IV. She is also known for her marriage to Sylvester Stallone, with whom she starred in the 1986 film Cobra. She played Karla Fry in Beverly Hills Cop II (1987), co-starring Eddie Murphy, and played the Black Witch in the Italian film series Fantaghiro between 1992–96.
Contents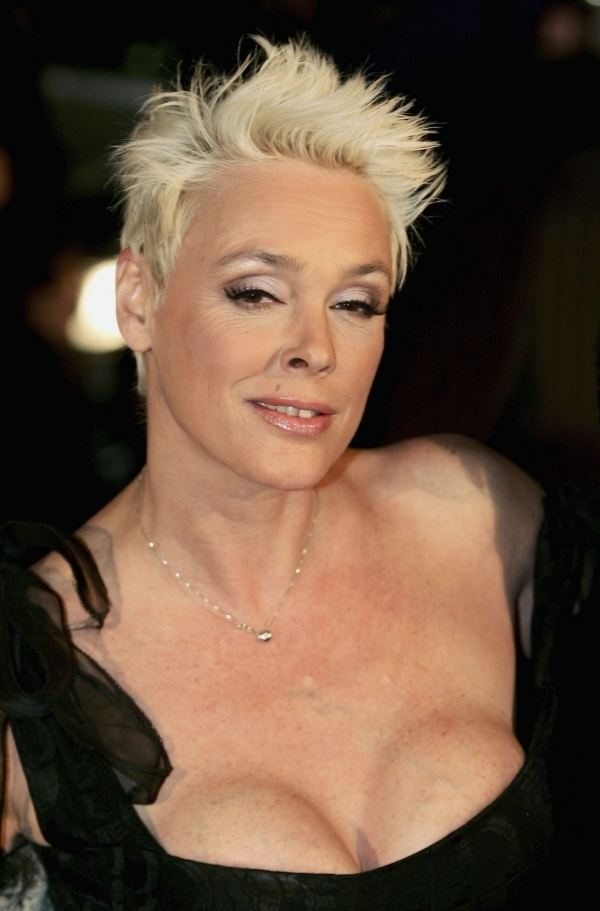 Nielsen's exploits were well-covered in the entertainment media in the 1980s, and the world press started referring to her as an "Amazon" because of her tall stature. She later built a career starring in B-movies and hosting TV shows, and in the 2000s, for appearing on reality shows. In 2008, she appeared on the reality show Celebrity Rehab with Dr. Drew, which depicted her and several other celebrities dealing with recovery from drug and alcohol addiction. In 2012 she won the 6th season of Ich bin ein Star – Holt mich hier raus!, the German version of I'm a Celebrity...Get Me Out of Here! and received the most calls from TV viewers throughout the entire show, ranking No.1 with 30 – 50% of all call-ins.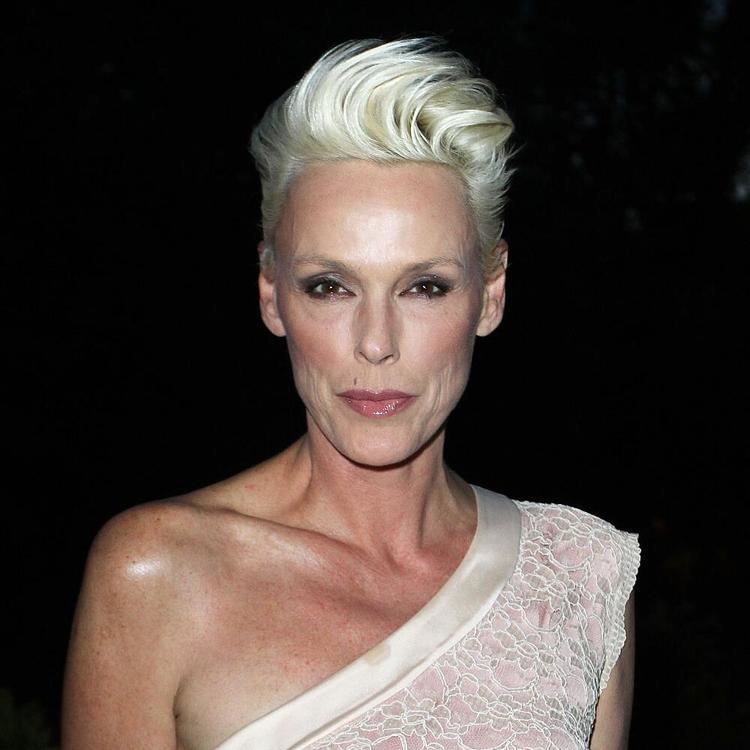 Danish actress Brigitte Nielsen announces she's pregnant at 54
Early life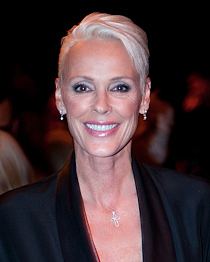 Nielsen was born Gitte Nielsen in Rødovre, a suburb of Copenhagen, Denmark, as the daughter of Hanne, a librarian, and Svend Nielsen, an engineer. She is also the ex-sister-in-law of Drive director, Nicolas Winding Refn.
Modelling
Standing 1.85 m (6'1"), at the beginning of the 1980s, Nielsen did some modeling work, and was photographed by Greg Gorman and Helmut Newton. Nielsen posed for Playboy magazine multiple times, garnering the cover in December 1987. In the late 1980s, Marvel Comics approached Nielsen to pose for photographs dressed as the comic book character She-Hulk.
Acting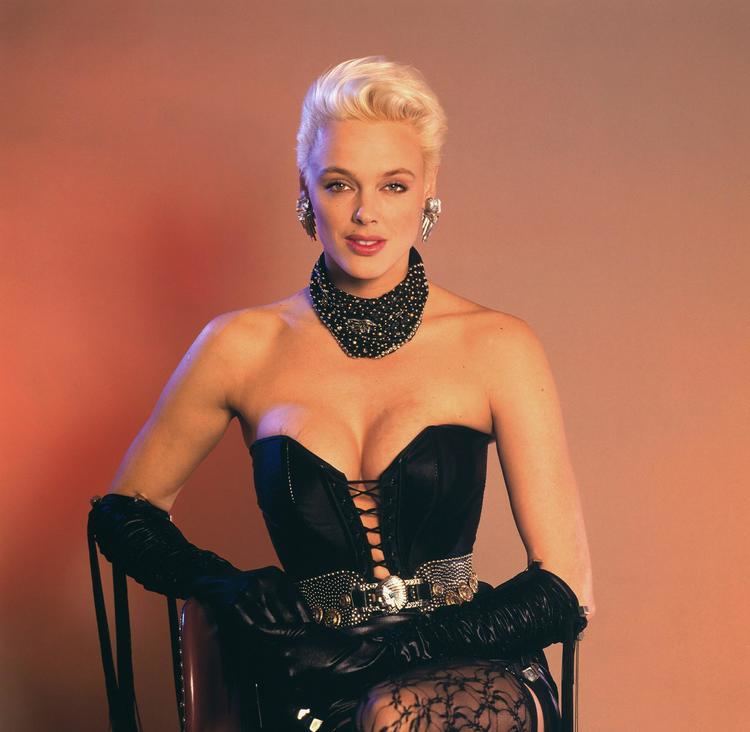 In 1985, Nielsen began her acting career in the fantasy film Red Sonja alongside Arnold Schwarzenegger. That same year, she met and married Sylvester Stallone; the couple acted in two films together (Rocky IV and Cobra) before divorcing in 1987. Their marriage and divorce were both highly publicised by the tabloid press. In 1987, Nielsen played Karla Fry in the film Beverly Hills Cop II (1987), alongside Eddie Murphy. Subsequently, she starred in 976-Evil II, The Double 0 Kid (1992), Chained Heat II (1993), Galaxis (1995), and Snowboard Academy (1996). She starred as the villainess of the Italian TV fantasy film Fantaghirò 2 and its sequels (1992–1996).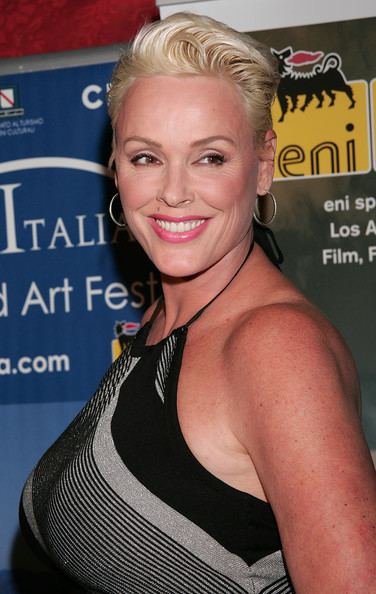 In 2011, Nielsen voice acted for the Danish animated comedy film Ronal the Barbarian. She played in the horror movie Eldorado (2012), co-starred Daryl Hannah, Michael Madsen and Kerry Washington. In 2013, she has featured in the short art film The Key alongside Ray Stevenson. In 2014, she starred in the science-fiction film Exodus, in the TV series Raising Hope, and in the action film Mercenaries (2014), alongside Cynthia Rothrock, Vivica A. Fox, and Kristanna Loken.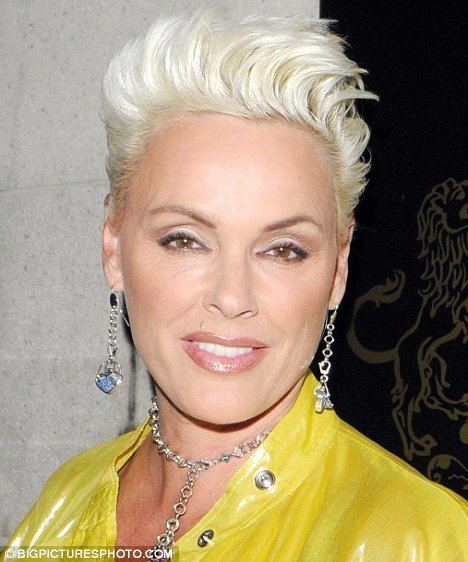 In 2017, she joins the cast of TV Series Adi Shankar's Gods and Secrets.
Music and writing
Nielsen started a music career in 1987. She released her debut album Every Body Tells a Story in that year and recorded a duet with Austrian pop star Falco, Giorgio Moroder's penned "Body Next to Body" which went to No. 22 in Germany and No. 6 in Austria. She released a follow-up album, I'm the One... Nobody Else, in 1991.
Nielsen released a few songs under the pseudonym "Gitta" because producers wanted to see if she could succeed as a singer without her name on the cover. The first song "No More Turning Back" peaked at No. 54 on the British Single Charts, No. 63 on the Dutch Single Charts and even reached the Top 10 in Spain. Other tracks recorded as Gitta were 2001's "Tic Toc" and 2002's "You're No Lady", a collaboration with Ru Paul.
Nielsen appeared in Michael Jackson's Liberian Girl music video in 1989 and in metal band Korn's music video for the single Make Me Bad in 2000. In 2008, German record label Edel Music re-released her 1991 album I'm the One... Nobody Else and the 1987 Every Body Tells a Story under the title Brigitte Nielsen. In 2012, she performed (as Gitte Nielsen) on the song "Misery" with Spleen United, from the album School of Euphoria.
In 2009, she published her first autobiography in Scandinavia titled "Gitte Nielsen – Du har kun ét liv – sådan fandt jeg tilbage til mig selv" ("You only have one life – this is how I found myself again"). The book reached the Top5 of Denmark's bestseller list and was released in the United Kingdom under the title You Only Get One Life in 2011.
Television
Nielsen has worked for Italian television, hosting shows such as: Festival (1987), the 1992 edition of the Sanremo Music Festival, Retromarsh! (1996–1997), and ..la sai l'ultima? (1999). In 1997, she hosted a talk show series Gittes venner for a Danish TV network and some TV shows for RTSI, the Swiss television in the Italian language. She guest starred for an episode of the German TV series SOKO: Stuttgart, aired by ZDF on 28 March 2011, guest-hosted the British chat show Loose Women on 7 December 2010. In April 2011, she attended the British variety/talent show Sing If You Can, which aired on ITV.
Nielsen appeared on the first season of the Italian production of The Mole (2004) and on the third season of the VH1 reality show The Surreal Life (2004). Nielsen also appeared with Flav on VH1's Big in '04 Awards. In 2006, she guest-starred on Flav's other reality show, Flavor of Love. In 2003, Nielsen appeared in the Danish Big Brother VIP. In January 2005, she was a contestant in Britain's Celebrity Big Brother, along with her former mother-in-law, Jackie Stallone, coming third in the final public vote. In 2006, she appeared in another reality TV series, VH1's The Surreal Life: Fame Games. In 2007, she starred in a new British mockumentary Killing Brigitte Nielsen, which aired on Sky Travel. She also appeared in the first season of Celebrity Rehab with Dr. Drew, which chronicled her struggle to overcome her alcoholism at the Pasadena Recovery Center in Pasadena, California.
In May 2008, Nielsen revealed on German television that she would "renew" her body by having six plastic surgeries, which would cost €66,000 altogether. She was filmed during those surgeries by RTL and she had her own television show Aus alt mach neu – Brigitte Nielsen in der Promi-Beauty-Klinik. The same show was broadcast twice in Italy: at first under the title Celebrity Makeover: Brigitte Nielsen on SKY Italia in 2008 and secondly in 2009 on Italia 1. In 2009, Nielsen appeared as a panel speaker to a new group of addicts at the Pasadena Recovery Center, anticipating the two-year mark of her sobriety that coming July. Her appearance was aired in the third season episode "Triggers", which aired in February 2010.
In 2010, Nielsen appeared as one of the celebrity contestants of TF1 reality show La Ferme Célébrités, the French version of the TV series The Farm. She was eliminated after one week, mainly due to her lack of fluency in French and subsequent difficulties to interact with the other contestants. Nielsen was one of the celebrity contestants of 2010's Let's Dance, the German version of Dancing with the Stars. That same year, she also took part of Celebrity Come Dine With Me in Denmark (Til middag hos... ), and in Germany (Das Perfekte Promi Dinner). From 13 January 2012 Nielsen was one of the celebrity contestants and winner of Ich bin ein Star – Holt mich hier raus!, the German version of I'm a Celebrity...Get Me Out of Here!, broadcast by RTL Television. On 28 January 2012 she won the show as the "Jungle Queen". Bildzeitung revealed on 30 January 2012 that Nielsen had received the most calls from TV viewers throughout the entire show, ranking No.1 with 30 – 50% of all call-ins. Nielsen was paid 150.000 Euro (approx. $163,000) for participating in the show, more than any other celebrity.
In October 2012, Nielsen was featured in the Danish version of Maestro broadcast on DR1 in which celebrities competed for the chance to conduct a classical orchestra. In September 2013, she joined the cast of the German TV show Promi-Hochzeitsplanern (Celebrity Wedding planners) for Sat.1. The following year she joined the panel of the German TV show Promi Shopping Queen for VOX.
From June 2015 she hosts her own talk show "Gitte Talks" on the Danish TV Channel Kanal 4.
Nielsen participated in an all-stars special of Ich bin ein Star – Holt mich hier raus!, the German version of I'm a Celebrity...Get Me Out of Here! in August 2015 for one episode, in which TV viewers could vote which celebrity was going to take part in the upcoming season in January 2016. She qualified for the finale on August 5 by receiving the most phone calls and then, again, was voted by the German TV audience to participate in the upcoming season of Ich bin ein Star – Holt mich hier raus! in January 2016.
From August 2016 she presents the dating show "Wirt sucht Liebe" ("Is Looking for Love") for the German TV channel RTL II
Personal life
Besides her native Danish, Nielsen is fluent in Norwegian, Swedish, English, German and Italian, and has some understanding of French.
Family and relationships
Nielsen has been married five times and has four sons. She has a son, Julian Winding (born in 1984), with her first husband, Kasper Winding, to whom she was married from 1983–84. Nielsen married actor Sylvester Stallone, on 15 December 1985 at the Beverly Hills, California home of producer Irwin Winkler. Stallone and Nielsen's marriage lasted 19 months, with their divorce finalized July 1987. Her second child, Killian Marcus Gastineau (born in 1989), she had with ex-fiance Mark Gastineau.
Between 1990 and 1992, she was married to director and photographer Sebastian Copeland (Orlando Bloom's cousin). Nielsen has two sons with fourth husband Raoul Meyer, Douglas Aaron (born in 1993) and Raoul, Jr. (born in 1995). Her current husband, Mattia Dessi, lived with her in Italy as shown on Strange Love, which was filmed prior to their marriage. As of 2010, they live in Palm Springs, USA.
In 1987, Nielsen confessed to an affair with Tony Scott. In 2005, she had a highly publicized relationship with rapper Flavor Flav. In the aftermath of Arnold Schwarzenegger's infidelity scandal, Nielsen confessed that she also had an affair with him while he was in a relationship with Maria Shriver. In January 2012, during an interview on the German Reality TV-Show Ich bin ein Star – Holt mich hier raus!, she confessed once having a one-night stand with Sean Penn in Cannes.
Alcohol problems
On 9 July 2007, Nielsen checked herself into the Cri-Help rehabilitation facility in North Hollywood following what some reports claim was a family intervention. Her manager, Steven Tempone, confirmed on 19 July 2007 that she had checked into a rehabilitation center and told the Associated Press, "All I know is it's something she did of her own free will and we're proud of her and wish her very well... When she gets out we'll have a big birthday party, and Coca-Cola only." As of 22 July 2007, Nielsen was out of rehabilitation to attend the Comedy Central roast of Flavor Flav. She told People that she felt "like a new-born person ... I made a choice about a new life. It's not been easy but it was definitely time." While People does not report the date that Nielsen checked into rehabilitation, it states she "had been in treatment for a few weeks."
On 10 January 2008, VH1 began airing the reality TV series, Celebrity Rehab. Nielsen appeared on the show for alcoholism. In a January 2010 TV Guide story on her success with sobriety, Celebrity Rehab producer John Irwin stated, "She's sober, and she quit smoking. She's doing crazy good."
Plastic surgery
In mid-2008, Nielsen starred in the reality show Aus alt mach neu, broadcast by the German TV-station RTL. The theme of the show was Nielsen's attempt to look "as young as her husband" by undergoing plastic surgery. The show was aired in Italy as well, on SKY Italia during December 2008 and the following summer on Italia 1.
Albums
1988 Every Body Tells a Story
1992 I'm the One... Nobody Else
2008 Brigitte Nielsen (re-release of I'm the One... Nobody Else and Every Body Tells a Story)
Singles
"Body Next to Body" – Falco meets Brigitte Nielsen; 1987; (No. 6 Austria, No. 22 Germany, No. 1 Japan)
"Every Body Tells a Story"; 1987; (No. 38 Italy; No. 15 Germany)
"Maybe"; 1988
"Siento"; 1988 (South America only)
"It's a Strange Love"; 1988
"Rockin' Like a Radio"; 1990
"My Girl (My Guy)"; 1991
"How Could You Let Me Go?"; 1992
"Work That Body"; 1993
"No More Turning Back" (as Gitta); 2000; released by Jive; (No. 1 Spain, No. 1 Eurodance chart; No. 64 Netherlands, No. 54 UK)
"Everybody's Turning Back" (as Gitta vs. Rozalla)
"Tic Toc" (as Gitta); 2001; released by Blanco y Negro
"You're No Lady" (as Gitta with Ru Paul); 2002; released by Do It Yourself; (No. 1 Spain)
"Misery" (as Gitte Nielsen with Spleen United); 2012
Filmography
Actress
2022
The Guardians of Justice (Will Save You!) (TV Series)
as
Anubis Queen
- Proximity to Power Corrupts More than Power Itself (2022) - Anubis Queen
- When Guardians Fall in Love (2022) - Anubis Queen (credit only)
- You Can Own the Word "Justice" (2022) - Anubis Queen
- Anubis and How I Learned to Stop Worrying and Nukem (2022) - Anubis Queen
- A Mentally Shattered Megalomaniac (2022) - Anubis Queen
- It Was Murder, She Said! (2022) - Anubis Queen
2018
Creed II
as
Ludmilla Drago
2017
Grindhouse Nightmares (uncredited)
2015
Portlandia (TV Series)
as
Brigitte Nielsen
- Healthcare (2015) - Brigitte Nielsen
2014
Raising Hope (TV Series)
as
Svetlana
- Road to Natesville (2014) - Svetlana
2012
Eldorado (Video)
as
Angel
2011
Ronal the Barbarian
as
Amazon Queen (voice, as Gitte Nielsen)
2011
SOKO Stuttgart (TV Series)
as
Gina Wartenberg
- Stuttgart ist sexy (2011) - Gina Wartenberg
2010
Big Money Rustlas
as
The Wife
2009
Nite Tales: The Series (TV Series)
as
Mona
- Black Widow (2009) - Mona
2007
Voyage: Killing Brigitte Nielsen (TV Movie)
as
Brigitte
2000
Doomsdayer
as
Elizabeth Gast
2000
Un posto al sole (TV Series)
as
Gitte
- Episode dated 14 September 2000 (2000) - Gitte
- Episode dated 13 September 2000 (2000) - Gitte
2000
Korn: Make Me Bad (Music Video)
as
Brigitte Nielsen
1999
Hostile Environment
as
Minna
1998
Paparazzi
as
Brigitte Nielsen
1998
She's Too Tall
as
Veronica Lamar
1997
Snowboard Academy (Video)
as
Mimi
1992
Fantaghirò: Cave of the Golden Rose (TV Mini Series)
as
Dark Witch
- Fantaghirò 5 (1996) - Dark Witch
- Fantaghirò 4 (1994) - Dark Witch
- Fantaghirò 3 (1993) - Dark Witch
- Fantaghirò 2 (1992) - Dark Witch
1995
Compelling Evidence
as
Michelle Stone
1993
Chained Heat 2
as
Magda / warden
1992
The Double 0 Kid (Video)
as
Rhonda
1992
Mission of Justice (Video)
as
Dr. Rachel K. Larkin
1992
Counterstrike (TV Series)
as
Monica Steile
- Bastille Day Terror (1992) - Monica Steile
1989
Vain: Who's Watching You (Music Video)
as
Woman
1989
Murder by Moonlight (TV Movie)
as
Maggie Bartok
1987
Falco Meets Brigitte Nielsen: Body Next to Body (Music Video)
as
Brigitte Nielsen
1987
Beverly Hills Cop II
as
Karla Fry
Producer
2015
Gitte Talks (TV Series) (producer)
1999
Hostile Environment (executive producer)
1998
She's Too Tall (associate producer)
Writer
1998
She's Too Tall (story)
Soundtrack
2017
One Hit Wonderland (TV Series documentary) (performer - 1 episode)
- "Rock Me Amadeus" by Falco (2017) - (performer: "Body Next To Body")
2017
Falco - Die ultimative Doku (TV Movie documentary) (performer: "Body Next to Body")
2015
Dolezal Backstage (TV Series documentary) (performer - 1 episode)
- Episode #1.1 (2015) - (performer: "Body Next to Body")
1998
Falco - Hoch wie nie (Video) (performer: "Body Next To Body")
1992
Despedida de Solteiro (TV Series) (performer: "My Girl (My Guy)")
1991
Estress (TV Series) (performer - 1 episode)
- Modas y modelos (1991) - (performer: "Rockin' Like a Radio")
1990
Un dia és un dia (TV Series) (performer - 1 episode)
- Episode #2.6 (1990) - (performer: "Rocking Like a Radio")
1987
Super 88 (TV Special) (performer: "It's a Strange Love", "Every Body Tells a Story", "Maybe") / (writer: "Maybe")
Self
2022
Germany's Next Topmodel (TV Series)
as
Self
- Dream Edition (2022) - Self
2021
Rocky IV: Rocky vs. Drago the Ultimate Directors Cut (TV Special)
as
Ludmilla Drago
2020
Ferro (Documentary)
as
Self
2019
The Talk (TV Series)
as
Self - Guest Co-Host / Self
- William Shatner/Candace Nelson (2020) - Self - Guest Co-Host
- Nia Long/Dot-Marie Jones (2020) - Self - Guest Co-Host
- Vivica A. Fox/Joan Lunden (2020) - Self - Guest Co-Host
- Heather Tom/Mark Feuerstein (2020) - Self - Guest Co-Host
- Patricia Heaton #2 (2020) - Self
- Iliza Shlesinger/Brigitte Nielsen/Jodie Sweetin (2020) - Self - Guest Co-Host
- Fran Drescher/Brigitte Nielsen/Thomas Lennon (2020) - Self - Guest Co-Host
- Brigitte Nielsen/Jodie Sweetin/Patrick Stewart/Alison Pill (2020) - Self - Guest Co-Host
- Brigitte Nielsen/Carol Kane/Michael Ealy (2020) - Self - Guest Co-Host
- Brigitte Nielsen/Jeri Ryan (2020) - Self - Guest Co-Host
- Brigitte Nielsen/Cicely Tyson/Xosha Roquemore (2020) - Self - Guest Co-Host
- Brigitte Nielsen/Jeff Probst (2020) - Self - Guest Co-Host
- Eric Braeden (2020) - Self - Guest Co-Host
- Dr. Phil McGraw #4 (2020) - Self - Guest Co-Host
- Brigitte Nielsen/George Wallace/Pam Grier (2020) - Self - Guest Co-Host
- Brigitte Nielsen/John Cena/Katja Herbers/Aasif Mandvi (2020) - Self - Guest Co-Host
- Tisha Campbell/Brigitte Nielsen (2020) - Self - Guest Co-Host
- Andy Grammer/Brigitte Nielsen (2020) - Self - Guest Co-Host
- Kellan Lutz/Brigitte Nielsen (2020) - Self - Guest Co-Host
- Rob Lowe/Brigitte Nielsen (2020) - Self - Guest Co-Host
- Brigitte Nielsen/Ana Gasteyer (2019) - Self - Guest Co-Host
- Brigette Nielsen/Brad Paisley (2019) - Self - Guest Co-Host
- Shania Twain (2019) - Self - Guest Co-Host
- Eve's Birthday (2019) - Self - Guest Co-Host
- Brigitte Nielsen/Kristin Chenoweth (2019) - Self - Guest Co-Host
- Brigitte Nielson/Shemar Moore (2019) - Self - Guest Co-Host
- Brigette Nielsen/Carnie Wilson/Thomas Lennon (2019) - Self - Guest Co-Host
- Brigitte Nielsen/Poppy Montgomery/Eugenio Derbez (2019) - Self - Guest Co-Host
- Brigitte Nielsen/Andie MacDowell (2019) - Self - Guest Co-Host
- Brigitte Nielsen/Anthony Anderson (2019) - Self - Guest Co-Host
- Brigitte Nielsen/Chris Sullivan (2019) - Self - Guest Co-Host
- Brigette Nielsen/Christina Applegate (2019) - Self - Guest Co-Host
- Brigitte Nielsen/Bonnie Hunt (2019) - Self - Guest Co-Host
- Vanessa Williams/Brigitte Nielsen/Ralph Macchio (2019) - Self - Guest Co-Host
- Brigitte Nielsen/Gwen Stefani (2019) - Self - Guest Co-Host
- Brigitte Nielsen/Emily Deschanel (2019) - Self - Guest Co-Host
2008
Loose Women (TV Series)
as
Self / Self - Presenter
- Episode #23.64 (2018) - Self
- Episode #15.67 (2010) - Self - Presenter
- Episode #15.6 (2010) - Self
- Episode #12.227 (2008) - Self
2007
Entertainment Tonight (TV Series)
as
Self
- Episode #38.59 (2018) - Self
- Episode dated 28 November 2007 (2007) - Self
- Episode dated 26 November 2007 (2007) - Self
2018
Good Morning Britain (TV Series)
as
Self - Guest
- Episode dated 10 September 2018 (2018) - Self - Guest
2017
Falco - Die ultimative Doku (TV Movie documentary)
as
Self
2012
Ich bin ein Star - Holt mich hier raus! (TV Series)
as
Self / Self - Dschungelkönigin
- Das große Wiedersehen im Jubiläumsdschungel (2016) - Self
- Tag 10: In der Thorsten Legat Akademie (2016) - Self
- Tag 9: Banana Drama (2016) - Self
- Tag 8: Miss Daisy und ihr Echaffeur (2016) - Self
- Tag 7: Helena, das Dschungel Talent (2016) - Self
- Tag 6: Jetzt ist mal Cut! (2016) - Self
- Tag 5: Das defekte Promi-Dinner - Thorsten schluckt, Helena macht FDH (2016) - Self
- Tag 4: Wächst zusammen, was nicht zusammen gehörte? (2016) - Self
- Tag 3: Wer behält jetzt die Nerven? (2016) - Self
- Tag 2: Der Druck wächst, die Stimmung kippt (2016) - Self
- Tag 1: Wie soll das alles nur werden??? (2016) - Self
- Das große Wiedersehen in Staffel 6 (2012) - Self
- Tag 16: Das große Finale - Kampfgeist, Risikobereitschaft oder Abenteuerlust (2012) - Self - Dschungelkönigin
- Tag 15: Die Glocke (2012) - Self
- Tag 14: Brigitte Nielsen und die Bruchlandung (2012) - Self
- Tag 13: Alle für einen, einer für Alle (2012) - Self
- Tag 12: Radost Bokel und Kim Gloss im Dschungel-Imbiss (2012) - Self
- Tag 11: Wenn die Gondeln Trauer tragen (2012) - Self
- Tag 10: Micaela Schäfer und die letzte Ölung (2012) - Self
- Tag 9: Friedhof der Untoten (2012) - Self
- Tag 8: Brigitte Nielsen im Winterschlussverkauf (2012) - Self
- Tag 7: Telefon des Grauens (2012) - Self
- Tag 6: Ein Fall für Zwei (2012) - Self
- Tag 5: Ramona Leiß und Vincent Raven auf dem Dschungel-Weihnachtsmarkt (2012) - Self
- Tag 4: Gute Mine zum bösen Spiel (2012) - Self
- Tag 3: Daniel Lopes im Labyrinth des Grauens (2012) - Self
- Tag 2: Kim Gloss und der Fahrstuhl zur Hölle (2012) - Self
- Tag 1: Der Einzug (2012) - Self
2015
BNow! (TV Series)
as
Archiv Footage RTL / Achive Footage RTL / RTL Archiv Material
- BNOW Übernehmen Bundesliga-Legat & Dschungel-Blondie jetzt die Camp-Herrschaft @Ich bin ein Star - Holt mich hier raus!? (2016) - Archiv Footage RTL
- Camp Tag 6 wenn Dschungel Höllena streikt legt Big Brother Jürgen Milski die Hand an. (2016) - Achive Footage RTL
- Dschungel Royal - Auftakt mit Prinz Mario Max zu Schaumburg Lippe (2015) - RTL Archiv Material
2015
Ich bin ein Star - Lasst mich wieder rein! (TV Series)
as
Self
- Episode #1.6 (2015) - Self
2009
Aftenshowet (TV Series)
as
Self
- Episode dated 23 June 2015 (2015) - Self
- Episode dated 11 October 2012 (2012) - Self
- Episode dated 18 November 2010 (2010) - Self
- Episode dated 27 October 2009 (2009) - Self
2014
Promi Shopping Queen (TV Series)
as
Self - Contestant
- Motto in Frankfurt und Berlin: Modetrend Rot - Werde zum Blickfang in der neuen Herbstfarbe! (2014) - Self - Contestant
2014
Oprah: Where Are They Now? (TV Series)
as
Self
- Darva Conger, Brigitte Nielsen & Original Dreamgirl Sheryl Lee Ralph (2014) - Self
2012
Mein Mann kann (TV Series)
as
Self
- Promispecial #6 (2012) - Self
2012
Glööckler, Glanz und Gloria (TV Series)
as
Self
- Folge 1 - Herzlich Willkommen! (2012) - Self
2010
Das perfekte Promi-Dinner (TV Series)
as
Self
- Mit Herz und Hoden (2012) - Self
- Das perfekte Promi-Dinner in Berlin #23 (2010) - Self
2012
MasterChef Denmark (TV Series)
as
Self - Participant
- Episode #2.3 (2012) - Self - Participant
- Episode #2.2 (2012) - Self - Participant
- Episode #2.1 (2012) - Self - Participant
2012
Wiener Opernball (TV Series)
as
Self
- 2012 (2012) - Self
2011
Biography (TV Series documentary)
as
Self
- The Rocky Saga: Going the Distance (2011) - Self
2011
Living the Life (TV Series)
as
Self
- Brigitte Nielsen and Britt Ekland (2011) - Self
2011
Shooting Stars (TV Series)
as
Self
- Episode #8.1 (2011) - Self
2011
Daybreak (TV Series)
as
Self
- Britain on Strike (2011) - Self
2011
The Vanessa Show (TV Series)
as
Self
- Episode dated 8 June 2011 (2011) - Self
2009
Celebrity Juice (TV Series)
as
Self
- End of Series Party (2011) - Self
- Royal Wedding Special (2011) - Self
- Episode #2.9 (2009) - Self
2005
The Late Late Show (TV Series)
as
Self
- Episode dated 20 May 2011 (2011) - Self
- Episode dated 28 January 2005 (2005) - Self
2011
Breakfast (TV Series)
as
Self - Actress
- Episode dated 17 May 2011 (2011) - Self - Actress
2011
This Morning (TV Series)
as
Self
- Episode dated 17 May 2011 (2011) - Self
2011
Sing If You Can (TV Series)
as
Self - Contestant
- Episode #1.1 (2011) - Self - Contestant
2011
4-stjerners rejse (TV Series)
as
Self
- I Marrakech med Gitte Nielsen (2011) - Self
- I Marrakech med Lotte Heise (2011) - Self
- I Marrakech med Anne-Grethe Bjarup Riis (2011) - Self
- I Marrakech med Jim Lyngvild (2011) - Self
2010
Most Shocking Celebrity Moments 2010 (TV Movie documentary)
as
Self
2010
Greatest Christmas TV Ads (TV Movie documentary)
as
Self
2010
Til middag hos... (TV Series)
as
Self / Self - Host
- Gitte Nielsen (2010) - Self - Host (as Gitte Nielsen)
- Sonny Fredie-Pedersen (2010) - Self (as Gitte Nielsen)
- Dennis Knudsen 2 (2010) - Self (as Gitte Nielsen)
- Sascha Dupont (2010) - Self (as Gitte Nielsen)
2010
The Jeremy Kyle Show (TV Series)
as
Self
- Episode dated 24 August 2010 (2010) - Self
2010
Let's Dance (TV Series)
as
Self - Contestant / Self
- 8. Show - Das große Finale: Lieblingstanz, Jurytanz sowie ein Freestyle (2010) - Self
- 4. Show: Paso Doble oder Quickstep (2010) - Self - Contestant
- 3. Show: Tango oder Rumba (2010) - Self - Contestant
- 2. Show: West Coast Swing oder Jive (2010) - Self - Contestant
- 1. Show: Salsa oder Langsamer Walzer (2010) - Self - Contestant
2010
Hele historien (TV Series documentary)
as
Self
- Gitte Nielsen (2010) - Self
2010
Zulu kvægræs (TV Series)
as
Self
- Gittes gyngende barm (2010) - Self (as Gitte Nielsen)
2003
Verissimo (TV Series)
as
Self
- Episode dated 6 March 2010 (2010) - Self
- Episode dated 15 December 2003 (2003) - Self
2008
Celebrity Rehab with Dr. Drew (TV Series)
as
Self / Self - Previous Rehab Patient / Self - Rehab Patient
- Triggers (2010) - Self - Previous Rehab Patient
- The Reunion (2008) - Self
- Graduation (2008) - Self
- The Disease Is Winning (2008) - Self
- Retreat (2008) - Self - Rehab Patient
- Friends and Family (2008) - Self
- Bye Bye Baldwin (2008) - Self
- Sex and Trauma (2008) - Self
- New Arrival (2008) - Self
- Detox (2008) - Self
- Intake (2008)
2010
La ferme célébrités (TV Series)
as
Self
- Episode #3.2 (2010) - Self
- Episode #3.1 (2010) - Self
2009
Your Top 20 Celebrity Big Brother Moments (TV Movie documentary)
as
Self
2003
Go' aften Danmark (TV Series)
as
Self
- Episode dated 27 October 2009 (2009) - Self
- Episode dated 27 March 2003 (2003) - Self
2009
Go' morgen Danmark (TV Series)
as
Self
- Episode dated 27 October 2009 (2009) - Self
2009
Det nye talkshow (TV Series)
as
Self - Guest
- Episode #1.6 (2009) - Self - Guest (as Gitte Nielsen)
2009
All Star Mr & Mrs (TV Series)
as
Self
- Episode #2.1 (2009) - Self
2008
Best of the MWF (Video)
as
Self
2008
Die 100.000 Euro Show (TV Series)
as
Self
- Das 100 000 Euro Show Promi Special (2008) (2008) - Self
2008
2008 American Music Awards (TV Special documentary)
as
Self (uncredited)
2008
12th Annual Prism Awards (TV Special)
as
Self
2008
Guinness World Records - Die größten Weltrekorde (TV Series)
as
Self
- Episode #5.1 (2008) - Self
2008
Exclusiv - Das Star-Magazin (TV Series)
as
Self
- Exclusiv spezial - Aus alt mach neu: Brigitte Nielsen in der Promi-Beautyklinik (2008) - Self
2008
Aus alt mach neu - Brigitte Nielsen in der Promi-Beauty-Klinik (TV Series documentary)
as
Self
- Die 4. OP - Paradontose! (2008) - Self
- Die 3. OP - Busen! (2008) - Self
- Die 2. OP - Facelifting! (2008) - Self
- Die 1. OP - Fettabsaugen! (2008) - Self
2008
66th Grand Prix of Monaco (TV Special)
as
Self
2008
Access Hollywood (TV Series)
as
Self
- Episode dated 9 May 2008 (2008) - Self
2007
The Tyra Banks Show (TV Series)
as
Self
- Episode dated 9 January 2008 (2008) - Self
- Episode dated 9 January 2007 (2007) - Self
2007
Chelsea Lately (TV Series)
as
Self - Guest
- Episode #1.72 (2007) - Self - Guest
2007
A Modern Fable (Video documentary short)
as
Self
2007
Comedy Central Roasts (TV Series)
as
Self - Roaster
- Comedy Central Roast of Flavor Flav (2007) - Self - Roaster
2007
Spread TV (TV Series)
as
Self
- Episode #1.5 (2007) - Self
2007
Riverboat - Die MDR-Talkshow aus Leipzig (TV Series)
as
Self
- Episode dated 2 March 2007 (2007) - Self
2007
Maury (TV Series)
as
Self
- Caught on Camera- Surprise Attacks and Wild Sexy Videos! (2007) - Self
2007
The Surreal Life: Fame Games (TV Series)
as
Self - Participant
- The Chyna Doll Syndrome (2007) - Self - Participant
- Down and Out on the B-List (2007) - Self - Participant
- Sex, Size, and Videotape (2007) - Self - Participant
- Welcome to Celebrity Island (2007) - Self - Participant
2006
The Podge and Rodge Show (TV Series)
as
Self
- Episode #2.5 (2006) - Self
2006
Midnight Money Madness (TV Series)
as
Self
- Episode dated 22 September 2006 (2006) - Self
2006
The Joan Rivers Position (TV Series)
as
Self
- Episode #3.1 (2006) - Self
2006
Flavor of Love (TV Series)
as
Self
- IntteroGitted (2006) - Self
2005
Avid Merrion's XXXmas Special (TV Special)
as
Self (as Brigitte Neilsen)
2005
Tan a gustito (TV Series)
as
Self
- Episode #1.8 (2005) - Self
2005
Gottschalk & Friends (TV Series)
as
Self
- Starke Frauen (2005) - Self
2005
The British Soap Awards 2005 (TV Special)
as
Self - Presenter
2005
Strange Love (TV Series)
as
Self
- You May Now Flav the Bride (2005) - Self
- Flav Can't Loose (2005) - Self
- The Family That Flav's Together Stays Together (2005) - Self
- Bronx Cheers (2005) - Self
- Public Enemy Number 1 (2005) - Self
- Flavor's Fries Chicken (2005) - Self
- The Wine, the Romance, & the Truth (2005) - Self
- Balls Well That Ends Well (2005) - Self
- The Smack Is Back (2005) - Self
- The Flavor of Love (2005) - Self
2005
The Greatest: The 40 Hottest Rock Star Girlfriends... and Wives (TV Special)
as
Self
2004
Best Week Ever with Paul F. Tompkins (TV Series)
as
Self
- Michael Jackson trial, the OC and More (2005) - Self
- Desperate Housewives, Cameron Diaz and More (2005) - Self
- Dr. Phil's Prime Time Special, Emmy Speeches and More (2004) - Self
- Oprah's Auto Giveaway, Reality Shows and More (2004) - Self
2005
The Friday Night Project (TV Series)
as
Self - Guest Host
- Episode #1.5 (2005) - Self - Guest Host
2005
The View (TV Series)
as
Self
- Episode dated 14 February 2005 (2005) - Self (voice)
2005
The Big Idea with Donny Deutsch (TV Series)
as
Self
- Episode dated 10 February 2005 (2005) - Self
2005
Good Day Live (TV Series)
as
Self
- Episode dated 9 February 2005 (2005) - Self
2005
Celebrity Big Brother (TV Series)
as
Self - Contestant
- Day 4 (2005) - Self - Contestant
- The Launch (2005) - Self - Contestant
2005
Wendy Williams Is on Fire 4 (TV Movie documentary)
as
Self
2004
The British Comedy Awards 2004 (TV Special)
as
Self - Presenter
2004
The Surreal Life (TV Series)
as
Self
- Lost Moments (2004) - Self
- Best and Worst (2004) - Self
- Last Supper and Goodbyes (2004) - Self
- Dirty Laundry (2004) - Self
- Haunted Hospital (2004) - Self
- Making the Single: Part B (2004) - Self
- Making the Single: Part A (2004) - Self
- Surf School (2004) - Self
- Highway to Hell (2004) - Self
- Battle of the Bands (2004) - Self
- Strange Love (2004) - Self
- Six Degrees of Irritation (2004) - Self
2004
VH1 Big in 04 (TV Movie documentary)
as
Self - Presenter
2004
High Chaparall (TV Series documentary)
as
Self
- Brigitte Nielsen (2004) - Self
2004
Live with Kelly and Mark (TV Series)
as
Self
- Episode dated 22 October 2004 (2004) - Self
2004
Howard Stern (TV Series)
as
Self
- Episode dated 24 September 2004 (2004) - Self
- Episode dated 23 September 2004 (2004) - Self
2004
La talpa (TV Series)
as
Self
- Episode dated 2 April 2004 (2004) - Self
- Episode dated 12 March 2004 (2004) - Self
- Episode dated 6 February 2004 (2004) - Self
2003
Stars in Their Eyes (TV Series)
as
Self / Annie Lennox
- Celebrity Christmas Special 2 (2003) - Self / Annie Lennox
2003
The Salon (TV Series)
as
Self
- Episode dated 17 April 2003 (2003) - Self
2003
Big Brother VIP - Lise-Lottes VIP Talkshow Uncut (TV Special)
as
Self (as Gitte Nielsen)
2003
Big Brother VIP - Talkshowet (TV Series)
as
Self (as Gitte Nielsen)
2003
Big Brother VIP (TV Series)
as
Self (Participant) (as Gitte Nielsen)
2003
Big Brother VIP - Jokeren (TV Short documentary)
as
Self
2002
When Muscles Ruled the World (TV Movie documentary)
as
Self
2002
V Graham Norton (TV Series)
as
Self
- Episode #2.36 (2002) - Self
2002
Korn: Deuce (Video documentary)
as
Labdoctor (segment "Make Me Bad")
2001
Gift til gods og guld (TV Series documentary)
as
Self
- Gitte Nielsen - Gift til gods og guld (2001) - Self (as Gitte Nielsen)
2001
Tout le monde en parle (TV Series)
as
Self
- Episode dated 6 October 2001 (2001) - Self
2001
Aprieta y gana (TV Series)
as
Self
- Episode dated 5 September 2001 (2001) - Self
2001
NDR Talk Show (TV Series)
as
Self
- Episode dated 29 June 2001 (2001) - Self
2000
E! True Hollywood Story (TV Series documentary)
as
Self
- Brigitte Nielsen (2000) - Self
2000
GMTV (TV Series)
as
Self
- Episode dated 26 July 2000 (2000) - Self
2000
Open House (TV Series documentary)
as
Self
- Episode dated 26 July 2000 (2000) - Self
- Episode dated 20 July 2000 (2000) - Self
2000
Música sí (TV Series)
as
Self
- Episode dated 10 June 2000 (2000) - Self
2000
Brigitte & Friends (TV Series)
as
Self - Hostess
- Episode dated 28 May 2000 (2000) - Self - Hostess
1999
Risas y estrellas (TV Series)
as
Self
- Episode dated 2 January 1999 (1999) - Self
1998
Fantasy Football League (TV Series)
as
Self - Guest Manager
- Fantasy Football World Cup 1998 (1998) - Self - Guest Manager
1998
Ciao Darwin (TV Series)
as
Self - Alte
- Donne: Alte contro Basse (1998) - Self - Alte
1998
Ruby (TV Series)
as
Self
- Episode #2.3 (1998) - Self
1998
Fantasy World Cup (TV Series)
as
Self
- Episode #1.1 (1998) - Self
1998
Die Johannes B. Kerner Show (TV Series)
as
Self
- Episode dated 28 May 1998 (1998) - Self
1996
Die Harald Schmidt Show (TV Series)
as
Self
- Show #404 - Frau Asenbaum singt Celine Dion (1998) - Self
- Show #327 (1997) - Self
- Show #197 - Die besten Last Minute Weihnachtsgeschenke (1996) - Self
- Show #123 (1996) - Self
1997
Michael Jackson: HIStory on Film - Volume II (Video)
as
Self (segment "Liberian Girl")
1997
Maurizio Costanzo Show (TV Series)
as
Self
- Episode dated 10 December 1997 (1997) - Self
1997
Noel's House Party (TV Series)
as
Self
- Noel's House Party at the Movies (1997) - Self
1996
Il Quizzone (TV Series)
as
Self - Contestant
- Episode #4.8 (1997) - Self - Contestant
- Episode #3.2 (1996) - Self - Contestant
1997
Mira quien viene esta noche (TV Series)
as
Self
- Episode dated 14 July 1997 (1997) - Self
- Episode dated 1 July 1997 (1997) - Self
1997
A reír que son dos días (TV Movie)
as
Self - Musical Guest
1996
Retromarsh! (TV Series)
as
Self (Secret Army)
1996
Yes for Europe (TV Special)
as
Self - Host
1996
Surprise sur prise (TV Series)
as
Self
- Episode dated 16 March 1996 (1996) - Self
1995
Parabéns (TV Series)
as
Self
- Episode dated 11 November 1995 (1995) - Self
- Episode dated 14 October 1995 (1995) - Self
1994
Nachtshow (TV Series)
as
Self
- Episode dated 14 October 1994 (1994) - Self
- Episode dated 14 August 1994 (1994) - Self
1994
La ruota della fortuna (TV Series)
as
Self - Competitor
- Episode dated 4 February 1994 (1994) - Self - Competitor
1994
Sacrée soirée (TV Series)
as
Self
- Episode dated 26 January 1994 (1994) - Self
1991
The Word (TV Series)
as
Self
- Episode #4.7 (1994) - Self
- Episode #1.25 (1991) - Self
1993
Whicker's Miss World (TV Special)
as
Self
1993
Gottschalk Late Night (TV Series)
as
Self
- Episode dated 25 November 1993 (1993) - Self
1993
Bellezze al bagno (TV Series)
as
Self
- Episode dated 27 August 1993 (1993) - Self
1993
Bellezas al agua (TV Series)
as
Self
- Episode dated 5 July 1993 (1993) - Self
1993
The Full Wax (TV Series)
as
Self
- Episode #3.5 (1993) - Self
1992
La sai l'ultima? (TV Series)
as
Self / Co-Hostess
1992
Hola Raffaella (TV Series)
as
Self - Guest
- Episode dated 17 December 1992 (1992) - Self - Guest
1992
El show de Paul Rodriguez (TV Series)
as
Self
- Episode dated 2 December 1992 (1992) - Self
1992
Boulevard Bio (TV Series)
as
Self
- Vom schwierigen Zusammenleben mit Superstars (1992) - Self
1992
0137 (TV Series)
as
Self
- Episode dated 9 March 1992 (1992) - Self
1992
Scherzi a parte (TV Series)
as
Self (1993)
1991
Harvey Shine Presents (TV Series documentary)
as
Self (1991-1993)
1990
Wogan (TV Series)
as
Self
- Episode #11.117 (1991) - Self
- Episode #10.47 (1990) - Self (as Brigitte Neilsen)
1991
Estress (TV Series)
as
Self - Guest
- Modas y modelos (1991) - Self - Guest
1990
My Talk Show (TV Series)
as
Self
- Episode dated 19 October 1990 (1990) - Self
1989
The Arsenio Hall Show (TV Series)
as
Self
- Episode #2.218 (1990) - Self
- Episode #1.90 (1989) - Self
- Episode #1.89 (1989) - Self
1990
Un dia és un dia (TV Series)
as
Self - Musical Guest / Self
- Episode #2.6 (1990) - Self - Musical Guest
- Episode #1.17 (1990) - Self
1990
The World Music Awards (TV Special)
as
Self
1989
Michael Jackson: Liberian Girl (Music Video)
as
Self
1989
The Pat Sajak Show (TV Series)
as
Self
- Episode #1.70 (1989) - Self
1989
Aspel & Company (TV Series)
as
Self
- Episode #6.12 (1989) - Self
1988
CBS This Morning (TV Series)
as
Self
- Episode dated 15 November 1988 (1988) - Self
1988
The 14th Annual People's Choice Awards (TV Special documentary)
as
Self - Presenter
1988
Raffaella Carrá Show (TV Series)
as
Self - Guest
- Episode dated 5 March 1988 (1988) - Self - Guest
1988
The 15th Annual American Music Awards (TV Special)
as
Self
1987
AFI Life Achievement Award (TV Series)
as
Self
- AFI Life Achievement Award: A Tribute to Barbara Stanwyck (1987) - Self (uncredited)
1987
Festival (TV Series)
as
Self
- Festival di Mezzanotte (1987) - Self
- Episode dated 18 December 1987 (1987) - Self
- Episode dated 11 December 1987 (1987) - Self
- Episode dated 11 November 1987 (1987) - Self
- Episode dated 16 October 1987 (1987) - Self
- Episode dated 25 September 1987 (1987) - Self
1987
Super 88 (TV Special)
as
Self - Performer
1987
The Making of 'Beverly Hills Cop II' (Video short)
as
Self
1987
Champs-Elysées (TV Series)
as
Self
- Episode dated 21 November 1987 (1987) - Self
1987
Wetten, dass..? (TV Series)
as
Self
- Wetten, dass..? aus Kiel (1987) - Self
1987
The Last Resort with Jonathan Ross (TV Series)
as
Self
- Episode #2.3 (1987) - Self
1987
The 4th Annual American Cinema Awards (TV Special)
as
Self
1986
De película (TV Series)
as
Self - Interviewee
- El cine del verano (1986) - Self - Interviewee
1986
Hour Magazine (TV Series)
as
Self
- Episode dated 2 May 1986 (1986) - Self
1985
The Tonight Show Starring Johnny Carson (TV Series)
as
Self / Self - Guest
- Episode #24.175 (1985) - Self
- Episode #24.94 (1985) - Self - Guest
1985
Good Morning America (TV Series)
as
Self
- Dated 11 July 1985 (1985) - Self
1951
Festival di Sanremo (TV Series)
as
Self - Assistant (1992)
Archive Footage
2021
The Making of 'Rocky vs. Drago' (Documentary)
as
Self / Ludmilla Drago
2018
Entertainment Tonight (TV Series)
as
Self
- Episode #38.60 (2018) - Self
- Media (2018) - Self
2018
Ok! TV (TV Series)
as
Self
- Episode #3.212 (2018) - Self
2016
Ich bin ein Star - Holt mich hier raus! (TV Series)
as
Self
- Tag 16: Das große Jubiläumsdschungel-Finale (2016) - Self
2015
Dolezal Backstage (TV Series documentary)
as
Self
- Episode #1.1 (2015) - Self
2013
The '80s: The Decade That Made Us (TV Mini Series documentary)
as
Self
- Super Power (2013) - Self (uncredited)
- Masters of the Universe (2013) - Self (uncredited)
2010
Red Sonja Vs. Kalidor: The Making of a Misunderstanding (Video documentary short)
as
Red Sonja (uncredited)
2009
Family Guy (TV Series)
as
Ludmilla Vobet Drago
- Something, Something, Something, Dark Side (2009) - Ludmilla Vobet Drago
2009
Pop Galerie Reloaded (TV Series documentary)
as
Self
- Falco (2009) - Self
2008
Celebrity Rehab with Dr. Drew (TV Series)
as
Self - Previous Rehab Patient
- Episode #2.1 (2008) - Self - Previous Rehab Patient (uncredited)
2008
TV's Believe It or Not (TV Movie documentary)
as
Self
2006
Flavor of Love (TV Series)
as
Self
- In Flav We Trust (2008) - Self
- Sumthin's Stinkin' in the House of Flav (2006) - Self
- Fifteen Beds and a Bucket of Puke (2006) - Self
2007
Herr Schmidt wird 50, will aber nicht feiern (TV Movie documentary)
as
Self
2006
Weltberühmt in Österreich - 50 Jahre Austropop (TV Series documentary)
as
Self
- Weltberühmt in der Welt - Internationale Erfolge des Austropop (2006) - Self (uncredited)
2005
Dorfers Donnerstalk (TV Series)
as
Self
- Episode #3.6 (2005) - Self (uncredited)
2004
Retrosexual: The 80's (TV Mini Series documentary)
as
Self
2002
Beverly Hills Cop II: The Phenomenon Continues (Video documentary short)
as
Self
2000
Goodbye 2000 (TV Movie)
as
Self (uncredited)
1998
Falco - Hoch wie nie (Video)
as
Self
1987
Bob Seger: Shakedown (Music Video)
as
Carla Fray
1987
Not Necessarily the News (TV Series)
as
Self
- Inside Entertainment (1987) - Self
References
Brigitte Nielsen Wikipedia
(Text) CC BY-SA