In the film, the Soviet Union and their top boxer make an entrance into professional boxing with their best athlete Ivan Drago, who initially wants to take on World champion Rocky Balboa. Rocky's best friend Apollo Creed decides to fight him instead, but is fatally beaten in the ring. Enraged, Rocky decides to fight Drago in the Soviet Union to avenge the death of his friend and defend the honor of his country.
Critical reception was mixed, but the film earned $300 million at the box office. This film marked Carl Weathers' final appearance in the series. The film's success led to a fifth entry released on November 16, 1990.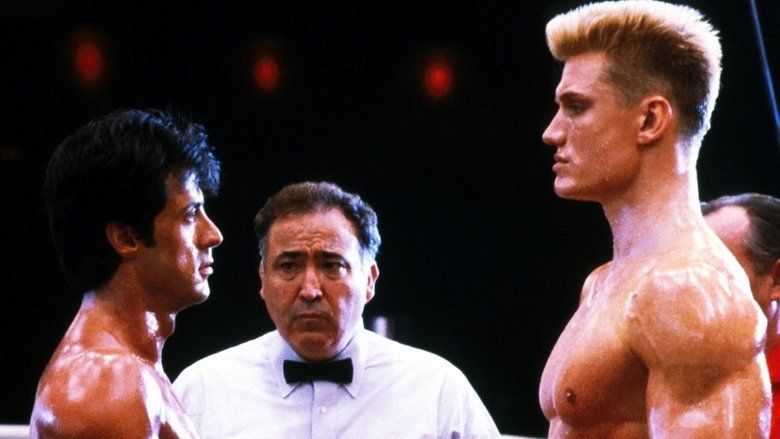 Ivan Drago, a Russian Soviet boxer, arrives in the United States with his wife, Ludmilla, and a team of trainers from the USSR and Cuba. His manager, Nicolai Koloff, takes every opportunity to promote Drago's athleticism as a hallmark of Soviet superiority. Motivated by patriotism and an innate desire to prove himself, Apollo Creed challenges Drago to an exhibition bout. Rocky has reservations, but agrees to train Apollo despite his misgivings about the match. He asks Apollo whether the fight is against the Soviet, or "you against you?"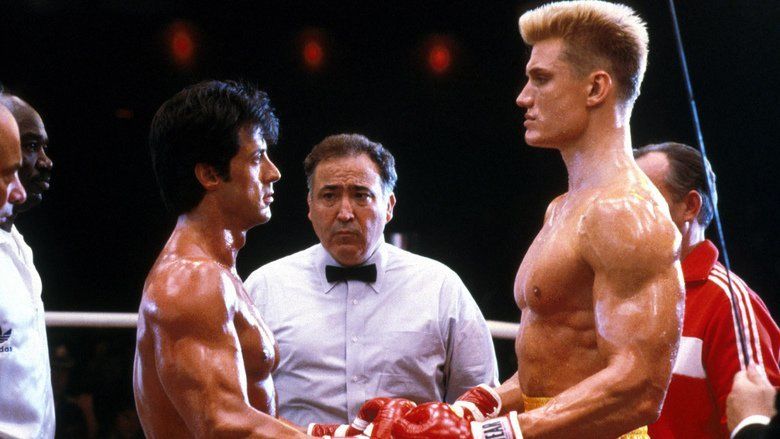 During a press conference regarding the match, hostility sparks between Apollo and Drago's respective camps. The boxing exhibition takes place at the MGM Grand Hotel in Las Vegas. Apollo enters the ring in an over-the-top patriotic entrance with James Brown performing "Living in America" complete with showgirls. The bout starts tamely with Apollo landing several punches that have no effect on Drago. It soon turns serious though, as Drago starts to retaliate with devastating effect. By the end of the first round, Rocky and Apollo's trainer, Duke, plead with him to give up, but Apollo refuses to do so, and tells Rocky not to stop the match no matter what. Drago continues to pummel him in the second round, Duke begs Rocky to throw in the towel. Eventually, Drago lands one final punch that knocks Apollo out and kills him. In the immediate aftermath, Drago displays no sense of remorse commenting to the assembled media: "If he dies, he dies."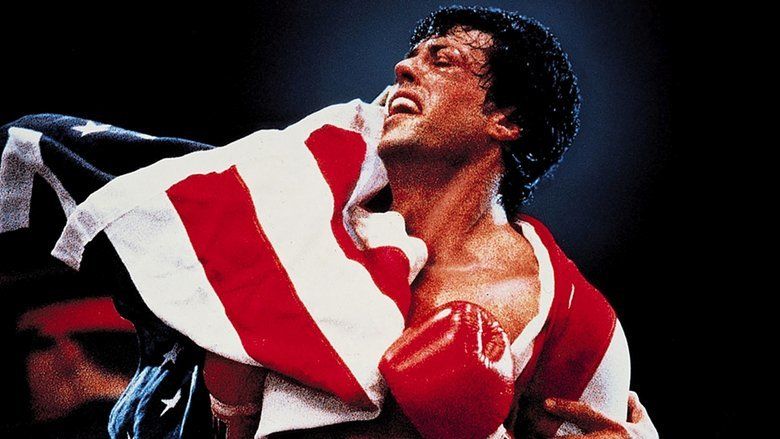 Enraged by guilt and the Russians' cold indifference, Rocky challenges Drago himself. Drago's camp agrees to an unsanctioned 15-round fight in the Soviet Union on Christmas Day, an arrangement meant to protect Drago from the threats of violence he has been receiving in America. Rocky travels to the USSR without Adrian, setting up his training base in Krasnogourbinsk with only Duke and brother-in-law Paulie to accompany him. Duke opens up to Rocky, stating that he raised Apollo and that his death felt like a father losing his son. He expresses his love and faith in Balboa to prevail. To prepare for the match, Drago uses high-tech equipment, steroid enhancement, and a team of trainers and doctors monitoring his every movement. Rocky, on the other hand, lifts and throws heavy logs, chops down trees, pulls an overloaded snow sleigh with Paulie atop, jogs through heavy snow under treacherous icy conditions, and climbs the largest icy mountain. Adrian arrives unexpectedly to give Rocky her support after initially refusing to travel to the Soviet Union because of her worry that Rocky would be killed like Apollo.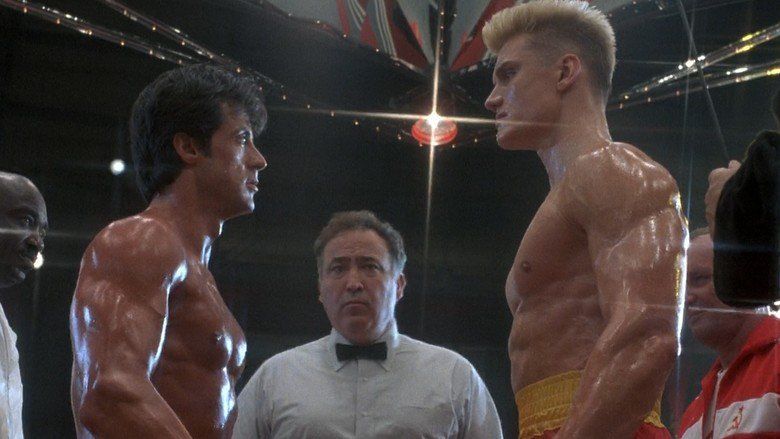 Drago is introduced with an elaborate, patriotic ceremony and the home crowd is squarely on Drago's side and being hostile to Rocky the American as he approaches the ring. In contrast to his match with Apollo, Drago immediately goes on the offensive. Rocky takes a fierce pounding and is thrown and shoved across the ring but comes back toward the end of the second round and cuts Drago's left eye, stunning both the Russian and the crowd and prompting Rocky to continue punching even after the bell rings. While Duke and Paulie encourage Rocky, they remind him that Drago is not a machine, but a man. Drago ironically comments to his trainers that Rocky "is not human, he is like a piece of iron" after his trainers reprimand him for his performance against the "weak" American.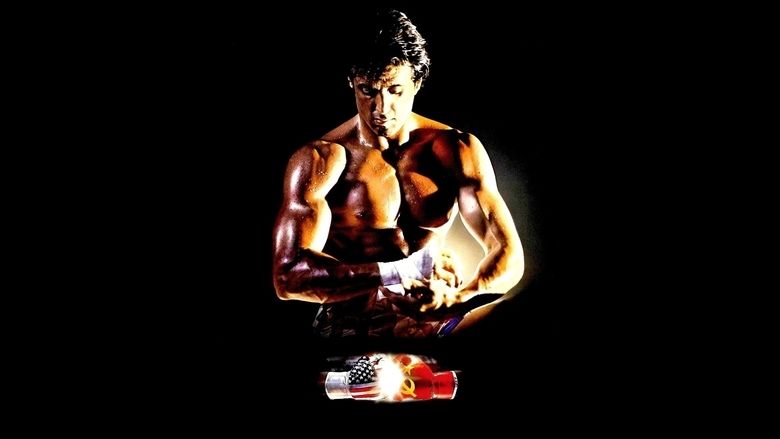 The two boxers continue their battle over the next dozen rounds, with Rocky managing to continually hold his ground despite Drago's powerful punches. His resilience rallies the previously hostile Soviet crowd to his side, which unsettles Drago to the point that he shoves Koloff off the ring for berating his performance. In the last round, Rocky attempts the Rope-a-dope tactic against Drago, a tactic that successfully worked against Clubber Lang. However, this tactic does not work with Drago. Rocky then goes toe to toe and lands rapid punches to the body of the Russian following shouted orders from Duke. Rocky follows up with punches to the face that daze Drago and finally cause him to fall to the canvas, winning by knockout to the shock of the Soviet politburo members watching the match. A bloody and battered Rocky gives a victory speech, acknowledging how the local crowd's disdain of him had turned to respect during the fight. He compares it to the animosity between Soviets and Americans, and says that seeing him and Drago fight was "better than 20 million," implying war between their two countries. Rocky finally declares, "If I can change, and you can change, then everybody can change!" The Soviet General Secretary stands and reluctantly applauds Rocky, and his aides follow suit. Rocky ends his speech by wishing his son watching the match on TV a Merry Christmas, and raises his arms into the air in victory as the crowd applauds.
Sylvester Stallone as Rocky Balboa, "The Italian Stallion": Beloved Heavyweight Champion of the World, who agrees to support and train Apollo Creed in his match with Russian boxer, Ivan Drago. After Apollo's death in the ring Rocky agrees to a match versus the Russian, in Russia.
Talia Shire as Adrian Balboa: Rocky's wife and support through his boxing career.
Burt Young as Paulie Pennino: Rocky's friend and brother-in-law.
Carl Weathers as Apollo Creed: Former Heavyweight Champion of the World, and close friend to Rocky who returns to the ring in order to fight Drago, only to die mid-fight, due to the Russian's unprecedented strength. Creed's death would later play a role in the 2015 film Creed.
Dolph Lundgren as Ivan Drago: Russia's prize Champion boxer, who with the secret use of steroids and advanced training, gains worldwide attention due to his brute-strength that hasn't been seen before. Drago kills Apollo Creed during their match due to the trauma Apollo receives at the hands of Drago.
Brigitte Nielsen as Ludmilla Vobet Drago: Wife and supporter of Ivan Drago.
Tony Burton as Tony "Duke" Evers: Apollo's father-figure, friend, trainer and manager, who becomes Rocky's trainer for his match against Drago.
Michael Pataki as Nicolai Koloff: Trainer, promoter, and manager of Ivan Drago.
LeRoy Neiman plays the ring announcer in the Creed-Drago match. Burgess Meredith appears as Mickey Goldmill in archive footage. Appearing as themselves are singer James Brown and commentators Stu Nahan, Warner Wolf, R. J. Adams, Barry Tompkins, and Al Bandiero.
Wyoming doubled for the frozen expanse of the Soviet Union. The small farm where Rocky lived and trained was in Jackson Hole, and the Grand Teton National Park was used for filming many of the outdoor sequences in the Soviet Union. The PNE Agrodome at Hastings Park in Vancouver, British Columbia, served as the location of Rocky's Soviet bout.
Sylvester Stallone has stated that the original punching scenes filmed between him and Dolph Lundgren in the first portion of the fight are completely authentic. Stallone wanted to capture a realistic scene and Lundgren agreed that they would engage in legitimate sparring. One particularly forceful Lundgren punch to Stallone's chest slammed his heart against his breastbone, causing the heart to swell. Stallone, suffering from labored breathing and a blood pressure over 200, was flown from the set in Canada to Saint John's Regional Medical Center in Santa Monica and was forced into intensive care for eight days. Stallone later commented that he believed Lundgren had the athletic ability and talent to fight in the professional heavyweight division of boxing.
Additionally, Stallone claimed that Lundgren nearly forced Carl Weathers to quit in the middle of filming the Apollo-vs.-Drago "exhibition" fight. At one point in the filming of the scene, Lundgren tossed Weathers into the corner of the boxing ring. Weathers shouted profanities at Lundgren while leaving the ring and announcing that he was calling his agent and quitting the movie. Only after Stallone forced the two actors to reconcile did the movie continue. This event caused a four-day work stoppage while Weathers was talked back into the part and Lundgren agreed to tone down his aggressiveness.
Rocky IV is one of the few sport movies that applies genuine sound effects from actual punches, bona fide training methods created by boxing consultants, and a bevy of other new special effects. The film is recognized as being ahead of its time in its demonstration of groundbreaking high-tech sporting equipment, some of which was experimental and twenty years from public use. In 2012, Olympians Michael Phelps and Ryan Lochte noted that the training sequences in Rocky IV inspired them to use a cabin similar to what the resourceful Balboa utilized in the film.
Sportscaster Stu Nahan makes his fourth appearance in the series as commentator for the Creed–Drago fight. Warner Wolf replaces Bill Baldwin, who died following filming for Rocky III, as co-commentator. For the fight between Rocky and Drago, commentators Barry Tompkins and Al Bandiero portray themselves as USA Network broadcasters.
Apollo Creed's wife Mary Anne (Sylvia Meals) made her second appearance in the series, the first being Rocky II, although the character was mainly featured in Rocky II. Stallone's future wife, Brigitte Nielsen, appeared as Drago's wife, Ludmilla.
Paulie's robot, a character that through the years has enjoyed a cult following of its own, was created by the International Robotics Inc. in New York City. The robot's initial voice was that of the company's CEO Robert Doornick. The robot is identified by its engineers as "SICO" and is/was a member of the Screen Actors Guild and toured with James Brown in the 1980s. The robot was written into the movie after it had been used to help treat Stallone's autistic son, Seargeoh.
The Soviet premier in the sky box during the Rocky–Drago match strongly resembles contemporary Soviet leader Mikhail Gorbachev. Actor David Lloyd Austin later played Gorbachev in The Naked Gun and played Russian characters in other films.
The musical score for Rocky IV was composed by Vince DiCola, who would later compose the music for The Transformers: The Movie (1986). Rocky IV is the only film in the series not to feature original music by Bill Conti, who was replaced by DiCola; however, it does features arrangements of themes composed by Conti from previous films in the series, such as "The Final Bell". Conti, who was too busy with the first two Karate Kid films at the time, would return for Rocky V and Rocky Balboa. Conti's famous piece of music from the Rocky series, "Gonna Fly Now", does not appear at all in Rocky IV (the first time in the series this happened), though a few bars of it are incorporated into DiCola's training montage instrumental.
Songs from the movie included "Living in America" by James Brown, and also music by John Cafferty ("Hearts on Fire", featuring Vince DiCola), Survivor, Kenny Loggins, and Robert Tepper. Go West wrote "One Way Street" for the movie by request of Sylvester Stallone. Europe's hit "The Final Countdown", written earlier in the decade by lead singer Joey Tempest, is often incorrectly stated as being featured in the film due to its similarity to DiCola's "Training Montage." However, Europe's track was not released as a single until late 1986, after Rocky IV's release.
According to singer Peter Cetera, he originally wrote his best-selling solo single "Glory of Love" as the end title for this film, but was passed over by United Artists, and instead used the theme for The Karate Kid Part II.
Rocky IV made $127.8 million in United States and Canada and $300 million worldwide, the most of any Rocky film. It was the highest-grossing sports film of all time until 2009's The Blind Side which grossed $309 million (albeit unadjusted for inflation).
Stallone has been quoted as saying the enormous financial success and fan-following of Rocky IV once had him envisioning another Rocky movie devoted to Drago and his post-boxing life, with Balboa's storyline running parallel to Drago's. However, he noted the damage both boxers sustained in the fight made them "incapable of reason" and thus instead planned Rocky V as a showcase of the dangers of boxing.
The film received a 39% approval rating from Rotten Tomatoes from 43 critics, indicating mixed reviews; the critical consensus was, "Rocky IV inflates the action to absurd heights, but it ultimately rings hollow thanks to a story that hits the same basic beats as the first three entries in the franchise." On Metacritic, the film has a score of 42 out of 100, based on 11 critics, indicating "mixed or average reviews".
Roger Ebert gave the film two out of four stars, stating that with this film the Rocky series began "finally losing its legs. It's been a long run, one hit movie after another, but Rocky IV is a last gasp, a film so predictable that viewing it is like watching one of those old sitcoms where the characters never change and the same situations turn up again and again." Ian Nathan of Empire gave the film two out of five stars, calling the script a "laughable turd" and describing Rocky IV as "the [film] where the Rocky series threw in the towel on the credibility."
Dolph Lundgren received acclaim for his performance as Ivan Drago. He won the Marshall Trophy for Best Actor at the Napierville Cinema Festival. Rocky IV also won Germany's Golden Screen Award.
The film won five Golden Raspberry Awards including Worst Actor (Sylvester Stallone, along with Rambo: First Blood Part II), Worst Director (Stallone), Worst Supporting Actress (Brigitte Nielsen), Worst New Star (Nielsen, along with Red Sonja) and Worst Musical Score. It also received nominations for Worst Picture, Worst Supporting Actress (Talia Shire), Worst Supporting Actor (Burt Young) and Worst Screenplay.
Scholars note that the film's strong yet formulaic structure emphasizes the power of the individual, embodied by Rocky, the prototypically American hero who is inventive, determined, and idealistic. They contrast that with Ivan Drago's hyperbolic characterization as a representation of Soviet power in the context of the latter part of the Cold War. Writer/director Stallone highlights the nationalistic overtones of the Balboa–Drago fight throughout the film, such as when Drago's wife calls the United States an "antagonistic and violent government" that is filled with "threats of violence" to her husband. Drago's trainer comments that American society has become "pathetic and weak." Drago represents the totalitarian regime, demonstrating his power when he topples an arrogant opponent (Creed). Later on, the radio announcer says, "Ivan Drago is a man with an entire country in his corner." Scholars note that Drago's ultimate defeat — and the Soviet crowd's embrace of Rocky — represents a crumbling of the Soviet Union.
Rocky IV has also been interpreted as a commentary on the power struggle between technology and humans, illustrated by both Paulie's robot and the technology utilized by Drago's trainers.
A novelization was published by Ballantine Books in 1985. Sylvester Stallone was credited as the author.
The script development was the subject of a famous copyright lawsuit, Anderson v. Stallone. Timothy Anderson developed a treatment for Rocky IV on spec; after the studio decided not to buy his treatment, he sued when the resulting movie script was similar to his treatment. The court held that Anderson had prepared an unauthorized derivative work of the characters Stallone had developed in Rocky I through III, and thus he couldn't enforce his unauthorized story extension against the owner of the character's copyrights.