Nationality

American




Listed weight

220 lb (100 kg)




Name

Bill Russell




Height

2.07 m




Listed height

6 ft 9 in (2.06 m)




Pro career

1956–1969




Role

Basketball player






Born

February 12, 1934 (age 89) West Monroe, Louisiana (

1934-02-12

)


College

San Francisco (1953–1956)




NBA draft

1956 / Round: 1 / Pick: 2nd overall




Spouse

Marilyn Nault (m. 1996–2009), Dorothy Anstett (m. 1977–1980), Rose Swisher (m. 1956–1973)


Education

McClymonds High School, University of San Francisco


Awards

NBA Most Valuable Player Award, All-NBA Team


Similar People

Wilt Chamberlain, Kareem Abdul‑Jabbar, Larry Bird, Jerry West, Bob Cousy
William Felton "Bill" Russell (born February 12, 1934) is an American retired professional basketball player. Russell played center for the Boston Celtics of the National Basketball Association (NBA) from 1956 to 1969. A five-time NBA Most Valuable Player and a twelve-time All-Star, he was the centerpiece of the Celtics dynasty, winning eleven NBA championships during his thirteen-year career. Along with Henri Richard of the National Hockey League's Montreal Canadiens, Russell holds the record for the most championships won by an athlete in a North American sports league. Before his professional career, Russell led the University of San Francisco to two consecutive NCAA championships (1955, 1956). He also won a gold medal at the 1956 Summer Olympics as captain of the U.S. national basketball team.
Contents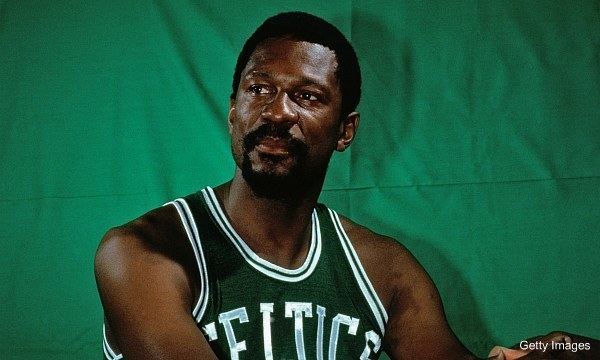 Russell is widely considered one of the best players in NBA history. He was listed as between 6 ft 9 in (2.06 m) and 6 ft 10 in (2.08 m), and his shot-blocking and man-to-man defense were major reasons for the Celtics' success. He also inspired his teammates to elevate their own defensive play. Russell was equally notable for his rebounding abilities. He led the NBA in rebounds four times, had a dozen consecutive seasons of 1,000 or more rebounds, and remains second all-time in both total rebounds and rebounds per game. He is one of just two NBA players (the other being prominent rival Wilt Chamberlain) to have grabbed more than 50 rebounds in a game. Though never the focal point of the Celtics' offense, Russell also scored 14,522 career points and provided effective passing.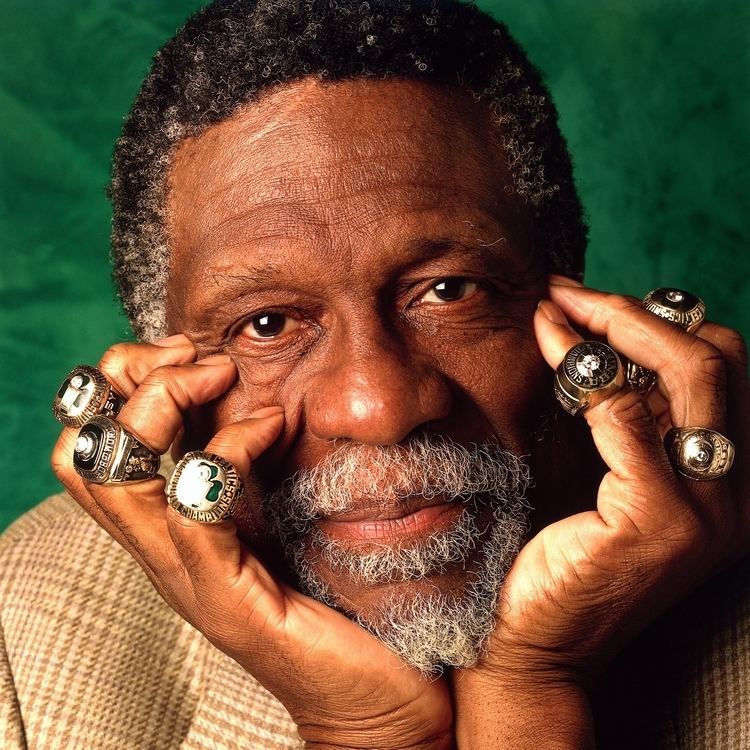 Playing in the wake of pioneers like Earl Lloyd, Chuck Cooper, and Sweetwater Clifton, Russell was the first African American player to achieve superstar status in the NBA. He also served a three-season (1966–69) stint as player-coach for the Celtics, becoming the first African American NBA coach. For his accomplishments in the Civil Rights Movement on and off the court, Barack Obama awarded him the Presidential Medal of Freedom in 2011.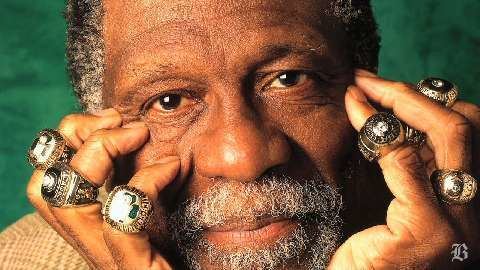 Russell is one of only seven players in history to win an NCAA Championship, an NBA Championship, and an Olympic Gold Medal. He was inducted into the Naismith Memorial Basketball Hall of Fame and the National Collegiate Basketball Hall of Fame. He was selected into the NBA 25th Anniversary Team in 1971 and the NBA 35th Anniversary Team in 1980, and named as one of the 50 Greatest Players in NBA History in 1996, one of only four players to receive all three honors. In 2007, he was enshrined in the FIBA Hall of Fame. In 2009, the NBA announced that the NBA Finals Most Valuable Player trophy would be named the Bill Russell NBA Finals Most Valuable Player Award in honor of Russell.
Bill russell sports biography project
Early years
Bill Russell was born to Charles Russell and Katie Russell in West Monroe, Louisiana. West Monroe was strictly segregated the way all southern towns and cities were, and the Russells often struggled with racism. Once, Russell's father was refused service at a gas station until the staff had taken care of all the white customers. When his father attempted to leave and find a different station, the attendant stuck a shotgun in his face and threatened to kill him if he didn't stay and wait his turn. At another time, Russell's mother was walking outside in a fancy dress when a policeman accosted her. He told her to go home and remove the dress, which he described as "white woman's clothing". Because large numbers of blacks were moving to the West during World War II to look for work there, Russell's father moved the family out of Louisiana when Russell was eight years old and settled them in Oakland, California. While there the family fell into poverty, and Russell spent his childhood living in a series of public housing projects.
Charles Russell is described as a "stern, hard man" who was initially a janitor in a paper factory (a typical low paid, intellectually unchallenging "Negro Job", as sports journalist John Taylor commented), but later became a trucker when World War II broke out. Being closer to his mother Katie than to his father, Russell received a major emotional blow when she suddenly died when he was 12. His father gave up his trucking job and became a steel worker to be closer to his semi-orphaned children. Russell has stated that his father became his childhood hero, later followed up by Minneapolis Lakers superstar George "Mr. Basketball" Mikan, whom he met when he was in high school.
In his early years, Russell struggled to develop his skills as a basketball player. Although Russell was a good runner and jumper and had large hands, he simply did not understand the game and was cut from the team in junior high school. As a freshman at McClymonds High School in Oakland, California, Russell was almost cut again. However, coach George Powles saw Russell's raw athletic potential and encouraged him to work on his fundamentals. Since Russell's previous encounters with white authority figures were often negative, he was delighted to receive warm words from his white coach. He worked hard and used the benefits of a growth spurt to become a decent basketball player, but it was not until his junior and senior years that he began to excel, winning back to back high school state championships. Russell soon became noted for his unusual style of defense. He later recalled, "To play good defense ... it was told back then that you had to stay flatfooted at all times to react quickly. When I started to jump to make defensive plays and to block shots, I was initially corrected, but I stuck with it, and it paid off."
One of Russell's high school basketball teammates was future Baseball Hall-of-Famer Frank Robinson.
College career
Russell was ignored by college recruiters and did not receive a single letter of interest until recruiter Hal DeJulio from the University of San Francisco (USF) watched him in a high school game. DeJulio was not impressed by Russell's meager scoring and "atrocious fundamentals", but sensed that the young center had an extraordinary instinct for the game, especially in the clutch. When DeJulio offered Russell a scholarship, the latter eagerly accepted. Sports journalist John Taylor described it as a watershed in Russell's life, because Russell realized that basketball was his one chance to escape poverty and racism; as a consequence, Russell swore to make the best of it.
At USF, Russell became the new starting center for coach Phil Woolpert. Woolpert emphasized defense and deliberate half-court play, concepts that favored defensive standout Russell. Woolpert's choices of how to deploy his players were unaffected by issues of skin color. In 1954, he became the first coach of a major college basketball squad to start three African American players: Russell, K. C. Jones and Hal Perry. In his USF years, Russell used his relative lack of bulk to develop a unique style of defense: instead of purely guarding the opposing center, he used his quickness and speed to play help defense against opposing forwards and aggressively challenge their shots. Combining the stature and shot-blocking skills of a center with the foot speed of a guard, Russell became the centerpiece of a USF team that soon became a force in college basketball. After USF kept Holy Cross star Tom Heinsohn scoreless in an entire half, Sports Illustrated wrote, "If [Russell] ever learns to hit the basket, they're going to have to rewrite the rules."
However, the games were often difficult for the USF squad. Russell and his African American teammates became targets of racist jeers, particularly on the road. In one notable incident, hotels in Oklahoma City refused to admit Russell and his black teammates while they were in town for the 1954 All-College Tournament. In protest, the whole team decided to camp out in a closed college dorm, which was later called an important bonding experience for the group. Decades later, Russell explained that his experiences hardened him against abuse of all kinds. "I never permitted myself to be a victim," he said.
Racism also shaped his lifelong paradigm as a team player. "At that time," he has said, "it was never acceptable that a black player was the best. That did not happen ... My junior year in college, I had what I thought was the one of the best college seasons ever. We won 28 out of 29 games. We won the National Championship. I was the [Most Valuable Player] at the Final Four. I was first team All American. I averaged over 20 points and over 20 rebounds, and I was the only guy in college blocking shots. So after the season was over, they had a Northern California banquet, and they picked another center as Player of the Year in Northern California. Well, that let me know that if I were to accept these as the final judges of my career I would die a bitter old man." So he made a conscious decision, he said, to put the team first and foremost, and not worry about individual achievements.
On the hardwood, his experiences were far more pleasant. Russell led USF to NCAA championships in 1955 and 1956, including a string of 55 consecutive victories. He became known for his strong defense and shot-blocking skills, once denying 13 shots in a game. UCLA coach John Wooden called Russell "the greatest defensive man I've ever seen". During his college career, Russell averaged 20.7 points per game and 20.3 rebounds per game. Besides basketball, Russell represented USF in track and field events. He competed in the 440 yards (400 m) race, which he could complete in 49.6 seconds. He also participated in the high jump; Track & Field News ranked him as the seventh-best high jumper in the world in 1956. That year, Russell won high jump titles at the Central California AAU meet, the Pacific AAU meet, and the West Coast Relays. One of his highest jumps occurred at the West Coast Relays, where he achieved a mark of 6 feet 9 1⁄4 inches (2.064 m).
After his years at USF, the Harlem Globetrotters invited Russell to join their exhibition basketball squad. Russell, who was sensitive to any racial prejudice, was enraged by the fact that owner Abe Saperstein would only discuss the matter with Woolpert. While Saperstein spoke to Woolpert in a meeting, Globetrotters assistant coach Harry Hanna tried to entertain Russell with jokes. The USF center was livid after this snub and declined the offer: he reasoned that if Saperstein was too smart to speak with him, then he was too smart to play for Saperstein. Instead, Russell made himself eligible for the 1956 NBA draft.
1956 NBA draft
In the 1956 NBA draft, Boston Celtics coach Red Auerbach had set his sights on Russell, thinking his defensive toughness and rebounding prowess were the missing pieces the Celtics needed. In retrospect, Auerbach's thoughts were unorthodox. In that period, centers and forwards were defined by their offensive output, and their ability to play defense was secondary.
However, Boston's chances of getting Russell seemed slim. Because the Celtics had finished second in the previous season and the worst teams had the highest draft picks, the Celtics had slipped too low in the draft order to pick Russell. In addition, Auerbach had already used his territorial pick to acquire talented forward Tom Heinsohn. But Auerbach knew that the Rochester Royals, who owned the first draft pick, already had a skilled rebounder in Maurice Stokes, were looking for an outside shooting guard and were unwilling to pay Russell the $25,000 signing bonus he requested. The St. Louis Hawks, who owned the second pick, drafted Russell, but were vying for Celtics center Ed Macauley, a six-time All-Star who had roots in St. Louis. Auerbach agreed to trade Macauley, who had previously asked to be traded to St. Louis in order to be with his sick son, if the Hawks gave up Russell. The owner of St Louis called Auerbach later and demanded more in the trade. Not only did he want Macauley, who was the Celtics premier player at the time, he wanted Cliff Hagan, who had been serving in the military for three years and had not yet played for the Celtics. After much debate, Auerbach agreed to give up Hagan, and the Hawks made the trade.
During that same draft, Boston also drafted guard K. C. Jones, Russell's former USF teammate. Thus, in one night, the Celtics managed to draft three future Hall of Famers: Russell, Jones and Heinsohn. The Russell draft-day trade was later called one of the most important trades in the history of North American sports.
1956 Olympics
Before his NBA rookie year, Russell was the captain of the U.S. national basketball team that competed at the 1956 Summer Olympics in Melbourne, Australia. Avery Brundage, head of the International Olympic Committee, argued that Russell had already signed a professional contract and thus was no longer an amateur, but Russell prevailed. He had the option to skip the tournament and play a full season for the Celtics, but he was determined to play in the Olympics. He later commented that he would have participated in the high jump if he had been snubbed by the basketball team. Under coach Gerald Tucker, Russell helped the national team win the gold medal in Melbourne, defeating the Soviet Union 89–55 in the final game. The United States dominated the tournament, winning by an average of 53.5 points per game. Russell led the team in scoring, averaging 14.1 points per game for the competition. His Celtics teammate K. C. Jones joined him on the Olympic squad and contributed 10.9 points per game.
1956–59
Russell could not join the Celtics for the 1956–57 season until December, due to his Olympic commitment. After rejoining the Celtics, Russell played 48 games, averaging 14.7 points per game and a league-high 19.6 rebounds per game. During this season, the Celtics featured five future Hall-of-Famers: center Russell, forwards Heinsohn and Frank Ramsey, and guards Bill Sharman and Bob Cousy. (K. C. Jones did not play for the Celtics until 1958 because of military service.)
Russell's first Celtics game came on December 22, 1956, against the St. Louis Hawks, led by star forward Bob Pettit, who held several all-time scoring records. Auerbach assigned Russell to shut down St. Louis's main scorer, and the rookie impressed the Boston crowd with his man-to-man defense and shot-blocking. In previous years, the Celtics had been a high-scoring team, but lacked the defensive presence needed to close out tight games. However, with the added defensive presence of Russell, the Celtics had laid the foundation for a dynasty. The team utilized a strong defensive approach to the game, forcing opposing teams to commit many turnovers, which led to many easy fast break points. Russell was an elite help defender who allowed the Celtics to play the so-called "Hey, Bill" defense: whenever a Celtic requested additional defensive help, he would shout "Hey, Bill!" Russell was so quick that he could run over for a quick double team and make it back in time if the opponents tried to find the open man. He also became famous for his shot-blocking skills: pundits called his blocks "Wilsonburgers", referring to the Wilson NBA basketballs he "shoved back into the faces of opposing shooters". This skill also allowed the other Celtics to play their men aggressively: if they were beaten, they knew that Russell was guarding the basket. This approach allowed the Celtics to finish with a 44–28 regular season record, the team's second-best record since beginning play in the 1946–47 season, and guaranteed a post-season appearance.
However, Russell also received negative attention. Constantly provoked by New York Knicks center Ray Felix during a game, he complained to coach Auerbach. The latter told him to take matters into his own hands, so after the next provocation, Russell punched Felix unconscious, paid a $25 fine and was no longer a target of cheap fouls. With his teammates, Russell had a cordial relationship, with the notable exception of fellow rookie and old rival Heinsohn. Heinsohn felt that Russell resented him because the former was named the 1957 NBA Rookie of the Year: many people thought that Russell was more important, but Russell also had only played half the season. Russell also ignored Heinsohn's plea to give his cousin an autograph, and openly said to Heinsohn that he deserved half of his $300 Rookie of the Year check. The relationship between the two rookies remained reserved. On the other hand, despite their different ethnic backgrounds and lack of common off-court interests, his relationship with Celtics point guard and fan favorite Bob Cousy was amicable.
In Game 1 of the Eastern Division Finals, the Celtics met the Syracuse Nationals, who were led by Dolph Schayes. In Russell's first NBA playoff game, he finished with 16 points and 31 rebounds, along with a reported 7 blocks. (At the time, blocks were not yet an officially registered statistic.) After the Celtics' 108–89 victory, Schayes quipped, "How much does that guy make a year? It would be to our advantage if we paid him off for five years to get away from us in the rest of this series." The Celtics swept the Nationals in three games to earn the franchise's first appearance in the NBA Finals.
In the NBA Finals, the Celtics met the St. Louis Hawks, who were again led by Bob Pettit, as well as former Celtic Ed Macauley. The teams split the first six games, and the tension was so high that, in Game 3, Celtics coach Auerbach punched his colleague Ben Kerner and received a $300 fine. In the highly competitive Game 7, Russell tried his best to slow down Pettit, but it was Heinsohn who scored 37 points and kept the Celtics alive. However, Russell contributed by completing the famous "Coleman Play". Here, Russell ran down Hawks guard Jack Coleman, who had received an outlet pass at midcourt, and blocked his shot despite the fact that Russell had been standing at his own baseline when the ball was thrown to Coleman. The block preserved Boston's slim 103–102 lead with 40-odd seconds left to play in regulation, saving the game for the Celtics. In the second overtime, both teams were in serious foul trouble: Heinsohn had fouled out, and the Hawks were so depleted that they had only 7 players left. With the Celtics leading 125–123 with one second left, the Hawks had the ball at their own baseline. Reserve guard Alex Hannum threw a long alley oop pass to Pettit, and Pettit's tip-in rolled indecisively on the rim for several seconds before rolling out again. The Celtics won, earning their first NBA Championship.
Energized by their championship, the Celtics won 14 straight games to start the 1957–58 season, and they kept rolling. Russell averaged 16.6 points per game and a league-record average of 22.7 rebounds per game. An interesting phenomenon began that year: Russell was voted the NBA Most Valuable Player, but only named to the All-NBA Second Team. This would occur repeatedly throughout his career. The NBA reasoned that other centers were better all-round players than Russell, but no player was more valuable to his team. The Celtics won 49 games and easily made the first berth in the 1958 NBA Playoffs, and made the 1958 NBA Finals against their familiar rivals, the St. Louis Hawks. The teams split the first two games, but then Russell went down with a foot injury in Game 3 and only returned for Game 6. The Celtics surprisingly won Game 4, but the Hawks prevailed in Games 5 and 6, with Pettit scoring 50 points in the deciding Game 6.
In the following 1958–59 season, Russell continued his strong play, averaging 16.7 points per game and 23.0 rebounds per game in the regular season. The Celtics broke a league record by winning 52 games, and Russell's strong performance once again helped lead the Celtics through the post-season, as they returned to the NBA Finals. In the 1959 NBA Finals, the Celtics recaptured the NBA title, sweeping the Minneapolis Lakers 4–0. Lakers head coach John Kundla praised Russell, stating, "We don't fear the Celtics without Bill Russell. Take him out and we can beat them ... He's the guy who whipped us psychologically."
1959–66
In the 1959–60 season, the NBA witnessed the debut of legendary 7 ft 1 in (2.16 m) Philadelphia Warriors center Wilt Chamberlain, who averaged a record 37.6 points per game in his rookie year. On November 7, 1959, Russell's Celtics hosted Chamberlain's Warriors, and pundits called the matchup between the best offensive and best defensive center "The Big Collision" and "Battle of the Titans". Both men awed onlookers with "nakedly awesome athleticism", and while Chamberlain outscored Russell 30 to 22, the Celtics won 115–106, and the match was called a "new beginning of basketball". The matchup between Russell and Chamberlain became one of basketball's greatest rivalries. In that season, Russell's Celtics won a record 59 regular season games (including a then-record tying 17 game win streak) and met Chamberlain's Warriors in the Eastern Division Finals. Chamberlain outscored Russell by 81 points in the series, but the Celtics walked off with a 4–2 series win. In the 1960 Finals, the Celtics outlasted the Hawks 4–3 and won their third championship in four years. Russell grabbed an NBA Finals-record 40 rebounds in Game 2, and added 22 points and 35 rebounds in the deciding Game 7, a 122–103 victory for Boston.
In the 1960–61 season, Russell averaged 16.9 points and 23.9 rebounds per game, leading his team to a regular season mark of 57–22. The Celtics earned another post-season appearance, where they defeated the Syracuse Nationals 4–1 in the Eastern Division Finals. The Celtics made good use of the fact that the Los Angeles Lakers had exhausted St. Louis in a long seven-game Western Conference Finals, and the Celtics convincingly won in five games.
The following season, Russell scored a career-high 18.9 points per game, accompanied by 23.6 rebounds per game. While his rival Chamberlain had a record-breaking season of 50.4 points per game and a 100-point game, the Celtics became the first team to win 60 games in a season, and Russell was voted as the NBA's Most Valuable Player. In the post-season, the Celtics met the Philadelphia Warriors of Chamberlain, and Russell did his best to slow down the 50-points-per-game scoring Warriors center. In the pivotal Game 7, Russell managed to hold Chamberlain to only 22 points (28 below his season average) while scoring 19 himself. The game was tied with two seconds left when Sam Jones sank a clutch shot that won the Celtics the series. In the 1962 NBA Finals, the Celtics met the Los Angeles Lakers of star forward Elgin Baylor and star guard Jerry West. The teams split the first six games, and Game 7 was tied one second before the end of regular time when Lakers guard Rod Hundley faked a shot and instead passed out to Frank Selvy, who missed an open eight-foot last-second shot that would have won L.A. the title. Though the game was tied, Russell had the daunting task of defending against Baylor with little frontline help, as the three best Celtics forwards, Loscutoff, Heinsohn and Tom Sanders, had fouled out. In overtime, Baylor fouled out the fourth forward, Frank Ramsey, so Russell was completely robbed of his usual four-men wing rotation. But Russell and little-used fifth forward Gene Guarilia successfully pressured Baylor into missed shots. Russell finished with a clutch performance, scoring 30 points and tying his own NBA Finals record with 40 rebounds in a 110–107 overtime win.
The Celtics lost playmaker Bob Cousy to retirement after the 1962–63 season, but they drafted John Havlicek. Once again, the Celtics were powered by Russell, who averaged 16.8 points and 23.6 rebounds per game, won his fourth regular-season MVP title, and earned MVP honors at the 1963 NBA All-Star Game following his 19-point, 24-rebound performance for the East. The Celtics reached the 1963 NBA Finals, where they again defeated the Los Angeles Lakers, this time in six games.
In the following 1963–64 season, the Celtics posted a league-best 58–22 record in the regular season. Russell scored 15.0 ppg and grabbed a career-high 24.7 rebounds per game, leading the NBA in rebounds for the first time since Chamberlain entered the league. Boston defeated the Cincinnati Royals 4–1 to earn another NBA Finals appearance, and then won against Chamberlain's newly relocated San Francisco Warriors 4–1. It was their sixth consecutive and seventh title in Russell's eighth year, a streak unreached in any U.S. professional sports league. Russell later called the Celtics' defense the best of all time.
Russell again excelled during the 1964–65 season. The Celtics won a league-record 62 games, and Russell averaged 14.1 points and 24.1 rebounds per game, winning his second consecutive rebounding title and his fifth MVP award. In the 1965 NBA Playoffs, the Celtics played the Eastern Division Finals against the Philadelphia 76ers, who had recently traded for Wilt Chamberlain. Russell held Chamberlain to a pair of field goals in the first three quarters of Game 3. In Game 5, Russell contributed 28 rebounds, 10 blocks, seven assists and six steals. However, that playoff series ended in a dramatic Game 7. Five seconds before the end, the Sixers were trailing 110–109, but Russell turned over the ball. However, when the Sixers' Hall-of-Fame guard Hal Greer inbounded, John Havlicek stole the ball, causing Celtics commentator Johnny Most to scream: "Havlicek stole the ball! It's all over! Johnny Havlicek stole the ball!" After the Division Finals, the Celtics had an easier time in the NBA Finals, winning 4–1 against the Los Angeles Lakers of Jerry West and Elgin Baylor.
In the following 1965–66 season, the Celtics won their eighth consecutive title. Russell's team again beat Chamberlain's Philadelphia 76ers 4 games to 1 in the Division Finals, proceeding to win the NBA Finals in a tight seven-game showdown against the Los Angeles Lakers, with Russell scoring 25 points and grabbing 32 rebounds in a 95–93 win in the deciding seventh game. During the season, Russell contributed 12.9 points and 22.8 rebounds per game. This was the first time in seven years that he failed to average at least 23 rebounds a game.
1966–69
Before the 1966–67 season, Celtics coach Red Auerbach retired. Initially, he had wanted his old player Frank Ramsey as coach, but Ramsey was too occupied running his three lucrative nursing homes. His second choice Bob Cousy declined, stating he did not want to coach his former teammates, and the third choice Tom Heinsohn also said no, because he did not think he could handle the often surly Russell. However, Heinsohn proposed Russell himself as a player-coach, and when Auerbach asked his center, he said yes. Russell thus became the first African American head coach in NBA history, and commented to journalists: "I wasn't offered the job because I am a Negro, I was offered it because Red figured I could do it." The Celtics' championship streak ended that season at eight, however, as Wilt Chamberlain's Philadelphia 76ers won a record-breaking 68 regular season games and overcame the Celtics 4–1 in the Eastern Finals. The Sixers simply outpaced the Celtics, shredding the famous Boston defense by scoring 140 points in the clinching Game 5 win. Russell acknowledged his first real loss in his career (he had been injured in 1958 when the Celtics lost the NBA Finals) by visiting Chamberlain in the locker room, shaking his hand and saying, "Great". However, the game still ended on a high note for Russell. After the loss, he led his grandfather through the Celtics locker rooms, and the two saw white Celtics player John Havlicek taking a shower next to his black teammate Sam Jones and discussing the game. Suddenly, Russell Sr. broke down crying. Asked by his grandson what was wrong, his grandfather replied how proud he was of him, being coach of an organization in which blacks and whites coexisted in harmony.
In Russell's penultimate season, the 1967–68 season, his numbers slowly declined, but at age 34, he still tallied 12.5 points per game and 18.6 rebounds per game (the latter good for the third highest average in the league). In the Eastern Division Finals, the 76ers had the better record than the Celtics and were slightly favored. But then, national tragedy struck as Martin Luther King was assassinated on April 4, 1968. With eight of the ten starting players on Sixers and Celtics being African American, both teams were in deep shock, and there were calls to cancel the series. In a game called as "unreal" and "devoid of emotion", the Sixers lost 127–118 on April 5. In Game 2, Philadelphia evened the series with a 115–106 win, and in Games 3 and 4, the Sixers won, with Chamberlain suspiciously often defended by Celtics backup center Wayne Embry, causing the press to speculate Russell was worn down. Prior to Game 5, the Celtics seemed dead: no NBA team had ever come back from a 3–1 deficit. However, the Celtics rallied back, winning Game 5 122–104 and Game 6 114–106, powered by a spirited Havlicek and helped by a terrible Sixers shooting slump. In Game 7, 15,202 stunned Philadelphia fans witnessed a historic 100–96 defeat, making it the first time in NBA history a team lost a series after leading 3–1. Russell limited Chamberlain to only two shot attempts in the second half. Despite this, the Celtics were leading only 97–95 with 34 seconds left when Russell closed out the game with several consecutive clutch plays. He made a free throw, blocked a shot by Sixers player Chet Walker, grabbed a rebound off a miss by Sixers player Hal Greer, and finally passed the ball to teammate Sam Jones, who scored to clinch the win. Boston then beat the Los Angeles Lakers 4–2 in the NBA Finals, giving Russell his tenth title in 12 years. For his efforts Russell was named Sports Illustrated's Sportsman of the Year. After losing for the fifth straight time against Russell and his Celtics, Hall-of-Fame Lakers guard Jerry West stated, "If I had a choice of any basketball player in the league, my No.1 choice has to be Bill Russell. Bill Russell never ceases to amaze me."
However, in the 1968–69 season, Russell seemed to reach a breaking point. Shocked by the murder of Robert F. Kennedy, disillusioned by the Vietnam War, and weary from his increasingly stale (and later divorced) marriage to his wife Rose, he was convinced that the U.S. was a corrupt nation and that he was wasting his time playing something as superficial as basketball. He was 15 pounds overweight, skipped mandatory NBA coach meetings and was generally lacking energy: after a New York Knicks game, he complained of intense pain and was diagnosed with acute exhaustion. Russell pulled himself together and put up 9.9 points and 19.3 rebounds per game, but the aging Celtics stumbled through the regular season. Their 48–34 record was the team's worst since 1955–56, and they entered the playoffs as only the fourth-seeded team in the East. In the playoffs, however, Russell and his Celtics achieved upsets over the Philadelphia 76ers and New York Knicks to earn a meeting with the Los Angeles Lakers in the NBA Finals. L.A. now featured new recruit Wilt Chamberlain next to perennial stars Baylor and West, and were heavily favored. In the first two games, Russell ordered not to double-team West, who used the freedom to score 53 and 41 points in the Game 1 and 2 Laker wins. Russell then ordered to double-team West, and Boston won Game 3. In Game 4, the Celtics were trailing by one point with seven seconds left and the Lakers having the ball, but then Baylor stepped out of bounds, and in the last play, Sam Jones used a triple screen by Bailey Howell, Larry Siegfried and Havlicek and hit a buzzer beater which equalized the series. The teams split the next two games, so it all came down to Game 7 in L.A., where Lakers owner Jack Kent Cooke angered and motivated the Celtics by putting "proceedings of Lakers victory ceremony" on the game leaflets. Russell used a copy as extra motivation and told his team to play a running game, because in that case, not the better, but the more determined team was going to win.
The Celtics were ahead by nine points with five minutes remaining; in addition, West was heavily limping after a Game 5 thigh injury and Chamberlain had left the game with an injured leg. West then hit one basket after the other and cut the lead to one, and Chamberlain asked to return to the game. However, Lakers coach Bill van Breda Kolff kept Chamberlain on the bench until the end of the game, saying later that he wanted to stay with the lineup responsible for the comeback. The Celtics held on for a 108–106 victory, and Russell claimed his eleventh championship in 13 years. At age 35, Russell contributed 21 rebounds in his last NBA game. After the game, Russell went over to the distraught West (who had scored 42 points and was named the only NBA Finals MVP in history from the losing team), clasped his hand and tried to soothe him. Days later, 30,000 enthusiastic Celtics fans cheered their returning heroes, but Russell was not there: the man who said he owed the public nothing ended his career and cut all ties to the Celtics. It came as so surprising that even Red Auerbach was blindsided, and as a consequence, he made the "mistake" of drafting guard Jo Jo White instead of a center. Although White became a standout Celtics player, the Celtics lacked an All-Star center, went just 34–48 in the next season and failed to make the playoffs for the first time since 1950. In Boston, both fans and journalists felt betrayed, because Russell left the Celtics without a coach and a center and sold his retirement story for $10,000 to Sports Illustrated. Russell was accused of selling out the future of the franchise for a month of his salary.
Post-player career
Russell's No. 6 jersey was retired by the Celtics on March 12, 1972, Besides the Celtics, Russell also wore number 6 at the University of San Francisco and for the 1956 USA Olympic Team.
He was inducted into the Naismith Memorial Basketball Hall of Fame in 1975. Russell, who had a difficult relationship with the media, was not present at either event. After retiring as a player, Russell had stints as head coach of the Seattle SuperSonics (1973 to 1977) and Sacramento Kings (1987 to 1988). His time as a coach was lackluster; although he led the struggling SuperSonics into the playoffs for the first time in franchise history, Russell's defensive, team-oriented Celtics mindset did not mesh well with the team, and he left in 1977 with a 162–166 record. Russell's stint with the Kings was considerably shorter, his last assignment ending when the Kings went 17–41 to begin the 1987–88 season.
In addition, Russell ran into financial trouble. He had invested $250,000 into a rubber plantation in Liberia, where he had wanted to spend his retirement, but it went bankrupt. The same fate awaited his Boston restaurant called "Slade's", after which he had to default on a $90,000 government loan to purchase the outlet. The IRS discovered that Russell owed $34,430 in tax money and put a lien on his house.
Russell became a vegetarian, took up golf and worked as a color commentator, but he was uncomfortable as a broadcaster. He later said, "The most successful television is done in eight-second thoughts, and the things I know about basketball, motivation, and people go deeper than that." On November 3, 1979, Russell hosted Saturday Night Live, in which he appeared in several sports-related sketches. Russell also wrote books, usually written as a joint project with a professional writer, including 1979's Second Wind.
After spending about a decade living as a recluse on Mercer Island near Seattle, Russell rose to prominence again at the turn of the millennium. Russell's Rules was published in 2001, and in January 2006, he convinced Miami Heat superstar center Shaquille O'Neal to bury the hatchet with fellow NBA superstar and former Los Angeles Lakers teammate Kobe Bryant, with whom O'Neal had a bitter public feud. Later that year, on November 17, 2006, the two-time NCAA winner Russell was recognized for his impact on college basketball as a member of the founding class of the National Collegiate Basketball Hall of Fame. He was one of five, along with John Wooden, Oscar Robertson, Dean Smith and Dr. James Naismith, selected to represent the inaugural class. On May 20, 2007, Russell was awarded an honorary doctorate by Suffolk University, where he served as its commencement speaker, and Russell received an honorary degree from Harvard University on June 7, 2007. On June 18, 2007, Russell was inducted as a member of the founding class of the FIBA Hall of Fame. Russell was also honored during the 2009 NBA All-Star Weekend in Phoenix.
On February 14, 2009, NBA Commissioner David Stern announced that the NBA Finals Most Valuable Player Award would be renamed the "Bill Russell NBA Finals Most Valuable Player Award" in honor of the 11-time NBA champion. The following day, during halftime of the All-Star game, Celtics captains Paul Pierce, Kevin Garnett, and Ray Allen presented Russell a surprise birthday cake for his 75th birthday. Russell attended the final game of the Finals that year to present his newly christened namesake award to its winner, Kobe Bryant. Russell was awarded the Presidential Medal of Freedom in 2011.
Accomplishments and legacy
Russell is one of the most successful and decorated athletes in North American sports history. His awards and achievements include 11 NBA championships as a player with the Boston Celtics in 13 seasons (including two NBA championships as player/head coach), and he is credited with having raised defensive play in the NBA to a new level. By winning the 1956 NCAA Championship with USF and the 1957 NBA title with the Celtics, Russell became the first of only four players in basketball history to win an NCAA championship and an NBA Championship back-to-back (the others being Henry Bibby, Magic Johnson, and Billy Thompson). He also won two state championships in high school. In the interim, Russell collected an Olympic gold medal in 1956. His stint as coach of the Celtics was also of historical significance, as he became the first black head coach in major U.S. professional sports when he succeeded Red Auerbach.
In his first NBA full season (1957–58), Russell became the first player in NBA history to average more than 20 rebounds per game for an entire season, a feat he accomplished 10 times in his 13 seasons. Russell's 51 rebounds in a single game is the second-highest performance ever, only trailing Chamberlain's all-time record of 55. He still holds the NBA record for rebounds in one half with 32 (vs. Philadelphia, on November 16, 1957). Career-wise in rebounds, Russell ranks second only to Wilt Chamberlain in regular season total (21,620) and average per game (22.5), and he led the NBA in average rebounds per game four times. Russell is the all-time playoff leader in total (4,104) and average (24.9) rebounds per game, he grabbed 40 rebounds in three separate playoff games (twice in the NBA Finals), and he never failed to average at least 20 rebounds per game in any of his 13 post-season campaigns. Russell also had seven regular season games with 40 or more rebounds, the NBA Finals record for highest rebound per game average (29.5 rpg, 1959) and by a rookie (22.9 rpg, 1957). In addition, Russell holds the NBA Finals single-game record for most rebounds (40, March 29, 1960, vs. St. Louis, and April 18, 1962, vs. Los Angeles), most rebounds in a quarter (19, April 18, 1962 vs. Los Angeles), and most consecutive games with 20 or more rebounds (15 from April 9, 1960 – April 16, 1963). He also had 51 in one game, 49 in two others, and twelve straight seasons of 1,000 or more rebounds. Russell was known as one of the most clutch players in the NBA. He played in 11 deciding games (10 times in Game 7s, once in a Game 5), and ended with a flawless 11–0 record. In these eleven games, Russell averaged 18 points and 29.45 rebounds.
On the hardwood, he was considered the consummate defensive center, noted for his unmatched defensive intensity, his stellar basketball IQ and his sheer will to win. Russell excelled at playing man-to-man defense, blocking shots, and grabbing defensive and offensive rebounds. He also could score with putbacks and made mid-air outlet passes to point guard Bob Cousy for easy fast break points. He also was known as a fine passer and pick-setter, featured a decent left-handed hook shot and finished strong on alley oops. However, on offense, Russell's output was limited. His NBA career personal averages show him to be an average scorer (15.1 points career average), a poor free throw shooter (56.1%), and average overall shooter from the field (44%, not exceptional for a center). In his 13 years, he averaged a relatively low 13.4 field goals attempted (normally, top scorers average 20 and more), illustrating that he was never the focal point of the Celtics offense, instead focusing on his tremendous defense.
In his career, Russell won five regular season MVP awards (1959, 1961–63, 1965)—tied with Michael Jordan for second all-time behind Kareem Abdul-Jabbar's six awards. He was selected three times to the All-NBA First Teams (1959, 1963, 1965) and eight Second Teams (1958, 1960–62, 1964, 1966–68), and was a twelve-time NBA All-Star (1958–1969). Russell was elected to one NBA All-Defensive First Team. This took place during his last season (1969), and was the first season the NBA All-Defensive Teams were selected. In 1970, The Sporting News named Russell the "Athlete of the Decade". Russell is universally seen as one of the best NBA players ever, and was declared "Greatest Player in the History of the NBA" by the Professional Basketball Writers Association of America in 1980. For his achievements, Russell was named "Sportsman of the Year" by Sports Illustrated in 1968. He also made all three NBA Anniversary Teams: the NBA 25th Anniversary All-Time Team (1970), the NBA 35th Anniversary All-Time Team (1980) and the NBA 50th Anniversary All-Time Team (1996). Russell ranked #18 on ESPN's 50 Greatest Athletes of the 20th Century in 1999. In 2009, SLAM Magazine named Russell the #3 player of all time behind Michael Jordan and Wilt Chamberlain. Former NBA player and head coach, Don Nelson, described Bill Russell in a quote that says, "There are two types of superstars. One makes himself look good at the expense of the other guys on the floor. But there's another type who makes the players around him look better than they are, and that's the type Russell was."
On Saturday, February 14, 2009, during the 2009 NBA All-Star Weekend in Phoenix, NBA Commissioner David Stern announced that the NBA Finals MVP Award would be named after Bill Russell. Russell was named as a 2010 recipient of the Presidential Medal of Freedom.
Personal life
Russell was married to his college sweetheart Rose Swisher from 1956 to 1973. They had three children, namely daughter Karen Russell, the television pundit and lawyer, and sons William Jr. and Jacob. However, the couple grew emotionally distant and divorced. In 1977, he married Dorothy Anstett, Miss USA of 1968, but they divorced in 1980. The relationship was shrouded in controversy because Didi was white. In 1996, Russell married his third wife, Marilyn Nault; their marriage lasted until her death in January 2009. His older brother was the noted playwright Charlie L. Russell.
In 1959, Bill Russell became the first NBA player to visit Africa. Russell is a member of Kappa Alpha Psi Fraternity, having been initiated into its Gamma Alpha chapter while a student at University of San Francisco. On October 16, 2013, Russell was arrested for bringing a loaded .38-caliber Smith & Wesson handgun to the Seattle–Tacoma International Airport.
According to a Thursday evening, July 17, 2014 Associated Press (AP) news story, it was stated that,: "Boston Celtics officials say NBA Hall of Famer Bill Russell is doing OK after collapsing during a speaking engagement near Lake Tahoe. Team spokesman Brian Olive says the 80-year-old Russell felt faint after the Thursday morning fall at the Hyatt Regency resort in Incline Village, Nevada, but was planning on returning home to Seattle this evening. ..."
Earnings
During his career, Russell was one of the first big earners in NBA basketball. His 1956 rookie contract was worth $24,000, only fractionally smaller than the $25,000 of top earner Bob Cousy. In contrast to other Celtics, who had to work in the offseason to maintain their standard of living (Heinsohn sold insurance, Gene Guarilia was a professional guitar player, Cousy ran a basketball camp, and Auerbach invested in plastics and a Chinese restaurant), Russell never had to work part-time. When Wilt Chamberlain became the first NBA player to earn $100,000 in salary in 1965, Russell went to Auerbach and demanded a $100,001 salary, which he promptly received.
Personality
Russell was driven by "a neurotic need to win", as his teammate Heinsohn observed. He was so tense before every game that he regularly threw up in the locker rooms; it happened so frequently that his fellow Celtics were more worried when it did not happen. He was also known for his natural authority. When he became player-coach in 1966, Russell bluntly said to his teammates that "he intended to cut all personal ties to other players", and seamlessly made the transition from their peer to their superior.
To teammates and friends, Russell was open and amicable, but was extremely distrusting and cold towards anyone else. Journalists were often treated to the "Russell Glower", described as an "icily contemptuous stare accompanied by a long silence". Russell was also notorious for his refusal to give autographs or even acknowledge the Celtics fans, so far that he was called "the most selfish, surly and uncooperative athlete" by one pundit.
Russell–Chamberlain Relations
For most of his career, Russell was close friends with his perennial opponent Wilt Chamberlain. Chamberlain often invited Russell over for Thanksgiving dinner, and at Russell's place, conversation mostly concerned Russell's electric trains. However, the close relationship ended after Game 7 of the 1969 NBA Finals, during which Chamberlain injured his knee with six minutes left and left the game. During a conversation with students, a reporter—unknown to Russell— heard Russell describe Chamberlain as a malingerer and accuse him of "copping out" of the game when it seemed that the Lakers would lose. Chamberlain was livid with Russell and saw him as a backstabber. Chamberlain's knee was injured so badly that he could not play the entire offseason and he ruptured it the next season. The two men did not talk to each other for over 20 years until Russell met with Chamberlain personally and apologized. When Chamberlain died in 1999, Chamberlain's nephew said that Russell was the second person he was told to call. At Chamberlain's eulogy, Russell stated that he did not consider them to be rivals, but rather to have a competition, and that the pair would "be friends through eternity."
Racist abuse, controversy and reconciliation
Russell's life was marked by an uphill battle against racism and controversial actions and statements in response to perceived racism. As a child, the young Russell witnessed how his parents were victims of racial abuse, and the family eventually moved into government housing projects to escape the daily torrent of bigotry. When he later became a standout amateur basketball player at USF, Russell recalled how he and his few fellow black colleagues were jeered by white students. Even after he became a star on the Boston Celtics, Russell was the victim of racial abuse. When the NBA All-Stars toured the U.S. in the 1958 offseason, white hotel owners in segregated North Carolina denied rooms to Russell and his black teammates, causing him to later write in his memoir Go Up for Glory, "It stood out, a wall which understanding cannot penetrate. You are a Negro. You are less. It covered every area. A living, smarting, hurting, smelling, greasy substance which covered you. A morass to fight from." Before the 1961–62 season, Russell's team was scheduled to play in an exhibition game in Lexington, Kentucky, when Russell and his black teammates were refused service at a local restaurant. He and the other black teammates refused to play in the exhibition game and flew home, drawing a great deal of controversy and publicity.
As a consequence, Russell was extremely sensitive to all racial prejudice: according to Taylor, he often perceived insults even if others did not. He was active in the Black Power movement and supported Muhammad Ali's decision to refuse to be drafted. He was often called "Felton X", presumably in the tradition of the Nation of Islam's practice of replacing a European slave name with an "X", and even purchased land in Liberia. Russell's public statements became increasingly militant, so far that he was quoted in a 1963 Sports Illustrated interview with the words: "I dislike most white people because they are people ... I like most blacks because I am black". However, when his white Celtics teammate Frank Ramsey asked whether he hated him, Russell claimed to be misquoted, but few believed it. According to Taylor, Russell overlooked the fact that his career was only made possible by the white people who were proven anti-racists, namely his white high school coach George Powles (the person who encouraged him to play basketball), his white college coach Phil Woolpert (who integrated USF basketball), white Celtics coach Red Auerbach (who is universally regarded as an anti-racist pioneer and made him the first black NBA coach), and white Celtics owner Walter A. Brown, who gave him a high $24,000 rookie contract, just $1,000 shy of the top earning veteran Bob Cousy.
Relationship with Boston fans
Nevertheless, as a result of repeated racial bigotry, Russell refused to respond to fan acclaim or friendship from his neighbors, thinking it was insincere and hypocritical. This attitude contributed to his legendary bad rapport with fans and journalists. He alienated Celtics fans by saying, "You owe the public the same it owes you, nothing! I refuse to smile and be nice to the kiddies." This supported the opinion of many white fans that Russell (who was the highest-paid Celtic) was egotistical, paranoid and hypocritical. Interestingly, the FBI maintained a file on Russell; this lends credibility to his observations that racism was an active force against him. The FBI described Russell in his file as "an arrogant Negro who won't sign autographs for white children". This clearly denotes a hostile attitude, and gives insight into the nature of Russell's public persona, which was often perceived by the mostly-white media as overly harsh. The already hostile atmosphere between Russell and Boston hit its apex when vandals broke into his house, covered the walls with racist graffiti, damaged his trophies and defecated in the beds. In response, Russell described Boston as a "flea market of racism". In King Of The Court by Aram Goudsouzian, he was quoted saying, "From my very first year I thought of myself as playing for the Celtics, not for Boston. The fans could do or think whatever they wanted." After his retirement, he described the Boston press as corrupt and racist; in response, Boston sports journalist Larry Claflin claimed that Russell himself was the real racist.
Russell refused to attend the ceremony when his #6 jersey was retired in 1972, or his induction into the Hall of Fame in 1975. While Russell still has sore feelings towards the city, there has been something of a reconciliation; and he has even visited the city regularly in recent years, something he never did in the years immediately after his retirement. When Russell originally retired, he demanded that his jersey be retired in an empty Boston Garden. In 1995, the Celtics left Boston Garden and entered the FleetCenter, now the TD Garden, and as the main festive act, the Boston organization wanted to re-retire Russell's jersey in front of a sellout audience. Perennially wary of what he long perceived as the racist city of Boston, Russell decided to make amends and gave his approval. On May 6, 1999, the Celtics re-retired Russell's jersey in a ceremony attended by his on-court rival (and friend) Chamberlain, along with Celtics legend Larry Bird and Hall of Famer Kareem Abdul-Jabbar. The crowd gave Russell a prolonged standing ovation, which brought tears to his eyes. He thanked Chamberlain for taking him to the limit and "making [him] a better player" and the crowd for "allowing [him] to be a part of their lives." In December 2008, the We Are Boston Leadership Award was presented to Russell.
Statue honoring Russell
In 2012, the city and the Celtics announced that a statue honoring Russell would be placed on Boston's City Hall Plaza. The design features a statue of Russell in game action with 11 plinths representing the 11 championships he helped the team win. The plinths will feature a key word and a related quote to illustrate Russell's multiple accomplishments. The Bill Russell Legacy Foundation, established by the Boston Celtics Shamrock Foundation, funded the project.
The Bill Russell Legacy Project artwork by Ann Hirsch of Somerville, Massachusetts, in collaboration with Pressley Associates Landscape Architects of Boston, was unveiled on November 1, 2013, with Russell in attendance.
Selected publications
Russell, Bill; McSweeny, William (1966). Go Up for Glory. Coward-McCann.
Russell, Bill; Branch, Taylor (1979). Second Wind. Ballantine Books. ISBN 978-0-394-50385-1.
Russell, Bill; Hilburg, Alan; Faulkner, David (2001). Russell Rules. New American Library. ISBN 0-525-94598-9.
Russell, Bill; Steinberg, Alan (2009). Red and Me: My Coach, My Lifelong Friend. Harper. ISBN 978-0-06-176614-5.
Quotes
Concentration and mental toughness are the margins of victory
The idea is not to block every shot The idea is to make your opponent believe that you might block every shot
Most people have a harder time letting themselves love than finding someone to love them

References
Bill Russell Wikipedia
(Text) CC BY-SA