Position

President




Listed weight

220 lb (100 kg)




League

NBA


Name

Larry Bird





Nationality

American




Role

Basketball player




Listed height

6 ft 9 in (2.06 m)




Height

2.06 m






Born

December 7, 1956 (age 64) West Baden, Indiana (

1956-12-07

)


College

Indiana State (1976–1979)


Children

Corrie Bird, Mariah Bird, Connor Bird




Spouse

Dinah Mattingly (m. 1989), Janet Condra (m. 1975–1976)




Education

Indiana State University (1976–1979), Springs Valley High School


Similar People

Magic Johnson, Michael Jordan, Bill Russell, Kareem Abdul‑Jabbar, Scottie Pippen
Larry Bird ULTIMATE Mixtape!
Larry Joe Bird (born December 7, 1956) is an American professional basketball executive, former coach and former player, most recently serving as president of the Indiana Pacers in the National Basketball Association (NBA). Since retiring as a player for the Boston Celtics, he was a mainstay in the Indiana Pacers organization, but stepped down from the position of president following the first-round of the 2017 Eastern Conference playoffs.
Contents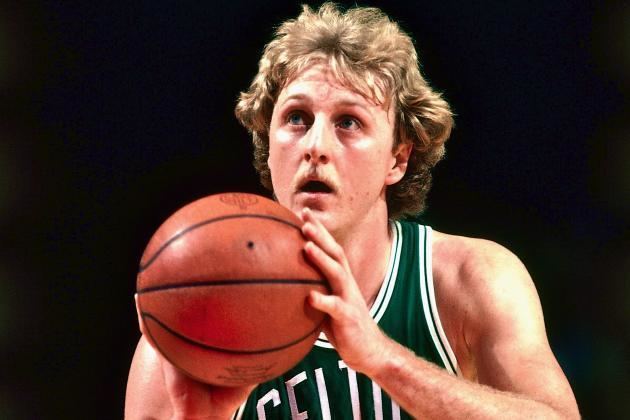 Drafted into the NBA sixth overall by the Boston Celtics in 1978, Bird started at small forward and Power forward for thirteen seasons, spearheading one of the NBA's most formidable frontcourts that included center Robert Parish and power forward Kevin McHale. Bird was a 12-time NBA All-Star and was named the league's Most Valuable Player (MVP) three consecutive times (1984–1986). He played his entire professional career for Boston, winning three NBA championships and two NBA Finals MVP awards.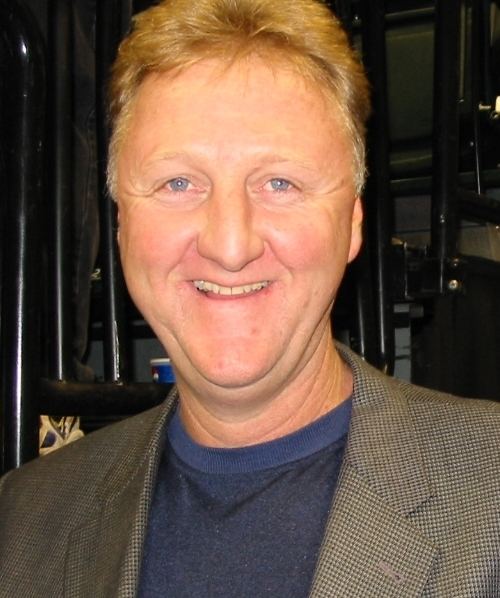 He was a member of the 1992 United States men's Olympic basketball team ("The Dream Team") that won the gold medal at the 1992 Summer Olympics. Bird was voted to the NBA's 50th Anniversary All-Time Team in 1996 and inducted into the Naismith Memorial Basketball Hall of Fame in 1998 (and was inducted again in 2010 as a member of the "Dream Team").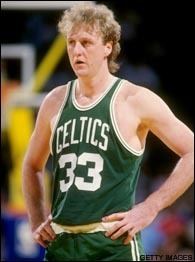 He served as head coach of the Indiana Pacers from 1997 to 2000. In 2003, he assumed the role of President of Basketball Operations for the Pacers, holding the position until retiring in 2012. After a year away from the position, he announced he would return to the Pacers as president of basketball operations in 2013. In addition to being part of the 50–40–90 club, he is the only person in NBA history to be named Most Valuable Player, Coach of the Year, and Executive of the Year.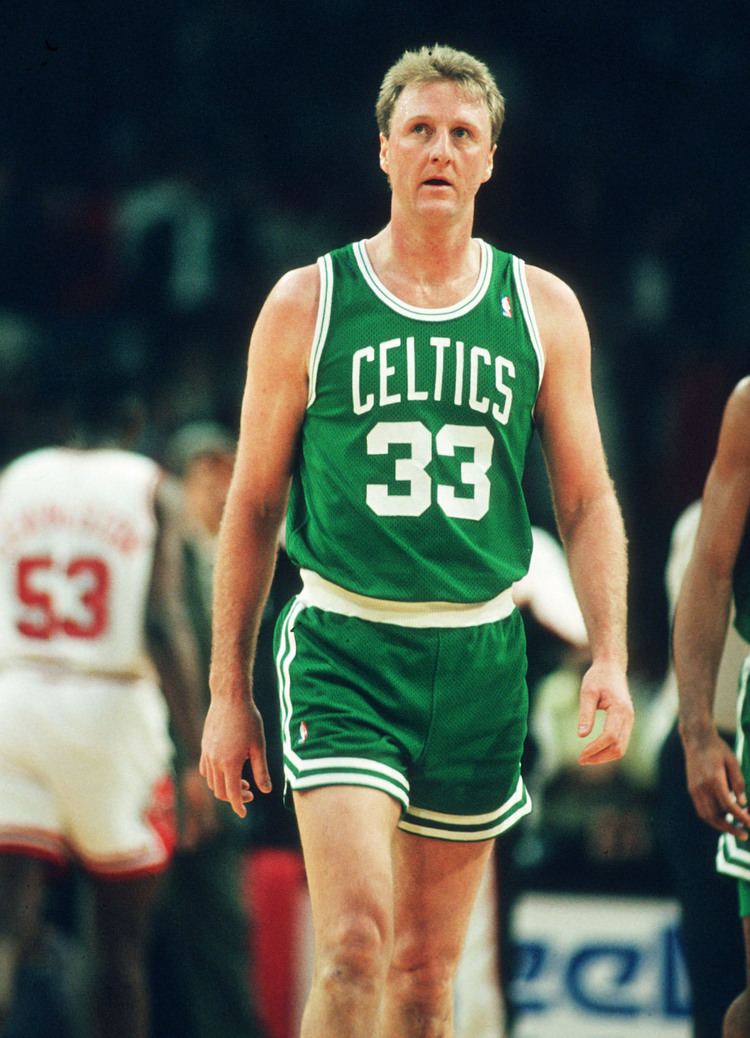 Magic johnson and larry bird a courtship of rivals basketball
Early life
Bird was born in West Baden Springs, Indiana, to Georgia (née Kerns) and Claude Joseph "Joe" Bird, a veteran of the Korean War. He was raised in nearby French Lick, where his mother worked two jobs to support Larry and his five siblings. Bird has said that being poor as a child still motivates him "to this day". Georgia and Joe divorced when Larry was in high school, and Joe committed suicide about a year later. Larry used basketball as an escape from his family troubles, starring for Springs Valley High School and averaging 31 Points, 21 Rebounds, and 4 Assists as a senior on his way to becoming the school's all-time scoring leader.
College career
Bird received a scholarship to play college basketball for the Indiana University Hoosiers in 1974. After less than a month on campus he dropped out of school, finding the adjustment between his small hometown and the large student population of Bloomington to be overwhelming. He returned to French Lick, enrolling at Northwood Institute (now Northwood University) in nearby West Baden, and working municipal jobs for a year before enrolling at Indiana State University in Terre Haute in 1975. He had a successful three-year career with the Sycamores, helping them reach the NCAA tournament for the first time in school history and leading them to the 1979 championship game 33–0 against Michigan State. Indiana State would lose the game 75–64, with Bird scoring 19 points but making only 7 of 21 shots for 33.3 percent shooting rate. The game achieved the highest ever television rating for a college basketball game, in large part because of the match-up between Bird and Spartans' point guard Earvin "Magic" Johnson, a rivalry that lasted throughout their professional careers. Despite failing to win the championship, Bird earned numerous year-end awards and honors for his outstanding play, including the Naismith College Player of the Year Award. For his college career, he averaged 30.3 points, 13.3 Rebounds, and 4.6 Assists per game, leading the Sycamores to an 81–13 record during his tenure. Bird also appeared in one game for the baseball team, going 1-for-2 with 2 RBI.
College statistics
Cited from Basketball Reference.
Joining the Celtics (1978–1979)
Bird was selected by the Boston Celtics with the sixth overall pick in the 1978 NBA draft. He did not sign with the Celtics immediately; instead, he played out his final season at Indiana State and led the Sycamores to the NCAA title game. Red Auerbach publicly stated that he would not pay Bird more than any Celtic on the current roster, but Bird's agent bluntly told Red that Bird would reject any sub-market offers and simply enter the 1979 NBA draft instead, where Boston's rights would expire the second the draft began and Bird would have been the likely top pick. After protracted negotiations, Bird inked a five-year, $3.25 million contract with the team, making him the highest paid rookie in league history at the time. Shortly afterwards, NBA draft eligibility rules were changed to prevent teams from drafting players before they were ready to sign, a rule known as the Bird Collegiate Rule.
Early success (1979–1983)
Bird immediately transformed the Celtics into a title contender, helping them improve their win total by 32 games from the year before he was drafted and finish first in the Eastern Conference. With averages of 21.3 points, 10.4 rebounds, 4.5 assists, and 1.7 Steals per game for the season, he was selected to the All-Star Team and named Rookie of the Year. In the Conference Finals, Boston was eliminated by the Philadelphia 76ers.
Before the 1980–81 season, the Celtics selected forward Kevin McHale in the draft and acquired center Robert Parish from the Golden State Warriors, forming a Hall of Fame trio for years to come. Behind Bird's leadership and Boston's upgraded roster, the Celtics again advanced to the Conference Finals for a rematch with the 76ers. Boston fell behind 3–1 to start the series but won the next three games to advance to the Finals against the Houston Rockets, winning in six games and earning Bird his first championship. He averaged 21.9 points, 14 rebounds, 6.1 assists, and 2.3 steals per game for the postseason and 15.3 points, 15.3 rebounds, and 7 assists per game for the Finals but lost out on the Finals MVP Award to teammate Cedric Maxwell.
At the 1982 All-Star Game, Bird scored 19 points en route to winning the All-Star Game MVP Award. At the conclusion of the season, he earned his first All-Defensive Team selection. He eventually finished runner-up in Most Valuable Player Award voting to Moses Malone. In the Conference Finals, the Celtics faced the 76ers for the third consecutive year, losing in seven games. Boston's misfortunes continued into the next season, with Bird again finishing second in MVP voting to Malone and the team losing in the Conference Semifinals to the Milwaukee Bucks.
Battles with the Lakers and MVP tenure (1983–1987)
Bird was named MVP of the 1983–84 season with averages of 24.2 points, 10.1 rebounds, 6.6 assists, and 1.8 steals per game. In the playoffs, the Celtics avenged their loss from the year before to the Bucks, winning in five games in the Conference Finals to advance to the Finals against the Los Angeles Lakers. The Lakers, led by Bird's college rival Magic Johnson, were on the verge of putting the series away in Game 4 before a flagrant foul was committed on Kurt Rambis that resulted in a brawl and caused Los Angeles to lose their composure. Boston came back to win the game, eventually winning the series in seven. Bird was named Finals MVP behind 27.4 points, 14 rebounds, and 3.6 assists per game.
On March 12 of the 1984–85 season, Bird scored a career-high and franchise record 60 points in a game against the Atlanta Hawks. The performance came just nine days after Kevin McHale set the previous Celtics record for points in a game with 56. At the conclusion of the year, Bird was named MVP for the second consecutive season behind averages of 28.7 points, 10.5 rebounds, and 6.6 assists per game. Boston advanced through the playoffs to earn a rematch with the Lakers, this time losing in six games.
In the summer of 1985, Larry injured his back shoveling crushed rock to create a driveway at his mother's house. At least partially as a result of this, he experienced back problems for the remainder of his career.
Before the start of the 1985–86 season, the Celtics made a daring trade for Bill Walton, an All-Star center with a history of injury. The risk paid off; Walton's acquisition helped Boston win a league best 67 games. One of Bird's career highlights occurred at the 1986 NBA All-Star Weekend when he walked into the locker room at the inaugural Three-Point Shootout and asked who was going to finish second before winning the shootout. With averages of 25.8 points, 9.8 rebounds, and 6.8 assists, and 2 steals per game, Bird became just the third player in NBA history to win three consecutive MVP Awards. In the playoffs, the Celtics lost only one game through the first three rounds en route to a match-up against the Rockets in the Finals. Bird averaged 24 points, 9.7 rebounds, and 9.5 assists per game for the championship round, leading Boston to victory in six games. The '86 Celtics are commonly ranked as one of the greatest basketball teams of all-time, with the Boston Globe's Peter May and Grantland's Bill Simmons listing them at number one.
In 1987, the Celtics made their last Finals appearance of Bird's career, fighting through difficult series against the Milwaukee Bucks and Detroit Pistons but as they reached the NBA Finals, the Celtics, hampered by devastating injuries, lost to a dominant Lakers team which had won 65 games during the season. The Celtics ended up losing to the Lakers in six games, with Bird averaging 24.2 points on .445 shooting, 10 rebounds and 5.5 assists per game in the championship series. The Celtics would fall short in 1988 losing to the Detroit Pistons in 6 games in the Eastern Conference Finals as the Pistons made up from the heartbreak the previous season. Between them, Bird and Johnson captured eight NBA championships during the 1980s, with Magic getting five and Bird three. During the 1980s, either Boston or Los Angeles appeared in every NBA Finals.
Throughout the 1980s, contests between the Celtics and the Lakers—both during the regular season and in the Finals—attracted enormous television audiences. The first regular season game between the Celtics and the Lakers in the 1987–88 season proved to be a classic with Magic Johnson banking in an off balance shot from near the three-point line at the buzzer for a 115–114 Lakers win at Boston Garden. The historical rift between the teams, which faced each other several times in championship series of the 1960s, fueled fan interest in the rivalry. Not since Bill Russell squared off against Wilt Chamberlain had professional basketball enjoyed such a marquee matchup. The apparent contrast between the two players and their respective teams seemed scripted for television: Bird, the introverted small-town hero with the blue-collar work ethic, fit perfectly with the throwback, hard-nosed style of the Celtics, while the stylish, gregarious Johnson ran the Lakers' fast-paced Showtime offense amidst the bright lights and celebrities of Los Angeles. A 1980s Converse commercial for its "Weapon" line of basketball shoes (endorsed by both Bird and Johnson) reflected the perceived dichotomy between the two players. In the commercial, Bird is practicing alone on a rural basketball court (in reality the court was one Bird had had made on the property in French Lick that he had purchased for his mother), when Johnson pulls up in a sleek limousine and challenges him to a one-on-one match.
Despite the intensity of their rivalry, Bird and Johnson became friends off the court. Their friendship blossomed when the two players worked together to film the Converse commercial, which depicted them as archenemies. Johnson appeared at Bird's retirement ceremony on February 4, 1993 and emotionally described Bird as a "friend forever".
Waning years (1988–1992)
In 1988, Bird had the best statistical season of his career, but the Celtics failed to reach the NBA Finals for the first time in five years, losing to the Pistons in six games during the Eastern Conference Finals. Bird started the 1988–89 season, but ended his season after six games to have bone spurs surgically removed from both of his heels. He returned to the Celtics in 1989, but debilitating back problems and an aging Celtic roster prevented him from regaining his mid-1980s form. Nonetheless, through the final years of his career, Bird maintained his status as one of the premier players in the game. He averaged over 20 points, 9 rebounds and 7 assists a game in his last three seasons with the Celtics, and shot better than 45% from the field in each. Bird led the Celtics to playoff appearances in each of those three seasons.
Bird's body, however, continued to break down. He had been bothered by back problems for years, and his back became progressively worse. After leading the Celtics to a 29–5 start to the 1990–91 season, he missed 22 games due to a compressed nerve root in his back, a condition that would eventually lead to his retirement. He had off-season surgery to remove a disc from his back, but his back problems continued and he missed 37 games during the 1991–92 season. His past glory would be briefly rekindled, however, in a game that season in which he scored 49 points in a double-overtime victory over the Portland Trail Blazers. During the 1992 Eastern Conference semi-finals against the Cleveland Cavaliers, Bird missed four of the seven games in the series due to those recurring back problems.
In the summer of 1992, Bird joined Magic Johnson, Michael Jordan and other NBA stars to play for the United States basketball team in that year's Olympics in Barcelona, Spain. It was the first time in America's Olympic history that the country sent professional basketball players to compete. The "Dream Team" won the men's basketball gold medal.
Following his Olympic experience, on August 18, 1992, Bird announced his retirement as an NBA player. He finished his career with averages of more than 24 points, 10 rebounds and 6 assists per game, while shooting 49.6% from the field, 88.6% from the Free throw line and 37.6% from three-point range. Following Bird's departure, the Celtics promptly retired his jersey number 33.
In 1989, Bird published his autobiography, Drive: The Story of My Life with Bob Ryan. The book chronicles his life and career up to the 1989 NBA season.
Post-retirement career
The Celtics employed Bird as a special assistant in the team's front office from 1992 until 1997. In 1997, Bird accepted the position of coach of the Indiana Pacers and said he would be on the job for no more than three years. Despite having no previous coaching experience, Bird led the Pacers to a 58–24 record—the franchise's best as an NBA team at the time—in the 1997–98 season, and pushed the Bulls to seven games in the Eastern Conference finals. He was named the NBA Coach of the Year for his efforts, becoming the only man in NBA history to have won both the MVP and Coach of the Year awards. He then led the Pacers to two consecutive Central Division titles in 1999 and 2000, and a berth in the 2000 NBA Finals.
Bird resigned as Pacers coach shortly after the end of the 2000 season, following through on his initial promise to coach for only three years. In 2003, he returned as the Pacers' president of basketball operations, overseeing team personnel and coaching moves, as well as the team's draft selections. Bird promoted David Morway to general manager in 2008, but Bird still had the final say in basketball matters. After the 2011–2012 NBA season, Bird was named NBA Executive of the Year, becoming the only man in NBA history to win the NBA MVP, Coach of the Year and Executive of the Year.
On June 27, 2012, a day before the 2012 NBA draft, Bird and the Pacers announced that they would be parting ways later that year. Bird said health issues were among the reasons for his leaving. Donnie Walsh was named to replace him.
On June 26, 2013, almost exactly a year later, it was announced that Bird would be returning to the Pacers as president of basketball operations. Pacers owner Herb Simon briefly addressed Bird's prior health concerns, stating that "He's got his energy back, his health back and he's raring to go".
On May 1, 2017, Bird resigned from his role, but stayed with the team in an advisory role.
Awards and honors
As player:
3× NBA champion (1981, 1984, 1986)
2× NBA Finals MVP (1984, 1986)
3× NBA Most Valuable Player (1984–1986)
12× NBA All-Star (1980–1988, 1990–1992)
NBA All-Star Game MVP (1982)
9× All-NBA First Team (1980–1988)
All-NBA Second Team (1990)
3× NBA All-Defensive Second Team (1982–1984)
NBA Rookie of the Year (1980)
NBA All-Rookie First Team (1980)
3× Three-point Shootout champion (1986–1988)
NBA's 50th Anniversary All-Time Team
No. 33 retired by Boston Celtics
John R. Wooden Award (1979)
Oscar Robertson Trophy (1979)
Adolph Rupp Trophy (1979)
NABC Player of the Year (1979)
2× MVC Player of the Year (1978–1979)
2× Consensus first team All-American (1978–1979)
As coach:
NBA All-Star Game head coach (1998)
NBA Coach of the Year (1998)
As executive:
NBA Executive of the Year (2012)
Personal life
Bird married Dinah Mattingly in 1989. They have two adopted children, Conner and Mariah. Bird also has a biological daughter, Corrie, from his first marriage to high school classmate Janet Condra. He has four brothers, Mike, Mark, Jeff, and Eddie, and a sister, Linda. Eddie also played basketball at Indiana State from 1986 to 1990 and today is the city park superintendent at Terre Haute.
In the 1980s and 1990s, Bird co-owned Larry Bird's Boston Connection, a hotel and restaurant in downtown Terre Haute. The property is now a Quality Inn.
Legacy
Larry, you only told me one lie. You said there will be another Larry Bird. Larry, there will never, ever be another Larry Bird.
In 1999, Bird ranked No. 30 in ESPN's SportsCentury's 50 Greatest Athletes of the 20th century.
For the 2008 NBA Finals, which featured a rematch of the Celtics-Lakers rivalry, Bird appeared in a split-screen advertisement with Magic Johnson (as part of the "There Can Only Be One" campaign which had played throughout the 2008 NBA Playoffs but to that point only featured players from the two teams competing in a given series) discussing the meaning of rivalries.
Bird was widely considered one of Red Auerbach's favorite players. He considered Bird to be the greatest basketball player of all time. Auerbach was so enamored with the player that he drafted him out of Indiana State and waited a year before Bird was eligible to suit up for the Celtics. During his introductory press conference, after Auerbach's contentious negotiations with agent Bob Woolf, Bird announced he "would have played for free". This was after Woolf asked for the most lucrative contract in NBA history, to which Auerbach was quick to point out that Bird had not played a game in the NBA yet.
Bird is the only man to be named an MVP, Coach of the Year, and Executive of the Year in the NBA.
Player profile
Bird, a wing who played the Small forward and power forward positions, was nominated to twelve All-Star teams. He won two NBA Finals MVP and three regular-season MVP awards, all consecutively, a feat only equaled by Bill Russell and Wilt Chamberlain.
Bird possessed an uncanny and unparalleled ability to anticipate and react to the strategies of his opponents. His talent for recognizing the moves of opponents and teammates prompted his first coach with the Celtics, Bill Fitch, to nickname him "Kodak", because he seemed to formulate mental pictures of every play that took place on the court.
Bird scored 24.3 points per game in his career on a .496 Field goal average, an .886 free throw average (9th best all-time) and a 37.6 percentage on three-point shots. Bird had an average of 10.0 rebounds per game for his career and 6.3 assists. His multidimensional game made him a consistent triple-double threat; Bird currently ranks fifth all-time in triple-doubles with 59, not including the 10 he recorded in the playoffs. Bird's lifetime player efficiency rating (PER) is 23.5, 18th all-time. Additionally, he is the only 20, 10, 5 player in NBA history (points, rebounds, assists per game) with a lifetime PRA rating (points + rebounds + assists per game) of 40.6, which is 8th all-time. Bird was the first player in NBA history to shoot 50% or better on field goals, 40% on three-pointers, and 90% on free-throws in a single NBA season while achieving the league minimum for makes in each category. Bird accomplished this feat twice and is second only to Steve Nash for seasons in the 50–40–90 club.
Bird is also remembered as an excellent defender. While he was neither fast nor quick-footed, and could not always shut down an individual player one-on-one, he consistently displayed a knack for anticipating the moves of his opponent, allowing him to intercept passes and create turnovers. His 1,556 career steals ranks 34th all-time. Unspectacular but effective defensive moves, such as jumping into a passing lane to make a steal or allowing his man to step past and drive to the hoop, then blocking the opponent's shot from behind, were staples of Bird's defensive game. In recognition of his defensive abilities, Bird was named to three All-Defensive Second Teams.
Bird's humble roots were the source of his most frequently used moniker, "The Hick from French Lick". Other observers called him "The Great White Hope". He has also acquired the nickname "Larry Legend".
Trash-talking
Bird's competitive nature often emerged in nearly constant trash-talking on the court. Some notable examples follow:
Before the inaugural Three-Point Shootout during NBA All-Star Weekend 1986, Bird entered the locker room, looked around without saying a word, then finally said, "I want all of you to know I am winning this thing. I'm just looking around to see who's gonna finish up second." Bird went on to defeat Craig Hodges of the Milwaukee Bucks in the finals to win his first of three consecutive Three-Point Shootout championships, a record that he currently shares with Hodges.
In 1987, the Chicago Bulls had gaffed Bird's complimentary tickets. Prior to tip-off, Bird confronted Bulls coach Doug Collins on the sideline, informed Collins about the ticket situation, and asked him what the visitor scoring record was, vowing to break it. As the game started, the Bulls defended Bird with Ben Poquette, a Caucasian forward. Bird, who was known to take insult when an opposing team put a white player on him, laughed at Collins, "Ben Poquette? Are you fucking kidding me?" Bird had 33 at the half and ended up scoring 41 points.
During one game on Christmas Day against the Indiana Pacers, before the game Bird told Chuck Person that he had a Christmas present waiting for him. During the game, when Person was on the bench, Bird shot a three-pointer on the baseline right in front of Person. Immediately after releasing the ball, Bird said to Person, "Merry fucking Christmas!", and then the shot went in. Prior to the game, Person (nicknamed the "Rifleman") stated "The Rifleman is coming, and he's going Bird hunting."
Reggie Miller recalled his encounter with Larry Bird's legendary trash talking ability in his book I Love Being the Enemy. Miller tried to disrupt Bird's concentration when he was shooting free throws late in a game. Bird glared at him, made the first free throw and said, "You got to be kidding me. Rook, I'm the best shooter in the league right now. In the league. Understand? And you're up here trying to say something?" Bird then buried the second free throw.
Late in a tied game against the Seattle SuperSonics, Bird told SuperSonics forward Xavier McDaniel, who was guarding him, "I'm going to get [the ball] right here and I am going to bury it in your face." As McDaniel remembers it, he responded by saying, "I know, I'll be waiting." After a timeout, Bird made two baseline cuts, then posted in the exact spot he had indicated to McDaniel, paused, turned, and made it in his face. He finished up the sequence by telling McDaniel, "I didn't mean to leave two seconds on the clock."
On November 9, 1984, Bird was ejected along with Julius Erving with 1:38 remaining in the third quarter after an on court scuffle. At the point of both ejections, Bird had outscored Erving 42 to 6 (Bird shot 17–23 from the field in the game; Erving 3–13). During the game, Bird had continuously informed Erving of their tallies with every chance he got to score. Bird denies this stating that it was teammate "M.L. (Carr) talking trash from the bench" during that game. Eventually a shoving match ensued, then swings taken by both players, and finally a bench-clearing brawl. Bird and Erving were each fined $7,500 by the NBA, while a total of $15,500 in fines was levied amongst Philadelphia 76ers head coach Billy Cunningham and 15 players from both teams.
Memorable moments
Bird is remembered as one of the foremost clutch performers in the history of the NBA. Few players have performed as brilliantly in critical moments of games.
In Game 7 of the 1981 Eastern Conference finals against the rival Philadelphia 76ers, the Sixers led all game. Inside the final minute, Boston and Philadelphia were tied 89–89 when Bird sank a fast-break mid-range pull-up bank shot with his left hand, a very difficult shot to execute under intense pressure. That basket put the Celtics up 91–89. The Sixers had a chance to win the game, but threw away the lob inbounds pass intended for Julius Erving. The Celtics' 91–90 win put them into the NBA Finals for the first time since 1976 and they would go on to win the NBA championship in the Finals, beating the Houston Rockets in 6 games. In the late stages of the game, Bird also had two key steals, two free throws made, a rebound, and a blocked shot.
On January 27, 1985, Bird hit an amazing baseline jumper at the buzzer while falling out of bounds to give the Celtics a 128–127 win over Portland.
In the series-clinching Game 6 of the 1986 Finals, Bird recorded a triple-double with 29 points, 11 rebounds and 12 assists.
In Game 5 of the 1987 Eastern Conference Finals against the Detroit Pistons, with five seconds remaining in the fourth quarter and Boston trailing the Pistons 107–106, Bird stole an inbound pass from Isiah Thomas that was intended for Bill Laimbeer. Falling out of bounds, Bird turned and passed the ball to teammate Dennis Johnson, who was cutting to the basket and converted a 2-point layup with less than a second left. The Pistons called a timeout but had no chance of getting off a shot. The dramatic play saved the series for the Celtics who won in 7 games, and they advanced to the Finals.
In a game in Washington against the Bullets in 1987, the Celtics trailed the Bullets by 3 points with 6 seconds remaining in regulation. A three-pointer by Bird had been waved off because their coach, K. C. Jones, had already called a timeout. Bird then made another three-pointer to send the game into overtime. When the Celtics trailed by two points near the end of the first overtime, Bird was fouled and converted both free throws. In the second overtime, trailing by 1 point with 2 seconds remaining, Bird made a buzzer-beating running shot to win the game, 140–139.
In Game 7 of the 1988 Eastern Conference semifinals against the Atlanta Hawks, Bird shot 9 of 10 from the floor in the fourth quarter, scoring 20 points in that quarter and lifting the Celtics to a series-clinching victory over Atlanta. Bird finished with 34 points. His effort helped to overcome a 47-point performance by Dominique Wilkins also in the game. Wilkins remarked, "The basket was like a well. I couldn't miss. He couldn't miss. And it went down to the last shot of the game. Who was going to make the last shot? That's the greatest game I've ever played in or seen played. It was two guys who just did not want to lose."
On March 31, 1991, the Celtics played a double overtime game with the Chicago Bulls in their last meeting of the season. In the second overtime period, Bird scored 9 points on 4 of 5 shooting from the field and helped the Celtics beat the Bulls, 135–132. Many called this particular game Bird's finest performance against Michael Jordan.
In the last seconds of a nationally televised regular season game with the Portland Trail Blazers in March 1992, Bird sent the game into overtime with an off balance running one-handed three-point shot. Bird tallied 49 points, 14 rebounds, 12 assists and 4 steals for his 59th and final career triple-double in what many fans called his last great game in the NBA. The Celtics won in double overtime over the Blazers, 152–148. Bird's 49 points stands as the 3rd highest scoring game while registering a triple-double.
Michael Jordan once was asked who he would want to take a shot with the game on the line, other than himself. Before the question could be finished, Jordan quickly responded, "Larry Bird."
On August 18, 1992, Larry Bird announced his retirement during the day. At Fenway Park that day, the Boston Red Sox were playing the California Angels. Roger Clemens, the Red Sox starting pitcher, had a small 33 on his hat as a tribute to Larry Bird. Angels manager John Wathan immediately protested, saying it did not meet regulations. The crowd booed relentlessly, chanting the words, "Larry, Larry, Larry." Clemens threw his hat into the dugout in disgust when told it was not allowed. He then proceeded to throw a four-hit shutout for an 8–0 victory for the Red Sox.
Memorable games
On March 30, 1983, Bird scored 53 points against the Indiana Pacers to set the Celtic record for highest scoring output in a game by an individual player (the previous record belonged to Sam Jones who scored 51 points against the Detroit Pistons on October 29, 1965). Bird also set the franchise record for most points scored in a quarter with 24 points in the third quarter which has since been equaled by Todd Day against the Minnesota Timberwolves on December 22, 1995.
On February 18, 1985, Bird registered a triple double (30 points, 12 rebounds, 10 assists) and also had 9 steals in three quarters of play against the Utah Jazz. Bird sat out the fourth quarter, as the Celtics led 90–66 after the third quarter and won the game 110–94. When asked by reporters if he actually wanted to play in the 4th quarter to get the quadruple double, Bird said "What for? I already did enough damage to them."
On March 12, 1985, Bird scored 60 points against the Atlanta Hawks to reclaim the record for highest scoring output in a game by a Celtic, just nine days after teammate Kevin McHale broke Bird's previous record by scoring 56 points against the Detroit Pistons.
On April 1, 1987, Bird registered a triple-double (17 points, 11 rebounds, 10 assists) by halftime against the Washington Bullets. He finished the game with 30 points, 17 rebounds, and 15 assists.
On November 11, 1987, Bird completed the first 40 point–20 rebound game in Celtics history against the Indiana Pacers.
On November 10, 1989, Bird scored 50 points against the Atlanta Hawks to register his fourth and final 50 point game in his career. Bird's four career 50 point games stand as the record for most 50 point games by a Celtic.
Bird recorded three 40 point triple–double games in his professional career. The first was on February 14, 1986 in an overtime win against the Portland Trail Blazers. He finished that game with 47 points, 14 rebounds, and 11 assists. The second occurred on December 13, 1989 in a win over the Seattle SuperSonics (40 points, 11 rebounds, 10 assists). The last was in a double overtime win against the Portland Trail Blazers on March 15, 1992 where Bird finished with 49 points (the record for most points scored while recording a triple double), 14 rebounds, and 12 assists. Bird also totaled 69 triple doubles (59 regular season and 10 postseason) which stands behind Oscar Robertson, Magic Johnson, Jason Kidd, and Wilt Chamberlain for 5th most all-time.
In popular culture
Bird has appeared in three movies, each time playing himself: Blue Chips, released in 1994 by Paramount; the Warner Brothers film Space Jam with Michael Jordan and Bill Murray, in 1996; and Celtic Pride with Dan Aykroyd, Daniel Stern, and Damon Wayans, which was also released in 1996.
Bird also voiced himself in the Futurama episode Saturday Morning Fun Pit, where a team of himself and his clones plays basketball against the Harlem Globetrotters.
Bird's likeness has appeared in several video games. In One on One: Dr. J vs. Larry Bird, Bird plays opposite Julius Erving in a game of one-on-one. A sequel, Jordan vs Bird: One on One, was a 1988 basketball video game. In 2011, Bird was featured on the cover of NBA 2K12, alongside Magic Johnson and Michael Jordan. Bird is also a playable character in the revamped NBA Jam.
The band Dispatch has a song called "Just Like Larry" about Larry Bird, who is their hometown hero from his days as a member of the Boston Celtics.
Larry Bird and Magic Johnson wrote a book together (with Jackie MacMullan) titled When The Game Was Ours.
In a commercial during Super Bowl XLIV, Dwight Howard and LeBron James challenge each other at trick shots for a McDonald's lunch. After they finish, clapping is heard, then the camera pans to the crowd and Bird says "Great show, guys. Thanks for lunch." Howard and James share a confused look. Howard asks, "Who was that?" James replies, "I have no idea." This refers to a McDonald's commercial from 1991 in which Bird and Michael Jordan have a trick shot contest, in which the winner got the lunch and the loser had to watch the winner eat.
In October 2005, a man in Oklahoma City, Eric James Torpy, was convicted of shooting with intent to kill and robbery. He asked that his sentence be changed from 30 years imprisonment to 33 so that it would match Bird's jersey number. His request was granted.
Twitter's logo is named Larry in honor of Larry Bird.
One of the lead characters in the television series The Neighbors is an alien named Larry Bird, played by Simon Templeman.
NBA career statistics
Cited from Basketball Reference's Larry Bird page.
References
Larry Bird Wikipedia
(Text) CC BY-SA