Birth name

William Scott Bruford




Name

Bill Bruford




Role

Drummer




Instruments

Drums, percussion




Spouse

Carolyn Bruford (m. 1973)




Years active

1968–2009







Born

17 May 1949 (age 66) Sevenoaks, Kent, England (

1949-05-17

)


Genres

Progressive rock, instrumental rock, jazz/fusion




Labels

Polydor, E.G., Voiceprint, Winterfold, Summerfold




Music groups

Yes, King Crimson (1972 – 1997)




Albums

Larks' Tongues in Aspic, One of a Kind, Feels Good to Me, Fragile, Master Strokes 1978‑1985




Similar People

Jon Anderson, Steve Howe, Chris Squire, Rick Wakeman, Robert Fripp




Profiles




Myspace




Occupation(s)

Musician, songwriter



Bill bruford electronic drumkit demo japan 1986
William Scott Bruford (born 17 May 1949) is a retired English drummer, percussionist, songwriter, producer, and record label owner who first gained prominence as the original drummer of the rock band Yes, from 1968 to 1972. After his departure from Yes, Bruford spent the rest of the 1970s playing in King Crimson, touring with Genesis and U.K., and eventually forming his own group, Bruford.
Contents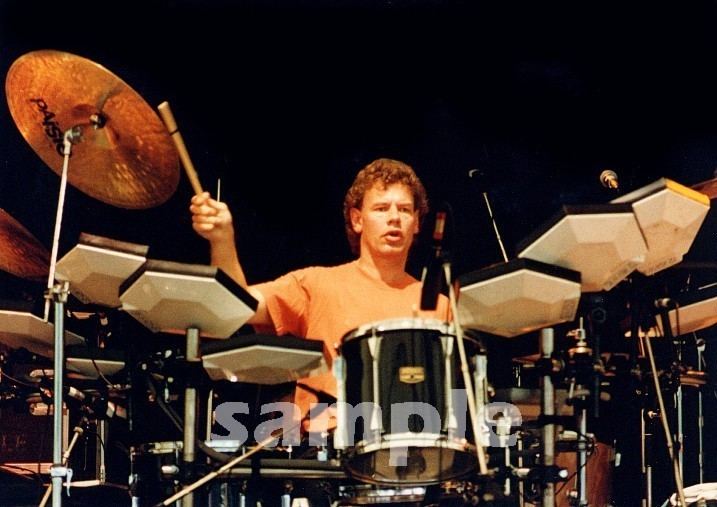 In the 1980s, Bruford returned to King Crimson for three years, collaborated with several artists including The Roches, Patrick Moraz, and David Torn, and formed his jazz band Earthworks in 1986. He then played in Anderson Bruford Wakeman Howe which led to his return to Yes, lasting until 1992. Bruford played in King Crimson for his third and final tenure between 1994 and 1997, after which he continued with Earthworks and further collaborations.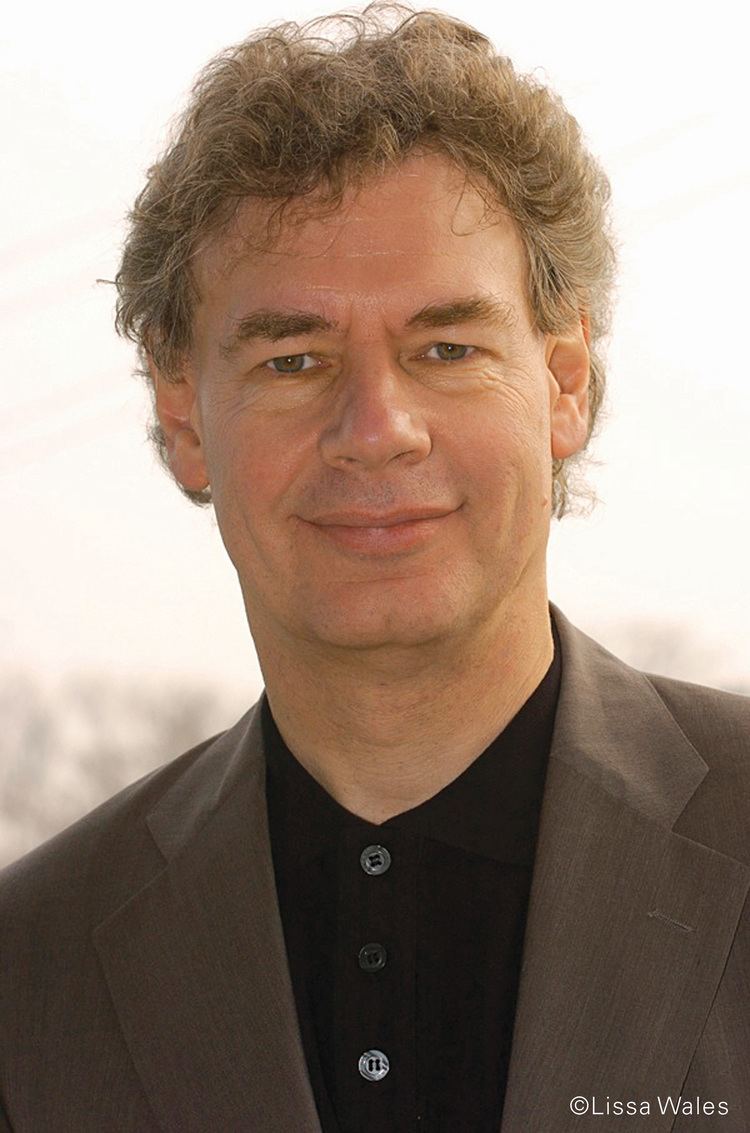 On 1 January 2009, Bruford retired from public performance. He released his autobiography, and continues to speak and write about music. He operates his record labels, Summerfold and Winterfold Records. In 2016, after four-and-a-half years of study, Bruford earned a PhD in Music at the University of Surrey. In 1990, he was inducted into the Modern Drummer Hall of Fame. He was inducted into the Rock and Roll Hall of Fame as a member of Yes in 2017.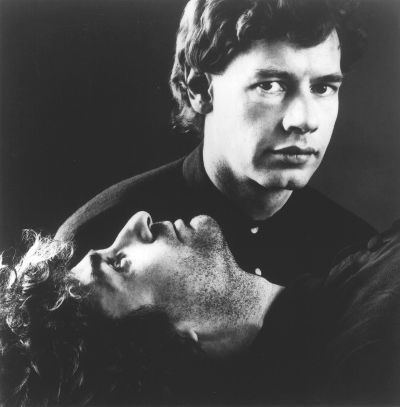 Early life and education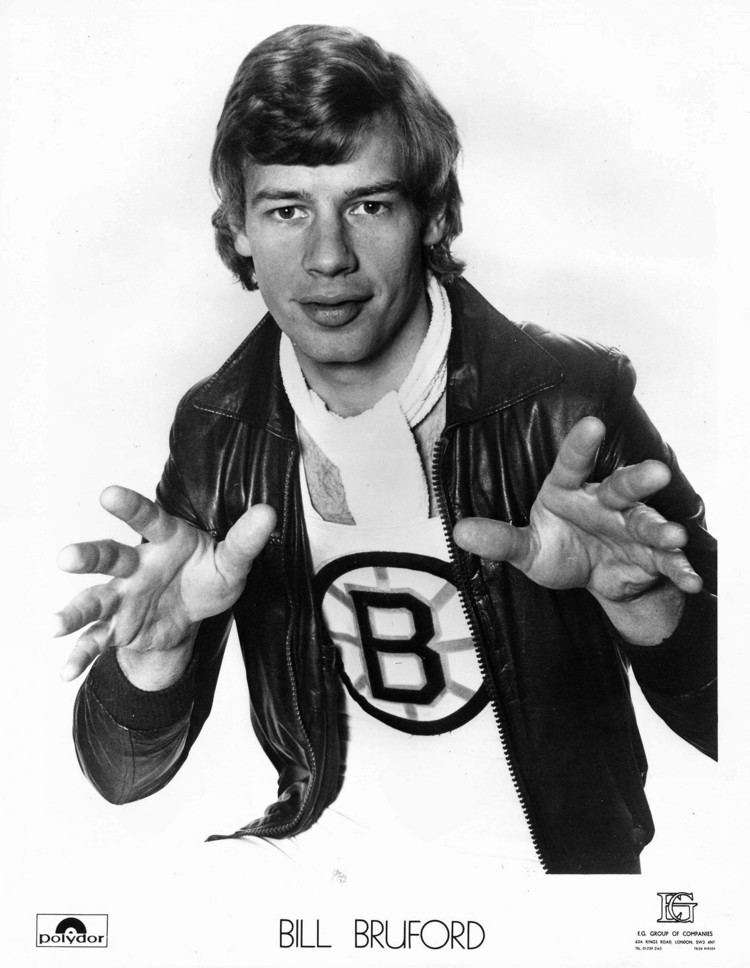 Bruford was born on 17 May 1949 in Sevenoaks, Kent, the third child of Betty and John Bruford, a local veterinary surgeon. He has a brother, John, and a sister, Jane. He attended boarding school at Tonbridge School. Bruford decided to take up drumming at thirteen after watching American jazz drummers on the BBC2 jazz television series, Jazz 625, and practised the instrument in the attic of his house. He cites Max Roach, Joe Morello, Art Blakey, and Ginger Baker as his favourite and the most influential drummers as a youngster. Around this time, Bruford's sister bought him a pair of drum brushes as a birthday present, and Bruford would practise using them on album sleeves after he was told the sound resembled a snare drum while watching Jazz 625. Bruford recalled it as "a perfect education". Though he was given a single snare drum at first, Bruford gradually built a full drum kit. He later took a few lessons from Lou Pocock, a member of the Royal Philharmonic Orchestra.
During his time at boarding school, Bruford befriended several fellow jazz fans, one of them a drummer who gave Bruford lessons in improvisation and a tutorial book by American jazz drummer Jim Chapin. They then performed as a four-piece named The Breed, a rhythm and blues and soul band that Bruford played with from 1966 to 1967 until he was unable to attend all their gigs, leaving the band to hire a second drummer. The Breed were formed by Stu Murray on guitar, Ray Bennett on bass, Mike Freeman on sax, Doug Kennard on guitar and vocals and Bill Bruford on drums. After he left boarding school, Bruford took a gap year before he intended to start an economics course at Leeds University in September 1968. He auditioned for a place in Savoy Brown on 16 January 1968 at a pub in Battersea. After he was unsuccessful in being able to join the band, Bruford "hung around until the end and told them they had the wrong guy ... I talked my way into it". His tenure lasted three gigs as he messed with the beat, and joined Paper Blitz Tissue, a psychedelic rock band, for a short time. Bruford then spotted an advertisement in a music shop from The Noise, who were looking for a drummer to play with them for a six-week residency at the Piper Club in Rome, Italy. He remembered the experience as "ghastly", felt his bandmates could not play properly, and had to hitchhike back to London with his kit.
1968–75: Yes and King Crimson
Following his return to London, the nineteen-year-old Bruford settled into a flat in north London and placed an advertisement for drum work in the Melody Maker. It was spotted by singer Jon Anderson of Mabel Greer's Toyshop, a London-based psychedelic rock band that also consisted of bassist Chris Squire and guitarist Clive Bayley, who sought a replacement for their departing drummer, Bob Hagger. The four first met on 7 June 1968; Anderson was so impressed with Bruford, he invited Bruford to play with the band that evening at the Rachel McMillan College in Deptford. Their entire set consisted of "In the Midnight Hour" by Wilson Pickett as it was the only song they all knew how to play through, but Bruford was impressed with the band's ability to sing in harmony. Following the gig, Bruford had several offers to join soul bands, one of which earned as much as £30 a week, but chose to form a new, full-time group with Anderson and Squire. The four entered rehearsals, which ended in Peter Banks replacing Bayley on guitar, and they changed their name to Yes with new recruit, keyboardist Tony Kaye.
During his first tenure in Yes, Bruford played on their first five studio albums: Yes (1969), Time and a Word (1970), The Yes Album (1971), Fragile (1971), and Close to the Edge (1972). His first attempt at composition was "Five Per Cent for Nothing", a track featured on Fragile. Bruford said, "I learned how to read the horizontal lines, but not the vertical notes." Despite this he has successfully written many compositions over the years, albeit slowly.
The band members were no strangers to alcohol, but Bruford doesn't remember a lot of "sex, drugs and rock n' roll". The whole band used to drink a lot of alcohol, and they often visited a club in London called the Speakeasy that the band's manager, Roy Flynn, also managed. The Speakeasy stayed open until two or three in the morning, so Yes could play a gig in England within a hundred-and-fifty mile radius and still make it back to the Speakeasy at about two o'clock, where they drank "large amounts" of whiskey and Coca-Cola. Bruford recalled Yes being hot blooded and argumentative, with personality conflicts being the eventual reason for his exit. These, for him, included problems in understanding other members' accents, differences in social backgrounds, and many other issues that set the band in a constant state of friction between Bruford, Chris Squire, and Jon Anderson.
On 19 July 1972, Bruford left Yes to join King Crimson. He said, "In Yes, there was an endless debate about 'should it be F natural in the bass with G sharp on top by the organ, or should it be the other way around?'". In King Crimson, almost nothing was said ... you were just supposed to know." Rehearsals began in September 1972, followed by an extensive UK tour. His instinct to remember complicated drum parts was shown when he learned how to play the long percussion and guitar part in the middle of "21st Century Schizoid Man", "by listening to it and just learning it." Bruford cites the six months that percussionist Jamie Muir was in the group as highly influential on him as a player. Larks' Tongues in Aspic was released early the next year, and the group spent the remainder of 1973 touring Britain, Europe, and America. Bruford played on Starless and Bible Black (1974) and Red (1974) before Robert Fripp disbanded King Crimson in September 1974. He is featured on their live album, USA (1975).
1975–80: Genesis, Bruford, and U.K.
Following his departure from King Crimson, Bruford felt his "sense of direction was rather stymied" and was unsure on what to do next. Rather than get involved with the next project straight away, he chose to wait for an appealing offer. In 1975, Bruford played drums on Squire's solo album Fish Out of Water, and HQ by Roy Harper. Bruford also joined National Health for several live performances. He declined their offer to join as a full-time member as there were already many writers in the group, and felt his contributions to the music, the majority of which was already written, would have caused problems.
In 1976, Bruford spent six months with Genesis as their live drummer on their 1976 tour of North America and Europe, their first after the departure of Peter Gabriel and drummer Phil Collins assuming lead vocals on their first post-Gabriel album, A Trick of the Tail. Bruford had known Collins for several years and performed with Collins' side project Brand X, during which he suggested sitting in the drum seat while Collins sang on stage until they found a permanent live drummer. Bruford's performance was included on the concert film recorded during the tour, Genesis: In Concert, and the live albums Seconds Out and Three Sides Live.
In 1977, Bruford formed his own band named Bruford. Members of the band were initially Dave Stewart (keyboards), Jeff Berlin (bass), Allan Holdsworth (guitar) and Bruford (drums). The first album Feels Good to Me (1978, recorded as a solo project) also had Annette Peacock on vocals, Kenny Wheeler on flugelhorn and John Goodsall on rhythm guitar. The second album, where the moniker "Bruford" was retained but as the band's name, One of a Kind (1979), was entirely instrumental, except for some spoken lines by Bruford during the introduction to "Fainting in Coils".
There were two live albums from this period. Bruford – Rock Goes to College is a 2006 DVD release from the eponymous BBC Television series and The Bruford Tapes (1979), compiled from live shows at My Father's Place in Roslyn, Long Island, in 1979 (including one broadcast on radio station WLIR—most, but not all, of the tracks on the album are from that show), with 'the unknown' John Clark replacing Holdsworth on guitar. The group's final studio album Gradually Going Tornado (1980) continued this line-up with bass player Berlin providing vocals on some songs. Backing vocals were provided by Canterbury scene stalwarts Barbara Gaskin and Amanda Parsons, as well as some incidental cello playing by Georgina Born credited as "Georgie Born". Unfinished vignettes for a projected fourth album were recorded in 1980 and are set for release in October 2017 as part of a Bruford retrospective deluxe boxed set.
Following his first solo album, he was reunited with King Crimson bassist/vocalist John Wetton in the progressive rock group U.K.. During his time in the band, from 1977 to 1978, the band released its eponymous debut album U.K. (1978) and conducted one U.K. tour and a couple of North American tours. After this he was dismissed from the band, due to his disagreement with Wetton and keyboardist Eddie Jobson's decision to fire guitarist Allan Holdsworth, whom he'd brought into the band. He subsequently turned his focus on his own band, Bruford.
1981–88: Second King Crimson stint and Earthworks
Bruford was part of a newly formed King Crimson again in 1981 with a different line-up, consisting of Bruford, Robert Fripp on guitar, Tony Levin on bass and Chapman Stick, and Adrian Belew on guitars and vocals. He recorded Discipline (1981), Beat (1982), and Three of a Perfect Pair (1984) with them, moving to a kit of both acoustic and electronic drums and using his renowned polyrhythmic style, before they disbanded again in 1984.
In the early 1980s, Bruford felt the technology in electronic drums could not reproduce the sounds he wished for, so he "decided to wait until it got a bit better". He then teamed up with Swiss keyboardist Patrick Moraz, a former member of Yes in the 1970s, after he learned that Moraz lived a few minutes from his home in Surrey. As Moraz/Bruford, the two released Music for Piano and Drums (1983) and Flags (1985), two albums recorded on acoustic instruments. The albums were supported with several live shows, including a tour of Japan.
In 1986, Bruford formed his own jazz group Earthworks with Django Bates on keyboards and tenor horn, Iain Ballamy on saxophone, Mick Hutton on bass, and Dave Stewart on samples, keyboards, and co-producer. By then, drum technology had improved to Bruford's satisfaction and he resumed using the instrument, specifically the electronic Simmons kit. The band re-emerged in the 1990s with an acoustic line-up, notably featuring Tim Garland for a period. Bruford used Simmons electronic drums and his melodic drumming, though in the later years of his career he returned to using a primarily acoustic drum set. While Bruford has creative freedom with Earthworks, he continued to collaborate with many musicians, including one-time Yes keyboardist Patrick Moraz (with whom he recorded two albums in the 1980s) and bassist Tony Levin. Earthworks was his primary focus in the final years of his career, particularly after his departure from the latest incarnation of King Crimson.
In an interview for The San Diego Union-Tribune (15 May 2003) he said, "I have this image that I might be a 'rock guy on vacation'. That idea is anathema to me—and I've cured it by making eight albums with Earthworks." He described Earthworks as "seeing music as a social encounter, where you look another guy in the eyes across the room, say 'one-two-three-four' and the music begins. That's where my pleasure lies, for sure" (Los Angeles Times, 16 May 2003).
1988–93: Anderson Bruford Wakeman Howe and return to Yes
Anderson Bruford Wakeman Howe (sometimes referred to by the acronym ABWH) was a subset of former members of the progressive rock-band Yes. The group consisted of vocalist Jon Anderson, drummer Bill Bruford, keyboardist Rick Wakeman, and guitarist Steve Howe, with Tony Levin providing the bass duties since Yes bassist Chris Squire was involved with the official Yes. Anderson Bruford Wakeman Howe recorded one self-titled studio album in 1989. A live recording An Evening of Yes Music Plus from their subsequent concert tour was released in 1993.
Bruford would rejoin Yes briefly in 1991 and 1992 for the Union (1991) album and tour, so titled because it brought together ABWH and the members of Yes prior to the union as an eight-member band. His said of the album:
Well, the more money you pay for a record, the more money you interfere with it – and this was a big budget record. So, they eventually decided that the guys in France (Anderson, Bruford, Wakeman and Howe) needed the assistance of all the other Yes guys in California (Chris Squire, Tony Kaye, Trevor Rabin and Alan White). So, our work was duly e-mailed, I guess, to them. They were then put on and found lacking. Then, also put on was a cast of a thousand studio musicians. So, the whole thing turned into the most God awful, auto-corrected mess you could possibly imagine! The worst record I've ever been on.
He said of the tour:
It was just a sort of a summer vacation. It was fun to do in the sense there were some 'old pals' and it was possible to do because we didn't have to give rise to any new music. So in as much as the band was just playing repertoire material, there was kind of a 'ticket buy' in the idea of all those, you know, the entire cast of Dallas on stage at once, kind of thing. And there was some kind of attraction to that. But that was really all it was, I think. And I think I was probably an unnecessary spare part. So I didn't enjoy it terribly. But those gigs can be quite fun as performing in huge stadiums can be quite fun on a kind of purely visceral level. Just kind of being there and enjoying it. I don't venture, however, you'd want to give up your day job to do it.
Bruford and Steve Howe would later undertake a recording project together in 1992/1993 to have an orchestra reinterpret some of Yes' works. The resulting album, titled Symphonic Music of Yes, was released on RCA records in 1993.
1994–2009: Return to King Crimson, Earthworks II and retirement
King Crimson re-emerged once more in 1994 as a six-piece band, consisting of its 1980s line-up along with Trey Gunn on Warr Guitars and Pat Mastelotto sharing the drumming duties with Bruford. Dubbed the "double trio" configuration, between 1994 and 1996 they released the EP Vrooom (1994), the full-length studio album Thrak (1995), and two live albums, B'Boom: Live in Argentina (1995) and Thrakattak (1996).
Rehearsals to create new King Crimson material followed, as well as a week of performance with the sub-group ProjeKcts One in 1997, after which Bruford left the band and its iterations for good. His reason for abandoning King Crimson was his frustration with rehearsals, which he felt weren't going anywhere.
Rapidly eschewing electronics, Bruford moved to his focus to acoustic jazz, firstly in a collaboration with Americans Eddie Gomez and Ralph Towner (1997) and then with an all-new acoustic Earthworks (1999-2008). While this remained his primary focus, he also sought other collaborations in the final decade of his career, including the jazz-rock band Bruford Levin Upper Extremities (1998), a duo with Dutch pianist Michiel Borstlap (2002-2007), the contemporary composer Colin Riley with the Piano Circus collective (2009), and in presenting drum clinics.
Bruford retired from public performance on 1 January 2009 (except for one low-key performance with Ann Bailey's Soul House in 2011). He retired from studio recording at the same time, although his final studio work, Skin & Wire, was not released until later that year. His autobiography was released in early 2009. In 2016, after four years of study, Bruford earned a PhD in Music at the University of Surrey.
Legacy
Many artists have cited Bruford as an influence, including Danny Carey, Mike Portnoy, Matt Cameron, Brann Dailor, Tim "Herb" Alexander, Gene Hoglan, Jon Theodore, Aaron Harris, Chad Cromwell, Chris Pennie, Steve Arrington, Mac McNeilly, and Martin Dosh. In addition, other artists have been quoted expressing admiration for his work including Neil Murray, Jimmy Keegan, and Adrian Younge.
The character "Bruford" from the popular manga/anime series JoJo's Bizarre Adventure was a direct homage to Bill as series creator Hirohiko Araki is a huge fan of his in work in Yes. Araki even used Yes's Roundabout as the series end credit's theme.
Abortive projects
Bruford has been involved in a number of abortive projects, including a trio with Rick Wakeman and John Wetton which made the headlines of Melody Maker in October 1976; Bruford has also told of "an abortive and late rehearsal/audition with bass player Jack Bruce out at his mansion in Essex, once, but nothing came of that." He was also approached in 1985 by ex-Led Zeppelin guitarist Jimmy Page to be the drummer for his new band with Paul Rodgers, The Firm, along with bass player Pino Palladino. "We rehearsed briefly, but I think decided we were mutually unsuited..!"
Awards
In 1990, the readers of Modern Drummer voted him into that magazine's Hall of Fame.
In 2017, he was inducted into the Rock and Roll Hall of Fame as a member of Yes.
References
Bill Bruford Wikipedia
(Text) CC BY-SA