Besides his work with Dream Theater, Portnoy is known for his many side projects and tribute bands. He is a founding member of Liquid Tension Experiment, an instrumental progressive rock band featuring fellow Dream Theater members John Petrucci and Jordan Rudess along with bassist Tony Levin. He is also a founding member of Transatlantic, a progressive rock "super-group" featuring former Spock's Beard keyboardist/vocalist Neal Morse, Flower Kings guitarist Roine Stolt and Marillion bassist Pete Trewavas. Portnoy has also recorded and/or toured/performed live with Neal Morse, OSI, Hail!, Stone Sour, Fates Warning, Overkill, G3 and played on Avenged Sevenfold's album Nightmare in place of their late drummer, The Rev. Over the years, Portnoy has also created tribute bands to The Beatles, Led Zeppelin, Rush, and The Who, which has allowed him to perform the music of his four favorite drummers.
In September 2010, Portnoy announced his departure from Dream Theater after 25 years. He was replaced by Mike Mangini. Since leaving Dream Theater, Portnoy has formed several new bands. The first, Adrenaline Mob, a traditional heavy metal/hard rock band with singer Russell Allen (of Symphony X) and guitarist Mike Orlando. On June 4, 2013, however, Portnoy announced his departure from Adrenaline Mob, citing scheduling conflicts. He is also a founding member of Flying Colors, a progressive rock band also featuring Steve Morse, Neal Morse, Dave LaRue, and Casey McPherson; The Winery Dogs, a power trio also featuring bassist Billy Sheehan (Mr. Big) and guitarist Richie Kotzen (formerly of Mr. Big and Poison); and Sons of Apollo, a progressive metal supergroup also featuring Sheehan, Derek Sherinian, Jeff Scott Soto and Ron "Bumblefoot" Thal.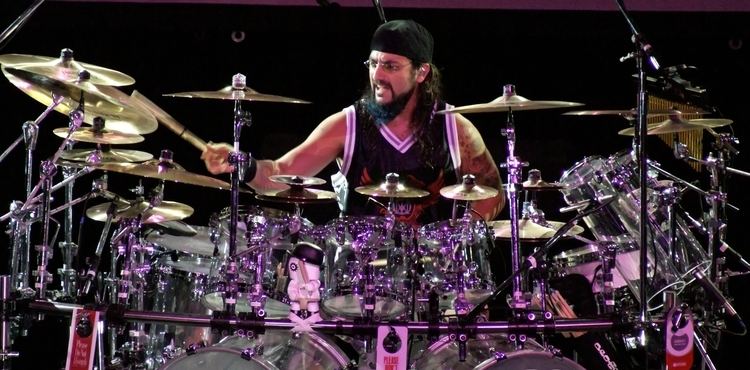 Portnoy was born April 20, 1967 and raised on Long Island in Long Beach, New York. His father, Howard Portnoy, worked as a DJ at a local radio station. His mother died on November 16, 1984, when the private plane she was riding in, with her boyfriend, crashed off the Atlantic City coastline.
Portnoy's father's job helped him gain an appreciation for music at an early age particularly, as Portnoy has pointed out, because he had access to his father's collection of LPs. He developed a preference for bands including Rush, Queen, Led Zeppelin, The Who, Iron Maiden, and The Beatles, among many others. Portnoy claims to be self-taught as a drummer, though he did take music theory classes in high school. During that period he began playing in local bands, two of which (Rising Power and Inner Sanctum) recorded and released independent albums. He left Inner Sanctum (his last high school band) after being awarded a scholarship to attend the Berklee College of Music in Boston. There, he met John Petrucci and John Myung. They formed a band, initially taking the name "Majesty" before changing their name to Dream Theater. They left Berklee soon after.
In spring 2010, Portnoy filled in for Avenged Sevenfold's former drummer, Jimmy "The Rev" Sullivan, who died during the production of the band's fifth album Nightmare.
On May 5, 2010, Portnoy released a statement on his status with Avenged Sevenfold on their official website: "Although I wish I could stay on board with Avenged in a more permanent capacity, the reality is that I am committed to Dream Theater as my main priority and I will need to resume work with them to start a new album at some point in 2011.....However, I will be able to join my brothers in Avenged Sevenfold for at least the duration of their touring throughout 2010.....You can look at me like the band's 'rebound drummer' to buy them some time until they are comfortable and ready to make a commitment to somebody new for full-time relationship in their future!"
On September 8, 2010, Mike Portnoy announced he would be leaving Dream Theater. In his official statement, he said he had "come to the conclusion that the [Dream Theater] machine was starting to burn me out", and that he had urged the band to take a break from its relentless recording, publishing and touring cycle. When the band decided it would rather continue without him, however, he departed, and Dream Theater later chose Mike Mangini to take his place after auditioning seven "world-class" drummers. When Avenged Sevenfold later decided to also sever ties with Portnoy, he announced that he had asked to return to Dream Theater, but had been turned down by their lawyer since the band (as later revealed) had already brought Mangini on board.
Portnoy later announced that he had started two new musical projects: Adrenaline Mob, with Russell Allen, Mike Orlando, Rich Ward and Paul DiLeo; and Flying Colors, with Neal Morse, Steve Morse, Dave LaRue and Casey McPherson. Adrenaline Mob released its debut EP in August 2011. Both bands released their first full albums in 2012.
On June 10, 2011, Portnoy announced on his website that he would be playing a show in New York City on June 24, 2011 with Adrenaline Mob.
On August 5, 2011, one of Adrenaline Mob's new songs, "Hit the Wall," debuted on the Q104.3 radio station following a live interview with Portnoy about the band, as well as his hopes for the future and his feelings towards Dream Theater.
On September 14, 2011, it was announced that Portnoy would fill in on drums for Stone Sour's show at Rock In Rio for drummer Roy Mayorga, who had been expecting the birth of his first child on the same day as the show.
Portnoy and guitarist John Sykes had begun working on a new band in July 2011, together with bassist Billy Sheehan. In January 2012, however, the project quietly dissolved, and Portnoy announced that he and Sheehan had selected guitarist Richie Kotzen to replace Sykes. The album was recorded throughout August 2012. On March 24, 2013, it was announced that the name of the Portnoy/Sheehan/Kotzen band would be called The Winery Dogs. The album was released in July 2013.
Portnoy played drums on Progressive Rock band Bigelf's 2013 album. He has clarified that he was "just helping Damon (Fox, Bigelf frontman)", however, and is not a member of the band.
On June 4, 2013, Portnoy announced via Adrenaline Mob's Facebook page that he would be playing only four more shows with the band before departing. Portnoy cited scheduling conflicts that prevented him from being able "to fully commit to the band's future activities at the moment."
On March 21, 2015 Mike Portnoy rejoined his old bandmates in Adrenaline Mob in New Jersey for a tribute to A.J. Pero, who died on March 20, 2015 from a massive heart attack. Additionally, Portnoy filled in as drummer for Twisted Sister following Pero's passing.
In August 2017, it was announced that he and his former Dream Theater bandmate Derek Sherinian formed a progressive metal supergroup named Sons of Apollo and also featuring Sheehan, Derek Sherinian, Jeff Scott Soto and Ron "Bumblefoot" Thal.
In the April 2001 edition of Modern Drummer & Mike Portnoy's website, he names Neil Peart, Carl Palmer, Bill Bruford, Terry Bozzio, Billy Cobham, Alan White, Stewart Copeland, Phil Collins, Chester Thompson, Simon Phillips, Nick D'Virgilio, Andy Sturmer, Dave Lombardo, Jon Fishman, Vinnie Colaiuta, Peter Criss, Ringo Starr, Tommy Lee, John Bonham, Lars Ulrich and Keith Moon as influences.
Modern Drummer
Mike Portnoy won the following Modern Drummer magazine Reader's Poll awards:
Best Up & Coming Talent (1994)
Best Progressive Rock Drummer (1995–2006)
Best Recorded Performance (1995 for Awake, 1996 for A Change of Seasons, 1998 for Falling Into Infinity, 2000 for Metropolis Pt. 2: Scenes From a Memory, 2002 for Six Degrees of Inner Turbulence, 2007 for Score) and 2011 for Nightmare (Avenged Sevenfold).
Best Clinician (2000, 2002)
Best Educational Video/DVD (2000, 2002)
Hall of Fame Inductee (2004)
Best Rock Drummer (2015)
He has co-founded several progressive rock groups and projects, including Transatlantic and Liquid Tension Experiment.
He has released three instructional videos, "Progressive Drum Concepts", "Liquid Drum Theater", which has won awards from Modern Drummer Magazine, and his latest "In Constant Motion". He has released many "Official Bootlegs" on his website, including footage of the studio sessions for the Dream Theater albums Six Degrees of Inner Turbulence, Train of Thought, Octavarium and the Transatlantic release Bridge Across Forever. He has released bootlegs of his tribute bands Hammer of the Gods (a Led Zeppelin tribute), Yellow Matter Custard (The Beatles), Cygnus and the Sea Monsters (Rush), and Amazing Journey (The Who).
On September 18, 2006 within his website's forum Portnoy cagily stated that he had finally met one of his drummer heroes from youth from the band Rush; drummer Neil Peart (one of the few heroes from his youth Portnoy had never met, owing to Peart's legendary privacy), that "Neil and I have finally met and we spent some time together this week and had a great time...", and that a possible collaboration was underway/had been discussed with the teasing statement of "Patience everybody... all will soon be revealed!" It has now been revealed that this meeting was for an interview Portnoy did for his stint as guest editor of Rhythm Magazine. Portnoy had previously written the liner notes for the Japanese pressing of Rush's 2002 release Vapor Trails, but publicly denounced Peart in 2000 after Peart called the people involved in the Rush tribute "bar bands" .
In the October 2009 issue of Rhythm Magazine, Portnoy was listed as #5 in their list of the Top 50 Drummers of All Time.
He was featured on Fuse TV's Talking Metal where he joined with Bobby Ellsworth and the show's hosts in covering Motörhead's "Overkill."
In June 14, 2010, Mike Portnoy won the Metal Hammer Golden God Award for Best Drummer.
As voted on by 6,500 drummers worldwide, Portnoy won the Drummies Award for Best Progressive Rock drummer in 2010, while Joey Jordison of Slipknot/Rob Zombie/Murderdolls won the award for Best Metal drummer.
At the Revolver Golden God Awards in April 20, 2011, he won the "Best Drummer Award" for his work with Avenged Sevenfold.
In June 7, 2011, Portnoy posted on his Facebook that he had won Drum! magazine's "Drummer of the Year Award" and the "Metal Drummer Award".
Portnoy won the "Virtuoso" award at the 2013 Progressive Music Awards.
Portnoy played John Myung's bass when Dream Theater performed as the fictitious band Nightmare Cinema. Before live performances of "Trial of Tears", he would sometimes switch instruments with John Petrucci and play a fragment of "Eruption" by Van Halen. In Nightmare Cinema he got the "alternate stage name" Max Del Fuvio.
He was seen playing Pink Floyd's Sheep, on a sunburst 4-string Music Man Sterling belonging to Myung on The Making of Systematic Chaos. He plays bass guitar during a jam by Liquid Trio Experiment 2. He has also contributed lead and harmony vocals to numerous projects.
Portnoy and his wife Marlene (née Apuzzo) live in Upper Saucon Township in the Lehigh Valley region of Pennsylvania with their children, Melody Ruthandrea and Max John. Marlene used to be a guitarist in the all-female band Meanstreak, and two of the other members, guitarist Rena Sands and bassist Lisa Martens, are married to Dream Theater guitarist John Petrucci and bassist John Myung, respectively.
Max, like his father Mike, is a drummer. His band Next to None opened for Adrenaline Mob in Atlanta on April 6, 2013.
Near the end of every year since 2001, Portnoy shares on his blog a personal choice on the top ten music recordings, films and TV shows released along the year.
Portnoy comes from a Jewish family, but doesn't actively practice the religion.
Portnoy has released several instructional drumming videos/DVDs. These include:
"Progressive Drum Concepts" (Rittor Music 1995 1 VHS/DVD)
"Liquid Drum Theater" (Hudson Music 2000 2 DVDs)
"In Constant Motion" (Hudson Music 2007, 3 DVDs)
Portnoy has self-released "drum-cam" DVDs of the last several Dream Theater and side project recording sessions through his own "MP4" production company. These are "in-studio" recordings typically consisting of Full Band, Isolated Drums tracks, and an Audio Commentary.
"Asian Clinic Tour" (MP4 Productions 2001, 1 DVD) (out of print)
"Ten Degrees of Turbulent Drumming" (MP4 Productions 2002, 1 DVD)
"Drums Across Forever" (MP4 Productions 2002, 1 DVD)
"Drums of Thought" (MP4 Productions 2004, 1 DVD)
"Live at Budokan" (MP4 Production 2005, 1 DVD)
"Mike Portnoy - Drumavarium" (MP4 Productions 2005, 1 DVD)
"sysDRUMatic chaos" (MP4 Productions 2007, 1 DVD)
"SCORE" (MP4 Productions 2008, 1 DVD)
"Black Clouds & Silver Drumming" (MP4 Productions 2009, 1 DVD)
"Whirlwind Drumming" (MP4 Productions 2010, 1 DVD)
"Testimony 2:Live Drum Cam" (MP4 Productions 2012, 1 DVD)
"Drumertá" (MP4 Productions 2012, 1 DVD)
"Drumming Colors" (MP4 Productions 2012, 1 DVD)
"Live Momentum" (MP4 Productions 2013, 1 DVD)
"The Drumming Dog" (MP4 Productions 2013, 1 DVD)
"Kaleidodrums" (MP4 Productions 2014, 1 DVD)
"Drumming Nature" (MP4 Productions 2014, 1 DVD)
"Hot Drums" (MP4 Productions 2015, 1 DVD)
"Metal Drumming" (MP4 Productions 2015, 1 DVD)