Covid-19
India


25 km2


Dakshina Kannada




Tulu, Kannada




Karnataka






Bantwal is a taluk in Dakshina Kannada district, Karnataka, India. It is located 25 km (16 mi) East of Mangalore city.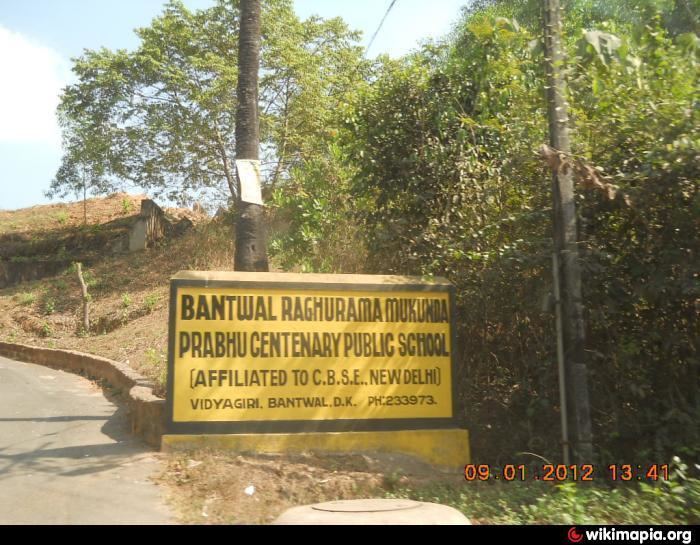 Bantwal town is often called Vatapura Kshetra by some communities. Bantwal actual meaning is Banta Wala. Banta (Bunts) is a community. It is situated on the banks of River Nethravati on the National Highway - 73. The adjacent town of B.C. Road (Bantwal Cross Road) serves as the commercial center.
Previously, the town of Bantwal was known for trade with the Persian Gulf states, being so close to Mangalore. However, flooding caused by the river Netravathi during the monsoons compelled traders and newer settlements to move to the adjacent city of B.C. Road due to its higher altitude. Gradually, most Government offices shifted to B.C. Road.
Prior to 1852, Bantwal Taluk was the largest taluk in the entire of Canara Province (then comprising North Canara, Udupi, Mangalore and Kasaragod Districts) with 411 villages and a total population of 1,69,416. In 1852, a portion of it was formed into the Taluk of Puttur. Bantwal was an enterpot for the produce of the province on its way to the Mysore Country and had derived a great benefit of late years from the extension of the coffee trade. It contained about thousand scattered houses inhabited by Billava, Bunts Bhandary, Ganigas, Kulals, Goud Saraswat Brahmins, Konkani Catholics and a few Jains.
As of 2001 India census, Bantwal had a population of 36,829. Males constitute 50% of the population and females 50%. Bantwal has an average literacy rate of 74%, higher than the national average of 59.5%; with 76% of the males and 72% of females literate. 12% of the population is under 6 years of age. Tulu is the main language spoken here.In addition to tulu the town also has Konkani and Beary speaking population.
According to the 2011 India census, Hindus make up 61.27% of total population, Muslims 32.47% and Christians 5.95%.
The town is still considered an important trade center for groceries, tobacco, hardware and gold.
The taluk is flanked by the state of Kerala in the south, and the towns of Belthangady and Puttur in the east, the city of Mangalore in the west and Karkala in the north. It covers an area of about 720 km square. National Highway 73 cuts through B. C. Road. The highway serves as the conduit for several arterial routes leading to neighboring towns with Mangalore. Mangalore is connected with other cities in Karnataka such as Mysore and Bangalore via NH-73. It is well connected to Uppala through Uppala-Mudipu-Bantwal Highway.
The Grama Panchayats in Bantwal taluk are Golthamajalu, Kolnadu, Sajipa Muda, Kurnadu, Maani, Navooru, Pudu, Sangabettu, Maavinakatte, Sarapady, Thumbe, Veerakumba and Vittla (Vittal).
The Netravati River passes through the taluka. Water supply to Mangalore city is provided by a vented dam at Thumbe to Netravathi. There is a bridge over the Netravati river at Panemangalore.
Some other places in Bantwal taluk of interest are Kadeshivalaya, Ajilamogaru, Alike, Karanje, Naraharibetta, Nandavara and Modankap.
Many buses ply to nearby places such as Mudipu, Moodabidri, Surathkal, Mulki, Kinnigoli, Vitla operate from the B. C Road bus stand. The railway station at B. C Road is maintained by south western railways. The Mangalore port is about 30 kilometres from here. Mangalore International Airport is about 45 minutes from B.C Road
List of schools
Primary and secondary
SVS English School, Vidyagiri, Bantwal
SVS Temple English Medium School, Bantwal
SVS High School, Bantwal
Infant Jesus School, Modankap
Deepika highschool, Modankap
Carmel Convent School, Modankap
GEM High School and Primary Public School, Goltamajal, Vitla road, Kalladka
Manarul Islam Aided Primary School, Lower Bazar
Holy Saviour School, Agrar
Christa Jyothi High School, Agrar
St.Jacob's School, Farla
St Patrick's HR Primary School, Siddakatte
St Patrick's English medium school, Siddakatte
Gunashree English medium school, Siddakatte
Bal Christ preschool, Siddakatte
B.A, Thumbay, Thouheed English Medium School,
Sri Sharada High School, Panemangalore
Hayathul Islam Aided Primary School, Goodinabali
St.Thomas Aided Hr. Primary School, Chelur
Sri Rama highschool hanuman nagara kalladka
Shamboor High School
List of colleges
Pre-university
SVS PU College, Vidyagiri, Bantwal.
Carmel PU College, Modankapu.
General Courses
Sri Venkataramana Swamy College, Vidyagiri, Bantwal
P.A. Fr. Gr. College, Nadupadavu, Kairangala.
Govt. First Grade College, Bantwal (http://gfgc.kar.nic.in/bantwal)
Govt High school & Junior college, Mudipu
Govt High School & Junior college, Sajeepa Muda
Engineering
Canara Engineering College, Benjanapadavu.
P A College of Engineering, Nadupadavu, Kairangala.
Government Polytechnic Bantwal.
Govt pre university college, Siddakatte
Govt Degree college, Siddakatte
Temples
Shri Dhama Manila.
Shri Mahalingeshwara Temple: one of the oldest temples in the region and is dedicated to Lord Shiva.
Shri Tirumala Venkatramana Swamy Temple of Bantwa: a famous temple that believed that Lord Venkateshwara or Balaji came here all the way from Tirupati.
Shri Vinayaka Shankaranarayana Durgamba temple at Nandavara: another historical and famous temple situated in the banks of Netravati River.
Shree Gopalakrishna Devasthana, Kairangala
Shri Seetharam Temple
Shri Somanatheshwara temple: near B.C. Road
Shri Chandikeswari Temple: B.C. Road
Rakhteshwari Temple
Shri Hanumanth Temple
Shri veeramukyaprana temple rayara chavadi baddakatte bantwal
Shri Krishna Math
Banks of River Netravathi
Panekala Padpu: known for its history
Shri Mahamaya Temple: Borimar, 3.5 km from Soorkmeri and near Mani.
Shri Narahari Temple, Kalladka
Shri Lakshmi Narasimha Swamy Temple, Kadeshivalaya
Shri Panchalingeswara Temple.Vittal
Shri Karinjeshwara Temple, Karinje, Bantval Taluk. This temple is situated at a place called Karinja of Kavalamudur village of Bantval taluk, which is 38 km away from Mangalore and 14 km away from Bantval. The temple could be reached from (2 km) a place called Vogga on Mangalore-Belthangady route. This temple is dedicated to Lord Shiva and Parvathi. Every year in months of February — March, Shivaratri, the festival of Lord Shiva is celebrated here with much festivity, which attracts large masses of people.
Shri Rajarajeswari Temple, Polali, Bantval Taluk, placed at 20 km away from the city and 20 km away from Mangalore city and 10 km away from Mangalore Airport (Bajpe Airport). This famous temple is where the idol is made up of clay. The temple festival is known as Polali Chendu. Watermelons are offered to lord as it's the common fruit grown here.
Nara Hari Betta, Bantwal: This Shiva temple is also historically known as a place where Nara and Hari, incarnations of Lord Vishnu were supposed to have performed the penance. This hill top temple is also known for its lyrical ponds, which are in the shape of Shanka (Conch), Chakra (Wheel), Gadha (Heavy Weapon) and Padma (Lotus), the weapons of Vishnu. Taking a holy dip in these ponds on the day of Karthik Somvar is considered to be sacred according to the Hindu mythology. Location: It is situated 25 km from Mangalore in Bantwal.
Shri Pancha Durgaparameshwari Temple, Kakyabeedu, 12 km from Sri Karinjeshwara Temple on Vagga-Uli- Uppinagady Road
Brahmashree Narayana Guru Jnana Mandira, Sajipa Muda Subhash Nagara. Unique architecture in south India, built in red stone
Daiva (Bhuta) Shrines
"Panolibail Kallurti Daiva Sthana" which is most famous sthana situated in few km distance from bantwal. This holy place famous for "Agelu".
Ambadady annappa panjurli daivasthana bantwal
Sri Vaidyanatha, Arasu, Jumadi banta Daivasthana, Sujeer, Bantwala
sri vaidyanatha arasu jumadi banta daivasthana, nandana hittlu bantwala
sri kallurti kalkuda, Annappa panjurli daivasthana Bhandary hittlu bantwala.
Churches
The Most Holy Saviour Church on the hills of Agrar is three kilometers away from the town is more than three hundred years old and has got beautiful paintings on the walls similar to the ones at the St. Aloysius Chapel.
Infant Jesus Church, Modankap is also a three-hundred-year-old church which is the main church of the Bantwal deanery headed by the Vicar Var.
Our Lady of Vailankani Church, Farla
Our Lady of Loretto Church, Loretto.
St Patrick Church Siddakatte.
Church of the Sacred Heart of Jesus, Shamboor (Shambur).
Multiplexes and tech parks
Nakshatra multiplex theatre, Krishnima complex, B C Road
Infosys Campus, Kamblapadavu, Kurnad Post, Pajeeru Village, Bantwal..
.sri
Mangalore
Moodabidri
Uppala
Kasargod
Puttur
Vitla
Belthangadi
Siddapur
Siddakatte
Goodinabali
Nandavara
Shamboor
Shri Dhama Manila
Dharmastala
Bantwal Wikipedia