Shakhwat rony all goals for bangladesh national football team
The Bangladesh national football team (Bengali: বাংলাদেশ জাতীয় ফুটবল দল) is the national team of Bangladesh controlled by the Bangladesh Football Federation. It is a member of the Asian Football Confederation, and became a member of FIFA in 1974 even though the Bangladesh Football Federation was first founded in 1972. Bangladesh was elected as member in the AFC Executive Committee 1982–86 and 1998–02. The current Executive Committee was elected democratically, under an AFC approved constitution and direct supervision of FIFA & AFC, in April 2008.
Contents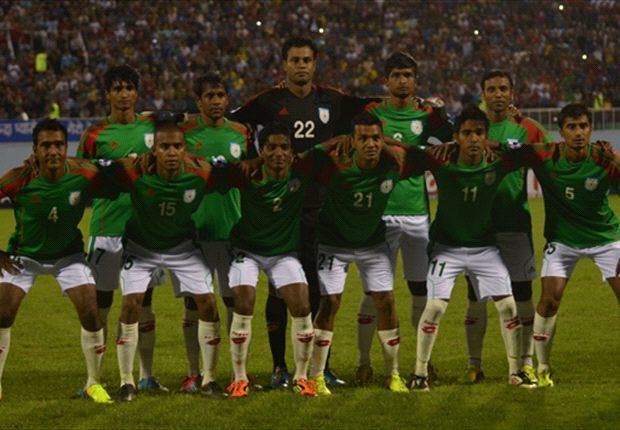 Bangladesh's national team debuted in 1973 and has yet to qualify for the World Cup finals. They were dismissed in the first round of their only Asian Cup appearance to date in 1980, and the 1986 FIFA World Cup qualifiers. But the nation's best results came at South Asian level where it won the SAFF Championship once and were gold medalists in South Asian Games twice. As is the case elsewhere on the subcontinent, top-level football in Bangladesh is played somewhere in the shadow of the country's national cricket team. It was one of Southern Asia's leading team in the 2000s.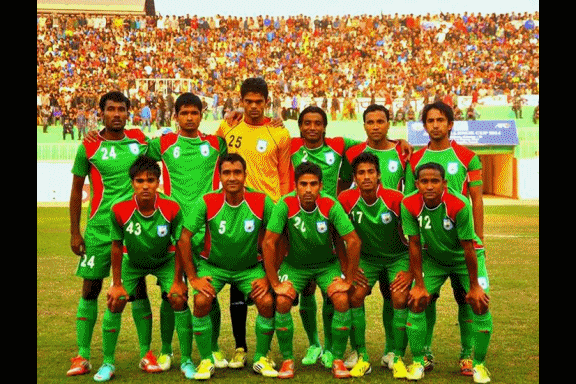 20th century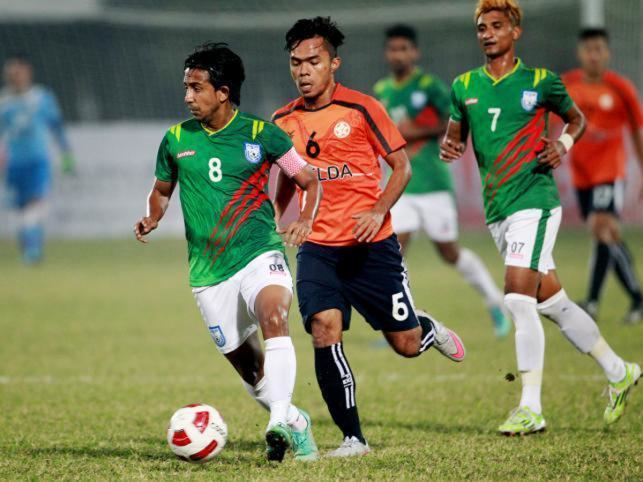 The first instance of a Bangladesh national football team was the emergence of the Shadhin Bangla football team during the 1971 liberation war. They toured throughout India to raise international awareness and economic support for the liberation war.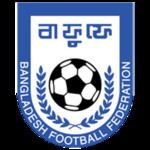 Following her independence from Pakistan achieved at the end of 1971, the Bangladesh football team played its first official game on July 26, 1973, a 2–2 draw against Thailand. During the period between July 26 and August 14, 1973, the national team played 13 friendly matches against Asian teams, all hosted in Kuala Lumpur, Malaysia, resulting in 3 draws and 10 defeats. One year later, the national team played 2 more friendlies, this time in Bangkok, and were defeated twice more.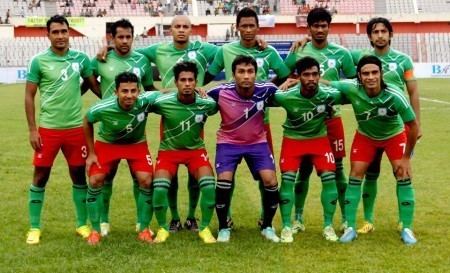 The next official matches came in 1978, 2 friendly games against Malaysia and India, also in Bangkok, finished once more as defeats. In January 1979, the qualification tournament for the 1980 AFC Asian Cup began and – surprisingly considering their previous record – Bangladesh opened their campaign with draws against Afghanistan and Qatar. A heavy 4–0 defeat against Qatar followed, but a 4–1 win over the Afghans, the team's first ever victory, saw them qualify for the tournament.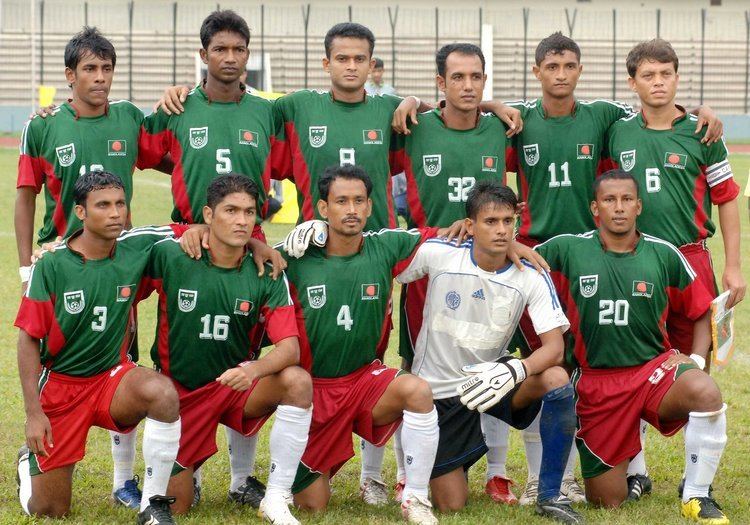 In preparation for the Asian Cup, Bangladesh played four more friendly matches, losing three of them (notably a 9–0 thrashing by South Korea) but scoring their second win, 3–1 over Sri Lanka.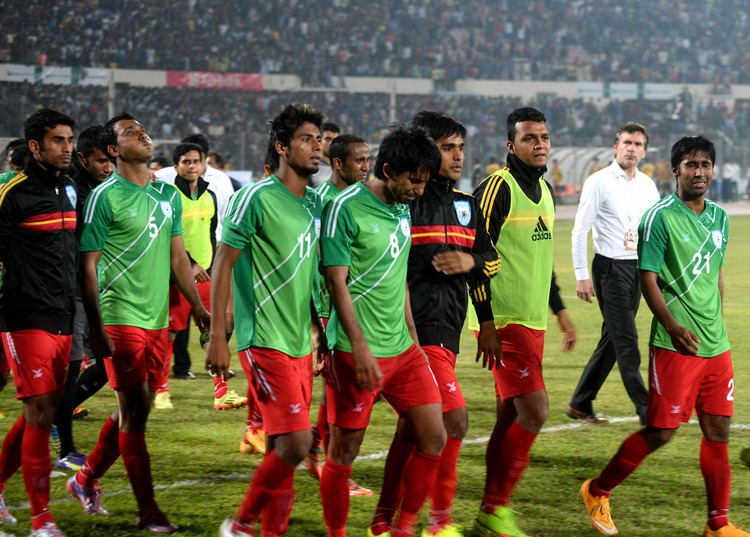 The 1980 AFC Asian Cup was held in September 1980 in Kuwait, and Bangladesh were grouped with defending champions Iran as well as North Korea, Syria and China. The Bangladeshis opened the tournament respectably with narrow defeats to the North Koreans (3–2) and Syrians (1–0) but were embarrassed 7–0 and 6–0 respectively by Iran and China, finishing the tournament bottom of their table with a goal difference of −15. This was the only time that Bangladesh have qualified for a major tournament.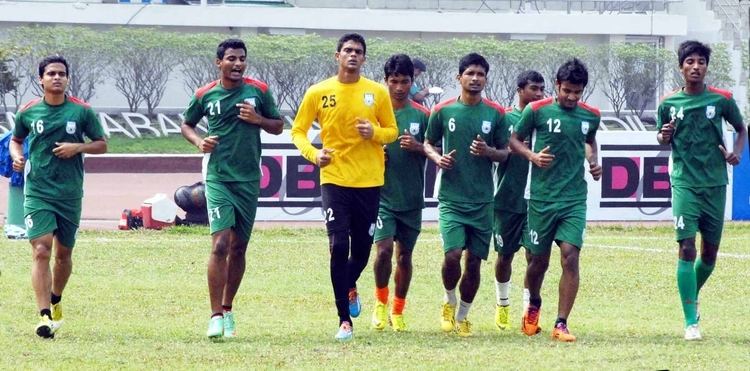 In 1982, after a year and a half without any matches, the team played four games in Karachi, Pakistan, again suffering, 3 defeats and a draw, with a heavy 9–0 loss, this time to Iran. The next five friendlies yielded 2 victories and 3 defeats, and by the 1984, the team had only 4 victories, in 10 years.
The qualifiers for the 1984 AFC Asian Cup took place in August of that year, with Bangladesh matched with Iran and Syria from the 1980 tournament alongside Thailand, Indonesia and the Philippines. Bangladesh lost all but one of their games, a 3–2 defeat of the Philippines to salvage a little pride after yet another mauling by Iran.
A month later, the team played friendlies against Maldives and Nepal and handed out two thrashings of their own for a change, winning both games 5–0. But Nepal answered the day after, defeating Bangladesh 4–2.
In 1985 the team made its first attempt to qualify for the World Cup and was grouped with India, Indonesia and Thailand. Two wins from six saw Bangladesh finish bottom of their group.
From April 1985 to November 1987 team played 13 games, registering 4 victories, 2 draws and 7 defeats, before failing to qualify for either the 1988 AFC Asian Cup or the 1990 FIFA World Cup, posting just one win in the eleven games they played over both tournaments (a 3–1 defeat of Thailand in World Cup qualifying).
From 1989 to 1991, the team played 8 matches, gaining 3 victories, 1 draw and 4 defeats, before failing once again to qualify for the Asian Cup, this time thanks to a 6–0 drubbing by South Korea. Two years later, the qualifying tournament for the 1994 FIFA World Cup involved 8 matches – Bangladesh's longest ever campaign, but no more successful – only a pair of victories over Sri Lanka prevented a complete whitewash which included 8–0 and 7–0 thrashings at the hands of Japan and United Arab Emirates respectively.
In 1995, Bangladesh won silver in Football at the South Asian Games, losing in the final to hosts India, but qualification for 1998 FIFA World Cup saw a return to form, with the team even losing to Chinese Taipei.
The team's fortunes in regional competitions improved – the SAFF Gold Cup in 1999, held in Goa, saw Bangladesh again reach the final and lose to India, picking up another silver medal, and at 1999 South Asian Games held in Kathmandu the team finally took the extra step and won the gold medal, the first tournament win in the team's history. However, they were unable to parlay this into a successful qualification for the 2000 Asian Cup and failed to recover from an opening 6–0 thrashing by Uzbekistan.
21st century
A historic moment occurred for the Bangladesh team on 12 January 2001, when they played their first match against a team from outside Asia, a friendly against Bosnia and Herzegovina, who won 2–0.
Since 2000, the team have rarely looked like qualifying for either the Asian Cup or the World Cup (with successive first-round eliminations by Tajikistan in 2006 and 2010), but the same period has brought a tournament title being champions of SAFF Championship in 2003 as tournament host. Bangladesh won their second gold medal in South Asian Games at 2010 South Asian Games as tournament host.
On 29 June 2011 at Bangabandhu National Stadium in Dhaka, Bangladesh beat Pakistan 3–0 in the 2014 World Cup qualifiers. They went on to play Pakistan again at Punjab Stadium, Lahore on 3 July 2011 where they drew 0–0. This allowed the Bangladesh team to move on to the second round to play against Lebanon. The first game was played in Camille Chamoun Sports City Stadium, Beirut on 23 July 2011 where Bangladesh lost 4–0. The second game was played in Bangabandhu National Stadium, Dhaka where Bangladesh won 2–0. Since Lebanon was able to score more goals out of the two games they advanced to the third round eliminating Bangladesh. Bangladesh could not qualify into the semifinal of 2011 SAFF Championship as they had drawn against Pakistan but lost to Nepal and Maldives in group stage.
Bangladesh played three international friendly matches in 2012. They managed to draw against Nepal by 1–1. They started their South-east Asian tour by a heavy 5–0 defeat to Thailand but drawn against Malaysia by 1–1.
Lodewijk de Kruif
Bangladesh failed to qualify into 2014 AFC Challenge Cup as they lost to Palestine by 0–1 despite their wins against host Nepal and Northern Mariana Islands in 2014 AFC Challenge Cup qualification stage held in March 2013. Bangladesh could not qualify into the semifinal of 2013 SAFF Championship as they lost to Nepal and Pakistan in group matches. Although they had a consolation draw against tournament runner-up India in group stage, it was second consecutive SAFF Championship where they failed to qualify into knockout stage.
On March 5, 2014 Bangladesh tied a thrilling 2–2 International Friendly against India at Fatorda Stadium, Goa, India.
In 2015 Bangabandhu Cup, Bangladesh became the runners-up of the tournament as they lost against Malaysia U-23 by 2–3 in the final match. In the group stage, Bangladesh lost in the very first match against Malaysia U-23 but won against Sri Lanka which led them to qualify in the semi final round where they beat Thailand U-23 football team by 1–0.
On 30 May and 2 June Bangladesh Played International Friendly as preparation of FIFA 2018 World Cup Qualifying against Singapore and Afghanistan, lost the first match by 1–2 and drawn the second one by 1–1. On 29 August, Bangladesh Played another International Friendly against Malaysia at Shah Alam Stadium and made a goal less draw.
Bangladesh played first four match of FIFA 2018 World Cup Qualifying against Kyrgyzstan, Tajikistan, Australia and Jordan lost all match without match against Tajikistan. This match was drawn by 1–1.
Gonzalo Sanchez Moreno
Bangladesh ended their FIFA 2018 World Cup Qualifying campaign on a disappointing note as they suffered a huge 8–0 defeat to Jordan (managed by Harry Redknapp) in their last and final Group B match at the Amman National Stadium on 24 March 2016. With seven defeats and a solitary draw against Tajikistan, Bangladesh conceded 32 goals and scored only twice, once apiece against Tajikistan and Kyrgyzstan.
Lodewijk de Kruif reappointment
On May 2016 de Kruif returned to take charge of the national team for a third time in an failed attempt in the AFC Asia Cup 2019 qualification playoff round 1. Losing both home and away to Tajikistan. It was reported that he favored the older player from his previous run with team rather giving opportunities to younger players.
Tom Saintfiet
The BFF appointed Belgian Tom Saintfiet on 29th June 2016, initially on a short term contract to guide the national team to the AFC Asia Cup 2019 qualification playoff round 2 matches against Bhutan.
Following a 0–0 draw in the first leg in Dhaka, Bhutan inflicted a 3–1 defeat on Bangladesh at the Changlimithang Stadium in Thimphu during the second leg. The result in the Asian Cup Qualifying Play–off means Bangladesh will not be a part of any AFC and FIFA sponsored events for the next two to three years until the launching of the 2022 World Cup and the 2023 Asian Cup qualifiers.
Coach Saintfiet called up the veteran striking pair of Jahid Hasan Ameli and Enamul Haque for the match, but to no avail.
"It was very bad for Bangladesh football. I think Bhutan showed that despite being a small nation, with good fundamentals and hard work, you can still reach somewhere. I think some well-paid Bangladesh players should start thinking if they are ready to play at this level. I would like to apologize to Bangladesh Football Federation and all the football loving people," said the frustrated coach.
Colours
The Bangladesh national football team plays in bottle green shirts and dark red shorts embedded with red and green stripes. Green and red are the historic national colour of Bangladesh, originated from the national flag of Bangladesh. The red represents the sun rising over Bengal, and also the blood of those who died for the independence of Bangladesh. The green stands for the lushness of the land of Bangladesh. The current Bangladesh away jersey is completely diametric to the regular one.
Home stadium
Bangladesh plays majority of their home matches at Bangabandhu National Stadium, Dhaka, where they won the SAFF Championship in 2003 and 2010 South Asian Games football gold medal. Occasionally home matches are played at MA Aziz Stadium in Chittagong, Sylhet District Stadium in Sylhet, Rajshahi District Stadium in Rajshahi and Shamsul Huda Stadium in Jessore .
Media coverage
All Bangladesh matches are broadcast with full commentary on Radio Foorti. Bangladesh's home and away qualifiers and friendlies both home and away are broadcast live on Bangladesh Television & Channel 9.
Coaching staff
As of January 2017
Current squad
The following 23 players were called up for the 2019 AFC Asian Cup qualification match against Bhutan on 10 October 2016.
Caps and goals updated as of October 10, 2016 after the match against Bhutan.
Recent call-ups
The following players have also been selected for the squad within the last 12 months and are still available for selection.
Results and fixtures
The following matches were played or are scheduled to be played by the national team in the current or upcoming matches.
Win Draw Loss
2018 FIFA World Cup Qualification
Win Draw Loss
FIFA World Cup record
Bangladesh took part in every FIFA World Cup qualifier although never made it past the first round. The best they did was clinch wins in some of them.
1930 to 1982 – Did not enter; was part of British Empire until 1947 and then part of Pakistan between 1947–1971
1986 to 2018 – Did not qualify
AFC Asian Cup record
1956 to 1968 – Did not enter; was part of Pakistan until 1971
1972 – Not a member of AFC & FIFA until 1973 & 1976 respectively
AFC Challenge Cup record
AFC Challenge Cup qualification record:
South Asian Games
2004 onwards – Bangladesh U-23 plus three overage players entered the competition, as per age limit in football competitions in Olympic Games.
Asian Games
1951 to 1970 – Did not enter; was part of Pakistan until 1971
2002 onwards – Bangladesh U-23 plus three overage players entered the competition, as per age limit in football competitions in Olympic Games.
Opponents
The team's head-to-head records against all 48 nations whom they have played to date, including friendly internationals: Two of these teams no longer exist (South Vietnam and Yugoslavia), so Bangladesh have played against 46 of the current 209 FIFA members: 43 AFC, 2 CAF, 0 CONCACAF, 0 CONMEBOL, 0 OFC and 1 UEFA members as of 10 October 2016.
As of 10 October 2016
Team ceased to exist
Honours
SAFF Championship
Champion (1): 2003Runner-up (2): 1999, 2005
South Asian Games
Gold medal (2): 1999, 2010Silver medal (4): 1984, 1985, 1989, 1995Bronze medal (2): 1991, 2016
Bangabandhu Cup
Runner-up (1): 2015
Quaid-E-Azam International Cup
Runner-up (1): 1985Third-place (1): 1987
President's Gold Cup
Champion (1): 1989
Four-nation International Invitational Football Tournament
Champion (1): 1995
References
Bangladesh national football team Wikipedia
(Text) CC BY-SA