Sub-confederation

AFF (South-East Asia)

Arena/Stadium

Rajamangala Stadium

Captain

Theerathon Bunmathan

Home stadium

Rajamangala Stadium

Manager

Kiatisuk Senamuang

Head coach

Kiatisuk Senamuang




Nickname(s)

ช้างศึก (The War Elephants)

Most caps

Kiatisuk Senamuang (134)

Top scorer

Kiatisuk Senamuang (71)

Association

Football Association of Thailand (FAT)

Confederation

Asian Football Confederation (Asia)
The Thailand national football team (Thai: ฟุตบอลทีมชาติไทย, rtgs: futbon thim chat thai, [fút.bɔ̄n tʰīːm t͡ɕʰâːt tʰāj]) represents Thailand in international association football competition and is governed by the Football Association of Thailand. With five ASEAN Football Championship titles and nine senior-level Southeast Asian Games titles, the team has a history as the most successful team in Southeast Asia. Thailand also won third place in the 1972 Asian Cup, competed twice in the Summer Olympics and won fourth place twice in the 1990 and 1998 Asian Games.
Contents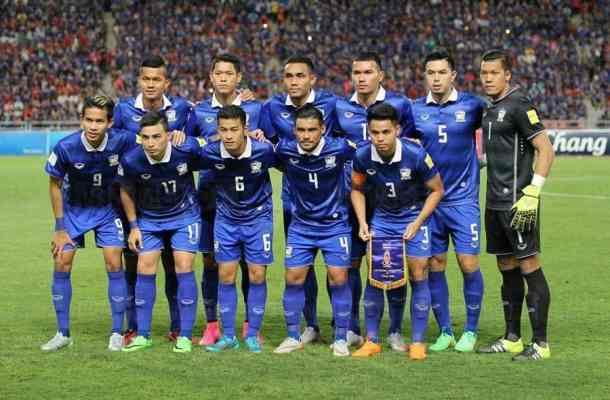 1915–1995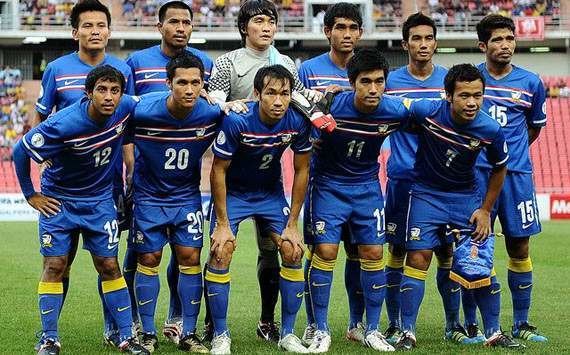 The team was founded in 1915 as the Siam national football team and played its first unofficial match (against a team of Europeans) at the Royal Bangkok Sport Club Stadium on 20 December of that year. On 25 April 1916, King Vajiravudh established the Football Association of Siam. The team played its first international match in 1930 against the Indochina national team, which included both South Vietnamese and French players. Both the Siam team and its governing association were renamed in 1949 when Siam became Thailand.
Thailand appeared in the 1956 Summer Olympics in Melbourne, where they lost to Great Britain by a score of 0–9 (the largest defeat in team history) and failed to advance to the quarterfinals. In 1965, Thailand won the first place in the Southeast Asian Games for the first time.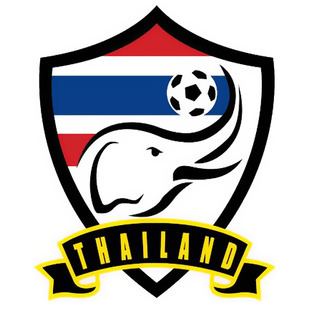 The team made another appearance at the Summer Olympics in 1968, losing to Bulgaria 0–7, Guatemala 1–4, and Czechoslovakia 0–8 en route to a first-round exit. This was Thailand's latest appearance in the Olympics.
Thailand hosted the 1972 AFC Asian Cup and went on to third place after defeating Cambodia 5–3 on penalties after a 2–2 draw in the third-place game. Thailand has qualified for the tournament a total of six times.
The team won the first of its 13 King's Cup trophies in 1976, sharing the title with Malaysia after a 1–1 draw in the final match. 1992 featured one of Thailand's signature victories. Playing in Bangkok against South Korea, who had qualified for consecutive FIFA World Cups in 1986 and 1990, and being the strongest team in Asia at the time, the Thais upset the Koreans, beating them 2 to 1. Thailand would later defeat Bangladesh 1–0, winning the group and therefore qualifying for the 1992 AFC Asian Cup. The War Elephants would put on a strong performance at the tournament, drawing with eventual 3rd place China and Qatar before losing to eventual runners up Saudi Arabia 4 to nil.
In 1994, team manager Thawatchai Sartjakul assembled a team that has been renounced as Dream team with key players Kiatisuk "Zico" Senamuang, Tawan Sripan and Dusit Chalermsan.
1996–2008
In 1996, Thailand defeated Malaysia 1–0 to win the ASEAN Football Championship (then called the Tiger Cup) for the first time. Thailand were favourites to regain the crown in 2007, 2008 and 2012 only to lose tight finals to Singapore and Vietnam respectively.
Thailand football team has competed three times in the Asian Games, making the semifinals in 1990, 1998 and 2002.
The 2007 AFC Asian Cup finals were held from 7 to 29 July 2007. For the first time in its history, the competition was co-hosted by four nations: Indonesia, Malaysia, Thailand and Vietnam.
The 1998 Tiger Cup controversy
The regional 1998 ASEAN Football Championship tournament was perhaps most infamous in respect to Thailand football history. In what was supposedly a sporting event, the group stage match between Thailand and Indonesia was marred with an unsportsmanlike attempt. At the time both teams had already qualified for semi-finals, but with knowledge that winners would have to face hosts Vietnam, while the losing team would play the supposedly weaker Singapore. There was also technical incentive that facing Vietnam would mean moving training bases from Ho Chi Minh City to Hanoi – which none of the teams wished to do.
The first half saw very little action as both teams barely making attempt to score. During the second half both teams managed to score, partly thanks to half-hearted defending, resulting in a 2–2 tie after 90 minutes. However the real infamy didn't take place until extra time, in which an Indonesian defender deliberately kicked the ball into his own goal with a Thai attacker running towards the ball. FIFA fined both teams $40,000 for "violating the spirit of the game".
Ironically in the semi-finals, Thailand lost to Vietnam, and Indonesia also lost to Singapore, pitting the teams together once again for the third-place playoff. Indonesia eventually won by penalty shootout. As for the final, the unfancied Singapore team made one of the competition's biggest shocks by defeating Vietnam.
2009–2010
On 23 September 2009, Bryan Robson agreed to become coach of Thailand national team in his first foray into international football management. He was contracted to manage the team through to the 2014 World Cup. On 14 November 2009, Robson celebrated his first competitive match in charge of the team with a 3–1 away victory against Singapore in a 2011 Asian Cup qualifying group match. On 18 November 2009, Robson then suffered his first loss – a 1–0 defeat against Singapore on home soil. In January 2010, this was followed by two goalless draws with Jordan and Iran during 2011 Asian Cup qualifying. On 3 March 2010, Robson's Thailand suffered a 1–0 defeat by the hands of Iran in Tehran in their final Group E game, effectively ending their hopes of qualifying for 2011 Asian Cup. On 11 August 2010, Robson led Thailand to another victory against Singapore with a score of 1–0 on home soil. In September 2010, Robson overcame Bob Houghton's India in a friendly with a score of 2–1 away from home. In December 2010, Robson failed to bring Thailand past the Group A of the 2010 AFF Suzuki Cup after managing only draws against Laos and Malaysia and losing to Indonesia. He resigned as manager on 8 June 2011.
2011–2013
Rumours had been rife that the 61 years old Winfried Schäfer was favourite to succeed Bryan Robson, who ended his ill-fated two-year tenure earlier, citing health problems as the reason for his resignation.
During the 2014 World Cup Qualifiers, the War Elephants played well and built a lot of faith up in the fans. The attendance was nearly full house, War Elephants almost beat Australia at their home and even defeated Oman 3–0. This was in addition to the draw against Saudi Arabia, when the coach called up many young starlets to the team, which reflects on the fact that the squad have plenty of good players. In the 2012 AFF Suzuki Cup, Thailand reached the final after topping their group and knocking out Malaysia 3–1 on aggregate. In the final Thailand lost the first leg 3–1 to Singapore and won the second leg 1–0, but lost on aggregate by 3–2.
In the 2015 AFC Asian Cup qualification Thailand suffered a massive setback, with their defensive frailities fully exposed by their Middle Eastern rivals. Thailand lost all 6 games in the qualifiers, conceding 21 goals in the process. In June 2013, Schäfer cancelled his contract. The FA of Thailand appointed Kiatisuk Senamuang as the new caretaker coach for national team. His first task was friendly match against China PR on 15 June, which Thailand decisively won 5–1.
2014 AFF Championship
Thailand regained the title the champion of ASEAN football upon their fourth AFF Championship. The team did not lose at any match up until the second leg of the finals and also featured a spectacular tiki-taka style 27 consecutive passes during the first leg of the finals against Malaysia. Thailand ended their 12-year drought in the AFF Suzuki Cup from the late goals by Charyl Chappuis(82') and Chanathip Songkrasin which gave them a dramatic 4–3 aggregate victory over Malaysia in the second leg of the final at Bukit Jalil National Stadium. Kiatisuk Senamuang consequently became the first person to win the ASEAN Football Championship as both a player and a coach. Kiatisuk gained much praise and credit for the team's recent achievements.
2018 FIFA World Cup Qualifiers (AFC)
The Thai team has clearly outclassed and now dominate their regional neighbors, having won the AFF Suzuki Cup and later securing first place in all regional championships: 2015 AFF U-16 Youth Championship by the U-16 team, 2015 AFF U-19 Youth Championship by the U-19 team and football at the 2015 SEA Games by the U-23 team. Elasion fueled hope for both the players and Thai fans of finally reaching the World Cup tournament. Although chances are slim, tension is mounting as the national team commence AFC's second round for World Cup qualification. Thailand was seeded in Pot 3 (out of 5) and was drawn to be in Group F along with Iraq, Vietnam, Indonesia and Chinese Taipei (Indonesia was later excluded due to FIFA suspension). Thailand played home against visiting Vietnam on 24 May 2015 as their first World Cup Qualifiers match. Teerasil Dangda, Thailand's renowned striker, once again joined the rank of the national team after his loan with UD Almería ended earlier that year. Thai players dominated the match but were unable to score any goal. Thai defenders were caught off guard twice but were luckily saved by goalkeeper Sinthaweechai Hathairattanakool's sliding tackle both time, well outside of the penalty box. The Vietnamese "stubborn, overly aggressive" performance was rewarded by a red card to Minh Chau Nguyen when he pulled Sarach Yooyen down. Not much later, Pokklaw Anan struck from 20 yards away to give Thailand the victory goal. In a match against Chinese Taipei, Teerasil scored 2 goals in the first half giving Thailand a 2–0 win. On 9 September,Thailand played against Iraq and scored 2 late goals even the Iraqis have a 2–0 lead making the score 2–2.A month later Thailand won against Vietnam 3–0 at Hanoi making them have 10 points,the Thais then beat Chinese Taipei 4–2 at Bangkok.On 24 March 2016,Thailand drew with Iraq 2–2 at Tehran allowing them to qualify for the next round as group F winners.
In the last round, Kiatisuk's men will face many hard opponents, when they shared same group with Australia, Japan, Saudi Arabia, the UAE and their previous opponent, Iraq.
Colours
The team's traditional home kit consists of a red jersey, red shorts and red socks. Since October 2007, the Thai team has used an all-yellow home kit in honour of King Bhumibol Adulyadej's 80th birthday. The away kit consists of a blue jersey, blue shorts and blue socks. On 20 October 2012, Thai national team signed a three-year contract with Grand Sport which became their kit supplier and sponsor until the end of 31 December 2016. In addition, the offer was approximately THB 96 million (USD 3.1 million) to the Football Association of Thailand (FAT) for over three years. The new home kit of Thailand is reverting to all-red and the away kit all-blue.
On 9 September 2016, Thai national team signed a four-year contract with Warrix Sport to be their new kit supplier and sponsor from 2017 until 2020.
On 4 January 2017, Warrix Sport introduced new Thailand home/away kit. The new home kit is now all black kit in honoring their dead King Bhumibol. As for their away kit is all white kit.
Home stadium
The Thai national football team plays most of its home matches in Rajamangala Stadium in the Bang Kapi district of Bangkok. Built for the 1998 Asian Games, the stadium is the largest sporting facility in Thailand with a capacity of 49,749 (seated). Matches are also occasionally played at Suphachalasai Stadium, 700th Anniversary Stadium, 80th Birthday Stadium, Thai Army Sports Stadium, Surakul Stadium, SCG Stadium, and New I-Mobile Stadium.
All time results
Only record the results that affect the FIFA/Coca-Cola World Ranking. See FIFA 'A' matches criteria.
Win Draw Loss
Current squad
The following 23 players were called up for the 2018 FIFA World Cup qualifier matches:
Match date: 28 March 2017
Opposition:
Japan
Caps and goals are correct as of 28 March 2017, after the match against

Japan.
Recent call-ups
The following players have also been called up to the Thailand squad within the last 12 months.
Notes:
INJ Withdrew from squad due to injury
PRE Preliminary squad
SUS Suspended
Coaches
Coaches by Years (2002–present)
FIFA World Cup
References
Thailand national football team Wikipedia
(Text) CC BY-SA