Sub-confederation

EAFF (East Asia)

Manager

Vahid Halilhodžić

Head coach

Vahid Halilhodžić

Most caps

Yasuhito Endō (152)




Nickname(s)

サムライ・ブルー (Samurai Blue)

Top scorer

Kunishige Kamamoto (80)

Current

52 6 (9 February 2017)

Association

Japan Football Association

Confederation

Asian Football Confederation
The Japan national football team (サッカー日本代表, Sakkā Nippon Daihyō) represents Japan in association football and is operated by the Japan Football Association (JFA), the governing body for association football in Japan. The current head coach is Vahid Halilhodžić.
Contents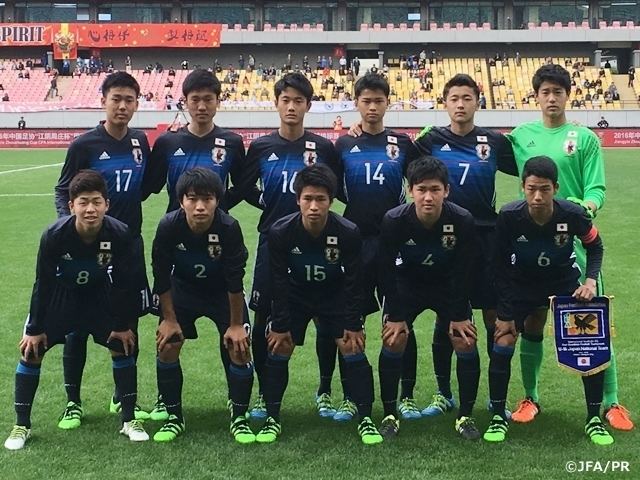 Japan is one of the most successful football teams in Asia, having qualified for the last five consecutive FIFA World Cups with second round advancements in 2002 & 2010, and having won the AFC Asian Cup a record four times in 1992, 2000, 2004 & 2011. The team has also finished second in the 2001 FIFA Confederations Cup. Their principal continental rivals are South Korea and, most recently, Australia.
Japan is the only team from outside the Americas to participate in the Copa América, having been invited in 1999 and 2011. Although they initially accepted the invitation for the 2011 tournament, the JFA later withdrew following the 2011 Tōhoku earthquake and tsunami.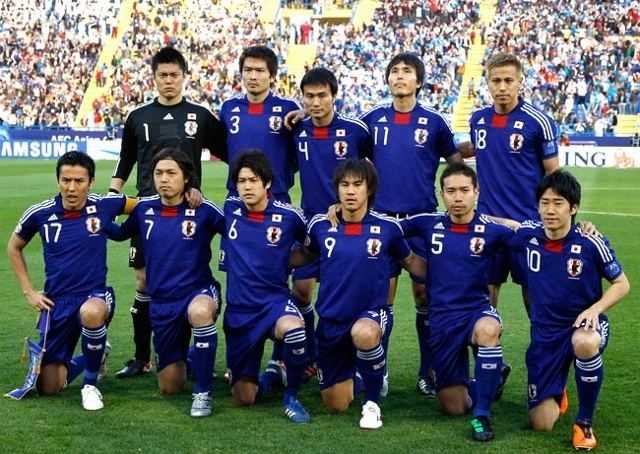 The Japanese team is commonly known by the fans and media as Sakkā Nippon Daihyō (サッカー日本代表), Nippon Daihyō (日本代表), or Daihyō (代表) as abbreviated expressions. Although the team does not have an official nickname as such, it is often known by the name of the manager. For example, under Takeshi Okada, the team was known as Okada Japan (岡田ジャパン, Okada Japan). Recently the team has been known or nicknamed as the "Samurai Blue", while Japanese news media still refer it to by the manager's last name, as "Halilhodžić Japan" (ハリルホジッチジャパン, Hariruhojitchi Japan), or "Halil Japan" (ハリルジャパン, Hariru Japan) in an abbreviated form.

History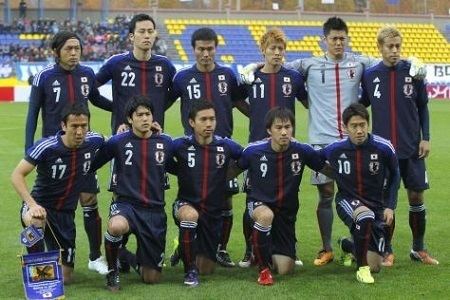 Japan's first major achievement in international football came in the 1968 Summer Olympics in Mexico City, where the team won the bronze medal. Although this result earned the sport increased recognition in Japan, the absence of a professional domestic league hindered its growth and Japan would not qualify for the FIFA World Cup until 30 years later. However Japan made its first appearance in the Asian Cup in 1988, where they were eliminated in the group stage following a draw with Iran and losses to South Korea, United Arab Emirates, and Qatar.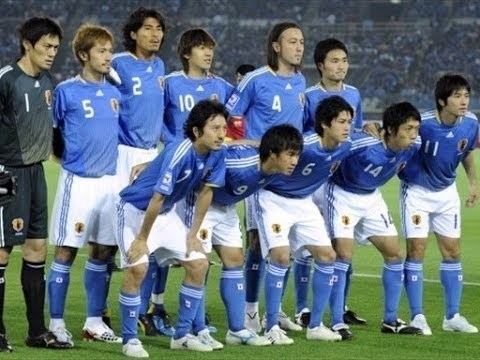 In 1991, the owners of the semi-professional Japan Soccer League agreed to disband the league and re-form as the professional J. League, partly to raise the sport's profile and to strengthen the national team program. The following year Japan hosted and won the Asian Cup in their second appearance, defeating Saudi Arabia 1–0 in the final. The J. League was officially launched in 1993, causing interest in football and the national team to grow.
However, in its first attempt to qualify with professional players, Japan narrowly missed a ticket to the 1994 FIFA World Cup after drawing with Iraq in the final match of the qualification round, remembered by fans as the Agony of Doha. Japan's next tournament was a defense of their continental title at the 1996 Asian Cup. The team won all their games in the group stage but were eliminated in the quarterfinals after a 2–0 loss to Kuwait.
The nation's first ever FIFA World Cup appearance was in 1998, where Japan lost all their games. The first two fixtures went 1–0 in favor of Argentina and Croatia, despite playing well in both games. Their campaign ended with a 2–1 defeat to Jamaica. In the 2000 Asian Cup Japan managed to reclaim their title after defeating Saudi Arabia in the final, becoming Asian Champions for the second time.
Two years later, Japan co-hosted the 2002 FIFA World Cup with South Korea. After a 2–2 draw with Belgium in their opening game, the Japanese team advanced to the second round with a 1–0 win over Russia and a 2–0 victory against Tunisia. However, they subsequently exited the tournament during the Round of 16, after losing 1–0 to eventual third-place finishers Turkey.
On June 8, 2005, Japan qualified for the 2006 FIFA World Cup in Germany, its third consecutive World Cup, by beating North Korea 2–0 on neutral ground. However, Japan failed to advance to the Round of 16, losing to Australia 1–3, drawing Croatia 0–0 and losing to Brazil 1–4.
During the 2010 FIFA World Cup qualification, in the fourth round of the Asian Qualifiers, Japan became the first team other than the host South Africa to qualify after defeating Uzbekistan 1–0 away. Japan was put in Group E along with the Netherlands, Denmark and Cameroon. Japan won its opening game of the 2010 FIFA World Cup defeating Cameroon 1–0 but subsequently lost to the Netherlands 0–1 before defeating Denmark 3–1 to advance to the next round against Paraguay. In the first knockout round Japan were eliminated from the competition following penalties after a 0–0 draw against Paraguay.
After the World Cup, head coach Takeshi Okada resigned. He was replaced by former Juventus and AC Milan coach Alberto Zaccheroni. In his first few matches, Japan recorded victories over Guatemala (2–1) and Paraguay (1–0), as well as one of their best ever results – a 1–0 victory over Argentina.
At the start of 2011 Japan participated in the 2011 AFC Asian Cup in Qatar. On 29 January, they beat Australia 1–0 in the final after extra time, their fourth Asian Cup triumph and allowing them to qualify for the FIFA Confederations Cup.
Japan then started their road to 2014 FIFA World Cup in Brazil with numerous qualifiers. Throughout they suffered only two losses to Uzbekistan and Jordan, and drawing against Australia. Afterwards on October 12, Japan picked up a historic 1–0 victory over France, a team they had never before defeated. After a 1–1 draw with Australia they qualified for the 2014 FIFA World Cup, becoming the first nation (outside of Brazil, who is hosting the tournament) to qualify.
Japan started their 2013 FIFA Confederations Cup with a 3–0 loss to Brazil. They were then eliminated from the competition after losing to Italy 3–4 in a hard fought match but received praise for their style of play in the match. They lost their final game 1–2 against Mexico and finished 4th place in Group A in the 2013 FIFA Confederations Cup. One month later, in the EAFF East Asian Cup, they started out with a 3–3 draw to China. They then beat Australia 3–2 and beat South Korea 2–1 in the 3rd and final match in the 2013 EAFF East Asian Cup to claim the title. The road to Brazil looked bright as Japan managed a 2–2 draw with the Netherlands and a 2–3 victory over Belgium. This was followed by three straight wins against Cyprus, Costa Rica and Zambia.
Japan was placed into Group C at the 2014 World Cup grouped with Ivory Coast, Greece, and Colombia. They fell in their first match to Ivory Coast 2–1 despite initially taking the lead, allowing two goals in a two-minute span. They drew their second game to Greece 0–0. To qualify for the second round they needed a victory against Colombia and needed Greece to beat Ivory Coast. Greece beat Ivory Coast 2–1 but Japan could not perform well against Colombia and were beaten 4–1, eliminating them from the World Cup. Alberto Zaccheroni resigned as head coach after the FIFA World Cup. In July 2014, former Mexico and Espanyol manager Javier Aguirre took over and Japan lost 0–2 to Uruguay in the first game he managed.
Javier Aguirre would begin a strong revamp of the team, switching out Zaccheroni's long used 4–2–3–1 formation for his own 4–3–3 and applied this with a roster of the J-League's finest, dropping many regulars. A 2–2 draw against Venezuela was followed by a 1–0 victory over Jamaica. However they lost their following game to Brazil 4–0, with. Neymar scoring all four goals. Japan's sights turned to January and their title defense at the 2015 AFC Asian Cup.
Japan won its opening match at the 2015 AFC Asian Cup in Group D against Asian Cup debutantes Palestine 4–0, with goals from Yasuhito Endō, Shinji Okazaki, Keisuke Honda via a penalty, and Maya Yoshida. Okazaki was also named as man of the match. They faced Iraq and Jordan in their next group matches which they won 1–0 and 2–0. They qualified to knockout stage as Group D winner with nine points, seven goals scored and no goals conceded. In the quarter-finals, Japan lost to UAE in a penalty shootout after a 1–1 draw, as Honda and Shinji Kagawa missed their penalty kicks. Japan's elimination marked their worst performance in the tournament in nineteen years.
After the Asian Cup Aguirre was sacked following allegations of corruption during a prior tenure. He was replaced by Vahid Halilhodžić in March 2015.
Rivalries
Japan possesses a strong rivalry with South Korea. Japan has played 76 matches against the South Korean football team with 14 victories, 22 draws, and 40 losses. The football rivalry is long-seated and is often seen as an extension of an overall rivalry that runs deep between the two nations. Controversies occasionally flare up between matches between the two nations, most recently at the 2013 EAFF East Asian Cup, where at the final match of the tournament, played between South Korea and Japan on 28 July, South Korean fans booed the start of the Japanese anthem and later upped the political sloganeering with a banner that covered most of the width of one end of the ground that read, in Korean, "The nation that forgets history has no future."(Korean: 역사를 잊은 민족에게 미래는 없다), in response to the Japanese Rising Sun Flag, apparently aiming at the Japanese leaders' reluctance to admit to wrongdoings during its militaristic and colonial past, after they displayed huge pictures of Ahn Jung-geun, who assassinated the first Prime Minister of Japan and then-Japanese Resident-General of Korea Itō Hirobumi back in 1909, and Yi Sun-sin, a Korean naval commander who is famed for his victories against the Japanese navy during the Imjin war in the Joseon Dynasty back in the 16th century.
Japan began to develop a fierce rivalry with fellow Asian powerhouse Australia, shortly after the latter joined the AFC. The rivalry is regarded as one of Asia's biggest football rivalries. The rivalry is a relatively recent one, born from a number of highly competitive matches between the two teams since Australia joined the Asian Football Confederation in 2006. The rivalry began at the 2006 FIFA World Cup where the two countries were grouped together. The rivalry continued with the two countries meeting regularly in various AFC competitions, such as the 2007 AFC Asian Cup, the 2011 AFC Asian Cup Final and the 2013 EAFF East Asian Cup.
Fan Chanting
Japanese national team supporters are known for chanting "Nippon Ole" (Nippon is the Japanese term for Japan) at home matches.
Kits and colors
Japan's current kit is provided by German company Adidas, the team's official apparel sponsor since 1986. The current contract with Adidas is set to end on December 31, 2015.
The current home kit consists of a blue jersey with Japan's crest and flag on the chest, blue shorts with bright pink patches on the side and blue socks with pink tops. The away kit is neon yellow, accented with navy blue and orange. In 2013 FIFA Confederations Cup and 2015 AFC Asian Cup, Japan temporarily switched the color of the numbers from white to gold.
Prior to Adidas, Asics and Puma had been the team's official apparel sponsor. The national team kit design has gone through several alterations in the past. In the early 80s, the kit was white with blue trim. When Japan was coached by Kenzo Yokoyama (1988–1991) the kits were red and white, matching the colors of Japan's national flag. The kits worn for the 1992 AFC Asian Cup consisted of white stripes (stylized to form a wing) with red diamonds. During Japan's first World Cup appearance in 1998, the national team kits were blue jerseys with red and white flame designs on the sleeves, and were designed by JFA (with the sponsor alternating each year between Asics, Puma and Adidas).
Japan uses blue and white rather than red and white due to a superstition. In its first major international competition, the 1936 Summer Olympics, Japan used a blue kit in the match against Sweden and Japan won the match by a score of 3–2.
Home
Away
Sponsorship
Japan has one of the highest sponsorship incomes for a national squad. In 2006 their sponsorship income amounted to over 16.5 million pounds.
Primary sponsors include Adidas, Kirin, Saison Card International, FamilyMart, JAL, Mitsui Sumitomo Insurance, Sony, Asahi Shinbun, Konami, Mizuho Financial and Audi.
Mascot
The mascots are "Karappe" (カラッペ) and "Karara" (カララ), two Yatagarasu wearing the Japan national football team uniform. The mascots were designed by Japanese manga artist Susumu Matsushita. Each year when a new kit is launched, the mascots change uniforms.
For the 2014 FIFA World Cup, the Pokémon character Pikachu served as the mascot.
Recent results and fixtures
* Japan score always listed first
Win Draw Loss
Current squad
The following players were called up for the 2016 Kirin Challenge Cup and 2018 FIFA World Cup qualifier match:
Match date: 11 and 15 November 2016
Opposition:

Oman and

Saudi Arabia
Caps and goals are correct as of 15 November 2016, after the match against

Saudi Arabia.
Recent call-ups
The following players have been called up to the Japan squad in last 12 months.
INJ Player withdrew from the squad due to an injury.
PRE Preliminary squad.
RET Retired from national team.
SUS Player suspended
Records
Statistics below are from matches which the Japan Football Association consider as official.
Updated to 15 November 2016:
Managers
As of 24 March 2016
Competitions
*Denotes draws includes knockout matches decided on penalty shootouts. Red border indicates that the tournament was hosted on home soil. Gold, silver, bronze backgrounds indicates 1st, 2nd and 3rd finishes respectively. Bold text indicates best finish in tournament.
AFC Asian Cup
References
Japan national football team Wikipedia
(Text) CC BY-SA