Country

Nepal




Population

700,000 (2008)

Languages spoken

Nepal Bhasa, Newar language, Nepali, Sherpa, Tamang, Gurung, Magar, Sunuwar, Kiranti, Tibetan




Area

49.45 km2




District

Kathmandu




Founded

900s BC




Literacy

98% High




Points of interest

Boudhanath, Swayambhunath, Pashupatinath Temple, Thamel, Kathmandu Durbar Square




Colleges and Universities

Tribhuvan University, Kathmandu Medical College, St Xaviers College - Maitighar, Prime College, Siddhartha Vanasthali Institute



Kathmandu (Nepali: Nepal Bhasa: ) is the capital and largest municipality of Nepal. It is the only city of Nepal with the administrative status of Mahanagar (Metropolitan City), as compared to Upa-Mahanagar (Sub-Metropolitan City) or Nagar (City). Kathmandu is the core of Nepals largest urban agglomeration located in the Kathmandu Valley consisting of Lalitpur, Kirtipur, Madhyapur Thimi, Bhaktapur and a number of smaller communities. Kathmandu is also known informally as "KTM" or the "tri-city". According to the 2011 census, Kathmandu Metropolitan City has a population of 1,003,285 and measures 49.45 square kilometres (19.09 sq mi).
Contents
Map of Kathmandu
The city stands at an elevation of approximately 1,400 metres (4,600 ft) in the bowl-shaped Kathmandu Valley of central Nepal. It is surrounded by four major mountains: Shivapuri, Phulchoki, Nagarjun, and Chandragiri. Kathmandu Valley is part of three districts (Kathmandu, Lalitpur, and Bhaktapur), has the highest population density in the country, and is home to about a twelfth of Nepals population.
Top 10 places you must visit in kathmandu
Historically, the Kathmandu Valley and adjoining areas were known as Nepal Mandala. Until the 15th century, Bhaktapur was its capital when two other capitals, Kathmandu and Lalitpur, were established. During the Rana and Shah eras, British historians called the valley itself "Nepal Proper". Today, Kathmandu is not only the capital of the Federal Democratic Republic of Nepal, but also the headquarters of the Bagmati Zone and the Central Development Region of Nepal.
10 things to do in kathmandunepal hd
Kathmandu is the gateway to tourism in Nepal. It is also the hub of the countrys economy. It has the most advanced infrastructure of any urban area in Nepal, and its economy is focused on tourism, which accounted for 3.8% of Nepals GDP in 1995–96. Tourism in Kathmandu declined thereafter during a period of political unrest, but since then has improved. In 2013, Kathmandu was ranked third among the top 10 travel destinations on the rise in the world by TripAdvisor, and ranked first in Asia.
The city has a rich history, spanning nearly 2000 years, as inferred from inscriptions found in the valley. Religious and cultural festivities form a major part of the lives of people residing in Kathmandu. Most of Kathmandus people follow Hinduism and many others follow Buddhism. There are people of other religious beliefs as well, giving Kathmandu a cosmopolitan culture. Nepali is the most commonly spoken language in the city. English is understood by Kathmandus educated residents. Kathmandu was devastated by a 7.8m earthquake that has resulted in severe damage, along with avalanches that had occurred in Mount Everest on April 25, 2015.
History
Archaeological excavations in parts of Kathmandu have found evidence of ancient civilizations. The oldest of these findings is a statue, found in Maligaon, that was dated at 185 AD. The excavation of Dhando Chaitya uncovered a brick with an inscription in Brahmi script. Archaeologists believe it is two thousand years old. Stone inscriptions are an ubiquitous element at heritage sites and are key sources for the history of Nepal
The earliest Western reference to Kathmandu appears in an account of Jesuit Fathers Johann Grueber and Albert dOrville. In 1661, they passed through Nepal on their way from Tibet to India, and reported that they reached "Cadmendu, the capital of the Kingdom of Necbal".
Geography
Kathmandu is located in the northwestern part of Kathmandu Valley to the north of the Bagmati River and covers an area of 50.67 square kilometres (19.56 sq mi). The average elevation is 1,400 metres (4,600 ft) above sea level. The city is directly bounded by several other municipalities of the Kathmandu valley: south of the Bagmati by Lalitpur Sub-Metropolitan City (Patan) with which it today forms one urban area surrounded by a ring road, to the southwest by Kirtipur Municipality and to the east by Madyapur Thimi Municipality. To the north the urban area extends into several Village Development Committees. However, the urban agglomeration extends well beyond the neighboring municipalities, e. g. to Bhaktapur and just about covers the entire Kathmandu valley.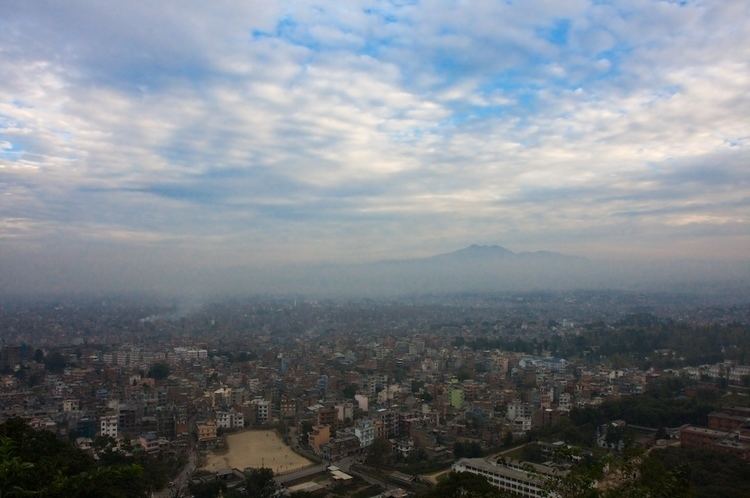 Kathmandu is dissected by eight rivers, the main river of the valley, the Bagmati and its tributaries, of which the Bishnumati, Dhobi Khola, Manohara Khola, Hanumant Khola, and Tukucha Khola are predominant. The mountains from where these rivers originate are in the elevation range of 1,500–3,000 metres (4,900–9,800 ft), and have passes which provide access to and from Kathmandu and its valley. An ancient canal once flowed from Nagarjuna hill through Balaju to Kathmandu; this canal is now extinct.
Kathmandu and its valley are in the Deciduous Monsoon Forest Zone (altitude range of 1,200–2,100 metres (3,900–6,900 ft)), one of five vegetation zones defined for Nepal. The dominant tree species in this zone are oak, elm, beech, maple and others, with coniferous trees at higher altitude.
Economy
The location and terrain of Kathmandu have played a significant role in the development of a stable economy which spans millennia. The city is located in an ancient lake basin, with fertile soil and flat terrain. This geography helped form a society based on agriculture. This, combined with its location between India and China, helped establish Kathmandu as an important trading center over the centuries. Kathmandus trade is an ancient profession that flourished along an offshoot of the Silk Road which linked India and Tibet. From centuries past, Lhasa Newar merchants of Kathmandu have conducted trade across the Himalaya and contributed to spreading art styles and Buddhism across Central Asia. Other traditional occupations are farming, metal casting, woodcarving, painting, weaving, and pottery.
Culture
Kathmandu valley is described as "an enormous treasure house of art and sculptures", which are made of wood, stone, metal, and terracotta, and found in profusion in temples, shrines, stupas, gompas, chaityasm and palaces. The art objects are also seen in street corners, lanes, private courtyards, and in open ground. Most art is in the form of icons of gods and goddesses. Kathmandu valley has had this art treasure very long, but received worldwide recognition only after the country opened its doors to the outside world in 1950.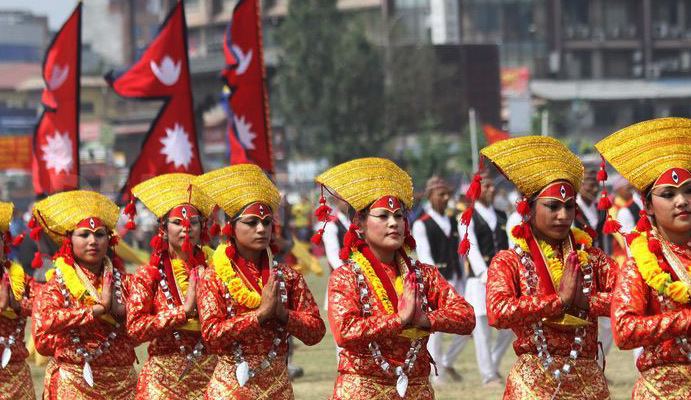 The religious art of Nepal and Kathmandu in particular consists of an iconic symbolism of the Mother Goddesses such as: Bhavani, Durga, Gaja-Lakshmi, Hariti-Sitala, Mahsishamardini, Saptamatrika (seven mother goddesses), and Sri-Lakshmi(wealth-goddess). From the 3rd century BC, apart from the Hindu gods and goddesses, Buddhist monuments from the Ashokan period (it is said that Ashoka visited Nepal in 250 BC) have embellished Nepal in general and the valley in particular. These art and architectural edifices encompass three major periods of evolution: the Licchavi or classical period (500 to 900 AD), the post-classical period (1000 to 1400 AD), with strong influence of the Palla art form; the Malla period (1400 onwards) that exhibited explicitly tantric influences coupled with the art of Tibetan Demonology.
A broad typology has been ascribed to the decorative designs and carvings created by the people of Nepal. These artists have maintained a blend of Hinduism and Buddhism. The typology, based on the type of material used are: Stone Art, Metal Art, Wood Art, Terracotta Art, and Painting.
Kathmandu is home to a number of museums and art galleries, including the National Museum of Nepal and the Natural History Museum of Nepal. Nepals art and architecture is an amalgamation of two ancient religions, Hinduism and Buddhhism. These are amply reflected in the many temples, shrines, stupas, monasteries, and palaces in the seven well-defined Monument Zones of the Kathmandu valley recognized as a UNESCO World Heritage Site. This amalgamation is also reflected in the planning and exhibitions in museums and art galleries throughout Kathmandu and its sister cities of Patan and Bhaktapur. The museums display unique artifacts and paintings from the 5th century CE to the present day, including archeological exportation.
Kathmandu museums and art galleries include:
The National Museum
The Natural History Museum
Hanumandhoka Palace Complex
The Kaiser Library
The National Art Gallery
The NEF-ART (Nepal Fine Art) Gallery
The Nepal Art Council Gallery
Narayanhity Palace Museum
The Taragaon Museum
The National Museum is located in the western part of Kathmandu, near the Swayambhunath stupa in an historical building. This building was constructed in the early 19th century by General Bhimsen Thapa. It is the most important museum in the country, housing an extensive collection of weapons, art and antiquities of historic and cultural importance. The museum was established in 1928 as a collection house of war trophies and weapons, and the initial name of this museum was Chhauni Silkhana, meaning "the stone house of arms and ammunition". Given its focus, the museum contains an extensive quantity of weapons, including locally made firearms used in wars, leather cannons from the 18th–19th century, and medieval and modern works in wood, bronze, stone and paintings.
The Natural History Museum is located in the southern foothills of Swayambhunath hill and has a sizeable collection of different species of animals, butterflies, and plants. The museum is noted for its display of species, from prehistoric shells to stuffed animals.
The Tribhuvan Museum contains artifacts related to the King Tribhuvan (1906–1955). It has a variety of pieces including his personal belongings, letters and papers, memorabilia related to events he was involved in and a rare collection of photos and paintings of Royal family members. The Mahendra Museum is dedicated to king Mahendra of Nepal (1920–1972). Like the Tribhuvan Museum, it includes his personal belongings such as decorations, stamps, coins and personal notes and manuscripts, but it also has structural reconstructions of his cabinet room and office chamber. The Hanumandhoka Palace, a lavish medieval palace complex in the Durbar, contains three separate museums of historic importance. These museums include the Birendra museum, which contains items related to the second-last monarch, Birendra of Nepal.
The enclosed compound of the Narayanhity Palace Museum is in the north-central part of Kathmandu. "Narayanhity" comes from Narayana, a form of the Hindu god Lord Vishnu, and Hiti, meaning "water spout" (Vishnus temple is located opposite the palace, and the water spout is located east of the main entrance to the precinct). Narayanhity was a new palace, in front of the old palace built in 1915, and was built in 1970 in the form of a contemporary Pagoda. It was built on the occasion of the marriage of King Birenda Bir Bikram Shah, then heir apparent to the throne. The southern gate of the palace is at the crossing of Prithvipath and Darbar Marg roads. The palace area covers (30 hectares (74 acres)) and is fully secured with gates on all sides. This palace was the scene of the Nepali royal massacre. After the fall of the monarchy, it was converted to a museum.
The Taragaon Museum presents the modern history of the Kathmandu Valley. It seeks to document 50 years of research and cultural heritage conservation of the Kathmandu Valley, documenting what artists photographers architects anthropologists from abroad had contributed in the second half of the 20th century. The actual structure of the Museum showcases restoration and rehabilitation efforts to preserve the built heritage of Kathmandu. It was designed by Carl Pruscha (master-planner of the Kathmandy Valley ) in 1970 and constructed in 1971. Restoration works began in 2010 to rehabilitate the Taragaon hostel into the Taragaon Museum. The design uses local brick along with modern architectural design elements, as well as the use of circle, triangles and squares. The Museum is within a short walk from the Boudhnath stupa, which itself can be seen from the Museum tower.
Kathmandu is a center for art in Nepal, displaying the work of contemporary artists in the country and also collections of historical artists. Patan in particular is an ancient city noted for its fine arts and crafts. Art in Kathmandu is vibrant, demonstrating a fusion of traditionalism and modern art, derived from a great number of national, Asian, and global influences. Nepali art is commonly divided into two areas: the idealistic traditional painting known as Paubhas in Nepal and perhaps more commonly known as Thangkas in Tibet, closely linked to the countrys religious history and on the other hand the contemporary western-style painting, including nature-based compositions or abstract artwork based on Tantric elements and social themes of which painters in Nepal are well noted for. Internationally, the British-based charity, the Kathmandu Contemporary Art Centre is involved with promoting arts in Kathmandu.
Kathmandu contains many notable art galleries. The NAFA Gallery, operated by the Arts and crafts Department of the Nepal Academy is housed in Sita Bhavan, a neo-classical old Rana palace.
The Srijana Contemporary Art Gallery, located inside the Bhrikutimandap Exhibition grounds, hosts the work of contemporary painters and sculptors, and regularly organizes exhibitions. It also runs morning and evening classes in the schools of art. Also of note is the Moti Azima Gallery, located in a three storied building in Bhimsenthan which contains an impressive collection of traditional utensils and handmade dolls and items typical of a medieval Newar house, giving an important insight into Nepali history. The J Art Gallery is also located in Kathmandu, near the Royal Palace in Durbarmarg, Kathmandu and displays the artwork of eminent, established Nepali painters. The Nepal Art Council Gallery, located in the Babar Mahal, on the way to Tribhuvan International Airport contains artwork of both national and international artists and extensive halls regularly used for art exhibitions.
The National Library of Nepal is located in Patan. It is the largest library in the country with more than 70,000 books. The books are found in English, Nepali, Sanskrit, Hindi, and Nepal Bhasa. The library is in possession of rare scholarly books in Sanskrit and English dating from the 17th century AD. Kathmandu contains the Kaiser Library, located in the Kaiser Mahal on the ground floor of the Ministry of Education building. This collection of around 45,000 books is derived from a personal collection of Kaiser Shamsher Jang Bahadur Rana. It covers a wide range of subjects including history, law, art, religion, and philosophy, as well as a Sanskrit manual of Tantra, which is believed to be over 1,000 years old.
The Asa Archives are also noteworthy. They specialize in medieval history and religious traditions of the Kathmandu Valley. The archives, located in Kulambhulu, have a collection of some 6,000 loose-leaf handwritten books and 1,000 palm-leaf manuscripts (mostly in Sanskrit or Nepal Bhasa) and a manuscript dated to 1464.
Kathmandu is home to Nepali cinema and theaters. The city contains several theaters, including the National Dance Theatre in Kanti Path, the Ganga Theatre, the Himalayan Theatre and the Aarohan Theater Group founded in 1982. The M. Art Theater is based in the city. The Gurukul School of Theatre organizes the Kathmandu International Theater Festival, attracting artists from all over the world. A mini theater is also located at the Hanumandhoka Durbar Square, established by the Durbar Conservation and Promotion Committee.
Kathmandu has a number of theatres showing Nepali, Bollywood, and Hollywood films. These theatres include the Vishwajyoti Cinema Hall, Kumari Cinema Hall and the Gopi Krishna Cinema Hall. Other theatres specialize in international cinema, such as Big Movies, QFX Cinemas, Cine De Chef and Fcube Cinemas.
Kathmandu is the centre of music and dance in Nepal, and these art forms are integral to understanding the city. Musical performances are organized in cultural venues. Music is a part of the traditional aspect of Kathmandu. Gunla is the traditional music festival according to Nepal Sambat. Newar music originated in Kathmandu. Furthermore, music from all over Nepal can be found in Kathmandu.
A number of hippies visited Kathmandu during the 1970s and introduced rock and roll, rock, and jazz to the city. Kathmandu is noted internationally for its jazz festival, popularly known as Jazzmandu. It is the only jazz festival in the Himalayan region and was established in March 2002. The festival attracts musicians from countries worldwide, such as Australia, Denmark, United States, Benin, and India.
The city has been referenced in numerous songs, including works by Cat Stevens (Katmandu, Mona Bone Jakon (1970)), Bob Seger (Katmandu, Beautiful Loser (1975)), Rush (A Passage to Bangkok, Pulling into Kathmandu; 2112, 1976), Krematorij (Kathmandu, Three Springs (2000)) and Fito Paez (Trafico por Katmandu – "Traffic through Kathmandu").
Cuisine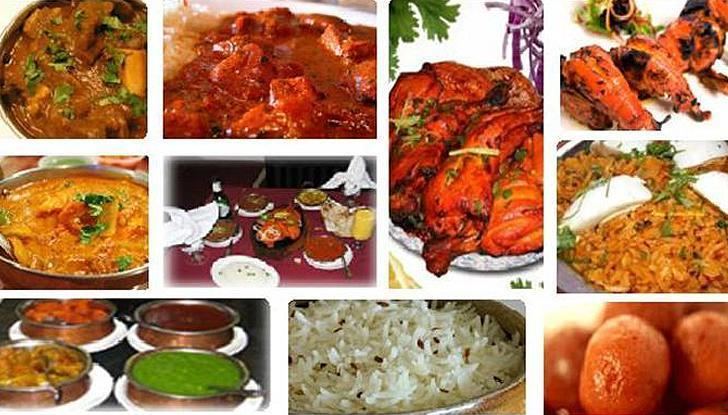 The cultural diversity of Nepal has facilitated the growth of a number of cuisines based on the ethnic groups and the geographical features of the nation. Popularly served though is Dal bhat, which is a dish of lentils and rice, generally served with vegetable curries and forms a staple part of the diet. Given that Kathmandu only had one restaurant in 1955, a large number of restaurants in Kathmandu have since grown up catering in Nepalese cuisine, Tibetan cuisine and Indian cuisine in particular and many others to accommodate both for Nepalese people and for tourists from all around the world. The growth of tourism in Kathmandu has led to culinary creativity and the development of hybrid foods to accommodate for tourists such as American chop suey, which is a sweet and sour sauce with crispy noodles, with a fried egg commonly added on top and other westernized adaptions of traditional cuisine. Kathmandu is particularly famous for "Mo: mo:". Mo: mo: or ?:?: is a type of dumpling that origined from Tibet.Many street vendors sell mo: mo:. It is one of the most popular fast food in Kathmandu
Nepali street food snacks in kathmandu
The national drink of Nepal is tea, widely served in Kathmandu, but is served extremely weak by western standards. Chiya, however, is richer and contains tea leaves boiled with milk, sugar and spices and the drink lassis, made of curds and sugar is also served in cafes and restaurants. Nepalese beer is available in such venues and in markets, including the national Gorkha beer brand. The popular Himalayan drinks of Chhaang and Tongba, typically made from fermented millet or barley and also sold, as are the harder spirit drinks of arak, made from fermented potatoes and rice. and rakshi, a modern type of Newari wine. Shops and bars in Kathmandu do, however, widely sell western and Indian beers, although shops are forbidden to sell alcohol on the first two days and last two days of the Newari month.
Amazing street food in kathmandu nepal grilled buff
Fresh vegetables and fruit are widely sold in Kathmandu, particularly around the Durbar. The assortment of produce is diverse and some sellers may specialise in the sale of different forms of specific vegetables, such as beans for instance.Western convenience foods are sold in abundance in most of the shops, including Carlsberg beer, Coca Cola and various potato snacks and candy.
5 places to go for newari cuisine in kathmandu
The staple food of most of Kathmanduites is dal bhat. It consists of rice and lentil soup, generally served with vegetable curries, achar and sometimes Chutney. Momo, a type of Nepali version of Tibetan dumpling, has become prominent in Nepal with many street vendors selling it. It is one of the most popular fast foods in Kathmandu. Various Nepali variants of momo including buff (i.e. buffalo) momo, chicken momo, and vegetarian momo are famous in Kathmandu. Dal Bhaat is the local cuisine of Kathmandu.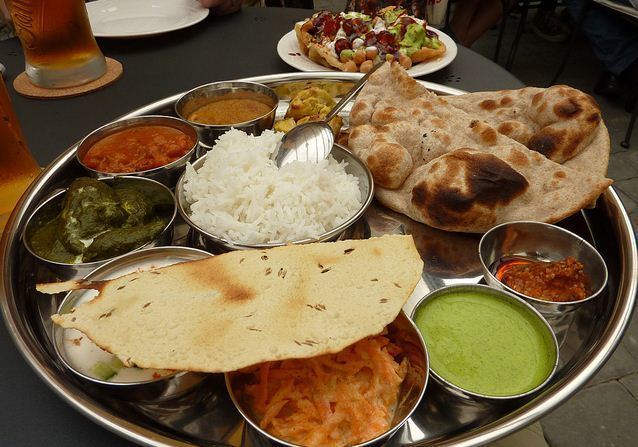 Most of the cuisines found in Kathmandu are non-vegetarian. However, the practice of vegetarianism is not uncommon, and vegetarian cuisines can be found throughout the city. Consumption of beef is very uncommon and considered taboo in many places. Buff (meat of water buffalo) is very common. There is a strong tradition of buff consumption in Kathmandu, especially among Newars, which is not found in other parts of Nepal. Consumption of pork was considered taboo until a few decades ago. Due to the intermixing with Kirat cuisine from eastern Nepal, pork has found a place in Kathmandu dishes. A fringe population of devout Hindus and Muslims consider it taboo. The Muslims forbid eating buff as from Quran while Hindus eat all varieties except Cows meat as the consider Cow to be a goddess and symbol of purity. The chief breakfast for locals and visitors is mostly Momo or Chowmein.
Kathmandu had only one restaurant in 1955. A large number of restaurants in Kathmandu have since opened, catering Nepali cuisine, Tibetan cuisine, Chinese cuisine and Indian cuisine in particular. Many other restaurants have opened to accommodate locals, expatriates, and tourists. The growth of tourism in Kathmandu has led to culinary creativity and the development of hybrid foods to accommodate for tourists such as American chop suey, which is a sweet-and-sour sauce with crispy noodles with a fried egg commonly added on top and other westernized adaptations of traditional cuisine. Continental cuisine can be found in selected places. International chain restaurants are rare, but some outlets of Pizza Hut and KFC have recently opened there.
Kathmandu has a larger proportion of tea drinkers than coffee drinkers. Tea is widely served but is extremely weak by western standards. It is richer and contains tea leaves boiled with milk, sugar and spices. Alcohol is widely drunk, and there are numerous local variants of alcoholic beverages. But its use has been now reduced.refnational survey. Drinking and driving is illegal, and authorities have a zero tolerance policy. Ailaa and thwon (alcohol made from rice) are the alcoholic beverages of Kathmandu, found in all the local bhattis (alcohol serving eateries). Chhyaang, tongba (fermented millet or barley) and rakshi are alcohols from other parts of Nepal which are found in Kathmandu. However, shops and bars in Kathmandu widely sell western and Nepali beers. Shops are forbidden to sell alcohol on the first two days and last two days of the Nepali month (Nepal Sambat).
Festivals
Most of the fairs and festivals in Kathmandu originated in the Malla period or earlier. Traditionally, these festivals were celebrated by Newars. In recent years, these festivals have found wider participation from other Kathmanduites as well. As the capital of the Republic of Nepal, various national festivals are celebrated in Kathmandu. With mass migration to the city, the cultures of Khas from the west, Kirats from the east, Bon/Tibetan from the north, and Mithila from the south meet in the capital and mingle harmoniously. The festivities such as the Ghode (horse) Jatra, Indra Jatra, Dashain Durga Puja festivals, Shivratri and many more are observed by all Hindu and Buddhist communities of Kathmandu with devotional fervor and enthusiasm. Social regulation in the codes enacted incorporate Hindu traditions and ethics. These were followed by the Shah kings and previous kings, as devout Hindus and protectors of Buddhist religion.
Cultural continuity has been maintained for centuries in the exclusive worship of goddesses and deities in Kathmandu and the rest of the country. These deities include the Ajima, Taleju (or Tulja Bhavani), Digu taleju, and Kumari (the living goddess). The artistic edifices have now become places of worship in the everyday life of the people, therefore a roster is maintained to observe annual festivals. There are 133 festivals held in the year.
Some of the traditional festivals observed in Kathmandu, apart from those previously mentioned, are Bada Dashain, Tihar, Chhath, Maghe Sankranti, Naga Panchami, Janai Poornima, Pancha Dan, Teej/Rishi Panchami, Pahan Charhe, Jana Baha Dyah Jatra (White Machchhendranath Jatra), and Matatirtha Aunsi.
References
Kathmandu Wikipedia
(Text) CC BY-SA
(,)http://www.intrepidtravel.com/sites/default/files/styles/full_size/public/elements/destination/history/nepal_kathmandu_durbar_square.jpg%3Fitok%3DJlLYleiS(,)http://sherpaheritagetrek.com/old/images/slide/bhaktapur-durbar-square-picture.jpg(,)https://lh3.googleusercontent.com/-snfwSHfB584/TWybc5fTsXI/AAAAAAAAAgo/Lho3EXtA4Hs/s1600/pashupatinath-temple-cc-Sam-Judson.jpg(,)http://www.kailashhimalaya.com/uploads/packages/Pokhara-fe_1343287031.JPG(,)http://media2.intoday.in/indiatoday/images/stories//2015April/nepal-ap-story_650_042515073411.jpg(,)http://i.dailymail.co.uk/i/pix/2014/01/12/article-2538051-0A5B246A000005DC-339_634x461.jpg(,)http://i.ytimg.com/vi/f6Oxsg9TFAY/hqdefault.jpg
(,)http://www.jonahkessel.com/data/photos/778_1kathmandu_valley.JPG(,)http://www.ottsworld.com/wp-content/uploads/2010/04/Kathmandu-Landscape.jpg(,)http://media-cdn.tripadvisor.com/media/photo-s/01/8c/2f/1c/landscape-near-balthali.jpg(,)http://cms.kiva.org.s3.amazonaws.com/import/fellows_blog_sp_import/2011_02_17_streetscenes_0008.jpg(,)http://4photos.net/blog/wp-content/uploads/picture-of-Kathmandu-landscape.jpg(,)http://www.jonahkessel.com/data/photos/777_1kathmandu_cityscape_dense.JPG(,)http://media-cdn.tripadvisor.com/media/photo-s/02/34/59/2e/landscape-in-bhutan.jpg(,)http://www.marcellian.com/SouthAsia-4/Nepal/Nepal-Landscape/i-XhV9MJm/0/XL/_DSC6481-XL.jpg(,)https://goingglacial.files.wordpress.com/2011/04/kathmandu-sprawl.jpg(,)http://www.bochi-bochitrek.com/images/kathmandu-valley-tours.jpg(,)https://s3.amazonaws.com/livebookswordpress/uploads/sites/411/2010/10/trash_kathmandu_008.jpg(,)http://www.ekantipur.com/uploads/tkp/news/2014/gallery_11_06/Urban_20141107091543.jpg(,)http://frugalfrolicker.com/wp-content/uploads/2013/05/wpid1750-5D3_3866.jpg(,)http://cache4.asset-cache.net/gc/549100705-rural-landscape-kathmandu-valley-nepal-gettyimages.jpg%3Fv%3D1%26c%3DIWSAsset%26k%3D2%26d%3DvtUqj%252BE7WOw5bwsCMPQzA7IJs%252FSscAsRa93jnnNb16D%252FEIHNrtk9NmUL5LwYP3pT7GKzjq5d%252Bi4No2ioz%252FbjkQ%253D%253D(,)http://media-cdn.tripadvisor.com/media/photo-s/05/31/00/54/cityscape-of-kathmandu.jpg
(,)http://www.torontorestaurants.com/Content/Images/ProfileGallery/Large_2735_for_2531.JPG(,)http://kathmandu.im/wp-content/uploads/2011/12/Masala-Restaurant01.jpg(,)http://blog.nepaladvisor.com/wp-content/uploads/2013/10/Baithak-Restaurants02.jpg(,)http://media-cdn.tripadvisor.com/media/photo-s/05/c7/27/e8/kathmandu-cuisine.jpg(,)http://media-cdn.tripadvisor.com/media/photo-s/02/a8/c7/d1/kathmandu-kitchen-sacramento.jpg(,)http://www.ekantipur.com/uploads/tkp/news/2012/gallery_02_18/17_20120219081544.jpg(,)http://www.gwfoodcoop.org/wp-content/uploads/2013/10/Street-Food-In-Kathmandu.jpg(,)http://www.kathmandurestaurant.ca/restaurant_data/example_images/wide/three.jpg(,)http://www.torontorestaurants.com/Content/Images/ProfileGallery/Large_2733_for_2531.JPG(,)https://www.happytellus.com/img/food-and-restaurants-in-kathmandu/gyakok-in-kathmandu_2105.jpg(,)http://kathmandu.im/wp-content/uploads/2011/12/3187581910_56860b8d1c1.jpg(,)http://kathmandukitchendavis.com/images/main1.png
(,)http://www.vaishnava.me/wp-content/uploads/2011/04/holi-festival-1.jpg(,)http://static1.demotix.com/sites/default/files/imagecache/a_scale_large/600-9/photos/1301077522-famous-nardevi-swetkali-jatra-festival-celebratedkathmandu_635859.jpg(,)http://www.imnepal.com/wp-content/uploads/2014/08/shova-Bhagwati-temple-kathmandu.jpg(,)http://static0.demotix.com/sites/default/files/imagecache/a_scale_large/600-3/photos/1301077510-famous-nardevi-swetkali-jatra-festival-celebratedkathmandu_634023.jpg(,)http://static2.demotix.com/sites/default/files/imagecache/a_scale_large/600-4/photos/1301077518-famous-nardevi-swetkali-jatra-festival-celebratedkathmandu_634024.jpg(,)http://upload.wikimedia.org/wikipedia/commons/3/3e/Indra_jatra_01.jpg(,)http://arounddeglobe.com/wp-content/uploads/2014/09/641586-01-02_18599676.jpg(,)http://thumbs.dreamstime.com/z/nepalese-puppet-show-famous-performing-center-durbar-squar-kathmandu-street-festival-kathmandu-nepal-33703486.jpg(,)http://darkroom.baltimoresun.com/wp-content/uploads/2012/09/REU-NEPAL_-1.jpg
(,)http://images.travelpod.com/tripwow/photos/ta-00ce-c810-0d1b/culture-s-of-nepal-kathmandu-nepal%2B1152_12953615950-tpfil02aw-4003.jpg(,)http://www.castleandking.com/image-gallery/kathmandu_culture.jpg(,)http://www.manipalworldnews.com/wp-content/uploads/2014/05/First-Indian-.jpg(,)http://www.globaltigerinitiative.org/wp-content/uploads/2009/10/kathmandu-culture-large1.jpg(,)https://trekroute.com/wp-content/uploads/2015/03/Durbar-Square-nepal.jpg(,)http://www.ekantipur.com/uploads/tkp/news/2013/gallery_01_19/735498_540078156005080_2316_20130120084253.jpg(,)http://news.xinhuanet.com/english2010/photo/2010-04/18/13256539_61n.jpg(,)http://www.environmentaltrekking.com/page_gallery/tamang-heritage-trek-with-kathmandu88.jpg(,)http://www.naturalhighsafaris.com/cdn/cache/made/cdn/uploads/country_images/Nepal/Kathmandu%2520and%2520valley/kathmandu-valley-small_940_529_80_s_c1.jpg(,)http://www.come2nepal.com/picture/ktm-cultural-b.jpg(,)http://static1.squarespace.com/static/53ecd1bde4b0a6f9524254f8/53f2cefce4b01727a2f69e66/54536886e4b0fd57c5c8a7ff/1417598517100/%3Fformat%3D1000w(,)http://www.michaelandersongallery.com/images/large/Young-Monks-and-pidgeons-P4NPN1.jpg(,)http://www.treks2nepal.com/images/nepal-culture.jpg(,)http://www.nepalvillagetrek.com/bhutan/images/bhutan-culture.jpg
(,)http://www.atravelbook.com/wp-content/uploads/2013/01/Top-Tourist-Attractions-in-Kathmandu.jpg(,)http://www.treklocations.com/wp-content/uploads/2013/05/kathmandu_tour.jpg(,)http://www.visittnt.com/luxury-travel-india/gifs/nepal-kathmandu.jpg(,)https://mojotravel.files.wordpress.com/2011/07/nagar-2.jpg(,)http://media-cdn.tripadvisor.com/media/photo-s/03/9b/2f/af/kathmandu.jpg(,)http://ordiate.com/wp-content/uploads/2013/01/bhaktapur-.jpg(,)http://www.landenweb.eu/city/ImagesW24/BA239811-AE9C-F289-58AB7B9FF129D643.JPG(,)http://www.shivatravelsnepal.com/images/img/Kathmandu_durbar_square.jpg(,)http://www.nepaltoursinfo.com/images/kathmandu(1).jpg(,)http://www.venere.com/img/blog/kathmandu-nepal.jpg(,)http://famouswonders.com/wp-content/uploads/2009/04/kathmandu-durbar-square-god-of-justice.jpg