Baba is a 2002 Indian Tamil language fantasy action film written and produced by Rajinikanth under his banner Lotus International and directed by Suresh Krishna. With Rajinikanth in the lead role, the film's cast included Manisha Koirala, Vijayakumar, M. N. Nambiar, Goundamani, Sujatha, Karunas, Ashish Vidyarthi, Amrish Puri, Sayaji Shinde and Riyaz Khan. Guest roles and special appearances were performed by Ramya Krishnan, Sarath Babu, Raghava Lawrence, Prabhu Deva, Radha Ravi and Nassar. Soundtrack and background music were composed by A. R. Rahman.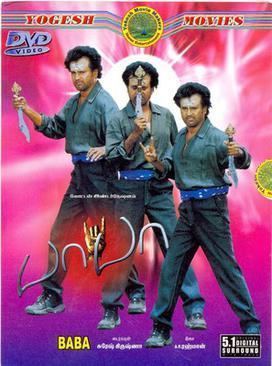 The film's story is about a carefree young atheist, Baba, who is a reincarnation of a great saint from the Himalayas. After several twists and problems caused by corrupt local politicians, Baba is taken to Mahavatar Babaji, whom Baba was a follower of in his last life. Baba gets tested by the deity and is given seven chances of wishes; the test is that if he uses any one of the wishes for his own personal desires, he would have to take many more births for him to get rid of the Karma.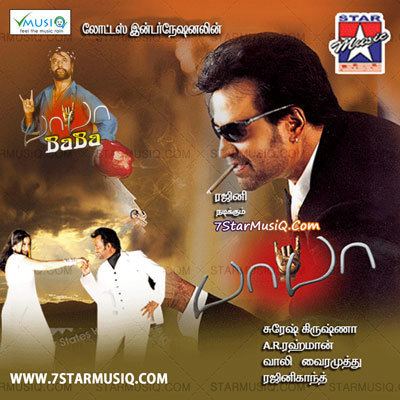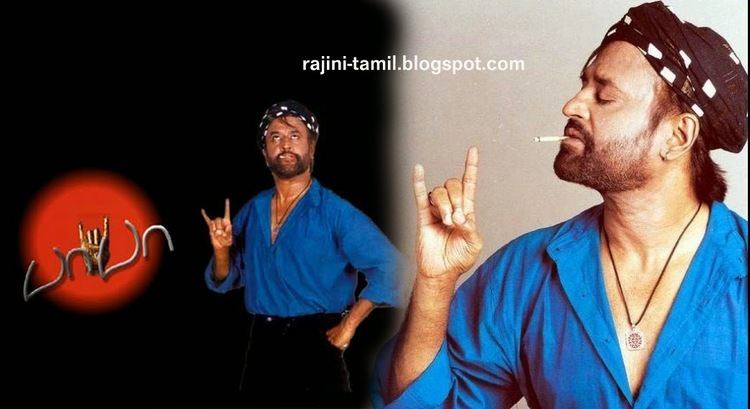 The film opens with the birth of Baba (Rajinikanth), who is a 'baba amsa sambhootudu'. Baba grows up as an atheist, hot-blooded man but a Good Samaritan. His life style includes consuming alcohol, smoking substances, chewing tobacco. His mother (Sujatha) and his maternal uncle (M. N. Nambiar) are ardent devotees of Mahavatar Babaji (the Baba who is supposed to be of 2000 years old and who live in Himalayas). Chamundeswari (Manisha Koirala) stays in the neighborhood of Baba's residence who often quarrels with baba but eventually falls in love with his style and falls for his attitude.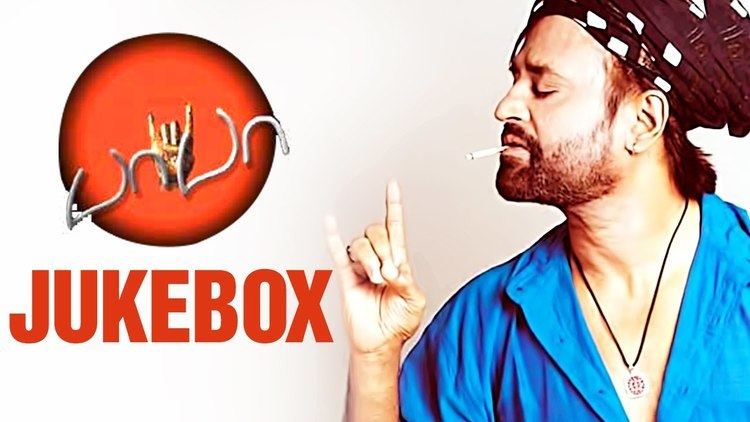 Baba involves in a physical feud with the son of the state deputy Chief minister Ippo Ramaswamy (Ashish Vidyarthi). Ramasamy is the current leader of a party in the ruling coalition. Even [Though he has only 30 seats, he feels irritating to be inferior to CM.] Ramaswamy demolishes the colony of Baba. When Baba is about to go to fight with Ramaswamy, Baba's mother urges him to maintain calm and rebuild lost colony it by working hard. Baba joins as a labor in a shop and earns money. Chamundeswari tells Baba that she is not willing to marry a daily laborer. Then Baba realizes that so far he has been only answerable for his mother. And if he gets married then he has to live for wife and kids. And he would become answerable to them. He would not be able to help for the society as he might become selfish after marriage. He feels that prema (love) is maya (illusion). He immediately breaks up with her. At that time, a weird looking sadhu comes to him and tell him that its time for getting enlightened. Baba is taken to Himalayas where he meets the real Baba. He gets frightened by the atmosphere and wishes to return to Chennai. Then real Baba grants 7 wishes to Baba. He can use any of these wishes anytime he wishes to utilize. Baba is sent back to Chennai. Baba still could not believe that he went to Himalayas met real Baba. He uses that mantra to test the power by wishing a flying kite to come and fall in his hand. He waits for a few seconds and decide that it was all his illusion. Later the kite follows him to his house and falls on his hand. He feels that its coincidental and tries the mantra again to a different kite and wishes it to fall on his lap. He goes into his house and closes all the possible entries in the house. But the kite makes its way and falls on his lap. His 3rd wish is to make a popular woman, Neelambari, ask him what the time is. His 4th wish is to get lakhs of money. He makes his 5th wish (to develop his locality's infrastructure) to test his uncle's words. It is only after this wish comes true that he realizes the existence of God. In the meantime, deputy chief minister Ramaswamy comes to know about it. He and another corrupt politician call a Tantrik (Amrish Puri) to foil Baba's magical powers.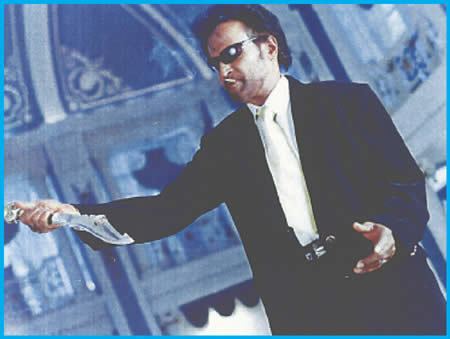 The sixth wish is used to revive a newlywed Japanese neighbor fighting for his life. Purushottaman, Ramaswamy's boss and the current Chief Minister of Tamil Nadu, wants to become the permanent chief minister of the state using Baba's boons. He also tries to kill Baba but this attempt fails due to the blessings of Babaji. Then comes the state general election. baba's associates urge him to use the final wish to become the permanent CM himself as the state would be great under him. But Baba uses the last wish to Kanthan, an old honest party member of Ippo Ramasamy( who had always been sidelined )to become next CM with single greater majority. Then, by the wish,Ippo Ramasamy's paralysed father (The first leader of party) wants to prove that the older generation are better as his son is reckless. He gives his party command to Kanthan, telling him to ask for 120 seats (assembly majority is 118) in the current coalition and obviously break the coalition. Ramasamy's then attacks Kanthan and is dismissed from the party. The elections come and Kanthan becomes CM. Once his wishes are used up, Baba has the choice of living with Babaji at the Himalayas or returning to his life in the material world. But when Baba is just about to ascend to the Himalayas, the villains kill the loyal chief minister. Baba turns back and the film ends with the tag "To be continued....".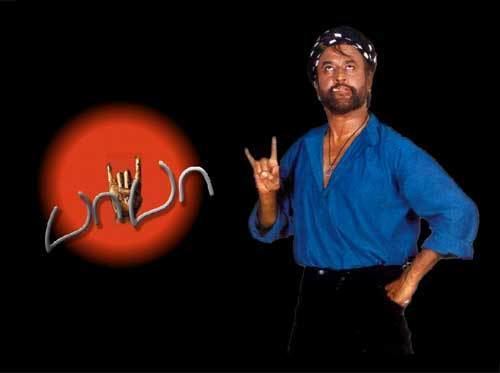 Rajinikanth as Baba and Mahavatar Babaji (voice only)
Goundamani as Annamalai
Manisha Koirala as Chamundeeswari
M. N. Nambiar as Baba's maternal uncle
Bharathi Mani as Kanthan
Ashish Vidyarthi as Ippo Ramaswamy
Sujatha as Baba's mother
Vijayakumar as Chamundeeswari's father
Sanghavi as Lakshmi
Riyaz Khan as son of Ippo Ramaswamy
Karunas as Samundi
Sayaji Shinde as Divyananda Bharathi
Amrish Puri as Guruji
N. Viswanathan as Baba's father
Seema as Chamundeeswari's mother
Santhoshi as Chamundeeswari's sister
Vaishnavi as Chamundeeswari's sister
Kitty as Bhai
Bharathimani as Purushothaman
Vasu Vikram
Bharat Dabholkar
Deepa Venkat as Chamundeeswari's friend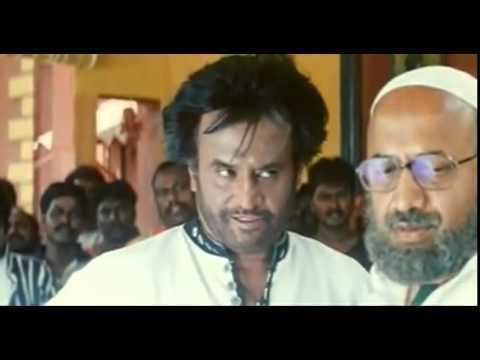 Special appearances in alphabetical order
Raghava Lawrence in a special appearance in "Maya Maya" song
Ramya Krishnan as Neelambari
Nassar as Suryaprakash
Prabhu Deva in a special appearance in "Baba Kichu Kichu Tha" song
Radha Ravi as Minister of Tourism
Sarath Babu as father of girl saved by Baba
This high-budget production was sold at a record price of ₹17 crore to distributors but the film yielded share of ₹13 crore worldwide. So, Rajinikanth was forced to return almost 25% of investment. In Coimbatore distribution territory, Baba was sold for ₹1.5 crore. This record remained unbeaten till Chandramukhi.
The film opened to mixed reviews. The film was praised for its technical and production values, while there was criticism towards the lack of focus in the screenplay particularly in the first half, leading to the film's excessive length and uneven pace. It also left some Rajinikanth fans polarized, with many speculating that he film could be a political campaign of sorts for himself, while others confused about the message this film was intending to convey.
The film was received with comments such as "the bloom was off the rose" and that "the gold does not glitter any more". Pattali Makkal Katchi leader S. Ramadoss condemned him for smoking and posing with beedis in the film. He was criticised for spoiling Tamil youth by glorifying smoking and drinking. PMK volunteers attacked theatres which screened the movie Baba and usurped film rolls and burnt it. Amidst controversies and negative criticism, Rajinikanth kept himself away from acting. Despite this, a few novice directors approached him with scripts, all of which he rejected.
The soundtrack consists of 6 songs composed by A. R. Rahman. The songs were recorded in 2002 June. Rahman had to record them online as he was in London with the works of Bombay Dreams. The Soundtrack album was released on July 2002 in Chennai. According to Rahman, he has tried innovations with Baba, giving more than the jingoistic music that is a characteristic part of a Rajni movie. The songs, especially the tracks "Maya Maya" and "Sakthi Kodu", turned out to be big hits and were considered one of the highlights in Baba. Some of the songs were filmed from Europe.
A controversy regarding the soundtrack originated when lyricist Vairamuthu expressed dissatisfaction over the online recording. Rahman defended this saying, "Busy as I was with Bombay Dreams, it was simply impossible for me to be in Chennai. Sometimes it is inevitable, in a situation like this, where the reputation and money of somebody else is at stake." Rahman also faced criticisms from the film fraternity for not recording the songs in time. Another controversy was that Dravida Kazhagam objected to the lyrics of a song that had to be partially deleted from the film later. They have taken objection to what they have called unfair commentary on Periyar E. V. Ramasamy and Ramaswami's ideology.
Rahman introduced Reena Bhardwaj through the song "Kichchu Tha". This song was reused with different instrumentation and vocals in Swades (2004).