Anna Karina (born Hanne Karin Blarke Bayer or Beyer, sources differ; 22 September 1940) was a Danish-French film actress, director and screenwriter who has spent most of her working life in France. She was known as a muse in the 1960s of the director Jean-Luc Godard, one of the pioneers of the French New Wave. Her collaborations with Godard include The Little Soldier (1960), A Woman Is a Woman (1961), Vivre sa vie (1962), Band of Outsiders (1964) and Pierrot le Fou and Alphaville (both 1965). With A Woman Is a Woman, Karina won the Best Actress award at the Berlin Film Festival.
Contents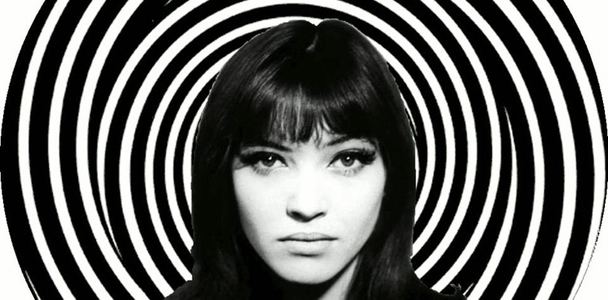 Movie legends anna karina
Early life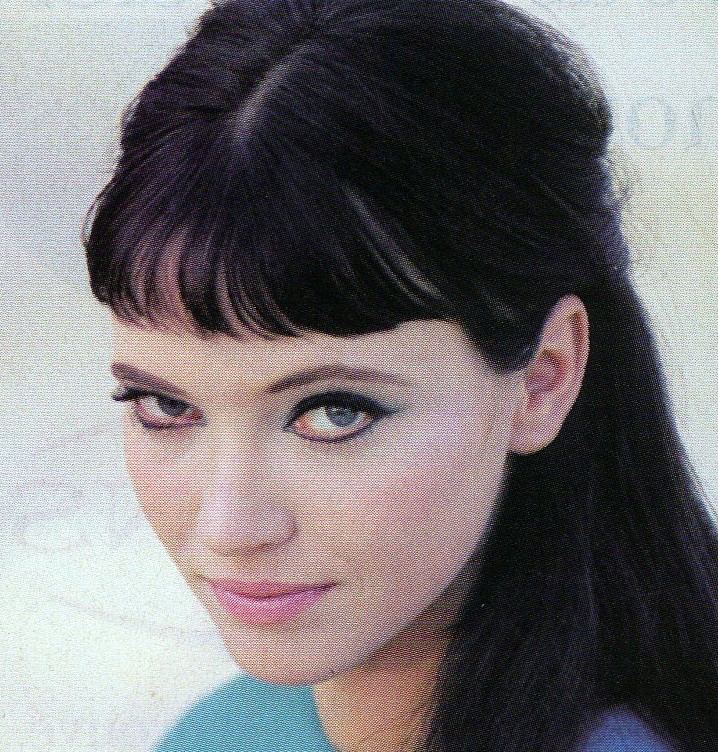 Karina's mother was a dress shop owner and her father was a ship's captain who left the family a year after she was born. She lived with her maternal grandparents for three years, until she was four. She spent the next four years in foster care when she returned to live with her mother. She has described her childhood as "terribly wanting to be loved", and as a child made numerous attempts to run away from home.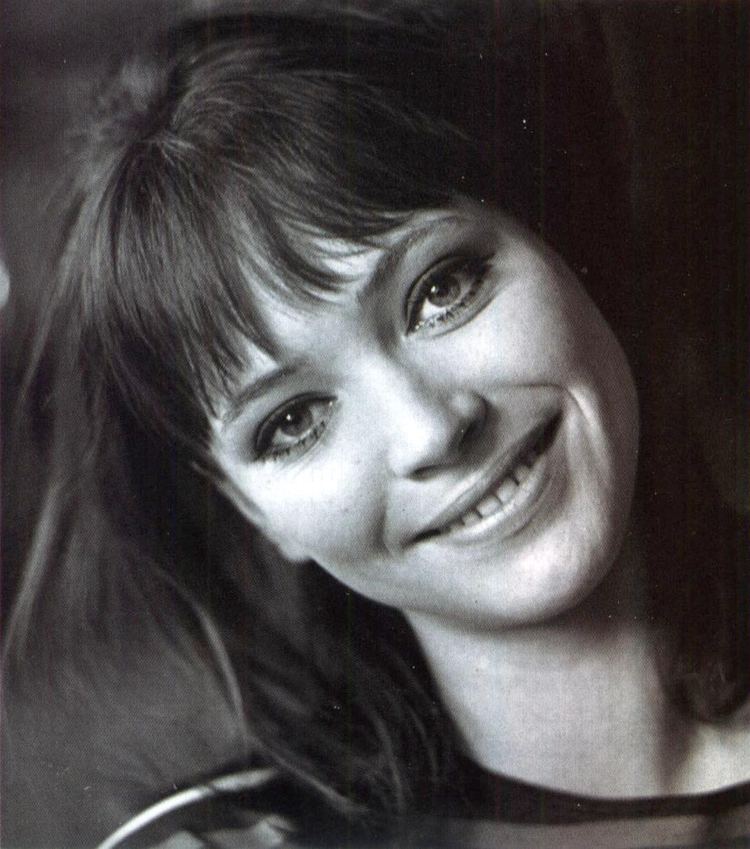 She began her career in Denmark, where she sang in cabarets and worked as a model playing in commercials. At age 14, she appeared in a Danish short film by Ib Schmedes, which won a prize at Cannes. She studied dance and painting in Denmark and for a while made a living selling her paintings. In 1958, after a row with her mother, she hitchhiked to Paris.
Modeling and meeting with Godard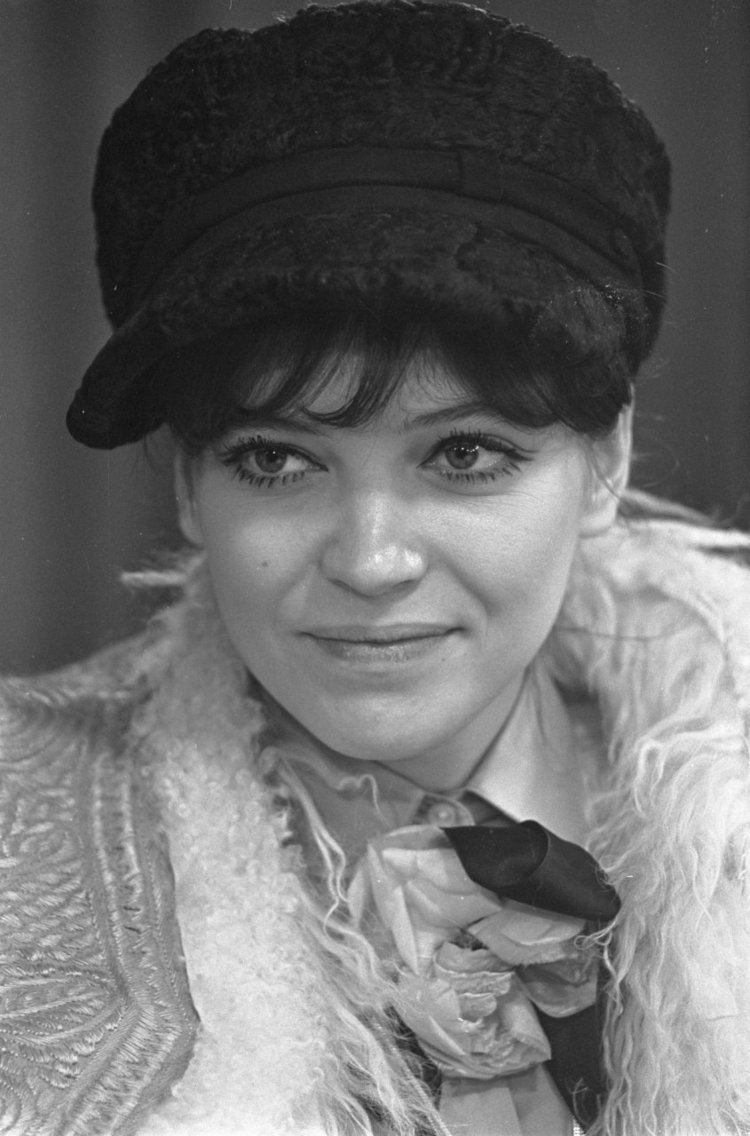 Karina was 17 when she arrived in Paris—poor and unable to speak French. Living on the streets, she got a break while sitting at the cafe Les Deux Magots. She was approached by a woman from an advertisement agency who asked her to do some photos. She became a successful fashion model, meeting Pierre Cardin and Coco Chanel. Chanel helped her devise her professional name, Anna Karina.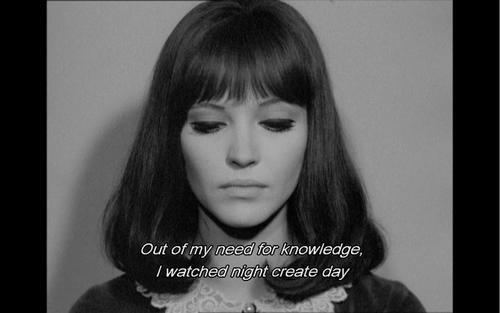 Karina performed, uncredited, in a 1959 soap advertisement that was included near the end of Guy Debord's On the Passage of a Few Persons Through a Rather Brief Unity of Time (fr). The image was accompanied by Debord's voice-over: "The advertisements during intermissions are the truest reflection of an intermission from life."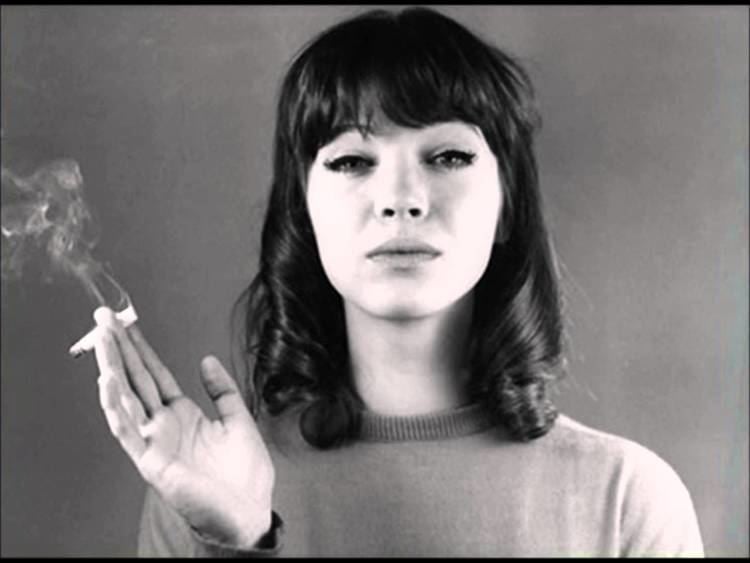 Jean-Luc Godard, then a film critic for Cahiers du cinéma, first saw Karina in a series of Palmolive ads in a bathtub covered in soapsuds. He was casting his debut feature film, Breathless. He offered her a small part in the film, but she refused when he mentioned that there would be a nude scene. When Godard questioned her refusal, mentioning the supposed nudity in the Palmolive ads, she is said to have replied, "Are you mad? I was wearing a bathing suit in those ads — the soapsuds went up to my neck. It was in your mind that I was undressed."
In the end, the character Godard reserved for Karina did not appear in the film. The next year, however, Godard offered her a role in Le Petit Soldat (1960). Karina, who was still under 21, had to persuade her estranged mother to sign the contract for her.
Film
Karina won the Best Actress Award at the Berlin Film Festival in 1961 for her performance as Angela in A Woman Is a Woman. She also appeared in Godard's Bande à part (1964). But her acting career was not limited to Godard's films. Her role in The Nun (1966), directed by Jacques Rivette, is considered by some to be her best performance. She also acted in Luchino Visconti's The Stranger (1967).
Karina's other films include the George Cukor/Joseph Strick collaboration Justine (1969), Tony Richardson's Laughter in the Dark (1969), Christian de Chalonge's The Wedding Ring (L'Alliance, 1971), Andre Delvaux's Rendezvous at Bray (Rendez-vous à Bray, also 1971), The Salzburg Connection (1972), Franco Brusati's Bread and Chocolate (Pane e cioccolata, 1973) and Rainer Werner Fassbinder's Chinese Roulette (1976). Fassbinder wrote the film for her and her partner at the time, Ulli Lommel.
In 1972, she set up a production company, Raska, for her directorial debut, Vivre ensemble (1973), in which she also acted and which was released in 1973. She wrote and acted in Last Song (1987) and has since appeared in Haut, Bas, Fragile (1995), directed by Jacques Rivette, and sung in The Truth About Charlie (2002), the remake of Charade.
Theatre
Karina has appeared on stage in Rivette's adaptation of La Religieuse, Pour Lucrece, Toi et Tes Nuages, Françoise Sagan's Il Fait Beau Jour et Nuit and Ingmar Bergman's Efter repetitionen.
Singing career
Karina has also maintained a singing career. At the end of the 1960s, she scored a major hit with "Sous le soleil exactement" and "Roller Girl" by Serge Gainsbourg. Both songs are from the TV musical comedy Anna (1967), by the film director Pierre Koralnik, in which she sings seven songs alongside Gainsbourg and Jean-Claude Brialy. Karina subsequently recorded an album, Une histoire d'amour, with Philippe Katerine, which was followed by a concert tour. In 2005, she released Chansons de films, a collection of songs sung in movies.
Karina wrote, directed and starred in Victoria (2008), a musical road movie filmed in Montreal, Quebec and Saguenay-Lac-St-Jean. Richard Kuipers's review in Variety praised it as "a pleasant gambol through the backwoods of Quebec...Given plenty of room to work off each other, the members of this fine ensemble keep pic on track...Big plus is the music and heartfelt songs by Philippe Katerine."
Books
Karina has written four novels: Vivre ensemble (1973), Golden City (1983), On n'achète pas le soleil (1988), and Jusqu'au bout du hasard (1998).
Death
Filmography
Actress
2022
Quantum Cowboys
as
Inspiration
2003
Moi César, 10 ans 1/2, 1m39
as
Gloria
2002
The Truth About Charlie
as
Actress
2001
Nom de code: Sacha (Short)
as
Elle-même
2000
Une histoire de K (Video short)
as
Anna
1996
Chloé (TV Movie)
as
Katia
1995
Up, Down, Fragile
as
Sarah
1990
Manden der ville være skyldig
as
Edith
1989
Moravagine (TV Movie)
1988
L'oeuvre au noir
as
Catherine
1987
Dernier été à Tanger
as
Myrrha, une chanteuse de cabaret
1986
Blockhaus USA (Short)
1986
Treasure Island
as
Mother
1986
La dame des dunes (TV Movie)
as
Astrid
1984
Ave Maria
as
Berthe Granjeux
1983
A Friend of Vincent
as
Eleonore
1981
Chambre 17 (TV Movie)
as
Ariane
1980
Charlotte, dis à ta mère que je l'aime
as
Stéphane
1979
Historien om en moder
as
Christine Olsen
1979
L'éblouissement (TV Movie)
as
Françoise Grandpré
1978
Ausgerechnet Bananen
as
Natascha
1978
Olyan, mint otthon
as
Anna
1978
Chaussette surprise
as
Nathalie
1978
Her Ladyship the Judge (1978) (TV Series)
as
Emma
- Monsieur Bais (1978) - Emma
1977
Also es war so... (TV Movie)
as
Columbine / Gertrude S.
1977
Dossiers: Danger immédiat (TV Series)
as
Martine Desclos
- L'affaire Martine Desclos (1977) - Martine Desclos
1976
Chinese Roulette
as
Irene Cartis
1976
Cinéma 16 (TV Series)
as
Edwina
- La vie en pièces (1976) - Edwina
1976
Le voyage à l'étranger (TV Movie)
as
Madeleine Cedrat
1976
Les oeufs brouillés
as
Clara Dutilleul
1975
The Musician Killer
as
Louise
1974
L'invenzione di Morel
as
Faustine
1974
Bread and Chocolate
as
Elena
1973
Vivre ensemble
as
Julie Andersen
1972
The Salzburg Connection
as
Anna Bryant
1971
Carlos (TV Movie)
as
Clara
1971
Z Cars (TV Series)
as
Lady Customer
- Who Were You With?: Part 2 (1971) - Lady Customer (uncredited)
1971
Appointment in Bray
as
Elle (la servante)
1970
Le temps de mourir
as
La femme sans nom
1969
Laughter in the Dark
as
Margot
1969
Michael Kohlhaas - Der Rebell
as
Elisabeth Kohlhaas
1968
Before Winter Comes
as
Maria
1967
The Stranger
as
Marie Cardona
1967
The Oldest Profession
as
Natasha / Eleanor Romeovich, Hostess 703 (English version) (segment "Anticipation")
1967
Zärtliche Haie
as
Elena / Costa
1966
Bande-annonce De 'Made in U.S.A.' (Short)
1966
Les fables de La Fontaine (TV Series)
as
Madame Corbeau
- Le Corbeau et le renard (1966) - Madame Corbeau
1966
Made in U.S.A
as
Paula Nelson (as AK)
1966
I Spy (TV Series)
as
Alina
- A Gift from Alexander (1966) - Alina
1965
Bande-annonce de 'Pierrot le fou' (Short)
1965
Pierrot le Fou
as
Marianne Renoir
1965
Un mari à prix fixe
as
Béatrice Reinhof
1965
The Camp Followers
as
Elenitza Karaboris
1965
Alphaville
as
Natacha von Braun
1965
Le voleur de Tibidabo
as
Maria
1964
Band of Outsiders
as
Odile
1963
Sweet and Sour
as
La pauvre Ginette
1963
Scheherazade
as
Shéhérazade
1963
The Little Soldier
as
Veronica Dreyer
1962
Bande-annonce de 'Vivre sa vie: Film en douze tableaux' (Short)
1962
Three Fables of Love
as
Colombe (segment "Le corbeau et le renard")
1962
Vivre Sa Vie
as
Nana Kleinfrankenheim
1962
Le soleil dans l'oeil
as
Dagmar
1962
Cléo from 5 to 7
as
Anna, la fiancée blonde / Actress in silent film
1961
Bande-annonce de 'Une femme est une femme' (Short)
1961
The Fiancés of the Bridge Mac Donald (Short)
as
Anna, la jeune fille blonde
1961
A Woman Is a Woman
as
Angela (as Karina)
1961
Ce soir ou jamais
as
Valérie
1960
Presentation, or Charlotte and Her Steak (Short)
as
Clara (recorded 1961) (voice)
1959
On the Passage of a Few Persons Through a Rather Brief Unity of Time (Short)
as
Performer in Commercial (uncredited)
1959
Pigen og skoene (Short)(as Hanne Blarke)
Writer
1987
Last Song (collaboration)
1973
Vivre ensemble (screenplay)
Director
Soundtrack
2020
Mrs. America (TV Mini Series) (performer - 1 episode)
- Phyllis & Fred & Brenda & Marc (2020) - (performer: "Roller Girl")
2018
Killing Eve (TV Series) (performer - 1 episode)
- Nice Face (2018) - (performer: "Roller Girl" - uncredited)
2017
Anna Karina, souviens-toi (Documentary) (performer: "Ne Dis Rien")
2008
Victoria (performer: "N'importe où")
2002
The Truth About Charlie (lyrics: "Charade d'Amour") / (performer: "Sous le Soleil Exactement", "Charade d'Amour")
2001
Nom de code: Sacha (Short) (lyrics: "Qu'est-ce que je Peux Faire ?") / (performer: "Qu'est-ce que je Peux Faire ?")
1996
Chloé (TV Movie) ("C'est si bon") / (performer: "Petite Fille")
1995
Up, Down, Fragile (lyrics: "La fille à l'envers") / (performer: "Mon amant perdu", "La fille à l'envers")
1994
De Serge Gainsbourg à Gainsbarre de 1958 - 1991 (Video documentary) (performer: "Ne dis rien")
1987
Dernier été à Tanger (performer: "Blue Moon", "The Man I Love")
1987
Last Song (performer: "Feel Lost", "Big Heat")
1967
Anna (TV Movie) (performer: "Sous le Soleil Exactement", "Rien rien j'Disais ça comme ça", "Un Jour comme un Autre", "De plus en plus, de moins en moins", "Roller Girl", "Ne Dis Rien", "Pistolet Jo", "G.I. Jo", "Je n'avais qu'un seul Mot à lui Dire")
1965
Pierrot le Fou (performer: "Ma Ligne de Chance", "Jamais je ne t'ai Dit que je t'Aimerai Toujours", "Mic et Mac")
1963
Sweet and Sour (performer: "La Vie s'Envole")
1962
Maid for Murder (performer: "Serenata Corsica" - uncredited)
1961
A Woman Is a Woman (performer: "Chanson d'Angela")
Composer
2001
Nom de code: Sacha (Short)
Music Department
2001
Nom de code: Sacha (Short) (lyrics: "Qu'est-ce que je peux faire ?")
Producer
1973
Vivre ensemble (producer)
Thanks
2015
L'Âge d'or de Jean-Luc Godard (Video documentary) (dedicated to)
2010
Hors Série (TV Series documentary) (thanks - 1 episode)
- Gainsbourg, l'homme qui aimait les femmes (2010) - (thanks)
2002
The Truth About Charlie (very special thanks)
Self
2022
Anna Karina: At dø for en lykkelig slutning (Documentary)
as
Self
2019
Lilos Lachen (TV Movie documentary)
as
Self - Schauspielerin
2019
Philippe R. Doumic - Sous son regard l'étincelle (Documentary)
as
Self
2019
Rembob'Ina (TV Series documentary)
as
Self
- Anna, comédie musicale de Pierre Koralnik et Serge Gainsbourg (2019) - Self
2005
L'invité (TV Series)
as
Self
- Episode dated 25 October 2018 (2018) - Self
- Episode dated 19 May 2018 (2018) - Self
- Episode dated 25 February 2018 (2018) - Self
- Episode dated 14 January 2017 (2017) - Self
- Episode dated 28 December 2013 (2013) - Self
- Episode dated 2 March 2011 (2011) - Self
- Episode dated 14 May 2005 (2005) - Self
2018
Le journal du Festival (TV Series)
as
Self
- Episode dated 12 May 2018 (2018) - Self
- Episode dated 8 May 2018 (2018) - Self
2017
Sortie d'usine 2017 (Short)
as
Self
2017
Anna Karina, souviens-toi (Documentary)
as
Self - Interviewee and Portrait Subject
2015
Je t'aime: The Story of French Song with Petula Clark (TV Movie documentary)
as
Self
2013
Jean-Claude Brialy, le goût des autres (TV Movie documentary)
as
Self - Interviewee
2011
Chabada (TV Series)
as
Self
- Episode #2.23 (2011) - Self
2009
Jean-Luc Cinema Godard (TV Movie documentary)
as
Self
2009
Cannes Moments (TV Series documentary)
as
Self
2009
Ce soir (ou jamais!) (TV Series)
as
Self
- Episode dated 26 January 2009 (2009) - Self
2008
Entretiens avec Anna Karina et Claude Rich (Video short)
as
Self
2007
À l'écoute de Godard (image + son = 7 fragments) (TV Movie documentary)
as
Self
2006
Douce France (Documentary)
as
Self
1998
Thé ou café (TV Series)
as
Self
- Episode dated 16 September 2006 (2006) - Self
- Episode dated 17 May 1998 (1998) - Self
2004
Anna Karina, l'aventurière (TV Movie documentary)
as
Self
2004
Graffiti 60 (TV Series documentary)
as
Self
- De 1967 à 1968 (2004) - Self
1999
100 films par 100 personnalités (TV Series)
as
Self
- Alphaville (1999) - Self
1998
Le cercle du cinéma (TV Series)
as
Self
- Episode dated 6 May 1998 (1998) - Self
1997
Birth of a Nation (Documentary)
as
Self
1997
Le cercle des arts (TV Series)
as
Self
- Episode dated 29 September 1997 (1997) - Self
1994
De Serge Gainsbourg à Gainsbarre de 1958 - 1991 (Video documentary)
as
Self
1992
Cinéma! Cinéma! The French New Wave (TV Movie documentary)
as
Self
1990
Sacrée soirée (TV Series)
as
Self
- Episode dated 2 May 1990 (1990) - Self
1976
La nuit des Césars (TV Series documentary)
as
Self - Presenter / Self - Nominee
- 14ème nuit des Césars (1989) - Self - Presenter
- 13ème nuit des Césars (1988) - Self - Nominee
- 1ère nuit des Césars (1976) - Self - Presenter
1989
Lunettes noires pour nuits blanches (TV Series)
as
Self
- Episode dated 14 January 1989 (1989) - Self
1989
Télé Caroline (TV Series)
as
Self
- Episode dated 13 January 1989 (1989) - Self
1987
Bains de minuit (TV Series)
as
Self
- Episode dated 8 April 1988 (1988) - Self
- Episode dated 25 December 1987 (1987) - Self
1988
Champs-Elysées (TV Series)
as
Self
- Episode dated 19 March 1988 (1988) - Self
1988
Matin Bonheur (TV Series)
as
Self
- Episode dated 8 March 1988 (1988) - Self
1987
Mardi cinéma (TV Series documentary)
as
Self
- Episode dated 1 March 1988 (1988) - Self
- Episode dated 28 April 1987 (1987) - Self
1987
Ciné star (TV Series)
as
Self
- Episode dated 8 December 1987 (1987) - Self
1987
Acteur studio (TV Series)
as
Self
- Episode dated 5 January 1987 (1987) - Self
1978
Ciné regards (TV Series documentary)
as
Self
- F comme réalisatrices (1978) - Self
1976
Les rendez-vous du dimanche (TV Series)
as
Self
- Episode dated 18 June 1978 (1978) - Self
- Episode dated 28 March 1976 (1976) - Self
1976
Allons au cinéma (TV Series)
as
Self
- Episode dated 25 February 1977 (1977) - Self
- Episode dated 1 April 1976 (1976) - Self
1976
Trece oficios cinematográficos (TV Series)
as
Self
- Actrices (1976) - Self
1969
Monsieur Cinéma (TV Series)
as
Self
- Episode dated 7 March 1976 (1976) - Self
- Episode dated 19 May 1969 (1969) - Self
1976
Dix de der (TV Series)
as
Self
- Episode dated 6 March 1976 (1976) - Self
1975
Pour le cinéma (TV Series)
as
Self
- Episode dated 29 February 1976 (1976) - Self
- Episode dated 25 May 1975 (1975) - Self
1973
In Conversation: Anna Karina and Alistair Whyte (Documentary short)
as
Self
1973
Le dernier des cinq (TV Series)
as
Self
- Episode dated 6 May 1973 (1973) - Self
1973
Midi Trente (TV Series)
as
Self
- Episode dated 5 May 1973 (1973) - Self
1966
Cinéma (TV Series documentary)
as
Self
- Episode dated 20 April 1967 (1967) - Self
- Episode dated 23 April 1966 (1966) - Self
1966
Carl Th. Dreyer (Documentary short)
as
Self (uncredited)
1964
Cinéastes de notre temps (TV Series documentary)
as
Self / Narratrice
- Jean-Luc Godard ou Le cinéma au défi (1965) - Self
- Carl Th. Dreyer (1965) - Narratrice / Self
- La nouvelle vague par elle-même (1964) - Self
1965
Discorama (TV Series)
as
Self
- Episode dated 9 May 1965 (1965) - Self
1965
Ni figue ni raisin (TV Series)
as
Self
- Episode #1.5 (1965) - Self
1962
Cinépanorama (TV Series documentary)
as
Self
- Episode dated 30 January 1965 (1965) - Self
- Episode dated 7 April 1962 (1962) - Self
1963
Le joli mai (Documentary)
as
Self (uncredited)
1962
Petit-jour (Short)
as
Self
Archive Footage
2022
Godard, seul le cinéma (TV Movie documentary)
as
Self
2022
Hollywood Insider (TV Series)
as
Self
- A Tribute to Jean-Luc Godard: The Master of the French New Wave (2022) - Self
2020
Rembob'Ina (TV Series documentary)
as
Self
- Thierry Ardisson (2020) - Self
2020
Anna/Nana/Nana/Anna (Documentary short)
2019
Remembering 2019: In Memoriam (TV Special)
as
Self / actress
2019
Le temps des nababs (TV Series documentary)
as
Self
- Les audacieux (2019) - Self
2017
Faces Places (Documentary)
as
Self
2011
Compression (TV Series documentary)
- Compression Rendez-vous à Bray d'André Delvaux (2016)
- Compression Made in USA de Jean-Luc Godard (2015)
- Compression Pierrot le fou de Jean-Luc Godard (2015)
- Compression Bande à part de Jean-Luc Godard (2015)
- Compression Une femme est une femme de Jean-Luc Godard (2015)
- Compression Le Petit Soldat de Jean-Luc Godard (2015)
- Compression Vivre sa Vie de Jean-Luc Godard (2011)
2016
Grands reportages (TV Series documentary)
as
Self
- Belmondo par Belmondo (2016) - Self (uncredited)
2015
La Fin du monde est pour dimanche (TV Movie)
2012
Colorspace Vol. 3 (Video)
as
Self
2012
Gainsbourg by Gainsbourg: An Intimate Self Portrailt (Documentary)
as
Self
2011
Colorspace Vol. 2 (Video)
as
Self
2010
Deux de la Vague (Documentary)
as
Self
2010
Hors Série (TV Series documentary)
as
Self
- Gainsbourg, l'homme qui aimait les femmes (2010) - Self
2009
Great Directors (Documentary)
as
Nana Kleinfrankenheim (clip from Vivre sa vie: Film en douze tableaux (1962)) (uncredited)
2007
To Each His Own Cinema (segment "Artaud Double Bill")
2007
Personnel et confidentiel (TV Series documentary)
as
Self
- Cannes, 60 ans d'histoires (2007) - Self
2005
French Beauty (TV Movie documentary)
as
Self
2005
On a tout essayé (TV Series)
as
Self
- Episode dated 21 January 2005 (2005) - Self
2004
Les 40 ans de la 2 (TV Movie documentary)
as
Self
1999
Eddie Constantine: Cet homme est un sentimental... (TV Movie documentary)
as
Self (uncredited)
1999
Godard à la télé - 1960-2000 (TV Movie documentary)
as
Self
References
Anna Karina Wikipedia
(Text) CC BY-SA