Population

59.68 million (2011)




Area

139,600 km2


Governor

Wang Xuejun




Capital

Hefei








Destinations

Hefei, Huangshan City, Wuhu, Anqing, Bengbu




Colleges and Universities

University of Science and Technology of China (Hefei), Anhui Agricultural University (Hefei), Anhui Normal University (Wuhu), Hefei University of Technology (Hefei), Anhui University (Hefei)






Languages spoken

Jianghuai Mandarin, Gan, Wu, Huizhou



Map of Anhui
Anhui ([án.xwéi]; Chinese: 安徽; pinyin: Ānhuī) is a landlocked province of the People's Republic of China located in the eastern region of the country. Located across the basins of the Yangtze River and the Huai River, it borders Jiangsu to the east, Zhejiang to the southeast, Jiangxi to the south, Hubei to the southwest, Henan to the northwest, and Shandong for a short section in the north. The provincial capital is Hefei.
Contents
The name "Anhui" derives from the names of two cities: Anqing and Huizhou (now Huangshan City). The abbreviation for Anhui is "Chinese: 皖; pinyin: wǎn" after the historical State of Wan, Mount Wan, and the Wan river.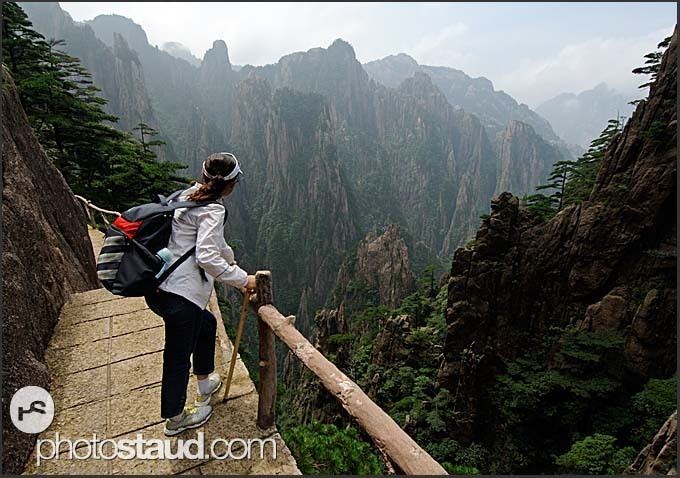 2011 city of hefei in anhui china 2011
Unique snow crystals appear in anhui
History
The province of Anhui was formed in the 17th century. Before then, there was no coherent concept of "Anhui". In terms of culture, Northern Anhui was firmly a part of the North China Plain together with modern-day Henan province, northern Jiangsu and southern Shandong provinces. Central Anhui was densely populated and constituted mostly of fertile land from the Huai River watershed. In contrast, the culture of Southern Anhui, bordered mostly along the Yangtze, was closer to Jiangxi and southern Jiangsu provinces. The hills of southeastern Anhui formed a unique and distinct cultural sphere of its own.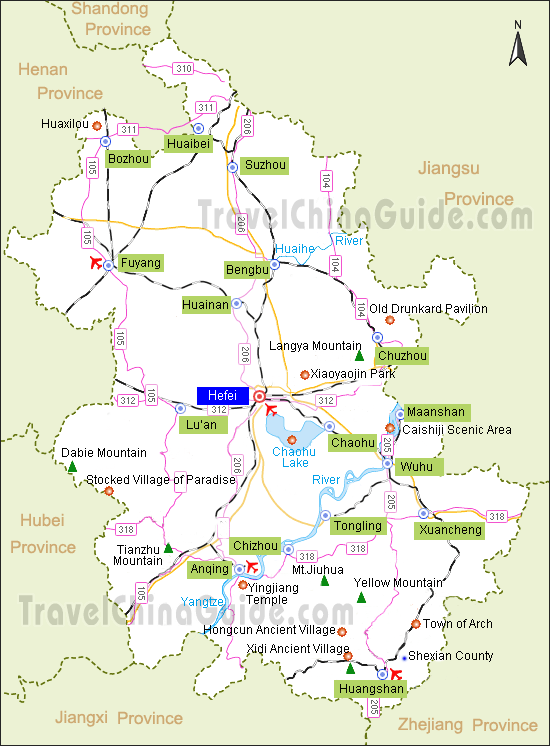 In the 2007 book China Road, author Rob Gifford stated that the Chinese refer to Anhui as a "big agricultural province" (农业大省). According to Gifford, this is an euphemism for a "very poor" area and that people have referred to Anhui as the "Appalachia of China".
Geography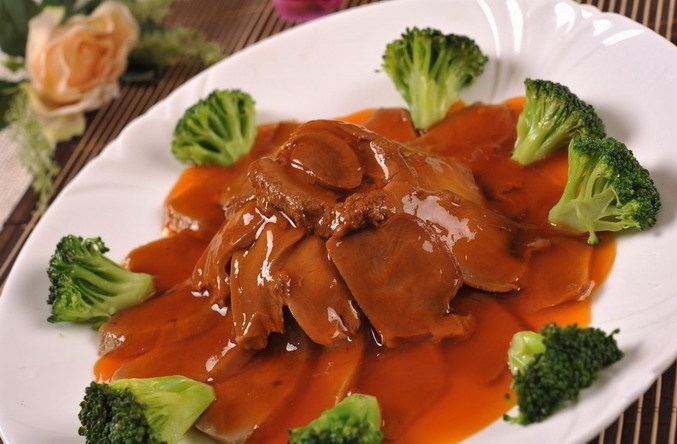 Anhui is quite diverse topographically. The north of the province is part of the North China Plain while the north-central areas are part of the Huai River watershed. Both of these regions are very flat and densely populated. The land becomes more uneven further south, with the Dabie Mountains occupying much of southwestern Anhui and a series of hills and ranges cutting through southeastern Anhui. The Yangtze River finds its way through south Anhui in between these two mountainous regions. The highest peak in Anhui is Lotus Peak, part of Huangshan in southeastern Anhui. It has an altitude of 1873 m.
Major rivers include the Huai River in the north and the Yangtze in the south. The largest lake is Lake Chaohu situated in the center of the province, with an area of about 800 km2 (310 sq mi). The southeastern part of the province near the Yangtze River has many lakes as well.
As with topography, the province differs in climate from north to south. The north is more temperate and has more clearcut seasons. January temperatures average at around -1 to 2 °C north of the Huai River, and 0 to 3 °C south of the Huai River; in July temperatures average 27 °C or above. Plum rains occur in June and July and may cause flooding.
Major cities:
Administrative divisions
Anhui is divided into sixteen prefecture-level divisions: all prefecture-level cities:
The sixteen prefecture-level divisions of Anhui are subdivided into 105 county-level divisions (44 districts, 6 county-level cities, and 55 counties). Those are in turn divided into 1,845 township-level divisions (972 towns, 634 townships, nine ethnic townships, and 230 subdistricts).
Politics
The Politics of Anhui Province is structured in a dual party-government system like all other governing institutions in mainland China.
The Governor of Anhui (安徽省省长) is the highest-ranking official in the People's Government of Anhui. However, in the province's dual party-government governing system, the Governor has less power than the Anhui Communist Party of China Provincial Committee Secretary (安徽省委书记), colloquially termed the "Anhui Party Chief".
Economy
Agriculture in Anhui varies according to the climate zones that the province crosses. To the north of the Huai River, wheat and sweet potatoes are grown, while to the south of the Huai River it is rice and wheat instead.
Natural resources of Anhui include iron in Ma'anshan, coal in Huainan, and copper in Tongling. There are industries related to these natural resources (e.g. steel industry at Ma'anshan). One of the famous Anhui-based corporations is the automobile company Chery, which is based in Wuhu.
Compared to its more prosperous neighbours to the east, Zhejiang and Jiangsu, Anhui has lagged markedly behind in economic development, with a GDP per capita around one third the level of those two provinces. There is great regional disparity as well, and most of the wealth is concentrated in industrial regions close to the Yangtze River, such as Hefei, Wuhu, and Ma'anshan.
Anhui's nominal GDP for 2011 was approximately 1.51 trillion yuan (US$239.8 billion), up 12.9% from 2008 and a per capita of 16,391 yuan (US$2,400). It is considered a mid-size economy in terms of economic output. Anhui's GDP is largely driven by fixed-asset investment, and the province's GDP to FAI ratio as of 2009 was 0.89, the highest in China.
Anhui's largest companies include Anhui Conch Cement Company, a producer and distributor of cement, Guoyang Securities Co (SHE: 000728), a financial services provider, and Ma'anshan Iron & Steel, a producer of steel and iron.
Hefei Economic and Technological Development Zone
Hefei Economic and Technological Development Zone is located in the southwest of Hefei. The zone is divided into two functional areas. The east part is allocated for manufacturing purpose and it also has two parks; the west part is where the business center, Hefei university town, and the international community center are located. It is established in 1993, and it is located close to Hefei Luogang International Airport.
Hefei Hi-Tech Industrial Development Zone
Hefei Hi-Tech Industrial Development Zone was founded in October 1990 and approved by the State Council as a state-level Development Zone in March 1991. In 1997, the Development Zone was ratified as an APEC Science and Technology Industrial Park, with special open policies to APEC and EU members. Hefei High Tech Park was also approved as a National High Tech Export Base in 2000 and obtained the award of an Advanced High Tech Zone under the Torch Program in 2003. So far, more than 100 hi-tech enterprises have entered the zone. Industries encouraged in the zone include Chemicals Production and Processing, Electronics Assembly & Manufacturing, Heavy Industry, Instruments & Industrial Equipment Production, Medical Equipment and Supplies, Research and Development, Telecommunications Equipment.
Wuhu Economic and Technological Development Zone
Established in 1993, Wuhu Economic & Technological Development Zone is the first state-level development zone approved by central government in Anhui Province. As the hub in the west of the Yangtze Delta, it is an ideal place for business in Central China and East China such as manufacturing place or logistic center due to great transportation advantage. Wuhu port is the last fine deepwater port here going against the Yangtse River. It is the main foreign trade base and overseas transportation center. It takes 1 hour from Wuhu to Nanjing Lukou International Airport and to Hefei Luogang Airport.
Wuhu Export Processing Zone
Wuhu Export Processing Zone was approved to be a national level export processing zone by State Council. Wuhu Export Processing Zone is located in the Wuhu EDZ, with a total planned area of 2.95 km2 with the first-stage are being 1.1 km2. It is located close to Wuhu Airport and Wuhu Port. Industries encouraged in the zone include Electronics Assembly & Manufacturing, Heavy Industry, Instruments & Industrial Equipment Production, Shipping/Warehousing/Logistics, Trading and Distribution.
Transportation
Historically, Anhui's transport network was hampered by the lack of bridges across the Yangtze River, which divides the province into northern and southern regions. The first bridge across the Yangtze in Anhui, the Tongling Yangtze River Bridge was completed in 1995. As of October 2014, Anhui had four bridges across the Yangtze, at Ma'anshan, Wuhu, Tongling, and Anqing.
Rail
Conventional railways in Anhui include the Beijing–Shanghai Railway, Beijing–Kowloon Railway, and Nanjing–Xi'an Railway that traverse the province north of the Yangtze River and the Nanjing−Tongling Railway, Anhui–Jiangxi Railway and Xuancheng–Hangzhou Railway that run south of the river.
High-speed lines include Beijing-Shanghai High-Speed Railway, Hefei–Wuhan Passenger Railway and Hefei–Nanjing Passenger Railway.
Demographics
Han Chinese make up the vast majority of the population. The Hui and She nationalities are the two largest minorities.
Anhui has a highly unbalanced gender ratio. According to a 2009 study published in the British Medical Journal, in the 1-4 age group, there are 138 boys for every 100 girls, making it among the most unbalanced of provinces in China.
Culture
Anhui spans many geographical and cultural regions. The northern, flatter parts of the province, along the Huai River and further north, are most akin to neighbouring provinces like Henan, Shandong and northern Jiangsu. In contrast, the southern, hilly parts of the province are more similar in culture and dialect to other southern, hilly provinces, like Zhejiang and Jiangxi.
Mandarin dialects are spoken over the northern and central parts of the province, north of the Yangzi river. Dialects to the north (e.g. Bengbu dialect) are classified as Zhongyuan Mandarin, together with dialects in provinces such as Henan and Shandong; dialects in the central parts (e.g. Hefei dialect) are classified as Jianghuai Mandarin, together with dialects in the central parts of neighbouring Jiangsu province. Non-Mandarin dialects are spoken to the south of the Yangzi: dialects of Wu are spoken in Xuancheng prefecture-level city, though these are rapidly being replaced by Jianghuai Mandarin; dialects of Gan are spoken in a few counties in the southwest bordering Jiangxi province; and the Huizhou dialects are spoken in about ten counties in the far south, a small but highly diverse and unique group of Chinese dialects.
Huangmeixi, which originated in the environs of Anqing in southwestern Anhui, is a form of traditional Chinese opera popular across China. Huiju, a form of traditional opera originating in the Huizhou-speaking areas of southern Anhui, is one of the major precursors of Beijing Opera; in the 1950s, Huiju (which had disappeared) was revived. Luju is a type of traditional opera found across central Anhui, from east to west.
Anhui cuisine is one of the eight great traditions of Chinese cuisine. Combining elements of cooking from northern Anhui, south-central Anhui, and the Huizhou-speaking areas of southern Anhui, Anhui cuisine is known for its use of wild game and herbs, both land and sea, and comparatively simple methods of preparation.
Anhui has a high concentration of traditional products related to calligraphy: Xuanzhou (today Xuancheng) and Huizhou (today Huangshan City) are revered for producing Xuan Paper and Hui Ink, respectively, which are traditionally considered the best types of paper and ink for Chinese calligraphy. She County is famous for the She Inkstone, one of the most preferred types of inkstones (a required tool in traditional calligraphy).
Religion
The predominant religions in Anhui are Chinese folk religions, Taoist traditions and Chinese Buddhism. According to surveys conducted in 2007 and 2009, 4.64% of the population believes and is involved in ancestor veneration, while 5.30% of the population identifies as Christian. According to a 2010 survey, Muslims constitute 0.58% of the population of Anhui .
The reports didn't give figures for other types of religion; 89.48% of the population may be either irreligious or involved in worship of nature deities, Buddhism, Confucianism, Taoism and folk religious sects.
Tourism
Anhui's principal tourism sites include the following:
Ancient Villages in Southern Anhui - Xidi and Hongcun (World Heritage Site).
Chao Lake
Jing Ting Mountain
Mount Huangshan (World Heritage Site)
Mount Jiuhua
Mount Langya
Mount Qiyun
Mount Tianzhu
Old Town of Tunxi
Taiji Cave, the longest karst cave in East China.
Zhenfeng Pagoda, a Ming Dynasty pagoda in Anqing City.
Zuiweng Pavilion, named after the poet Ouyang Xiu (1007−1072 CE).
Development
In 2008, France helped the Anhui Provincial Tourism Bureau develop a rural tourism demonstration project.
Notable people
Gao Yao (皋陶) (lived in the 21st century BC), political advisor of the Yu the Great.
Guan Zhong (管仲) (720-645 BC), Prime Minister of Duke Huan of Qi.
Zhuang Zi (庄子) (369-286 BC), philosopher of Taoism.
Fan Zeng (范增) (277-204 BC), advisor to Xiang Yu.
Zhang Liang (张良) (262–189 BC), strategist and statesman of the early Han dynasty.
Liu An (刘安) (179-122 BC), King of Huainan.
Hua Tuo (华陀) (140-208), physician.
Cao Cao (曹操) (155-220), warlord and the penultimate chancellor of the Eastern Han dynasty.
Cao Pi (曹丕) (187-226), Emperor Wen of Wei, first emperor of the state of Cao Wei.
The Three Kingdoms era Cao Wei generals Cao Ren (曹仁), Cao Hong (曹洪), Xiahou Dun (夏侯惇), Xiahou Yuan (夏侯渊), Cao Zhen (曹真).
The Three Kingdoms era Sun Wu generals Zhou Yu (周瑜), Lu Su (鲁肃), Lü Meng (吕蒙).
Ji Kang (嵇康) (223–262), musician, author, poet.
Huan Wen (桓温) (312–373), general of the Jin Dynasty.
Huan Xuan (桓玄) (369–404), founder of the state of Huan Chu.
Zhu Wen(朱温) (852–912), founder of Later Liang.
Yang Xingmi (杨行密) (852–905), founder of the state of Wu (Ten Kingdoms).
Bao Zheng (包拯) (999–1062),a famous upright official of Northern Song dynasty.
Li Gonglin (李公麟) (1049–1106), painter.
Zhu Xi (朱熹) (1130–1200), philosopher of Neo-Confucianism.
Zhu Yuanzhang (朱元璋) (1328–1398), Hongwu Emperor, founder and first emperor of the Ming dynasty.
The Ming dynasty generals Xu Da (徐达), Chang Yuchun (常遇春), Tang He (汤和), Mu Ying (沐英).
Hong Ren (弘仁), painter.
Zhang Tingyu (张廷玉), politician and historian of Qing dynasty.
Yao Nai (姚鼐), main figure of Tongcheng School of Qing dynasty.
Wu Jingzi (吴敬梓) (1701—1754), novelist.
Dai Zhen (戴震) (1724–1777), a notable scholar.
Cheng Changgeng (程长庚) (1811-1880), one of the founders of Beijing opera.
Li Hongzhang (李鸿章) (1823–1901), leading statesman of the late Qing Empire.
Liu Mingchuan (刘铭传) (1836–1896), first governor of the province of Taiwan.
Jeme Tien Yow (詹天佑) (1861–1919), famous Chinese railroad engineer.
Duan Qirui (段祺瑞) (1865–1936), warlord and politician, commander in the Beiyang Army.
Bai Wenwei (柏文尉) (1876–1947), scholar, Kuomintang (KMT) General, Governor of Anhui (1912–13)
Feng Yuxiang (冯玉祥) (1882–1948), warlord and leader in Republican China.
Hu Shih (胡适) (1891–1962), philosopher, essayist and diplomat.
Zhang Zhizhong (张治中) (1895–1969), Kuomintang (KMT) General.
Wei Lihuang (卫立煌) (1897–1960), Kuomintang (KMT) General.
Sun Li-jen (孙立人) (1900–1990), Kuomintang (KMT) General.
Tao Xingzhi (陶行知) (1891–1946), a renowned Chinese educator and reformer.
Chen Duxiu (陈独秀) (1879–1942), co-founder of the Chinese Communist Party.
Wang Ming (王明) (1904–1974), senior leader of the early Chinese Communist Party.
Wang Jiaxiang (王稼祥) (1906–1974), one of the senior leaders of the early Communist Party of China.
Li Kenong (李克农) (1899–1962), a major figure of Chinese Communist intelligence.
Ke Qingshi (柯庆施) (1902–1965)
Zhu Guangqian (朱光潜), founder of the study of aesthetics in 20th-century China.
Zhao Puchu (赵朴初) (1907–2000), religious and public leader.
Yu Ying-shih (余英时), Chinese American historian.
Yan Fengying (严凤英), performing artist of Huangmei opera.
Huang Binhong (黄宾虹), painter.
Wu Zuoren (吴作人), painter.
Deng Jiaxian (邓稼先), leading organizer and key contributor to the Chinese nuclear weapon programs.
Chen Ning Yang (杨振宁), Chinese-American physicist who won the 1957 Nobel prize in physics.
Xu Haifeng (许海峰), first person to win a gold medal for China in the Olympic Games.
Jin Jing
Hu Jintao (胡锦涛), former General Secretary of the Communist Party of China, President of the People's Republic of China
Li Keqiang (李克强)
Zhao Wei (赵薇) actress, pop singer, and film director.
Deng Linlin (邓琳琳), Olympic gold medal winning gymnast.
Wu Zuxiang (吴组缃), novelist and 北大 professor of premodern Chinese fiction.
Colleges, universities and research institutions
Anhui Agricultural University, in Hefei
Anhui Medical University
Anhui Normal University, in Wuhu
Anhui University, in Hefei
Anhui University of Finance and Economics, in Bengbu
Anhui University of Technology, in Ma'anshan
Anhui University of Technology and Science, in Wuhu City
Anhui University of Traditional Chinese Medicine
Anhui University of Science & Technology, in Huainan
Anqing Teachers College, in Anqing
Fuyang Teachers College, in Fuyang
Hefei Normal University, in Hefei
Hefei University of Technology
University of Science & Technology of China, located in the Southwest part of Hefei
Wannan Medical College, in Wuhu City
Hefei Institutes of Physical Science, Chinese Academy of Sciences in Hefei
Hydromechanical deep drawing dies stainless steel food bowl deep drawing hydraulic press from mvd
References
Anhui Wikipedia
(Text) CC BY-SA