China




Anhui




Fuyang Teachers College


9,775 km2


Yu Yong (??)



Fuyang (simplified Chinese: ; traditional Chinese: ; pinyin: ) is a prefecture-level city in northwestern Anhui province, Peoples Republic of China. It borders Bozhou to the northeast, Huainan to the southeast, Luan to the south, and the province of Henan on all other sides.
Its population was 7,599,913 inhabitants at the 2010 census whom 1,768,947 lived in the built-up (or metro) area made of 3 urban districts Yingzhou, Yingdong and Yingquan.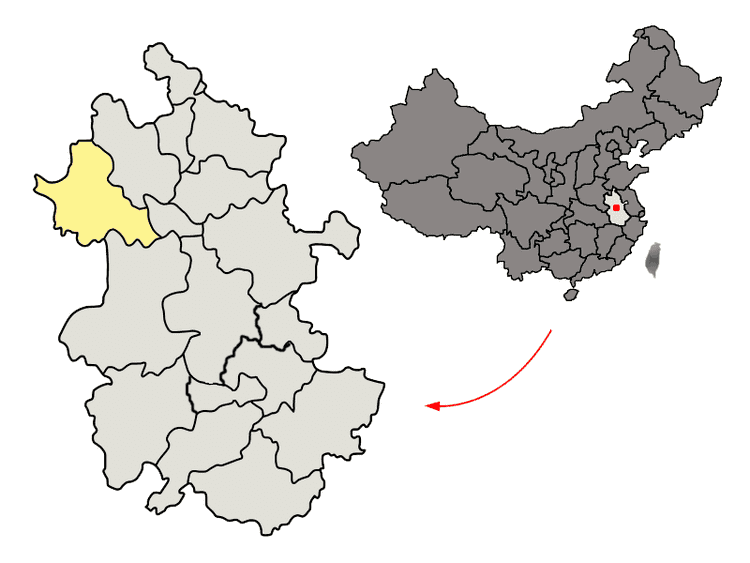 Starting with the Qin dynasty, the region now called Fuyang was deemed Ruyin (??). Ruyin was classified as part of the ancient province of Yuzhou. In the early Han Dynasty, Ruyin was ruled by Xiahou Ying (d. 172 BCE), who fought alongside Liu Bang against the warlord Xiang Yu, in the Chu–Han Contention (206–202 BC), and helped Liu Bang establish the Han dynasty. Following the establishment of the Han dynasty, the title conferred upon Xiahou Ying was "Lord of Ruyin" (???). The second Lord of Ruyin was Xiahou Yings son, Xiahou Zao (d. 165 BCE), whose tomb was later rediscovered in Fuyang in the 1970s.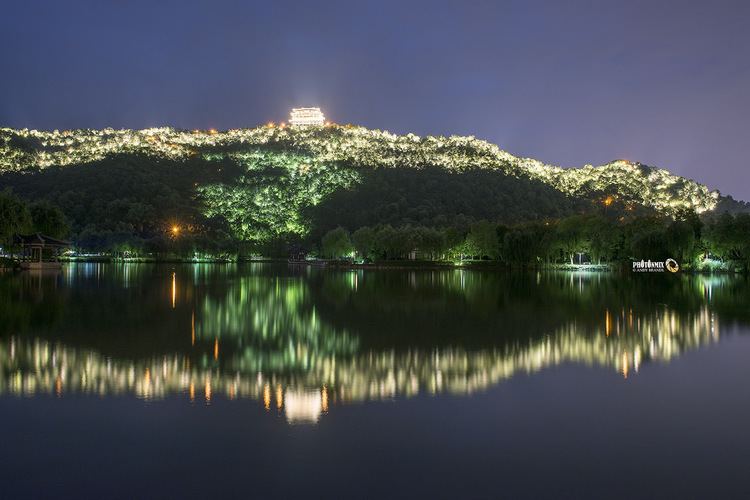 The most notable local dish in Fuyang is Ge La Tiao (???), a spicy noodle dish made with thick noodles mixed with sesame sauce, coriander, garlic, chili oil, and other ingredients. Many people native to Fuyang enjoy this dish, but some people who come to Fuyang from other areas may dislike it and find it difficult to digest.
Other notable local dishes include:
Taihe Yangrou Banmian (??????): a very common noodle dish served in Fuyang. This dish includes wide, flat noodles, along with Chinese cabbage, lamb, and red chili peppers.
Fen Ji (??): a chicken soup made with cellophane noodles, breaded chicken, quail eggs, dasheen powder, and other seasonings.
Zhen Tou Mo (???): a type of large steamed bread, which is often compared in size and shape to a pillow.
Tian San Juan Mo (????): a type of pancake wrapped in the shape of a cone, stuffed with bean sprouts, tofu, and other ingredients, with sauce on top.
The most common type of Chinese tea in Fuyang is Huangshan Maofeng, followed by other teas such as Luan Guapian, Keemun black tea (Qimen Hongcha), and Taiping Houkui. Teas from outside the region are also popular, such as Tieguanyin and Longjing.
Fuyang Wikipedia
(,)http://upload.wikimedia.org/wikipedia/commons/5/5d/Location_of_Fuyang_Prefecture_within_Anhui_(China).png(,)http://www.hangzhou.gov.cn/upload/20091030/20091030_1256891893699.jpg(,)http://inapcache.boston.com/universal/site_graphics/blogs/bigpicture/chinapollution_012513/bp1.jpg(,)http://engfile.ah.gov.cn/20150323/20150323171743441_CAeyxSxE.jpg(,)http://www.mildchina.com/travelimage/longmen-ancient-town.jpg(,)http://upload.wikimedia.org/wikipedia/commons/thumb/4/4a/CMOC_Treasures_of_Ancient_China_exhibit_-_jade_disk.jpg/1280px-CMOC_Treasures_of_Ancient_China_exhibit_-_jade_disk.jpg
(,)http://www.whatsonningbo.com/travel_images/935eb450bfc0eca3_05.jpg(,)http://taipeitravel.net:8080/d_upload_ttn/sceneadmin/image/A0/B0/C0/D26/E917/F371/c35e8926-2072-423c-a17b-6f878b32baa9.png(,)http://listings.echinacities.com/upload/listings/2013/12/07/4162126563.jpg
(,)https://c2.staticflickr.com/4/3892/14201493379_239f471506_b.jpg(,)http://www.travelchina.gov.cn/picture/0/1501081254021014574.jpg(,)http://pic.anhuinews.com/0/03/63/99/3639958_358447.jpg(,)http://www.chinatoday.com/gov/government_buildings/government_buildings_china/yingquan_district_gov_building_fuyang_anhui.jpg(,)http://www.travelchina.gov.cn/tirms/thumImgDir/7b56a08210c94ad595a52897a47debc1.jpg(,)http://pic.anhuinews.com/0/01/72/49/1724995_992926.jpg(,)http://payload29.cargocollective.com/1/6/207451/2880898/_1320378354_r67296.jpg(,)http://payload29.cargocollective.com/1/6/207451/2880898/_1320378369_jluqli.jpg(,)http://image.made-in-china.com/6f3j00uMeTmzsGHUqW/culture-of-office.jpg(,)http://www.fysksp.com/images/con1.jpg(,)http://arts.cultural-china.com/chinaWH/upload/upfiles/2010-07/14/wenfeng_pagoda_in_fuyang_city31067f0ded42ed72a09c.jpg(,)http://arts.cultural-china.com/chinaWH/upload/upfiles/2010-07/14/wenfeng_pagoda_in_fuyang_city162b2f53e04a6c922453.jpg(,)https://c2.staticflickr.com/4/3859/14307747757_168272bd98.jpg