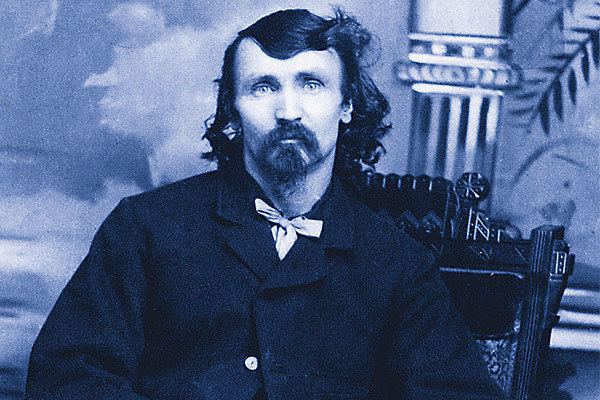 Alferd Griner Packer was born January 21, 1842, in Allegheny County, Pennsylvania, one of three children of James Packer and his wife Esther Griner. By the early 1850s, James Packer had moved his family to LaGrange County, Indiana, where he worked as a cabinet maker.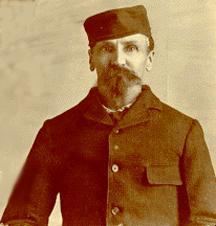 Alfred Packer served in the Union Army in the American Civil War. Upon enlisting, on April 22, 1862 at Winona, Minnesota in Company F, 16th U. S. Infantry Regiment, he gave his occupation as a shoemaker. He was honorably discharged due to epilepsy eight months later, at Fort Ontario, New York. He moved south and on June 25, 1863, enlisted in Company L, 8th Iowa Cavalry Regiment at Ottumwa, Iowa; however, he was discharged at Cleveland, Tennessee on April 22, 1864, for the same reason. He then traveled to the Rocky Mountains and worked at mining related jobs for nine years.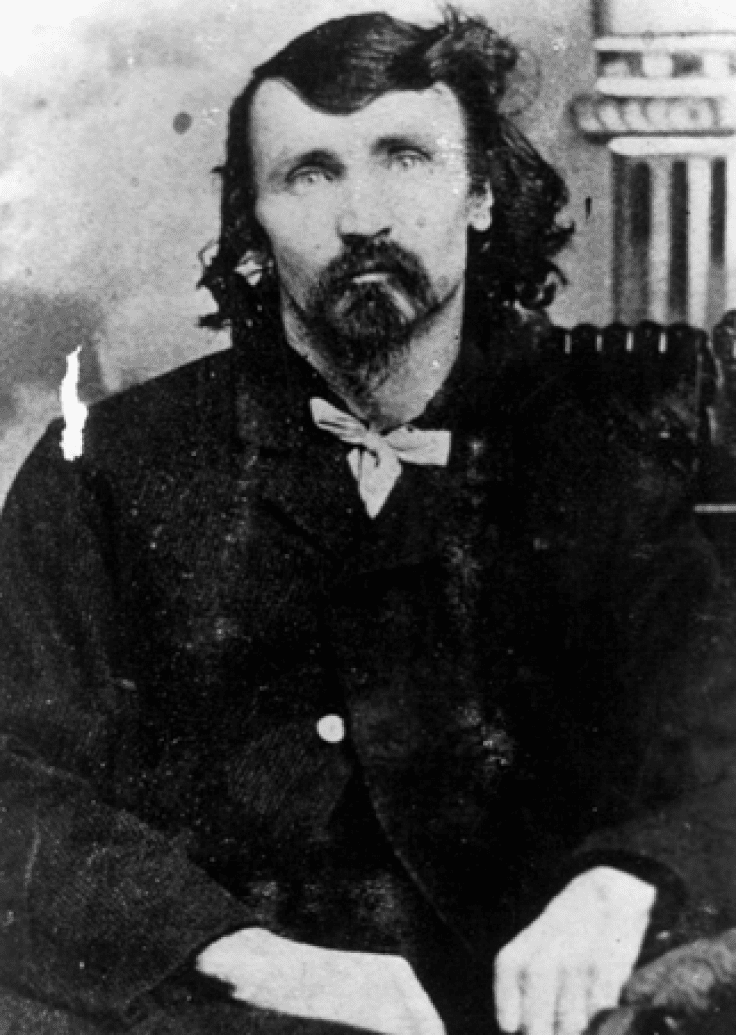 In November 1873, Packer joined Bob McGrue's party of 21 men, who left Provo, Utah for the gold country around Breckenridge, Colorado. On January 21, 1874, the party met Chief Ouray, known as the White Man's Friend, near Montrose, Colorado. Chief Ouray recommended they postpone their expedition until spring, since they were likely to encounter dangerous winter weather in the mountains. Ouray kindly offered to allow the men to stay with his tribe until the winter had passed.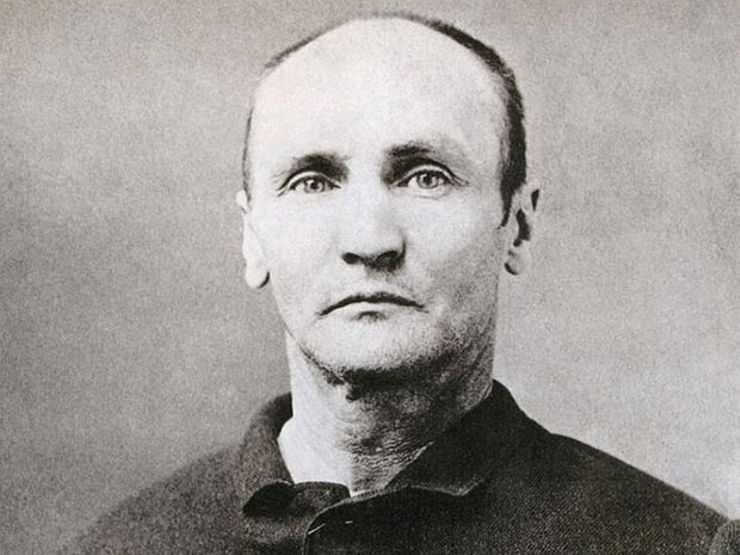 Some men in the party became restless, and decided to ignore Ouray's advice and attempt to find the government cattle camp near the Los Pinos Indian Agency. O.D. Loutsenheiser and three other men left first; Packer attempted to follow them, but Loutsenheiser pointed a revolver at Packer and told him that "if [he] saw him after [they] passed the point of the mountain there would be trouble." Packer returned to the camp. The following week, on February 9, Packer and five others left for the Los Pinos Indian Agency. Besides Packer, the group comprised Shannon Wilson Bell, James Humphrey, Frank "Reddy" Miller, George "California" Noon, and Israel Swan. The leader of the outfit, Bob McGrue, guided Packer's party until his horses could not continue. McGrue unloaded the men's provisions and went back to Ouray's camp. What happened after this is not clear.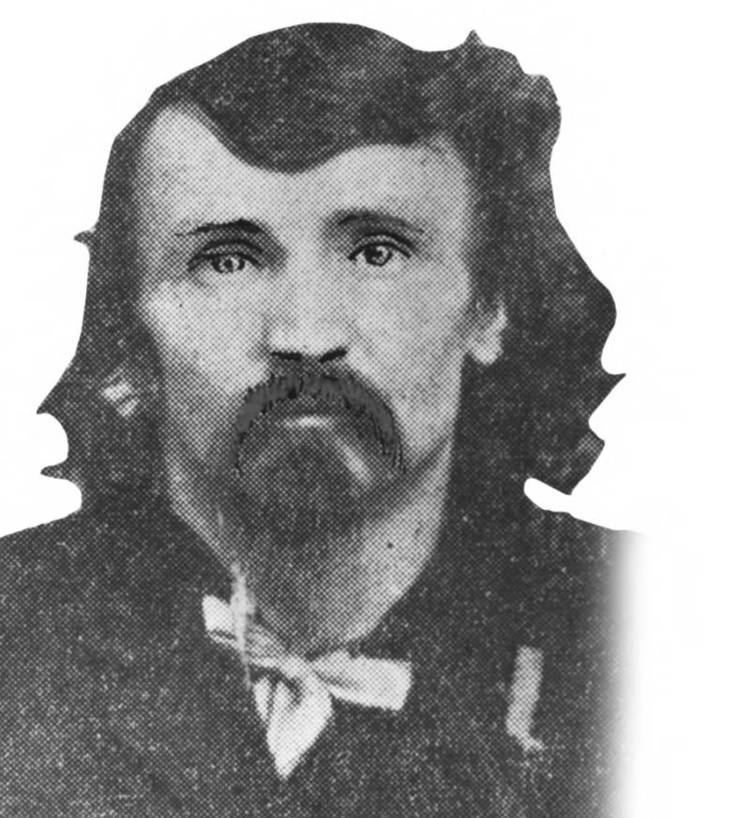 On April 16, 1874, Packer arrived at the Los Pinos Indian Agency near Gunnison. When Preston Nutter, a member of McGrue's original group, asked Packer what happened to the rest of his party, Packer claimed that he had "got his feet wet and frozen", and the others had abandoned him. Packer claimed he was broke and sold the Winchester rifle he had in his possession to Major Downer, the justice of the peace, for $10. After a short stay at the Agency, Packer said he wanted to return to Pennsylvania, and accompanied Nutter and two other members of McGrue's original group to Saguache, where he could buy supplies. During the course of this journey, Nutter saw that Packer had in his possession a skinning knife that had belonged to Frank "Reddy" Miller and began to have doubts about Packer's story.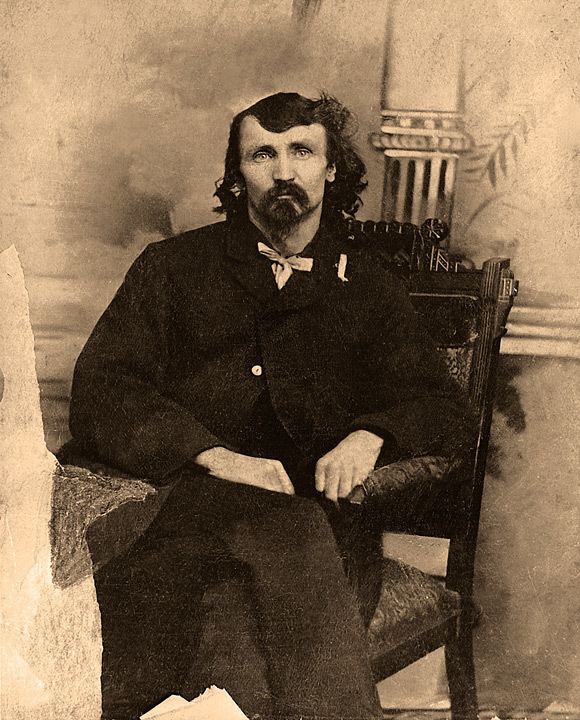 When the party reached Saguache, Colorado, Packer made arrangements to room in Dolan's Saloon. Larry Dolan, the owner, claimed that Packer spent around $100 during his stay, and that Packer even offered to lend him $300. Packer also spent $78 in Otto Mears' general store. Nutter and other members of McGrue's original party became very suspicious of Packer and threatened to hang him. General Adams, head of the Los Pinos Indian Agency, stepped in just in time to save Packer.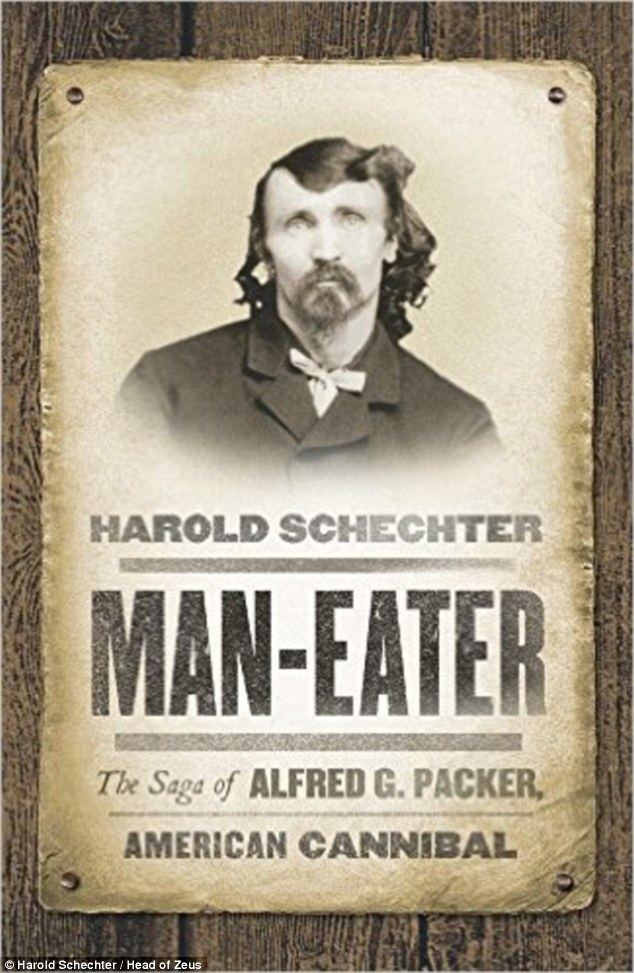 After being interrogated by General Adams, Packer signed his first confession:
General Adams believed that if Packer were telling the truth, he would have no problem leading a party of men to the original campsite; the physical evidence would either prove or disprove Packer's story. Packer originally consented to lead the party, but after claiming to be lost and rushing at Constable Herman Lauter with a knife, he was jailed in Saguache. The jail at that time was little more than a log cabin, and after being passed a makeshift key for his irons and given some supplies, Packer easily escaped.
On March 11, 1883, Packer was discovered in Cheyenne, Wyoming living under the alias of "John Schwartze" by Jean "Frenchy" Cabazon, one of the original members of the Utah mining party who stayed in Chief Ouray's camp in the winter of 1874. Cabazon reported Packer to the local sheriff, who apprehended him and contacted General Adams. . Adams persuaded Packer to make his second confession, which he signed on March 16. Instead of claiming that the men gradually killed each other to survive, Packer now claimed that Shannon Bell had killed the others while Packer was out scouting. On April 6, a trial began in Lake City, Colorado, and seven days later Packer was found guilty of premeditated murder and sentenced to death by hanging. According to a local newspaper, the presiding judge, M. B. Gerry, said:
Court records, however, reveal that Judge Gerry's prose was much more educated:
In October 1885, the sentence was reversed by the Colorado Supreme Court as being based on an ex post facto law. On June 8, 1886, Packer was convicted of five counts of manslaughter and sentenced to 40 years (8 years for each count) at another trial in Gunnison. At the time, this was the longest custodial sentence in U.S. history.
On June 19, 1899, Packer's sentence was upheld by the Colorado Supreme Court. However, he was paroled on February 8, 1901. After his parole, Packer went to work as a guard at the Denver Post. He died in Deer Creek, in Jefferson County, Colorado, reputedly of "Dementia - trouble & worry" at the age of 65. Packer is widely rumored to have become a vegetarian before his death. He was buried in Littleton, Colorado. His grave is marked with a veteran's tombstone listing his original regiment in 1862.
On July 17, 1989, 115 years after Packer allegedly consumed his companions, an exhumation of the five bodies was undertaken by James E. Starrs, then a professor of law specializing in forensic science at George Washington University. Following an exhaustive search for the precise location of the remains at Cannibal Plateau in Lake City, Colorado, Starrs and his colleague Walter H. Birkby concluded, "I don't think there will ever be any way to scientifically demonstrate cannibalism. Cannibalism per se is the ingestion of human flesh. So you'd have to have a picture of the guy actually eating."
In 1994, David P. Bailey, Curator of History at the Museum of Western Colorado, undertook an investigation to turn up more conclusive results than Starrs'. In the Audrey Thrailkill collection of firearms owned by the museum was a Colt revolver that had reportedly been found at the site of Packer's alleged crime. Exhaustive investigation into the pistol's background turned up documents from the time of the trial: "A Civil War veteran that visited the crime scene stated that Shannon Bell had been shot twice and the other victims were killed with a hatchet. Upon careful study of Bell, he noticed a severe bullet wound to the pelvic area and that Bell's wallet had a bullet hole through it." This seems to corroborate Packer's claim that Bell had killed the other victims and that Packer shot Bell in self-defense.
By 2000, Bailey had not yet proven a link between the antique pistol and Alferd Packer, but he discovered that forensic samples from the 1989 exhumation had been archived, and analysis in 2001 with an electron microscope by Dr. Richard Dujay at Mesa State College found microscopic lead fragments in the soil taken from under Shannon Bell's remains that were matched by spectrograph with the bullets remaining in what was indeed Packer's pistol. While it appears certain that Bell was killed by a gunshot, the question of whether or not it was murder remains unanswered.
In Bud Grace' comic strip, The Piranha Club, one of the madcap denizens of Bayonne, New Jersey, is an old lady named "Alferda Packer, consumer advocate" who wages a humorously violent Carrie Nation-style crusade against unscrupulous business practices. One of her most frequent targets is her own son-in-law Dr. Enos Pork, a quack surgeon who bilks outrageous prices from his patients for the malpractice he performs on them.
In 1968, students at the University of Colorado Boulder named their new cafeteria grill the "Alferd G. Packer Memorial Grill", with the slogan, "Have a friend for lunch!" Students can order an "El Canibal" beefburger, and on the wall is a giant map outlining Packer's travels through Colorado. It has since been renamed the Alferd Packer Restaurant & Grill.
In 1977, the US Secretary of Agriculture, Bob Bergland, attempted to terminate a contract for the department's cafeteria food service but was prevented by the General Services Administration (GSA). To embarrass the GSA, Bergland and his employees convened a press conference on 10 August 1977 to unveil a plaque naming the executive cafeteria "The Alferd Packer Memorial Grill", announcing that Packer's life exemplified the spirit and fare of the cafeteria and would "serve all mankind". The event was covered on ABC-TV Evening News by Barbara Walters. The stratagem succeeded, and the contracts were terminated soon thereafter. Magnanimous in victory, Bergland yielded to the bureaucratic objection that the plaque lacked official GSA authorization and removed it. The plaque is currently displayed on the wall of the National Press Club's The Reliable Source members-only bar. It doubles as a memorial to Stanley Weston (1931–84), a man who worked at the USDA. The Press Club's hamburger is called the "Alferd Packer Burger".
The annual Philadelphia Folk Festival features a dining tent emblazoned with the tongue-in-cheek moniker: "The Alfred E. Packer Memorial Dining Hall...serving humanity since 1874".
University of Colorado students Trey Parker and Matt Stone, co-creators of South Park, made a film called Cannibal! The Musical (1993), based loosely on Packer's life, with Parker billed as "Juan Schwartz" (a variation of Packer's "John Schwartze"). The film was released commercially in 1996 by Troma Entertainment and produced as a stage play, titled Alferd Packer: The Musical, initially by Dad's Garage Theatre Company and by several other theatre companies since. Lesser known film adaptions include The Legend of Alfred Packer (1980) and the horror film, Devoured: The Legend of Alferd Packer (2005).
The 1999 Czech-American horror movie Ravenous is loosely based on the story of Alferd Packer.
Folk singer Phil Ochs wrote the song "The Ballad of Alferd Packer" (1964), documenting the events of the expedition and its aftermath. Ochs' use of humor in the song is typical of the seemingly light-hearted ongoing attitude regarding Packer and his alleged crimes. Although the track never appeared on any of Ochs' studio or live album releases, it has appeared on several compilations issued since his death in 1976, most recently on the On My Way (2010) compilation of demos from 1963.
Country artist C.W. McCall (of "Convoy" fame) recorded a track on his album The Real McCall titled "Coming Back for More" (1990), which revived the legend and implied that Packer's ghost still haunts Lake City.
The American death metal band Cannibal Corpse dedicated their debut album, Eaten Back to Life (1990), to Packer. The following statement can be found in the inlay of this album: "This album is dedicated to the memory of Alfred Packer, the first American cannibal (R.I.P.)"
Macabre, the self-proclaimed Murder-Metal band from Chicago, released a song about Packer's trek for gold called "In the Mountains" from their Macabre Minstrels: Morbid Campfire Songs(2002) album.