Occupation

Actor, director




Years active

1978–present






Full Name

Alan Sidney Patrick Rickman

Siblings

David Rickman, Michael Rickman, Sheila Rickman

Movies




Similar

Rima Horton, Tom Felton, Robbie Coltrane
Alan Rickman Interview | MTV News
Alan Sidney Patrick Rickman (21 February 1946 – 14 January 2016) was an English actor and director known for playing a variety of roles on stage and on screen. Rickman trained at the Royal Academy of Dramatic Art in London, and was a member of the Royal Shakespeare Company, performing in modern and classical theatre productions. His first big television part came in 1982, but his big break was as the Vicomte de Valmont in the stage production of Les Liaisons Dangereuses in 1985, for which he was nominated for a Tony Award. Rickman gained wider notice for his film performances as Hans Gruber in Die Hard and Severus Snape in the Harry Potter film series.
Contents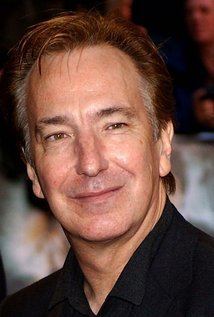 Rickman's other film roles included the Sheriff of Nottingham in Robin Hood: Prince of Thieves, for which he received the BAFTA Award for Best Actor in a Supporting Role, Jamie in Truly, Madly, Deeply, Colonel Brandon in Ang Lee's Sense and Sensibility, the title character in Rasputin: Dark Servant of Destiny, which won him a Golden Globe, an Emmy and a Screen Actors Guild Award, Harry in Love Actually, P. L. O'Hara in An Awfully Big Adventure, Dr. Alfred Blalock in the Emmy-winning HBO film Something the Lord Made, Alexander Dane in Galaxy Quest, and Judge Turpin in the film adaptation of Stephen Sondheim's musical of Sweeney Todd: The Demon Barber of Fleet Street.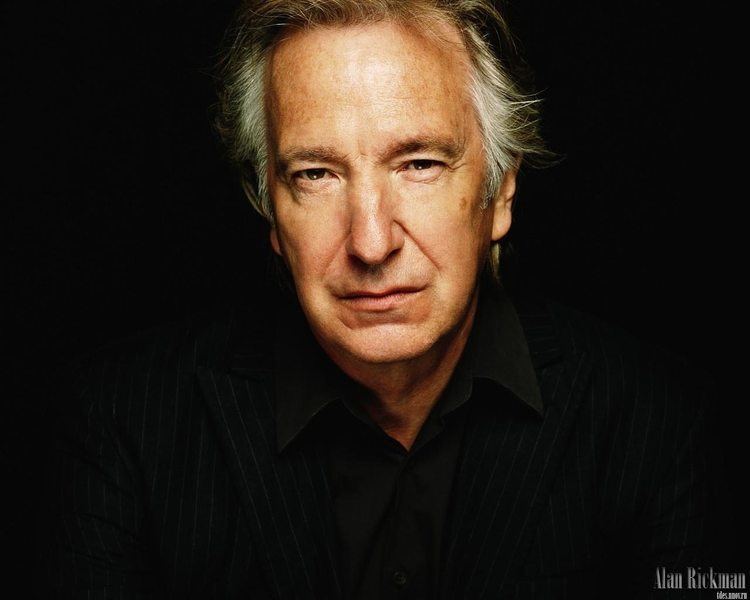 Rickman died of cancer on 14 January 2016 at the age of 69. His final film roles are as Lieutenant General Frank Benson in the thriller Eye in the Sky, and the voice of Absolem, the caterpillar in Alice Through the Looking Glass.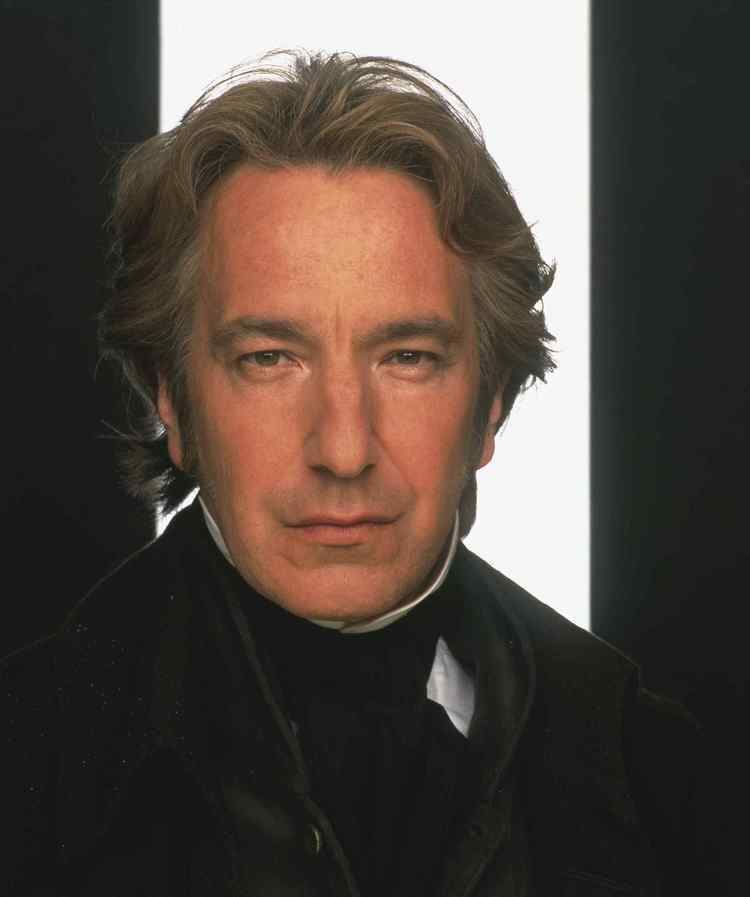 Alan rickman charlie rose interview 28 2 12
Early life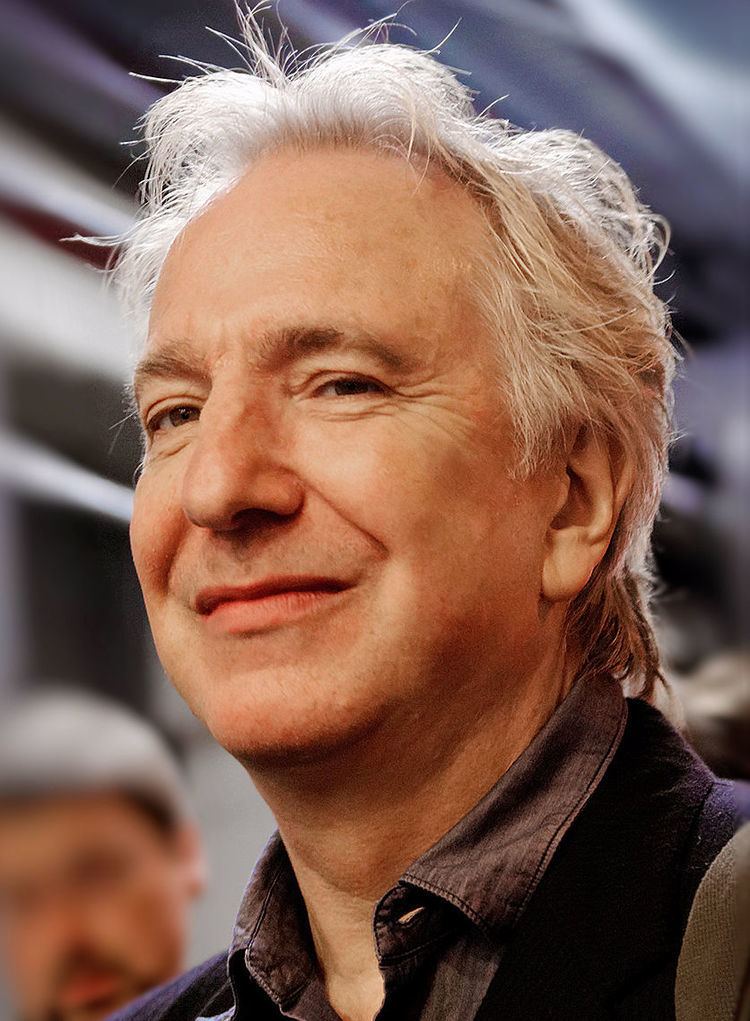 Rickman was born in West London on 21 February 1946, to a working-class family, the son of Margaret Doreen Rose (née Bartlett), a housewife, and Bernard William Rickman. Rickman's father was a factory worker, house painter and decorator, and former World War II aircraft fitter. His ancestry was English, Irish and Welsh; his father was Catholic and his mother a Methodist. Rickman's family also included brothers David and Michael, and sister Sheila.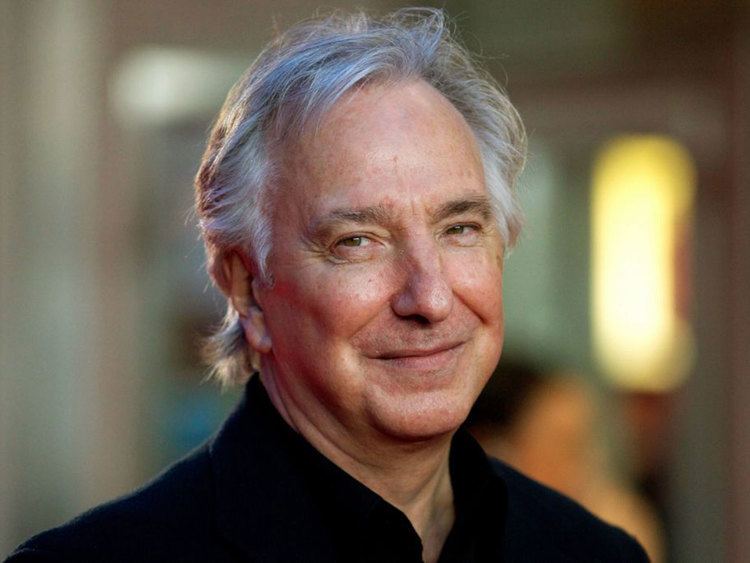 When he was eight years old, Rickman's father died of lung cancer, leaving his mother to raise him and his three siblings mostly alone. According to Paton, the family was "rehoused by the council and moved to an Acton estate to the west of Wormwood Scrubs Prison, where his mother struggled to bring up four children on her own by working for the Post Office." She married again in 1960, but divorced Rickman's stepfather after three years. Before he met Rima Horton at 19, he stated that his first crush was at 10 years old to a girl named Amanda "at sports day." As a child, he excelled at calligraphy and watercolour painting. Rickman attended Derwentwater Primary School in Acton, a school that followed the Montessori method of education, and then Latymer Upper School in London through the Direct Grant system, where he became involved in drama. After leaving Latymer, he attended Chelsea College of Art and Design and then the Royal College of Art. This education allowed him to work as a graphic designer for the Royal College of Art's in-house magazine, ARK and the Notting Hill Herald, which Rickman considered a more stable occupation than acting: "Drama school wasn't considered the sensible thing to do at 18".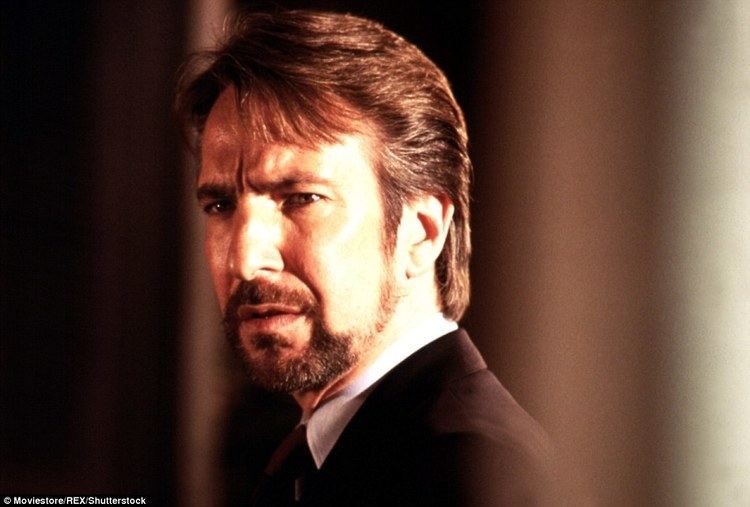 After graduation, Rickman and several friends opened a graphic design studio called Graphiti, but after three years of successful business, he decided that he was going to pursue acting professionally. He wrote to request an audition with the Royal Academy of Dramatic Art (RADA), which he attended from 1972 until 1974. While there, he supported himself by working as a dresser for Sir Nigel Hawthorne and Sir Ralph Richardson.
Career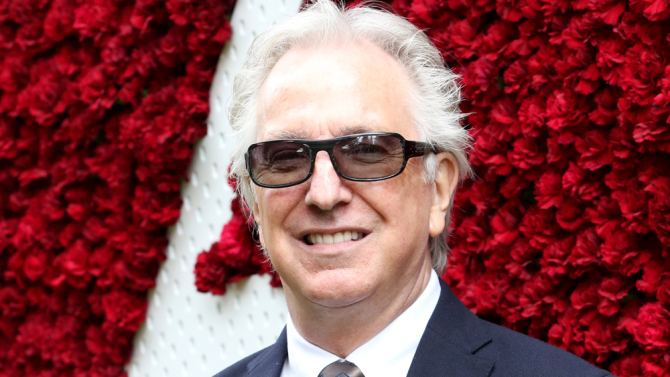 After graduating from RADA, Rickman worked extensively with British repertory and experimental theatre groups in productions including Chekhov's The Seagull and Snoo Wilson's The Grass Widow at the Royal Court Theatre, and appeared three times at the Edinburgh International Festival. In 1978, he performed with the Court Drama Group, gaining parts in Romeo and Juliet and A View from the Bridge, among other plays. While working with the Royal Shakespeare Company (RSC), he was cast in As You Like It. He appeared in The Barchester Chronicles (1982), the BBC's adaptation of Trollope's first two Barchester novels, as the Reverend Obadiah Slope.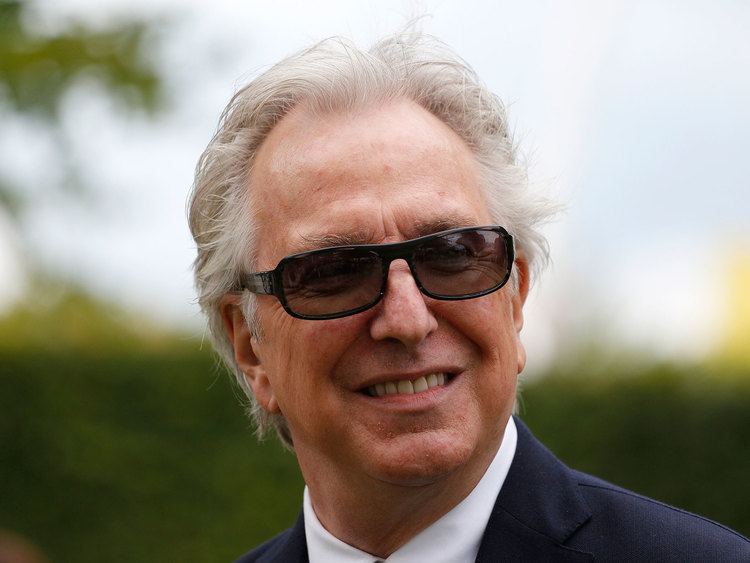 Rickman was given the male lead, the Vicomte de Valmont, in the 1985 Royal Shakespeare Company production of Christopher Hampton's adaptation of Les Liaisons Dangereuses, directed by Howard Davies. After the RSC production transferred to Broadway in 1987, Rickman received both a Tony Award nomination and a Drama Desk Award nomination for his performance.
Rickman's played a wide range of roles. He played romantic leads including Colonel Brandon in Sense and Sensibility (1995) and Jamie in Truly, Madly, Deeply (1991); numerous villains in Hollywood big-budget films, including German criminal Hans Gruber in Die Hard (1988), Australian Elliot Marston opposite Tom Selleck in Quigley Down Under (1990) and the Sheriff of Nottingham in Robin Hood: Prince of Thieves (1991); and the occasional television role such as Dr. Alfred Blalock in HBO's Something the Lord Made and the "mad monk" Rasputin in the HBO biopic Rasputin: Dark Servant of Destiny (1996), for which he won a Golden Globe and an Emmy.
Rickman's role as Hans Gruber in Die Hard earned him a spot on the AFI's 100 Years...100 Heroes & Villains list as the 46th best villain in film history, though he revealed he almost did not take the role as he did not think Die Hard was the kind of film he wanted to make. His performance as the Sheriff of Nottingham in Robin Hood: Prince of Thieves also earned him praise as one of the best actors to portray a villain in films.
Rickman took issue with being typecast as a villain, even though he was known for playing "unsympathetic characters". His portrayal of Severus Snape, the potions master in the Harry Potter series (2001–2011), was dark, but the character's motivations were not clear early on. During his career Rickman played comedic roles, including as Sir Alexander Dane/Dr. Lazarus in the science fiction parody Galaxy Quest (1999), the angel Metatron, the voice of God, in Dogma (also 1999), Emma Thompson's foolish husband Harry in the British Christmas-themed romantic comedy Love Actually (2003), providing the voice of Marvin the Paranoid Android in The Hitchhiker's Guide to the Galaxy (2005) and playing the egotistical, Nobel Prize-winning father in Nobel Son (2007).
Rickman was nominated for an Emmy for his work as Dr. Alfred Blalock in HBO's Something the Lord Made (2004). He also starred in The Independent film Snow Cake (2006) with Sigourney Weaver and Carrie-Anne Moss, and Perfume: The Story of a Murderer (also 2006), directed by Tom Tykwer. He appeared as Judge Turpin in the critically acclaimed Tim Burton film Sweeney Todd: The Demon Barber of Fleet Street (2007) alongside Harry Potter co-stars Helena Bonham Carter and Timothy Spall. He provided the voice of Absolem the Caterpillar in Burton's film Alice in Wonderland (2010).
Rickman performed onstage in Noël Coward's romantic comedy Private Lives, which transferred to Broadway after its successful run in London at the Albery Theatre and ended in September 2002; he reunited with his Les Liaisons Dangereuses co-star Lindsay Duncan and director Howard Davies in the Tony Award-winning production. Rickman's previous stage performance was in Antony and Cleopatra in 1998 as Mark Antony, with Helen Mirren as Cleopatra, in the Royal National Theatre's production at the Olivier Theatre in London, which ran from October to December 1998. Rickman appeared in Victoria Wood with All the Trimmings (2000), a Christmas special with Victoria Wood, playing an aged colonel in the battle of Waterloo who is forced to break off his engagement to Honeysuckle Weeks' character.
Rickman directed The Winter Guest at London's Almeida Theatre in 1995 and the film version of the same play, released in 1997, starring Emma Thompson and her real-life mother Phyllida Law. With Katharine Viner, he compiled the play My Name Is Rachel Corrie and directed the premiere production at the Royal Court Theatre, which opened in April 2005. He won the Theatre Goers' Choice Awards for Best Director. Rickman befriended the Corrie family and earned their trust, and the show was warmly received. But the next year, its original New York production was "postponed" over the possibility of boycotts and protests from those who saw it as "anti-Israeli agit-prop". Rickman denounced "censorship born out of fear". Tony Kushner, Harold Pinter and Vanessa Redgrave, among others, criticised the decision to indefinitely delay the show. The one-woman play was put on later that year at another theatre to mixed reviews, and has since been staged at venues around the world.
In 2009, Rickman was awarded the James Joyce Award by University College Dublin's Literary and Historical Society. In October and November 2010, Rickman starred in the eponymous role in Henrik Ibsen's John Gabriel Borkman at the Abbey Theatre, Dublin alongside Lindsay Duncan and Fiona Shaw. The Irish Independent called Rickman's performance breathtaking.
Rickman again appeared as Severus Snape in the final instalment in the Harry Potter series, Harry Potter and the Deathly Hallows – Part 2 (2011). Throughout the series, his portrayal of Snape garnered widespread critical acclaim. Kenneth Turan of the Los Angeles Times said Rickman "as always, makes the most lasting impression," while Peter Travers of Rolling Stone magazine called Rickman "sublime at giving us a glimpse at last into the secret nurturing heart that ... Snape masks with a sneer."
Media coverage characterised Rickman's performance as worthy of nomination for an Academy Award for Best Supporting Actor. His first award nominations for his role as Snape came at the 2011 Alliance of Women Film Journalists Awards, 2011 Saturn Awards, 2011 Scream Awards and 2011 St. Louis Gateway Film Critics Association Awards in the Best Supporting Actor category.
In November 2011, Rickman opened in Seminar, a new play by Theresa Rebeck, at the John Golden Theatre on Broadway. Rickman, who left the production in April, won the Broadway.com Audience Choice Award for Favorite Actor in a Play and was nominated for a Drama League Award.
Rickman starred with Colin Firth and Cameron Diaz in Gambit (2012) by Michael Hoffman, a remake of the 1966 film. In 2013, he played Hilly Kristal, the founder of the East Village punk-rock club CBGB, in the CBGB film with Rupert Grint.
In the media
Rickman was chosen by Empire as one of the 100 Sexiest Stars in film history (No. 34) in 1995 and ranked No. 59 in Empire's "The Top 100 Movie Stars of All Time" list in October 1997. In 2009 and 2010, Rickman was ranked once again as one of the 100 Sexiest Stars by Empire, both times placing No. 8 out of the 50 actors chosen. Rickman was elected to the Council of the Royal Academy of Dramatic Art (RADA) in 1993; he was subsequently RADA's vice-chairman and a member of its Artistic Advisory and Training committees and Development Board.
Rickman was voted No. 19 in Empire magazine's Greatest Living Movie Stars over the age of 50 and was twice nominated for Broadway's Tony Award as Best Actor (Play): in 1987 for Les Liaisons Dangereuses, and in 2002 for a revival of Noël Coward's Private Lives. The Guardian named Rickman as an "honourable mention" in a list of the best actors never to have received an Academy Award nomination.
Two researchers, a linguist and a sound engineer, found "the perfect [male] voice" to be a combination of Rickman's and Jeremy Irons's voices based on a sample of 50 voices.
Rickman featured in several musical works, including a song composed by Adam Leonard entitled "Not Alan Rickman". Credited as 'A Strolling Player' in the sleeve notes, the actor played a "Master of Ceremonies" part, announcing the various instruments at the end of the first part of Mike Oldfield's Tubular Bells II (1992) on the track "The Bell". Rickman was one of the many artists who recited Shakespearian sonnets on the album When Love Speaks (2002), and also featured prominently in a music video by Texas entitled "In Demand", which premiered on Europe MTV in August 2000.
Personal life
In 1965, at the age of 19, Rickman met 18-year-old Rima Horton, who became his girlfriend and would later be a Labour Party councillor on the Kensington and Chelsea London Borough Council (1986–2006) and an economics lecturer at the nearby Kingston University. In 2015, Rickman confirmed that they had married in a private ceremony in New York City in 2012. They lived together from 1977 to 2016, the year Rickman died. The two had no children.
Rickman was an active patron of the research foundation Saving Faces; and honorary president of the International Performers' Aid Trust, a charity that works to fight poverty amongst performing artists all over the world. When discussing politics, Rickman said he "was born a card-carrying member of the Labour Party".
Rickman was the godfather of fellow actor Tom Burke.
Illness and death
In August 2015, Rickman suffered a minor stroke, which led to the diagnosis of pancreatic cancer. He concealed the fact that he had terminal cancer from all but his closest confidants. On 14 January 2016, Rickman died in London at the age of 69. Soon after, his fans created a memorial underneath the "Platform 9¾" sign at London King's Cross railway station. His death has been compared to that of David Bowie, a fellow English cultural figure who died at the same age as Rickman four days earlier, also due to an existing cancer that had been kept private.
Tributes from Rickman's co-stars and contemporaries appeared on social media following the announcement; since his cancer was not publicly known, some—like Ralph Fiennes, who "cannot believe he is gone", and Jason Isaacs, who was "sidestepped by the awful news"—expressed their surprise. Harry Potter creator J. K. Rowling called Rickman "a magnificent actor and a wonderful man". Emma Watson wrote, "I feel so lucky to have worked and spent time with such a special man and actor. I'll really miss our conversations." Daniel Radcliffe appreciated his loyalty and support: "I'm pretty sure he came and saw everything I ever did on stage both in Britain and America. He didn't have to do that." Evanna Lynch said it was scary to bump into Rickman in character as Snape, but "he was so kind and generous in the moments he wasn't Snaping about." Rupert Grint said, "even though he has gone I will always hear his voice."
Kate Winslet, who gave a tearful tribute at the London Film Critics' Circle Awards, remembered Rickman as warm and generous, adding, "And that voice! Oh, that voice." Dame Helen Mirren said his voice "could suggest honey or a hidden stiletto blade." Emma Thompson remembered "the intransigence which made him the great artist he was—his ineffable and cynical wit, the clarity with which he saw most things, including me ... I learned a lot from him." Colin Firth told The Hollywood Reporter that, as an actor, Rickman had been a mentor. John McTiernan, director of Die Hard, said Rickman was the antithesis of the villainous roles for which he was most famous on screen. Sir Ian McKellen wrote, "behind [Rickman's] mournful face, which was just as beautiful when wracked with mirth, there was a super-active spirit, questing and achieving, a super-hero, unassuming but deadly effective." Writer/Director Kevin Smith told a tearful 10 minute story about Rickman on his Hollywood Babble On podcast. Rickman's family offered their thanks "for the messages of condolence".
Filmography
Actor
2016
Alice Through the Looking Glass
as
Absolem (voice)
2015
Eye in the Sky
as
Lieutenant General Frank Benson
2014
A Little Chaos
as
King Louis XIV
2013
A Promise
as
Karl Hoffmeister
2013
The Butler
as
Ronald Reagan
2012
Gambit
as
Lionel Shabandar
2011
The Boy in the Bubble (Short)
as
The Storyteller (voice)
2011
Harry Potter and the Deathly Hallows: Part 2
as
Professor Severus Snape
2010
Harry Potter and the Deathly Hallows: Part 1
as
Professor Severus Snape
2010
The Song of Lunch (TV Movie)
as
He
2010
Alice in Wonderland
as
Blue Caterpillar (voice)
2010
Arena (TV Series documentary)
as
Various characters
- Harold Pinter: A Celebration (2010) - Various characters
2010
The Wildest Dream (Documentary)
as
Noel Odell (voice)
2009
Harry Potter and the Half-Blood Prince
as
Professor Severus Snape
2008
Bottle Shock
as
Steven Spurrier
2007
Sweeney Todd: The Demon Barber of Fleet Street
as
Judge Turpin
2007
Harry Potter and the Order of the Phoenix
as
Severus Snape
2007
Nobel Son
as
Eli Michaelson
2006
Perfume: The Story of a Murderer
as
Richis
2005
Harry Potter and the Goblet of Fire
as
Severus Snape
2005
The Hitchhiker's Guide to the Galaxy
as
Marvin (voice)
2004
Something the Lord Made (TV Movie)
as
Dr. Alfred Blalock
2004
Harry Potter and the Prisoner of Azkaban
as
Professor Severus Snape
2002
Harry Potter and the Chamber of Secrets
as
Professor Snape
2002
King of the Hill (TV Series)
as
King Philip
- Joust Like a Woman (2002) - King Philip (voice)
2001
The Search for John Gissing
as
John Gissing
2001
Harry Potter and the Sorcerer's Stone
as
Professor Snape
2001
We Know Where You Live. Live! (TV Movie)
as
Second Yorkshireman
2000
Texas: In Demand (Music Video)
as
Alan Rickman (as Texas)
2000
Victoria Wood: With All the Trimmings (TV Special)
as
Captain George Fallon
2000
A Fish Tale
as
Joe (English version, voice)
1999
Galaxy Quest
as
Alexander Dane
1998
Dark Harbor
as
David / husband
1998
Judas Kiss
as
Detective David Friedman
1997
The Space Bar (Video Game)
as
My Parker / Ty Parker (voice)
1997
The Winter Guest
as
Man in Street (uncredited)
1996
Michael Collins
as
Eamon de Valera
1996
Rasputin (TV Movie)
as
Grigori Rasputin
1995
Lumière and Company (Documentary)(segment "John Boorman")
1995
Sense and Sensibility
as
Colonel Brandon
1995
An Awfully Big Adventure
as
P.L. O'Hara
1994
Mesmer
as
Franz Anton Mesmer
1993
Fallen Angels (TV Series)
as
Dwight Billings
- Murder, Obliquely (1993) - Dwight Billings
1992
Bob Roberts
as
Lukas Hart III
1991
Close My Eyes
as
Sinclair / Natalie's husband
1991
Robin Hood: Prince of Thieves
as
Sheriff of Nottingham
1991
Closet Land
as
Interrogator
1990
Truly Madly Deeply
as
Jamie
1990
Quigley Down Under
as
Elliott Marston
1989
Revolutionary Witness: The Preacher (TV Short)
as
Jacques Roux (segment "The Preacher")
1989
Screenplay (TV Series)
as
Israel Yates (segment "From Sleep and Shadow")
- The Spirit of Man (1989) - Israel Yates (segment "From Sleep and Shadow")
1989
Theatre Night (TV Series)
as
Colin
- Benefactors (1989) - Colin
1985
Girls on Top (TV Series)
as
Voice of RADA / Dimitri
- Cancel Toast (1985) - Voice of RADA (voice)
- Four-Play (1985) - Dimitri
1985
Summer Season (TV Series)
as
Croop
- Pity in History (1985) - Croop
1985
Wetherby
as
TV commentator (uncredited)
1983
Busted (TV Movie)
as
Simon
1982
The Barchester Chronicles (TV Mini Series)
as
Obadiah Slope
- Part Seven (1982) - Obadiah Slope
- Part Six (1982) - Obadiah Slope
- Part Five (1982) - Obadiah Slope
- Part Four (1982) - Obadiah Slope
- Part Three (1982) - Obadiah Slope
1982
Smiley's People (TV Mini Series)
as
Mr. Brownlow
- The General's Big Fish (1982) - Mr. Brownlow
1980
Shelley (TV Series)
as
Clive
- Nowt So Queer (1980) - Clive
1980
Thérèse Raquin (TV Mini Series)
as
Vidal
- Episode #1.3 (1980) - Vidal
- Episode #1.2 (1980) - Vidal
- Episode #1.1 (1980) - Vidal
1978
The BBC Television Shakespeare (TV Series)
as
Tybalt
- Romeo & Juliet (1978) - Tybalt
Writer
2014
A Little Chaos (screenplay)
1997
The Winter Guest (screenplay)
1987
Don't Miss Wax (TV Series) (1987)
Director
Soundtrack
2020
The Kill Count (TV Series) (performer - 1 episode)
- Sweeney Todd: The Demon Barber of Fleet Street (2007) (2020) - (performer: "Pretty Women", "The Judge's Return")
2013
CBGB (performer: "Birds and the Bees")
2010
Nostalgia Critic (TV Series) (performer - 1 episode)
- Top 11 Villain Songs (2010) - (performer: "Pretty Women" - uncredited)
2007
Sweeney Todd: The Demon Barber of Fleet Street (performer: "Pretty Women", "The Judge's Return")
2000
A Fish Tale (performer: "Intelligence")
1997
The Winter Guest (writer: "Cush Macree")
1991
Closet Land (performer: "Oranges and Lemons" - uncredited)
1990
Truly Madly Deeply (performer: "The Sun Ain't Gonna Shine Anymore")
Producer
2018
Sink (associate producer)
2001
Willows (Short) (executive producer)
Miscellaneous
1992
Wax Acts (TV Movie) (original stage director)
Thanks
2016
Vedro (TV Series) (in memory of - 1 episode)
- All You Could Possibly Want for Christmas and New Year (2016) - (in memory of)
2016
The Limehouse Golem (dedicated to the memory of)
2016
Alice Through the Looking Glass (dedicated to our friend)
2016
Severus Snape and the Marauders (Short) (very special thanks)
2015
Creditors (very special thanks)
2015
Eye in the Sky (in loving memory of)
2012
Sickness & Disability (Short) (special thanks)
2010
Vocation (Short) (special thanks)
2009
Creating the World of Harry Potter, Part 1: The Magic Begins (Video documentary) (special thanks)
2004
Out of the Shadows (Short) (thanks)
Self
2021
Maverick (Documentary)
as
Self
2016
Time Presents: Milestones 2016 - A Tribute to the Stars We've Lost (TV Movie documentary)
as
Self
2016
Alan (Documentary short)
as
Self
2015
This Tortoise Could Save a Life (Video short)
as
Narrator (voice)
2015
Na plovárne (TV Series)
as
Self
- Na plovárne s Alanem Rickmanem (2015) - Self
2015
The Making of a Little Chaos (Video short)
as
Self - Director / King Louis XIV
2015
Tavis Smiley (TV Series)
as
Self - Guest
- Episode dated 24 June 2015 (2015) - Self - Guest
2015
Happy Sad Confused (Podcast Series)
as
Self
- Alan Rickman (2015) - Self
2015
The Tonight Show Starring Jimmy Fallon (TV Series)
as
Self - Guest
- Mark Ruffalo/Alan Rickman/James Taylor (2015) - Self - Guest
2015
Live with Kelly and Mark (TV Series)
as
Self - Guest
- Guest Co-Hostess Erin Andrews/Taylor Schilling/Alan Rickman (2015) - Self - Guest
2015
One Plus One (TV Series)
as
Self - Guest
- Alan Rickman (2015) - Self - Guest
2015
Texas: Start A Family (Music Video)
as
Self
2014
Richard Attenborough: A Life in Film (Documentary)
as
Self
2013
Late Night with Jimmy Fallon (TV Series)
as
Self - Guest
- Episode dated 9 October 2013 (2013) - Self - Guest
2013
Muse of Fire (Documentary)
as
Self
2013
Decoding Die Hard (Video documentary)
as
Self
2012
taff (TV Series)
as
Self
- Episode dated 8 November 2012 (2012) - Self
2012
Creating the World of Harry Potter, Part 8: Growing Up (Video documentary)
as
Self - 'Severus Snape'
2012
Falls the Shadow: The Life and Times of Athol Fugard (TV Movie documentary)
as
Self
2002
Charlie Rose (TV Series)
as
Self - Guest
- Episode dated 28 February 2012 (2012) - Self - Guest
- Episode dated 7 June 2002 (2002) - Self - Guest
2012
Theater Talk (TV Series)
as
Self - Guest
- Seminar (2012) - Self - Guest
2011
Little Voice, Big Mountain (Documentary short)
as
Narrator (voice)
2011
When Harry Left Hogwarts (Video documentary)
as
Self
2011
50 Greatest Harry Potter Moments (TV Movie documentary)
as
Self (uncredited)
2011
Portraits in Dramatic Time
as
Self
2010
The Role That Changed My Life (TV Series documentary)
as
Self
- I Was a Smooth Crminal (2010) - Self
2010
For Love of Liberty: The Story of America's Black Patriots (TV Movie documentary)(voice)
2009
Creating the World of Harry Potter, Part 1: The Magic Begins (Video documentary)
as
Self - 'Professor Snape'
2009
Creating the World of Harry Potter, Part 2: Characters (Video documentary)
as
Self - 'Professor Snape'
2009
Sonnet Number 12 (Short)
as
Self (voice)
2009
Harry Potter & the Half Blood Prince: T4 Premiere Special (TV Special)
as
Self
2009
Galaxy Quest: Actors in Space (Video documentary short)
as
Self
2009
Galaxy Quest: Alien School - Creating the Thermian Race (Video documentary short)
as
Self
2009
Galaxy Quest: Historical Documents - The Story of Galaxy Quest (Video documentary short)
as
Self
2009
Galaxy Quest: Never Give Up. Never Surrender: The Intrepid Crew of the NSEA Protector (Video documentary short)
as
Self
2003
Jimmy Kimmel Live! (TV Series)
as
Self - Guest
- Episode #6.167 (2008) - Self - Guest
- Episode #2.69 (2003) - Self - Guest
2008
Up Close with Carrie Keagan (TV Series)
as
Self - Guest
- Episode dated 1 August 2008 (2008) - Self - Guest
2008
100 höjdare (TV Series)
as
Self - Interviewee
- Världens skönaste land - Del 7 (2008) - Self - Interviewee
2008
Burton + Depp + Carter = Todd (Video documentary short)
as
Self
2008
Film '72 (TV Series)
as
Self
- Episode dated 22 January 2008 (2008) - Self
2008
Broadway Beat (TV Series)
as
Self
- The Homecoming Opening/Sweeney Todd from Stage to Screen (2008) - Self
2008
HBO First Look (TV Series documentary short)
as
Self
- Sweeney Todd: The Demon Barber of Fleet Street (2008) - Self
2007
The Story of 'Perfume' (Video short)
as
Self
2007
Snow Cake: Autism Awareness (TV Short documentary)
as
Self
2007
Snow Cake: Behind the Scenes (TV Short documentary)
as
Self
2007
Breakfast (TV Series)
as
Self - Guest
- Episode dated 14 February 2007 (2007) - Self - Guest
2006
The King's Head: A Maverick in London (Video documentary)
as
Self
2005
Planet Voice (TV Series)
as
Self
- Planet Potter (2005) - Self
2004
Unforgivable Blackness: The Rise and Fall of Jack Johnson (Documentary)
as
Other Voices (voice)
2004
Peace One Day (Documentary)
as
Self
2004
Hollywood Greats (TV Series documentary)
as
Self
- Richard Harris (2004) - Self
2003
Interviews with Professors & More (Video documentary short)
as
Self
2003
Check the Gate: Putting Beckett on Film (Video documentary)
as
Self - M
2002
The 56th Annual Tony Awards (TV Special)
as
Self - Nominee
2001
Judge Not: In Defense of Dogma (Video short)
as
Self (Interviewee)
2001
La fabrique aux acteurs (Documentary)
as
Self
2001
The Directors (TV Series documentary)
as
Self
- The Films of Anthony Minghella (2001) - Self
2000
Babitsky's War (Documentary)(voice)
2000
Hollywood Salutes Bruce Willis: An American Cinematheque Tribute (TV Special)
as
Self - Host
2000
Galaxy Quest: On Location in Space (Video documentary short)
as
Self
1999
Eco-Challenge Argentina (TV Mini Series)
as
Narrator
1999
Late Night with Conan O'Brien (TV Series)
as
Self - Guest
- Tom Brokaw/Alan Rickman/Matthew Sweet (1999) - Self - Guest
1998
The 55th Annual Golden Globe Awards (TV Special)
as
Self - Presenter
1997
54th Golden Globe Awards (TV Special)
as
Self - Winner
1996
The 48th Annual Primetime Emmy Awards (TV Special)
as
Self - Winner
1992
Victoria Wood's All Day Breakfast (TV Special)
as
Self - Special Guest
1991
One-on-One with the Cast of 'Robin Hood: Prince of Thieves' (Video short)
as
Self
1991
Wogan (TV Series)
as
Self
- Wogan with Gloria Hunniford (1991) - Self
1991
The Arsenio Hall Show (TV Series)
as
Self - Guest
- Episode #3.174 (1991) - Self - Guest
1991
Robin Hood: The Myth, the Man, the Movie (TV Movie documentary)
as
Self
1987
The 41st Annual Tony Awards (TV Special)
as
Self - Nominee & Performer
Archive Footage
2022
Tucker Carlson Tonight (TV Series)
as
Hans Gruber - 'Die Hard' clip
- Episode dated 30 March 2022 (2022) - Hans Gruber - 'Die Hard' clip (uncredited)
2022
Harry Potter 20th Anniversary: Return to Hogwarts (TV Special documentary)
as
Self (uncredited)
2021
Hollywood Insider (TV Series)
as
Self
- Guns, Muscles, and Kung Fu - The 1980s and the Birth of the "Action Movie" and "Action Hero" (2021) - Self
2020
The Kill Count (TV Series)
as
Self
- Sweeney Todd: The Demon Barber of Fleet Street (2007) (2020) - Self
2020
Minty Comedic Arts (TV Series)
as
Self
- 10 Things You Didn't Know About Robin Hood: Prince of Thieves (2020) - Self
2019
Discovering Film (TV Series)
as
Various
- Alan Rickman (2019) - Various
2019
The Movies That Made Us (TV Series documentary)
as
Self - Actor 'Hans Gruber'
- Die Hard (2019) - Self - Actor 'Hans Gruber'
2019
Never Surrender: A Galaxy Quest Documentary (Documentary)
as
Self
2018
The IMDb Show (TV Series)
as
Harry
- Take Five With Megan Fox (2018) - Harry
2018
D'Astrain No Cinema - Christmas Special (Video short)
as
Self
2017
Our Friend Victoria (TV Series documentary)
as
Captain George Fallon
- At Christmas (2017) - Captain George Fallon (uncredited)
2017
2016: Famous Faces We've Lost (Video short)
as
Self
2016
2016: We Remember Part One (TV Movie documentary)
as
Various Characters
2016
Screenwipe (TV Series documentary)
as
Self
- 2016 Wipe (2016) - Self
2016
The 68th Primetime Emmy Awards (TV Special)
as
Self - In Memoriam
2016
The 70th Annual Tony Awards (TV Special)
as
Self - In Memoriam
2016
The Oscars (TV Special)
as
Self - In Memoriam
2016
22nd Annual Screen Actors Guild Awards (TV Special)
as
Self - In Memoriam
2016
Entertainment Tonight (TV Series)
as
Self
- Episode dated 14 January 2016 (2016) - Self
2015
A Little Chaos: Deleted Scenes (Video short)
as
King Louis XIV (uncredited)
2015
The Wright Stuff (TV Series)
as
Self
- Episode #20.32 (2015) - Self
2014
Harry Potter and the Escape from Gringotts (Video short)
as
Severus Snape
2013
Movie Guide (TV Series)
as
Ronald Reagan
- Movie Guide 2: Part 8 (2013) - Ronald Reagan
2013
UCB Comedy Originals (TV Series short)
- Most Ridiculous TV Censorship FAILS (2013)
2011
Bloomberg Game Changers (TV Series documentary)
as
Severus Snape
- J.K. Rowling (2011) - Severus Snape
2006
20 to 1 (TV Series documentary)
as
Hans Gruber
- Magnificent Movies (2006) - Hans Gruber
2006
Harry vs. the Horntail: The First Task (Video documentary short)
as
Prof. Severus Snape (uncredited)
2005
Making of 'The Hitchhiker's Guide to the Galaxy' (Video documentary short)
as
Marvin (uncredited)
2005
Victoria Wood: A BAFTA Tribute (TV Special)
as
Self (uncredited)
2004
Creating the Vision (Video documentary short)
as
Prof. Severus Snape (uncredited)
2001
Omnibus (TV Series documentary)
as
Self
- The 'Billy Elliot' Boy (2001) - Self
2000
Twentieth Century Fox: The Blockbuster Years (TV Movie documentary)
as
Hans Gruber
2000
Victoria Wood with All the Trimmings Outtakes (Video short)
as
Captain George Fallon (uncredited)
1990
The Rebirth of the Western (Video documentary short)
as
Elliott Marston
References
Alan Rickman Wikipedia
(Text) CC BY-SA