8.2

/

10

Alchetron

Rate This






Genre

Action, Adventure, Comedy




Story by

David Howard




Country

United States







Director

Dean Parisot




Costume design

Albert Wolsky




Duration




Language

English







Release date

December 25, 1999 (1999-12-25)




Writer

David Howard (story), David Howard (screenplay), Robert Gordon (screenplay)




Screenplay

Robert Gordon, David Howard




Cast

Tim Allen

(Jason Nesmith),

Sigourney Weaver

(Gwen DeMarco),

Alan Rickman

(Alexander Dane),

Tony Shalhoub

(Fred Kwan),

Sam Rockwell

(Guy Fleegman),

Daryl Mitchell

(Tommy Webber)


Similar movies

Star Wreck: In the Pirkinning

,

Star Wreck V: Lost Contact

,

Star Wreck III: The Wrath of the Romuclans

,

Star Wreck

,

Avatar

,

Star Wars: Episode V - The Empire Strikes Back




Tagline

A comedy of Galactic Proportions
Galaxy quest 3 9 movie clip probed by aliens 1999 hd
Galaxy Quest is a 1999 American comedy science fiction film directed by Dean Parisot and written by David Howard and Robert Gordon. A parody of science fiction films and series, particularly Star Trek and its fandom, the film stars Tim Allen, Sigourney Weaver, Alan Rickman, Tony Shalhoub, Sam Rockwell, and Daryl Mitchell as the cast of a defunct cult television series called Galaxy Quest, in which the crew of a spaceship embarked on intergalactic adventures, who are suddenly visited by actual aliens who believe the show to be an accurate documentary, and become involved in a very real intergalactic conflict.
Contents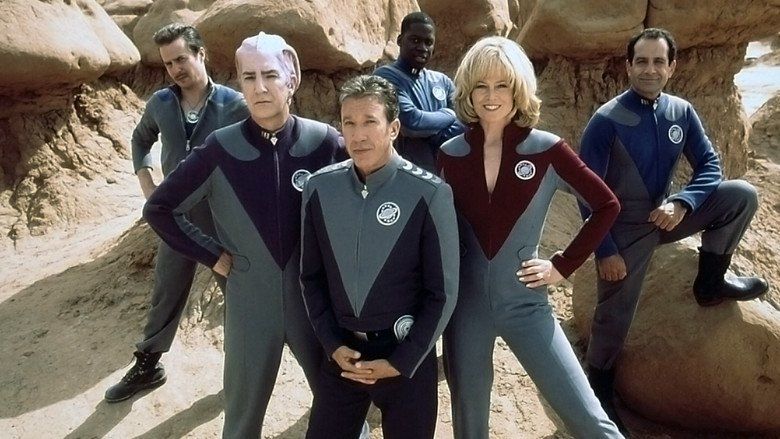 The film was a modest box office success and was positively received by critics: it won the Hugo Award for Best Dramatic Presentation (an award previously won by the original Star Trek series in the 60s) and the Nebula Award for Best Script, and was also nominated for ten Saturn Awards, including Best Science Fiction Film, Best Director for Parisot, Best Actress for Weaver, and Best Supporting Actor for Rickman, with Allen winning Best Actor.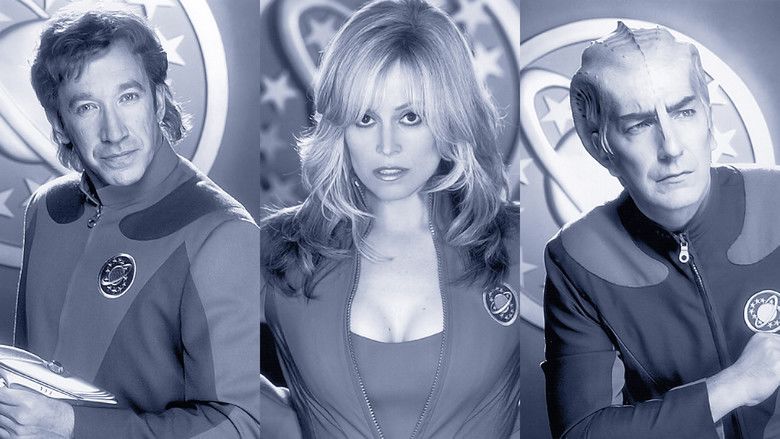 Galaxy Quest went on to achieve cult status through the years, particularly from Star Trek fans for its affectionate parody, but also to more mainstream audiences as a comedy film of its own; it is now sometimes listed as an actual Star Trek film. Several former cast and crew members of Star Trek also went on to praise the film. It was included in Reader's Digest's list of The Top 100+ Funniest Movies of All Time in 2012, while Star Trek fans voted it the 7th best Star Trek film of all time in 2013.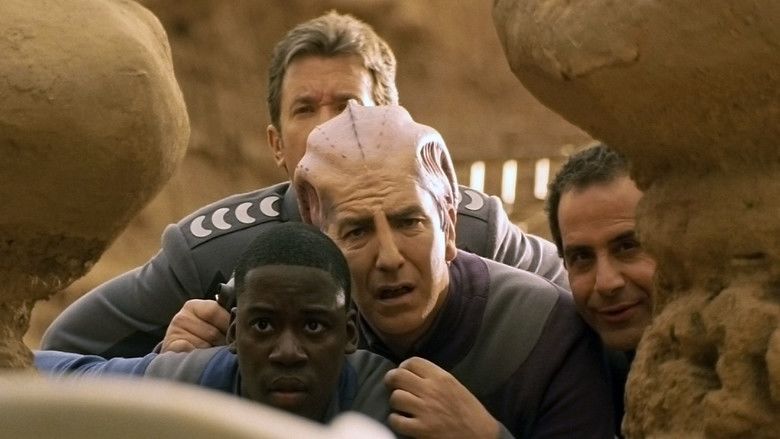 Plot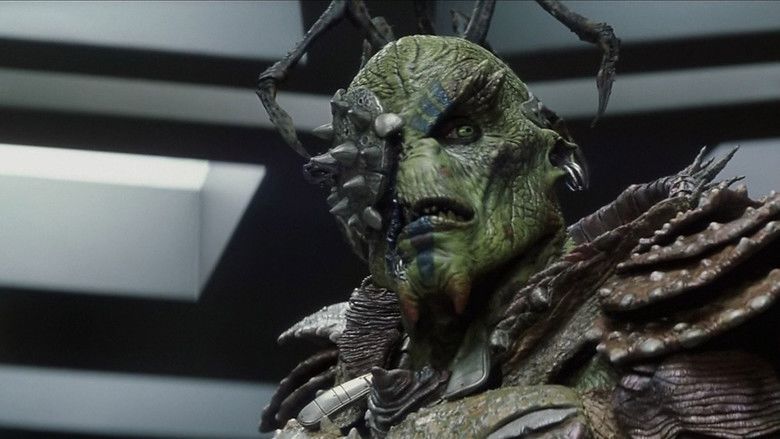 The former cast of the cult television space-adventure series Galaxy Quest spend most of their days attending fan conventions and promotional stunts. Though Jason Nesmith, the show's former lead star, thrives on the attention, the other cast members—Gwen DeMarco, Alexander Dane, Fred Kwan, and Tommy Webber, resent these events.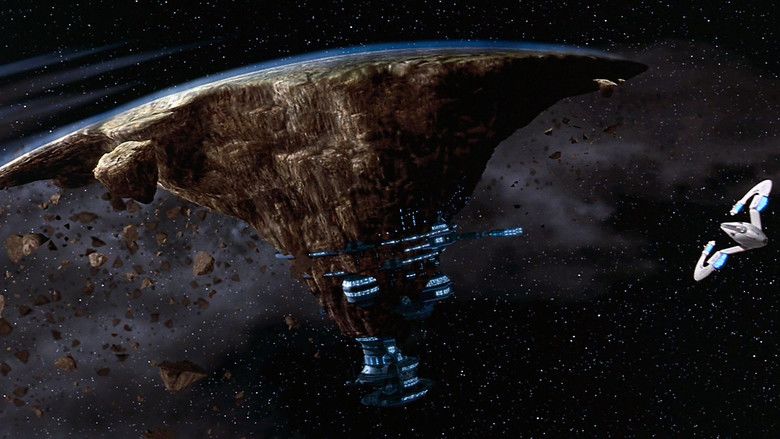 During a convention, Nesmith is approached by a group calling themselves the "Thermians" who request his assistance, which he agrees to, thinking this is a planned and paying fan event. The following morning, Nesmith is picked up by the Thermians, and, hungover, doesn't realize that he has been transported to an actual spaceship, which he believes to be a set, nor that the Thermians are actual aliens. Hoping to get it over with quickly, Nesmith provokes Sarris, an evil alien general and enemy of the Thermians, before asking to be returned home, unaware of the importance of his actions.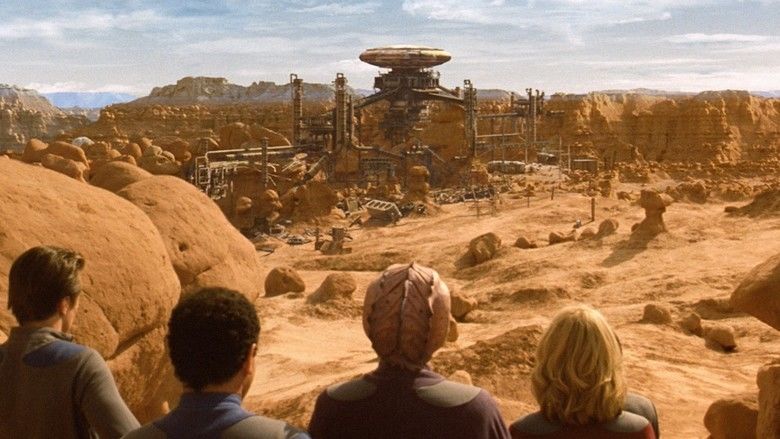 Having realized the truth after being transported back, Nesmith eagerly relates his experience to the crew, who thinks he is drunk again. When another Thermian appears and request the entire crew's help, Nesmith manages to convince them, along with their handler Guy Fleegman, who played a minor character in an episode of the series, to come along. They are all transported to a perfect reproduction of the NSEA Protector in deep space, and are shocked by the reality of the situation. While discovering the threat of Sarris, they also learn that the Thermians have based their entire civilization and technology on Galaxy Quest, believing it to be a documentary instead of fiction.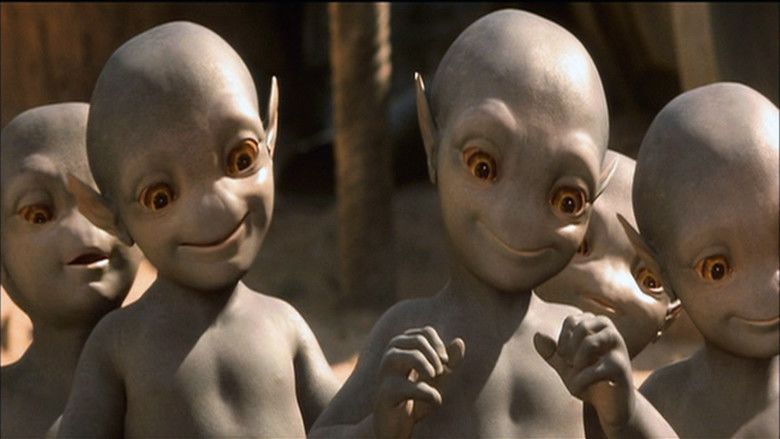 The humans go through several misadventures, gradually and laboriously accepting to play their respective roles, for real this time, and bonding more than they ever did in the past. After having to reveal their true nature to the Thermians, they eventually defeat Sarris' forces, using the Omega 13, a plot device introduced in the final episode of the series but never used. The castmates return to Earth victorious, thanks to the precious help of a few dedicated fans, crashing their spaceship right in the middle of a convention, which everybody believes to be a part of the show. The buzz from the event leads Galaxy Quest to be revived as a sequel series, titled The Journey Continues, with the original cast returning alongside Fleegman and Laliari, a Thermian Kwan felt in love with.
Cast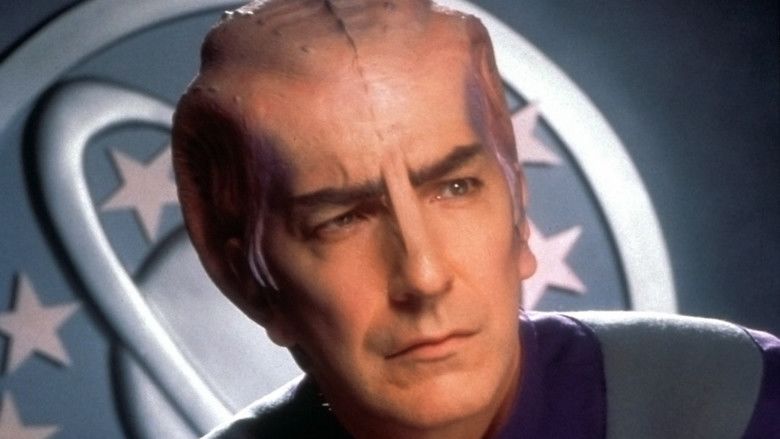 Tim Allen as Jason Nesmith, who played Cmdr. Peter Quincy Taggart, the commander of the NSEA Protector and main character of the series
Sigourney Weaver as Gwen DeMarco, who played Lt. Tawny Madison, the ship's computer officer
Alan Rickman as Alexander Dane, who played Dr. Lazarus, the ship's science officer and a member of the Mak'tar, an alien species known for their super intelligence and psionic powers
Tony Shalhoub as Fred Kwan, who played Tech Sgt. Chen, the chief engineer
Sam Rockwell as Guy Fleegman, who played a short-lived minor character in a single episode, simply referred to as "Crewman #6"
Daryl Mitchell as Tommy Webber, who played Lt. Laredo, a precocious child pilot
Enrico Colantoni as Mathesar, the leader of the Thermians
Missi Pyle as Laliari, a Thermian and love interest for Fred
Jed Rees as Teb, a Thermian and Mathesar's second-in-command
Patrick Breen as Quellek, a Thermian who forms a bond with Alexander
Rainn Wilson (in his film debut) as Lahnk, another Thermian
Sam Lloyd as Neru, another Thermian
Robin Sachs as General Roth'h'ar Sarris, an evil alien reptilian humanoid who seeks to destroy the Thermians, and the antagonist of the film.
Justin Long as Brandon, a dedicated fan of Galaxy Quest
Jeremy Howard, Kaitlin Cullum, and Jonathan Feyer as Brandon's friends Kyle, Katelyn, and Hollister
Heidi Swedberg as Brandon's mother
In additional roles, the film features J.P. Manoux as an "Excited alien", Dian Bachar as a "Nervous tech", and Kevin McDonald in a cameo appearance as an announcer at a fan convention.
Writing
The original script by David Howard was titled Captain Starshine and written on spec. Producer Mark Johnson, who had a first look deal with DreamWorks, did not like it, but was still fascinated with its concept featuring space aliens who misconstrue old episodes of a TV show. Johnson purchased the script and had Bob Gordon rewrite it into Galaxy Quest. Gordon, a fan of Star Trek, was hesitant, believing Galaxy Quest "could be a great idea or it could be a terrible idea" and initially turned it down. He submitted his first draft to DreamWorks in 1998, which was immediately greenlit.
Rickman's character was originally supposed to have been knighted by Elizabeth II before the events of the film. Rickman requested this to be changed, as he felt that it would not fit Dane's sentiment of lack of recognition; the character is still credited as "Sir Alexander Dane" in the credits, although all mentions of being a knight have been removed from the film. The Thermians' native planet, Klaatu Nebula, is a reference to the name of the alien visitor in the 1951 film The Day the Earth Stood Still.
The name of Rockwell's character, Guy Fleegman, is an hommage to Guy Vardaman, a little-known Star Trek actor who worked extensively on Star Trek as either a stand-in or in minor roles.
The romantic relationship between Fred Kwan and the alien Laliari comes from a suggestion of Steven Spielberg, one of the owners of DreamWorks who, impressed by Missi Pyle while visiting the set, to expand Missi Pyle's role in the film.
Crew and casting
Since early in the production, Mark Johnson wanted Dean Parisot, who had directed Home Fries, another film he produced, to direct Galaxy Quest; however, DreamWorks favored Harold Ramis because his experience. Ramis was hired in November 1998, but departed in February 1999 because of casting difficulties. He wanted Alec Baldwin for the lead role, but Baldwin turned it down. Steve Martin and Kevin Kline were considered, though Kline turned it down for family reasons. Ramis did not agree with the casting of Tim Allen as Jason Nesmith, and Parisot took over as director within three weeks. After seeing the film, Ramis said he was ultimately impressed with Allen's performance. About his role, Allen stated that he based his performance on Yul Brynner instead of William Shatner.
Linda DeScenna, production designer of the film, was interested in the project because it would not have the same aesthetics than others 90s science fiction films, and "it didn't have to be real, hi-tech and vacuformed". The design of the Thermian station was influenced by the works of artist Roger Dean, particularly his cover art for the Yes live album Yessongs.
The makers of the film wanted only "science fiction virgins" who had never worked in this genre to audition for Gwen DeMarco's role. Weaver, famous for science fiction roles such as Ellen Ripley in the Alien films and Dana Barrett in the Ghostbusters films, auditioned nonetheless because she wanted to work with both Allen and Rickman, and because she "fell in love with the script", calling it "that great sort of Wizard of Oz story of these people feeling so incomplete in the beginning, and then during the course of this adventure they come out almost like the heroes they pretended to be in the first place"; she was surprised when discovering she actually got the part.
Tony Shalhoub originally auditioned for Guy Fleegman, but Sam Rockwell won the part, and Shalhoub was cast as Fred Kwan instead. Justin Long said he was nervous auditioning as an unknown actor at the time, competing against Kieran Culkin, Eddie Kaye Thomas, and Tom Everett Scott for the part of Brandon. Paul Rudd auditioned for a role, while David Alan Grier was the second choice for Tommy Webber. The film was Justin Long's acting debut, and Rainn Wilson's film debut (his only previous credit was the soap opera One Life to Live).
According to casting director Debra Zane, finding an actress to play the role of Laliari was very hard, as they had "a difficult time finding a woman who could be Thermian in the same way as actors Enrico Colantoni, Rainn Wilson, and Jed Rees". Ultimately when she auditioned Missi Pyle, she was so impressed that she sent the audition tape directly to Parisot, with a note stating "If this is not Laliari, I will resign from the CSA." Steven Spielberg later asked for Laliari's role to be expanded after being impressed by her performance as well. Jennifer Coolidge was the second choice for the role.
Both Allen and Rockwell almost dropped out of the film; Allen had to choose between Galaxy Quest and Bicentennial Man and chose the first, with his Bicentennial Man part going to Robin Williams instead, while Rockwell almost backed out of the film after obtaining a lead role in an independent film; Kevin Spacey convinced him otherwise.
Filming
Scenes on the barren planet where they stopped to get a new Beryllium Sphere and Captain Nesmith battled a rock monster, were filmed at Goblin Valley State Park in Utah. At the time, the access to Goblin Valley State Park was partly by dirt road; the fees paid by the production company were used to upgrade the entire access road to asphalt pavement.
According to Weaver, Allen kept hectoring her during production so she would sign a piece he owned of the Nostromo, the spaceship in Alien, in which she starred; she ultimately did, writing "Stolen by Tim Allen; Love, Sigourney Weaver", which she said made him very upset. During the period of filming, the entire cast, attended a 20th Anniversary screening of Alien. After filming completed, Weaver kept the wig she wore for the part.
Post-production
In theaters, the first twenty minutes of the film were presented in a 1:85:1 aspect ratio, before changing to a wider 2.35:1 ratio when the spaceship lands on Thermia to maximise the effect on viewers. David Newman composed the music score.
The film originally received an "R" rating, according to Galaxy Quest producer Lindsey Collins and Sigourney Weaver, before being re-cut. Shalhoub did not remember any darker version of the film. There were numerous edits in the film that show some lines were changed in post-production. In one scene, Gwen DeMarco's line "Well, screw that!" is clearly dubbed over "Well, fuck that!" According to Parisot, that line got a huge laugh. There is more profanity found in the shooting script.
Promotion
Before the release of the movie, a promotional mockumentary video titled Galaxy Quest: 20th Anniversary, The Journey Continues, aired on E!, presenting the Galaxy Quest TV series as an actual cult series, and the upcoming film as a documentary about the making of the series, presenting it in a similar way to Star Trek; it featured fake interviews of the series' cast (portrayed by the actors of the actual film), "Questerians", and critics.
Relation to Star Trek
Galaxy Quest is an acknowledged homage to Star Trek; therefore a variety of elements in the former correspond to those of the latter. The television program within the film, Galaxy Quest, is set around the starship NSEA Protector, an instrument of the National Space Exploration Administration, which are parodies of the USS Enterprise (NCC-1701) and Starfleet respectively. The prefix of the Protector's registration number NTE-3120 ostensibly alludes to some sort of similar space federation, but in reality stands for "Not The Enterprise", according to visual effects co-supervisor Bill George in a 2000 interview with Cinefex magazine.
This homage also extended to the original marketing of the movie, including a promotional website intentionally designed to look like a poorly constructed fan website, with "screen captures" and poor HTML coding. The homage even parodied the effect that Star Trek had on the social lives of its cast members, such as how Alex Dane (played by Alan Rickman) has been typecast after his success in the Galaxy Quest television show; this reflects the lamentations of Leonard Nimoy, who had been typecast after his performance as Spock.
Additionally, the time between the original Galaxy Quest series and its sequel, Galaxy Quest: The Journey Continues is 17 years - the same amount of time that elapsed between the original Star Trek and Star Trek: The Next Generation.
The film's visual effects were created by Industrial Light and Magic, who have a long history with Star Trek. It is said that while fans were pleased with the film, Paramount Pictures was somewhat less so, and chose to express their displeasure by replacing ILM with Blue Sky and Digital Domain respectively for the final two films in the Next Generation saga, Insurrection and Nemesis.
Box office
The film was financially successful. It earned US$7,012,630 in its opening weekend, and its total U.S. domestic tally stands at US$71,583,916; in total it has grossed US$90,683,916 worldwide.
Critical reception
Galaxy Quest received positive reviews from critics, both as a parody of Star Trek, and as a comedy film of its own. On Rotten Tomatoes, it received an approval rating of 90% based on 115 reviews and an average rating of 7.2/10. The site's critical consensus reads, "Intelligent and humorous satire with an excellent cast – no previous Trekkie knowledge needed to enjoy this one." On Metacritic, the film has a score of 70 out of 100, based on 28 critics, indicating "generally favorable reviews".
The New York Times's Lawrence Van Gelder called it "an amiable comedy that simultaneously manages to spoof these popular futuristic space adventures and replicate the very elements that have made them so durable". Roger Ebert praised the ability of the film to spoof the "illogic of the TV show". The Village Voice offered a lukewarm review, noting that "the many eight- to 11-year-olds in the audience seemed completely enthralled".
Impact and legacy
The film proved quite popular with Star Trek fans. At the 2013 Star Trek Convention in Las Vegas, Galaxy Quest received enough support in a Star Trek Film Ranking, and was included with the twelve Star Trek films that had been released at the time on the voting ballot. The fans at the convention ranked it the seventh best Star Trek film.
Harold Ramis, who was originally supposed to direct the film but left following disagreements over the casting choices, notably Allen as the lead, was ultimately impressed with Allen's performance. Tim Allen later stated that he and William Shatner were "now friends because of this movie".
The 2000 novella Rabbit Remembered by John Updike mentions the character of Laliari from the film.
Reaction from Star Trek actors
Several actors who have had roles on various Star Trek television series and films have commented on Galaxy Quest in light of their own experiences with the franchise and its fandom.
"I had originally not wanted to see Galaxy Quest because I heard that it was making fun of Star Trek, and then Jonathan Frakes rang me up and said "You must not miss this movie! See it on a Saturday night in a full theatre". And I did, and of course I found it was brilliant. Brilliant. No one laughed louder or longer in the cinema than I did, but the idea that the ship was saved and all of our heroes in that movie were saved simply by the fact that there were fans who did understand the scientific principles on which the ship worked was absolutely wonderful. And it was both funny and also touching in that it paid tribute to the dedication of these fans." — Patrick Stewart (Jean-Luc Picard on TNG)
"I've had flashbacks of Galaxy Quest at the many conventions I've gone to since the movie came out. I thought it was an absolute laugh-a-minute." — Tim Russ (Tuvok on Voyager)
"I thought it was very funny, and I thought the audience that they portrayed was totally real, but the actors that they were pretending to be were totally unrecognizable. Certainly I don't know what Tim Allen was doing. He seemed to be the head of a group of actors, and for the life of me I was trying to understand who he was imitating. The only one I recognized was the girl playing Nichelle Nichols." — William Shatner (James T. Kirk on TOS)
"I loved Galaxy Quest. I thought it was brilliant satire, not only of Trek, but of fandom in general. The only thing I wish they had done was cast me in it, and have me play a freaky fanboy who keeps screaming at the actor who played 'the kid' about how awful it was that there was a kid on the spaceship. Alas." — Wil Wheaton (Wesley Crusher on TNG)
"Yes, I have seen Galaxy Quest and no, it's not really like that." — Casey Biggs (Damar on DS9)
"I think it's a chillingly realistic documentary. [laughs] The details in it, I recognized every one of them. It is a powerful piece of documentary filmmaking. And I do believe that when we get kidnapped by aliens, it's going to be the genuine, true Star Trek fans who will save the day. … I was rolling in the aisles. And [star] Tim Allen had that Shatner-esque swagger down pat. And I roared when the shirt came off, and [co-star] Sigourney [Weaver] rolls her eyes and says, 'There goes that shirt again.' … How often did we hear that on the set? [Laughs.]" — George Takei (Hikaru Sulu on TOS)
Merchandising and tie-ins
In November 1999, Galaxy Quest was novelized by science fiction writer Terry Bisson, who stayed very close to the plot of the film.
In December 1999, the US entertainment channel E! featured a mockumentary entitled Galaxy Quest: 20th Anniversary, The Journey Continues, concerning the making of the Galaxy Quest television show.
In 2008, IDW Publishing released a comic book sequel to the movie entitled Galaxy Quest: Global Warning. In January 2015, IDW launched an ongoing series set several years after the events of the film.
On May 12, 2009, a Deluxe Edition Blu-ray was released.
Proposed sequel or television series
Talks of a sequel have been going on since the film's release in 1999, but only began gaining traction in 2014 when Allen mentioned that there was a script. Stars Weaver and Rockwell mentioned they were interested in returning. However, Colantoni has stated that he would prefer for there not to be a sequel, lest it tarnish the characters from the first film. He said, "to make something up, just because we love those characters, and turn it into a sequel—then it becomes the awful sequel".
In April 2015, Paramount Television, along with the movie's co-writer Gordon, director Parisot, and executive producers Johnson and Bernstein, announced they were looking to develop a television series based on Galaxy Quest. The move was considered in a similar vein as Paramount's revivals of Minority Report and School of Rock as television series. In August 2015, it was announced that Amazon Studios would be developing it.
In January 2016, after the unexpected death of Alan Rickman from pancreatic cancer, Tim Allen commented in The Hollywood Reporter about the franchise's chance of a revival:
I'm not supposed to say anything — I'm speaking way out of turn here — but Galaxy Quest is really close to being resurrected in a very creative way. It's closer than I can tell you but I can't say more than that. The real kicker is that Alan now has to be left out. It's been a big shock on many levels.
Speaking to the Nerdist podcast in April 2016, Sam Rockwell revealed that the cast had been about ready to sign on for a follow up with Amazon, but that Rickman's death, together with as well as Allen's television schedule, had proved to be obstacles, and that he believed that Rickman's death meant the project would never happen.
However, the plans were revived in August 2017, with the announcement that Paul Scheer will be writing the series.
References
Galaxy Quest Wikipedia
(Text) CC BY-SA
Galaxy Quest IMDb
Galaxy Quest Rotten Tomatoes
Galaxy Quest Amazon.com
Galaxy Quest Metacritic
Galaxy Quest themoviedb.org