The story revolves around two fallen angels who plan to employ an alleged loophole in Catholic dogma to return to Heaven after being cast out by God; but as existence is founded on the principle that God is infallible, their success would prove God wrong and thus undo all creation. The last scion and two prophets are sent by the seraph Metatron to stop them.
The film's irreverent treatment of Catholicism and the Catholic Church triggered considerable controversy, even before its opening. The Catholic League denounced it as blasphemy. Organized protests delayed its release in many countries and led to at least two death threats against Smith.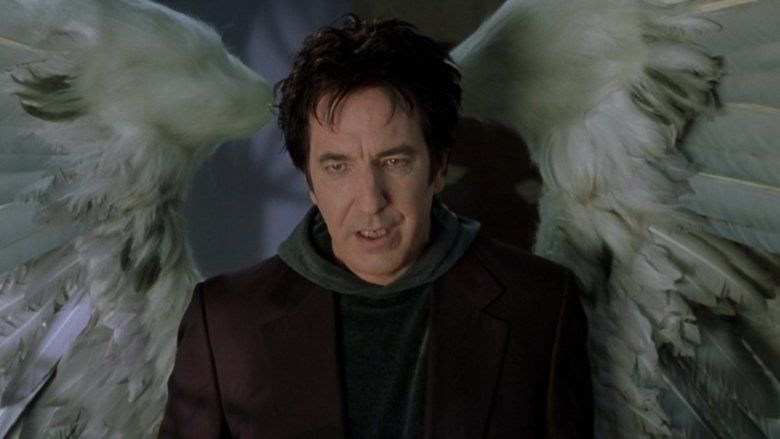 Bartleby (Affleck) and Loki (Damon) are fallen angels, eternally banished from Heaven to Wisconsin for insubordination, after an inebriated Loki (with Bartleby's encouragement) resigned as the Angel of Death. In a newspaper article that arrives anonymously, the angels discover a way home: Cardinal Ignatius Glick (Carlin) is rededicating his church in Red Bank, New Jersey in the image of the "Buddy Christ". Anyone entering during the rededication festivities will receive a plenary indulgence, remitting all sins, and permitting direct entry into Heaven. They receive encouragement from an unexpected source: the demon Azrael (Lee), and the Stygian Triplets, three teenage hoodlums who serve Azrael in Hell.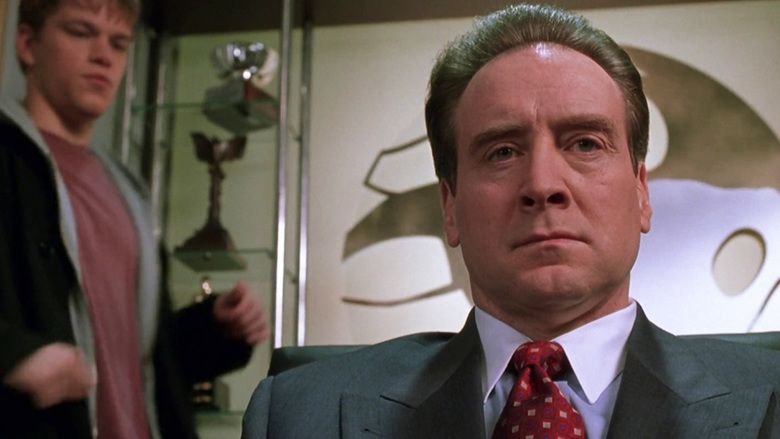 Bethany Sloane (Fiorentino)—a depressed, infertile, divorced abortion clinic counselor—attends a service at her church in Illinois. Donations are solicited for a campaign to stop a New Jersey hospital from disconnecting life support on John Doe Jersey (Cort), a homeless man who was beaten senseless by the Triplets. Metatron (Rickman)—a seraph, and the voice of God—appears to Bethany in a pillar of fire and explains that if Bartleby and Loki succeed in re-entering Heaven, they will overrule the word of God, disprove the fundamental concept of God's omnipotence, and nullify all of existence. Bethany, aided by two prophets, must stop the angels and save the universe.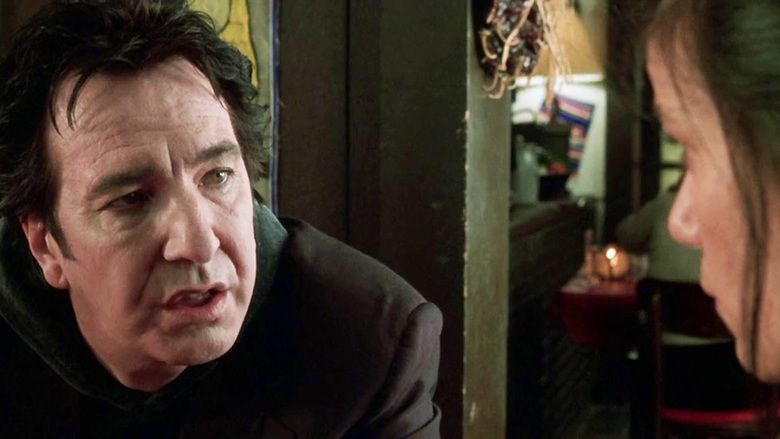 Now a target, Bethany is attacked by the Triplets, who are driven off by the two foretold prophets—drug-dealing stoners Jay and Silent Bob (Mewes and Smith). Bethany and the prophets are joined by Rufus (Rock), the thirteenth apostle (omitted from the Bible, he says, because he is black), and Serendipity (Hayek), the Muse of creative inspiration, now working in a strip club in search of inspiration of her own. Azrael summons the Golgothan—a vile creature made of human excrement—but Bob immobilizes it with aerosol air freshener.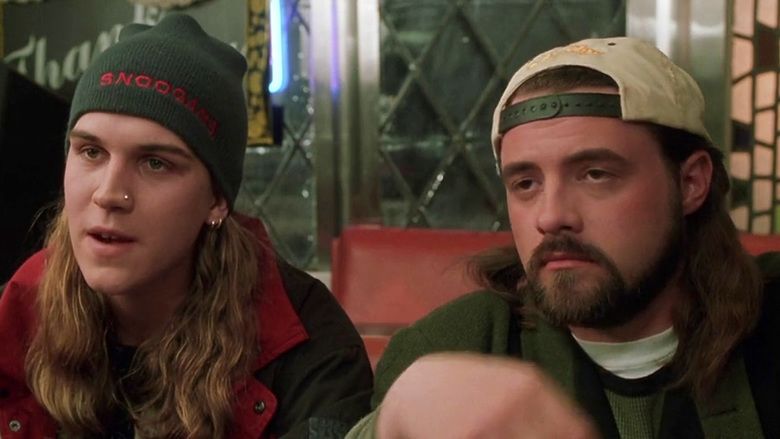 On a train to New Jersey, a drunken Bethany reveals her mission to Bartleby, who tries to kill her; Bob throws the angels off the train. Bartleby and Loki now realize the consequences of their scheme; Loki wants no part of destroying all existence, but Bartleby remains angry at God for his expulsion, and for granting free will to humans while demanding servitude of angels, and resolves to proceed.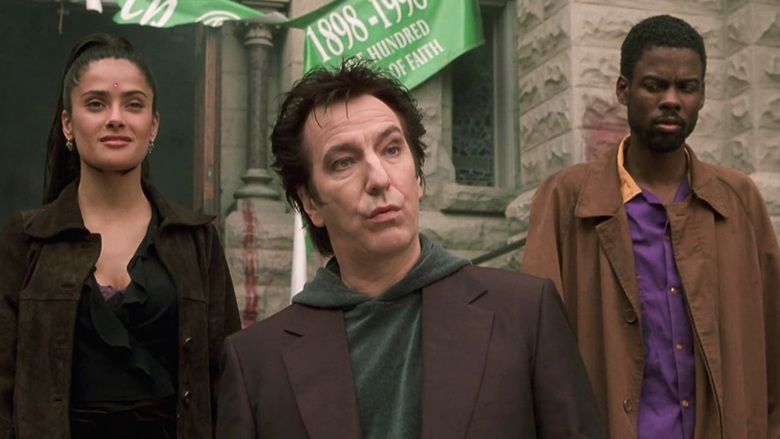 Metatron confesses to Bethany that God's whereabouts are unknown; he disappeared while visiting New Jersey in human form to play skee ball. The task falls to Bethany, because—she now learns—she is the last scion, the great-great-great-great-great-great-great-great-grandniece of Jesus.
The group fails to persuade Glick to cancel the celebration; Jay steals one of Glick's golf clubs. Their only remaining option is to keep the angels out of the church; but Azrael and the Triplets trap them in a bar to prevent them from doing so. Azrael reveals that he sent the news clipping to the angels; he would rather end all existence than spend eternity in Hell. Bob kills Azrael with the golf club, which Glick had blessed to improve his game. Bethany blesses the bar sink's contents, and the others drown the Triplets in the holy water. They race to the church, where Bartleby kills Glick, his parishioners, and assorted bystanders. When Loki—who is now wingless, and therefore mortal, with a conscience—attempts to stop him, Bartleby kills him as well.
Jay attempts to seduce Bethany before all existence ends; when he mentions John Doe Jersey, Bethany puts it all together. Bethany and Bob race across the street to the hospital, as the others try to block Bartleby's path to the church. Bethany disconnects John's life support, liberating God, but killing herself. Bartleby reaches the church entrance, where he confronts God (Morissette), who annihilates him with her voice. Bob arrives with Bethany's lifeless body; God resurrects her, and conceives a child—the new last scion—within her womb. God, Metatron, Rufus, and Serendipity return to Heaven, leaving Bethany and the prophets to reflect on the past, and the future.
Smith and his production partner Scott Mosier assembled a group of visual artists to realize their concept of a surreal, abstract environment "somewhere between reality and unreality": production designer Robert Holtzman, special effects supervisor Charles Belardinelli, creature effects supervisor Vincent Guastini, costume designer Abigail Murray, and director of photography Robert Yeoman.
Principal Photography took place from April 1998 To June 1998. The Triplets' attack on John Doe Jersey was filmed on the boardwalk in Asbury Park, New Jersey; all other scenes were shot in and around Pittsburgh, Pennsylvania. The Mexican restaurant in which Metatron explains Bethany's mission was the Franklin Inn in Franklin Park, north of Pittsburgh. Serendipity's pole dance and the Golgothan confrontation took place at the Park View Cafe (since renamed Crazy Mocha) on East North Avenue in Pittsburgh. The heroes plan their final strategy in the Grand Concourse Restaurant in the restored Pittsburgh and Lake Erie Railroad Station. St Michael's Church, site of the apocalyptic climax, is the Saints Peter and Paul Church—now vacant—in East Liberty.
Critics expressed surprise at the film's eclectic casting, which Smith said was done deliberately to emphasize contrasts between characters—Rickman as the powerful Metatron, for example, opposite Mewes as the hopelessly verbose stoner Jay, "...a Shakespearean trained actor of the highest order next to a dude from New Jersey." Smith warned Mewes that he would have to take his acting to a higher level. "I really impressed upon him that he had to be prepared for this movie. 'There are real actors in this one,' we kept telling him." In response, Mewes memorized not only his own dialogue but the entire screenplay, because he "didn't want to piss off that Rickman dude".
Other unorthodox casting decisions included Mexican actress Salma Hayek as Serendipity—"the [Muse] who throughout history inspired all the geniuses of art and music, like Mozart and Michelangelo, and never got any of the credit"—and singer-songwriter Alanis Morissette as God. "There's a Zen Buddhist serenity to Alanis that calls to mind something otherworldly," Smith explained. "She's definitely ethereal in nature, even when not speaking, and she carries an air about her that played into the role."
On the film's official website, Smith described a scene that did not make the final cut: a climactic face-off in the hospital between Silent Bob, a badly burned and half-decomposed Triplet, and the Golgothan. The battle was to end with the Triplet killing Bethany (temporarily), and God, newly liberated, transforming the Golgothan into flowers. Test audiences felt there was "too much Golgothan", and the film's run time already exceeded two hours, so the scene was eliminated.
The soundtrack album accompanying the film was released in the United States on November 2, 1999, by Warner Bros. Records. It features an orchestral score by Howard Shore, performed by the London Philharmonic Orchestra; and the song "Still", written, performed, and produced by Morissette. Stephen Thomas Erlewine of Allmusic described the "rich, effective" score as "alternately melodramatic and humorous".
Dogma was 1999's third-highest-grossing film in its opening weekend, behind The Bone Collector and Pokémon: The First Movie, grossing $8.7 million. The film grossed a domestic total of $30.7 million from a $10 million budget.
On Rotten Tomatoes the film has an approval rating of 67% based on 126 reviews, with an average rating of 6.2/10. The site's critical consensus reads, "Provocative and audacious, Dogma is an uneven but thoughtful religious satire that's both respectful and irreverent." On Metacritic, the film received a score of 62 out of 100, based on 36 critics, indicating "generally favorable reviews".
Some religious groups—in particular the activist Catholic League—denounced the film as blasphemous. Other groups staged protests outside theaters screening the film; but Chicago Sun-Times's critic Roger Ebert noted that there was no official objection from the Catholic Church itself. "We are actually free in this country to disagree about religion," Ebert wrote, "and blasphemy is not a crime." Ebert awarded the film three-and-a-half stars (of four).
The film was screened, but was not entered in competition, at the 1999 Cannes Film Festival. Smith's screenplay received Independent Spirit Award and Science Fiction and Fantasy Writers of America nominations.
In late November 2005, Smith responded to talk of a possible sequel on the ViewAskew.com message boards:
So weird you should ask this, because ever since 9/11, I have been thinking about a sequel of sorts. I mean, the worst terrorist attack on American soil was religiously bent. In the wake of said attack, the leader of the "Free World" outed himself as pretty damned Christian. In the last election, rather than a quagmire war abroad, the big issue was whether or not gay marriage was moral. Back when I made Dogma, I always maintained that another movie about religion wouldn't be forthcoming, as Dogma was the product of 28 years of religious and spiritual meditation, and I'd kinda shot my wad on the subject. Now? I think I might have more to say. And, yes, the Last Scion would be at the epicenter of it. And she'd have to be played by Alanis. And we'd need a bigger budget, because the entire third act would be the Apocalypse. Scary thing is this: the film would have to touch on Islam. And unlike the Catholic League, when those cats don't like what you do, they issue a death warrant on your ass. And now that I've got a family, I'm not as free to stir the shit-pot as I was when I was single, back when I made Dogma. I mean, now I've gotta think about more than my own safety and well-being. But regardless – yeah, a Dogma followup's been swimming around in my head for some time now.
Over a decade later, there has apparently been no further discussion.