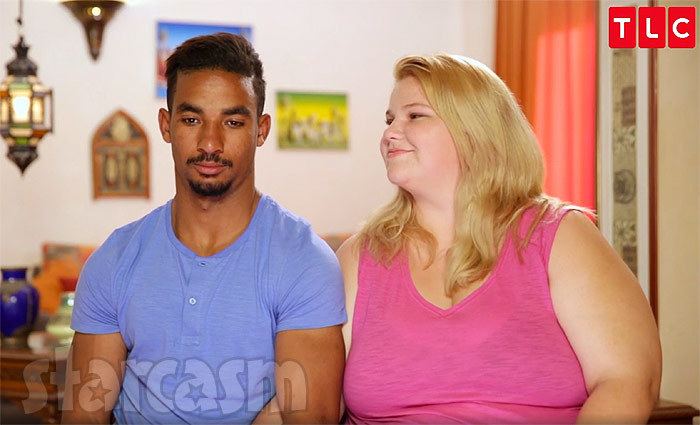 Russ Mayfield, 27, of Owasso, Oklahoma, met Paola aka Pao, 26, of Bucaramanga, Colombia, while he was in Colombia on a work assignment. She moved to America, and the two were married. They moved to Tulsa, Oklahoma. Russ is a graduate of Oklahoma State University and works as a field engineer. Pao was a fashion designer in Colombia. Since moving to America, she has started modeling and is a personal trainer.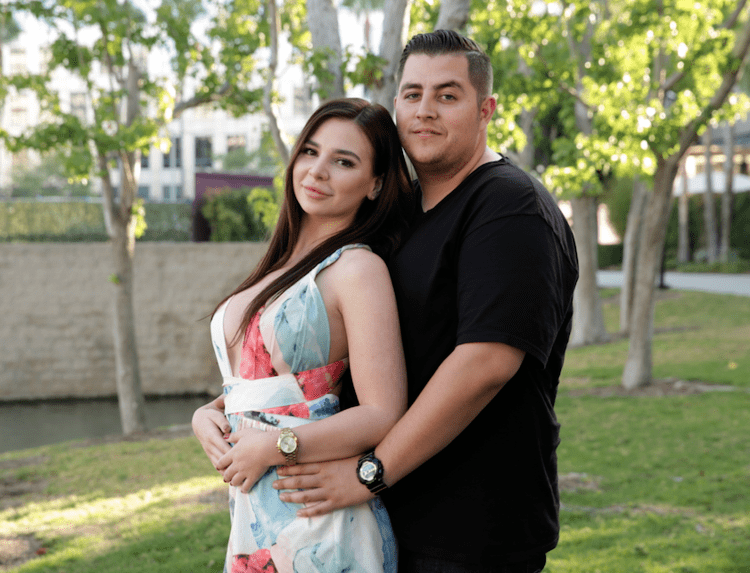 As of the airing of "90 Day Fiancé: Happily Ever After?", Russ and Pao are still married, but they live in different cities with Pao working as a model/personal trainer in Miami. The future of their relationship is uncertain, and Pao stated that they are currently "living separate lives".
As of 2016, they are still together.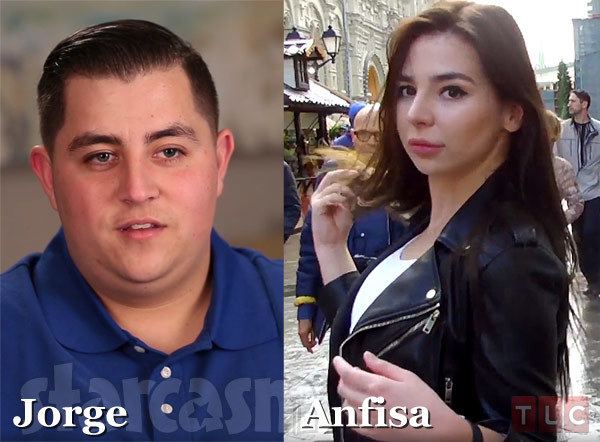 Alan Cox, 29, of Los Angeles, California, met Kirlyam, 21, of Goiania, Brazil, while he was on a Mormon mission to her hometown. She moved to America to live with him, although the two were virgins at the time of their wedding. She tried modeling, but Alan was jealous of the attention that she was getting. They were married in a Mormon temple, and although Kirlyam's family was unable to attend, they watched a livestream of the event from Brazil. The couple honeymooned in Hawaii.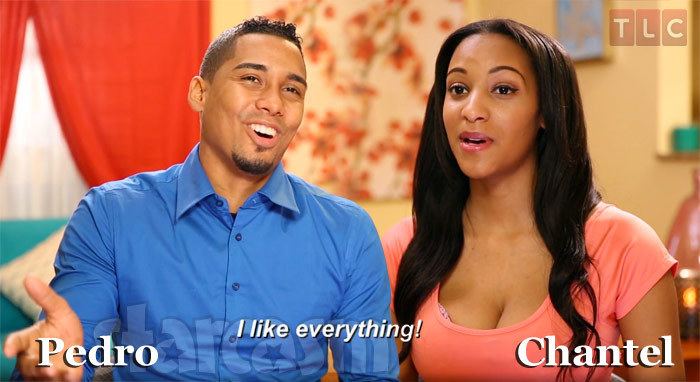 As of the season 2 update, Kirlyam is waiting for her green card so that she can find employment. Alan is employed by Breen Engineering as a project lead/photo simulation specialist.
As of 2016, they are still together.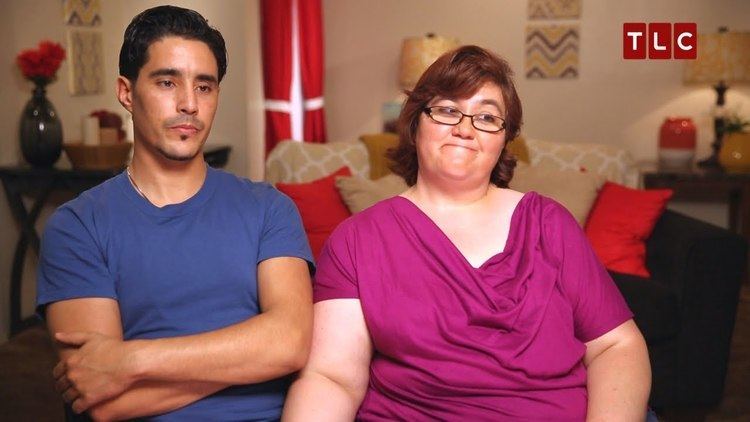 Louis Catone, 33, of Indianapolis, Indiana, met Aya, 30, of Ormoc City, Philippines, on an international dating website. Aya wanted Louis to move to the Philippines, but they decided to live in America because he has two young sons. Louis' ex-wife is very involved in his life and that initially intimidated Aya. They were married in a Catholic church. Louis is taking classes, and Aya is exploring the job market. They plan on having a child or children of their own.
The couple decided not to participate in the season 2 update.
As of 2016, their relationship status is unknown.
Mike Eloshway, 31, of Cleveland, Ohio, and Aziza, 21, of Volgograd, Russia, met on a language learning website. Their relationship was initially platonic. Sometime after Aziza's application for a work visa was denied, their relationship turned romantic. She moved to America to live with Mike. They were married although Aziza was very saddened because her family was unable to attend the wedding. Mike is employed as a technical support specialist for the Cleveland Municipal Court.
As of the season 2 update, Aziza found employment at an optics lab. The couple traveled to Russia where Mike finally met Aziza's parents.
As of 2016, they are still together.
Yamir, 28, of Managua, Nicaragua, and Chelsea, 25, of Galesburg, Illinois, met while she was doing volunteer work in Nicaragua. Yamir was a member of a Nicaraguan boy band. He moved to the United States to live with Chelsea and her parents. This caused a large rift between himself and his manager and band mates. Chelsea's parents are very supportive of the relationship. Yamir sent some demo tapes to a few music producers in Chicago and received a reply. He travels to Chicago to met with producers. The producers say that he needs to move to Chicago to have better opportunities. Unfortunately, Chelsea is resistant to the idea because neither is employed and they can live for free with her parents in Galesburg. The two are married with Yamir's family also in attendance.
As of the season 3 update, Yamir and Chelsea were still married. Yamir made his music debut in the U.S. with Chelsea playing his love interest in the music video, "Party Love". Chelsea found employment as an elementary school teacher.
As of January 2017, Chelsea has filed divorce.
Mohamed Jbali, 26, of Tunis, Tunisia, met Danielle Mullins, 41, of Norwalk, Ohio in an online chat room. The two were engaged, and Mohammed moved to America. Danielle worked with the mentally disabled and didn't make much money. However, she was fired a few weeks before the wedding. She has three teenage daughters and one adult son from previous relationships. Mohammed claimed to have a job, but Danielle discovered that he lied about that. Shortly after the wedding, Mohamed left Danielle and went to Florida with a female friend. Danielle found out about this and consulted a lawyer. She filed for an annulment which if granted would mean that the marriage never took place and Mohamed would therefore be deported back to Tunisia. Mohamed instead wants a divorce which would allow him to stay in America. He pressures her to change the filing. She removes the annulment but refuses to yet file for divorce.
As of 2016, they live in different cities, and the future of both their relationship and Mohamed's immigration status remain uncertain.
Justin, 34, of San Jose, California, and Evelin, 29, of Santiago de Cali, Colombia met while they were both attending a rugby match at the 2013 World Games in Colombia. Justin works as a physical education teacher at an elementary school. In Colombia, Evelin worked as a dance instructor. Since moving to America, Evelin has changed the spelling of her name to Evelyn. The couple elected not to participate in the season 3 update.
As of 2016, they are still together.
Brett Otto, 31, of Snohomish, Washington, and Daya De Arce, 29, of San Carlos City, Philippines met on an international dating website. Brett is divorced and has a 6-year-old daughter from his first marriage. His daughter lives with her mother in Montana. Brett works in tool services for Boeing, and Daya found a job in the United States. He had two roommates, but they moved out once Daya arrived. Brett and Daya were married on February 14, 2015. Brett's mother chose not to attend the wedding. The couple elected not to participate in the season 3 update.

As of 2016, they are still married and are trying to start a family of their own.
Jason Hitch, 38, of Spring Hill, Florida, and Cassia Tavares, 23, of Curitiba, Brazil met through Facebook while Cassia was in an online relationship with Jason's friend. Once that relationship ended, Jason and Cassia began dating. Cassia came to America and moved in with Jason and his father who share a house. Jason is originally from Champagne, Illinois, and is an Army veteran. He lives very frugally. He buys items from garage sales, auctions, estate sales, etc. and sells them online for a profit. They started a mail order snack business called Gifting Fun.
As of 2016, they are still together.
Danny Frishmuth, 23, of Norristown, Pennsylvania, and Amy, 21, of Cape Town, South Africa met in Australia while the two were on a Bible study trip. They fell in love and got engaged. When Amy arrived in America, she lived with Danny's brother because she and Danny wanted to be virgins when they wed. Danny works in home construction for X-Treme Works in Malvern, Pennsylvania. Danny's father initially objected to the marriage because Danny is white and Amy is black, but he eventually accepted her into the family.
As of 2016, they are still together and have one son, Jedidiah John Frishmuth.
Mark, 58, of Baltimore, Maryland, and Nikki, 19, of Cebu, Philippines, met on an online dating site. Mark owns a piano rental business. Mark's first wife is also from the Philippines. He has four adult children from that marriage who are all older than Nikki. He and his first wife's relationship ended when the children were very young, and he was left to raise them on his own. Mark bought a car for Nikki and taught her how to drive. When Mark told Nikki that the car was the same make and model as the car that he put a deposit on for his first wife, Nikki was confused as she thought it was the very exact same car. Mark's daughter Elise felt uncomfortable when he shared that he wanted to give Nikki some clothes that Elise had previously discarded.
Alexei Brovarnik, 27, of Nazareth Illit, Israel, and Loren, 27, of New York, New York, met while she was on a Jewish Birthrite trip to Israel. He was a medic for her group during the trip. Loren was employed as an executive assistant while in New York, but she left her job and moved to Parkland, Florida to live with her parents as she wouldn't be able to afford to support Alexei during the time that he could not legally work. She is a graduate of the University of North Florida.
Alexei and Loren are planning to get married in Israel, but most of Alexei's friends are reluctant to attend because they say Loren took him away from them and he has not stayed in touch since. The couple is reaching out to the friends individually to try to repair the situation. The couple resides in Fort Lauderdale, Florida.
Kyle Huckabee, 28, of New Orleans, Louisiana, and Bajaree Boonma aka Noon, 25, of Bangkok, Thailand, met online through Facebook while he doing research for a trip to Thailand. The two met in person while he was there on vacation. They were engaged and Noon came to America even though Kyle hadn't officially proposed. They initially lived in Kyle's bachelor apartment with his roommate, but the situation was less than ideal. Kyle started working extra shifts at his job as a bartender on Bourbon Street so that they could afford an apartment of their own. Kyle proposed during a sky-diving trip, and they moved into a new apartment.
Before he met Noon, he was estranged from his parents who are divorced. With Noon's support, he has restated the relationship with his mother. The two were married in a Buddhist temple, but unfortunately, Noon's family was unable to attend the ceremony. Kyle's mom chose not to attend.
Devar Walters, 28, of Runaway Bay, Jamaica, and Melanie Bowers, 33, Orwigsburg, Pennsylvania, met while Melanie was on vacation at a Jamaican resort where Devar was employed as a lifeguard. Melanie is a registered nurse. She has custody of her 11-year old son Hunter on weekends. She was married to his father for 5 years before the marriage ended in divorce when she was 26. Davar proposed to Melanie while she was still vacationing, and she accepted.
Back in Pennsylvania, Melanie's sister, Bev, is extremely concerned and does not trust Devar. The couple hits a rough patch when Devar mentions sending back most of the money he earns to his family in Jamaica; Melanie ponders out loud that she will look into a prenup.
Fernando, 39, of Doral, Florida, and Carolina, 22, of Medellin, Colombia, met in Colombia while both on dates with other people. The two were engaged before he returned to America. She moved to Florida to live with him.
After his marriage ended, he invited his parents to share his house. They were able to move past this issue and were married.
A re-cap a few months later reveals the couple has happily settled in together, though Carolina admits she calls her mom several times a day and misses her cat (unfortunately Fernando is allergic to cats).
Josh Strobel, 22, of Rexburg, Idaho, and Aleksandra Iarovikova, 21, of Kirov, Russia, met in Prague, Czech Republic, while Josh was on a Mormon missionary trip and Aleksandra was attending a Metropolitan University Prague. While in Prague, she taught a pole dancing class and was also employed as a go-go dancer. Initially an atheist, Josh led Aleksandra on a conversion to Mormonism.
Josh's parents are concerned that Aleksandra may be to "wild" for their son (Aleksandra was formerly a go-go dancer, has visible tattoos and had "a lot" of boyfriends); Aleksandra's mother wishes that she would go to school and get a job instead.
Despite the misgivings, Josh and Aleksandra tie the knot in August 2015. Josh was a virgin at the time of the wedding, and Aleksandra was worried that he wouldn't know what to do in bed because she was very experienced. A re-cap a few months later reveals that the couple are now expecting their first child together.
Anfisa Arkhipchenko, 20, Moscow, Russia, was contacted by Andrew Lopez aka Jorge, 25, Riverside, California, via Facebook after he stumbled onto her photos. Though Anfisa was at first resistant to his messages (Jorge claims he "fell in love" with her just by viewing her noticeably sexy photos). Anfisa eventually agreed to meet him and Jorge ends up taking her on an expensive vacation around Europe. Shortly before Anfisa was scheduled to come to the United States, she asked Jorge for an expensive handbag, which Jorge declined to buy for her. Anfisa managed to wipe Jorge's cellphone and cancel the flights, though the two reconciled and eventually Anfisa agrees to travel to the U.S. Jorge is a convicted felon, having pleaded guilty to drug trafficking, which makes it hard for him to rent an apartment.
Anfisa is less than impressed at their living arrangements - a hotel - though why exactly Jorge does not have his own place to live has not been revealed. She is also upset that she will not be given the so-called allowance she wants, a mere 10K a month, after Jorge says he makes enough money for the both of them (Anfisa, though, has an interest in modeling). Jorge is smitten and absolutely in love, though his friends and family are certainly concerned about Anfisa's motives.
As the wedding planning progresses, Anfisa keeps asking for very expensive items. After she tries on a $300,000 ring and suggests that he could sell his car to help pay for it, Jorge confronts her about money. She admits that she is primarily interested in him for his money, and she also believes that he is primarily interested in her for her looks. Jorge is crushed by this. She was considering going back to Russia, and Jorge considered for a while that he would not try to stop her. They get married alone in a simple courthouse ceremony with the promise that they will have an elaborate ceremony later on.
Nicole, 21, Bradenton, Florida, and Azan, 23, Morocco, met via an app that allows users to connect with people all over the world. After hitting it off, though somewhat against her parents wishes, Nicole decides to stay with him for five weeks, leaving her toddler-aged daughter May with her sister. Upon meeting Nicole at the airport, Azan remarks that she is "big...a little bit" but concedes that he is happy. Nicole is thrilled to be in Morocco with Azan (later calling him her "Arabian Prince"), though he has a hard time persuading her that in his culture it is not acceptable for unmarried coupled to be physically affectionate. Nicole persists in trying to hug and kiss Azan, which only causes him to become irritated. Nicole, meanwhile, feels shunned and unsure of their relationship.
Azan takes Nicole to his hometown to visit his family; she is warmly welcomed and we learn that his mother especially is thrilled with Azan's girlfriend. Unfortunately, Nicole later reveals that she cheated on Azan, something that could end the relationship should his family find out.
Azan takes Nicole to the desert and proposes, and she accepts. However, she continues to chafe at the customs of the Muslim culture. She refuses to convert to Islam and he refuses to convert to Christianity.
Their wedding is delayed indefinitely due to Nicole not being able to yet afford to fund the government sponsorship requirements for Azan's staying in the U.S, and her Mom refusing to co sponsor the effort. Nicole believes it will take 2 years minimum and hopes Azan will wait that long. Their future is unsure, but as of today they are still together, but continuing to live in separate countries.
Olulowo is currently in Nigeria and used to be in Vietnam. He is trying to meet Narkiya but various obstacles keep popping up. Narkiya and her friends and family are skeptical of him and are wary of a romance scam, but he has not asked for any money and Narkiya is still willing to see where it goes.
They broke up though since Olulowo had been lying to Narkiya about still having been contacting and pursuing a relationship with a woman he had previously had a baby with in the early stages of his relationship with Narkiya.
Matt, 42, Williamstown, Kentucky, and Alla, 30, Kiev, Ukraine, met several years ago using an online dating site but lost touch after Matt married his third wife. A few years and a divorce later, Matt and Alla reconnect. Alla, also a divorcee, has a 7-year-old son named Max. The reserved Alla is easily overwhelmed by Matt's friends and family while Matt continues to deal with lingering issues caused by his previous wives (he claims his first and third wife cheated on him). Alla dreams of a wedding on the beach but Matt's family tries to persuade her to scale back her plans.