6.2

/

10

Alchetron

8.6

Rate This




Also known as

My Eternal




Theme music composer

George Canseco


Final episode date

26 October 2012






Genre

melodrama, Romance


First episode date

16 January 2012




Number of episodes

203






Written by

Reggie AmigoNoreen Capili




Directed by

Jerry Lopez SinenengTrina N. DayritJojo A. Saguin




Starring

Coco MartinJulia MontesRichard GomezDawn Zulueta




Production locations

Philippines, Milan, San Francisco


Awards

PMPC Star Awards for TV Best Drama Actress




Cast

Coco Martin, Dawn Zulueta, Richard Gomez, Paulo Avelino, Helen Gamboa



Similar

Juan dela Cruz (TV series), Ang Probinsyano, The Legal Wife
Coco martin julia montes in walang hanggan everlasting full episode 1
Walang Hanggan (Lit: Infinity / English: My Eternal) is a 2012 Philippine romantic Melodrama television series loosely based on the 1991 Gomez-Zulueta film Hihintayin Kita Sa Langit, a film based on the Emily Brontë novel, Wuthering Heights. Directed by Jerry Lopez Sineneng and Trina N. Dayrit, it is topbilled by Coco Martin, Julia Montes, Richard Gomez and Dawn Zulueta, together with an ensemble cast. The series was aired on ABS-CBN's Primetime Bida evening block and worldwide on The Filipino Channel from January 16, 2012 to October 26, 2012, replacing Nasaan Ka, Elisa?.
Contents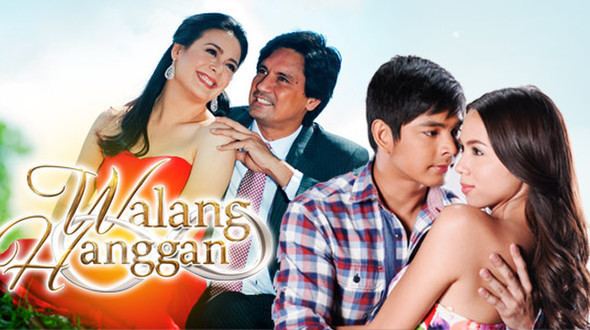 The classic drama became a huge hit maintaining the top spot in viewer ratings for most of its run, with the final episode attained its highest rating of 45.4% nationwide.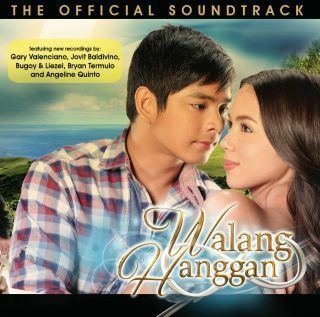 Tragedy turns love eternal in walang hanggan finale
Plot summary
The story spans three generations.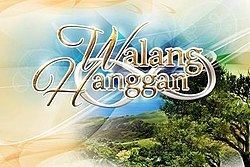 Cruz sisters Henya and Margaret vie for the love of Joseph Montenegro in the fictional province of Olivarez. Henya had to sacrifice everything to let Margaret live a better life with Joseph. Around two decades later, Margaret and Joseph's son Marco develops feelings for Emily Cardenas, a daughter of a worker in their plantation. However, numerous circumstances and Margaret's haughtiness towards Emily prompts Marco to marry rich banker Jane Bonifacio - much to Emily's detriment. It fuels the Henya-Margaret rivalry more, especially when Marco migrates to the United States after Emily shuns him when he tries to explain.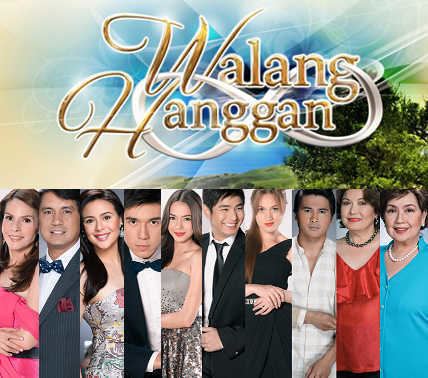 Meanwhile, laborer William Alcantara settle in Olivarez with his children Katerina and Tomas. He adopts a streetboy named Daniel while working at the Cruz family business, where Manang Henya assumes a role as his adoptive grandmother. Daniel first plays around with Katerina but they gradually develop a friendship over the next several years. Marco and Jane return home with their children Johanna and Nathan, with the latter becoming interested in Katerina as well. Manang Henya and Margaret's rivalry affects the children. Emily reemerges with a plan to avenge her woes by taking all the shares in the business. At the same time, Tomas and Nathan schemes to get Daniel out of the way so the latter can marry Katerina. After Tomas stabs Daniel, Emily saves him and they escape to live in Italy as Emily and Daniel Guidotti.
Emily and Daniel eventually returns to the Philippines after learning that Nathan and Katerina are going to be married. However, Daniel did not arrive in time to stop the wedding. They eventually open an import-export business and plan their own counterstrike against the Montenegros. However, things take a nasty turn when Emily's assistant Miguel steal all the company's funds and eventually puts it in bankruptcy, while Jane dies in a plane crash. Having lost their business empire, Emily and Daniel (who was revealed to be her and Marco's biological son) work on their own day jobs as Tomas and Nathan try to make their lives miserable. Jane's cousin Jean appears and takes over the bank that figured in the collapse of the Cruz family business. Under a cover identity named Black Lily, Jean meddles in Emily and Marco's relationship as the lovers get engaged. Jean is eventually unmasked as Jane (who miraculously survived the crash and underwent plastic surgery) and Miguel kills her for good.
Although married to Nathan, Katerina realizes she still has feelings for Daniel, but attempts to see him in secret. When things go too far for Nathan's taste, he abducts and rapes Katerina and she eventually became pregnant. She later runs away to hide in a far-off location, prompting Daniel to persevere in finding her. Whilst hiding from Nathan, Katerina discovers that her mother is still alive. During the search for Katerina, Daniel and Nathan had a heated fistfight in a parking lot where afterwards, Nathan stabbed himself to make it appear that Daniel was the one who did it. Despite the fact that Johanna knows the truth, Daniel was still imprisoned for frustrated murder, but was eventually freed. Margaret admits that Katerina and Nathan's wedding was a sham because the priest did not have the authority to officiate. After another series of twists, Emily and Marco finally get married, as well as Daniel and Katerina.
Daniel eventually face off in a final showdown with Tomas and Miguel, resulting in the latter shooting Katerina and Daniel as the couple ends up in the hospital. Marco arrives too late and kills Miguel. Katerina later dies in the hospital, and as Daniel mourns for a long time at her grave, Tomas blames him for his sister's death and kills him, much to Emily's anguish. In the epilogue, Henya and Margaret reconcile while thinking about Daniel and Katerina being reunited in heaven. Emily and Marco have their own baby, named Daniel II. Nathan, who was committed to a psychiatric hospital, is finally released and moves back with his family. Tomas is sentenced to life imprisonment. Several years later, another couple visits the Montenegro mansion during a Christmas gathering, where Daniel II meets the couple's daughter named Catherine. The story ends with Daniel and Katerina live happily ever after in heaven.
Main cast
Coco Martin as Daniel Montenegro / Daniel Guidotti
Julia Montes as Katerina Alcantara-Montenegro / Katerina Alcantara-Guidotti
Richard Gomez as Marco Montenegro
Dawn Zulueta as Emilia "Emily" Cardenas-Guidotti / Emilia "Emily" Guidotti-Montenegro
Supporting cast
Helen Gamboa as Doña Margaret Cruz-Montenegro
Susan Roces as Virginia "Manang Henya" Cruz
Paulo Avelino as Nathaniel "Nathan" Montenegro
Melissa Ricks as Johanna Montenegro / Patricia Bonifacio
Joem Bascon as Tomas Alcantara
Rita Avila / Eula Valdez as Jane Bonifacio-Montenegro / Jean "Black Lily" Bonifacio
Nonie Buencamino as Miguel Ramos
Extended cast
Shamaine Buencamino as Luisa Alcantara-Reyes
Ogie Diaz as Kenneth
Arlene Muhlach as Perla
John Medina as James Ocampo
Eda Nolan as Lorraine Delgado
Josh Ivan Morales as David Conde
Guest cast
Richard Yap as Henry de Dios
Froilan Sales as Hugo Rivera
Lui Manansala as Laarni Peralta
Nanding Josef as Ernesto
Fred Payawan as Luis Villareal
Dino Imperial as Jack
Tricia Santos as Katerina's classmate
Fretzie Bercede as Katerina's classmate
Manuel Chua as Tomas' friend
RJ Calipus as Tomas' friend
Marion de la Cruz as Tomas' friend
Andre Tiangco as Atty. Ronald Meneses
Menggie Cobarrubias as John Bonifacio
Olive Cruz as Edith Bonifacio
Wendy Valdez as Marian Jimenez
William Lorenzo as Homer Reyes
Ricardo Cepeda as Atty. Pedring Sanchez (Daniel's lawyer)
Dante Rivero as Teban
Tom Olivar as Chief Warden
PJ Endrinal as Joaquin
Valerie Concepcion as Wedding planner
Bryan Termulo as himself (singer for wedding of Daniel and Katerina)
Gary Valenciano as himself (singer for wedding of Daniel and Katerina)
ABS-CBN Philharmonic Orchestra as themselves
Mon Confiado as Abdon Angeles
Special participation
Eddie Gutierrez as Joseph Montenegro
Joel Torre as William Alcantara
Spanky Manikan as Hernan Cardenas
Yogo Singh as young Daniel Cruz
Dexie Daulat as young Katerina Alcantara
Andrei Garcia as young Tomas Alcantara
John Vincent Servilla as young Nathan Montenegro
Yasmine Andrea as Joanne Montenegro
EJ Jallorina as young Kenneth
Sheryl Cruz as young Virginia "Henya" Cruz
Ciara Sotto as young Margaret Cruz
Melissa Mendez as Hilda Cruz
Mark Gil as Mr. Cruz
Original soundtrack
The theme song "Hanggang Sa Dulo Ng Walang Hanggan", composed by songwriter George Canseco, was sung by Filipino singer Gary Valenciano for this drama's own rendition. The song was originally covered by Richard Reynoso as a theme song for the 1991 film Hihintayin Kita Sa Langit, starring Richard Gomez and Dawn Zulueta. It was later on covered by Ayegee Paredes for the classic 2001 soap opera Sa Dulo Ng Walang Hanggan, starring Claudine Barretto and Mylene Dizon.
A second album for the drama was released with new songs such as "Pangako", "Sana Maulit Muli", and "Kahit Isang Saglit", covered by Martin Nievera, Aiza Seguerra and Juris respectively. Another cover of the drama's main theme song was recorded for Walang Hanggan: The Official Soundtrack Volume 2. The second rendition of "Hanggang Sa Dulo Ng Walang Hanggan" was covered by Filipina singer Nina.
Marketing
The first full-length trailer was released on December 17, 2011, via the drama-anthology Maalaala Mo Kaya.
From January 9 to 13, 2012, the cast members of the series appeared via the morning talk show Kris TV where they promoted the series. First to make an appearance were Richard Gomez and Dawn Zulueta, followed by the artists of the Walang Hanggan: The Official Soundtrack album. On January 11, Julia Montes, Melissa Ricks, Joem Bascon and Paulo Avelino promoted the drama. This was followed by a guest appearance of Helen Gamboa and Susan Roces on January 12. By January 13, Coco Martin, the series' lead actor who coincidentally is the talk show's most requested guest, gave a special appearance.
Gomez once again promoted the series by guesting in the noontime variety show Happy, Yipee, Yehey on January 14, the same day of the series' advanced special screening held at SM Megamall, the screening was attended by many acclaimed artists and critics namely Gomez' wife Lucy Torres with Kris Aquino, Vice Ganda and Liz Uy. Also present in the said screening was My Binondo Girl's Richard Yap, Zulueta's husband Cong. Anton Lagdameo, and Garrie Concepcion.
On January 15, the cast visited SM North Skydome for a Grand Fans Day and for the release of the series' original soundtrack, they also guested in the musical variety show, ASAP 2012, followed by another appearance of Gomez in the late-night talk show, Gandang Gabi, Vice! while Paulo Avelino guested in The Buzz.
After its successful premiere and the viewer's warm support, the cast launched Pagmamahalang Walang Hanggan: The Nationwide Mall Tour. In February 5, the cast visited SM City Lucena followed by an appearance in February 12 at SM City Pampanga. In February 18, the cast continued their appreciation stopping at Gaisano Capital Mall in Mactan, Cebu City. In February 25, Coco Martin visited Koronadal, General Santos City as well as being part of the Fun Feb Night concert with Jed Madela and Juris to promote the drama. In March 3, Martin, Ricks, Avelino, Bascon and Montes stopped by at Panagbenga Festival in Baguio City. The cast continued the tour in Gaisano Mall of Davao Atrium in March 17 and was followed by a tour at Panaad Stadium Bacolod City in April 14.
Ratings
The phenomenal finale of Walang Hanggan drew in a record-breaking 45.4% nationwide audience share, topping its previous all-time highest rating of 44.7%. The drama also captivated netizens on social networking sites, as it quickly became the most talked-about topic online. The soap's title became the number one worldwide trending topic on Twitter during the airing of final episode. According to a release from Kantar Media-TNS data, Walang Hanggan is the only Filipino drama of 2012 to have surpassed the 40% margin, registering a 41% ratings share on May 23, 41.4% on June 15, and 44.7% on June 29.
Merchandising
ABS-CBN took advantage of the drama's popularity to partner with local jeweler Karat World to produce an "infinity ring," a special ring shaped like intertwined infinity loops. The rings are available in 14-karat solid yellow gold, 14-karat solid white gold, and silver 925. Each ring also has an "infinity marking" and a 585-stamping "to signify its gold purity." They also released infinity necklaces and earrings.
References
Walang Hanggan (2012 TV series) Wikipedia
(Text) CC BY-SA