Preceded by

A. Narendra




Constituency

Medak


Spouse

M. V. Srinivas Prasad




Occupation

Actress, Politician



Name

Vijayashanti Prasad




Religion

Hindu




Role

Film actress







Born

24 June 1964 (age 58) , Madras, Madras State, India(now Chennai, Tamil Nadu) (

1964-06-24

)


Residence

Hyderabad, Telangana, India


Parents

Srinivas Prasad, Varalaxmi




Movies

Gang Leader, Kondaveeti Donga, Mannan, Janaki Ramudu, Padamati Sandhya Ragam



Succeeded by

Kotha Prabhakar Reddy

Vijayashanti personal interview chatta sabhallo vanitha vanitha tv
Vijayashanti Srinivas is an Indian film actress, Producer and a politician. In a film career spanning thirty years, she has acted in over one hundred and eighty feature films in a variety of roles in various Indian languages including Telugu, Tamil, Malayalam, Kannada and Hindi. She has been called "The Lady Superstar" and "Lady Amitabh" of South Indian cinema. She has won the National Film Award for Best Actress for her work as a "super cop" in Karthavyam (1991), and has also garnered seven Filmfare Awards South, six for best acting & one for Filmfare Lifetime Achievement Award (South) in the year 2003, and four state Nandi Awards for best acting.
Contents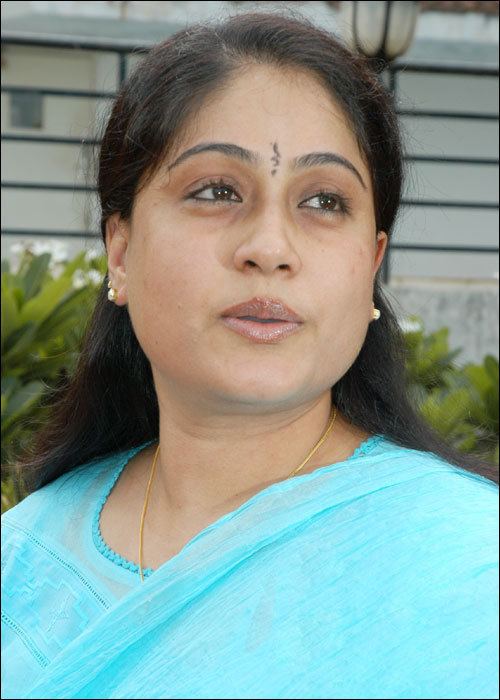 In 1985 Vijayashanti has garnered the state Nandi Award with her role in Pratighatana. In 1987 she has appeared in works such as Swayam Krushi alongside Chiranjeevi, screened at the Moscow International Film Festival, and Padamati Sandhya Ragam alongside Hollywood actor Thomas Jane, screened at the Louisville's International Film Festival. She then appeared in hits such as Agni Parvatam, Challenge, Kondaveeti Raja, Pasivadi Pranam, Rudranetra, Muddula Krishnaiah, Yamudiki Mogudu, Athaku Yamudu Ammayiki Mogudu, Muddula Mavayya, Kondaveeti Donga, Gang Leader establishing herself as one of the leading actress of Telugu cinema, and being cited in the media as one of the nation's most popular and attractive personalities of the 1980s.She was the only actress who demanded high remuneration equal to her male counter parts during 1990's.Her remuneration for Telugu move karthavyam was ₹ 1crore which was the highest ever remuneration paid for a female actor during that period .She joined state politics in the year 2004.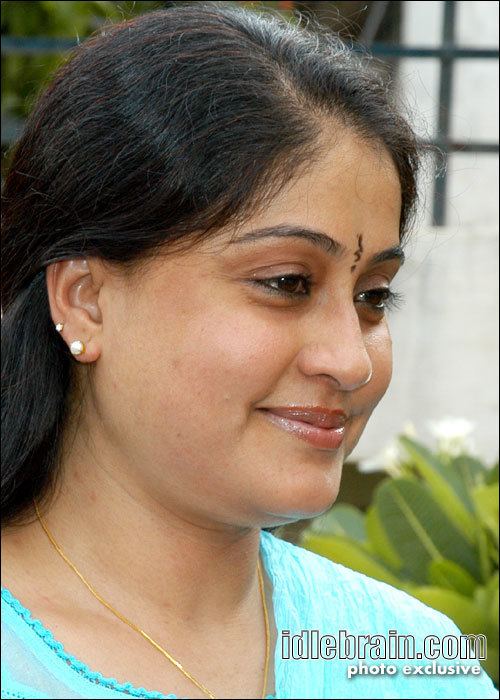 Veteran actress vijayashanti visits tirumala exclusive video
Childhood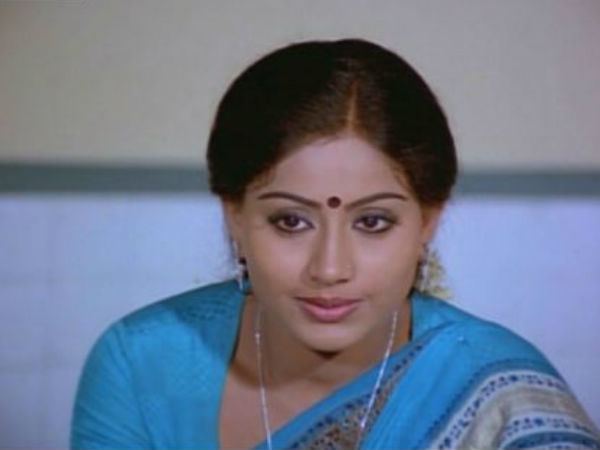 Vijayashanti was born in Madras, Madras State on 24 June 1965 to Varalaxmi and Srinivas Prasad, who migrated to Madras from Ramannagudem in Warangal district, Telangana. She has said that she prefers to think of herself as being from Telangana rather than Madras, although as of 2004 she had never visited her parents' village. She completed her 10th class at Holy Angels High School, Madras, before starting her film career.
Early Career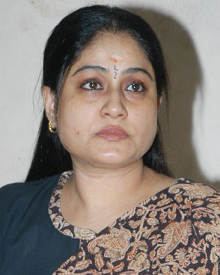 Vijayashanti began her acting career at the age of 13 in 1980, playing the leading lady in the Tamil film Kallukkul Eeram ("The moisture inside stone / rock"), directed by Bharathiraja. In the same year, she debuted in Telugu cinema with the movie Kilaadi Krishnudu, opposite Krishna. She was given screen name "Vijaya Shanthi", which was based on that of her aunt and veteran actress Vijaya Lalitha. She got a role in the Telugu film Satyam-Sivam (1981), the cast of which included N. T. Rama Rao and Akkineni Nageswara Rao.
Breakthrough (1992-1993)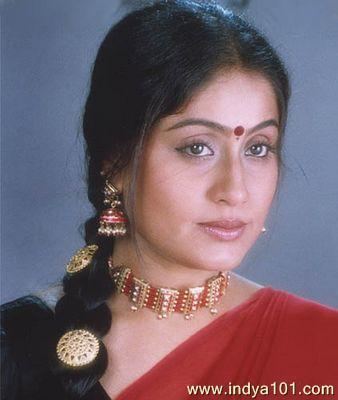 In 1992 Mondi Mogudu Penki Pellam was a huge success. In that she played a bold lady speaking Telangana slang and delivered the career-defining song "Laloo Darwaja Laskar". In the 1990s, she was the only actress demanding highest remuneration in India equal to her co-superstars. Most of her films with Telugu superstars Chiranjeevi (19 films) and Balakrishna (17 films) were huge hits and her on-screen chemistry with both of those men worked very well. She also acted opposite Daggubati Venkatesh in Sathruvu, Surya IPS and Chinarayudu. She also acted alongside Tamil superstars Rajinikanth, as the antagonist in the film Mannan, and with Kamal Hassan as an investigative reporter in Indrudu Chandrudu. She acted in two movies with Malayalam superstar Suresh Gopi, being Yuvathurki and Kallu Kondoru Pennu.
Action oriented roles (1990-2003)
Films like Repati Pourulu, Aruna Kiranam, Vandemataram and Bharatha Nari are some other movies winning some state awards. In the blockbuster movie Karthavyam (1990), her performance as a tough policeman (modelled after the real-life Kiran Bedi) won her the National Film Award from the Government of India and an Andhra Pradesh State award for best actress. She was the third woman from Telugu cinema to win that award. The success of this movie saw her moving away from glamorous roles and limiting herself to tough lady roles. These tough lady roles made her a leading actress in Telugu films.
In 1990, Karthavyam was dubbed into Tamil as Vijayanthi IPS and its success brought her actress in Tamil cinema as well. (It was also remade in Hindi as Tejaswini, with herself playing the lead role. This, too, did very well at the Hindi box-office). The film influence the then 10-year old C. Indhumathi. Vijayanthi IPS ran for 50 days in Vetri theater in Chennai and this record is broken by a dubbed version of Baahubali in August 2015.
A. M.Ratnam, who was Shanti's personal make-up artist, turned out to be money-making Producer. Vijayashanti financially supported him and made the award-winning Karthavyam. In 1993 she acted in a dual role Police lock up directed by Kodi Ramakrishna was a superhit. After she started concentrating on action roles, something special is her naivity showing. In 1997 she did Osey Ramulamma, directed by Dasari Narayana Rao and this was the biggest blockbuster of the year, winning her fourth Nandi Award. From this film onward she is mostly called as "Ramulamma" by the people. Later she appeared in strong roles in movies like Adavi Chukka and Rowdy Durbar, directed by Dasari Narayana Rao. She also worked in a Bollywood movie Gundagardi (1997) in an action role opposite Aditya Pancholi. Vijayashanthi has also worked for many commercials like Chandana Bros., and Power Detergent soap. She was the only actress to be first featured in a saree commercial. Later many actress followed her and are featured in many saree and dress commercials.
Political Career (1998-2014)
In 1998 Vijayashanti joined the Bharatiya Janata Party and was soon made the secretary of BJP's Women's Wing (Bharateeya Mahila Morcha). During the 1999 general election she was named BJP's contestant from the Cuddapah Lok Sabha seat against Sonia Gandhi of Congress(I) (however, she withdrew from the race after Sonia Gandhi decided to contest from Bellary). She started her own political party, Talli Telangana, in January 2009 which she merged into Telangana Rashtra Samithi (TRS) due to lack of strength and support. From 1999 her movie appearances decreased as she focused on her political career. By 2004 she had stopped signing up for new films. In the 2009 general election, she won as a Member of Parliament from Medak constituency. In June 2009, she resigned from the post of secretary general of TRS, expressing solidarity with the resignation of Kalvakuntla Chandrashekar Rao. In 2011, she submitted her resignation as an MP. The resignation was later rejected by the speaker of the house, as they were not in the proper format. Later she was actively participating in politics for separate Telangana state (region), which she played a key role in the process.
Vijayashanti joined Indian National Congress party in February 2014 after split with TRS chief KCR and contesting the Lok Sabha elections 2014 on a Congress ticket. She lost in those elections and then announced that she was retreating from politics. She said she would return to the cineman in 2016 once she found a suitable script.
Personal life
She is married to a real-estate businessman M. V. Srinivas Prasad.
Awards
National Film Awards
National Film Award for Best Actress - Karthavyam (1990).
Filmfare Lifetime Achievement Award (South) (2003).
Filmfare Best Actress Award (Telugu) - Osey Ramulamma (1997).
Filmfare Best Actress Award (Telugu) - Police Lockup (1993).
Filmfare Best Actress Award (Telugu) - Karthavyam (1990).
Filmfare Best Actress Award (Telugu) - Bharathanaari (1989).
Filmfare Best Actress Award (Telugu) - Swayamkrushi (1987).
Filmfare Best Actress Award (Telugu) - Pratighatana (1985).
Nandi Award for Best Actress - Osey Ramulamma (1997).
Nandi Award for Best Actress - Karthavyam(1990).
Nandi Award for Best Actress - Bharathanaari (1989).
Nandi Award for Best Actress - Pratighatana (1985).
T. S. R. Awards
Silver Screen Empress Award
Filmography
Actress
2021
Zamaanat: And Justice for All
as
Shanti
2020
Sarileru Neekevvaru
as
Bharathi
2006
Naayudamma
as
Naayudamma and Jhansi
2002
Sahas Baludu Vichitra Kothi
2000
Sree Srimathi Satybhama
2000
Adavi Chukka
as
Chukkamma / Santhi
1998
Kallu Kondoru Pennu
as
Sita Kumari
1997
Osey Ramulamma
as
Ramulamma
1997
Gundagardi (as Vijayashanti)
1994
Doragariki DongaPellam
1994
Tejasvini
as
Asst. Supt. of Police Tejasvini Joshi
1993
Kunti Puthrudu
as
Mythili
1993
Mechanic Alludu
as
Chitti
1992
Mondi Mogudu Penki Pellam
1991
Gang Leader
as
Kanyakumari
1991
Stoovertpuram Police Station
as
Alakhnanda (as Vijay Shanti)
1990
Muqaddar Ka Badshaah
as
Bharti Rathod
1990
Muddula Menalludu
as
Shanti
1990
Kondaveeti Donga
as
Srilatha
1989
Koduku Diddina Kapuram
as
Sasirekha (as Vijaya Shanti)
1989
Rudranetra
as
ISS Agent Pratima
1989
Eeshwar
as
Lalita (as Vijaya Shanti)
1989
Athaku Yamudu Ammayiki Mogudu
as
Rekha
1988
Janaki Ramudu
as
Janaki / Lakshmi
1987
Bhanumati gari Mogudu
as
Bhanumati
1987
Muvva Gopaludu
as
Nirmala
1987
Padamati Sandhya Ragam
as
Sandhya
1986
Apoorva Sahodarulu
as
Swapna
1986
Sravana Sandhya
as
Sravani
1986
Dhairyavanthudu
as
Lavanya
1985
Desamlo Dongalupaddaru
1984
Mahanagaramlo Mayagadu
1983
Pelli Chesi Chupistham
1983
Simha Garajane
as
Radha; a policeman's daughter
1982
Pelleedu Pillalu
as
Santhi
1972
Mome Ki Gudiya
as
Child actress
Self
References
Vijayashanti Wikipedia
(Text) CC BY-SA