From the beginning of the founding of the Vietnamese Nation in the 1st millennium BC, the Hùng Vuong period spawned many legends of fighting against seaborne invasions of Quynh Chau (now China) from the north and Ho Ton (later to become Champa) from the south. During the era of the Kingdom of Âu Lạc, when the Cổ Loa Citadel was constructed, King An Dương Vương relied on the Hoang Giang River as a natural fortification to protect the south flank of the cidatel. In the 6th century, Emperor Lý Nam Đế built naval forces to fend off the invasion of Liang Dynasty's (China) forces in the Tô Lịch River, Dien Triet lake; and then, King Triệu Quang Phục used guerrilla tactics against the Chinese military at Da Trach lagoon (Khoái Châu, Hải Dương).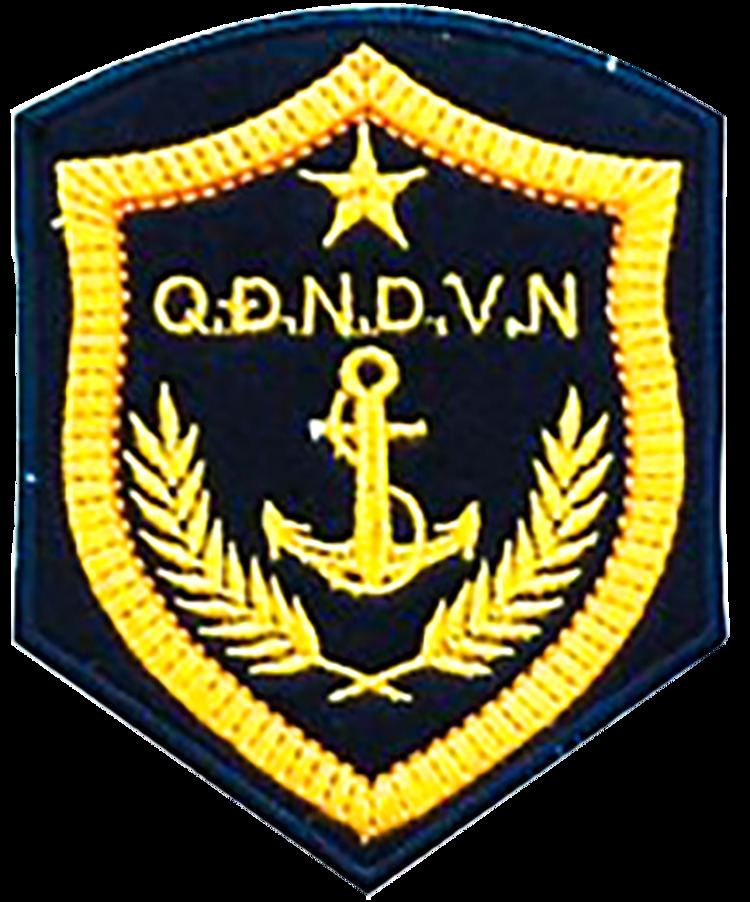 In the 10th century, the Imperial Vietnamese Navy became a regularised force. Naval forces of Khúc Thừa Dụ in Hong Chau (now Ninh Giang District, Hải Dương), Dương Đình Nghệ in Ai Chau, Thanh Hóa and of King Ngô Quyền himself were raised by enlisting and training the fishermen along rivers and seasides. Those elements became well-trained and experienced naval forces, ready to protect the country.

In Lý–Trần Dynasty era, the dynasties were occupied with raising naval forces and naval bases. Particularly, the Vân Đồn port had an important role in protecting the northeast territorial waters of Vietnam. In 1075 Lý Thường Kiệt mobilised a fleet to ferry 50,000 marines across the Gulf of Tonkin to invade Qinzhou, China. The amphibious assault was well planned and executed with incredible speed that Qinzhou's garrison was totally taken by surprise. The fortress town was taken in one night.
To retaliate, the Song dynasty of China mustered a huge invasion force, with a naval arm to provide support to land operations. They were already fearful of Vietnam's reputation at sea combat, thus a large enough force was organised so as to "not lose even if they can't score a win". Lý Kế Nguyên, a Vietnamese commander stationed in Vân Đồn, Quảng Ninh, however, had absolute confidence in his fleet that he went on the offensive and took on the Chinese invasion fleet on the high sea. Lý defeated the Chinese so badly that their admiral sent messengers to urge Chinese coastal guards to fortify their post in fear of a reverse-invasion.
In 1077, the Imperial Vietnamese Navy fought the Battle of Cầu River against the Chinese Song Dynasty forces. This was the final battle Song Dynasty would fight on Vietnamese land or waters. The battle lasted for several months, and ended with the victory of the Vietnamese Navy and the loss of many Song sailors. This victory demonstrated the successful tactics of war and active defence of the famous Admiral Lý Thường Kiệt who faced a naval force numerically superior to his own. The Song Dynasty lost a total of 8,000 soldiers/sailors and 5.19 million ounces of silver, including all costs of the war.
The largest battles (officially recorded in history) were three naval encounters (all three are called Battle of Bạch Đằng): Admiral, later Emperor Ngô Quyền against the Chinese Southern Han forces in 938 (killed over 10,000 and captured hundreds of Chinese sailors, killed Chinese Prince Liu Hongcao); Lê Hoàn against Song Dynasty in 981; and Trần Quốc Tuấn against Yuan Dynasty (Mongol) in 1288 (over 80,000 Yuan Mongol sailors killed or captured, more than 400 Yuan (Mongol) ships destroyed, Mongol Commander Sogetu perished, and Yuan (Mongol) Admiral Omar captured).
The Đại Việt sử ký toàn thư records that in 1467 in An Bang province of Đại Việt (now Quảng Ninh Province) a Chinese ship blew off course onto the shore. The Chinese were detained and not allowed to return to China as ordered by Emperor Lê Thánh Tông. This incident may be the same one where Wu Rui was captured. One of the renowned victories in Vietnamese naval history was the Battle of Rạch Gầm-Xoài Mút in Tây Sơn Dynasty, during which Nguyễn Huệ (Emperor Quang Trung) defeated the Siamese (Thai) naval force. The battle occurred in present-day Tiền Giang Province on 19 January 1785. Nguyễn Huệ's forces completely destroyed over 50,000 Siamese sailors and 300 warships.
In the Nguyễn Dynasty period, 19th century Nguyen Emperor Gia Long used his new base to improve the Vietnamese Navy. Gia Long had first attempted to acquire modern naval vessels in 1781, when on the advice of Bishop Pigneau de Behaine, he had chartered Portuguese vessels of European design, complete with crew and artillery. This initial experience proved to be disastrous. For reasons that remain unclear, two of the vessels fled in the midst of battle against the Tây Sơn, while angry Vietnamese soldiers killed the third crew.
In 1789, Pigneau de Behaine returned to Vietnam from Pondicherry with two vessels, which stayed in the Nguyễn Dynasty service long-term. Over time, Vietnamese sailors replaced the original French and Indian crew under the command of French officers. These vessels became the foundation for an expanded military and merchant Nguyễn Dynasty naval force, with Gia Long chartering and purchasing more European vessels to reinforce Vietnamese-built ships. However, traditional Vietnamese-style galleys and small sailing ships remained the majority of the fleet. In 1799, a British trader by the name of Berry reported that the Nguyễn Dynasty's fleet had departed Saigon along the Saigon River with 100 galleys, 40 junks, 200 smaller boats and 800 carriers, accompanied by three European sloops. In 1801, one naval division was reported to have included nine European vessels armed with 60 guns, five vessels with 50 guns, 40 with 16 guns, 100 junks, 119 galleys and 365 smaller boats.
In the middle of the 19th century, the Vietnamese Navy fought against the French in many battles. Due to disadvantages in technology, the Vietnamese Navy could not defeat the French Navy, but there were still several battles during which the Vietnamese Navy caused heavy damages to the French. The Vietnamese were especially successful in the Battle of Nhat Tao canal held by Nguyễn Trung Trực on 10 December 1861. Nguyen Trung Truc's naval forces ambushed the French brig L'Esperance at the Vam Co River, Mekong Delta. Truc's 150 men were grouped into three columns. The first group of 61 sailors under Hoang Khac Nhuong was to attack a nearby pro-French village to provoke an incident and lure the French forces into an ambush. Truc commanded the second group of 59 partisans along with Vo Van Quang, and was assigned to burn and sink the vessel. A third force of 30 sailors was commanded by Ho Quang and Nguyen Van Hoc. Due to the surprise attack, the French Navy suffered major damage: the brig L'Esperance was sunk, 17 French sailors and 20 pro-French Vietnamese naval auxiliaries were killed, only eight people escaped, including two French sailors and six sailors of Tagal (Filipino) background employed by the French.
On 19 July 1946, Acting President of Democratic Republic of Vietnam Huỳnh Thúc Kháng signed into law a decree establishing the modern Vietnamese Navy. Then, on 10 September of that year, General Võ Nguyên Giáp started to build a flotilla as the core of the new navy. On 8 March 1949, Vietnam established the Department of Naval Research under the General Staff. This department has performed both research and training to prepare for combat missions.
Following the Geneva Conference in 1954, the Democratic Republic of Vietnam went about creating its own naval forces. On 7 May 1955 the Vietnam People's Navy was created with the establishment of the General Directorate of Coastal Defence, it formed the basis for the Navy Operational Command (based on the Vietnamese Ministry of Defence decree No. 284/ND signed by General Võ Nguyên Giáp to established Naval Research Board, under the General Staff, on 8 March 1949). The primary mission of the Navy was to patrol the coastal areas and the inland waterways.
Throughout the Vietnam War the role played by the Vietnam People's Navy (or North Vietnamese Navy) was largely unknown to the public. However, on 2 August 1964, three North Vietnamese Swatow-class patrol boats attacked the destroyer USS Maddox in what became known as the Gulf of Tonkin Incident. The second attack, which the United States claimed to have occurred on 4 August, was dismissed by the North Vietnamese as a fabrication.
The North Vietnamese, however, had maintained their own version of the events which took place. According to official VPN accounts Maddox penetrated North Vietnamese waters on 31 July 1964, and provoked a battle with the North Vietnamese. In response to American provocation, three 123K-class torpedo boats from the 135th Torpedo Boat Battalion were dispatched to intercept the American destroyer. The resulting clash became known as the 'Battle of Thanh Hóa' in which North Vietnamese "torpedo boats succeeded in driving the Maddox out of Vietnam's territorial waters, shooting down a U.S. aircraft and damaging another".
Apart from patrolling territorial waters, the Navy also had the mission of transporting military supplies to support the Vietnam People's Army and their NLF ally during the Vietnam War. On 31 October 1961, a sea route version of the Ho Chi Minh trail was established by the North Vietnam Navy, with the 759th Transport Unit responsible for carrying military supplies and other goods for the Communist ground forces in South Vietnam. To avoid detection by the South Vietnamese and U.S navies, North Vietnamese transport ships were often disguised as fishing trawlers. On 16 February 1965, a 100-ton North Vietnamese trawler from the Transportation Group 125 was discovered at Vung Ro Bay. This led to the creation of Operation Market Time by the US Navy to intercept disguised enemy ships.
On 19 April 1972, the North Vietnamese Navy and Air Force participated in the Battle of Đồng Hới off the coast of North Vietnam. During this battle it was believed that the U.S Navy destroyed a Soviet-made cruise missile for the first time. The destroyer USS Higbee was damaged after an VPAF MiG-17 dropped a 250 lb (110 kg) bomb, destroying a 5-inch (127 mm) aft gun mount.
In the years following the complete withdrawal of U.S and other allied forces, the North Vietnamese went back on the offensive. As part of the Ho Chi Minh Campaign, the North Vietnamese Navy increased the transportation of military supplies, food and uniform to the Communist forces in the South. When the North Vietnamese Army (NVA) occupied the northern provinces of South Vietnam in 1975, captured South Vietnamese vessels were pressed into service with the Vietnam People's Navy. In April 1975, ex-South Vietnamese Navy vessels carried North Vietnamese troops to capture the Spratly Islands. Opening battle in the island Southwest Cay (Vietnamese: Song Tử tây) on 4 April 1975, amphibious raid by sea of the Naval Marine corps number 1 (precursor of the 126th Brigade Naval Marine corps) and three vessels of the 125 corps coordinated with the commandos of the 5th Military Region, after 30 minutes, Vietnamese Navy controlled the main battle area, facilitating the solution development process release of the other islands. Then, Vietnamese Navy continue control Sand Cay island (26 April), Namyit Island (27 April), Sin Cowe Island (28 April) and Spratly Island (29 April). At around the same time the Chinese Navy took over control of the Paracel Islands from the South Vietnamese Navy. These islands are also claimed by Vietnam, however they have no current presence there.
Prior to 1975, the North Vietnamese Navy operated fewer than forty patrol boats along with the coastal junk force. With the collapse of the Republic of Vietnam on 30 April 1975, the Vietnam People's Navy was expanded with ships from the defunct South Vietnamese Navy. Captured vessels included two patrol frigates, over one hundred patrol craft, and about fifty amphibious warfare ships.
In the late 1970s the naval infantry (or marines) was formed to be stationed on the areas claimed by the Socialist Republic of Vietnam in the Spratly Islands. The naval infantry is equipped with PT-76 light tanks, BTR-60 personnel carriers and naval infantrymen are armed with AK-74 rifle, AKM-47 assault rifles, Makarov PM pistol (Officers), and PKM machinegun infantry weapons, and more.
In 1988, Vietnam People's Navy fought against the Chinese Navy at Johnson Reef of sovereignty of the Spratly Islands, causing the losses to the Vietnamese of several transport ships and up to 64 deaths. The battle was won by the Chinese Navy who outgunned and outnumbered them, using a fleet of frigates against Vietnamese lightly armed transport ships. This prompted the Vietnamese Navy to modernise its naval weapons and its overall naval capabilities.
Organisational levels of Vietnam People's Navy, from highest to lowest are:
High Command of Vietnam People's Navy (Bộ Tư lệnh Hải quân)
Naval Region (Vùng Hải quân)
Naval Brigade/Naval Regiment (Lữ đoàn/Trung đoàn Hải quân)
Naval Battalion (Hải đoàn)
Naval Group (Hải đội)
On 26 October 1975, the Ministry of Defence issued Decision No.141/QD-QP which established five Coastal Areas of Naval Command and jurisdiction provisions of the five regions. In 1978, they were renamed as the following naval regions:
1st Regional Command (A Regional Command): Gulf of Tonkin, north coast from Quảng Ninh to Hà Tĩnh and the islands in Gulf of Tonkin. Command Headquarters: Hai Phong.
Commander: Rear Admiral Phạm Văn Điển
Political Commissar: Rear Admiral Phạm Văn Vững
2nd Regional Command (B Regional Command): South China Sea and south coast from Bình Thuận to Bạc Liêu, southern continental shelf, including the key areas are economic science service areas (called are DK1, DK2). Command Headquarters: Nhơn Trạch, Đồng Nai.
Commander: Rear Admiral Phạm Xuân Điệp
Political Commissar: Rear Admiral Mai Tiến Tuyên
3rd Regional Command (C Regional Command): north central coast, from Quảng Bình to Bình Định, including the islands of Cồn Cỏ, Lý Sơn,...and Paracel Islands. Command Headquarters: Da Nang.
Commander: Rear Admiral Ngô Sĩ Quyết
Political Commissar: Rear Admiral Nguyễn Tiến Dũng
4th Regional Command (D Regional Command): South China Sea, south central coast including Spratly Islands, Phú Quý island and the south central coast, from Phú Yên to Bình Thuận. Headquarters Command: Cam Ranh Bay military port, Khánh Hòa Province.
Commander: Rear Admiral Phạm Văn Hoành
Political Commissar: Rear Admiral Phạm Thanh Hóa
5th Regional Command (E Regional Command): South China Sea and coast in Gulf of Thailand from Cà Mau to Kiên Giang. Command Headquarters: Phú Quốc, Kiên Giang.
Commander: Rear Admiral Doãn Văn Sở
Political Commissar: Rear Admiral Ngô Văn Phát
The Vietnam People's Navy system does not feature the rank of Fleet Admiral. Vietnam People's Navy ranks are divided into four categories: Commissioned Officer, Non-commissioned Officer, and Soldiers/Seamen. Officer ranks use the executive curl on the sleeves of their service and full dress blue uniforms, similar to those used in various navies worldwide.
The Vietnamese naval academy, with its headquarters in Nha Trang, is the main institute for training naval commanding officers for the divisional level, and commanding staffs at tactical/campaign levels. Students include both undergraduates and postgraduates serving in the military.
The forerunner of the Vietnam Naval Academy, the Coastal Training School, was established on 26 April 1955 by the General Staff. The school has changed name several times, such as the Naval Training School in 1959, the Naval School of Vietnam in 1961, the Naval Officers School in 1967, and the School of Naval Engineering Command in 1980. The school renamed itself the Naval Academy in 1993.
After 55 years of development, combat and growth, the academy has trained thousands of officers and technical staff for major specialised fields such as vessel control, mining and anti-mine operations, anti-submarine missiles, gunships, information, radar, sonar, coastal radar, shipyard work, the Marine Police command, and Border Defence Force command.
In addition, the naval academy has trained officers for both the Royal Cambodian Navy and the Lao People's Navy.
Inshore Patrol:
Vietnam 10 (+25) HQ-56 class (Stolkraft; 22.5 meter) PB with 1x20mm
Vietnam 5 HQ-37 class
USSR 15 Zhuk class patrol boats (Project 1400M)
Auxiliaries:
USSR 1 Sorum class logistics tug (Project 745) ATA
USSR 1 Voda (MTV-6/Project 561) AWT
USSR 5 Nyrat-2 (Project 376U) diving tenders (YDT)
Vietnam 5 floating drydocks (YFDL)
USSR 5 PO-2 (Project 376) YFL
United States 5 ex-US 55-meter harbour tankers (YO) - likely ex-USN YOG-5 Class Gasoline Oiler/Barge
United States 5 Chaolocco tugs (YTM)
United States 10 (estimated) harbour tugs (YTL) - likely ex-USN c. 1944-45 and transferred to Republic of Vietnam Navy 1969-1972
Small Arms
North Korea Type-98 Standard Issue Assault rifle.
North Korea Type-68 Standard Issue Assault Rifle being supplemented by Type-98.
USSR PKM machinegun
USSR Makarov PM Standard issue pistol for all Vietnamese Military services.
Israel IMI Tavor TAR-21 Marines and Special Forces Only.
Israel Uzi Submachinegun Marines and Special Forces Only.
Israel IMI Negev Light Machine Gun Marines and Special Forces Only.
The current total manpower of the navy is around 50,000 officers and enlisted personnel, including naval infantry and other specialised units.