Ustaad 1999 malayalam full movie mohanlal movies saikumar malayalam film
Ustaad (Malayalam: ഉസ്താദ്) (English: Master) is a 1999 Indian Malayalam film written by Ranjith and directed by Sibi Malayil. The film follows Parameshwaran, a high profile businessman, who leads a dual life of an underworld negotiator. It starred Mohanlal, Indraja, Divya Unni, Narendra Prasad, N. F. Varghese and Vineeth. It was produced jointly by Shaji Kailas and Ranjith under the banner of Country Talkies.The storyline of the 2015 Tamil movie Vedalam starring Ajith Kumar was reportedly inspired by this movie.
Contents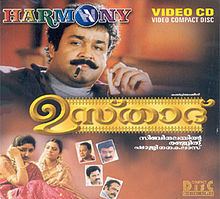 Plot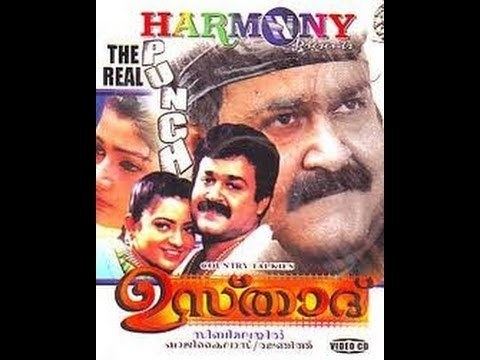 Usthad (Mohanlal) was a don in Mumbai. He decides to stop everything and settle down in his home town with his sister Padmaja (Divya Unni).Before he goes back he sends his people Sami(Janardhanan) and Sethu (Ganesh Kumar) to Yousuf shah associates where he wants to withdraw his share.But Yousuf shah was not ready to give him a single penny.When Sulaiman(Mafia Sasi), Yousuf's manager,creates a problem,Ustad come directly and beats him and takes the money.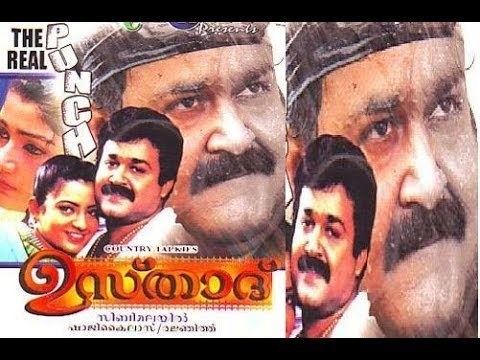 Back in Kozhikode, his hometown, Ustaad is merely Parameshwaran, an adorable brother, and guardian to his younger sister Padmaja (Divya Unni). He maintains a low profile as a businessman who has ventured into real estate.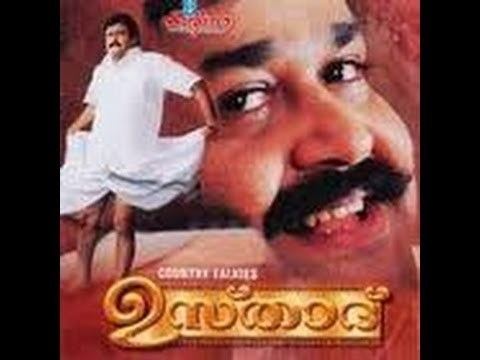 Padmaja has fallen in love with her friend and dance teacher Nandan (Vineeth), who is the son of Koliyodan Shekharan (Narendra Prasad), a businessman who has not been doing so well, mainly because of the extravagant lifestyle of his older son Koliyodan Giri (Saikumar). Mohan Thampy (N. F. Varghese), Shekharan's son-in-law, is a business tycoon and a politician as well. Thampy originally was helped financially by Shekharan, but over time, he got more involved with the underworld, and they have a strained relationship.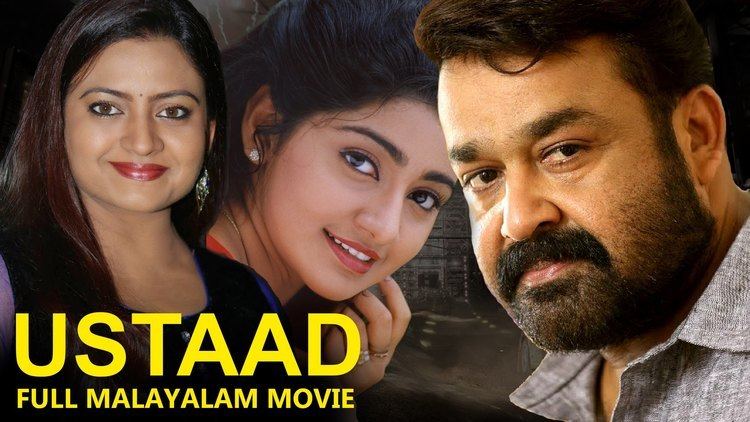 Varsha (Vani Viswanath), a newly appointed police commissioner, does not like Parameshwaran. Meanwhile, Padmaja wants to marry Nandan, to which Parameshwaran gives his approval. The night before the wedding, Parameshwaran is arrested by Varsha for gold smuggling. He learns that his arrest was staged by Yousuf Shah and Thampy. Varsha later realizes her mistake, and vows to support Parameshwaran.
Thampy devises a plan against Ustaad.He force Padmaja to vow her properties to help her father-in-law who has a large debt to Thampy.As a mediator,Thampy gives some money to Giri and advise him to keep it on Nandan's office room and will inform the police and make Nandan and Padmaja arrest for money laundering. This enrages Ustaad.He finds Thampy who is in the protection of a minister.He make him speak all the truth in front of varsha.Later Yousuf threat Ustaad by telling him that he will kill his sister by bomb and breaks his right hand.Ustaad hunts down Yousuf Shah, who flees to Dubai, and finally defeats him in the desert. He flies back to join his sister and family.
Cast
Mohanlal as Ustaad / Parameshwaran
Rajeev as Yousuf Shah
Divya Unni as Padmaja
Vineeth as Nandan
Saikumar as Giri
Indraja as Kshama
Janardhanan as Swamy
Innocent as Kunji Palu
N. F. Varghese as Mohan Thampy
Vani Viswanath as Police Commissioner
Narendra Prasad as Koliyod Shekharan, who is Nandan's father
K. B. Ganesh Kumar as Parameswaran's friend
Augustine as Ali Abu
Chithra as Ambika
Manianpilla Raju as Advocate
Kunchan as Appootty
Siddique as Irani
Jomol as sister of Yousaf Shah
Sudheesh as Husband of Yousaf Shah's sister (Jomol)
Cochin Haneefa as Union Minister Shivaji Rao (Kuttikrishnan)
Soundtrack
The music was done by Vidyasagar and Thej Mervin (Thirchayilla). The lyrics were by Gireesh Puthenchery and Kannan Pareekutty (Theerchayilla).
Songs
1Vennila KombileK J Yesudas
2Chil Chil Chil ChilamboliM G Sreekumar
3TheerchayillaMohanlal - Thej Mervin

References
Ustaad (1999 film) Wikipedia
(Text) CC BY-SA