Partner

Gelila Bekele (2009–)




Full Name

Emmitt Perry Jr.

Born

September 13, 1969 (age 46) (

1969-09-13

)

Occupation

Actor, producer, director, screenwriter, playwright, author, songwriter

Movies

Temptation: Confessions of a Marri, Madea's Witness Protection, A Madea Christmas, Madea Goes to Jail, I Can Do Bad All by Myself




Similar People
Tyler Perry Actor and Son Singing *MUST WATCH*
Tyler Perry (born Emmitt Perry Jr.; September 13, 1969) is an American actor, filmmaker, playwright, author, and songwriter, specializing in the gospel genre. Perry wrote and produced many stage plays during the 1990s and early 2000s. In 2011, Forbes named him the highest paid man in entertainment; he earned US$130 million between May 2010 and 2011.
Contents
Perry is known for both creating and performing as the Madea character, a tough elderly woman. Perry also creates films, some produced as live recordings of stage plays, and others professionally filmed using full sets and locations with full editing. Perry is estimated to have earned around US$75 million by 2008. Many of Perry's stage-play films have been subsequently adapted as professional films.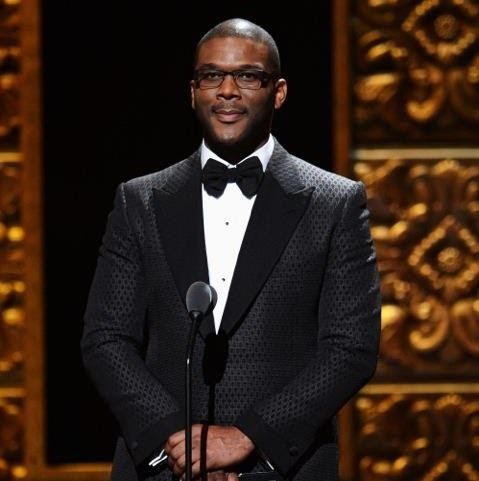 Perry has also created several television shows, his most successful of which is Tyler Perry's House of Payne, a show that ran for eight seasons on TBS from June 21, 2006, to August 10, 2012. On October 2, 2012, Perry struck an exclusive multi-year partnership with Oprah Winfrey and her Oprah Winfrey Network. The partnership was largely for the purposes of bringing scripted television to the OWN network, Perry having had previous success in this department. Perry has created multiple scripted series for the network, the most successful being The Haves and the Have Nots. As of 2014, The Haves and the Have Nots has given OWN its highest ratings to date. The series has also been critically acclaimed as being "one of OWN's biggest success stories with its weekly dose of soapy fun, filled with the typical betrayals, affairs, manipulations and a bitch slap or two."
Larry king live tyler perry s rise to success
Early life
Perry was born in New Orleans, Louisiana, as Emmitt Perry Jr., the son of Willie Maxine Perry (nee Campbell) and Emmitt Perry, Sr., a carpenter. He has three siblings. Perry once said his father's "answer to everything was to beat it out of you". As a child, Perry once went so far as to attempt suicide in an effort to escape his father's beatings. In contrast to his father, his mother took him to church each week, where he sensed a certain refuge and contentment. At age 16, he had his first name legally changed from Emmitt to Tyler in an effort to distance himself from his father.
Many years later, after seeing the film Precious, he was moved to relate for the first time accounts of being molested by a friend's mother at age 10; he was also molested by three men prior to this, and later learned his own father had molested his friend. A DNA test Perry recently took confirmed that Emmitt Sr. is not Perry's biological father.
While Perry did not complete high school, he earned a GED. In his early 20s, watching an episode of The Oprah Winfrey Show, he heard someone describe the sometimes therapeutic effect the act of writing can have, enabling the author to work out his or her own problems. This comment inspired him to apply himself to a career in writing. He soon started writing a series of letters to himself, which became the basis for the musical I Know I've Been Changed.
Stage
Around 1990, Perry moved to Atlanta, where two years later I Know I've Been Changed was first performed at a community theater, financed by the 22-year-old Perry's $12,000 life savings. The play included Christian themes of forgiveness, dignity, and self-worth, while addressing issues such as child abuse and dysfunctional families. The musical initially received a "less than stellar" reception and was a financial failure. Perry persisted, and over the next six years he rewrote the musical repeatedly, though lackluster reviews continued. In 1998, at age 28, he succeeded in retooling the play and restaging it in Atlanta, first at the House of Blues, then at the Fox Theatre. Perry continued to create new stage productions, touring with them on the so-called "chitlin' circuit" (now also known as the "urban theater circuit") and developing a large, devoted following among African-American audiences. In 2005, Forbes reported that he had sold "more than $100 million in tickets, $30 million in videos of his shows and an estimated $20 million in merchandise", and "the 300 live shows he produces each year are attended by an average of 35,000 people a week".
Film
Perry raised a US $5.5 million budget from the ticket sales of his stage productions to fund his first movie, Diary of a Mad Black Woman, which went on to gross US$50.6 million domestically, while scoring a 16% approval rating at the film review web site Rotten Tomatoes. On its opening weekend, February 24–26, 2006, Perry's film version of Madea's Family Reunion opened at number one at the box office with $30.3 million. The film eventually grossed $65 million. Perry and his co-stars promoted the film on The Oprah Winfrey Show. As with Diary, almost all of the Madea '​s earnings have been generated in the United States.
Perry's next Lionsgate project, Daddy's Little Girls, starred Gabrielle Union and Idris Elba and was released in the United States on February 14, 2007. It grossed over US$31 million. Perry wrote, directed, produced and starred in his next film, Why Did I Get Married?, released on October 12, 2007. It opened at number one, grossing US$21.4 million that weekend. It is loosely based on his play of the same name. Filming began March 5, 2007, in Whistler, British Columbia, a resort town north of Vancouver, then moved to Atlanta, where Perry had opened his own studio. Janet Jackson, Sharon Leal, Jill Scott, and Tasha Smith appeared in the film. Perry's 2008 film, Meet the Browns, released on March 21, opened at number 2 with a US$20.1 million weekend gross. The Family That Preys opened on September 12, 2008, and grossed over US$37.1 million.
Madea Goes to Jail opened at number one on February 20, 2009, grossing US$41 million and becoming his largest opening to date. This was Perry's seventh film with Lionsgate Entertainment. At the request of director J. J. Abrams, also in 2009, Perry had a small role as the Starfleet Academy commandant Admiral Barnett in Star Trek, which opened on May 8. This was his first film appearance outside of his own projects. Perry next wrote, directed, and starred in I Can Do Bad All By Myself (2009), a film structured around his Madea character. This was Perry's eighth film and it also made number one at the box office. In 2009, Perry teamed with Oprah Winfrey to present Precious, a film based on the novel Push by Sapphire. Why Did I Get Married Too?, the sequel to Why Did I Get Married?, opened in theaters on April 2, 2010. It featured Janet Jackson, Cicely Tyson, Louis Gossett, Jr., Jill Scott, and Malik Yoba. The film grossed US$60 million domestically, with US$29 million made the opening weekend.
Perry directed a film adaptation of Ntozake Shange's 1975 choreopoem For Colored Girls Who Have Considered Suicide When the Rainbow Is Enuf, which was released in theaters November 5, 2010. He appeared in the stage show Madea's Big Happy Family, which toured the U.S. as a stage play and was released as a movie in 2011, written, directed by, and starring Perry. The film version of Madea's Big Happy Family raked in US$25.8 million at the box office, taking second place. In January 2011, it was announced that Perry would take over the role of James Patterson's Alex Cross from Morgan Freeman for the film adaptation of Alex Cross. The film opened on October 19, 2012, and received praise from critics and audiences for his performance. His performance in Alex Cross gained the attention of director David Fincher, who subsequently cast Perry in his 2014 thriller Gone Girl, co-starring with Ben Affleck, Rosamund Pike, and Neil Patrick Harris.
Perry's next film with Lionsgate was Good Deeds, in which Perry plays lead character Wesley Deeds. Good Deeds is a romantic drama film written, directed by, and starring Perry. The film was released on February 24, 2012. It is the tenth of eleven films that Perry directed and appears in. The film received a 29% rating by review aggregator Rotten Tomatoes and opened with a box office US$ million gross. The movie also stars Thandie Newton, Rebecca Romijn, Gabrielle Union, Eddie Cibrian, Jamie Kennedy, Phylicia Rashad, and others. As of June 2011, Perry's films had grossed over US$500 million worldwide. Perry released his thirteenth film, Temptation: Confessions of a Marriage Counselor (based on his 2008 play of the same name) on March 29, 2013. The film stars Lance Gross, Jurnee Smollett, Brandy Norwood, Robbie Jones, Vanessa L. Williams, and Kim Kardashian. He produced Tyler Perry Presents Peeples, released on May 10, 2013. He returned to the big screen with A Madea Christmas, released on December 13, 2013. Perry directed the film The Single Moms Club, which opened on March 14, 2014. His first animated movie Madea's Tough Love was released on DVD January 20, 2015. In April 2015, Perry was cast as Baxter Stockman in Teenage Mutant Ninja Turtles: Out of the Shadows.
Film partnerships and distribution
Perry's films are co-produced and distributed by Lions Gate Entertainment; he retains full copyright ownership under the corporate name Very Perry Films, and places his name in front of all titles. Perry's movies have seen very limited release outside North America, but in May 2010, Lionsgate announced plans to begin releasing his films in the United Kingdom.
Television programs
Perry produced the long-running, successful television series Tyler Perry's House of Payne, which ran for 8 seasons from June 21, 2006, to August 10, 2012. The series followed an African-American household of three generations. The show demonstrated the family members' serious, true-to-life struggles with faith and love. The show ran in the spring of 2006 as a 10-show pilot. After the successful pilot run, Perry signed a US$200 million, 100-episode deal with TBS. On June 6, 2007, the first two episodes of Tyler Perry's House of Payne ran on TBS. After receiving high ratings, House of Payne entered broadcast syndication. Reruns were played through December 2007 before the second season began. Perry also wrote, directed and produced the sitcom Meet the Browns, which premiered on TBS on January 7, 2009.
OWN and partnership with Oprah
On October 2, 2012, Perry struck an exclusive multi-year partnership with Oprah Winfrey and her Oprah Winfrey Network (OWN). The partnership was largely for the purposes of bringing scripted television to the OWN, Perry having had previous success in this department.
Tyler Perry's For Better or Worse, based on his films Why Did I Get Married? and Why Did I Get Married Too?, premiered on TBS on November 25, 2011. The series was cancelled by TBS in February 2013 but was revived by OWN for a third season, which began on September 18, 2013.
Perry also has two other new television series featured on OWN: the hour-long soap opera/drama series The Haves and the Have Nots and the sitcom Love Thy Neighbor. The Haves and the Have Nots premiered on May 28, 2013, while Love Thy Neighbor premiered on May 29, 2013. It was reported on May 29, 2013 that The Haves and the Have Nots set a new record for OWN, scoring the highest ratings ever for a series premiere on the network. Love Thy Neighbor scored the second highest ratings ever for a series premiere on OWN, behind The Haves and the Have Nots; however, Love Thy Neighbor has significantly declined in ratings while The Have and the Have Nots has continued to increase its ratings. On February 4, 2014, The Haves and the Have Nots came in as the most watched program in all of cable television. On Tuesday, March 11, 2014, a Haves and the Have Nots season 2 episode set an OWN record when it scored the highest ratings in the network's history. The record-breaking episode brought in 3.6 million viewers, surpassing the 3.5 million that tuned in for the Oprah's Next Chapter interview with Bobbi Kristina which was the network's previous highest rated viewing.
On January 9, 2014, as part of Perry's continued partnership with OWN, the network ordered its fourth scripted series (and fourth series by Perry) based on the feature film, The Single Moms Club, called If Loving You Is Wrong. The hour-long drama series premiered on September 9, 2014.
The Writers Guild of America, West
The Writers Guild of America, West has filed unfair labor practice charges with the National Labor Relations Board (NLRB), alleging that Perry's production company, House of Payne, unlawfully fired four writers in October 2008 in retaliation for their trying to get a union contract. The dispute was settled a month later, when Tyler Perry Studios agreed to be a WGA signatory.
Mo' Money Taxes
In early 2009, Perry threatened legal action against Mo' Money Taxes, a tax preparation company based in Memphis, Tennessee, for running a TV spot that he felt offensively parodied his work, in particular Madea Goes to Jail. The ad features a large Caucasian male (John Cowan) in drag, named "Ma'Madea". The offending ad was dropped from circulation.
Books
Perry's first book, Don't Make a Black Woman Take Off Her Earrings: Madea's Uninhibited Commentaries on Love and Life, appeared on April 11, 2006. The book sold 30,000 copies. The hardcover reached number one on the New York Times Best Seller list and remained on the list for 12 weeks. It was voted Book of the Year, Best Humor Book at the 2006 Quill Awards.
Criticisms
In February 2011, actor Idris Elba caused controversy when he criticised Perry. Elba, who had previously starred in one of Perry's romantic comedies (Daddy's Little Girls), lamented the trend for cross-dressing caricatures of black characters—a phenomenon many would recognize from films such as The Klumps and Big Momma's House—describing it as "buffoonish".
Despite praising Perry in 2006, director Spike Lee criticized his work in 2009 stating, "Each artist should be allowed to pursue their artistic endeavors but I still think there is a lot of stuff out today that is "coonery buffoonery." When asked if Perry's success among black audiences was a result of just giving black America what they wanted, Lee responded, "the imaging is troubling."
In an open letter to Perry on National Public Radio, journalist Jamilah Lemieux, while thanking Perry for "giving black folks jobs in front of and behind the camera," also criticized his shows Meet the Browns and House of Payne. In her letter, she stated that "both your shows are marked by old stereotypes of buffoonish, emasculated black men and crass, sassy black women." While she noted his work for its humor and "positive messages of self-worth, love and respect," she later expressed frustration that African-Americans "have been fed the same images of ourselves over and over and over because they sell." Lemieux dismissed his famous Madea character, claiming that "Through her, the country has laughed at one of the most important members of the black community: Mother Dear, the beloved matriarch...Our mothers and grandmothers deserve much more than that." While she expressed appreciation toward Perry for dismissing critics' negative comments, Lemieux claimed that "many black folks have expressed some of the very same attitudes about your work that white critics have," and urged him to "stop dismissing the critics as haters and realize that black people need new stories and new storytellers."
Response
In October 2009, during a
60 Minutes
interview, Perry was read a quote of
Spike Lee
's comments about his work and responded, "I would love to read that [criticism] to my fan base. ...That pisses me off. It is so insulting. It's attitudes like that, that make Hollywood think that these people do not exist, and that is why there is no material speaking to them, speaking to us." Perry also stated that "all these characters are bait – disarming, charming, make-you-laugh bait. I can slap Madea on something and talk about God, love, faith, forgiveness, family, any of those." In an interview with Hip Hollywood, Perry responded to Spike Lee's comments by telling him to "go to hell."
Acclaim
Perry's work has been praised by Oprah Winfrey, who joined Perry in promoting Lee Daniels' film Precious (2009). She told an interviewer, "I think [Perry] grew up being raised by strong, black women. And so much of what he does is really in celebration of that. I think that's what Madea really is: a compilation of all those strong black women that I know and maybe you do too? And so the reason it works is because people see themselves."
Goldie Taylor, of The Grio and MSNBC, stated in an April 21, 2011 NPR All Things Considered interview regarding Perry's target audience: "I don't think Tyler Perry is talking to Toure. I don't think he's talking to me, but I know that he's speaking directly to my mother, my sister, my cousins and meeting them at their point of need, and that's what art and filmmaking is about."
In his Huffington Post editorial, sociologist Shayne Lee lists Perry among the pantheon of today's most innovative filmmakers.
Parodies and satire
In the American Dad! episode "Spelling Bee My Baby", Steve Smith deliberately misspelt his words in a spelling bee so as to express his love for Akiko (who was also competing), instead spelling random Tyler Perry and Madea films.
Perry was satirized by South Park in the Season Fifteen episode "Funnybot". He was given an award for "Comedian Most likely to turn up to collect their comedy award", and the black characters in the episode, Token Black and President Obama, express their own disbelief that they can't stop watching his comedy and giving him money. At the end of the episode Perry, as Madea, is buried and encased in steel with Obama's declaring, "I am pleased to announce that the greatest threat to mankind has now gone forever. Justice has been done."
Tyler Perry as Madea was parodied in The Boondocks episode "Pause", in which a thinly disguised version of Perry named Winston Jerome played a similar character to Madea dubbed "Ma Duke." The parody had the "Ma Duke" character running a homosexual cult.
Tyler Perry was also parodied in The Cleveland Show episode "A Brown Thanksgiving" in which Auntie Momma is really Donna Tubbs's Uncle Kevin.
Personal life
Perry describes himself as a Christian. He has become good friends with Janet Jackson, Will Smith, and Oprah Winfrey. Many of the themes in his work reflect theology and social behavior indicative of the predominantly Black church culture, such as the many scenes in both his stage and screen work that feature church settings and worship styles commonly found in predominantly African American churches, including showcases of gospel music and artists.
In 2007, he bought a 17-acre (6.9 ha) estate in the Paces neighborhood of Buckhead, Atlanta. In 2013, his company, ETPC LLC, purchased around 1,100 acres (4.5 km2) acres in the Manchester, Georgia area of Douglas County, Georgia.
On July 20, 2009, Perry sponsored 65 children from a Philadelphia day camp to visit Walt Disney World, after reading that a suburban swim club, the Valley Swim Club in Huntingdon Valley, Pennsylvania, had shunned them. He wrote on his website, "I want them to know that for every act of evil that a few people will throw at you, there are millions more who will do something kind for them."
On December 8, 2009, his mother, Willie Maxine Perry, died at age 64, following an illness. As of 2013, he is unmarried. He lives and works in Southwest Atlanta where he operates the Tyler Perry film and TV studios. In August 2010, it was reported that he had purchased Dean Gardens, a 58-acre (23 ha) estate in the Atlanta suburb of Johns Creek. He was reportedly planning to tear down the existing 32,000-square-foot (3,000 m2) mansion and build a new, environmentally friendly home on the property.
On September 25, 2014, it was announced that Perry was expecting his first child with his girlfriend Gelila Bekele. On November 30, 2014, Bekele gave birth to their son Aman Tyler Perry.
References
Tyler Perry Wikipedia
(Text) CC BY-SA