4.8

/

10

Alchetron

4.8

Rate This


Kireet Khurana


December 24, 2010 (India)




India






Animation, Action, Adventure





HindiEnglish






24 December 2010 (2010-12-24)




Space Jamby Leo BenvenutiSteve Rudnick, Timothy Harris, Herschel Weingrod


Raagi Bhatnagar (story), Bhimsain (storyline consultant), Munna Dhiman (lyrics), Mubeen Farooqi (dialogue), Kireet Khurana (screenplay), Kumaar (lyrics)


Lets Go to Toonpur




Ajay Devgan

(Aditya Kumar), Kajol (Priya Kumar),

Ameya Pandya

(Kabeer),

Ameya Pandya

(Shyam), Deepak Verma (Bolly)



Kambakkht Ishq, Jab We Met, Raju Chacha
Toonpur Ka Super Hero (Translation: Toonpur's Super Hero) is a 2010 live action-animated action comedy film written by Raagii Bhatnagar and directed by Kireet Khurana. The film features Ajay Devgan, Kajol, Sanjay Mishra, Tanuja and Mukesh Tiwari in lead roles.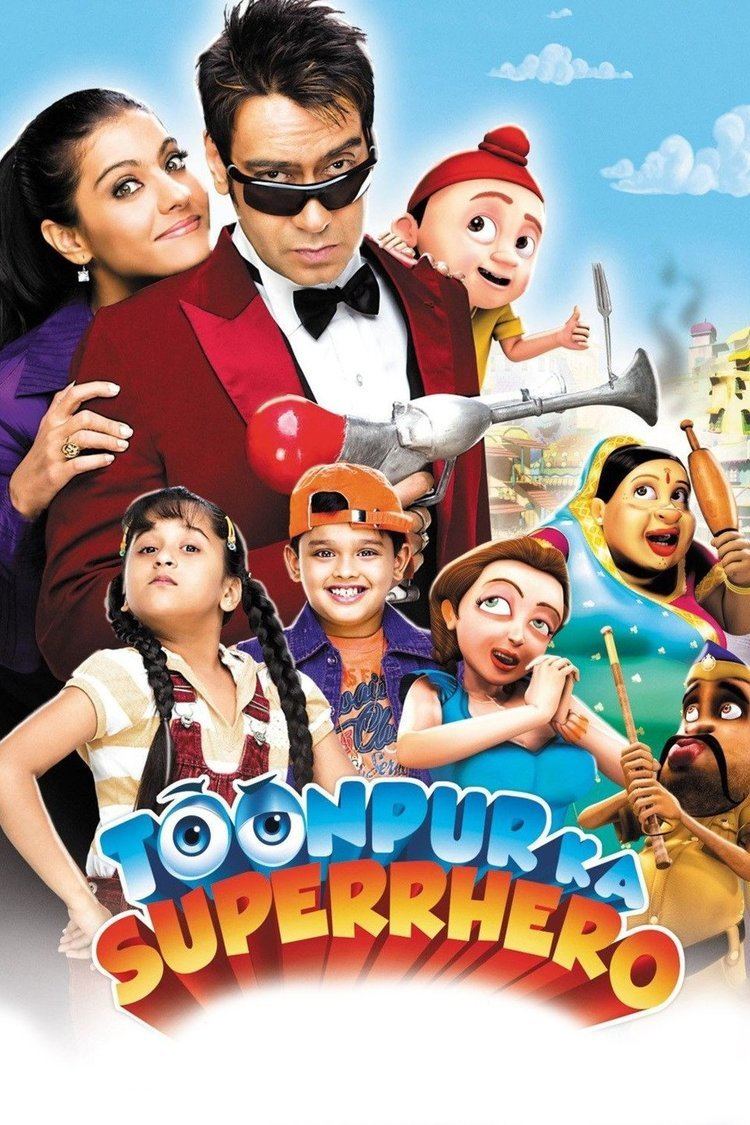 Even though the film was India's first live action - 3D animation combination feature film, it failed to do well at the box office. It was disliked by many critics, who pointed out some of the spoilers of the film, such as it being a remake of the 1996 family film, Space Jam, which starred Michael Jordan.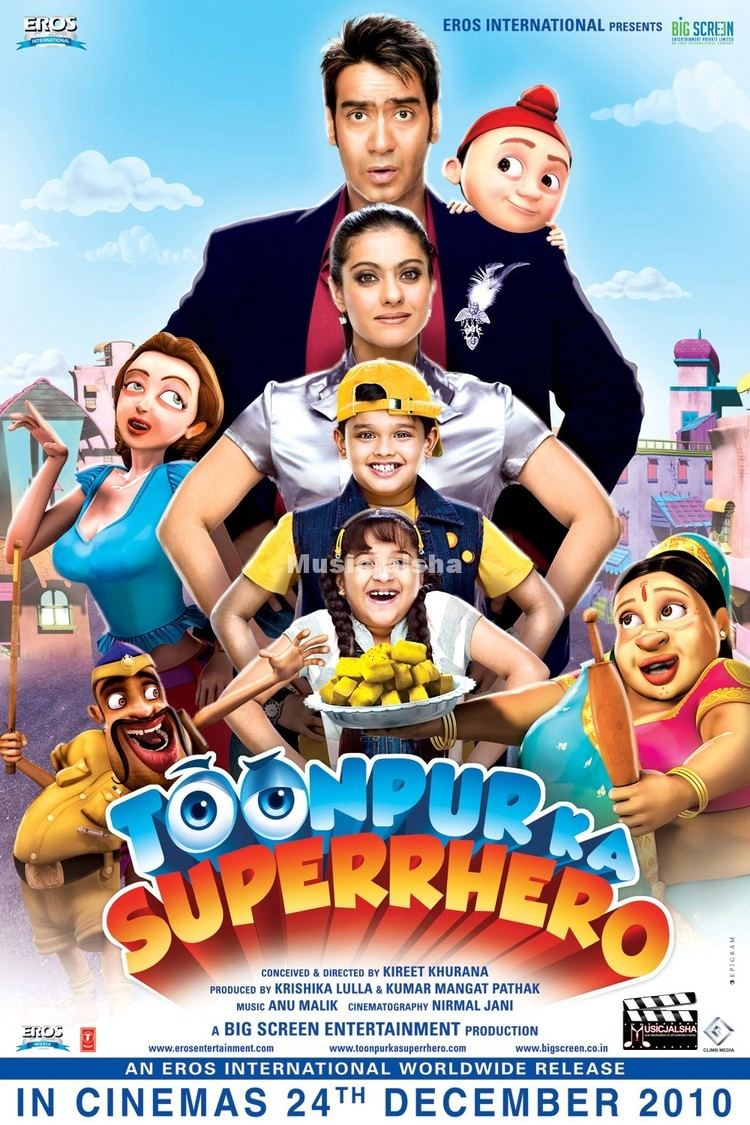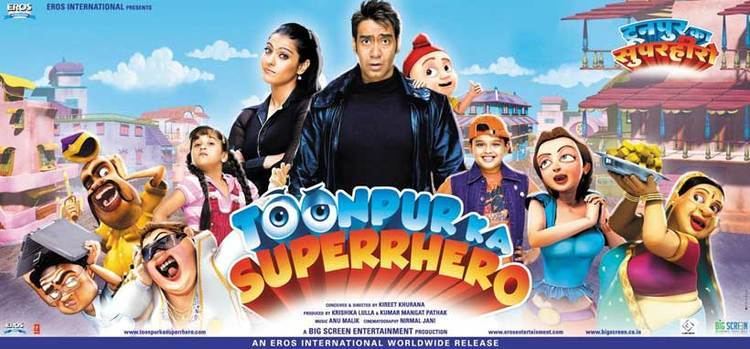 The story is based on Aditya Kumar (Ajay Devgan), a famous actor who plays a very famous superhero on TV, who lives with his family which consists of his wife and two children. He consistently tries to explain to his son that all cartoons are fake and he shouldn't waste his time watching them, to which his son replies, he is also a fake hero as stuntmen do the real action. Humiliated, he leaves home, and is soon kidnapped by the cartoons his son watches. Unbelievable, a group of cartoons named Devtoons from a cartoon world named Toonpur would like Aditya to fight their enemy Jagaru and leave Toonpur in peace.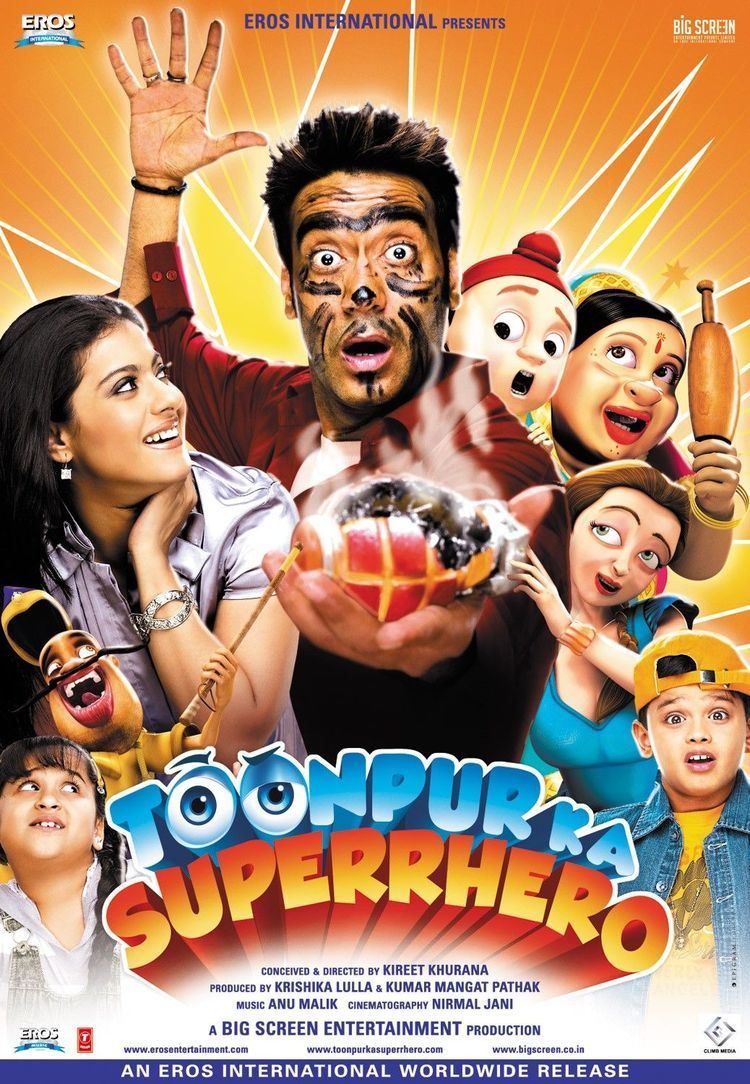 Aditya first hesitates but when a character from Toonpur named Bolly says he is a fake hero, he feels disturbed but then agrees to prove he is a real superhero. Aditya and his cartoon friends attack Jagaru's base and defeat the Toonasurs but in the process many of their friends get kidnapped by Jagaru. Now only one option is left for Aditya; to get the Toonastra from Rubdoot and erase Jagaru. But Jagaru gets to know of this and so kidnaps Aditya's family. Now Aditya has to enter Jagaru's game and rescue everyone taken hostage by Jagaru.He goes above lava,inside riddle room and etc.he then defeats jaguru and frees his son.the movie ends with aditya leaving peace in toonpur.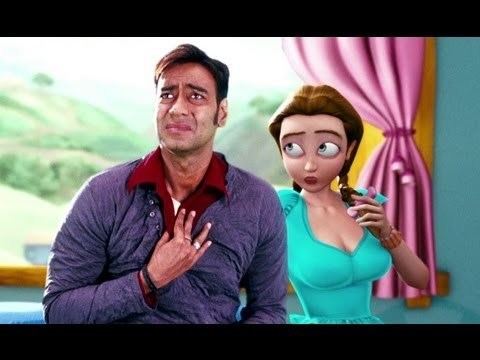 Ajay Devgan as Aditya Kumar
Kajol as Priya Shruti Verma
Tanuja as Priya's mother
Amey Pandya as Kabeer
Sanjai Mishra as Shyam
Delnaaz Paul as Ramola/ reporter in Ajay Devgan introduction scene
Mukesh Tiwari as Inspector Kitkite
Sanjay Dutt as Narrator
Deepak Verma as Bolly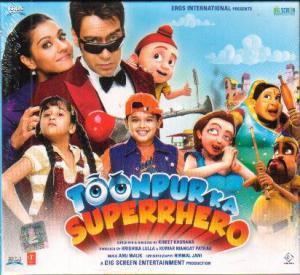 The film's music was composed by Anu Malik, with lyrics by Mumzy, and was released on 10 December 2010.
The Times of India rated the film 3 out of 5, praising the performances and storyline. Kaveree Bamzai from India Today rated the film 1 out of 5, terming the film as "Toonathon that's an exercise in torture". Sukanya Verma from Rediff.com rated the film 2.5 out of 5.
Sudhish Kamath from The Hindu criticised the film with no ratings. Mayank Shekhar from Hindustan Times rated the film 2 out of 5.