Other names

Sanju Baba




Role

Film actor




Ethnicity

Punjabi




Parents

Nargis, Sunil Dutt




Name

Sanjay Dutt








Full Name

Sanjay Balraj Dutt




Born

29 July 1959 (age 64) (

1959-07-29

)

Mumbai, Maharashtra, India




Occupation

Film actor, film producer, comedian, politician, television presenter




Criminal status

Convicted, Incarcerated in Yerawada Central Jail (Pune, India)




Children

Trishala DuttShahraan DuttIqra Dutt




Spouse

Manyata Dutt (m. 2008), Rhea Pillai (m. 1998–2005), Richa Sharma (m. 1987–1996)




Movies

PK, Khalnayak, Vaastav: The Reality, Jung, Policegiri




Similar People

Salman Khan, Richa Sharma, Ajay Devgan, Manyata Dutt, Sunil Dutt




Years active

1972, 1981 - Present




Upcoming movie

Koochie Koochie Hota Hai



Sanjay Dutt on drug addiction: I was sick, I needed help from my family
Sanjay Balraj Dutt (born 29 July 1959) is an Indian film actor and producer known for his work in Hindi cinema (Bollywood). The son of veteran Hindi film actors Sunil Dutt and Nargis Dutt, he made his acting debut in 1981 and has since appeared in more than 100 Hindi films. Although Dutt has enjoyed great success as a lead actor in genres ranging from romance to comedy, it has been the roles of gangsters, thugs and police officers in the drama and action genres that have won him much appreciation. The Indian media and audiences alike popularly refer to him as Deadly Dutt for his larger-than-life portrayals of such characters.
Contents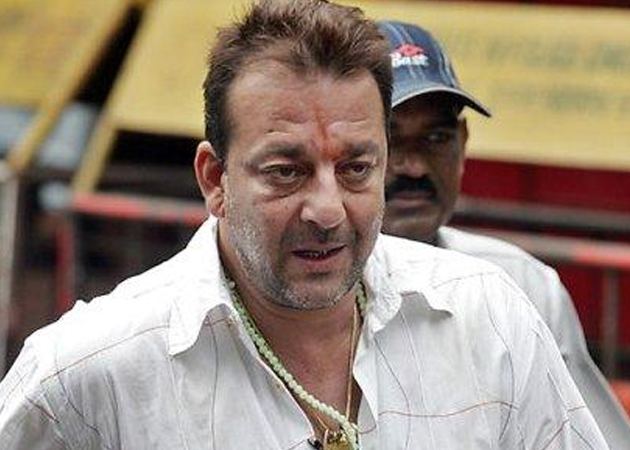 In a film career spanning more than 35 years, Dutt has won two Filmfare Awards, two IIFA Awards, two Bollywood Movie Awards, three Screen Awards, three Stardust Awards, a Global Indian Film Award and a Bengal Film Journalist's Association Award. Four of his films have won various National Film Awards.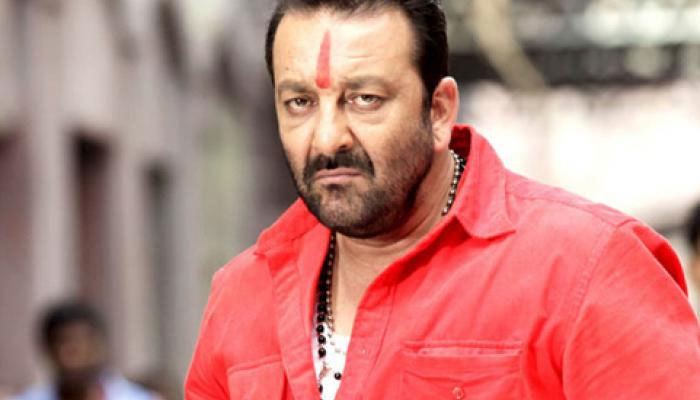 Dutt was arrested under the Terrorist and Disruptive Activities (Prevention) Act in April 1993. Charges of terrorism were dropped but he was convicted of illegal possession of weapons. After serving his sentence with good behaviour and conduct, he was released on 25 February 2016.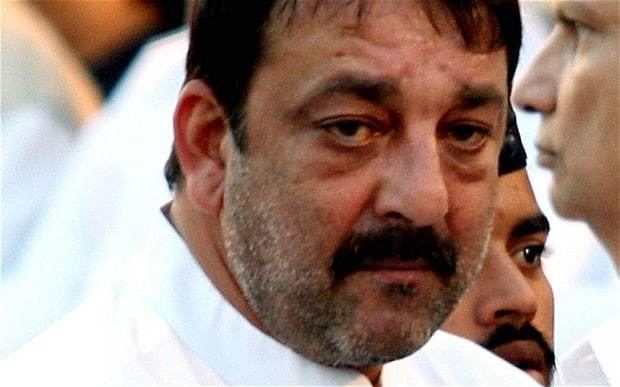 Personal life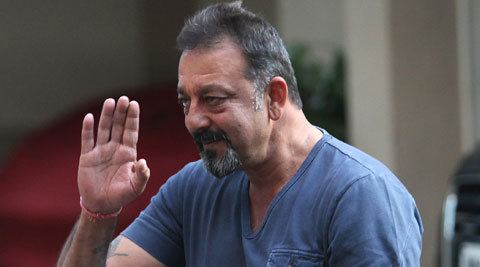 Dutt was born to Hindi cinema actors Sunil Dutt and Nargis. His mother died in 1981, shortly before his debut film's premiere; her death has been cited as the cause of his drug addictions. As a child actor, Dutt appeared in the 1972 film Reshma Aur Shera, which starred his father; he appears briefly as a qawali singer.
Dutt married actress Richa Sharma in 1987. Sharma died of brain tumour in 1996. The couple have a daughter, Trishala, born in 1988, who lives in the United States with her grandparents, following a custody battle with Dutt after the death of his wife. Dutt's second marriage was to model Rhea Pillai in 1998. They divorced in 2005. Dutt married Manyata (born Dilnawaz Sheikh) in 2008 in a private ceremony in Goa, after two years of dating. On 21 October 2010, he became a father to twins, a boy and a girl.
1981–1997
Sanjay Dutt made his Bollywood movie debut with the box office hit Rocky in 1981. He went on to star in Vidhaata, the highest grossing Hindi film of 1982 along with the super hit Main Awara Hoon (1983). In 1985 he shot for his first film in three years, Jaan ki Baazi (1985). This was Sanjay's first film post what is now referred to as his drug phase years, when personal problems and a number of films that had been completed before his departure to the USA flopped at the box office, after which he had contemplated not returning to films. Jaan ki Baazi marked a comeback for Dutt and he appeared in successful films throughout the 80s such as Imaandaar, Inaam Dus Hazaar, Jeete Hain Shaan Se (1988), Mardon Wali Baat (1988), Ilaaka (1989), Hum Bhi Insaan Hain (1989), Kanoon Apna Apna (1989), and Taaqatwar (1989).
The 1986 blockbuster Naam (1986 film) was Dutt's first major critical success and a turning point in his career, the film firmly cemented him amongst India's finest young mainstream leading actors as he earned praise for his portrayal of an illegal immigrant in Dubai who spirals into a life of crime. His performances in both Kabzaa (1988) and J. P. Dutta's 1989 Hathyar. were also both well received by critics although both films only managed average collections at the box office. In the late 1980s he was seen in a number of multi-starrers alongside actors like Govinda, Mithun, Dharmendra, Jackie Shroff and Sunny Deol.
His successes continued in the 1990s, with films that include Tejaa, Khatarnaak, Zahreelay, Thanedaar, Khoon Ka Karz, Yalgaar, Gumrah, Sahibaan, and Aatish: Feel the Fire. He went on to star in some of the most era-defining Indian films of the early 1990s such as Sadak, Saajan (for which he was nominated for the Filmfare Best Actor Award) and Khal Nayak, for which he earned his second Filmfare Best Actor Award nomination. Three weeks before its release, however, in April 1993, he was arrested, charged with involvement in the 1993 Mumbai bombings. Dutt was unable to act for the next four years due to his subsequent arrests and bails. Although many incomplete films were released featuring Dutt during this time, all of them were unsuccessful except for the 1994 hit Aatish with Aditya Pancholi, which was completed before his 1993 arrest.
1997–present
Dutt's first film after his 1993 arrest was Daud (1997). It did not sustain its phenomenal opening at the box office and was declared a flop. He followed this with the 1998 Dushman but all credit for the film's success was given to lead actress Kajol. 1999 was an excellent year for Dutt and one that is regarded as his comeback, with all of his five releases being amongst the highest-grossing films of that year. He began it by starring in the Mahesh Bhatt-directed hit Kartoos, followed by Khoobsurat, Daag: The Fire, Haseena Maan Jayegi and Vaastav: The Reality, for which he won his first Filmfare Best Actor Award. His role in 2000's Mission Kashmir won him critical acclaim and a number of awards and nominations, as did his subsequent performance in Kurukshetra. As the decade went on, he continued to play lead roles in popular and critical successes such as Jodi No.1 (2001), Pitaah (2002), Kaante (2002) and the National Award-winning blockbuster Munna Bhai M.B.B.S. (2003), which garnered him several awards. Later successes came with Musafir (2004), Plan (2004), Parineeta (2005) and Dus (2005). He won critical acclaim for his performances in Shabd (2005) and Zinda although both films only fared averagely at the box office.
The blockbuster sequel Lage Raho Munna Bhai was released in late 2006. He received a number of awards for his performance in the film along with an award from the Prime Minister Manmohan Singh for his work in the Munna bhai series. In the same year news channel NDTV named him Indian of the Year. He also sang and danced in a music video with Asha Bhosle called Asha and Friends, directed by S Ramachandran. Although he was going through a successful time professionally and receiving great acclaim for his performance in Lage Raho Munna Bhai, this coincided with the start of the Mumbai bombing's trial. The nation became transfixed with Dutt's court ongoings which saw him found not guilty of terrorism related acts but jailed for short periods on two occasions between 2006–2007, as he was found guilty under the Possession of Arms Act. He was granted bail, enabling him to star in successes like Dhamaal (2007), Shootout at Lokhandwala (2007), All the Best (2009), Double Dhamaal (2011), Son of Sardaar (2012) and Agneepath (2012) for which he won a number of awards as the psychotic villain Kaancha. His latest role was as a supporting character in the Bollywood film PK, which he completed before being sentenced to imprisonment in early 2013, for the possession of illegal arms verdict handed out to him in 2006.
In January 2008, the Indian film Institute Filmfare listed 12 films featuring Dutt in its top 100 highest-grossing movies of all-time list. In its May 2013 edition 100 years of Indian cinema Filmfare listed three films featuring Dutt in its top 20 list of highest-grossing Hindi films of all time, adjusted for inflation these films were Lage Raho Munna Bhai, Khalnayak and Saajan.
Vidhu Vinod Chopra announced on 29 September 2016 that production on the third Munna Bhai film, starring Dutt in the title role, would begin in 2017. He is also due to appear as the lead in Bhoomi, directed by Omung Kumar. Movie,, also starring Aditi Rao Hydari, is scheduled to be released on 22 September 2017.
Bigg Boss 5
Dutt co-hosted the fifth session of the Indian reality show Bigg Boss along with Salman Khan. The show aired on Colors television from 2 October 2011 to 7 January 2012. Dutt later said it was Khan who persuaded him to co-host the show.
Super Fight League
Dutt and entrepreneur Indian Premier League-cricket team owner Raj Kundra together launched India's first professionally- organised mixed martial arts league — the Super Fight League — on 16 January 2012.
1993–2006
Bombay suffered a series of serial bombings in 1993. Dutt was among several people associated with Bollywood who were accused of involvement. Dutt was accused of accepting a delivery of weapons at his house from Abu Salem and co-accused Riyaz Siddiqui, who had also been implicated in relation to the Mumbai blasts. It was claimed that the weapons formed a part of a large consignment of arms connected to the terrorists.
In April 1993, he was arrested under the provisions of the Terrorist and Disruptive Activities (Prevention) Act (TADA). Dutt was granted bail by the Supreme Court of India in October 1995 but was re-arrested in December 1995. He was again released on bail in April 1997. The case came to court in 2006 and during the period of 2006–2007, Dutt spent seven months in Arthur Road Jail and Pune prison on three occasions for the offences.
2007–2009
Abdul Qayyum Abdul Karim Shaikh, who was thought to be a close aide of the terrorists' ringleader, Dawood Ibrahim, was arrested. Dutt had given Qayuum's name to the police when confessing to arms possession, saying that in September 1992 he had bought a pistol from Qayuum in Dubai.
On 31 July 2007, the TADA court sentenced Dutt to six years' rigorous imprisonment for illegal possession of weapons and cleared him of charges relating to the Mumbai blasts. According to The Guardian, "The actor claimed he feared for his life after the notorious "Black Friday" bombings, which were allegedly staged by Mumbai's Muslim-dominated mafia in retaliation for deadly Hindu-Muslim clashes a few months earlier. But the judge rejected this defence and also refused bail." Dutt was returned to jail at Arthur Road and soon after moved to the Yerwada Central Jail in Pune.
Dutt appealed against the sentence and was granted interim bail on 20 August 2007 until such time as the TADA court provided him with a copy of its judgement. On 22 October 2007 Dutt was back in jail but again applied for bail. On 27 November 2007, Dutt was granted bail by the Supreme Court. On 21 March 2013 the Supreme Court upheld the verdict of the TADA court but shortened the sentence to five years' imprisonment. Dutt was given a month to surrender before the authorities.
Dutt has said that "I am not a politician but I belong to a political family." He was persuaded by a close friend to contest the 2009 Lok Sabha elections as a candidate for the Samajwadi Party but withdrew when the court refused to suspend his conviction. He was then appointed General Secretary of the party, leaving that post in December 2010.
Re-imprisonment and release
In March 2013 the Supreme Court upheld Dutt's five-year sentence, 18 months of which he already spent in jail during the trial. He was given four weeks to surrender to the authorities, the court having refused to release him on probation due to the severity of the offence.
With analysts believing that his imprisonment would have a significant impact on the fortunes of Bollywood, people from the movie business made statements of support following the ruling and some said that they would be making appeals for him to be pardoned. On 10 May, the Supreme Court rejected Dutt's review petition for the reconsideration of his conviction and asked him to surrender on the stipulated date. On 13 May, the Supreme Court rejected appeals filed by two film producers who were seeking more time for the actor to surrender so that he could complete two of his under-production films. On 14 May, Dutt withdrew the mercy plea and surrendered to the Mumbai Police on 16 May 2013. Just before the surrender, the Mumbai jail authority got an anonymous letter threatening Dutt's life. Dutt filed an appeal to allow him to surrender before Yerwada Central Jail. Later, Dutt withdrew this request too. Dutt subsequently surrendered in court as ordered. He was paroled from 21 December 2013. The parole was extended three times until March 2014, raising concern in Mumbai High Court and a proposal from the Government of Maharashtra to amend the law of parole. He returned to Yerwada prison after his parole ended. Dutt was out on a two weeks' furlough granted by the Yerwada Central Jail authorities on 24 December. He said "I have lost 18kg. Now if I lose any more weight, I will vanish." Sanjay Dutt was subsequently incarcerated in Yerwada Central Jail, to complete his jail term. He was released from there on 25 February 2016 after serving his sentence.
In the popular culture
A biographical film is currently filming on the life of Dutt, in which Ranbir Kapoor portrays the title character.
Filmfare Awards
1992: Nominated, Best Actor for Saajan
1994: Nominated, Best Actor for Khalnayak
2000: Winner, Best Actor for Vaastav: The Reality
2001: Nominated, Best Actor for Mission Kashmir
2003: Nominated, Best Supporting Actor for Kaante
2004: Winner, Best Comedian for Munnabhai M.B.B.S.
2006: Nominated, Best Supporting Actor for Parineeta
2007: Nominated, Best Actor for Lage Raho Munna Bhai'
Star Screen Awards
2000: Winner, Best Actor for Vaastav: The Reality
2001: Nominated, Best Actor for Kurukshetra
2001: Winner, Best Supporting Actor for Mission Kashmir
2004: Nominated, Best Actor for Munnabhai M.B.B.S.
2005: Nominated, Best Supporting Actor for Musafir
International Indian Film Academy Awards
2000: Winner, Best Actor for Vaastav: The Reality
2001: Nominated, Best Actor for Mission Kashmir
2007: Nominated, Best Actor for Lage Raho Munnabhai [1]
2010: Winner, Best Performance in a Comic Role for All the Best [2]
Global Indian Film Awards
2006: Winner, Global Indian Film Awards, Critics Choice Awards – Best Actor (Male) for Lage Raho Munna Bhai
Stardust Awards
2004: Winner, Stardust Star of the Year Award - Male, Munnabhai M.B.B.S.
2007: Winner, Stardust Star of the Year Award - Male, Lage Raho Munnabhai
2013: Winner, Stardust Award for Best Actor in Negative Role, Agneepath
Zee Cine Awards
2001: Winner, Zee Premiere Choice- Male for Mission Kashmir
2007: Winner, Zee Cine Awards – Best Actor (Male) Critics Awards for Lage Raho Munnabhai
Bollywood Movie Awards
2003: Winner, Bollywood Movie Award - Critics Award Male for Kaante
2004: Winner, Bollywood Movie Award - Most Sensational Actor for Munnabhai M.B.B.S.
Bengal Film Journalists' Association Awards
2004: Winner, BFJA Awards, Best Actor for Munnabhai M.B.B.S.
Other awards
2004: Winner Celebrity Style Male at the Bollywood Fashion Awards
Filmography
Actor
-
Housefull 5 (announced)
as
John Abraham's Father
-
Untitled Sanjay Dutt/Arshad Warsi Project (announced)
-
Awara Pagal Deewana 2 (pre-production)
-
K.G.F: Chapter 3 (pre-production)
as
Adheera
-
Showtime - A Mocumentry (pre-production)
as
Guest Appearance
-
KD - The Devil (filming)
-
The Virgin Tree (filming)
2023
Ghudchadi (filming)
as
Veer Sharma
-
Alert 24X7 (post-production)
2023
Jawan (post-production)
2022
The Good Maharaja
as
Maharaja of Nawanagar
2022
Shamshera
as
Daroga Shuddh Singh
2022
Samrat Prithviraj
as
Kaka Kanha
2022
K.G.F: Chapter 2
as
Adheera
2022
Toolsidas Junior
as
Mohammad Salaam
2021
Koochie Koochie Hota Hai
as
Aman (voice)
2021
Tom, Dick and Harry 2
as
Unknown (voice)
2021
Bhuj: The Pride of India
as
Indian Army Scout Ranchordas Pagi
2019
Panipat
as
Ahmad Shah Abdali
2019
Hariket Acoustics: Kalank Title Track (Music Video)
as
Sanjay Dutt
2019
Prassthanam
as
Baldev Pratap Singh
2019
Kalank
as
Balraj Chaudhry
2018
All Seasons Club Soda (Video short)
as
Baba
2018
Saheb Biwi Aur Gangster 3
as
Uday Pratap Singh
2017
Hariket Acoustics: Abhi Mujh Mein Kahin (Music Video)
as
Sanjay Dutt
2014
Ungli
as
Inspector Ashok Kale
2013
Policegiri
as
DCP Rudra Adityadevraj
2013
Hum Hai Raahi CAR Ke
as
Police Inspector Kiran Karate
2013
Zila Ghaziabad
as
Thakur Pritam Singh
2012
Department
as
Inspector Mahadev Bhosle
2012
Agneepath
as
Kancha Cheena
2011
Desi Boyz
as
Mr. Khalnayak (uncredited)
2011
Rascals
as
Chetan Chouhan
2011
Chatur Singh Two Star
as
Chatur Singh
2011
Double Dhamaal
as
Kabir Nayak
2011
Ready
as
Marriage Registrar
2010
Tees Maar Khan
as
Narrator
2010
Toonpur Ka Superrhero
as
Narrator
2010
No Problem
as
Yash Ambani
2010
Knock Out
as
Vir Vijay Singh
2010
Karadi Tales (TV Mini Series)
2010
Lamhaa: The Untold Story of Kashmir
as
Vikram Sabharwal / Gul Jahangir
2009
All the Best: Fun Begins
as
Dharam Kapoor
2009
Blue
as
Sagar 'Sethji' Singh
2009
Kal Kissne Dekha
as
DJ (special appearance)
2008
EMI: Liya Hai To Chukana Padega
as
Sattarbhai
2008
Mehbooba
as
Shravan 'S.D.' Dhariwal
2008
Woodstock Villa
as
Singer
2007
Dus Kahaniyaan
as
Baba Hyderabadi (segment "Rise & Fall")
2007
Dhamaal
as
Inspector Kabir Nayak
2007
Shootout at Lokhandwala
as
A.A. Khan
2007
Nehlle Pe Dehlla
as
Johnny
2007
Eklavya: The Royal Guard
as
DSP Pannalal Chohaar
2006
Sarhad Paar
as
Major Ranjeet Singh
2006
Carry On, Munna Bhai
as
Murliprasad 'Munna Bhai' Sharma
2006
Anthony Kaun Hai?
as
Master Madan
2006
Taxi No. 9 2 11: Nau Do Gyarah
as
Narrator (voice)
2006
Zinda
as
Balajit 'Bala' Roy
2006
Aap Ke Dil Mein (Short)
2005
Vaah! Life Ho Toh Aisi!
as
Yamaraj M.A.
2005
Ek Ajnabee
as
Special Appearance (Hip-hop MC)
2005
Bihaad......The Outlawed
as
Rana Pratap Chauhan
2005
Shaadi No. 1
as
Lakhwinder 'Lucky' Singh Lakha
2005
Viruddh... Family Comes First
as
Ali Asghar
2005
Parineeta
as
Girish Sharma
2005
Tango Charlie
as
Squadron Leader Vikram Rathore
2005
Shabd
as
Shaukat Vashisht
2004
Let's Bring Our Heroes Home
as
Khan
2003
Munna Bhai M.B.B.S.
as
Murli Prasad 'Munna Bhai' Sharma
2003
LOC: Kargil
as
Lt. Col. Yogesh Kumar Joshi, 13 JAK Rifles
2003
Ek Aur Ek Gyarah: By Hook or by Crook
as
Sitara
2002
Kaante
as
Jay 'Ajju' Rehan
2002
Hathyar: Face to Face with Reality
as
Rohit Raghunath Shivalkar / Boxer Bhai
2002
Maine Dil Tujhko Diya
as
Bhai-Jaan
2002
Yeh Hai Jalwa
as
Shera (special appearance)
2002
Hum Kisi Se Kum Nahin
as
Munna Bhai
2000
Kurukshetra
as
A.C.P Prithviraj Singh
2000
Mission Kashmir
as
SSP Inayat Khan
2000
Chal Mere Bhai
as
Vicky Oberoi
1999
Khoobsurat
as
Sanju (Sanjay Shastri)
1999
Vaastav: The Reality
as
Raghunath Shivalkar
1999
Haseena Maan Jaayegi
as
Sonu
1999
Safari
as
Kishan 'Captain' Jatin Khanna
1999
Kartoos
as
Raja / Jeet Balraj
1999
Daag: The Fire
as
Captain Karan Singh
1998
Chandralekha
as
Raj Kapoor
1998
Dushman
as
Major Suraj Singh Rathod
1997
Dus
as
Captain Raja Sethi
1997
Daud: Fun on the Run
as
Nandu
1997
Mahaanta: The Film
as
Sanjay Malhotra
1995
Jai Vikraanta
as
Vikraanta A. Singh
1995
Andolan
as
Adarsh Pradhan
1994
Aatish: Feel the Fire
as
Baba
1994
Insaaf Apne Lahoo Se
as
Raju
1994
Zamane Se Kya Darna
as
Vikram 'Vicky' V. Singh
1993
Sahibaan
as
Kunwar Vijay Pal Singh / Old Narrator
1993
Gumrah
as
Jagan Nath (Jaggu)
1993
Khalnayak
as
Balaram Prasad 'Ballu'
1993
Kshatriya
as
Vikram Singh (Mirtagarh)
1992
Jeena Marna Tere Sang
as
Amar Khurana
1992
Yalgaar
as
Vishal Singhal
1991
Qurbani Rang Layegi
as
Raj Kishan
1991
Saajan
as
Aman Verma a. k. a. Sagar
1991
Do Matwale
as
Ajay 'James Bond 009'
1990
Khatarnaak
as
Suraj 'Sunny'
1990
Thanedaar
as
Brijesh Chandar (Birju)
1990
Kroadh
as
Vijay 'Munna' 'Vijju' V. Shukla
1990
Zahreelay
as
Rakesh 'Raaka' Rai
1989
Hum Bhi Insaan Hain
as
Bhola
1989
Taaqatwar
as
Police Inspector Amar Sharma
1989
Kanoon Apna Apna
as
Ravi Kumar J. Singh (as Sunjay Dutt)
1989
Ilaaka
as
Inspector Suraj Verma
1988
Jeete Hain Shaan Se
as
Govinda
1988
Kabzaa
as
Ravi Varma (as Sunjay Dutt)
1988
Mohabbat Ke Dushman
as
Hashim
1988
Khatron Ke Khiladi
as
Rajesh
1988
Mardon Wali Baat
as
Tinku
1987
Inaam Dus Hazaar
as
Kamal Malhotra
1987
Naam O Nishan
as
Inspector Suraj S. Singh
1987
Imaandaar
as
Rajesh 'Raju'
1986
Jeeva
as
Jeeva / Jeevan Thakur
1986
Mera Haque
as
Prince Amar Singh
1986
Sone Ka Pinjra (Video)
as
Special apprearance in song
1985
Jaan Ki Baazi
as
Inspector Amar / Bambaiya (Laxman)
1985
Do Dilon Ki Dastaan
as
Vijay Kumar Saxena
1984
Mera Faisla
as
Raj Saxena
1983
Main Awara Hoon
as
Sanjeev 'Sanju' Kumar
1982
Johny I Love You
as
Raju S. Singh / Johny
1981
Rocky
as
Rakesh / Rocky D'Souza (as Sunjay Dutt)
1971
Reshma Aur Shera
as
Qawalli Singer (Child Artist) (as Master Sanjay Dutt)
1964
Yaadein
as
Child Silhouette
Music Department
2009
Aladin (playback singer)
2008
EMI: Liya Hai To Chukana Padega (playback singer)
2008
C Kkompany (playback singer)
2008
Mehbooba (playback singer)
2008
Woodstock Villa (song staging)
2006
Carry On, Munna Bhai (playback singer)
2006
Zinda (playback singer)
2006
Aap Ke Dil Mein (Short) (playback singer)
2005
Ek Ajnabee (playback singer)
2005
Home Delivery: Aapko... Ghar Tak (playback singer)
2005
Shabd (playback singer)
2003
Munna Bhai M.B.B.S. (playback singer)
2002
Kaante (playback singer)
2002
Hathyar: Face to Face with Reality (playback singer)
1999
Khoobsurat (playback singer: "Aye Shivani")
1999
Haseena Maan Jaayegi (playback singer)
Producer
-
Untitled Sanjay Dutt/Arshad Warsi Project (producer) (announced)
-
The Virgin Tree (producer) (filming)
-
Sher (producer - produced by) (post-production)
-
Alibaug (producer - produced by) (completed)
2022
The Good Maharaja (producer - produced by)
2007
Dus Kahaniyaan (producer)
2007
Shootout at Lokhandwala (associate producer)
2006
Zinda (presentation producer)
1999
Khoobsurat (executive producer)
1997
Daud: Fun on the Run (co-executive producer)
Soundtrack
2017
Bhoomi (performer: "Jai Mata Di")
2009
Aladin (performer: "Giri Giri")
2008
EMI: Liya Hai To Chukana Padega (performer: "Tera Bhatua Jab Ho Khali")
2008
C Kkompany (performer: "Yeh Hai Akshay Kumar")
2008
Mehbooba (performer: "Babuji")
2006
Carry On, Munna Bhai (performer: "Samjho Ho Hi Gaya")
2006
Zinda (performer: "Yeh Hai Meri Kahaani, Khamosh Zindagani", "Kabhi Muskura Ke", "Yeh Hai Meri Kahaani" (DJ Nikhil Chinappa), "Kabhi Muskura Ke" (DJ Nikhil Chinappa))
2004
Musafir (performer: "Tez Dhaar", "Tez Dhaar - II")
2004
Plan (performer: "Aim Kaim")
2003
Munna Bhai M.B.B.S. (performer: "M Bole To", "Apun Jaise Tapori")
2002
Kaante (performer: "Chhod Na Re", "Rama Re")
2002
Hathyar: Face to Face with Reality (performer: "Chaaha Tha Tumhe")
Miscellaneous
2005
Shabd (critical supervisor)
Thanks
2011
Desi Boyz (special thanks)
2011
Ready (special thanks)
2011
Angel (special thanks)
2010
Tees Maar Khan (special thanks)
2010
Toonpur Ka Superrhero (special thanks)
2007
Om Shanti Om (very big thanks)
2006
Taxi No. 9 2 11: Nau Do Gyarah (acknowledgement)
2005
Bluffmaster (special thanks)
2005
Ek Ajnabee (thank you)
2002
Yeh Hai Jalwa (grateful thanks - as Shri Sanjay Dutt)
2000
Raju Chacha (sincere thanks - as Shri Sanjay Dutt)
2000
Nidaan (special thanks)
1998
Chandralekha (our thanks to)
1993
Meri Aan (grateful acknowledgment - as Shri Sanjay Dutt)
Self
2022
Indian Premier League (TV Series)
as
Self - Audience
- Match 31: Lucknow Super Giants vs Royal Challengers Bangalore (2022) - Self - Audience
2021
Kapila Pashu Aahar TVC By- Sanjay Dutt (TV Special short)
2019
The Kapil Sharma Show (TV Series)
as
Self
- The Star-Cast of Panipat (2019) - Self
- Khalnayak of Indian Cinema (2019) - Self
2017
Baba Ki Chowki (TV Series)
as
Self
- Baba meets Sanju baba (2017) - Self
2011
Bigg Boss (TV Series)
as
Self - Host / Self
- Kashif was not liked by many (2012) - Self
- Pooja Bedi is eliminated (2011) - Self - Host
- Nihita exits (2011) - Self - Host
- Day 1 in the Bigg Boss house (2011) - Self - Host
- Bigg Boss Season 5: Launch (2011) - Self - Host
2012
Super Fight League 1 (Video)
as
Self - SFL founder
2005
Koffee with Karan (TV Series)
as
Self - Guest
- Anil Kapoor, Sanjay Dutt and Kangana Ranaut (2010) - Self - Guest
- Episode #2.7 (2007) - Self - Guest
- Episode #1.11 (2005) - Self - Guest
2009
Shortkut - The Con Is On
as
Self
2007
52nd Filmfare Awards (TV Special)
as
Self
2006
Asha and Friends (Video short)
as
Self
2004
48th Filmfare Awards (TV Special)
as
Self (Best Actor in a Comic Role)
2002
Jeena Isi Ka Naam Hai (TV Series)
as
Self
- Sanjay Dutt (2002) - Self
2000
45th Filmfare Awards (TV Special)
as
Self (Best Actor)
1988
Network East (TV Series)
as
Self
- Episode #3.4 (1988) - Self
1987
Raj Kapoor
as
Self (during funeral)
Archive Footage
-
Naam (announced)
as
Unknown
-
Aankhen 2 (pre-production)
as
Unknown
-
Shootout at Byculla (pre-production)
as
Insp. Vijay Sinha
2004
Koffee with Karan (TV Series)
as
Self
- Episode #1.4 (2004) - Self
2002
Jeena Isi Ka Naam Hai (TV Series)
as
Self
- Preity Zinta (2002) - Self
References
Sanjay Dutt Wikipedia
(Text) CC BY-SA