Preceded by

Jim DeMint




Nationality

American




Succeeded by

Mark Sanford




Preceded by

Henry Brown




Political party

Republican




Office

Senator (R-SC) since 2013




Preceded by

Tom Dantzler




Name

Tim Scott




Resigned

January 2, 2013




Preceded by

R. Keith Summey




Role

United States Senator








Full Name

Timothy Eugene Scott




Born

September 19, 1965 (age 50) North Charleston, South Carolina, U.S. (

1965-09-19

)


Previous office

Representative (SC 1st District) 2011–2013




Education

Charleston Southern University (1988), Presbyterian College (1983–1984)




Similar People

Nikki Haley, Mark Sanford, Lindsey Graham, Allen West, Mia Love




Profiles




Twitter

Instagram

Facebook
Rand paul q a with sen tim scott and trey gowdy
Timothy Eugene Scott (born September 19, 1965) is an American former insurance agent and politician who is the junior United States Senator for South Carolina. A Republican, he joined the Senate in 2013 when South Carolina Governor Nikki Haley appointed him to fill the U.S. Senate seat vacated by Jim DeMint. Scott won a special election in 2014 for the final two years of DeMint's second term, and won election to a full term in 2016.
Contents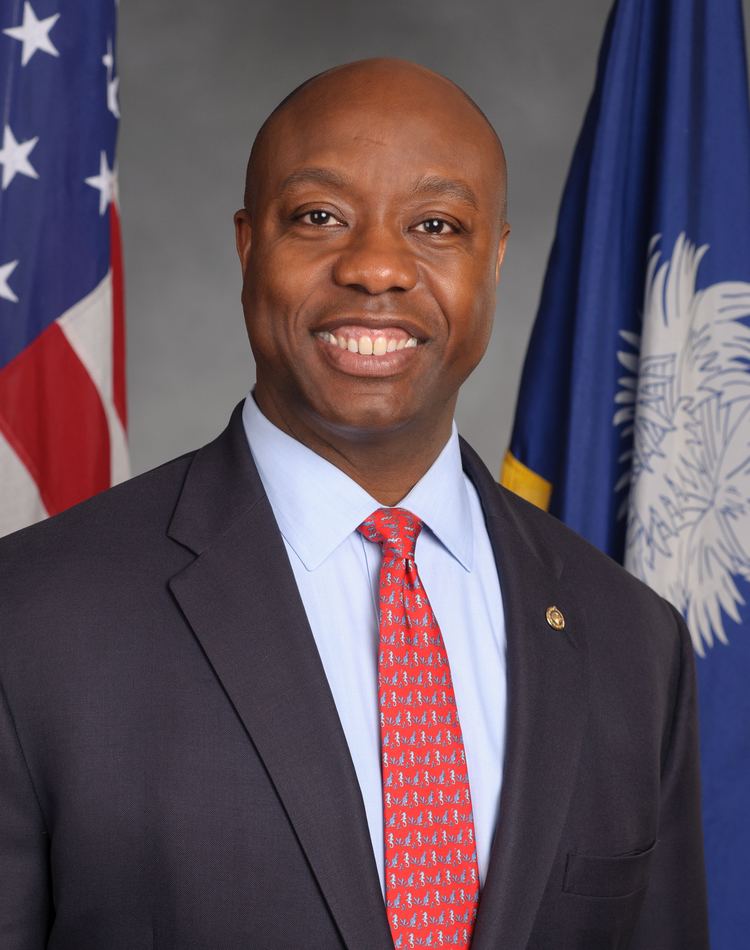 In November 2010, Scott was elected to the United States House of Representatives for South Carolina's 1st congressional district, and served from 2011 to 2013. Scott, a conservative, was endorsed for the Senate by Tea Party groups. He served one term in the South Carolina General Assembly (2009–2011); prior to that, he had been on the Charleston County Council from 1996 to 2008.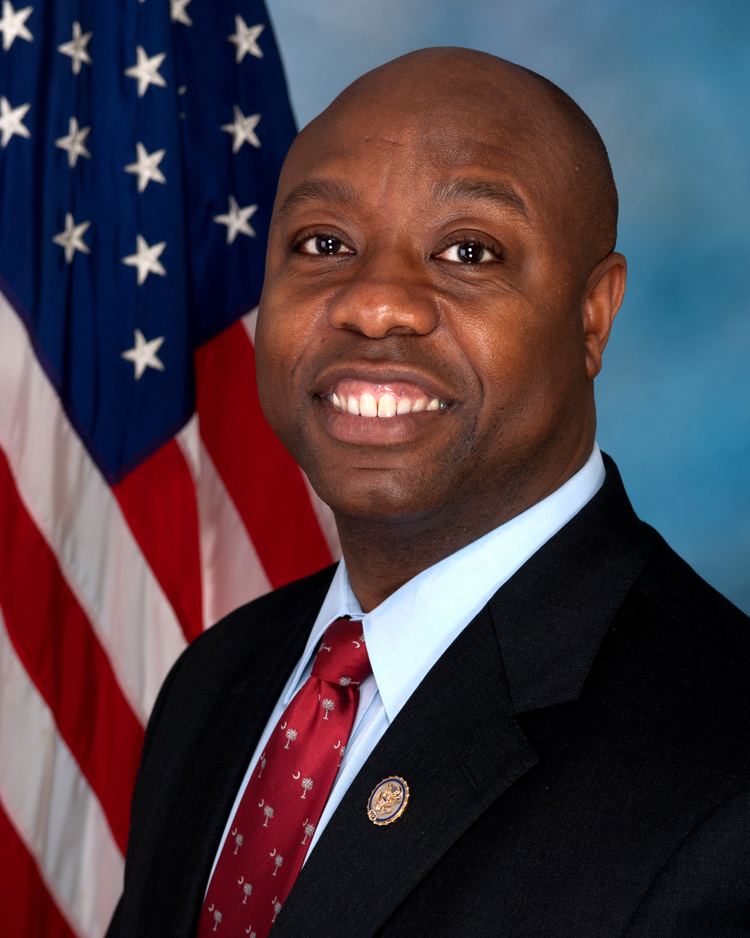 Along with Democrats Cory Booker of New Jersey and Kamala Harris of California, Scott is one of three African Americans serving in the United States Senate. He is the first African-American senator from the state of South Carolina, the first black Republican elected to the United States Senate since the election of Edward Brooke in 1966, and the first elected from the South since 1881, four years after the end of Reconstruction. He is the first Republican African-American Congressman from South Carolina since 1897 and since the passage of the Voting Rights Act of 1965. He is also the first African American to have been elected to both the U.S. House of Representatives and the U.S. Senate since P.B.S. Pinchback.
Senator tim scott talks to the value voters summit about his conservative values and principles
Early life, education, and business career
Scott was born in North Charleston, South Carolina, a son of Frances, a nursing assistant, and Ben Scott, Sr. His parents were divorced when he was 7. He grew up in working-class poverty with his mother working 16-hour days to support her family, including Tim's brothers. His older brother is a sergeant major in the U.S. Army. Scott's younger brother is a U.S. Air Force colonel.
Scott attended Presbyterian College from 1983 to 1984, on a partial football scholarship. He graduated from Charleston Southern University in 1988 with a B.S. in Political Science. Scott is also an alumnus of South Carolina's Palmetto Boys State program, an experience which he cites as an influential factor in his decision to enter public service.
In addition to his political career, Scott owns an insurance agency, Tim Scott Allstate, and works as a financial adviser.
Elections
Scott ran in a February 1995 special election to the Charleston County Council at-large seat vacated by Keith Summey, who resigned his seat after being elected as Mayor of North Charleston. Scott won the seat as a Republican, receiving nearly 80% of the vote in the white-majority district, which since the late 20th century has voted Republican. He became the first black Republican elected to any office in South Carolina since the late 19th century.
Scott served on the County Council for a time alongside Paul Thurmond, the son of the late Republican U.S. Senator, Strom Thurmond, who had switched in 1964 from the Democratic Party to the Republican Party.
In 1996, Scott challenged Democratic State Senator Robert Ford in South Carolina's 42nd Senate district, but lost 65%–35%.
Scott won re-election to the County Council in 2000, again winning in white-majority districts. In 2004, he won re-election again with 61% of the vote, defeating Democrat Elliot Summey (son of Mayor Keith Summey).
Tenure
Scott served on the Council from 1995 until 2008, becoming Chairman in 2007. In 1997, Scott supported posting the Ten Commandments outside the county council chambers, saying it would remind members of the absolute rules they should follow. The county council unanimously approved the display, and Scott nailed a King James version of the Commandments to the wall. Shortly after, the ACLU and Americans United for Separation of Church and State challenged this in a federal suit. After an initial court ruling that the display was unconstitutional, the council settled out of court to avoid accruing more legal fees. Regarding the costs of the suit, Scott said, "Whatever it costs in the pursuit of this goal (of displaying the Commandments) is worth it."
In January 2001, the US Department of Justice sued Charleston County, South Carolina for racial discrimination under the Voting Rights Act, based on its having all its council seats elected by at-large districts. This dilutes the votes of a minority group. DOJ had attempted to negotiate with county officials on this issue in November 2000. Justice officials noted that at-large seats dilute the voting strength of the significant African-American minority in the county, who in 2000 comprised 34.5% of the population. They have been unable to elect any "candidates of their choice" for years. Whites or European Americans comprise 61.9 percent of the population in the county. Since the late 20th century, the majority-white voters have elected Republican Party candidates. County officials noted that the majority of voters in 1989 had approved electing members by at-large seats in a popular referendum.
Scott, the only African-American member of the county council, has said about this case and the alternative of electing council members from single-member districts,
"I don't like the idea of segregating everyone into smaller districts. Besides, the Justice Department assumes that the only way for African Americans to have representation is to elect an African American, and the same for whites. Obviously, my constituents don't think that's true."
The DOJ officials noted that the voting preference issue is not a question of ethnicity; voters in black precincts in the county had rejected Scott as a candidate for the council. The candidate of their choice was the Democratic Party at-large candidate. The suit noted that historically, black and white precincts in Charleston County have consistently supported different candidates for the Council. It noted that, because of the white majority, "white bloc voting usually results in the defeat of candidates who are preferred by black voters." Blacks live in compact areas of the county; they could comprise the majority in three districts if the county seats were apportioned as nine single-member districts.
Committee assignments
Economic Development Committee (Chair)
Elections
In 2008, incumbent Republican State Representative Tom Dantzler decided to retire. With support from advisors such as Nicolas Muzin, Scott decided to run for his seat in District 117 of the South Carolina House of Representatives and won the Republican primary with 53% of the vote, defeating Bill Crosby and Wheeler Tillman. He won the general election unopposed, becoming the first Republican African American representative from South Carolina in more than 100 years.
Tenure
Scott supported South Carolina's right-to-work laws and argued that Boeing chose South Carolina as a site for manufacturing for that reason.
In South Carolina Club for Growth's 2009–2010 scorecard, Scott earned a B and a score of 80 out of 100. He was praised by the South Carolina Association of Taxpayers, for his "diligent, principled and courageous stands against higher taxes."
Committee assignments
Judiciary
Labor, Commerce and Industry
Ways and Means
Elections
2010
Scott entered the election for lieutenant governor but switched to run for South Carolina's 1st congressional district following the retirement announcement of Republican incumbent Henry Brown. The 1st district is based in Charleston, and includes approximately the northern 3/4 of the state's coastline (except for Beaufort and Hilton Head Island. Since redistricting, they have been included in the 2nd District.)
Scott ranked first in the nine-candidate Republican primary of June 8, 2010, receiving a plurality of 32% of the vote. Fellow Charleston County Councilman Paul Thurmond, son of U.S. Senator Strom Thurmond, ranked second with 16% of the vote. Carroll A. Campbell III, the son of former Governor Carroll A. Campbell, Jr., ranked third with 14% of the vote. Charleston County School Board member Larry Kobrovsky ranked fourth with 11% of the vote. Five other candidates had single digit percentages.
Because no candidate had received 50 percent or more of the vote, a runoff was held on June 22, 2010. Scott faced off against Paul Thurmond. Scott was endorsed by the anti-tax Club for Growth, various Tea Party movement groups, former Alaska Governor and Vice Presidential nominee Sarah Palin, Republican House Whip Eric Cantor, former Arkansas governor Mike Huckabee, South Carolina Senator Jim DeMint, and the founder of the Minuteman Project. Scott defeated Thurmond 68%–32% and won every county in the congressional district.
According to the Associated Press, Scott "swamped his opponents in fundraising, spending almost $725,000 during the election cycle to less than $20,000 for his November opponents". He won the general election, defeating Democrat Ben Frasier 65%–29%. With this election, Scott and Allen West of Florida became the first African-American Republicans in Congress since J.C. Watts retired in 2003. Scott also became the first African-American Republican elected to Congress from South Carolina in 114 years. From the period of 1895 to after 1965, most African Americans had been disenfranchised in the state, and they had comprised most of the Republican Party when they were excluded from the political system.
2012
Scott was unopposed in the primary and won the general election, defeating Democrat Bobbie Rose 62%–36%.
Tenure
Scott, one of two African American Republicans elected to the House in 2010, declined to join the Congressional Black Caucus.
In March 2011, Scott co-sponsored a welfare reform bill that would deny food stamps to families whose incomes were lowered to the point of eligibility because a family member was participating in a labor strike. He introduced legislation in July 2011 to strip the National Labor Relations Board (NLRB) of its power to prohibit employers from relocating to punish workers who join unions or strike. The rationale for the legislation is that government agencies should not be able to tell private employers where they can run a business. Scott described the legislation as a common sense proposal that would fix a flaw in federal labor policy and benefit the national and local economies. The NLRB had recently opposed the relocation of a Boeing production facility from Washington state to South Carolina.
Scott successfully advocated for federal funds for a Charleston harbor dredging project estimated at $300 million, arguing that the project is neither an earmark nor an example of wasteful government spending. He said the project was merit-based, and in the national interest because larger cargo ships could use the port and jobs would be created.
During the summer 2011 debate over raising the U.S. debt ceiling, Scott supported the inclusion of a balanced budget constitutional amendment in the debt ceiling bill, and opposed legislation that did not include the amendment. Before voting "no" on the final bill to raise the U.S. debt ceiling, Scott and other first-term conservatives prayed for guidance in a congressional chapel. Afterward, Scott asserted that he had received divine inspiration regarding his vote, and joined the rest of the South Carolina congressional delegation in voting "no" on the measure.
Taxes and spending – Scott believes that federal spending and taxes should be reduced, with a Balanced Budget Amendment and the FairTax respectively being implemented for spending and taxes.
Health care – Scott believes the 2010 health care reform law should be repealed. Scott states that the health care in the U.S. is one of the greatest in the world, stating that people all over the world come to study in American medical schools, waiting lists are rare, and Americans are able to choose their insurance, providers, and course of treatment. Scott supports an alternative to the health care bill that he says keeps these benefits while controlling costs by reforming the medical tort system by having a limit on non-economic damages and by reforming Medicare. In January 2014 Scott signed an amicus brief in support of Senator Ron Johnson's legal challenge against the U.S. Office of Personnel Management's Affordable Care Act ruling.
Earmarks – Scott opposes earmarks, and yet he successfully advocated for federal funds for a Charleston harbor dredging project estimated at $300 million.
Economic development – He supports infrastructure development and public works for his district. He opposes restrictions on deepwater oil drilling.
Social issues – Scott describes himself as pro-life. Scott supports adult and cord blood stem cell research. He opposes embryonic stem cell research funded by taxpayers. He opposes the creation of human embryos for experimentation. and opposes assisted suicide. Scott opposes same-sex marriage.
Immigration – Scott supports federal legislation that is similar to the Arizona law, Arizona SB 1070. He supports strengthening penalties for employers who knowingly hire illegal immigrants. He also promotes cultural assimilation by making English the official language in the government, and by requiring new immigrants to learn English.
Labor – Scott introduced a bill which would deny food stamps to families whose incomes were lowered to the point of eligibility because a family member was participating in a labor strike.
Foreign policy – Scott advocates a continued military presence in Afghanistan and believes an early withdrawal will benefit Al-Qaeda. He also views Iran as the world's most dangerous country and believes that the US should aid pro-democracy groups there. Scott opposed the 2011 military intervention in Libya.
Police body cameras – After the shooting of Walter Scott (no relation), Scott urged the Senate to hold hearings on police body cameras.
Legislation
As a Representative, Scott sponsored thirty-six bills, including:
H.R. 698, a bill to deauthorize funding for the Patient Protection and Affordable Care Act and the health-care related provisions of the Health Care and Education Reconciliation Act of 2010, introduced February 14, 2011
H.R. 937, a bill to reduce the federal corporate income tax from 35% to 23%, introduced March 4, 2011
H.R. 1976, a bill to provide that an employer's expression or written dissemination of views, argument, or opinion regarding the costs associated with collective bargaining, work stoppages, or strikes shall not constitute an unfair labor practice if such expression contains no threat of reprisal or force or promise of benefit, introduced May 24, 2011
H.R. 2587, a bill to deny the National Labor Relations Board the power to 1) require employers to restore or reinstate any work, product, production line, or equipment, 2) rescind any relocation, transfer, subcontracting, outsourcing, or other change regarding the location, entity, or employer who shall be engaged in production or other business operations, or 3) require any employer to make an initial or additional investment at a particular plant, facility, or location, introduced September 15, 2011
H.R. 2810, a bill to prohibit labor organizations from prohibiting their members from selecting individuals to collectively bargain on their behalf, introduced August 5, 2011
H.R. 4015, a bill to repeal the Conservation Stewardship Program, introduced February 13, 2012
In addition to the bills listed above, on May 15, 2012, Scott introduced more than two dozen bills that would temporarily lift or extend tariffs on various chemicals.
Committee assignments
Scott was appointed by the House Republican Steering Committee to both the Committee on Transportation and the Committee on Small Business. He was later appointed to the powerful Committee on Rules and relinquished his other two committee assignments.
Committee on Rules
Subcommittee on Rules and the Organization of the House
2012 appointment
On December 17, 2012, South Carolina Governor Nikki Haley announced she would appoint Scott to replace retiring Senator Jim DeMint, who had previously announced that he would retire from the Senate to become the President of The Heritage Foundation. Scott is the first African American to serve as US Senator from South Carolina. Scott was one of three black senators in the 113th Congress alongside Mo Cowan and later Cory Booker (and the first since senator Roland Burris retired in 2010 after succeeding President Barack Obama). He is the first African American to serve as a Senator from the Southern United States since Reconstruction. From 1890 to 1908 state legislatures passed new constitutions and laws that disfranchised most blacks and many poor whites across the South, securing power for white conservatives then in the Democratic Party.
During two periods, first from January 2, 2013 until February 1, 2013, and again from July 16, 2013 until October 31, 2013, Scott was the only African-American Senator. He and Cowan were the first black senators to serve alongside each other.
News media reported that Scott, along with Rep. Trey Gowdy, former South Carolina Attorney General Henry McMaster, former First Lady of South Carolina Jenny Sanford, and Catherine Templeton, Director of the South Carolina Department of Health and Environmental Control, were on Governor Haley's short list to replace Sen. DeMint. In her decision to pick Scott, Governor Haley said: "It is important to me, as a minority female, that Congressman Scott earned this seat, he earned this seat for the person that he is. He earned this seat with the results he has shown."
2014 election
Scott ran in November 2014 to win the final two years of Jim DeMint's term and won. He said that he will seek re-election in 2016 to a full six-year term.
2016 election
Scott won re-election to a first full term in office in November 2016. He was endorsed by the Club for Growth.
Environment
In 2017, Scott was one of 22 senators to sign a letter to President Donald Trump urging the President to have the United States withdraw from the Paris Agreement. According to the Center for Responsive Politics, Scott has received over $540,000 from oil, gas and coal interests since 2012.
Committee assignments
Committee on Commerce, Science and Transportation
Subcommittee on Aviation Operations, Safety, and Security
Subcommittee on Communications, Technology, and the Internet (Ranking Member)
Subcommittee on Competitiveness, Innovation, and Export Promotion
Subcommittee on Oceans, Atmosphere, Fisheries, and Coast Guard
Subcommittee on Surface Transportation and Merchant Marine Infrastructure, Safety, and Security
Committee on Energy and Natural Resources
Subcommittee on Public Lands, Forests and Mining
Subcommittee on Water and Power
Committee on Health, Education, Labor, and Pensions
Subcommittee on Employment and Workplace Safety
Committee on Small Business and Entrepreneurship
Special Committee on Aging
Personal life
Scott is unmarried. He owns an insurance agency and he is also a partner in Pathway Real Estate Group, LLC. Scott is a devout evangelical Christian. He is a member of Seacoast Church, a large evangelical church in Charleston, and is a former member of that church's board. Republican leadership has praised Scott's background as an example of achieving the American dream according to a conservative model.
References
Tim Scott Wikipedia
(Text) CC BY-SA