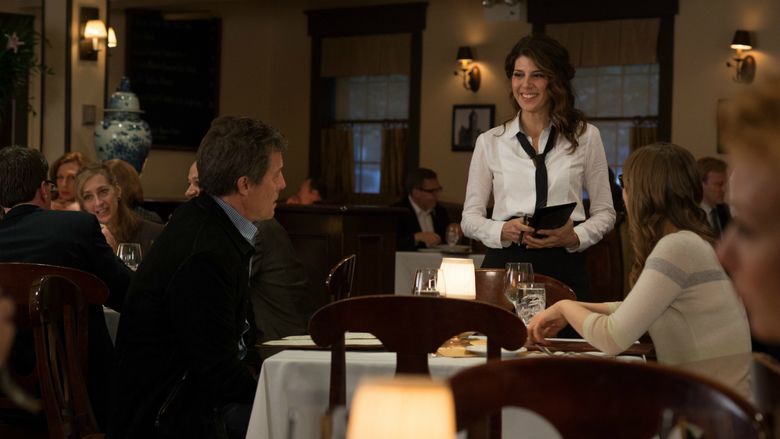 Keith Michaels (Grant) is a washed-up British screenwriter who won the Academy Award for Best Screenplay in 1998. Since then, he has divorced and, after a few unsuccessful films, cannot sell another screenplay. He begins teaching a screenwriting course at Binghamton University in upstate New York and goes on a date with a student (Heathcote). Though, at first, he had no intention of actually teaching, he finds himself actually good at it.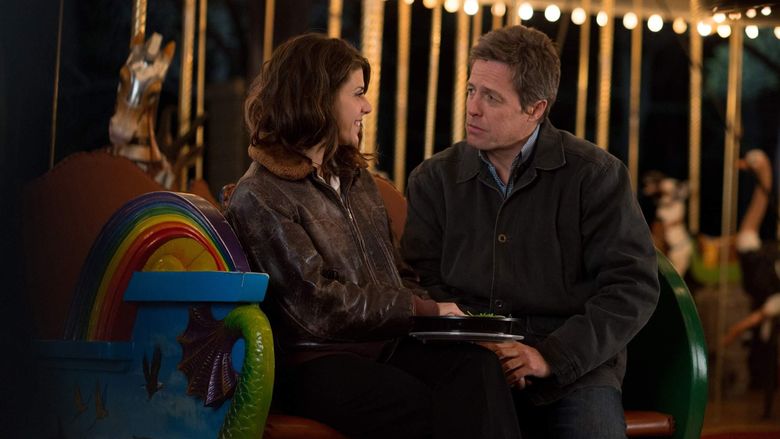 The date ends badly and he almost loses the job that he realizes he likes; meanwhile, he finds he is in love with a single mother with whom he has been friendly (Tomei).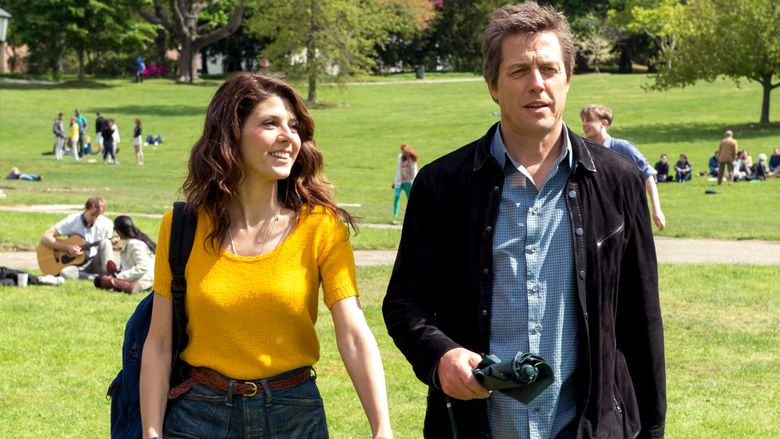 Hugh Grant as Keith Michaels
Marisa Tomei as Holly Carpenter
Bella Heathcote as Karen
Allison Janney as Mary Weldon
J. K. Simmons as Dr. Lerner
Chris Elliott as Jim
Aja Naomi King as Rosa
The Rewrite is written and directed by Marc Lawrence. The project began development at Castle Rock Entertainment. In October 2012, actor Hugh Grant was cast in the film's starring role. His casting marked the fourth collaboration between Lawrence, Castle Rock, and Grant. Their previous films were Two Weeks Notice, Music and Lyrics, and Did You Hear About the Morgans?
""I love Marc's stuff, and ['The Rewrite'] made me laugh," he said. "[I wasn't interested] in the sort of marketed, Hallmark, 'Valentine's Day' sense — I find that repugnant. Here, the romantic comedy part of it is only a small part; it's about this broken guy who mends himself."
In November 2012, actor Marisa Tomei entered negotiations to star opposite Grant. In the following March, Bella Heathcote joined the cast. Variety reported, "This film would give Heathcote some lighter material after breaking out in serious projects," referring to In Time and Not Fade Away. Later in the month, Allison Janney, J. K. Simmons, and Chris Elliott joined the cast.
Filming began in New York in April 2013.
FilmNation Entertainment handled sales of The Rewrite's distribution in territories outside the United States. The film premiered at a gala screening at the Shanghai International Film Festival on June 15, 2014. Distributor Lionsgate scheduled the film to be released in theaters in the United Kingdom on October 8, 2014.
On review aggregator website Rotten Tomatoes, the film has an approval rating of 64%, based on 58 reviews, with an average rating of 6/10. The site's critical consensus reads, "The Rewrite's unremarkable plot is enlivened considerably by its likable cast, adding up to a comedy that coasts capably on the charms of Hugh Grant and his co-stars." On Metacritic, which assigns a normalized rating, the film has a score 51 out of 100, based on 17 critics, indicating "mixed or average reviews".
The Hollywood Reporter's Elizabeth Kerr said The Rewrite was not groundbreaking as a romantic comedy but that "it is a pleasant diversion for fans of the form". Kerr considered the film an improvement from Did You Hear About the Morgans? (2009) and said while it was initially similar to Liberal Arts (2012) with "its aggressive academic and literary tone", it fell back on romantic comedy conventions. The film critic found that Grant "embraces his maturity" as an older version of his typical character but that Tomei's character was "painfully underwritten". Kerr said the supporting characters would be forgettable if the actors cast were not so strong.