2.6

/

10

Alchetron

2.6

Rate This






Genre

Comedy, Romance, Sport




Duration




Language

English







Director

Marco Schnabel




Music director

George S. Clinton




Country

CanadaUnited StatesUnited KingdomGermany







Release date

June 20, 2008 (2008-06-20)




Writer

Mike Myers, Graham Gordy


Featured songs

More Than Words, The Joker, 9 to 5, Brimful of Asha


Cast

Mike Myers (Guru Pitka), Jessica Alba (Jane Bullard), Justin Timberlake (Jacques "Le Coq" Grandé), Romany Malco (Darren Roanoke), Meagan Good (Prudence), Verne Troyer (Coach Punch Cherkov)


Similar movies

The Lover

,

Zandalee

,

Rendez-vous

,

All Ladies Do It

,

Knock Knock

,

The Apartment




Tagline

His Karma is Huge
The love guru 2 9 movie clip thicker than a snicker 2008 hd
The Love Guru is a 2008 American romantic comedy film directed by Marco Schnabel in his directorial debut, written and produced by Mike Myers, and starring Myers, Jessica Alba, Justin Timberlake, Romany Malco, Meagan Good, Verne Troyer, John Oliver, Omid Djalili, and Ben Kingsley. The film was also Myers and Timberlake's second collaboration after Shrek the Third (2007).
Contents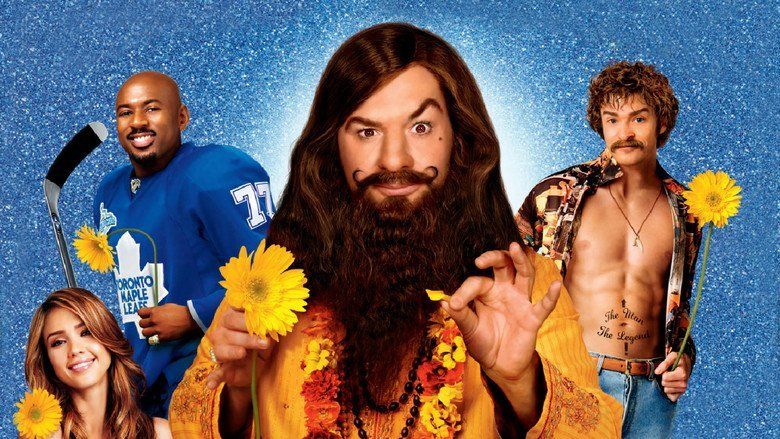 The film was a financial flop, and earned overwhelmingly negative reviews.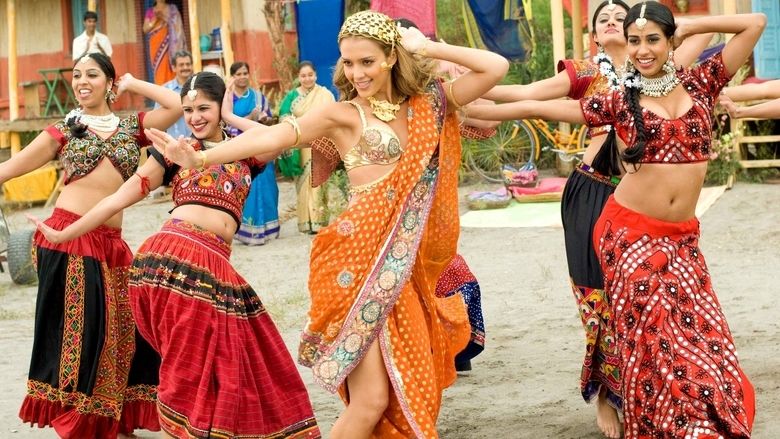 Plot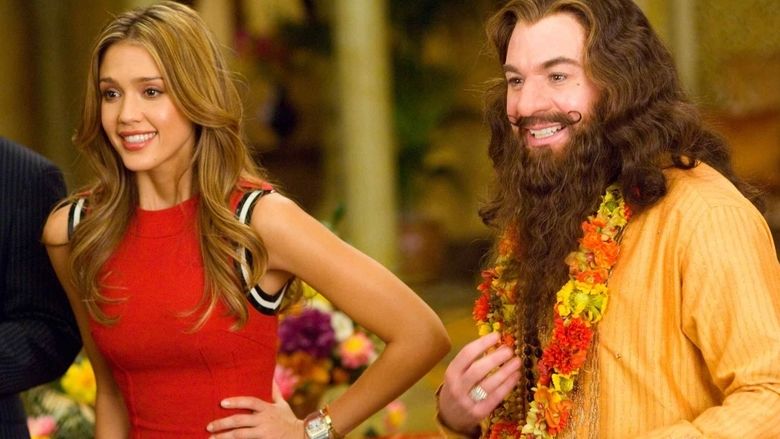 The film begins in a little Indian village named "Harenmahkeester", where Guru Pitka is talking into his recorder which allows him to sound like a man, a woman, or Morgan Freeman. He is the #2 Guru in the world, next to Deepak Chopra. A flashback shows us that Pitka is an orphan of missionaries in India. Both Pitka and Chopra were taught by Guru Tugginmypudha. Pitka at age 12 says he wants to become a Guru so that girls will love him, so Tugginmypudha puts a chastity belt with an elephant head codpiece on him until he can learn that loving himself is more important than being loved by others, he asks if he can still masturbate but is told he will go cross eyed like his mentor if he attempts to. The chastity belt clanks when he gets an erection.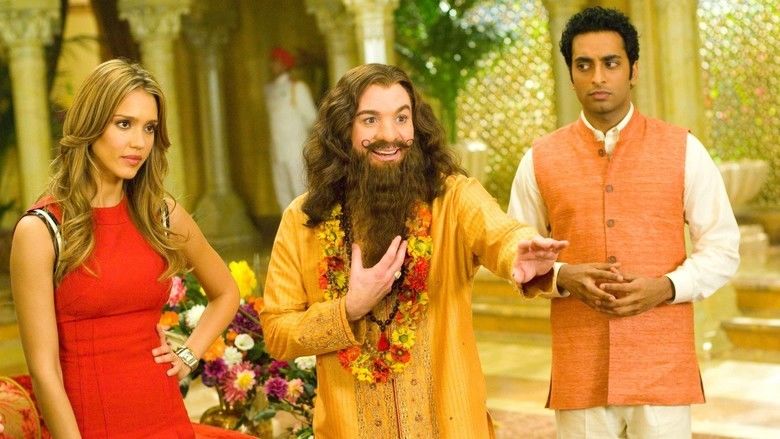 Pitka's dream is to become the number #1 Guru and to get on The Oprah Winfrey Show. He lives a charmed life scooting around on his mobile pillow. He has thousands of followers, including celebrities like Jessica Simpson, Val Kilmer and Mariska Hargitay (Pitka's mantra is "Mariska Hargitay"). His teachings, which involve acronyms and plays on words, are displayed in a PowerPoint slide show (e.g., "guru" meaning "gee, you are you" and transforming from "Nowhere" to "Now Here"). Pitka has a gorgeous palace with a beautiful female staff, helicopter, elephants, and a servant, Rajneesh, who squeezes fresh orange juice out of a tree for Pitka and has an ostrich lay his morning egg for him.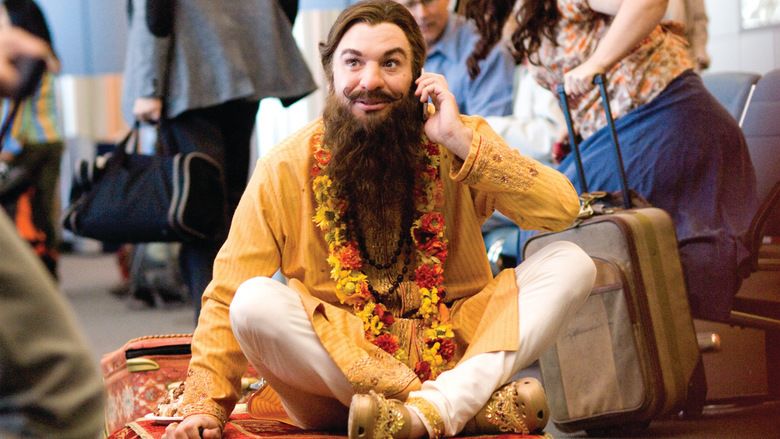 Meanwhile, in Canada, Jane Bullard's father died and left her the Toronto Maple Leafs hockey team. They have not won a Stanley Cup since she took over so the city hates her. Her star player, Darren Roanoke, the Tiger Woods of Hockey, has been playing poorly ever since his wife Prudence left him for a well endowed French Canadian, Jacques "Lè Cocq" Grandè, who plays for the rival Los Angeles Kings. He has a tattoo on his abdomen that reads "The Legend" with an arrow pointing down. When Pitka is introduced to Jane Bullard, he imagines a Bollywood musical fantasy with her in it. Jane is a big fan of Pitka's, having read all of his books. They bond over her revealing her school girl crush on her and Pitka asks if she is in a relationship. When she reveals she had a lesbian experience in college, his chastity belt clanks from an erection. She is paying him 2 million dollars to patch up Darren's marriage, in time to win the Stanley Cup. Pitka's agent, Dick Pants, is thrilled and says that if Pitka patches up the marriage, Oprah will have him on her show.
Pitka has an acronym, DRAMA, tattoed on his hand. D represents Distraction. Guru Tugginmypudha taught him the lesson of distraction with the use of his own urine. Pitka encourages the rival team to beat Darren up during a game, thus distracting him from his emotional distress over Prudence and Le Cocq. Darren begins to play well but then gets suspended for the next two games after beating up Le Cocq, and hitting Coach Cherkov with a hockey puck.
There is a meeting in the Coach's tiny office, complete with mini water cooler, where they argue about the situation. Later, Pitka has dinner with Jane, gets her to move in for a kiss, only to hear another ding on his chastity belt. He tells her it can not be, and she does not understand and runs out. Next, Pitka tells Darren to write an apology note to Prudence. Pitka gets in a huge fight with Le Cocq's guard rooster in order to deliver the note.
After causing them to lose three games, Coach Cherkoff betrates Jane and punches Pitka in the Testicles. He shakes his fist in slight pain from hitting the chastity belt but the contents of the belt are not protected causing Pitka to react instantly by groaning doubling over and clutching his crotch, Pitka moans and drops to the ground reacting in anguish.
The R in Drama is Regression. Apparently Darren is afraid of his mother. They confront her at her Church choir but she ends up scaring both Pitka and Darren out of the church with her harsh words. Pitka helps Darren realise that since his mother only showed him love when he succeeded he had grown to believe others like Prudence would only love him as long as he won.
Time is running out, so Pitka skips through the rest of the acronym. He distracts Le Cocq with his idol, Celine Dion, then lies to Prudence, telling her Darren stood up to his mom, getting her to go back to Darren. At the last game. Le Cocq, having overheard that Darren cannot play with his mother in the audience, gets Darren's mother to sing the national anthem, causing Darren to run out of the game. Meanwhile, Pitka is at the airport, on his way to the Oprah show. He sees the news on television and defies his agent by going to the game to help Darren, as well as show Jane (who manages to stand up to the angry crowd) his chastity belt. After smoothing things over with his mother, Darren is OK again until Le Cocq says Prudence also said "Damn" to him in bed. Darren freezes and Pitka realizes he needs to distract Darren from whatever is troubling him.
Pitka gets two elephants to have sex in the middle of the rink, in front of millions of television audience, which distracts Le Cocq and helps Darren wake up from his stupor and score the winning goal. After the game, Pitka makes up with Jane and Coach Cherkov, then meets Deepak Chopra and decides that he is fine with being the first Guru Pitka instead of the next Deepak Chopra. and everyone lives happily ever after. Back in the Indian village, Guru Tugginmypudha tells Pitka that he has finally learned to love himself and removes Pitka's chastity belt, as there was a hook in the back. Jane and Pitka kiss.
The ending is a rendition of the Steve Miller Band song "The Joker" with Jane and Pitka dancing Indian musical style.
In the deleted scenes there is an alternate ending with Pitka and Jane having sex.
Cast
Mike Myers as Guru Maurice Pitka / Young Pitka / Teenage Pitka / Himself
Jessica Alba as Jane Bullard
Justin Timberlake as Jacques "Le Coq" Grandé
Romany Malco as Darren Roanoke
Meagan Good as Prudence Roanoke, Darren's wife and Jacques' lover
Verne Troyer as Coach Punch Cherkov
Omid Djalili as Guru Satchabigknoba / Gagandeep Singh
Ben Kingsley as Guru Tugginmypudha
Telma Hopkins as Lillian Roanoke
Manu Narayan as Rajneesh, Pitka's assistant
John Oliver as Dick Pants
Stephen Colbert as Jay Kell
Jim Gaffigan as Trent Lueders
Rob Huebel as Bar Patron
Daniel Tosh as Cowboy Hat
Samantha Bee as Cinnabun cashier
As themselves
Mariska Hargitay
Val Kilmer (uncredited)
Morgan Freeman (voice)
Deepak Chopra
Oprah Winfrey (archive footage)
Music
The original score for the film was composed by George S. Clinton, who recorded it with an 80-piece ensemble of the Hollywood Studio Symphony at Warner Bros.
The song "Dhadak Dhadak" from the 2005 Bollywood film Bunty Aur Babli was used in the trailer.
The songs "9 to 5", "More Than Words", and "The Joker" are all in the film (performed by Myers and with sitar accompaniment) and on the soundtrack. "Brimful of Asha" was also used in the film.
Promotion
Myers appeared in the seventh season finale of American Idol as Pitka, the "spiritual director" of that show. The finalists David Cook and David Archuleta got to visit the Paramount Pictures studio theatre to see The Love Guru a month prior to its release and then got to meet Myers dressed like Pitka and playing Sitar Hero.
A "Fan Resource Page" at Fox Entertainment's beliefnet.com website was "created as part of a collaboration between Beliefnet and Paramount Pictures."
Box office
The film did poorly at the box office. In its opening weekend, The Love Guru grossed $13.9 million in 3,012 theaters in the United States and Canada, ranking #4 at the box office. The opening week numbers fell short of the $20 million range forecast by Hollywood pundits. The film grossed $32.2 million in the United States and Canada and an additional $8.7 million overseas, for a total of $40.8 million worldwide, against its $62 million budget. When the film was released in the United Kingdom, it only ranked #8 on the opening weekend.
Critical response
The review aggregator Rotten Tomatoes gave the film an approval rating of 14%, based on 168 reviews, with the site's critical consensus reading, "The Love Guru features far too many gross-out gags, and too few earned laughs, ranking as one of Mike Myers' poorest outings." Metacritic reported the film had an average score of 24 out of 100, based on 33 critics, indicating "generally unfavorable reviews".
Jay Stone of the National Post gave the film one star and said the film "is shockingly crass, sloppy, repetitive and thin." Stone said "Chopra is used almost as a product placement, taking a proud spot alongside a circus, a brand of cinnamon buns, the Leafs and, of course, Mike Myers." Stone also wrote, "the sitar-based versions of pop songs like '9 to 5' are oddly watchable - but mostly the film is 88 minutes of ridiculous sight gags and obscene puns."
A. O. Scott of The New York Times wrote "The word 'unfunny' surely applies to Mr. Myers's obnoxious attempts to find mirth in physical and cultural differences but does not quite capture the strenuous unpleasantness of his performance. No, The Love Guru is downright antifunny, an experience that makes you wonder if you will ever laugh again." Scott also commented that the appearance of actress Mariska Hargitay was anti-climactic. An ongoing gag in the film is the use of "Mariska Hargitay" as a phony Hindi greeting.
Roger Ebert gave the film 1 out of 4 stars, writing, "Myers has made some funny movies, but this film could have been written on toilet walls by callow adolescents. Every reference to a human sex organ or process of defecation is not automatically funny simply because it is naughty, but Myers seems to labor under that delusion."
Harry Knowles of Ain't It Cool News was disgusted with the film, considering it one of the worst films of at least the past several years, and going so far as to declare it a career-killing film for Myers. Myers had a small supporting role in the well-received film Inglorious Basterds in 2009 and did voice work as Shrek in 2010's Shrek Forever After, but he has not had an on-camera starring role in a film since The Love Guru.
Myers later poked fun at the film's failure in an appearance on the December 20, 2014 episode of Saturday Night Live, where he appeared as Dr. Evil (a character from his far more successful Austin Powers series), giving advice to Sony Pictures on its cancellation of the release of The Interview: "if you really want to put a bomb in a theater, do what I did: put in The Love Guru."
Portrayal of Hinduism
Before the film's release, some Hindus expressed unhappiness about how Hindus are portrayed, the disrespect of their culture and the bad impression that it would give those not well exposed to Hinduism, while some gave a cautious welcome, asking other Hindus to look at it as satire and not the truth. Rajan Zed, a Hindu leader from Nevada, demanded that Paramount Pictures screen the film for members of the Hindu community before its release.
Based on the movie's trailer and MySpace page, Zed said The Love Guru "appears to be lampooning Hinduism and Hindus" and uses sacred terms frivolously. He told The Associated Press, "People are not very well-versed in Hinduism, so this might be their only exposure...They will have an image in their minds of stereotypes. They will think most of us are like that."
Paramount Pictures agreed to provide the Hindu American Foundation an opportunity to pre-screen the film as soon as it had a complete work print of the film, but did not do this. Instead, it requested the Foundation attend a Minneapolis pre-screening the night before the film's release. HAF agreed to view the film to be able to inform the American Hindu community in light of concerned inquiries that were reported to its national headquarters. The reviewers concluded that the film was vulgar and crude but not necessarily anti-Hindu.
References
The Love Guru Wikipedia
(Text) CC BY-SA
The Love Guru IMDb
The Love Guru Rotten Tomatoes
The Love Guru Roger Ebert
The Love Guru Metacritic
The Love Guru themoviedb.org