Years active

1994–present






Born

January 1, 1969 (age 54) (

1969-01-01

)

Sturgis, Michigan, U.S.

Spouse

Genevieve Gallen (m. 2004–2004)

Parents

Susan Troyer, Reuben Troyer

Siblings

Deborah Troyer, Davon Troyer

Movies

Austin Powers: The Spy, Austin Powers in Goldmember, The Imaginarium of Doctor, Harry Potter and the Philos, The Love Guru




Similar People

Genevieve Gallen, Mike Myers, Warwick Davis, Peter Dinklage, Terry Gilliam




Profiles



Verne Troyer (born January 1, 1969) is an American actor, stunt actor and comedian. He is notable for his height of 2 ft 8 in (81 cm), the result of cartilage–hair hypoplasia dwarfism, making him one of the shortest men in the world. He is best known for playing Mini-Me in the Austin Powers series of comedy films.
Contents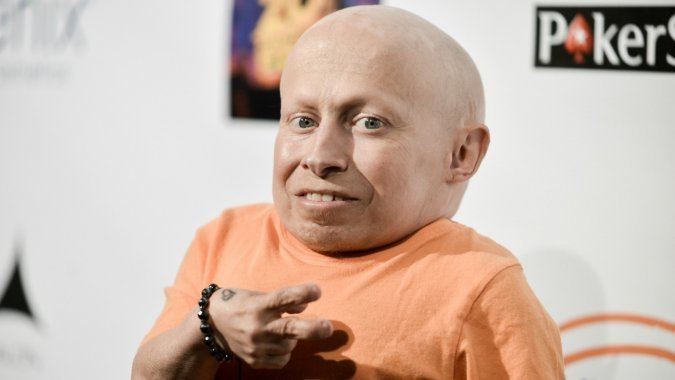 Since 2014, Troyer has appeared as 'The Boss' in adverts for gambling site Bgo.com.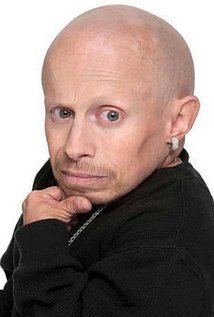 Austin powers in goldmember 4 5 movie clip hard knock life 2002 hd
Early life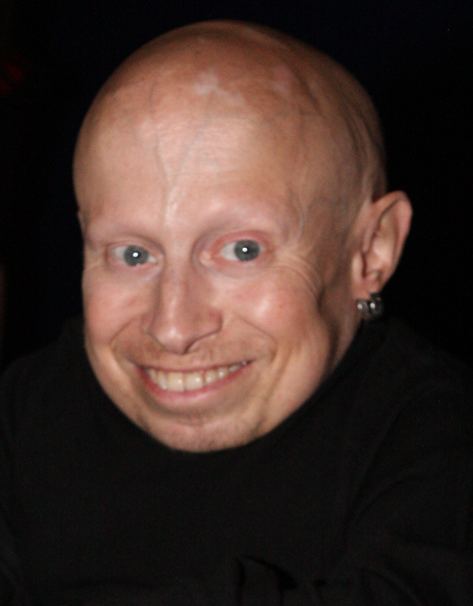 Troyer was born in Sturgis, Michigan, the son of Susan, a factory worker, and Reuben Troyer, a repair technician. He has two siblings, Davon and Deborah. During his childhood, Troyer spent much time visiting Amish relatives in Centreville, Michigan, and graduated from Centreville High School in 1987. Troyer was initially raised Amish but his parents left the faith when he was a child. He has stated that his parents "never treated me any different than my other average-sized siblings. I used to have to carry wood, feed the cows and pigs and farm animals".
Personal life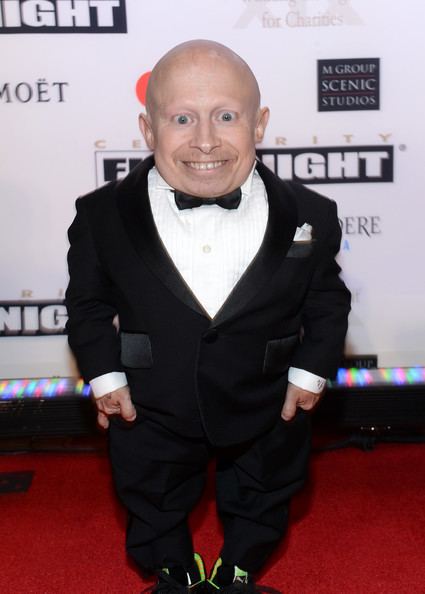 He reportedly married model Genevieve Gallen on February 22, 2004, but filed for an annulment the next day. Though the couple's engagement was widely reported, Troyer and his attorney deny that the two ever had any formal wedding plans, saying that Gallen had fabricated the story for her own financial gain.
On June 25, 2008, a private home video leaked of Troyer and his former live-in girlfriend, Ranae Shrider, having sex. The video, filmed in 2008 in Beverly Hills, California, and Shrider's hometown of Fort Cobb, Oklahoma, was leaked to the public by Shrider and TMZ. Kevin Blatt, the man responsible for brokering the deal for Paris Hilton's sex tape in 2003, tried to sell the video. Troyer, through his long-time attorney, Ed McPherson, sued TMZ, Blatt, and online rental company SugarDVD, for invasion of privacy and copyright infringement.
In May 2015, Verne, his girlfriend Brittney Powell, and her son Tyson appeared on Celebrity Wife Swap, where she switched places with Hines Ward's wife.
Verne has a YouTube channel called Verne Troyer
Filmography
Actor
2020
The 420 Movie: Mary & Jane
2019
Aliens, Clowns & Geeks
as
Emperor Beezel-Chugg
2018
The Delivery (Short)
as
The Boss
2018
My 90-Year-Old Roommate (TV Series)
as
Verne Troyer
- Going Viral (2018) - Verne Troyer
2017
Trailer Park Boys: Out of the Park (TV Series)
as
Verne Troyer
- USA - Los Angeles Pt. 2 (2017) - Verne Troyer
2016
Let It Die (Video Game)
as
Jackal X (voice)
2016
The Bandit Hound
as
Harry the Happy Vagabond
2015
Trailer Park Boys: Drunk, High & Unemployed (TV Movie)
as
Verne Troyer
2015
The Keith Lemon Sketch Show (TV Series)
as
Verne Troyer
- Episode #1.3 (2015) - Verne Troyer
2014
Where's This Party? (TV Series)
as
William Tabbot
2013
The Adventures of Uncle Colt and Cletus (Short)
as
Genie
2013
Lemon La Vida Loca (TV Series)
as
Verne Troyer
- Episode #2.5 (2013) - Verne Troyer
2013
Legit (TV Series)
as
Verne Troyer
- Hat Hair (2013) - Verne Troyer
2013
Story Cops with Verne Troyer (Short)
2012
Keith Lemon: The Film
as
Archimedes
2009
Cubed (TV Series)
as
Verne Troyer
- Episode #1.13 (2009) - Verne Troyer
2009
Two and a Half Men (TV Series)
as
Circus Midget
- Untainted by Filth (2009) - Circus Midget (uncredited)
2009
Madonna: Celebration - The Video Collection (Video)
as
Mini-Me (video 'Beautiful Stranger')
2009
The Imaginarium of Doctor Parnassus
as
Percy
2008
Verne Troyer Sex Tape (Short)
2008
The Love Guru
as
Coach Punch Cherkov
2007
Mad TV (TV Series)
as
Verne Troyer
- Episode #12.20 (2007) - Verne Troyer
2005
Half & Half (TV Series)
as
Reggie
- The Big Thorne in My Side Episode (2005) - Reggie (as Verne J. Troyer)
2005
Ludacris: Number One Spot/The Potion (Music Video)
as
Mini Me
2004
Karroll's Christmas (TV Movie)
as
Spike
2003
Scrubs (TV Series)
as
Small Man at Bar
- My Drama Queen (2003) - Small Man at Bar (uncredited)
2003
Boston Public (TV Series)
as
Taylor Prentice
- Chapter Sixty-Three (2003) - Taylor Prentice
- Chapter Sixty-Two (2003) - Taylor Prentice
2003
Pauly Shore Is Dead
as
Verne Troyer
2002
Sabrina the Teenage Witch (TV Series)
as
Angus
- Witch Way Out (2002) - Angus
2002
Austin Powers in Goldmember
as
Mini Me
2002
Moby: We Are All Made of Stars (Music Video)
as
Verne Troyer
2001
Harry Potter and the Sorcerer's Stone
as
Griphook (as Vern Troyer)
2000
Mission: Imp (Video short)
as
Ethan Runt
2000
Freedom (TV Series)
as
Cassius
- Freezone (2000) - Cassius (as Verne J. Troyer)
2000
Jack of All Trades (TV Series)
as
Napoleon Bonaparte
- One, Two, Three: Give Me Lady Liberty (2000) - Napoleon Bonaparte
- The Morning After (2000) - Napoleon Bonaparte
- One Wedding and an Execution (2000) - Napoleon Bonaparte
- Raging Bully (2000) - Napoleon Bonaparte
2000
How the Grinch Stole Christmas
as
Band Member (as Verne J. Troyer)
2000
Bit Players (Short)
as
Marty Rosenthal
1999
Here Lies Lonely
as
Virgil
1999
Madonna: The Video Collection 93:99 (Video)
as
Mini-Me (video 'Beautiful Stranger')
1999
V.I.P. (TV Series)
as
Director
- The Quick and the Dead (1999) - Director
1999
Shasta McNasty (TV Series)
as
Vern
- Pilot (1999) - Vern
- Little Dude (1999) - Vern
1999
Melanie G.: Word Up! (Version 2) (Music Video)
as
Mini-Me (uncredited)
1999
Austin Powers: The Spy Who Shagged Me
as
Mini-Me (as Verne J. Troyer)
1999
Instinct
as
Gorilla Performers
1999
Madonna: Beautiful Stranger (Music Video)
as
Mini-Me
1999
The Wacky Adventures of Ronald McDonald: The Visitors from Outer Space (Video short)
as
Sundae
1999
The Wacky Adventures of Ronald McDonald: The Legend of Grimace Island (Video short)
as
Sundae
1998
Mighty Joe Young
as
Baby Joe
1998
Young Hercules (TV Series)
as
Baby Ruff
- A Serpent's Tooth (1998) - Baby Ruff
1998
The Wacky Adventures of Ronald McDonald: Scared Silly (Video short)
as
Sundae
1998
Fear and Loathing in Las Vegas
as
Wee Waiter (as Verne J. Troya)
1998
My Giant
as
Wrestler (uncredited)
1997
Wishmaster
as
Creature Stage #1
1997
Men in Black
as
Alien Son
1996
Jingle All the Way
as
Mini Santa (uncredited)
1996
Pinocchio's Revenge
as
Pinocchio
Stunts
1998
My Giant (utility stunts)
1996
Jingle All the Way (stunts - as Verne J. Troyer)
1996
Dunston Checks In (stunts - as Verne J. Troyer)
1995
Masked Rider (TV Series) (stunt double: Paul Pistore)
1994
Baby's Day Out (stunts - as Verne J. Troyer)
Director
2008
Verne Troyer Sex Tape (Short) (uncredited)
Soundtrack
2008
The Love Guru (performer: "The Joker")
Thanks
2016
COMIX: Beyond the Comic Book Pages (Documentary) (special thanks)
2015
30 for 30 (TV Series documentary) (special thanks - 1 episode)
- I Hate Christian Laettner (2015) - (special thanks)
Self
2017
Garage Talks (TV Series)
as
Guest
- Garage Talks Episode 4 (2017) - Guest
2016
Oprah: Where Are They Now? (TV Series)
as
Self
- Rappers Naughty by Nature/Wendy Kaufman/Verne Troyer (2016) - Self
2016
Good Mythical Crew (TV Series)
as
Self
- The Celebrity House Hunt (2016) - Self
2016
Trailer Park Boys Podcast (Podcast Series)
as
Self
- Hollywoodland (2016) - Self
2008
Celebrity Juice (TV Series)
as
Self
- Bestest of the Unseenest Bits (2015) - Self
- Bestest Bits 2015 - Part 2 (2015) - Self
- Ultimate #TBTCelebJuice Special (2015) - Self
- Little Mix Special (2012) - Self
- 2041: A Juice Odyssey (2011) - Self
- The Bang Tidy Year (2010) - Self
- The Juiciest Bits (2010) - Self
2015
Keith Lemon's Back T'Future Tribute (TV Movie)
as
Self
2015
Celebrity Wife Swap (TV Series)
as
Self
- Verne Troyer/Hines Ward (2015) - Self
2015
Verne Troyer (TV Series)
as
Self
- Welcome To My YouTube Channel! (2015) - Self
2014
Tom Green Live (TV Series)
as
Self - Guest
- Guests: Vern Troyer & Jimmy Pardo (2014) - Self - Guest
2014
Through the Keyhole (TV Series)
as
Self
- Episode #2.7 (2014) - Self
2014
Whose Line Is It Anyway? (TV Series)
as
Self - Guest
- Verne Troyer (2014) - Self - Guest
2013
Comic Book Heroes (TV Mini Series documentary)
as
Self
- Episode #1.2 (2013) - Self
2013
The Body Shocking Show (TV Series documentary)
as
Self - Guest Reporter
- Episode #1.1 (2013) - Self - Guest Reporter
2012
The Xtra Factor (TV Series documentary)
as
Self - Celebrity Panel
- Live Show 1 (2012) - Self - Celebrity Panel
2012
Loose Women (TV Series)
as
Self
- Episode #17.21 (2012) - Self
2012
Celebrity House Hunting (TV Series)
as
Self
2011
Peter Andre: My Life (TV Series)
as
Self
- Episode #1.5 (2011) - Self
2011
Ushi & The Family (TV Series)
as
Self
- Episode #1.3 (2011) - Self
2011
Hooters 2011 International Swimsuit Pageant (TV Special)
as
Self - Judge
2011
The Hooters 2011 Swimsuit Pageant (TV Special)
as
Self - Judge
2010
Red Carpet Report (TV Series short)
as
Self
- Reality Cares Benefit (2010) - Self
2010
Jensen! (TV Series)
as
Self
- Episode #15.2 (2010) - Self
2008
Up Close with Carrie Keagan (TV Series)
as
Self
- Episode dated 5 January 2010 (2010) - Self
- Episode dated 17 June 2008 (2008) - Self
2009
Your Top 20 Celebrity Big Brother Moments (TV Movie documentary)
as
Self
2009
Chelsea Lately (TV Series)
as
Self
- Episode dated 23 December 2009 (2009) - Self
2009
Made in Hollywood (TV Series)
as
Self
- Episode #5.12 (2009) - Self
2009
WWE Raw (TV Series)
as
Self
- Episode #17.48 (2009) - Self
2009
Pride of Britain Awards 2009 (TV Special)
as
Self
2009
Xposé (TV Series)
as
Self
- Episode #4.23 (2009) - Self
2009
The Paul O'Grady Show (TV Series)
as
Self
- Episode dated 29 September 2009 (2009) - Self
2009
Friday Night with Jonathan Ross (TV Series)
as
Self
- Episode #17.4 (2009) - Self
2009
Celebrity Big Brother (TV Series)
as
Self
- The Final (2009) - Self
- Live Launch (2009) - Self
2008
World's Dumbest (TV Series)
as
Self
- Criminals 9 (2008) - Self
- Meltdowns (2008) - Self
2008
The Podge and Rodge Show (TV Series)
as
Self
- Episode #4.7 (2008) - Self
2008
Ich liebe Kino - Gottschalks Filmkolumne (TV Series)
as
Self
- Episode dated 7 October 2008 (2008) - Self
2008
Mike Myers and 'The Love Guru': An Inside Look (Video documentary short)
as
Self
2008
E! True Hollywood Story (TV Series documentary)
as
Self
- Heath Ledger (2008) - Self
2005
The View (TV Series)
as
Self
- Episode dated 20 June 2008 (2008) - Self
- Episode dated 11 February 2005 (2005) - Self
2002
Last Call with Carson Daly (TV Series)
as
Self / Self - Guest
- Episode dated 12 June 2008 (2008) - Self
- Zooey Deschanel/Verne Troyer/Thicke (2002) - Self - Guest
2008
2008 MTV Movie Awards (TV Special)
as
Self - Presenter
2007
The Surreal Life: Fame Games (TV Series)
as
Self - Participant
- Dial M for Mommy (2007) - Self - Participant
- The Chyna Doll Syndrome (2007) - Self - Participant
- Down and Out on the B-List (2007) - Self - Participant
- Sex, Size, and Videotape (2007) - Self - Participant
- Welcome to Celebrity Island (2007) - Self - Participant
2007
Larry Flynt: The Right to Be Left Alone (Documentary)
as
Self
2007
Welcome to Sweden (TV Series)
as
Self
- Episode #1.6 (2007) - Self
- Episode #1.5 (2007) - Self
- Episode #1.4 (2007) - Self
- Episode #1.3 (2007) - Self
- Episode #1.2 (2007) - Self
- Episode #1.1 (2007) - Self
2006
Bo! in the USA (TV Series)
as
Self - Celebrity Guest
- Episode #1.1 (2006) - Self - Celebrity Guest
2005
Avid Merrion's XXXmas Special (TV Special)
as
Self
2005
The Girls Next Door (TV Series)
as
Self / Self - Actor
- A Midsummer Night's Dream (2005) - Self (uncredited)
- Fight Night (2005) - Self - Actor
2005
The Surreal Life (TV Series)
as
Self
- Get Out (2005) - Self
- Dirty Laundry (2005) - Self
- Seven Celebrities of Death: Part 2 (2005) - Self
- Seven Celebrities of Death: Part 1 (2005) - Self
- I'm with Cupid (2005) - Self
- Celebrity Pitch Fest (2005) - Self
- Three Crushes (2005) - Self
- Dwarves, Horses & Bears, Oh My! (2005) - Self
- The Kids Are All Wrong (2005) - Self
- The Surreal Seven (2005) - Self
2005
Howard Stern (TV Series)
as
Self
- Episode dated 19 January 2005 (2005) - Self
2004
The Teen Choice Awards 2004 (TV Special)
as
Self
2003
The Teen Choice Awards 2003 (TV Special)
as
Self
2002
The World of Austin Powers (Video documentary short)
as
Self
2002
Nickelodeon Kids' Choice Awards '02 (TV Special documentary)
as
Self
2002
ESPN Action Sports and Music Awards (TV Special)
as
Self
2002
Playboy: Inside the Playboy Mansion (TV Movie documentary)
as
Self
2001
Playboy Exposed: Playboy Mansion Parties Uncensored (Video documentary)
as
Self
2001
Hollywood Squares (TV Series)
as
Self - Panelist
- Episode dated 19 January 2001 (2001) - Self - Panelist
- Episode dated 18 January 2001 (2001) - Self - Panelist
- Episode dated 17 January 2001 (2001) - Self - Panelist
- Episode dated 16 January 2001 (2001) - Self - Panelist
- Episode dated 15 January 2001 (2001) - Self - Panelist
2000
2000 MTV Movie Awards (TV Special)
as
Self - Winner
2000
TFI Friday (TV Series)
as
Self
- Episode #5.33 (2000) - Self
2000
Electric Playground (TV Series documentary)
- Episode #4.2 (2000)
2000
The Challenge (TV Series)
as
Wrestling Referee
- Challenge 2000: Wheel of Wrestling (2000) - Wrestling Referee
1999
Behind the Scenes of 'Austin Powers: The Spy Who Shagged Me' (Video documentary short)
as
Self (uncredited)
1999
Saturday Night Live 25 (TV Special documentary)
as
Mini Lorne Michaels (uncredited)
1999
The Teen Choice Awards 1999 (TV Special)
as
Self
1999
The Late Late Show with Craig Kilborn (TV Series)
as
Self
- Episode dated 15 July 1999 (1999) - Self
1998
Havoc (TV Series documentary)
as
Self
- Episode dated 27 August 1998 (1998) - Self
Archive Footage
2023
Dark Side of the 2000s (TV Series documentary)
as
Self
- TMZ: Paparazzi Gone Wild (2023) - Self
2022
Clusterf**k: Woodstock '99 (TV Mini Series documentary)
as
Self
- Kerosene. Match. Boom! (2022) - Self
2021
Autopsy: The Last Hours of (TV Series documentary)
as
Self
- Verne Troyer (2021) - Self
2021
Music Box (TV Series)
as
Self
- Woodstock 99: Peace Love and Rage (2021) - Self (uncredited)
2020
LA Originals (Documentary)
as
Self
2018
Entertainment Tonight (TV Series)
as
Self
- Episode #38.94 (2018) - Self
- Episode #37.193 (2018) - Self
2015
Inside Edition (TV Series documentary)
as
Self
- Episode #26.179 (2015) - Self
2011
Chris Moyles Quiz Night (TV Series)
as
Self
- The Hasselhoffs, Keith Lemon and Christine Bleakley (2011) - Self
2011
Jimmy Kimmel Live! (TV Series)
as
Self
- Episode #9.170 (2011) - Self (uncredited)
2010
WWE: Summerslam (TV Special)
as
Self
2009
WWE Raw (TV Series)
as
Self
- Episode #18.19 (2010) - Self
- Episode #17.49 (2009) - Self
2009
Live from Studio Five (TV Series)
as
Self
- Episode #1.73 (2009) - Self
2009
Best of CMT Music Awards (TV Special)
as
Self
2008
Just in with Laura Ingraham (TV Series)
as
Coach Punch Cherkov
- Episode dated 19 June 2008 (2008) - Coach Punch Cherkov
2006
Video on Trial (TV Series)
as
Self
- Episode #1.24 (2006) - Self
2005
The Surreal Life (TV Series)
as
Self
- Burning Questions: Clip Show (2005) - Self
References
Verne Troyer Wikipedia
(Text) CC BY-SA