Duvall received multiple award nominations for his performance as Judge Joseph Palmer, including the Academy Award, Golden Globe Award, Screen Actors Guild Award, and Satellite Award for Best Supporting Actor. Thomas Newman also received a Satellite Award nomination for Best Original Score.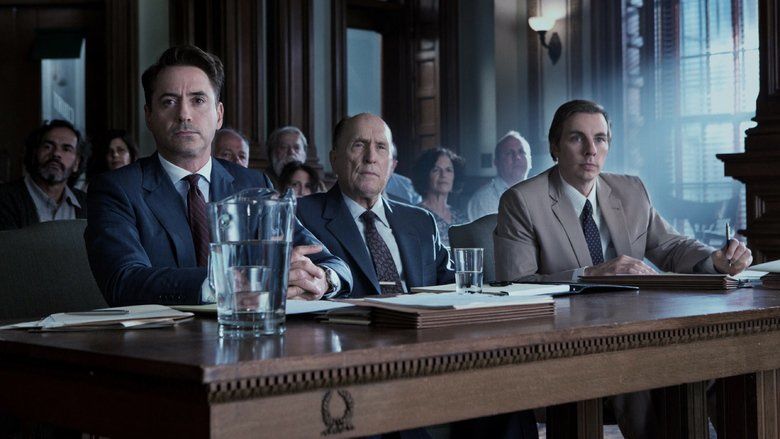 Hank Palmer (Robert Downey Jr.) is a successful defense attorney in Chicago who has been estranged from his family in a small town in Indiana for some time. While in court, he receives a call telling him his mother has died. As he leaves to fly to his hometown of Carlinville, it is revealed that Hank is going through a divorce (due to his wife's infidelity) and custody battle for his young daughter.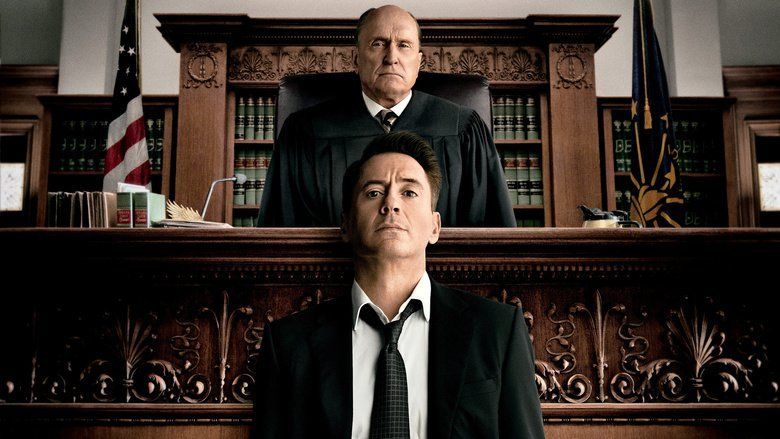 In Carlinville, Hank reunites with his older brother Glen (Vincent D'Onofrio), owner of a tire shop, and his younger brother Dale (Jeremy Strong), an autistic aspiring filmmaker who carries an old 8mm film camera everywhere he goes. Hank then stops by the small county courthouse, softly enters a courtroom, and sits in the back where he observes a case in progress. The judge is Joseph Palmer (Robert Duvall), Hank's father. When Joseph sees Hank for the first time in many years, at the funeral, he is treating guests with kindness but acknowledges his son coldly.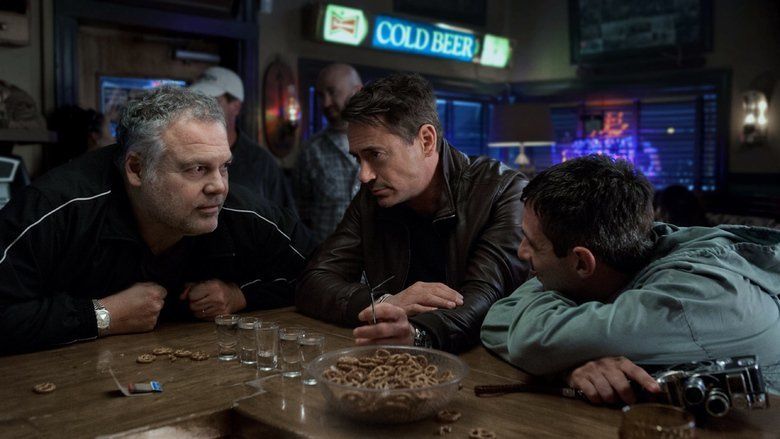 The next morning, Hank notices damage to his father's Cadillac Coupe DeVille as he is preparing to leave. Upon seeing the damage, Joseph denies knowing how it happened; but Hank believes his father was drinking and driving and damaged his own car. After a heated exchange, Hank leaves, promising never to return. But after boarding his plane, Hank learns that Joseph is being questioned by police with regard to a fatal hit and run. The victim is identified as Mark Blackwell (Mark Kiely), a recently released convicted murderer whose crimes, before the killing, Joseph had treated with leniency.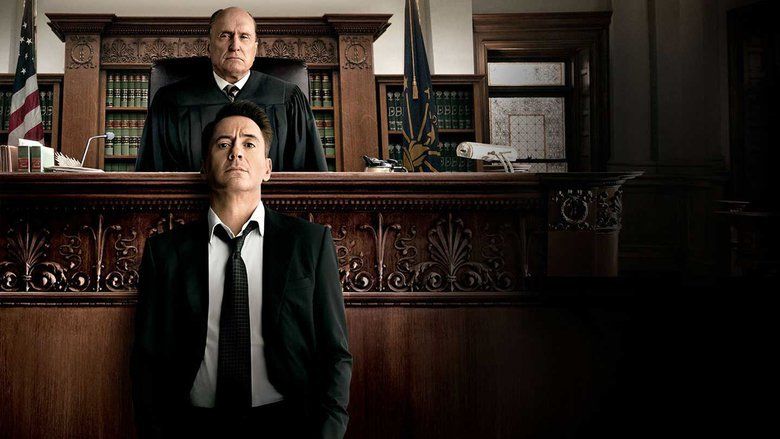 After Blackwell's blood is found on the car, Joseph is soon indicted, with prosecutor Dwight Dickham (Billy Bob Thornton) seeking a conviction for first-degree murder. Hank agrees to defend Joseph and learns that his father was undergoing chemotherapy. This explains Joseph's inability to remember the accident and provides a potential diminished capacity defense, but Joseph rejects any such defense because of the potential damage it would do to his legacy. During the trial Hank and Joseph confront their bitterness with each other, dating back to a teenage drunk driving accident in which Hank was driving and Glen was injured – ending the latter's potential for a career in professional baseball. Joseph saw to it that Hank was sent to a youth detention center, and Hank left Carlinville after never receiving acknowledgement from Joseph for turning his life around.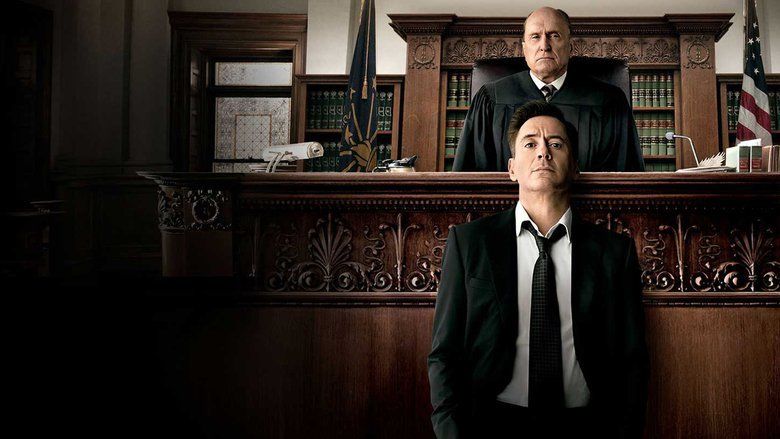 Hank also reconnects with his old girlfriend Sam (Vera Farmiga), whom he abandoned after going to a Metallica concert more than 20 years ago. He discovers that Sam has a daughter, Carla (Leighton Meester), born nine months after he left, and deals with his concern that he is Carla's father (although it is later revealed that Glen is the actual father).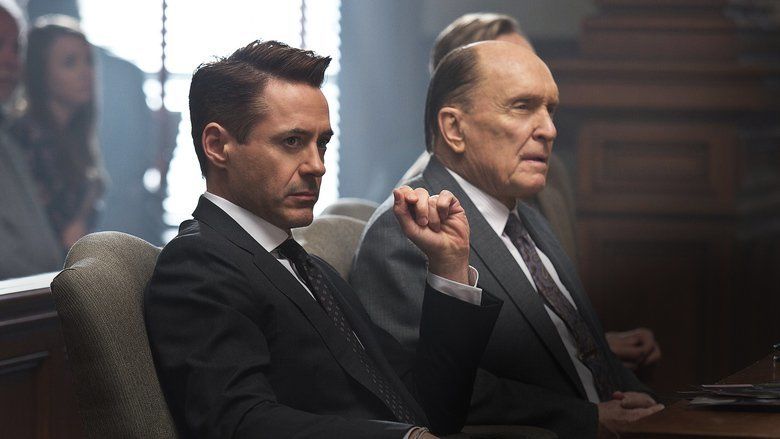 At trial, Hank believes he has established enough reasonable doubt in the case to result in an acquittal. But Joseph sabotages the case by testifying that although he still cannot remember the accident, he has come to believe that he probably did kill Blackwell intentionally. Joseph confesses on the stand that he was personally haunted by Blackwell's case, having seen Hank in Blackwell, and wanting to help him like he would his son. Having misread Blackwell, Joseph afterward saw him in Hank.
Joseph is acquitted of murder but convicted of voluntary manslaughter and sentenced to four years in prison, though he is released on compassionate parole after seven months (per Dickham's request), his cancer being terminal. He and Hank go fishing. After acknowledging Hank as the best lawyer he knows, Joseph dies peacefully in the boat. Hank, having made peace with his father, returns to the courtroom Joseph once reigned over, and spins the judge's chair, where it ominously stops, pointed at him.
The script was originally written by Nick Schenk. In March 2011, the script was to be rewritten by David Seidler. In April 2013, Bill Dubuque was enlisted to rewrite it. The casting of Robert Duvall, Vincent D'Onofrio, Vera Farmiga, and Dax Shepard was reported in March 2013. The studios had expressed an interest in Jack Nicholson playing Joseph, but Nicholson turned down the role and it was given to Duvall. Meester joined the cast in April 2013.
Principal photography started on May 31, 2013 in Shelburne Falls, Massachusetts. Shooting also took place in Attleboro, Belmont, Dedham, Sunderland, and Waltham, Massachusetts. Scenes also were filmed in Pennsylvania and Worcester, Massachusetts. The film is set in the fictional town of Carlinville, Indiana.
On February 27, 2014, Thomas Newman was hired to compose the music for the film. WaterTower Music released a soundtrack album on October 7, 2014. The film's closing titles feature Willie Nelson's version of the Coldplay song "The Scientist", and Bon Iver's song "Holocene" is also featured prominently in the film.
The film was shown at the opening night of the 2014 Toronto International Film Festival on September 4, 2014. It was premiered in Los Angeles on October 1, 2014 at the Beverly Hills' Academy of Motion Picture Arts and Sciences. The film was released on October 10, 2014 in the United States.
The Judge grossed $47.1 million in North America and $37.3 million in other territories for a worldwide total of $84.4 million, against a budget of $50 million.
In North America, the film grossed $13.1 million in its opening weekend from 3,003 theaters (a per theater average of $4,368), finishing 5th at the box office. The biggest markets in other territories were Russia, Italy and Mexico, where the film grossed $4.4 million, $2.99 million and $2.84 million, respectively.
The Judge received mixed reviews from critics. Rotten Tomatoes, the review aggregator website, gave the film a rating of 47%, based on 184 reviews, with an average rating of 5.6/10. The site's consensus reads, "Solidly cast and beautifully filmed but thoroughly clichéd, The Judge seems destined to preside over a large jurisdiction of the basic cable afternoon-viewing circuit." Metacritic gave the film a score of 48 out of 100, based on 39 critics, indicating "mixed or average reviews". On CinemaScore, audiences gave the film an average grade of "A-" on an A+ to F scale.
Film critic Richard Roeper gave the film a "C" rating, saying that it was "surprising how little we care about these characters."
Geoffrey Macnab of The Independent wrote, "For all its contrivances and occasional lapses into On Golden Pond-style mawkishness, this is a richly crafted yarn that boasts barnstorming, if very showy performances from Duvall and Downey Jr." Peter Bradshaw of The Guardian gave a mixed to positive review, writing, "There are plenty of emotional fireworks in this big, soupy but entertaining picture, which is obvious Oscar bait." Entertainment Weekly critic Chris Nashawaty gave the film a "B" rating, and stated, "I don't expect The Judge to usher in a new era of legal thrillers, but I'm happy to see Downey leave the Marvel universe and Baker Street behind."